Grazie per aver acquistato questi altoparlanti della JVC.
Prima di cominciare l'uso degli altoparlanti, leggete attentamente le
istruzioni per assicurare le migliori prestazioni. Qualora sorgessero dei
dubbi, rivolgetevi al vostro rivenditore JVC.
Tack för ditt val av dessa JVC-högtalare.
Innan du kopplar in högtalarna i din ljudanläggning bör du för att få
maximala prestanda från högtalarna läsa igenom bruksanvisningen
noggrant. Kontakta din JVC-återförsäljare om du har frågor eller känner
Tak for købet af JVC-højttalerne.
Gennemlæs venligst vejledningen omhyggeligt før de tages i brug, så De
kan opnå den bedst mulige ydelse. Forhør hos Deres JVC forhandler hvis
Kiitos siitä että päädyit valinnassasi JVC-kaiuttimiin.
Ennen kuin alat käyttää niitä, lue käyttöohje huolellisesti, jotta ne toimisivat
parhaalla mahdollisella tavalla. Jos Sinulla on kysyttävää ota yhteys JVC-
BEDIENUNGSANLEITUNG: SATELLITENLAUTSPRECHERSYSTEM
MANUEL D'INSTRUCTIONS: ENCEINTE SATELLITE
GEBRUIKSAANWIJZING: SATELLIET LUIDSPREKERSYSTEEM
MANUAL DE INSTRUCCIONES: SISTEMA DE ALTAVOCES SATéLITES
ISTRUZIONI: SISTEMA DI ALTOPARLANTI SATELLITI
BRUKSANVISNING: SATELLITHÖGTALARSYSTEM
VEJLEDNING: SATELLIT HØjTT ALERSYSTEM
KÄYTTÖOHJE: SATELLIITTIKAIUTINJÄRJESTELMÄ
Thank you for purchasing JVC speakers.
Before you begin using them, please read the instructions carefully to be
sure you get the best possible performance. If you have any questions,
Vielen Dank für den Kauf dieser JVC-Lautsprecher.
Lesen Sie bitte diese Bedienungsanleitung vor Ingebrauchnahme sorgfältig
durch, um stets optimale Ergebnisse zu erzielen. Wenden Sie sich bei
etwaigen Fragen bitte an Ihren JVC Händler.
Nous vous remercions pour l'achat de ces enceintes JVC.
Avant de les utiliser, lire ces instructions avec attention pour en obtenir les
meilleures performances possibles. En cas de questions, consulter votre
Dank u voor de aanschaf van deze luidsprekers.
Lees alvorens over te gaan tot aansluiten, deze gebruiksaanwijzing door
zodat u de best mogelijke prestaties zult verkrijgen. Neem kontakt op met
de JVC dealer indien u vragen heeft.
Le estamos muy agradecidos por haber adquirido estos altavoces de JVC.
Antes de utilizarlos, sirvase leer las instrucciones detenidamente a fin de
obtener el mejor rendimiento posible. Si tienenaluna pregunta, acuda a
This equipment has been designed and manufactured to meet
international safety standards but, like any electrical equipment, care
must be taken if you are to obtain the best results and safety is to be
Do read the operating instructions before you attempt to use the
Do ensure that all electrical connections (including the mains plug,
extension leads and interconnections between pieces of equipment)
are properly made and in accordance with the manufacturer's
instructions. Switch off and withdraw the mains plug when making or
Do consult your dealer if you are ever in doubt about the installation,
operation or safety of your equipment.
Do be careful with glass panels or doors on equipment.
DON'T continue to operate the equipment if you are in any doubt
about it working normally, or if it is damaged in any way -- switch off,
withdraw the mains plug and consult your dealer.
DON'T remove any fixed cover as this may expose dangerous
DON'T leave equipment switched on when it is unattended unless it
is specifically stated that it is designed for unattended operation or
Switch off using the switch on the equipment and make sure that
your family know how to do this.
Special arrangements may need to be made for infirm of handi-
DON'T use equipment such as personal stereos or radios so that
you are distracted from the requirements of traffic safety. It is illegal
to watch television whilst driving.
DON'T listen to headphones at high volume as such use can
permanently damage your hearing.
DON'T obstruct the ventilation of the equipment, for example with
curtains or soft furnishing.
Overheating will cause damage and shorten the life of the
DON'T use makeshift stands and NEVER fix legs with wood screws
-- to ensure complete safety always fit the manufacturer's approved
stand or legs with the fixings provided according to the instructions.
DON'T allow electrical equipment to be exposed to rain or moisture.
­ NEVER let anyone, especially children, push anything into holes,
slots or any other opening in the case.
­ this could result in a fatal electrical shock;
­ NEVER guess or take chances with electrical equipment of any
­ it is better to be safe than sorry!
-- SAFETY INSTRUCTIONS --
"SOME DOS AND DON'TS ON THE SAFE USE OF EQUIPMENT"
SP-X880_10langCsB/CID.65Ct
---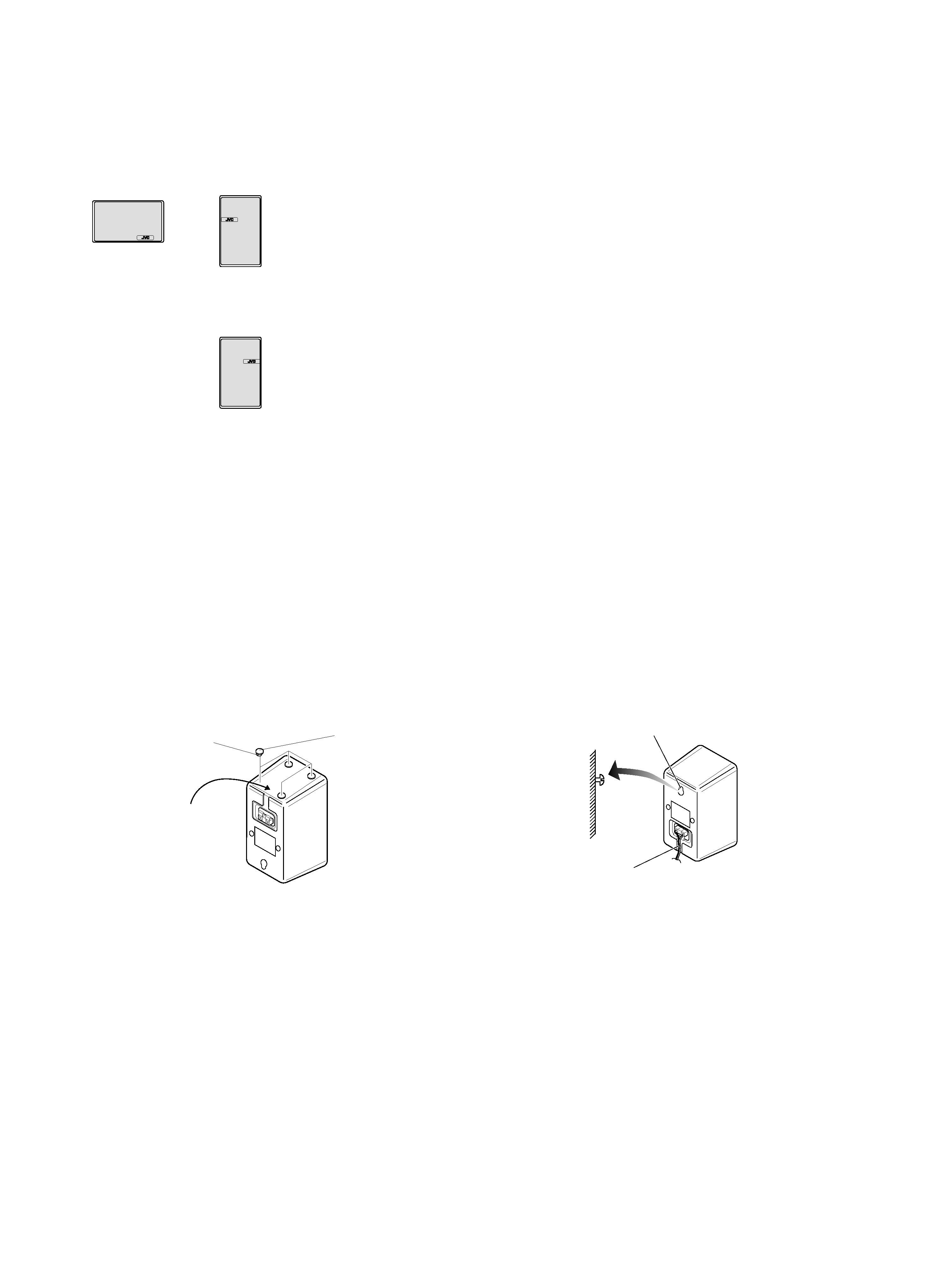 G Mittlerer Lautsprecher (1)
G Altoparlante centrale (1)
G Front and rear speakers (2)
G Vorderseiten- und Rückseitenlautsprecher (2)
G Enceintes avant et arrière (2)
G Voor- en achter-luidsprekers (2)
G Altavoces delantero y trasero (2)
G Altoparlanti anteriori e posteriori (2)
G Fram- och bakhögtalare (2)
G Front- og baghøjttalere (2)
G Etu- ja takakaiuttimet (2)
G Front and rear speakers (2)
G Vorderseiten- und Rückseitenlautsprecher (2)
G Enceintes avant et arrière (2)
G Voor- en achter-luidsprekers (2)
G Altavoces delantero y trasero (2)
G Altoparlanti anteriori e posteriori (2)
G Fram- och bakhögtalare (2)
G Fram- och bakhögtalare (2)
G Etu- ja takakaiuttimet (2)
I Precautions for installation
I Vorsichtsmaßnahmen für die Installation
I Précautions pour l'installation
I Voorzorgen voor de installatie
I Precauciones sobre la instalación
I Precauzioni per l'installazione
I Säkerhetsföreskrifter för installation
I Sikkerhedsregler for installation
I Huomautuksia asennuksesta
through the notch on the rear
Lautsprecherkabel durch das
Loch in dem Rückseitenteil
Fixer l'itinéraire du cordon
d'enceinte à travers l'encoche
prévue sur le panneau arrière
Leidt het luidsprekersnoer
Guíe el cable del altavoz a
través de la entalladura del
lado trasero del altavoz.
dell'altoparlante attraverso
l'intaglio che si trova nella
bagpladen af højttaleren.
Unterseite des Lautsprechers
Partie inférieure de l'enceinte
Lado inferior del altavoz
Parte disotto dell'altoparlante
Attach the supplied spacers to the bottom of the unit to protect the
cabinet, prevent slipping, and absorb the cabinet vibration.
Peel off the backing from a spacer and attach them to the bottom of the
Bringen Sie die mitgelieferten Abstandstücke an der Unterseite der
Einheit an, um das Gehäuse zu schützen, Rutschen zu verhüten und
Gehäusevibrationen zu absorbieren.
Ziehen Sie das Schutzpapier ab und kleben Sie das Abstandstück auf.
Fixer sur la base de l'unité les pièces d'écartement fournies qui
protégeront l'ébénisterie, l'empêcheront de glisser et en absorberont les
vibrations. Il suffit de décoller la protection de la pièce d'écartement pour
Breng de bijgeleverde voetjes op de onderzijde van het apparaat aan ter
bescherming van de behuizing, om wegglijden te voorkomen en om
Trek de anti-kleeflaag van het voetje af en plak het voetje op de
Instale los espaciadores suministrados a la parte inferior de la unidad
para protenger el gabinete, evitar deslizamiento y absorber las
vibraciones del gabinete.
Desprenda la pelicula de la parte posterior del espaciador e instáleia.
Applicare i distanziatori in dotazione al fondo dell'unità per proteggere la
cassa, evitare slittamenti ed assorbire le vibrazioni.
Rimuovere il rivestimento dal distanziatore ed applicare quest'ultimo.
Fäst de medföljande kuddarna på högtalarens undersida för att skydda
högtalarlådan, förhindra glidning och dämpa högtalarlådans vibrationer.
Riv bort skyddspapperet frän en kudde och fäst sedan kudden.
Monter de to afstandsskiver på undersiden af kabinettet for at forhindre
vibrationer og at det glider. Husk at fjerne bagbelægningen på
afstandsskiverne, før de sættes på.
Kiinnitä varusteisiin kuuluvat välikkeet laitteen pohjaan kotelon suojelua,
llukumisen ehkälsyä ja tärinän vaimennusta varten.
Irrota välikkeen suojakalvo ja kiinnitä välike.
The speakers are designed to be attached on the wall. When attaching
them on the wall, have them attached to the wall by a qualified person.
DO NOT hang the speakers by yourself to avoid an unexpected danger of
their falling from the wall, caused by incorrect attachment or weakness in
Die Lautsprecher sind für die Wandmontage konzipiert. Die
Wandmontage muß aber durch einen qualifizierten Fachmann erfolgen.
Die Lautsprecher NICHT SELBST aufhängen, da ansonsten die Gefahr
besteht, daß sie aufgrund fehlerhafter Wandmontage oder mangelnder
Tragfähigkeit der Wand herunterfallen.
Gaatje voor wandmontering
Orificio para montaje en la pared
Foro di montaggio al muro
Aukko seinään asennusta varten
I Precautions when mounting the system on the wall
I Vorsichtshinweise für Anbringen des Systems an der Wand
I Précautions pour le montage mural du système
I Voorzorgen bij wandmontage van het systeem
I Precauciones a observar en caso de instalar el sistema en
I Precauzioni da adottare quando si monta il sistema a muro.
I Försiktighestsåtgärder vid montering av högtalarna på en
I Forsigtighedsregler ved montering af systemet på en væg
I Huomautuksia laitteen seinään asennuksesta
SP-X880_10langCsB/CID.65Ct
---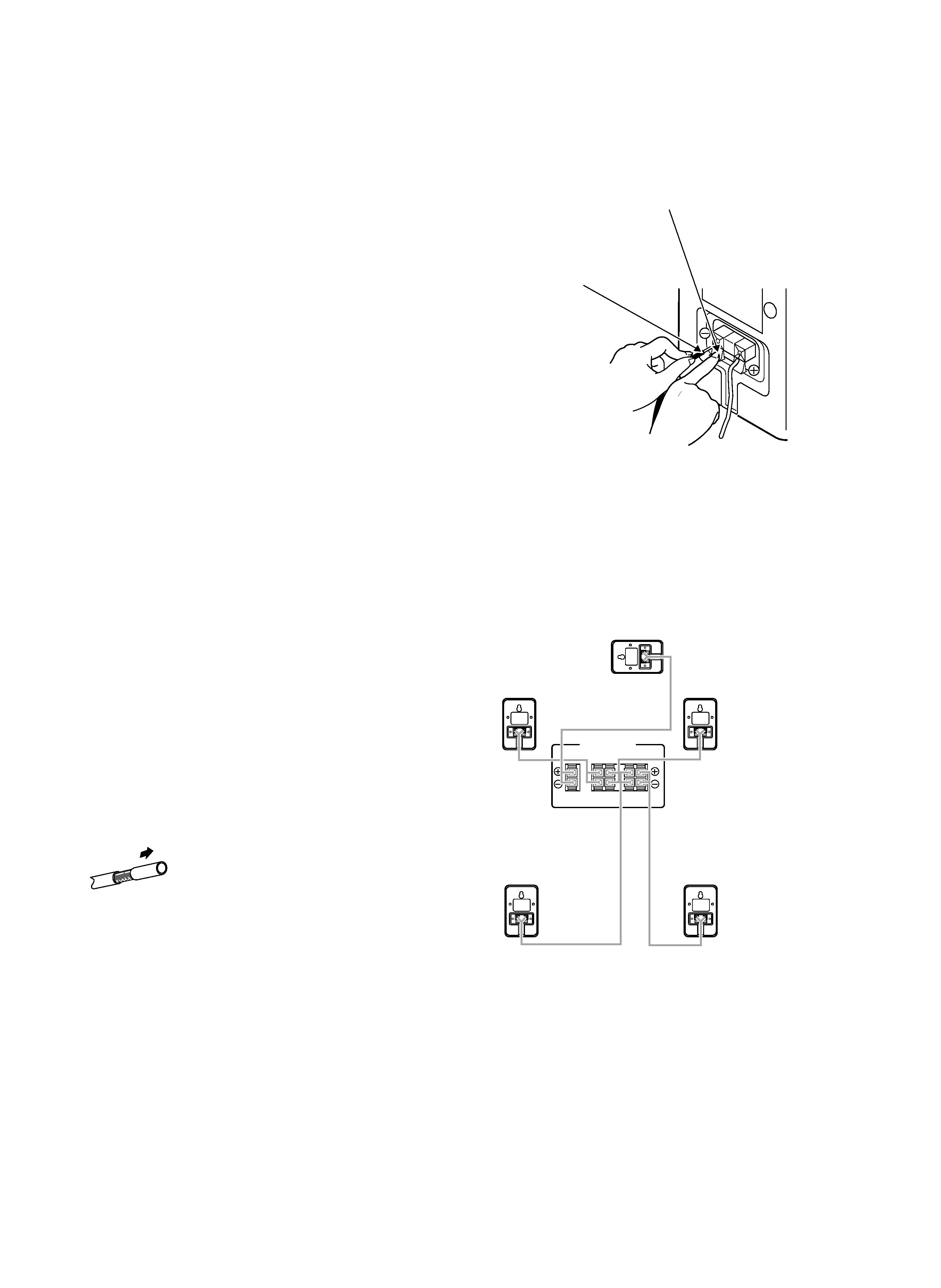 Rückseitenlautsprecher (rechts)
Enceinte arrière (droite)
Achter-luidspreker (rechts)
Altavoz trasero (derecho)
Altoparlante posteriore (destra)
Vorderseitenlautsprecher (links)
Altavoz delantero (izquierdo)
Altoparlante anteriore (sinistra)
Vorderseitenlautsprecher (rechts)
Voor-luidspreker (rechts)
Altavoz delantero (derecho)
Altoparlante anteriore (destra)
Speaker terminals on the amplifier
Lautsprecheranschlüsse an dem
VerstärkerBornes de l'enceinte sur l'amplificateur
Luidspreker-aansluitingen op de versterker
Terminales de altavoz del lado del amplificador
Terminali d'altoparlante sull'amplificatore
Högtalarutgångar på förstärkaren
Højttalerudgange på forstærkeren
Vahvistimessa olevat kaiutinliittimet
Rückseitenlautsprecher (links)
Enceinte arrière (gauche)
Achter-luidspreker (links)
Altavoz trasero (izquierdo)
Altoparlante posteriore (sinistra)
Les enceintes sont conçues pour être fixées au mur. Ce travail doit être
fait par une personne compétente.
NE LE FAITES PAS vous-même pour éviter tout risque de chute d à une
mauvaise fixation ou un manque de solidité du mur.
De luidsprekers zijn ontworpen voor bevestiging tegen de muur. Laat dit
werkje opknappen door een bekwame persoon.
Hang de luidsprekers NIET zelf op om te vermijden dat ze onverwachts
naar beneden vallen ten gevolge van een slechte bevestiging of en
Los altavoces se han diseñado para fijarse a la pared. Cuando los instale
en la pared, solicite a una persona cualificada que lo haga por usted.
NO cuelgue usted mismo los altavoces para evitar que puedan
desprenderse debido a una instalasión incorrecta o a la debilidad de la
Gli altoparlanti devono essere fissati alla parete da una persona
NON provvedere personalmente al fissaggio degli altoparlanti alla parete
per evitare il rischio che cadano a causa di una procedura di fissaggio
non corretta o della debolezza della parete.
Högtalarna är avsedda för väggmontering. De bör endast hängas på
väggen av en person med tillräcklig erfarenhet.
Häng INTE högtalarna på väggen själv, eftersom det finns risk att de
ramlar ned om monteringen görs fel eller väggen inte är tillräckligt stark.
Højttalerne er designet til montering på voeg. Få højttalerne monteret på
voeggen af en kvalificeret person.
HÆNG IKKE højttalerne op selv, da de herved kan risikere at falde ned
på grund af forkert montering eller svagheder i voeggen.
Kaiuttimet on suunniteltu seinäasennusta varten. Seinäasennus tulee
antaa ammattitaitoisen asentajan tehtäväksi.
ÄLÄ itse asenna kaiuttimia seinään. Tällöin vältät virheellisen
asennuksen tai heikon seinärakenteen aiheuttaman kaiuttimen
1. Remove the ending part of the vinyl covering from the cut.
1. Entfernen Sie dan Endstück der Vinylhüle von dem
1. Enlever la partie d'extémité du recouvrement vinylique de la
1. Snijd het laatste gedeelte van de vinylmantel af en
2. Draai de draadkernen ineen.
1. Remover la parte de extremidad de la cubierte de plástica
1. Rimuovere la parte di estremità della copertura in plastica
1. Dra loss den avskurna delen av isoleringen från
1. Fjern enden af vinyl-isoleringen, hvor den er klippet af.
1. Irrota muovipeiteen loppupåå uurteesta.
SP-X880_10langCsB/CID.65Ct
---

· Connect the LEFT speaker terminals of the amplifier to the LEFT terminals
of the speaker and RIGHT to RIGHT using the attached speaker cords
as shown in the figure making sure polarity is correct; (+) to (+) and (­) to
(­). Connect the black speaker wire to the (­) terminal.
· Turn off power to the whole system before connecting the speakers to
· The nominal impedance of the SP-X880 is 6
. Select for use an amplifier
to which a speaker system with the load impedance of 6
· The maximum power handling capacity of the SP-X880 is 150 W.
Excessive input will result in abnormal noise and possible damage. In
cases where the signals described below are applied to the speakers,
even if the signals are below the maximum allowable input, they may
cause an overload and burn the wiring of the speakers. Be sure to lower
the amplifier volume beforehand.
1) Noise during FM tuning.
2) High level signals containing high frequency components produced
by a tape deck in the fast forward mode.
3) Click noise produced when turning power of other components on and
4) Click noise produced when connecting or disconnecting cords with
5) Click noise produced when the cartridge is replaced with the power
6) Click noise produced when operating amplifier switches.
7) Continuous high frequency oscillation or high pitch electronically
produced musical instrument sound.
8) Howling when using a microphones.
I SPEAKER FOR A/V COMBINATION
SP-X880 have a magnetically-shielded design for placement adjacent to
TVs and monitors without causing color aberrations. However, color may
be affected as a result of how the speaker system is installed. Therefore, be
careful of the following:
1. When placing these speakers near a TV set, turn off the TV's main power
switch or unplug it before installing the speakers.
Wait at least 30 minutes after the system is installed before turning on
2. If another speaker system has been set up near the TV set, that system
may cause color unevenness in the TV's picture.
3. In spite of the shielded design of these speakers, some types of TV's
may be affected by them. If this happens, move the speakers a short
distance form the TV set.
I ABOUT THE PROTECTIVE CIRCUIT
Your system is provided with a protective circuit to prevent burnt wiring
caused by excessive input as described above. In the event of
excessive input the protective circuit activates and the sound volume
will be lowered. This is not a malfunction but a result of the activated
protective circuit. In this event, please lower the volume to the minimum
level. After a little while, the protective circuit will deactivate and the
system can be used in normal fashion.
(Magnetically-shielded type)
: 8.0 cm (3 3/16 in.) cone
(10 m, black and white) ....... 2
(5 m, red and black) ............. 3
Spacers ..................... one set
· Schließen Sie die linken (LEFT) Lautsprecherbuchsen des Verstärkers an
die linken (LEFT) Buchsen des Lautsprechers, und die rechten (RIGHT)
Lautsprecherbuchsen des Verstärkers an die rechten (RIGHT) Buchsen
des Lautsprechers an. Verwenden Sie hierfür das mitgeliefer te
Lautsprecherkabel -- wie in der Abbildung gezeigt -- und achten Sie beim
Anschluß auf die richtigen Polaritäten; (+) and (+) und (­) an (­). Verbinden
Sie die schwarzen Lautsprecherkabel mit den Minusklemmen (­).
· Schalten Sie vor dem Anschluß der Lautsprecher an den Verstärker die
Spannungsversorgung des gesamten Systems aus.
· Die Nenimgedanz der Lautsprecher -- Systeme SP-X880. beträgt 6
Wählen Sie einen Verstärker, an den ein Lautsprechersystem mit einer
angeschlossen werden kann.
· Die maximale Belastbarkeit der SP-X880 beträgt 150 W. Eine Überlastung
führt zu Verzerrungen und möglicherweise zu Beschädigungen. Signale
der unten beschriebenen Art können, auch wenn sie unter dem maximal
zulässigen Eingang liegen, eine Überlastung verursachen und die
Lautsprecherwicklungen durchbrennen. Verringern Sie vorher die
Lautstärke des Verstärkers.
1) Geräusche beim Einstellen von UKW-Sendern.
2) Hochpegelige Signale mit Hochfrequenz-Anteilen, die von
Tonbanddecks beim Schnellvorspulen erzeugt werden.
3) Klickgeräusche, wenn die Spannungsversorgung anderer
Komponenten ein-und ausgeschaltet wird.
4) Klickgeräusche, wenn Kabel angeschlossen oder abgetrennt werden,
während die Spannungsversorgung eingeschaltet ist.
5) Klickgeräusche, wenn der Tonabnehmer des Plattenspielers
ausgewechselt wird, während die Spannungsversorgung eingeschaltet
6) Klickgeräusche, die beim Betätigen von Schaltern des Verstärkers
7) Ständige Hochfrequenzschwingungen oder elektronisch erzeugte Töne
von Musikinstrumenten mit hohen Tonhöhen.
8) Rückkopplungen von Mikrofonen.
I LAUTSPRECHERBOXEN FÜR AUDIO/VIDEO-KOMBINATION
Die SP-X880 haben eine magnetisch abgeschirmte Konstruktion zur
Aufstellung neben Fernsehern oder Monitoren, ohne Farbverfälschung zu
Je nach Aufstellungsart können aber trotz dieser Konstruktion u.U.
Farbverfälschungen verursacht werden.
Achten Sie darum bei der Aufstellung auf folgendes:
1. Bei Aufstellung dieser Boxen in der Nähe eines Fernsehers den
Netzschalter des Fernsehers ausschalten oder seinen Netzstecker aus
der Steckdose ziehen, bevor die Boxen installiert werden.
Mindestens 30 Minuten nach der Installation des Systems warten, bis
der Fernseher eingeschaltet wird.
2. Wenn ein anderes Lautsprechersystem in der Nähe des Fernsehers
aufgestellt ist, kann das andere System Farbverfälschungen hervorrufen.
3. Trotz der abgeschirmten Konstruktion dieser Boxen können manche
Fernseher von ihnen beeinflußt werden. Wenn dies der Fal ist, müssen
die Boxen etwas weiter entfemt vom Fernseher aufgestellt werden.
ÜBER DEN SCHUTZSSTROMKREIS
Ihr System ist mit einem Schutzstromkreis ausgestattet, der das
Durchbrennen von Drähten verhindert, das, wie oben beschrieben,
durch einen übermäßigen Eingang verursacht wird. In dem Falle eines
übermäßigen Eingangs aktiviert sich der Schutzstromkreis und das
Klangvolumen wird gesenkt. Dies ist keine Funktionsstörung, sondern
ein Ergebnis des aktivierten Schutzstromkreises. Bitte senken Sie in
diesem Falle die Lautstärke auf die minimale Stufe. Nach einer kurzen
Zeit wird der Schutzstromkreis desaktiviert und das System kann in
der normalen Art und Weise benutzt werden.
: 2-Weg, 2-Lautsprecher-Typ
(Magnetisch abgeschirmter Typ)
Vorderseiten-/Rückseitenlautsprecher : 96 mm
(10 m, schwarz und weiß) ......... 2
(5 m, rot und schwarz) .............. 3
Abstandhalter ................. ein Satz
SP-X880_10langCsB/CID.65Ct
---

· Raccorder les bornes de l'enceinte de gauche (LEFT) de l'amplificateur
à celles de gauche (LEFT) de l'enceinte, et celles de droite (RIGHT) à
celles de droite (RIGHT) en se servant des cordons d'enceinte fournis
comme l'indique la figure et en étant sûr que le polarités correspondent;
(+) à (+) et (­) à (­). Raccorder le cordon d'enceinte noirs à la borne (­).
· Mettre hors circuit tout le système avant de raccorder les enceintes à
· L'impédance nominale des enceintes SP-X880 est de 6
un amplificateur acceptant une impédance de charge de haut-parleur de
· La puissance maximum admissible des SP-X880 est, respectivement,
En dépassant la puissance admissible, cela provoquera des bruits
anormaux et détériorera les enceintes.
Au cas où les signaux décrits ci-dessous sont envoyés aux enceintes, et
même si ces signaux sont inférieurs à la puissance d'entrée maximum
admissible, ils risquent de provoquer une surcharge ou même un incendie.
S'assurer de bien diminuer le volume sonore de l'amplificateur.
1) Parasites durant une syntonisation FM.
2) Signaux de niveau élevé contenant des composants à haute fréquence,
comme ceux générés par une platine d'enregistrement en mode avance
3) Cliquetis se produisant lorsque d'autres appareils sont mis en ou hors
4) Cliquetis se produisant lorsque des appareils sont branchés ou dé-
branchés alors que leur alimentation est en circuit.
5) Cliquetis se produisant lorsque la cellule d'une platine tourne-disque
est changée alors que l'alimentation est en circuit.
6) Cliquetis se produisant lorsque les commandes de l'amplificateur sont
7) Oscillations continuelles à haute fréquence ou sons très aigus
provenant d'instruments de musique électroniques.
8) Hurlements dus à l'utilisation de micros.
I HAUT-PARLEURS POUR COMBINAISON A/V
Le SP-X880 est conçu avec un blindage magnétique pour pemettre de le
placer proche des téléviseurs ou des moniteurs sans causer de distorsions
dans les couleurs. Toutefois, les couleurs peuvent être affectées en fonction
de l'installation des enceintes acoustiques. Par conséquent, faire attention
1. Pour placer ces haut-parleurs près d'un téléviseur, couper l'alimentation
avec l'interrupteur principal du téléviseur, ou le débrancher avant
l'installation du système pour remettre l'alimentation du téléviseur.Une
fois le systéme installé attendre au moins 30 minutes avant de mettre le
2. Si d'autres enceintes acoustiques ont été placées près du téléviseur, ces
enceintes peuvent cause une irrégularité dans l'image du téléviseur.
3. En dépit de la conception blindée ces enceintes, certains téléviseurs
peuvent être affectés par elles. Si cela arrive, éloigner légèrement les
SUR LE CIRCUIT DE PROTECTION
Le système est fourni avec un circuit de protection afin d'éviter que
des câbles brûlent à cause d'une trop forte puissance comme vu
précédemment. Dans le cas où le système repère trop de puissance,
le circuit de protection s'active et baisse le volume. Il ne faut pas
interpréter ce phénomène comme un fonctionnement défectueux de
l'appareil, mais au contraire l'activation du circuit de protection. Dans
ce cas, veiller à régler le volume sur la position MIN. Après quelques
instants, le circuit de protection se désactivera et l'appareil pourra
être à niveau normalement utilisé.
: 2 haut-parleurs, 2 voices
(Type à protection magnétique)
Niveau de pression sonore
(10 m, noir et blanc) ......... 2
(5 m, rouge et noir) .......... 3
Séparateurs ............. un jeu
· Sluit met de bijgeleverde luidsprekersnoeren de LEFT-aansluitpunten op
de versterker, bestemd voor aansluiting van de linkerluidspreker, aan op
de LEFT-aansluitpunten op de luidspreker en de punten gemerkt RIGHT
op RIGHT, volgens de aanwijzingen op de afbeelding, waarbij u ervoor
zorgt de polariteit te respekteren; (+) op (+) en (­) op (­). Sluit de zwarte
luidsprekersnoeren aan op de (­) aansluitpunten.
· Schakel de spanning van alle aangesloten komponenten uit alvorens de
luidsprekers met de versterker te verbinden.
· De nominale impedantie van de SP-X880 bedraagt 6
Kies daarom een versterker waarop u een luidspekersysteem kunt
aansluiten met een impedantie belasting van 6
· Het maximum verwerkingsvermogen van de SP-X880 bedraagt 150 W.
Te hoge ingang kan in abnormale geluidsreproduktie en in beschadigingen
Overbelasting en verbranding van de bedrading kan worden veroorzaakt,
wanneer de hieronder beschreven signalen naar de luidspekers worden
gevoed, zelfs wanneer de signalen onder het maximaal toegestane
ingangsvermogen zijn. Verminder eerst het volume van de versterker.
1) Ruis, zoals dit optreedtijdens afstemming op een FM-zender.
2) Hoogfrekwentie signalen van een hoog niveau, zoals die tijdens het
vooruitspoelen van een tapedeck worden geproduceerd.
3) Klikkende geluiden, die worden veroorzaakt door het in - en
uitschakelen van de netspanning van andere komponenten.
4) Klikkende geluiden, zoals die worden geproduceerd bij het tot stand
brengen of verbreken van aansluitingen terwijl de netspanning is
5) Klikkende geluiden, zoals die optreden bij het vervangen van het
element van een draaitafel terwijl de netspanning is ingeschakeld.
6) Klikkende geluiden, zoals die worden geproduceerd door bediening
van de schakelaars van de versterker.
7) Voortdurende hoogfrekwentie-oscillatie, of hoogtonige, elektronisch
geproduceerde geluiden van muziekinstrumenten.
8) Rondzingend geluid bij gebruik van mikrofoons.
I LUIDSPREKER VOOR A/V KOMBINATIE
De SP-X880 is magnetisch afgeschermd zodat deze in de buurt van een
TV en monitor kan worden geplaatst en hierbij de kleuren op het scherm
van deze toestellen niet door de luidspreker worden aangetast.
Indien de luidspreker echter op een verkeerde wijze wordt geãnstalleerd,
worden de kleuren mogelijk wel aangetast.
Let daarom op het volgende:
1. Wanneer u deze luidsprekers in de buurt van een TV plaatst, moet u de
spanningsschakelaar van de TV in de uit-stand drukken of de stekker uit
het stopkontakt trekken alvorens u de luidsprekers installeert.
Wacht vervolgens tenminste 30 minuten nadat het systeem is
geãnstalleerd alvorens de spanning van de TV weer in te schakelen.
2. Indien er een andere luidspreker bij de TV wordt geplaatst, kan die
luidspreker mogelijk een negatieve invloed op de kleuren van het beeld
3. Het kan voorkomen dat deze magnetisch afgeschermde luidsprekers een
negatieve invloed op bepaalde typen TV's heeft.
Uw systeem is voorzien van een beveiliging om te voorkomen dat er
draden doorbranden vanwege te sterke ingangssignalen, zoals
hierboven beschreven. Bij te sterke ingangssignalen zal de beveiliging
in werking treden en zal er een lager volume worden ingesteld. Dit
duidt niet op een storing, maar is het resultaat van de in werking
getreden beveiliging. In een dergelijk geval dient u het volume op zijn
laagste stand te zetten. Na een tijdje schakelt de beveiliging weer uit
en kunt u het systeem weer normaal gebruiken.
: 2 tweeweg 2-luidsprekers
Toegestane vermogenverwerking : 150 W
Voor-/Achter-luidsprekers
(10 m, zwart-wit) .......... 2
(5 m, rood-zwart) ......... 3
Voetjes ............... een set
SP-X880_10langCsB/CID.65Ct
---