CENTER & SURROUND SPEAKER SYSTEM
CENTER SPEAKER SYSTEM : SP-XC60
SURROUND SPEAKER SYSTEM : SP-XS60
MITTENLAUTSPRECHERSYSTEM : SP-XC60
RUNDUMLAUTSPRECHERSYSTEM : SP-XS60
ENCEINTE CENTRALE : SP-XC60
ENCEINTES SURROUND : SP-XS60
MIDDENLUIDSPREKERSYSTEEM : SP-XC60
SURROUNDLUIDSPREKERSYSTEEM : SP-XS60
SISTEMA DE ALTAVOZ CENTRAL : SP-XC60
SISTEMA DE ALTAVOCES PERIMÉTRICOS : SP-XS60
SISTEMA DIFFUSORE CENTRALE : SP-XC60
SISTEMA DIFFUSORI SURROUND : SP-XS60
SURRONDHÖGTALARE : SP-XS60
CENTERHØJTTALERSYSTEM : SP-XC60
SURROUNDHØTTALERSYSTEM : SP-XS60
YMPÄRISTÖTILAKAIUTTIMET : SP-XS60
-- SAFETY INSTRUCTIONS --
"SOME DOS AND DON'TS ON THE SAFE USE OF EQUIPMENT"
This equipment has been designed and manufactured to meet
international safety standards but, like any electrical equipment, care
must be taken if you are to obtain the best results and safety is to be
Do read the operating instructions before you attempt to use the
Do ensure that all electrical connections (including the mains plug,
extension leads and interconnections between pieces of equipment)
are properly made and in accordance with the manufacturer's
instructions. Switch off and withdraw the mains plug when making or
Do consult your dealer if you are ever in doubt about the installation,
operation or safety of your equipment.
Do be careful with glass panels or doors on equipment.
DON'T continue to operate the equipment if you are in any doubt
about it working normally, or if it is damaged in any way -- switch off,
withdraw the mains plug and consult your dealer.
DON'T remove any fixed cover as this may expose dangerous
DON'T leave equipment switched on when it is unattended unless it
is specifically stated that it is designed for unattended operation or
Switch off using the switch on the equipment and make sure that
your family know how to do this.
Special arrangements may need to be made for infirm of handi-
DON'T use equipment such as personal stereos or radios so that
you are distracted from the requirements of traffic safety. It is illegal
to watch television whilst driving.
DON'T listen to headphones at high volume as such use can
permanently damage your hearing.
DON'T obstruct the ventilation of the equipment, for example with
curtains or soft furnishing.
Overheating will cause damage and shorten the life of the equip-
DON'T use makeshift stands and NEVER fix legs with wood screws
-- to ensure complete safety always fit the manufacturer's approved
stand or legs with the fixings provided according to the instructions.
DON'T allow electrical equipment to be exposed to rain or moisture.
­ NEVER let anyone, especially children, push anything into holes,
slots or any other opening in the case.
­ this could result in a fatal electrical shock;
­ NEVER guess or take chances with electrical equipment of any
­ it is better to be safe than sorry!
Grazie per aver acquistato questi altoparlanti della JVC.
Prima di cominciare l'uso degli altoparlanti, leggete attentamente le
istruzioni per assicurare le migliori prestazioni. Qualora sorgessero
dei dubbi, rivolgetevi al vostro rivenditore JVC.
Tack för ditt val av dessa JVC-högtalare.
Innan du kopplar in högtalarna i din ljudanläggning bör du för att få
maximala prestanda från högtalarna läsa igenom bruksanvisningen
noggrant. Kontakta din JVC-återförsäljare om du har frågor eller känner
Tak for købet af JVC-højttalerne.
Gennemlæs venligst vejledningen omhyggeligt før de tages i brug, så
De kan opnå den bedst mulige ydelse. Forhør hos Deres JVC
forhandler hvis De har nogen spørgsmål.
Kiitos siitä ettë päädyit valinnassasi JVC-kaiuttimiin.
Ennen kuin alat käyttää niitä, lue käyttöohje huolellisesti, jotta ne
toimisivat parhaalla mahdollisella tavalla. Jos Sinulla on kysyttävää
ota yhteys JVC-edustajaan.
Thank you for purchasing JVC speakers.
Before you begin using them, please read the instructions carefully to
be sure you get the best possible performance. If you have any ques-
tions, consult your JVC dealer.
Vielen Dank für den Kauf dieser JVC-Lautsprecher.
Lesen Sie bitte diese Bedienungsanleitung vor Ingebrauchnahme
sorgfältig durch, um stets optimale Ergebnisse zu erzielen. Wenden
Sie sich bei etwaigen Fragen bitte an Ihren JVC Händler.
Nous vous remercions pour l'achat de ces enceintes JVC.
Avant de les utiliser, lire ces instructions avec attention pour en obtenir
les meilleures performances possibles. En cas de questions, con-
sulter votre revendeur JVC.
Dank u voor de aanschaf van deze luidsprekers.
Lees alvorens over te gaan tot aansluiten, deze gebruiksaanwijzing
door zodat u de best mogelijke prestaties zult verkrijgen. Neem kontakt
op met de JVC dealer indien u vragen heeft.
Le estamos muy agradecidos por haber adquirido estos altavoces de
Antes de utilizarlos, sirvase leer las instrucciones detenidamente a
fin de obtener el mejor rendimiento posible. Si tienenaluna pregunta,
acuda a su agente de JVC.
---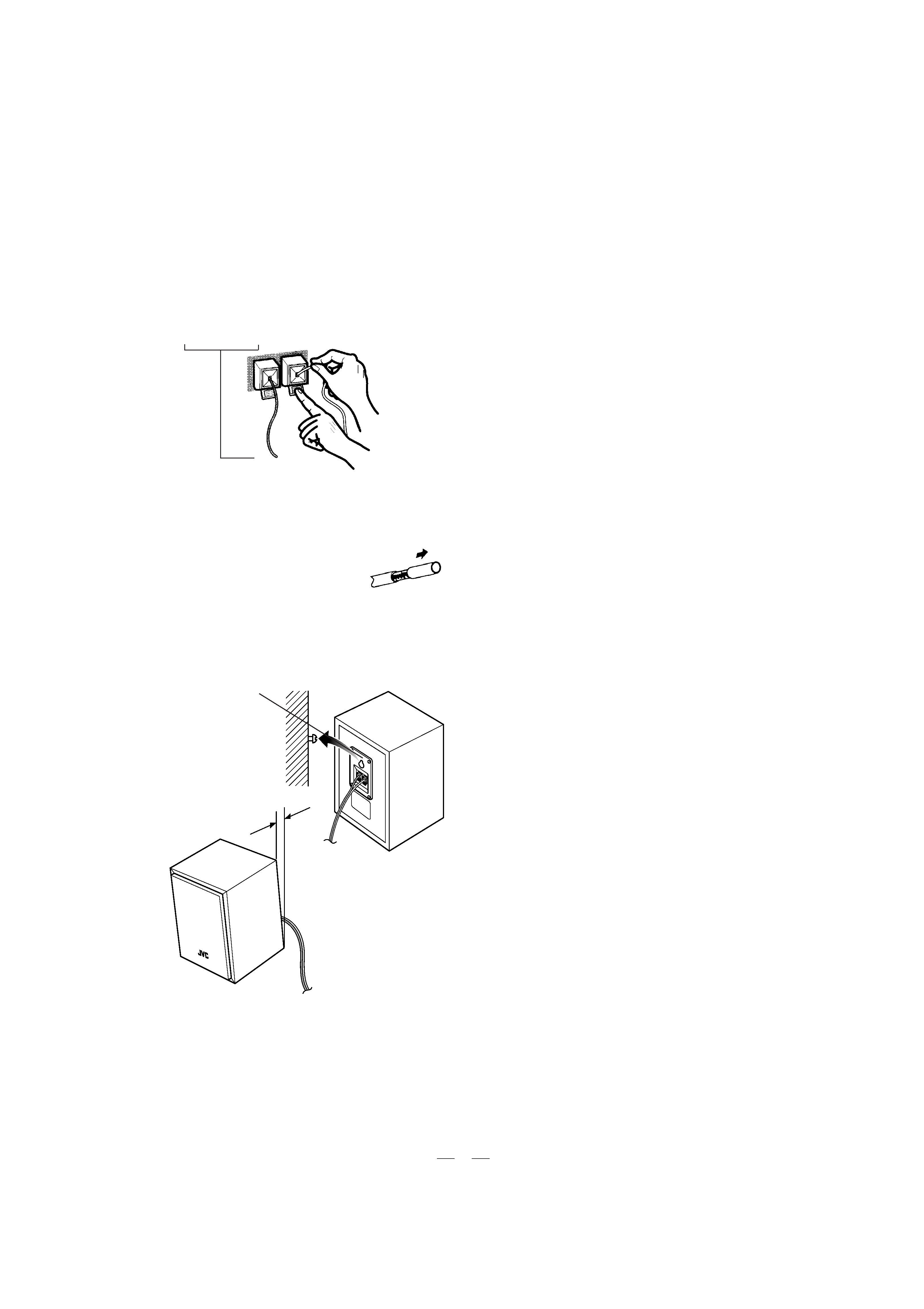 · Connect the CENTER speaker terminals of the amplifier to the terminals
of the SP-XC60 using the attached speaker cords as shown in the figure
making sure polarity is correct; (+) to (+) and (­) to (­).
Connect the black speaker wire to the (­) terminal.
· Connect the LEFT SURROUND speaker terminals of the amplifier to the
LEFT terminals of the SP-XS60 and RIGHT to RIGHT using the attached
speaker cords as shown in the figure making sure polarity is correct; (+) to
Connect the black stripe speaker wire to the (­) terminal.
· Turn off power of all equipment before connecting the speakers to the
· The nominal impedance of the SP-XC60/SP-XS60 is 8 ohms. Select for
use an amplifier to which a speaker system with the load impedance of 8
· The maximum power handling capacity is shown in the SPECIFICATIONS.
Excessive input to the speaker will result in abnormal noise and possible
damage. The following cases described below may cause an overload of
the speakers. Be sure to lower the amplifier volume beforehand.
High level signals containing high frequency components prouduced
by a tape deck in the fast forward mode.
Click noise produced when turning power of other components on
Click noise produced when connecting or disconnecting cords with
Click noise when the cartridge is replaced with the power on .
Click noise produced when operating amplifier switches.
Continuous high frequency oscillation or high pitch musical instrument
Howling or feed back when using a microphones.
SPEAKER FOR A/V COMBINATION
SP-XC60 have a magnetically-shielded design for placement adjacent to TVs
and monitors without causing color aberrations. However, color may be af-
fected as a result of how the speaker system is installed. Therefore, be care-
1. When placing these speakers near a TV set, turn off the TV's main power
switch or unplug it before installing the speakers.
Wait at least 30 minutes after the system is installed before turning on the
2. If another speaker system has been set up near the TV set, that system
may cause color unevenness in the TV's picture.
3. In spite of the shielded design of these speakers, some types of TV's may
be affected by them. If this happens, move the speakers a short distance
HOW TO INSTALL SURROUND SPEAKERS
· This equipment is not magnet-proof. If it is placed near a TV set, color on
a TV screen may become uneven. If the case of installation, therefore,
locate it at sufficient distance from the TV set.
· The speakers of this system are designed to stand on the side or on the
bottom, whichever you prefer.
· When setting the speaker on such as a high shelf, be sure to fix them to
the shelf by using such as metal braces: this a precaution against the
speakers falling off due to shelf trembling.
· You may hitch the speakers to the wall, holding them horizontally or verti-
cally. The back of each speaker has a hole for catching the hook.
: 2-way 3-speaker bass-reflex
(Magnetically-shielded type)
: Full range Acoustic-suspension type
(5-13/16" x 8-1/2" x 5-5/8")
Design and specifications subject to change without notice.
1. Remove the ending part of the vinyl covering from
1. Entfernen Sie dan Endstück der Vinylhüle von dem geschnittenen Teil.
1. Enlever la partie d'extémité du recouvrement
vinylique de la partie déoupée.
1. Snijd het laatste gedeelte van de
vinylmantel af en verwijder.
2. Draai de draadkernen ineen.
1. Remover la parte de extremidad de la
cubierte de plástica de la parte cortada.
1. Rimuovere la parte di estremità della
copertura in plastica dalla parte tagliata.
1. Dra loss den avskurna delen av isoleringen från kabeländen.
1. Fjern enden af vinyl-isoleringen, hvor den er klippet af.
1. Irrota muovipeiteen loppupåå uurteesta.
· Pull aside the speaker cord from
the space between the wall and the
speaker. This will stabilize the
· Ziehen Sie das Lautsprecherkabel
aus dem Raum zwischen der Wand
und dem Lautsprecher. Hierdurch
wird der Lautsprecher stabilisiert.
· Eloigner le cordon d'enceinte de
l'espace entre le mur et l'enceinte.
Cela stabilisera l'enceinte.
· Trek het luidsprekersnoer opzij uit
de ruimte tussen de muur en de
luidspreker. Hierdoor wordt de
luidspreker gestabiliseerd.
· No pase el cable del altavoz entre
éste y la pared. Esto estabilizará
· Allontanare il cavo di altoparlante
dallo spazio tr a m uro e
altoparlante. Questo ser ve a
stabilizzare l'altoparlante.
· Dra undan högtalarkabeln från
mellanrummet mellan väggen och
högtalaren för att stabilisera
· Træk højttaler kablet væk fra
højttaleren. Dette vil stabilisere
· Vedä kaiutinjohto seinän ja
---

· Die klemmen CENTER am Verstärker über die mitgelieferten Lautsprecherkabel
mit den Klemmen am SP-XC60 verbinden, wie in der Abbildung gezeigt, und
sicherstellen, daß die Polung richtig ist: (+) an (+) und (­) an (­).
Das schwarze Lautsprecherkabel an die Klemme (­) anschließen.
· Die Klemmen LEFT (Rundumklang) am Verstärker über die mitgelieferten
Lautsprecherkabel mit den Klemmen LEFT am SP-XS60 und entsprechend die
Klemmen RIGHT mit den Klemmen RIGHT verbinden, wie in der Abbildung
gezeigt, und sicherstellen, daß die Polung richtig ist: (+) an (+) und (-) an (-).
Das schwarzer streifen Lautsprecherkabel an die Klemme (­) anschließen.
· Alle Geräte der Anlage ausschalten, bevor die Boxen an den Verstärker
· Die Nennimpedanz der SP-XC60/SP-XS60 beträg 8 ohms. Wählen Sie einen
Verstärker, an den ein Lautsprechersystemmiteiner Lastimpedanz von 8 Ohm
angeschlossen werden kann.
· Die maximale Belastbarkeit ist in den TECHNISCHEN DATEN aufgeführt. Zu
starke Belastung der Boxen hat anomale Störgeräusche und mögliche Schäden
zur Folge. In den folgenden Fällen können die Boxen überlastet werden. Immer
vorher die Lautstärke niedriger einstellen.
1) Geräusche beim Einstellen von UKW-Sendern.
2) Hochpegelige Signale mit Hochfrequenz-Anteilen, die von Tonbanddecks beim
Schnellvorspulen erzeugt werden.
3) Klickgeräusche, wenn die Spannungsversorgung anderer Komponenten ein-
4) Klickgeräusche, wenn Kabel angeschlossen order abgetrennt werden,
während die Spannungsversorgung eingeschaltet ist.
5) Klickgeräusche, wenn der Tonabnehmer des Plattenspielers ausgewechselt
wird, während die Spannungsversorgung eingeschaltet ist.
6) Klickgeräusche, die beim Betätigen von Schaltern des Verstärkers erzeugt
7) Kontinuierliche Oszillation bei hohen Frequenzen oder hohen Tönen von
8) Bei Verw endung eines Mikrofons treten Pfeif- oder andere
Rückkopplungsgeräusche auf.
LAUTSPRECHERBOXEN FÜR AUDIO/VIDEO-KOMBINATION
Die SP-XC60 haben eine magnetisch abgeschirmte Konstruktion zur Aufstellung
neben Fernsehern oder Monitoren, ohne Farbverfälschung zu verursachen.
Je nach Aufstellungsar t können aber trotz dieser Konstr uktion u.U.
Farbverfälschungen verursacht werden.
Achten Sie darum bei der Aufstellung auf folgendes:
1. Bei Aufstellung dieser Boxen in der Nähe eines Fernsehers den Netzschalter
des Fernsehers ausschalten oder seinen Netzstecker aus der Steckdose ziehen,
bevor die Boxen installiert werden.
Mindestens 30 Minuten nach der Installation des Systems warten, bis der
Fernseher eingeschaltet wird.
2. Wenn ein anderes Lautsprechersystem in der Nähe des Fernsehers aufgestellt
ist, kann das andere System Farbverfälschungen hervorrufen.
3. Trotz der abgeschirmten Konstruktion dieser Boxen können manche Fernseher
von ihnen beeinflußt werden. Wenn dies der Fal ist, müssen die Boxen etwas
weiter entfemt vom Fernseher aufgestellt werden.
AUFSTELLEN DER SURROUND-BOXEN
· Dieses Modell hat keine magnetische Abschirmung. Bei der Wahl des Aufstellorts
ist daher ein ausreichend großer Abstand zu Fernsehgeräten einzuhalten, da
andernfalls de Farbwiedergabe beeinträchtigt wird.
· Die Lautsprecher des Systems lassen sich nach Wunsch mit ihrer Seitenwand
odedr mit ihrer Unterseite aufstellen.
· Bei Regaleinbau müssen die Lautsprecher mit Metallklammern in ihrer Lage
gesichert werden, damit sie nicht bei Erschütterungen herunterfallen.
· Die Boxen lassen sich vertikal oder horizontal an der Wand aufhängen.
: 2-Weg, 3-Lautsprecher-Baßreflexbox
(Magnetisch abgeschirmter Typ)
: Lautsprecherkabel (3m) ... 1
: Vollbereichstyp mit akustischer
: Lausprecherkabel (6m) ... 2
Technische Änderungen vorbehalten.
· Raccorder les bornes de l'enceinte du centre (CENTER) de l'amplificateur à
celles du SP-XC60 en se servant des cordons d'enceinte fournis comme l'indique
la figure et en s'assurant que les polarités correspondent; (+) à (+) et (­) à (­).
Raccorder le cordon d'enceinte noir à la borne (­).
· Raccorder les bornes de l'enceinte gauche surround (LEFT) de l'amplificateur
aux bornes LEFT du SP-XS60 et la borne RIGHT à la borne RIGHT en se
servant des cordons d'enceinte fournis comme l'indique la figure et en s'assurant
que les polarités correspondent ; (+) à (+) et (-) à (-). Raccorder le cordon
d'enceinte de raie noire à la borne (­).
· Couper l'alimentation de toute la chaîne avant de raccorder les hantparleurs à
· L'impédance nominale du SP-XC60/SP-XS60 est de 8 ohms. Les raccorder
aux connexions de haut-parleurs de l'amplificateur de 8 ohms.
· La puissance maximale admissible est indiquée sur les CARACTERISTIQUE
TECHNIQUES. Une entrée plus grande peut produire des bruits anormaux et
abimer les haut-parleurs. Dans les cas ou les signaux décrits ci-aprés sont
appliqués aux hautparleurs, même si les signaux sont inférieurs à l'entrée
maximale disponible, ils peuvent produire une surcharge et griller le bobbinage
des haut-parieurs. Bien baisser le volume de l'amplificateur au préalable.
1) Bruit pendant la syntonisation FM.
2) Signaux de haut niveau contenant des composantes haute fréquence
produites par une platine à bande en mode d'avance rapide.
3) Bruit de déclic produit en commutant l'alimentation d'autres éléments.
4) Bruit de déclic produit en raccordant ou débranchant des cordons avec
5) Bruit de déclic lorsque la cartouche est remplacée avec l'alimentation
6) Bruit de déclic produit en manipulant les commutateurs de l'amplificateur.
7) Oscillation continue haute fréquence ou hauteur élevée produite
électroniquement par le son d'un instrument de musique.
8) Huriement en utillsant des microphones.
HAUT-PARLEURS POUR COMBINAISON A/V
Le SP-XC60 est conçu avec un blindage magnétique pour pemettre de le placer
proche des téléviseurs ou des moniteurs sans causer de distorsions dans les
couleurs. Toutefois, les couleurs peuvent être affectées en fonction de l'installation
des enceintes acoustiques. Par conséquent, faire attention aux points suivants:
1. Pour placer ces haut-parleurs près d'un téléviseur, couper l'alimentation avec
l'interrupteur principal du téléviseur, ou le débrancher avant l'installation du
système pour remettre l'alimentation du téléviseur.Une fois le systéme installé
attendre au moins 30 minutes avant de mettre le téléviseur sous tension.
2. Si d'autres enceintes acoustiques ont été placées près du téléviseur, ces
enceintes peuvent cause une irrégularité dans l'image du téléviseur.
3. En dépit de la conception blindée ces enceintes, certains téléviseurs peuvent
être affectés par elles. Si cela arrive, éloigner légèrement les enceintes du
COMMENT INSTALLER LES HAUT-PARLEURS CENTRAL ET SURROUND
· Cet équipement n'est pas protégé contre le magnétisme. S'il est placé près
d'un téléviseur, les couleurs de l'écran de télévision peuvent être affectées. Il
faut donc installer ces enceintes à une distance suffisante d'un téléviseur.
· Les enceintes de ce système sont conçues pour être posées horizontalement
ou verticalement, comme préféré.
· Lors de l'installation des enceintes sur une étagère élevée, etc. toujours les
fixer à l'étagère avec des attaches métalliques ou dispositifs équivalents, comme
précaution contre une chute des enceintes si létagère oscille.
· Les enceintes peuvent être accrochées à un mur, horizontalement ou
verticalement. Un orifice est prévu au dos de chaque enceinte pour la poser sur
: Enceinte 2 voies, 3 haut-parleurs
type à réflexion des basses
(Type à protection magnétique)
Niveau de pression sonore
: Cordon des enceintes (3m)
: Type à suspension acoustique
: Cordon des enceintes (6m)
Présentation et caractéristiques modifiables sans préavis.
---

· Verbind de CENTER luidsprekeraansluitingen van de versterker met de
aansluitingen van de SP-XC60 middels de bijgeleverde luidsprekerdraden zoals
in de afbeelding aangegeven. Sluit de juiste polen op de juiste polen aan; (+) op
Verbind het zwarte luidsprekerdraad met de (­) aansluiting.
· Verbind de LEFT SURROUND luidsprekeraansluitingen van de versterker met
de LEFT aansluitingen van de SP-XS60 en verbind RIGHT met RIGHT middels
de bijgeleverde luidsprekerdraden zoals in de afbeelding aangegeven. Sluit de
juiste polen op de juiste polen aan; (+) op (+) en (­) op (­).
Verbind het zwarte streep luidsprekerdraad met de (­) aansluiting.
· Schakel de spanning van alle apparatuur uit alvorens de luidspreker met de
· De nominale impedantie van de SP-XC60/SP-XS60 is 8 Ohm. Kies daarom
een versterker waarop u een luidspekersysteem kunt aansluiten met een
impedantie belasting van 8 Ohm.
· Het maximale vermogen is aangegeven in het gedeelte TECHNISCHE
Als een te sterk vermogen naar de luidspreker wordt gevoerd, zal dit resulteren
in ruis en mogelijk beschadiging van de luidspreker. De luidsprekers worden
mogelijk in de hieronder beschreven gevallen overbelast. Verlaag daarom in
deze gevallen het volume van de versterker.
1) Ruis, zoals dit optreedtÿdens afsteming op een FM-zender.
2) Hoogfrekwentie signalen van een hoog niveau, zoals die tijdens het
vooruitspoelen van een tapedeck worden geproduceerd.
3) Klikkende geluiden, die worden veroorzaakt door het in- en uitschakelen van
de netspanning van andere komponenten.
4) Klikkende geluiden, zoals die worden geproduceerd bij het tot stand brengen
of verbreken van aansluitingen terwijl de netspanning is ingeschakeld.
5) Klikkende geluiden, zoalsdie optreden bij het vervangen van het element
van een draaitafel terwiji de netspanning is ingeschakeld.
6) Klikkende geluiden, zoals die worden geproduceerd door bediening van de
schakelaars van de versterker.
7) Doorlopende hoge frekwentie schommelingen of geluid van instrument met
8) Een huilend geluid of feedback bij gebruik van een mikrofoon.
LUIDSPREKER VOOR A/V KOMBINATIE
De SP-XC60 is magnetisch afgeschermd zodat deze in de buurt van een TV en
monitor kan worden geplaatst en hierbij de kleuren op het scherm van deze
toestellen niet door de luidspreker worden aangetast.
Indien de luidspreker echter op een verkeerde wijze wordt geãnstalleerd, worden
de kleuren mogelijk wel aangetast.
Let daarom op het volgende:
1. Wanneer u deze luidsprekers in de buurt van een TV plaatst, moet u de
spanningsschakelaar van de TV in de uit-stand drukken of de stekker uit het
stopkontakt trekken alvorens u de luidsprekers installeert.
Wacht vervolgens tenminste 30 minuten nadat het systeem is geãnstalleerd
alvorens de spanning van de TV weer in te schakelen.
2. Indien er een andere luidspreker bij de TV wordt geplaatst, kan die luidspreker
mogelijk een negatieve invloed op de kleuren van het beeld hebben.
3. Het kan voorkomen dat deze magnetisch afgeschermde luidsprekers een
negatieve invloed op bepaalde typen TV's heeft.
INSTALLEREN VAN DE SURROUNDLUIDSPREKERS
· Dit toestel is niet anti-magnetisch. Het televisiebeeld kan daarom door dit toestel
worden gestoord indien deze twee toestellen dicht bij elkaar zijn geplaatst. Plaats
de toestellen daarom niet te dicht bij elkaar.
· De luidsprekers van dit toestel kunnen naar uw persoonlijke voorkeur horizontaal
of vertikaal worden geplaatst.
· Bevestig de luidsprekers met beugels indien deze op een hoge plank of dergelijke
worden geplaatst. De luidsprekers kunnen door trillingen anders mogelijk vallen.
· De luidsprekers kunnen horizontaal of vertikaal aan de wand worden bevestid.
Op het achterpaneel van de luidsporekers bevindt zich een gaatje waarmee de
luidspreker op een schroef in de muur kan worden gehangen.
: 2 tweeweg luidsprekers 3 bass reflex
Toegestane vermogenverwerking
: Full range Acoustic-suspension
Toegestance vermogenverwerking
Veranderingen in technische gegevens en ontwerp onder voorbehoud.
· Conectar los terminales del altavoz CENTER al amplificador con los terminales
del SP-XC60 utilizando los cables para altavoces suministrados como se ilustra
en la figura, asegurándose de que la polaridad sea correcta, es decir (+) con
Conectar el alambre negro del altavoz al terminal (­).
· Conectar los terminales del altavoz perimétrico LEFT del amplificador a los
terminales LEFT del SP-XS60 e RIGHT con RIGHT utilizando los cables de
altavoces suministrados, como se ilustra en la figura, asegurándose de que la
polaridad sea correcta, es decir (+) con (+) y (­) con (­). Conectar el alambre
de banda negra del altavoz al terminal (­).
· Desactivar la alimentación de todo el equipo antes de conectar el altoparlante
· La impedancia nominal del SP-XC60/SP-XS60 es de 8 ohmios. Seleccione
un amplificador al quepuedan conectarse altavoces con una impedancia de
· La capacidad de uso de la alimentación máxima se indica en la sección de las
Una entrada excesiva del altavoz causará ruido anormal y posibilidad de daño.
Los casos describidos a continuación pueden ocasionar una sobrecarga de
los altavoces. Asegúrese de que el volumen del amplificador sea reducido de
1) Ruido durante la sintonía en FM.
2) Señales de alto nivel que contengan componentes de alta frecuencia
producidos por un magnetófono en el modo de avance rápido.
3) Ruidos de conmutación provocados al encender y apagar otros
4) Ruido de conmutación al conectar o desconectar cables con los
5) Ruido de conmutación cuando se reemplaza la cápsula con los
6) Ruido de conmutación provocados por la operación de los selectores del
7) Oscilación de frecuencia elevada continua o sonido de instrumento musi-
8) Zumbido o feed back cuando se utiliza un micrófono.
ALTAVOZ PARA COMBINACIÓN A/V
El modelo SP-XC60 tiene una construcción protegida magneticamente para una
colocación contigua de los televisores y monitores sin causar aberraciones de
Sin embargo, el color puede ser afectado como resultado del modo de instalar el
1. Al colocar los altavoces cerca de un televisor, desactivar el interruptor de
alimentación principal del televisor o desconectarlo antes de instalar los
Esperar a lo menos 30 minutos después de instalar el sistema y antes de
activar la alimentación del televisor.
2. Si otro sistema del altavoz ha sido ajustado cerca del televisor, este sistema
puede causar una desigualdad de color en la imagen del televisor.
3. A pesar de la protección de estos altavoces, algúnos tipos del televisores
pueden estar afectados por ellos. En este caso, mover los altavoces a una
distancia corta de la unidad del televisor.
CÓMO INSTALAR LOS ALTAVOCES DE ENTORNO
· Este equipo no tiene protección antimagnética. Si se lo coloca junto a un
televisor, los colores en la pantalla pueden verse afectados. Si se da este
caso, ubicar el equipo a más distancia del televisor.
· Los altoparlantes de este sistema han sido diseñados de manera que puedan
ser utilizados en posición vertical o bien en posición horizontal, según se
· Al ubicar los altoparlantes en lugares altos tales como repisas es importante
asegurarlos correctamente con trabas para evitar el riesgo que caígen al
· Los altoparlante puedan ser suspendidos de la pared vertical u horizontalmente.
En la parte trasera de cada altoparlante hay un orificio para esta instalación.
: Reflex bajo con 3-altavoces y 2 vias
(Tipo de protección magnética)
: Tipo cónico de 9 cm x 2
: Tipo cónico de 5 cm x 1
Dimensiones (An x Al x Pr)
: Tipo de suspensión acústica de gama completa
: Tipo cónico de 10 cm x 1
Dimensiones (An x Al x Pr)
El diseño y las especificaciones están sujetos a combios sin aviso.
---

· Collegare i terminali dell'altoparlante CENTER all'amplificatore ai terminali
del SP-XC60 utilizzando i cavi per altoparlanti forniti come viene illustrato
nella figura, mentre si deve verificare che la polarità sia corretta, cioè (+) a
Collegare il filo nero dell'altoparlante al terminale (­).
· Collegare i terminali di altoparlante LEFT SURROUND (surround di sinistra)
dell'amplificatore ai terminali LEFT (sinistra) del SP-XS60 e quelli RIGHT
(destra) ai terminali RIGHT, utilizzando i cavi di altoparlante forniti in dotazione,
come mostrato in figura, rispettando le polarità: il (+) al (+) e il (-) al (-).
Collegare il filo righe nere dell'altoparlante al terminale (­).
· Disattivare l'alimentazione di tutta l'attezzatura prima di collegare l'altoparlante
· L'impedanza nominale del SP-XC60/SP-XS60 è 8 ohm. Selezionate per l'uso
un ampolificatore a cui collegare un altoparlante con un'impedenza di carico
· La capacità di uso dell'alimentazione massima viene mostrata nella sezione
Un ingresso eccessivo dell'altoparlante risulterà rumore anormale e possibilità
di danno. I casi descritti di seguito possono causare un sovraccarico degli
altoparlanti. Assicurarsi che il volume dell'amplificatore sia ridotto in anticipo.
1) Generazione di rumore durante la sintonizzazione FM.
2) Segnali di alto livello che contengono dei componenti ad alta frequenza
riprodotti da una píastra a cassette nel modo di avanzamento rapido.
3) Si sentirà uno scatto quando accendete o spegnete la corrente degli altri
4) Si sentirà uno scatto quando collegate o scollegate i cavi con la corrente
5) Si sentirà uno scatto quando viene sostituita la cartuccia con la corrente
6) Si sentirà uno scatto quando vengono usati gli interruttori dell'amplificatore.
7) Oscillazione di alta frequenza continua oppure suono dello strumento
8) Ronzio oppure feed back quando si utilizza un microfono.
ALTOPARLANTE PER COMBINAZIONE A/V
SP-XC60
presenta una costruzione protetta magneticamente per
una installazione adiacente ai televisori e monitori senza causa aberrazioni del
Comunque, il colore può essere influenzato negativamente come risultato
dell'installazione del sistema degli altoparlanti.
1. Quando si mettono questi altoparlanti vicino ad un televisore, disattivare
l'interruttore dell'alimentazione principale del televisore oppure scollegarlo
prima di installare gli altoparlanti.
Aspettare almeno 30 minuti dopo che il sistema è installato e prima di attivare
l'alimentazione del televisore.
2. Se un'altro sistema di altoparlanti è stato regolato vicino al televisore, questo
sistema può causare una irregolarità del colore dell'immagine del televisore.
3. Malgrado la protezione di questi altoparlanti, alcuni tipi di televisori possono
essere influenzati negativamente da loro. Se questo si produce, spostare gli
altoparlanti ad una distanza corta dal televisore.
COME INSTALLARE GLI ALTOPARLANTI CIRCOSTANTI
· Questa unità non è protetta contro la calamita. Se viene messa vicina a un
posto di televisione, il colore dello schermo di televisione diventerà
disuniforme. Se si effetua il montaggio, posizionarla a una certa distanza dal
· Gli altoparlanti di questo sistema sono stati concepiti per stare al lato oppure
sul fondo, come desiderato.
· Quado gli altoparlanti devono essere messi su un scaffale a muro alto,
assicurarsi che siano fissati allo scaffale usando dei sostegni metallici, come
precauzione contro la caduta degli altoparianti in caso di vibrazioni dello
· Si possono agganciare gli altoparlanti al muro, mantenendoli orizzontalmente
oppure verticalmente. La parte posteriore di ogni altoparlante presenta un
foro per attaccare il gancio.
: Reflex basso con 3-altoparlanti e 2 vie
(Tipo a schermatura magnetica)
Livello della pressione sonora
: Cavo del'altoparlante (3m)
: Tipo a sospensione, intera gamma acustica
Livello della pressione sonora
: Cavo del'altoparlante (6m)
Il disegno e le specificazioni sono soggetti a cambiamenti senza preavviso.
· Använd medföljande högtalarkablar till att ansluta högtalaruttagen CEN-
TER på förstärkaren till intagen på SP-XC60 såsom visas på illustrationen.
Var noga med att högtalaren ansluts med rätt polaritet, dvs. (+) till (+) och
Anslut den svarta högtalarkabeln till ut/intagen (­).
· Använd medföljand högtalarkablar till att ansluta högtalaruttagen LEFT
SURROUND på förstärkaren till intagen LEFT på SP-XS60 och RIGHT till
RIGHT såsom visas på illustrationen. Var noga med att högtalarna ansluts
med rätt polaritet, dvs. (+) till (+) och (­) och (­).
Anslut de
svart rand
till ut/intagen (­).
· Slå av strömmen till samtliga komponenter före högtalarnas anslutning till
· Högtalarnas SP-XC60/SP-XS60 nominella impedans är 8 ohm. Se till att
använda en förstärkare till vilken högtalare med en belastnings impedans
· Högtalarnas maximala effekthanteringskapacitet anges i TEKNISKA DATA.
För hög innivå leder till störningar i ljudet via högtalarna och kan orsaka
skador på högtalarna. De situationer som beskrivs nedan kan leda till
överbelastning av högtalarna. Var noga med att först sänka volymnivån på
1) Brus under inställning av FM-radiostationer.
2) Star ka, högfrekventa signaler från ett kassettdäck under
3) Ljudbangar som uppstår när andra apparater i anläggningen slås till
4) Skrapljud som uppstår när anslutningskablar ansluts eller kopplas från.
5) Skrapljud som uppstår när pickupelementet på en skivspelare byts.
6) Ljudbangar som uppstår när du anvander förstärkarens omkopplare.
7) Kontinuerliga högfrekventa svängningar eller instrumentalt ljud med höga
8) Tjut eller rundgång som uppstår när mikrofon används.
HÖGTALARE FÖR LJUD/VIDEOANLÄGGNING
SP-XC60 är en magnetiskt avskämad högtalare som kan placeras intill en
TV-mottagare eller monitor utan att det uppstår färgskiftningar på bildskärmen.
Det kan emellertid ändå hända att färgbilden påverkas, beroende på hur
Observera därför följande:
1. Tryck på huvudströmbrytaren på TV:n för att slå av strömmen, eller koppla
ur TV:ns nätkabel, innan högtalaren placeras nära en TV.
Vänta i minst 30 minuter efter att högtalaren monterats, innan strömmen
2. En annan högtalare, som placerats nära TV:n, kan orsaka färgskiftningar
3. Trots att denna högtalare är magnetiskt avskärmad, kan det hända att
vissa typer av TV-apparater ändå påverkas av den. Flytta i så fall högtalaran
lite längre bort från TV:n.
PLACERING/MONTERING AV AKUSTISKA HÖGTALARE
· Denna utrustning är inte magnetiskt avskärmad. Om den ställs när en TV-
mottagare, kan TV-bildens färger bli ojämna. Ställ därför utrustningen på
tillräckligt avstånd från TV-mottagaren.
· Högtalarna kan användas stående på sidan eller på undersidan, vilket
· Om högtalarna ställs högt upp på t.ex. en hylla, skall du sätta fast dem i
hyllan med metallbeslag eller liknande, detta för att förhindra att högtalarna
faller ned om hyllan stöts till.
· Du kan också sätta uppo högtalarna på väggen, lodrätt eller vågrätt. Varje
högtalare har ett hål på baksidan för upphängning på en skruv.
: 2-vägs, 3-elements basreflexhögtalare
Effekthanteringskapacitet
: Högtalarkabel (3m) ... 1
: Fullbands högtalare med akustisk upphängning
Täcker hela frekvensområdet
Effekthanteringskapacitet
: Högtalarkabel (6m) ... 2
Rätt till ändringar av utförande och specifikationer förbehålles utan föregående
---