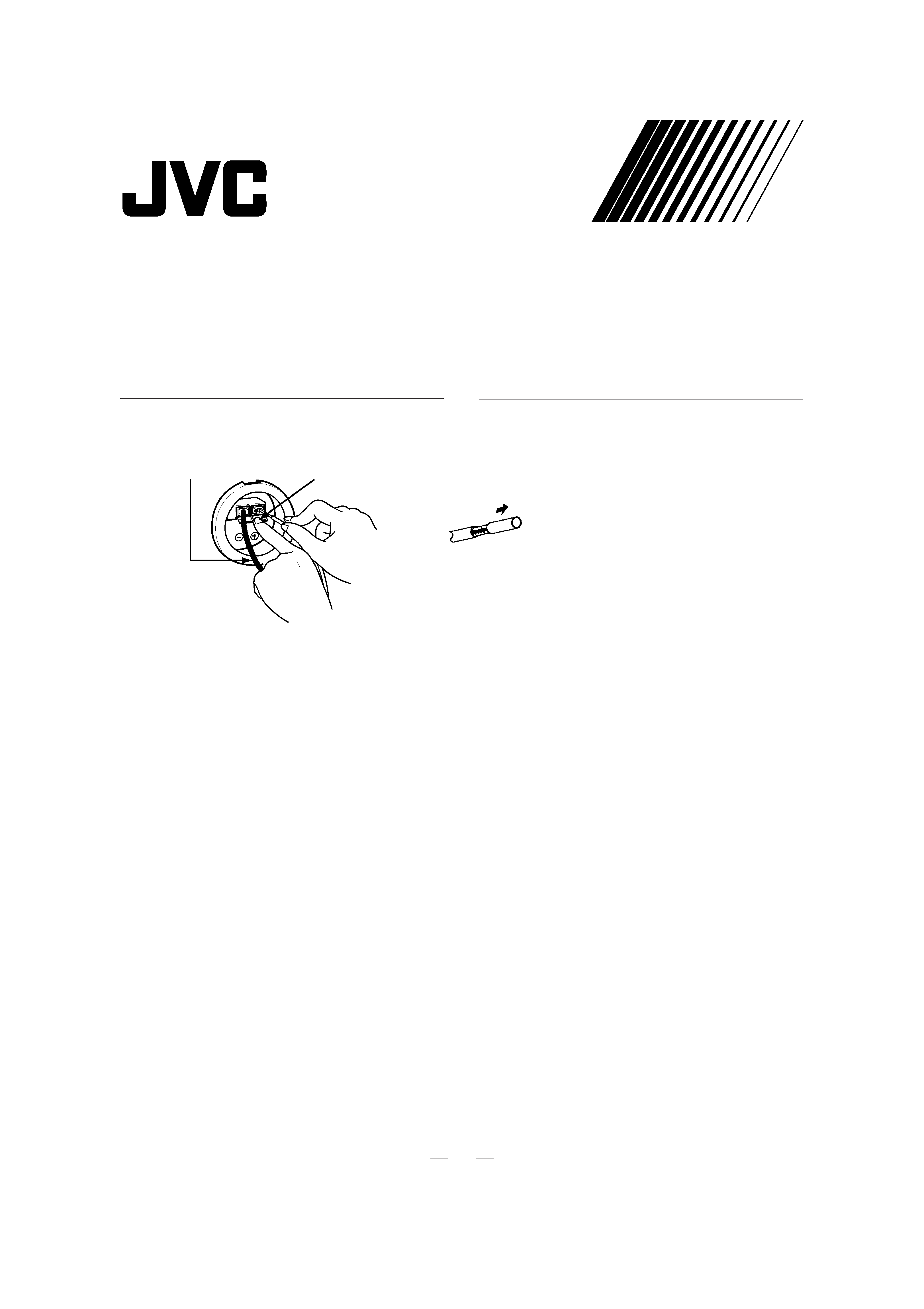 Thank you for purchasing JVC speakers.
Before you begin using them, please read the instructions carefully
to be sure you get the best possible performance. If you have any
questions, consult your JVC dealer.
1. Remove the ending part of the vinyl covering from the cut.
· Connect the LEFT speaker terminals of the amplifier to the LEFT
terminals of the speaker and RIGHT to RIGHT using the attached
speaker cords as shown in the figure making sure polarity is
correct; (+) to (+) and (­) to (­). Connect the black speaker wire
· Turn off power to the whole system before connecting the
speakers to the amplifier.
· The nominal impedance of the SP-MXS6MD is 6
use an amplifier to which a speaker system with the load
· The maximum power handling capacity of the SP-MXS6MD is
50 W. Excessive input will result in abnormal noise and possible
damage. In cases where the signals described below are applied
to the speakers, even if the signals are below the maximum
allowable input, they may cause an overload and burn the wiring
of the speakers. Be sure to lower the amplifier volume
1) Noise during FM tuning.
2) High level signals containing high frequency components
produced by a tape deck in the fast forward mode.
3) Click noise produced when turning power of other components
4) Click noise produced when connecting or disconnecting cords
5) Click noise produced when the cartridge is replaced with the
6) Click noise produced when operating amplifier switches.
7) Continuous high frequency oscillation or high pitch
electronically produced musical instrument sound.
8) Howling when using a microphones.
---

: 13.5 cm (5-3/8 in.) cone x 1
: 5.0 cm (2 in.) cone x 1
Power Handling Capacity : 50 W
: 165 mm x 275 mm x 201 mm
(6-1/2 in. x 10-7/8 in. x 7-15/16 in.)
: Speaker cord ................... 2
Design and specifications subject to change without notice.
VICTOR COMPANY OF JAPAN, LIMITED
---