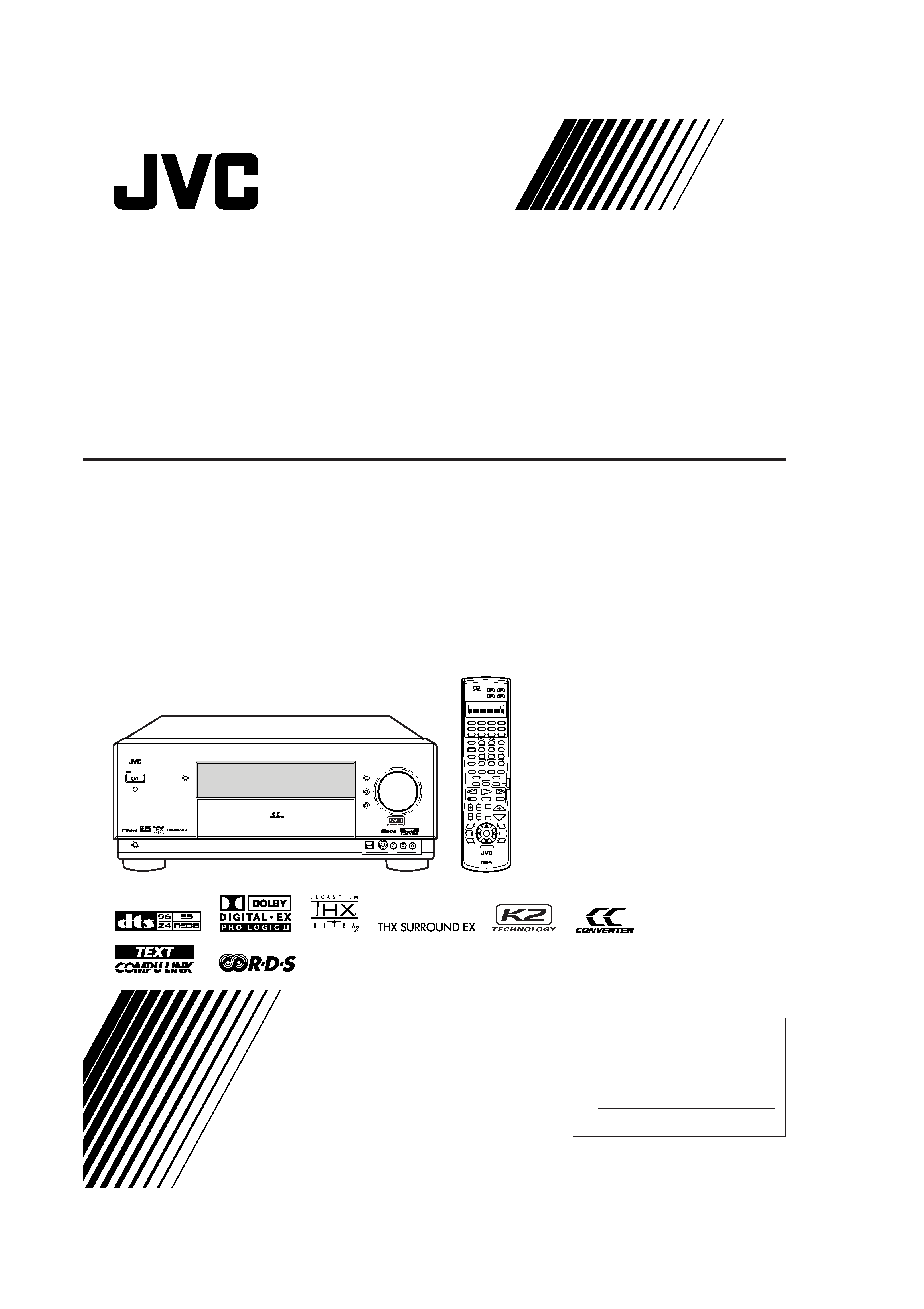 AUDIO/VIDEO CONTROL RECEIVER
Enter below the Model No. and Serial
No. which are located either on the rear,
bottom or side of the cabinet. Retain this
information for future reference.
AUDIO/VIDEO CONTROL RECEIVER
--- Warnings, Cautions and Others
DO NOT cut off the mains plug from this equipment. If the plug
fitted is not suitable for the power points in your home or the
cable is too short to reach a power point, then obtain an
appropriate safety approved extension lead or consult your
BE SURE to replace the fuse only with an identical approved
type, as originally fitted.
If nonetheless the mains plug is cut off ensure to remove the
fuse and dispose of the plug immediately, to avoid a possible
shock hazard by inadvertent connection to the mains supply.
If this product is not supplied fitted with a mains plug then follow
the instructions given below:
DO NOT make any connection to the terminal which is marked
with the letter E or by the safety earth symbol or coloured green
The wires in the mains lead on this product are coloured in
accordance with the following code:
As these colours may not correspond with the coloured
markings identifying the terminals in your plug proceed as
The wire which is coloured blue must be connected to the
terminal which is marked with the letter N or coloured black.
The wire which is coloured brown must be connected to the
terminal which is marked with the letter L or coloured red.
IF IN DOUBT - CONSULT A COMPETENT ELECTRICIAN.
To reduce the risk of electrical shocks, fire, etc.:
Do not remove screws, covers or cabinet.
Do not expose this appliance to rain or moisture.
Disconnect the mains plug to shut the power off completely.
(STANDBY/ON) switch in any position does not
disconnect the mains line. The power can be remote controlled.
· Do not block the ventilation openings or holes.
(If the ventilation openings or holes are blocked by a
newspaper or cloth, etc., the heat may not be able to get
· Do not place any naked flame sources, such as lighted
candles, on the apparatus.
· When discarding batteries, environmental problems must be
considered and local rules or laws governing the disposal of
these batteries must be followed strictly.
· Do not use this apparatus in a bathroom or places with water.
Also do not place any containers filled with water or liquids
(such as cosmetics or medicines, flower vases, potted plants,
cups, etc.) on top of this apparatus.
To avoid personal injury or accidentally
dropping the unit, have two persons unpack,
carry, and install the unit.
RX-DP20VSL[B]SAFETY_f.pdf
---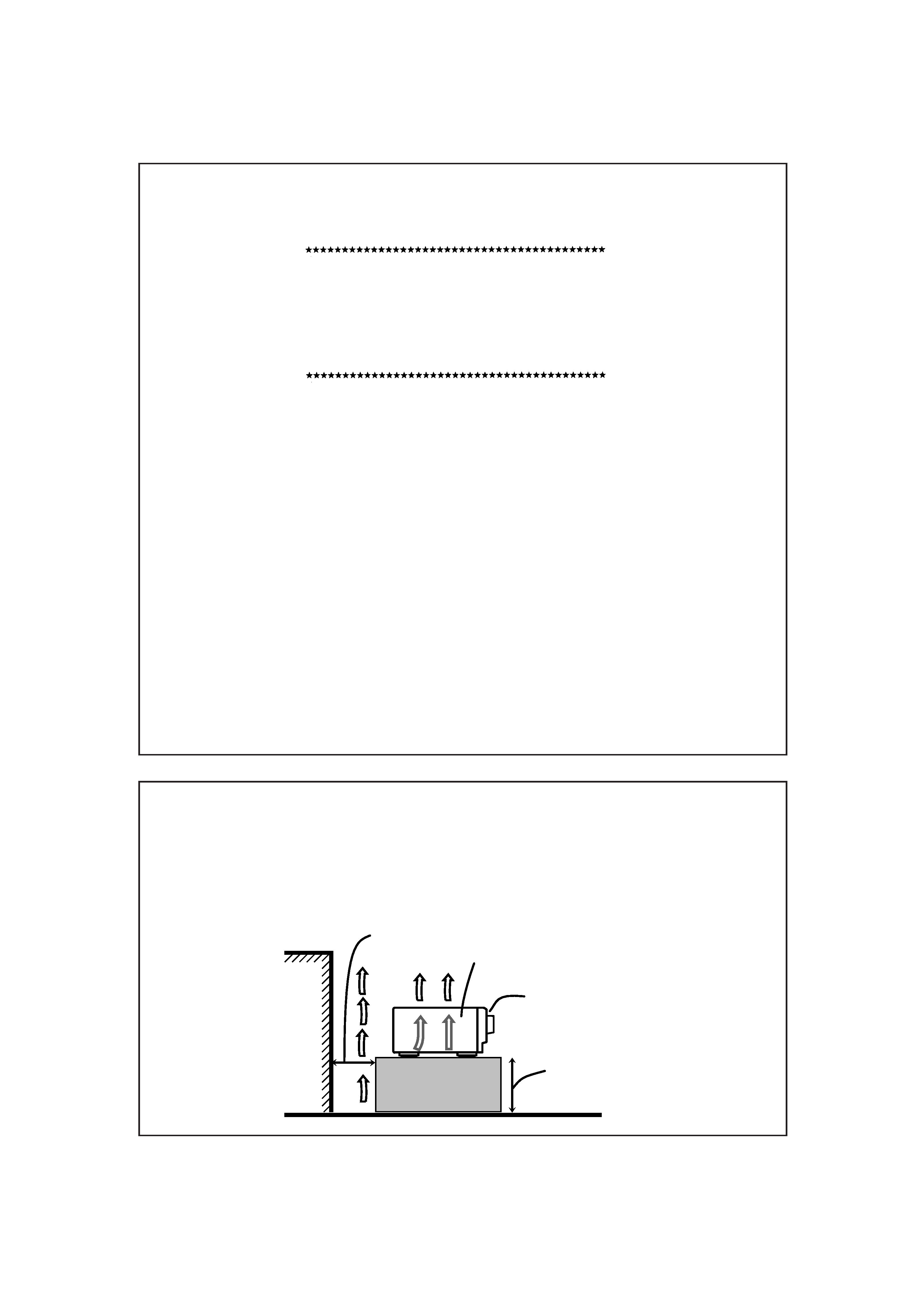 "SOME DOS AND DON'TS ON THE SAFE USE OF EQUIPMENT"
This equipment has been designed and manufactured to meet international safety standards but, like any electrical equipment, care must be
taken if you are to obtain the best results and safety is to be assured.
Do read the operating instructions before you attempt to use the equipment.
Do ensure that all electrical connections (including the mains plug, extension leads and interconnections between pieces of equipment) are
properly made and in accordance with the manufacturer's instructions. Switch off and withdraw the mains plug when making or changing
Do consult your dealer if you are ever in doubt about the installation, operation or safety of your equipment.
Do be careful with glass panels or doors on equipment.
DON'T continue to operate the equipment if you are in any doubt about it working normally, or if it is damaged in any way­switch off, withdraw
the mains plug and consult your dealer.
DON'T remove any fixed cover as this may expose dangerous voltages.
DON'T leave equipment switched on when it is unattended unless it is specifically stated that it is designed for unattended operation or has
Switch off using the switch on the equipment and make sure that your family know how to do this.
Special arrangements may need to be made for infirm or handicapped people.
DON'T use equipment such as personal stereos or radios so that you are distracted from the requirements of traffic safety. It is illegal to watch
television whilst driving.
DON'T listen to headphones at high volume as such use can permanently damage your hearing.
DON'T obstruct the ventilation of the equipment, for example with curtains or soft furnishings.
Overheating will cause damage and shorten the life of the equipment.
DON'T use makeshift stands and NEVER fix legs with wood screws -- to ensure complete safety always fit the manufacturer's approved
stand or legs with the fixings provided according to the instructions.
DON'T allow electrical equipment to be exposed to rain or moisture.
-- NEVER let anyone, especially children, push anything into holes, slots or any other opening in the case -this could result in a fatal
-- NEVER guess or take chances with electrical equipment of any kind -- it is better to be safe than sorry!
Caution: Proper Ventilation
To avoid risk of electric shock and fire and to protect from damage.
Locate the apparatus as follows:
No obstructions open spacing.
No obstructions in 10 cm from the sides.
No obstructions in 10 cm from the top.
No obstructions in 15 cm from the back
No obstructions, place on the level surface.
In addition, maintain the best possible air circulation as illustrated.
Stand height 15 cm or more
RX-DP20VSL[B]SAFETY_f.pdf
---

We would like to thank you for purchasing one of our JVC products.
Before operating this unit, read this manual carefully and thoroughly to obtain the best possible performance
from your unit, and retain this manual for future reference.
The newly introduced THX Ultra2 standard ensures the highest
sound and picture quality and the most reliable performance by
using seven-channel amplification to reproduce multi-channel
software. In newly developed THX Ultra2 Cinema Mode and
THX Music Mode, all multi-channel software (5.1 channels or
more) is automatically detected and proper processing is applied
to improve directional and ambient surround information through
four surround speakers--two at the side and two at the back.
Compatible with various audio formats including
RX-DP20VSL allows you to enjoy newly introduced audio
formats such as Dolby Digital EX, Dolby Pro Logic II, DTS-ES,
DTS NEO:6, and DTS 96/24.
· This unit is also compatible with Dual Mono signals recorded in
Dolby Digital and DTS discs.
7.1 channel DAP (Digital Acoustic Processor)
Sound field simulation technology allows precise ambience
recreation of existing theaters and halls. Thanks to the high-
performance DSP (Digital Signal Processor) and high-capacity
memory, you can enjoy 7.1-channel surround by playing 2-
channel or multi-channel software.
Multi-channel headphone virtual surround
The built-in headphone virtual surround system is compatible with
multi-channel software. You can enjoy a natural surround sound
192 kHz/24 bit PEM DD audio DA converter
The JVC-exclusive converter is now upgraded to be fully
compatible with DVD Audio's high specifications. Subtle nuances
are accurately reproduced.
K2 technology has been designed to enable natural audio
reproduction, achieving a drastic reduction in digital distortion
and creating original sound ambience with high precision.
CC (Compensative Compression) Converter
CC Converter eliminates jitter and ripples, achieving a drastic
reduction in digital distortion by processing the digital music data
in 24 bit­quantization and by expanding the sampling frequency
to 128 kHz (for fs 32 kHz signals)/176.4 kHz (for fs 44.1 kHz
signals)/192 kHz (for fs 48 kHz signals). By using the CC
Converter, you can obtain a natural sound field from any source.
ZIST (Zero Interference audio Signal
The ZIST circuit incorporated for the EXT 7.1 CH IN (input)
jacks successfully eliminates the video signal interference to the
audio signals by making the cold side of the audio signals
completely independent from the ground.
COMPU LINK remote control system
The COMPU LINK remote control system allows you to operate
other JVC audio/video components from this receiver.
TEXT COMPU LINK remote control system
The TEXT COMPU LINK remote control system has been
developed to deal with the disc information recorded on the CD
Text and MDs. Using this information on the discs, you can
operate the CD player or MD recorder through the receiver.
· When unplugging the receiver from the wall outlet, always pull
the plug, not the AC power cord.
· Do not handle the AC power cord with wet hands.
· If you are not going to operate the receiver for an extended period
of time, unplug the AC power cord from the wall outlet.
The seven high power amplifiers built in this receiver will generate
For safety, observe the following carefully:
· Make sure there is good ventilation around the receiver. Poor
ventilation could overheat and damage the receiver.
· Do not block the ventilation openings or holes. (If the ventilation
openings or holes are blocked by a newspaper or cloth, etc., the
heat may not be able to get out.)
· Should any metallic object or liquid fall onto the unit, unplug the
unit and consult your dealer before operating any further.
· Do not use this receiver in a bathroom or places with water.
· Do not place any containers filled with water or liquids (such as
cosmetics or medicines, flower vases, potted plants, cups, etc.) on
· Do not disassemble the unit since there are no user serviceable
If anything goes wrong, unplug the AC power cord and consult your
EN01-17_RX-DP20VSL[B]f.pm5
---

Parts Identification ...................................... 3
Getting Started ........................................... 7
Before Installation ...................................................................... 7
Checking the Supplied Accessories ........................................... 7
Connecting the FM and AM (MW/LW) Antennas ..................... 7
Connecting the Speakers ............................................................ 8
Connecting Audio/Video Components ..................................... 11
7 Analog Connections ............................................................. 11
7 Digital Connections .............................................................. 16
Connecting the Power Cord ..................................................... 17
Putting Batteries in the Remote Control .................................. 17
Basic Operations ....................................... 18
Simple Operating Procedure .................................................... 18
Turning the Power On and Off (Standby) ................................ 19
Selecting the Source to Play ..................................................... 19
Adjusting the Volume ............................................................... 21
Activating the Front Speakers .................................................. 21
Selecting the Analog or Digital Input Mode ............................ 21
Attenuating the Input Signal .................................................... 22
Muting the Sound ..................................................................... 23
Turning Analog Direct On and Off .......................................... 23
Making Sounds Natural ............................................................ 23
Changing the Display Brightness ............................................. 23
Changing the Source Name ...................................................... 23
Using the Sleep Timer .............................................................. 24
Receiving Radio Broadcasts ........................ 25
Tuning in to Stations Manually ................................................ 25
Using Preset Tuning ................................................................. 25
Selecting the FM Reception Mode ........................................... 26
Receiving FM Stations with RDS ............................................ 26
Searching for a Program by PTY Codes .................................. 27
Switching to a Program of Your Choice Automatically ........... 28
Basic Settings ........................................... 29
Setup Menu Configuration ....................................................... 29
Operation through On-Screen Display Menus ......................... 30
Menu Operating Procedure ...................................................... 31
1 Setting the Speakers--SPEAKER SETTING ..................... 32
2 Adjusting the Speaker Channel Output Levels
--CHANNEL LEVEL ........................................................ 32
3 Setting the Speaker Distance--SPEAKER DISTANCE ... 34
4 Setting the Bass Sounds--SUBWOOFER .......................... 34
5 Setting the THX Audio--THX AUDIO SETUP ................... 35
6 Setting the Surround Channel Output Speakers
--SURR CH OUT ............................................................... 36
7 Setting the Audio Delay Level--AUDIO DELAY ................ 36
8 Selecting the Dual Mono Sound--DUAL MONO ............... 36
9 Setting the Digital Input/Output Terminals
--DIGITAL IN/OUT .......................................................... 36
p Setting the Video Input Terminals--VIDEO INPUT .......... 37
q Turning On and Off the Video Output--VIDEO POWER ........ 37
w Setting the Speakers 2 Usage--SPEAKER 2 .................... 37
e Superimposing the Menus--SUPERIMPOSE .................... 38
r Showing the Text Information on the Display
--FL DISPLAY ................................................................... 38
t Memorizing the Volume Level for Each Source
--ONE TOUCH OPE ......................................................... 38
Sound Adjustments .................................... 39
Adjustment Menu Configuration ............................................. 39
Operation through On-Screen Display Menus ......................... 40
Menu Operating Procedure ...................................................... 41
1 Adjusting the Parametric Equalizer for Each Channel
--PEQ FRONT/CENTER/SURROUND/SURR BACK .......... 42
2 Setting the Midnight Mode--MIDNIGHT MODE ............ 43
3 Adjusting the Various Effects--EFFECT ADJUST ............ 43
Using the Surround and THX Modes ................... 45
Reproducing Theater Ambience ............................................... 45
Introducing the Surround and THX Modes .............................. 45
Surround and THX Modes Applicable to the Various Software ..... 47
Activating the Surround and THX Modes ............................... 49
7 Activating the 7.1-channel reproduction ............................. 49
7 Activating the Surround Modes ........................................... 50
7 Activating the THX Modes .................................................. 51
Using the DSP Modes ....................................... 52
Reproducing the Sound Field ................................................... 52
Introducing the DSP Modes ..................................................... 52
Activating the DSP Modes ....................................................... 53
Using the Analog Multi-channel Playback Mode ..... 54
Activating the Analog Multi-channel Playback Modes .............. 54
COMPU LINK Remote Control System ......... 55
TEXT COMPU LINK Remote Control System ..... 56
7 Showing the Disc Information on the TV Screen ................. 57
7 Searching for a Disc (Only for the CD player)..................... 58
7 Entering the Disc Information .............................................. 59
Operating JVC's Audio/Video Components ... 61
Operating Audio Components .................................................. 61
Operating Video Components .................................................. 63
Operating Other Manufacturers' Equipment ... 64
Changing the Preset Signal Codes ........................................... 64
Storing the Remote Signals Manually ...................................... 68
Troubleshooting ......................................... 71
Additional Information ................................ 72
Specifications ............................................ 73
EN01-17_RX-DP20VSL[B]f.pm5
---