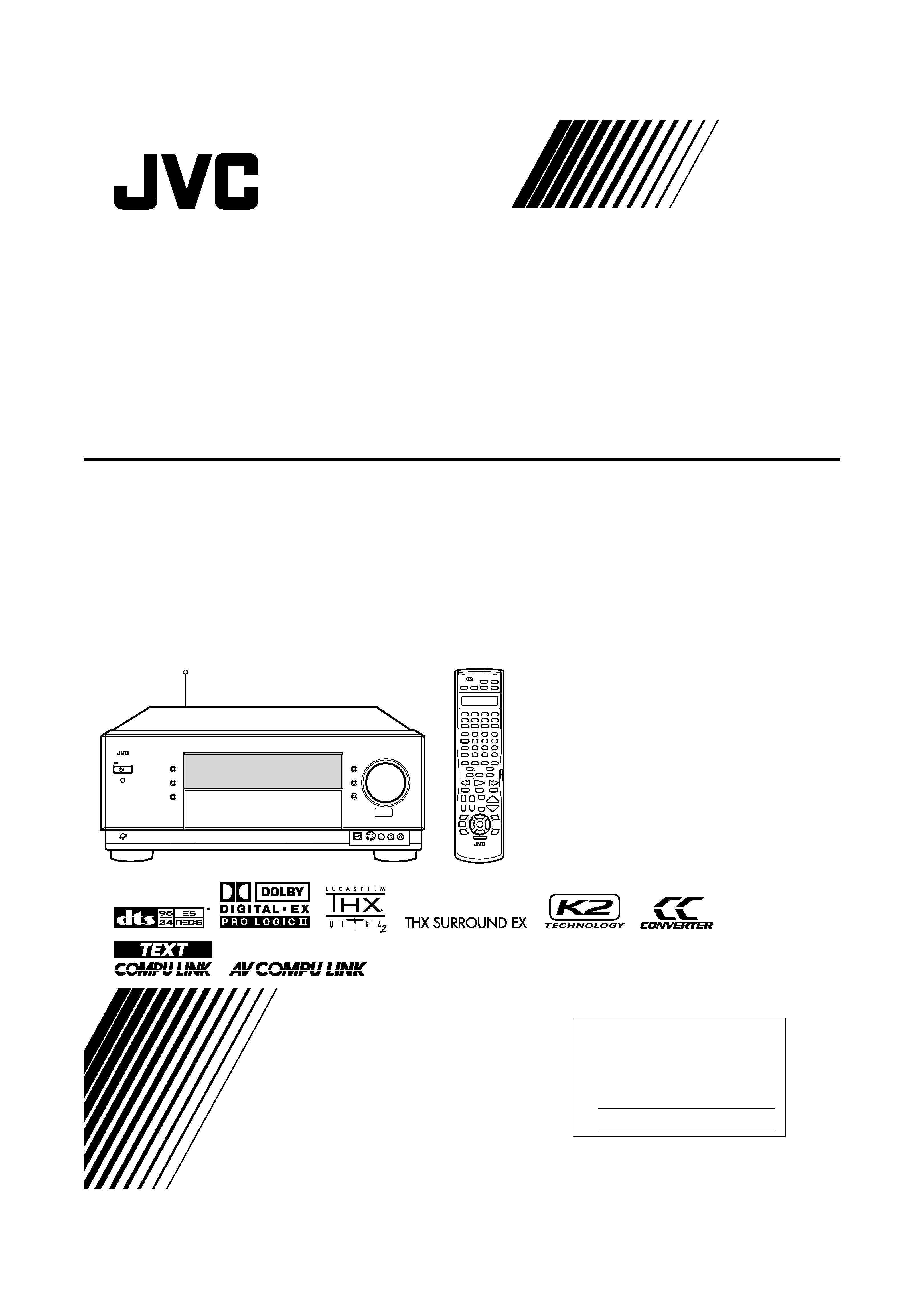 AUDIO/VIDEO CONTROL RECEIVER
Enter below the Model No. and Serial
No. which are located either on the rear,
bottom or side of the cabinet. Retain this
information for future reference.
---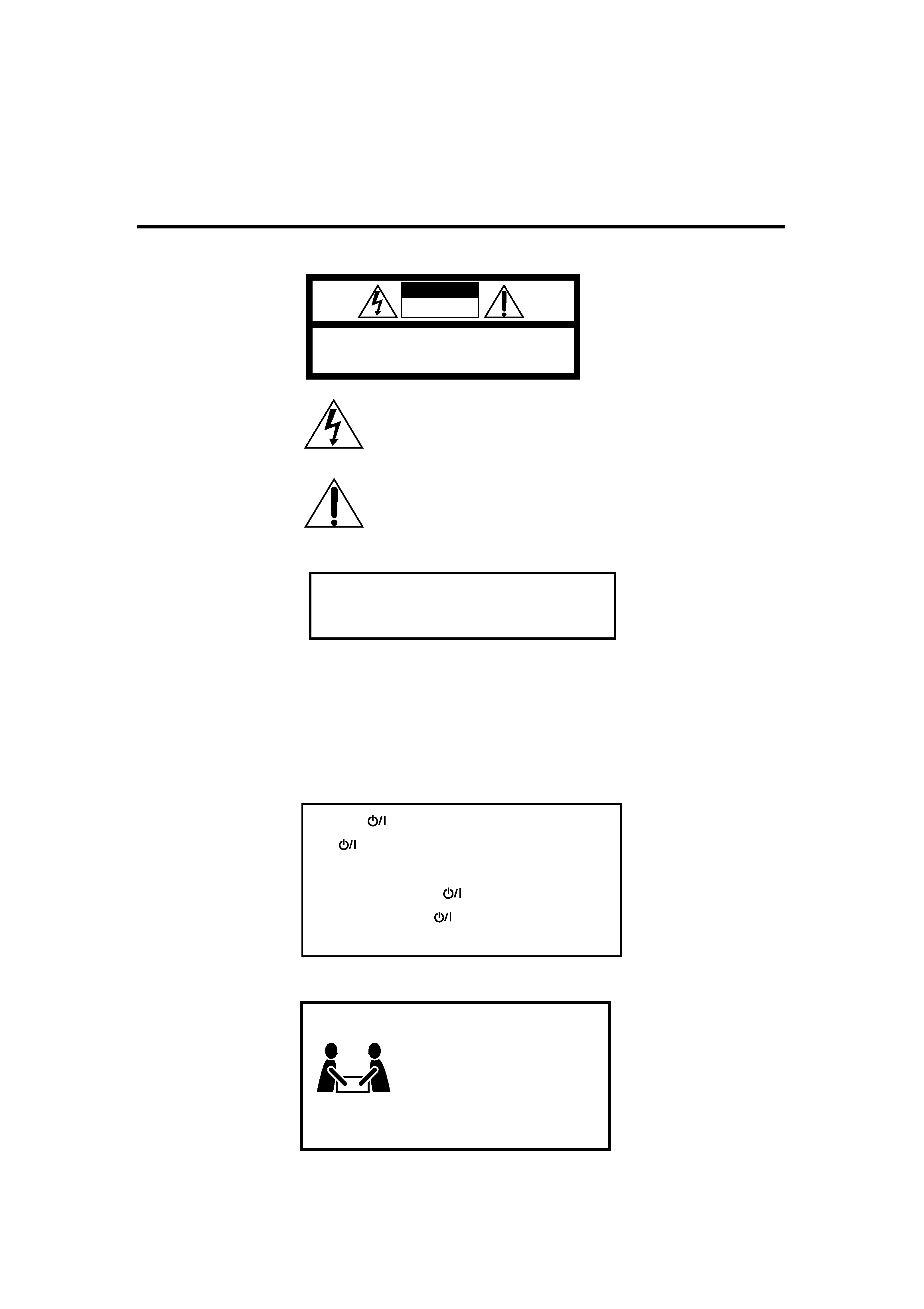 Warnings, Cautions and Others
Mises en garde, précautions et indications diverses
To reduce the risk of electrical shocks, fire, etc.:
Do not remove screws, covers or cabinet.
Do not expose this appliance to rain or moisture.
Afin d'éviter tout risque d'électrocution, d'incendie, etc.:
Ne pas enlever les vis ni les panneaux et ne pas ouvrir le coffret
Ne pas exposer l'appareil à la pluie ni à l'humidité.
Disconnect the mains plug to shut the power off completely.
(STANDBY/ON) button in any position does not
disconnect the mains line. The power can be remote
Déconnecter la fiche de secteur pour couper complètement le
jamais complètement la ligne de secteur, quelle que soit sa
position. Le courant peut être télécommandé.
To avoid personal injury or accidentally
dropping the unit, have two persons
unpack, carry, and install the unit.
Pour éviter toute blessure personnelle ou
chute accidentelle de l'appareil, faites
déballer, transporter et installer l'appareil
WARNING: TO REDUCE THE RISK OF FIRE
OR ELECTRIC SHOCK, DO NOT EXPOSE
THIS APPLIANCE TO RAIN OR MOISTURE.
TO REDUCE THE RISK OF ELECTRIC SHOCK.
DO NOT REMOVE COVER (OR BACK)
NO USER SERVICEABLE PARTS INSIDE.
REFER SERVICING TO QUALIFIED SERVICE PERSONNEL.
The lightning flash with arrowhead symbol,
within an equilateral triangle is intended to
alert the user to the presence of uninsulated
"dangerous voltage" within the product's
magnitude to constitute a risk of electric
The exclamation point within an equilateral
triangle is intended to alert the user to the
maintenance (servicing) instructions in the
literature accompanying the appliance.
---

Note to CATV system installer:
This reminder is provided to call the CATV system installer's
attention to Section 820-40 of the NEC which provides
guidelines for proper grounding and, in particular, specifies
that the cable ground shall be connected to the grounding
system of the building, as close to the point of cable entry as
This device complies with Part 15 of the FCC Rules. Operation is
subject to the following two conditions: (1) This device may not
cause harmful interference, and (2) this device must accept any
interference received, including interference that may cause
Changes or modifications not expressly approved by the
manufacturer for compliance could void the user's authority to
For Canada/pour le Canada
For the main unit / Pour l'appareil principal
THIS DIGITAL APPARATUS DOES NOT EXCEED THE
CLASS B LIMITS FOR RADIO NOISE EMISSIONS
FROM DIGITAL APPARATUS AS SET OUT IN THE
INTERFERENCE-CAUSING EQUIPMENT STANDARD
ENTITLED "DIGITAL APPARATUS," ICES-003 OF THE
DEPARTMENT OF COMMUNICATIONS.
CET APPAREIL NUMERIQUE RESPECTE LES
LIMITES DE BRUITS RADIOELECTRIQUES
APPLICABLES AUX APPAREILS NUMERIQUES DE
CLASSE B PRESCRITES DANS LA NORME SUR LE
MATERIEL BROUILLEUR; "APPAREILS
NUMERIQUES", NMB-003 EDICTEE PAR LE
MINISTRE DES COMMUNICATIONS.
This equipment has been tested and found to comply with the limits
for a Class B digital device, pursuant to part 15 of the FCC Rules.
These limits are designed to provide reasonable protection against
harmful interference in a residential installation.
This equipment generates, uses and can radiate radio frequency
energy and, if not installed and used in accordance with the
communications. However, there is no guarantee that interference
will not occur in a particular installation. If this equipment does cause
harmful interference to radio or television reception, which can be
determined by turning the equipment off and on, the user is
encouraged to try to correct the interference by one or more of the
Reorient or relocate the receiving antenna.
Increase the separation between the equipment and receiver.
Connect the equipment into an outlet on a circuit different from that
to which the receiver is connected.
Consult the dealer or an experienced radio/TV technician for help.
CAUTION: TO PREVENT ELECTRIC SHOCK, MATCH WIDE
BLADE OF PLUG TO WIDE SLOT, FULLY INSERT.
ATTENTION: POUR EVITER LES CHOCS ELECTRIQUES,
INTRODUIRE LA LAME LA PLUS LARGE DE LA FICHE DANS LA
BORNE CORRESPONDANTE DE LA PRISE ET POUSSER
For Canada/pour le Canada
For the remote control / Pour la télécommande
This device complies with RSS-210 of Industry Canada
Rules. Operation is subject to the following two
conditions: (1) this device may not cause interference,
and (2) this device must accept any interference,
including interference that may cause undesired
Cet appareil est conforme au règlement CNR-210 de
l'industrie du Canada. L'utilisation de ce dispositif est
autorisée seulement aux conditions suivantes: (1) il ne
doit pas produire de brouillage et (2) l'utilisateur du
dispositif doit être prêt à accepter tout brouillage
radioélectrique reçu, même si ce brouillage est
susceptible de compromettre le fonctionnement du
---

We would like to thank you for purchasing one of our JVC products.
Before operating this unit, read this manual carefully and thoroughly to obtain the best possible performance
from your unit, and retain this manual for future reference.
THX Ultra2 standard ensures the highest sound and picture
quality and the most reliable performance by using seven-channel
amplification to reproduce multi-channel software. In THX Ultra2
Cinema Mode and THX Music Mode, all multi-channel software
(5.1 channels or more) is automatically detected and proper
processing is applied to improve directional and ambient surround
information through four surround speakers--two at the side and
Compatible with various audio formats including
RX-DP15B allows you to enjoy audio formats such as Dolby
Digital EX, Dolby Pro Logic II, DTS-ES, DTS Neo:6, and DTS
· This unit is also compatible with Dual Mono signals recorded in
Dolby Digital and DTS discs.
7.1 channel DAP (Digital Acoustic Processor)
Sound field simulation technology allows precise ambience
recreation of existing theaters and halls. Thanks to the high-
performance DSP (Digital Signal Processor) and high-capacity
memory, you can enjoy 7.1-channel surround by playing 2-
channel or multi-channel software.
Multi-channel headphone virtual surround
The built-in headphone virtual surround system is compatible with
multi-channel software. You can enjoy a natural surround sound
192 kHz/24 bit PEM DD audio DA converter
The JVC-exclusive converter is now upgraded to be fully
compatible with DVD Audio's high specifications. Subtle nuances
are accurately reproduced.
K2 technology has been designed to enable natural audio
reproduction, achieving a drastic reduction in digital distortion
and creating original sound ambience with high precision.
CC (Compression Compensative) Converter
CC Converter eliminates jitter and ripples, achieving a drastic
reduction in digital distortion by processing the digital music data
in 24 bit­quantization and by expanding the sampling frequency
to 128 kHz (for fs 32 kHz signals)/176.4 kHz (for fs 44.1 kHz
signals)/192 kHz (for fs 48 kHz signals). By using the CC
Converter, you can obtain a natural sound field from any source.
You can connect two pairs of front speakers to the RX-DP15B,
and use them to listen to different sources in different rooms
(Zone 1 and Zone 2) at the same time.
COMPU LINK/TEXT COMPU LINK/AV COMPU
LINK remote control systems
These COMPU LINK remote control systems allow you to
operate other JVC audio/video components from this receiver.
· When unplugging the receiver from the wall outlet, always pull
the plug, not the AC power cord.
· Do not handle the AC power cord with wet hands.
· If you are not going to operate the receiver for an extended period
of time, unplug the AC power cord from the wall outlet.
· Do not use the remote control outdoors or install the speakers
· When operating the receiver from a place where you cannot see
the receiver (for example, when controlling the receiver installed
in the living room from the kitchen), pay attention to the following
not to surprise other people:
­ Be careful not to turn up the volume too high when controlling
the receiver without listening to the playback sound.
­ Be careful not to surprise other people with a sudden sound
coming out of the receiver when turning it on. (Stopping the
sound suddenly may surprise people as well.)
· If the receiver operates by itself or malfunctions, the following
causes should be considered:
­ Interference to RF communication between the receiver and the
remote control from outside.
­ The remote control is operated unintentionally. For example, a
book is placed on the remote control, possibly, depressing some
· If your neighbour uses the same or similar RF remote control
system, the receiver may happen to receive the RF signals sent
from such an RF remote control system, which could cause your
receiver to be operated unintentionally. If this happens, set the
BAND selectors both on the rear and on the remote control to
another band (either BAND 1 or BAND 2)--see page 17 for
If the problem still persists, stop using the RF rod antenna and the
remote control, and consult your JVC dealer or the nearest JVC
The seven high power amplifiers built in this receiver will generate
For safety, observe the following carefully:
· Make sure there is good ventilation around the receiver. Poor
ventilation could overheat and damage the receiver.
· Do not block the ventilation openings or holes. (If the ventilation
openings or holes are blocked by a newspaper or cloth, etc., the
heat may not be able to get out.)
· Should any metallic object or liquid fall onto the unit, unplug the
unit and consult your dealer before operating any further.
· Do not use this receiver in a bathroom or places with water.
· Do not place any containers filled with water or liquids (such as
cosmetics or medicines, flower vases, potted plants, cups, etc.) on
· Do not disassemble the unit since there are no user serviceable
If anything goes wrong, unplug the AC power cord and consult your
---

Indicates the functions YOU CAN ALSO USE when
the receiver is ready for Zone 2 operations.
Parts Identification ...................................... 3
Getting Started ........................................... 7
Before Installation ...................................................................... 7
Checking the Supplied Accessories ........................................... 7
Connecting the FM and AM Antennas ....................................... 7
Connecting the Speakers ............................................................ 8
Connecting Audio/Video Components ..................................... 11
7 Analog Connections ............................................................. 11
7 Digital Connections .............................................................. 16
Using the RF Rod Antenna and IR Signal Transmitter ............ 17
Connecting the Power Cord ..................................................... 18
Putting Batteries in the Remote Control .................................. 18
Multi-Room Operations............................... 19
Required Connections for Zone 2 ............................................ 19
Basic Operating Procedure for Zone 1 ..................................... 20
Basic Operating Procedure for Zone 2 ..................................... 21
Zone 1 (Main Room) Operations .................. 22
Turning the Power On and Off (Standby) ................................ 22
Canceling the Zone 1 Operations ............................................. 23
Selecting the Zone 1 Source to Play ........................................ 23
Adjusting the Zone 1 Volume ................................................... 24
Activating the Zone 1 Front Speakers ...................................... 25
Selecting the Analog or Digital Input Mode ............................ 25
Attenuating the Input Signal .................................................... 26
Muting the Zone 1 Sound ......................................................... 26
Changing the Display Brightness ............................................. 27
Turning Analog Direct On and Off .......................................... 27
Making Sounds Natural ............................................................ 27
Changing the Source Name ...................................................... 27
Using the Sleep Timer .............................................................. 28
Zone 2 (Sub-room) Operations .................... 29
Turning the Power On and Off (Standby) and Selecting
the Zone 2 Operations ........................................................ 29
Canceling the Zone 2 Operations ............................................. 30
Selecting the Zone 2 Source to Play ........................................ 31
Adjusting the Zone 2 Volume ................................................... 31
Activating the Zone 2 Front Speakers ...................................... 32
Muting the Zone 2 Sound ......................................................... 32
Receiving Radio Broadcasts ........................ 33
Tuning in to Stations Manually ................................................ 33
Using Preset Tuning ................................................................. 34
Selecting the FM Reception Mode ........................................... 34
Basic Settings ........................................... 35
Setup Menu Configuration ....................................................... 35
Operation through On-Screen Display Menus ......................... 36
Menu Operating Procedure ...................................................... 37
1 Setting the Speakers--SPEAKER SETTING ................... 38
2 Adjusting the Speaker Channel Output Levels
--CHANNEL LEVEL ...................................................... 38
3 Setting the Speaker Distance--SPEAKER DISTANCE .. 40
4 Setting the Bass Sounds--SUBWOOFER ........................ 40
5 Setting the THX Audio--THX AUDIO SETUP ................. 41
6 Setting the Surround Channel Output Speakers
--SURR CH OUT ............................................................ 42
7 Setting the Audio Delay Level--AUDIO DELAY ............ 42
8 Selecting the Dual Mono Sound--DUAL MONO ............ 42
9 Setting the Digital Input/Output Terminals
--DIGITAL IN/OUT ......................................................... 42
p Setting the Video Input Terminals--VIDEO INPUT ........ 43
q Turning On and Off the Video Output
--VIDEO POWER ............................................................ 43
w Setting the Zone 2/Speakers 2 Usage
--ZONE 2/SPEAKER 2 .................................................... 43
e Superimposing the Menus--SUPERIMPOSE .................. 44
r Showing the Text Information on the Display
--FL DISPLAY ................................................................. 44
t Memorizing the Volume Level for Each Source
--ONE TOUCH OPE ........................................................ 44
Sound Adjustments .................................... 45
Adjustment Menu Configuration ............................................. 45
Operation through On-Screen Display Menus ......................... 46
Menu Operating Procedure ...................................................... 47
1 Adjusting the Parametric Equalizer for Each Channel
--PEQ FRONT/CENTER/SURROUND/SURR BACK ... 48
2 Setting the Midnight Mode--MIDNIGHT MODE ........... 49
3 Adjusting the Various Effects--EFFECT ADJUST .......... 49
Using the Surround and THX Modes ................... 51
Reproducing Theater Ambience ............................................... 51
Introducing the Surround and THX Modes ............................. 51
Surround and THX Modes Applicable to the Various Software ..... 53
Activating the Surround and THX Modes ............................... 55
7 Activating the 7.1-channel reproduction ............................. 55
7 Activating the Surround Modes ........................................... 56
7 Activating the THX Modes .................................................. 57
Using the DSP Modes ....................................... 58
Reproducing the Sound Field ................................................... 58
Introducing the DSP Modes ..................................................... 58
Activating the DSP Modes ....................................................... 59
Using the Analog Multi-channel Playback Mode .... 60
Activating the Analog Multi-channel Playback Modes .............. 60
COMPU LINK Remote Control System ......... 61
TEXT COMPU LINK Remote Control System ..... 63
7 Showing the Disc Information on the TV Screen
(Either in Zone 1 or in Zone 2) ............................................. 64
7 Searching for a Disc (Only for the CD player) ..................... 65
7 Entering the Disc Information .............................................. 66
AV COMPU LINK Remote Control System .... 68
Operating JVC's Audio/Video Components ... 71
Operating Audio Components .................................................. 71
Operating Video Components .................................................. 73
Operating Other Manufacturers' Equipment ... 74
Changing the Preset Signal Codes ........................................... 74
Storing the Remote Signals Manually ...................................... 78
Troubleshooting ......................................... 81
Specifications ............................................ 83
---