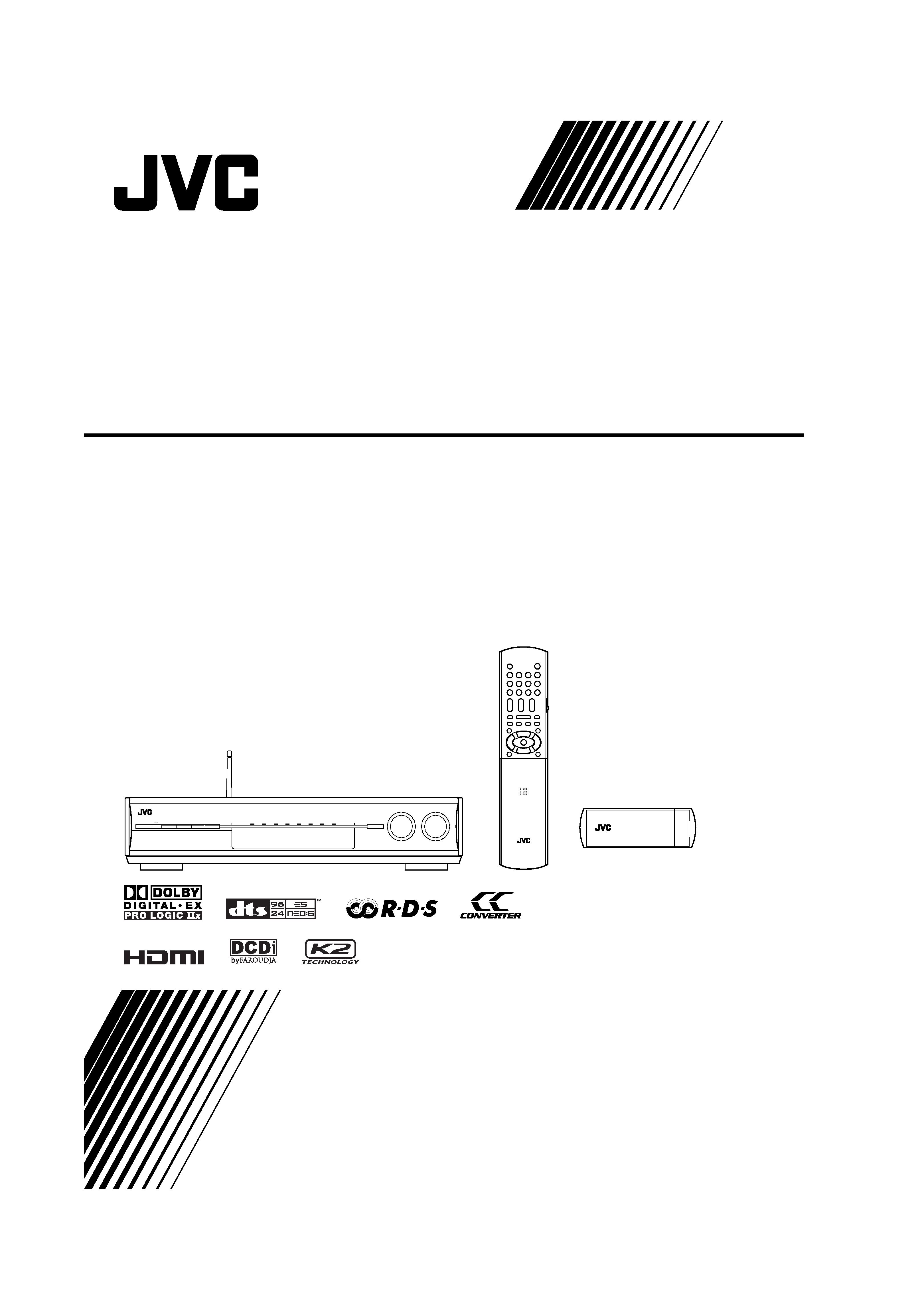 AUDIO/VIDEO CONTROL RECEIVER
---

Warnings, Cautions and Others
DO NOT cut off the mains plug from this equipment. If the
plug fitted is not suitable for the power points in your home or
the cable is too short to reach a power point, then obtain an
appropriate safety approved extension lead or consult your
BE SURE to replace the fuse only with an identical approved
type, as originally fitted.
If nonetheless the mains plug is cut off ensure to remove the
fuse and dispose of the plug immediately, to avoid a possible
shock hazard by inadvertent connection to the mains supply.
If this product is not supplied fitted with a mains plug then
follow the instructions given below:
DO NOT make any connection to the terminal which is
marked with the letter E or by the safety earth symbol or
coloured green or green-and-yellow.
The wires in the mains lead on this product are coloured in
accordance with the following code:
As these colours may not correspond with the coloured
markings identifying the terminals in your plug proceed as
The wire which is coloured blue must be connected to the
terminal which is marked with the letter N or coloured black.
The wire which is coloured brown must be connected to the
terminal which is marked with the letter L or coloured red.
IF IN DOUBT - CONSULT A COMPETENT ELECTRICIAN.
To reduce the risk of electrical shocks, fire, etc.:
Do not remove screws, covers or cabinet.
Do not expose this appliance to rain or moisture.
Disconnect the mains plug to shut the power off completely.
STANDBY/ON button in any position does not
disconnect the mains line. The power can be remote
· Do not block the ventilation openings or holes.
(If the ventilation openings or holes are blocked by a
newspaper or cloth, etc., the heat may not be able to get
· Do not place any naked flame sources, such as lighted
candles, on the apparatus.
· When discarding batteries, environmental problems must be
considered and local rules or laws governing the disposal of
these batteries must be followed strictly.
· Do not expose this apparatus to rain, moisture, dripping or
splashing and that no objects filled with liquids such as
vases, shall be placed on the apparatus.
Information for Users on Disposal of Old Equipment
This symbol indicates that the electrical and electronic equipment should not be disposed as general
household waste at its end-of-life. Instead, the product should be handed over to the applicable
collection point for the recycling of electrical and electronic equipment for proper treatment, recovery
and recycling in accordance with your national legislation.
By disposing of this product correctly, you will help to conserve natural resources and will help
prevent potential negative effects on the environment and human health which could otherwise be
caused by inappropriate waste handling of this product. For more information about collection point
and recycling of this product, please contact your local municipal office, your household waste
disposal service or the shop where you purchased the product.
Penalties may be applicable for incorrect disposal of this waste, in accordance with national
If you wish to dispose of this product, please visit our web page www.jvc-europe.com to obtain
information about the take-back of the product.
[Other Countries outside the European Union]
If you wish to dispose of this product, please do so in accordance with applicable national legislation
or other rules in your country for the treatment of old electrical and electronic equipment.
This symbol is only valid in
---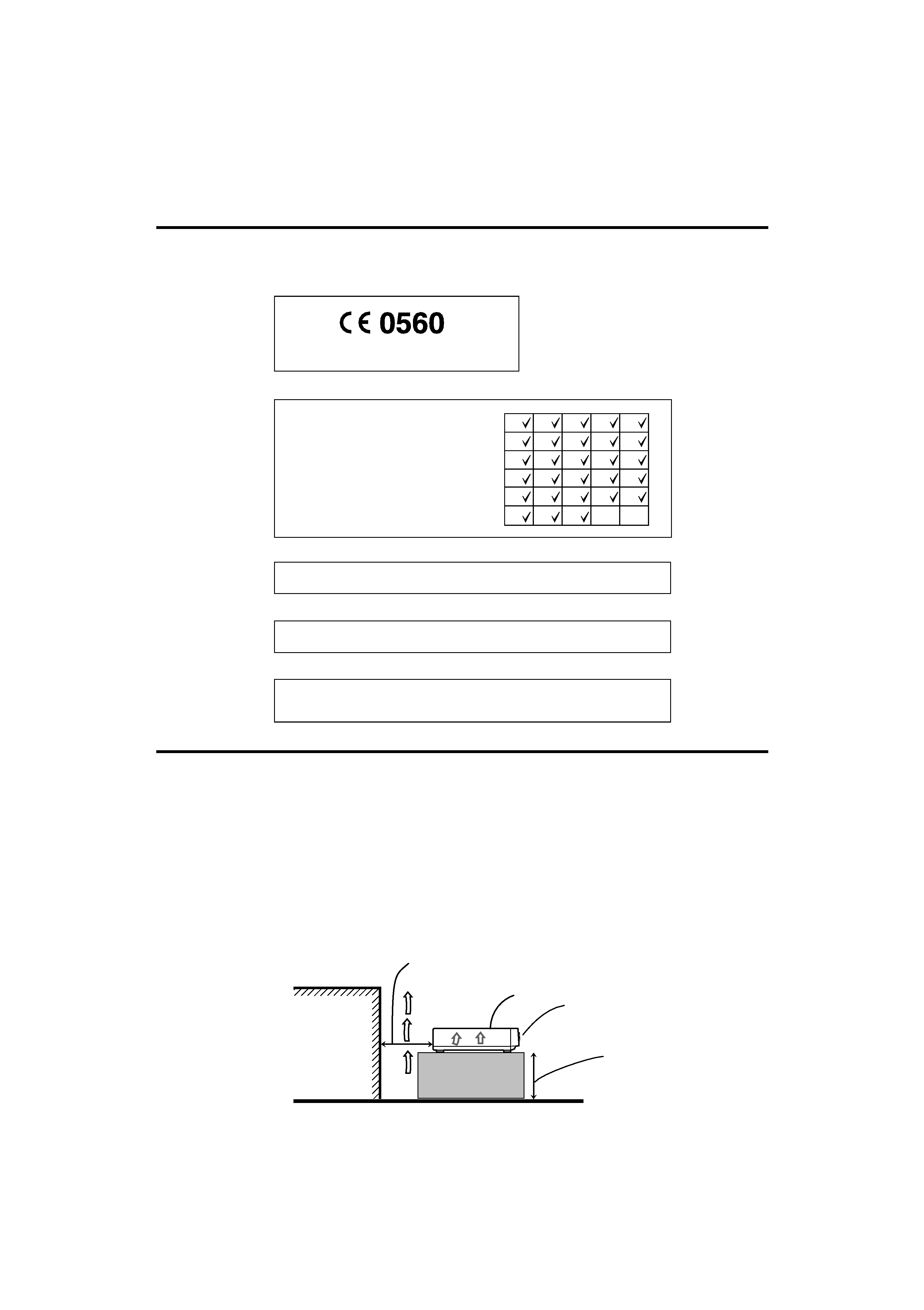 Caution: Proper Ventilation
To avoid risk of electric shock and fire and to protect from damage.
Locate the apparatus as follows:
No obstructions open spacing.
No obstructions in 15 cm from the sides.
No obstructions in 15 cm from the top.
No obstructions in 15 cm from the back.
No obstructions, place on the level surface.
In addition, maintain the best possible air circulation as illustrated.
INCLUDE R&TTE NOTIFIED EQUIPMENT
USB wireless transmitter [2.4 GHz]
Countries where this equipment is intended to be used
WARNING for country restriction of use USB wireless transmitter
Italy: If used outside of own premises, general authorization is required.
Changes or modifications not approved by JVC could void user's authority to
CAUTION: for USB wireless transmitter,
To maintain compliance with R&TTE directive's RF exposure guidelines, this
equipment should be installed and operated with minimum distance 20 cm between
the transmitter and your body.
This equipment with USB wireless
transmitter is intended to be used in
countries on the right table.
---

"SOME DOS AND DON'TS ON THE SAFE USE OF EQUIPMENT"
This equipment has been designed and manufactured to meet international safety standards but, like any electrical equipment, care
must be taken if you are to obtain the best results and safety is to be assured.
Do read the operating instructions before you attempt to use the equipment.
Do ensure that all electrical connections (including the mains plug, extension leads and interconnections between pieces of equipment)
are properly made and in accordance with the manufacturer's instructions. Switch off and withdraw the mains plug when making or
Do consult your dealer if you are ever in doubt about the installation, operation or safety of your equipment.
Do be careful with glass panels or doors on equipment.
DON'T continue to operate the equipment if you are in any doubt about it working normally, or if it is damaged in any way--switch
off, withdraw the mains plug and consult your dealer.
DON'T remove any fixed cover as this may expose dangerous voltages.
DON'T leave equipment switched on when it is unattended unless it is specifically stated that it is designed for unattended operation
Switch off using the switch on the equipment and make sure that your family know how to do this.
Special arrangements may need to be made for infirm or handicapped people.
DON'T use equipment such as personal stereos or radios so that you are distracted from the requirements of traffic safety. It is illegal
to watch television whilst driving.
DON'T listen to headphones at high volume as such use can permanently damage your hearing.
DON'T obstruct the ventilation of the equipment, for example with curtains or soft furnishings.
Overheating will cause damage and shorten the life of the equipment.
DON'T use makeshift stands and NEVER fix legs with wood screws--to ensure complete safety always fit the manufacturer's approved
stand or legs with the fixings provided according to the instructions.
DON'T allow electrical equipment to be exposed to rain or moisture.
-- NEVER let anyone, especially children, push anything into holes, slots or any other opening in the case--this could result in
a fatal electrical shock.;
-- NEVER guess or take chances with electrical equipment of any kind--it is better to be safe than sorry!
---

We would like to thank you for purchasing one of our JVC products.
Before operating this unit, read this manual carefully and thoroughly to obtain the best possible performance
from your unit, and retain this manual for future reference.
Hybrid Feedback Digital Amplifier
RX-D701S/RX-D702B features the JVC-exclusive Hybrid
Feedback Digital Amplifier. Premium-grade parts and devices,
and special internal construction assure you will enjoy superior
By using the USB wireless transmitter supplied with RX-D701S/
RX-D702B, sound reproduced from your PC can be transmitted
to this receiver. You can choose PC as another playback source
The HDMI (High Definition Multimedia Interface) is the standard
interface for the next-generation TV. By connecting the source
components, this receiver, and TV with the HDMI cables, digital
video signals and audio signals (including Dolby Digital, DTS)
are transmitted through the cables. You can enjoy digital video
and sound without AD/DA conversion with easy connection.
As RX-D701S/RX-D702B supports up to HDMI version 1.1, this
receiver can digitally transmit 5.1-channel PCM with sampling
rates of 96 kHz and 2-channel PCM with sampling rates of 192
kHz. (These PCM signals are referred to as "multi channel
PCM" in this instruction.) You can enjoy digital sound without
deterioration. In addition, this receiver is compatible with
HDCP** (High-Bandwidth Digital Content Protection), and
HDCP contents can be viewed if you connect a HDCP-
compatible TV to this receiver.
* HDMI, the HDMI logo and High-Definition Multimedia
Interface are trademarks or registered trademarks of HDMI
** HDCP is the abbreviation of "High-Bandwidth Digital Content
Protection," and is the high-reliable copy control technology
licenced by Digital Content Protection, LLC.
7.1 channel DAP (Digital Acoustic Processor)
Sound field simulation technology allows precise ambience
recreation of existing theatres and halls. Thanks to the high-
performance DSP (Digital Signal Processor) and high-capacity
memory, you can enjoy 7.1-channel surround by playing 2-
channel or multi-channel software.
K2 technology has been designed to enable natural audio
reproduction, achieving a drastic reduction in digital distortion
and creating original sound ambience with high precision.
CC (Compression Compensative) Converter
CC Converter eliminates jitter and ripples, achieving a drastic
reduction in digital distortion by processing the digital music
data in 24 bit­quantization and by expanding the sampling
frequency to 128 kHz (for fs 32 kHz signals)/176.4 kHz (for fs
44.1 kHz signals)/192 kHz (for fs 48 kHz signals). By using the
CC Converter, you can obtain a natural sound field from any
DCDi (Directional Correlational Deinterlacing) technology,
developed by Faroudja, eliminates jagged edges generated in
progressive scan conversion. With DCDi, you can enjoy clear
and smooth video images on your display. For RX-D701S/RX-
D702B, this function is applied only when the PAL analogue
video signals are transmitted to the receiver.
· When unplugging the receiver from the wall outlet, always pull
the plug, not the AC power cord.
· Do not handle the AC power cord with wet hands.
· If you are not going to operate the receiver for an extended
period of time, unplug the AC power cord from the wall outlet.
The seven high power amplifiers built in this receiver will generate
For safety, observe the following carefully:
· Make sure there is good ventilation around the receiver. Poor
ventilation could overheat and damage the receiver.
· Do not block the ventilation openings or holes. (If the ventilation
openings or holes are blocked by a newspaper or cloth, etc., the
heat may not be able to get out.)
· Should any metallic object or liquid fall onto the unit, unplug the
unit and consult your dealer before operating any further.
· Do not use this receiver in a bathroom or places with water.
· Do not place any containers filled with water or liquids (such as
cosmetics or medicines, flower vases, potted plants, cups, etc.)
· Do not disassemble the unit since there are no user serviceable
If anything goes wrong, unplug the AC power cord and consult
---