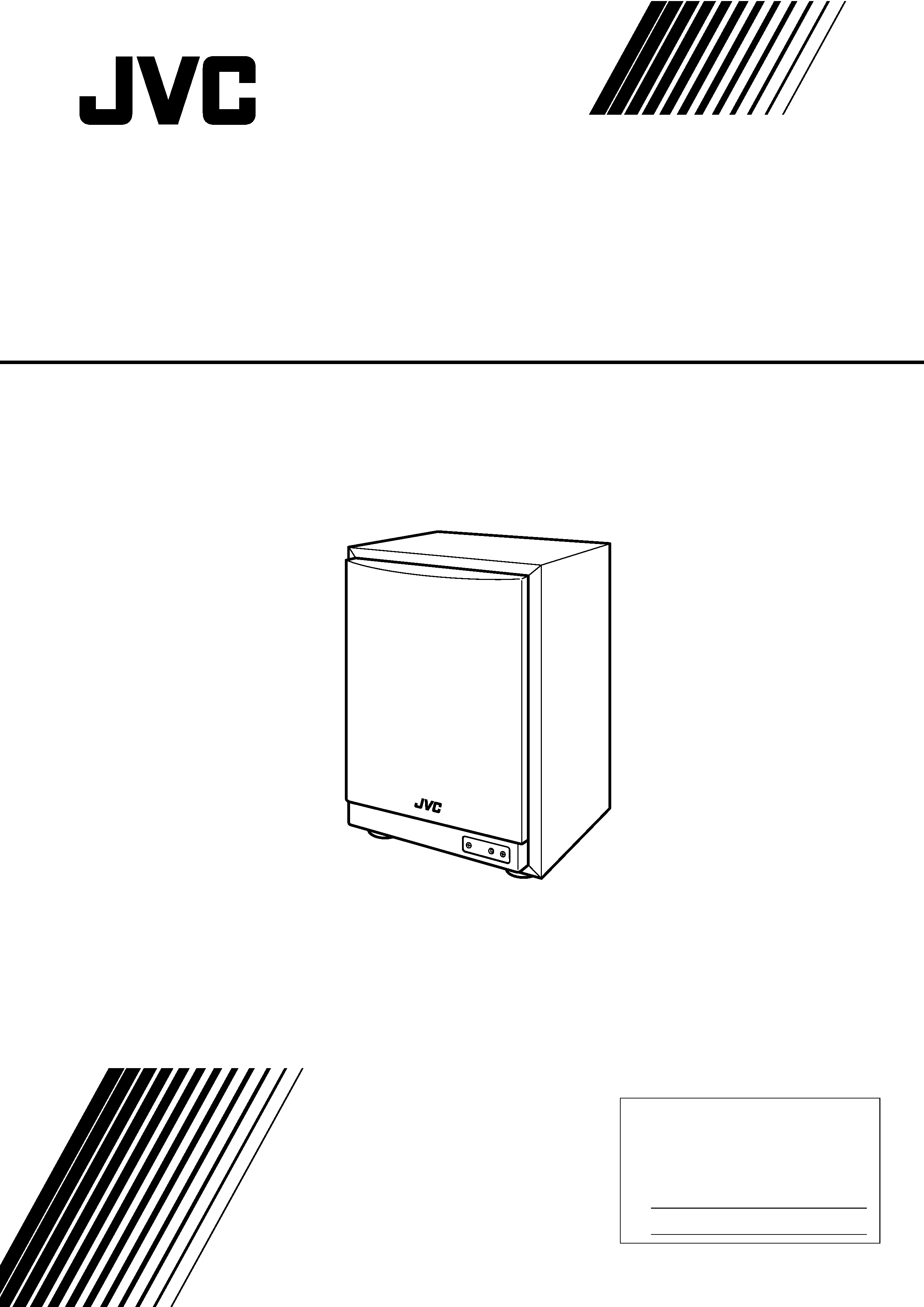 Enter below the Model No. and Serial
No. which are located either on the rear,
bottom or side of the cabinet. Retain this
information for future reference.
Enter below the Model No. and Serial No.
which are located on the rear, bottom or
side of the cabinet. Retain this information
SUBWOOFER MIT STROMVERSORGUNG
SUBWOOFER MET INGEBOUWDE VERSTERKER
SUBWOOFER (ALTOPARLANTE PER TONI BASSI) ALIMENTATO
NÄTDRIVEN LÅGBASHÖGTALARE
SUBWOOFER MED INDBYGGET FORSTÆRKER
TEHOSTETTU APUBASSOKAIUTIN
---

Warnings, Cautions and Others
Warnungen, Vorsichtshinweise usw.
To reduce the risk of electrical shocks, fire, etc.:
1. Do not remove screws, covers or cabinet.
2. Do not expose this appliance to rain or moisture.
This apparatus is provided with a POWER switch to be able to minimize
power consumption for safe use. Therefore,
1. When doing initial setting, complete all the connections required, connect
the mains plug into the wall outlet, and set the POWER switch
2. When not in use, set the POWER switch to OFF.
3. Disconnect the mains plug to shut the power off completely. The POWER
switch in any position do not disconnect the mains line.
Caution: Proper Ventilation
To avoid risk of electric shock and fire, and to prevent damage, locate the
No obstructions and open spacing.
No obstructions should be placed in the areas shown by the
Place on the level surface. Maintain an adequate air path for
ventilation by placing on a stand with a height of 10 cm or more.
Zur Verringerung des Risikos von elektrischem Schlag, Feuer usw.:
1. Entfernen Sie nicht Schrauben, Abdeckungen oder das Gehäuse.
2. Setzen Sie dieses Gerät nicht Regen oder Feuchtigkeit aus.
Achtung - Einschaltknopf (POWER)
Dieser Apparat hat einen Einschaltknopf (POWER), um den Stromverbrauch
für sichere Verwendung auf einem Minimum zu halten. Beachten Sie deshalb
1. Stellen Sie beim ersten Einrichten alle erforderlichen Anschlüsse her,
schließen Sie den Stecker des Netzkabels an eine Wandsteckdose an, und
stellen Sie dann den Einschaltknopf (POWER) auf ON (An).
2. Stellen Sie den Einschaltknopf (POWER) auf OFF (Aus), wenn das Gerät
3. Ziehen Sie den Stecker aus der Steckdose, um die Stromversorgung
vollkommen auszuschalten. Der Einschaltknopf (POWER) führt in keiner
Stellung Trennung vom Netz durch.
Achtung: Angemessene Ventilation
Stellen Sie das Gerät wie folgt auf, um das Risiko von elektrischem Schlag und
Feuer zu vermeiden und Beschädigung zu verhüten:
Keine Hindernisse und offener Raum.
2. Seiten, Oberseite und Rückseite:
In dem Bereich mit den folgenden Abmessungen sollten sich keine
Stellen Sie das Gerät auf eine ebene Oberfläche. Stellen Sie das Gerät
auf einen Stand mit einer Höhe von mindestens 10 cm, um einen
angemessenen Luftpfad für Ventilation zu erhalten.
Pour réduire tout risque de choc électrique, feu, etc. :
1. Ne pas retirer les vis, les couvercles ni le coffret.
2. Ne pas exposer l'appareil à la pluie ni à l'humidité.
Précaution - Interrupteur POWER
Cet appareil est doté d'un interrupteur POWER qui permet de réduire la
consommation d'énergie à des fins de sécurité. En conséquence,
1. Lors des réglages initiaux, effectuer tous les raccordements, brancher la
fiche secteur dans la prise secteur, puis mettre l'interrupteur POWER sur
2. Lorsqu'on ne se sert pas de l'appareil, mettre l'interrupteur POWER sur
3. Débrancher l'appareil de la prise secteur pour couper complètement
l'alimentation. L'interrupteur POWER ne coupe pas l'appareil du secteur,
quelle que soit la position sur laquelle il est réglé.
Pour réduire tout risque de choc électrique et de feu, et pour éviter
d'endommager l'appareil, le disposer comme suit :
Pas d'obstacles, et espace dégagé.
Il ne devra pas y avoir d'obstacles dans les zones représentées par les
Le placer sur une surface de niveau. Garantir un trajet d'air adéquat pour
la ventilation en le plaçant sur un socle d'une hauteur de 10 cm
Verminder het risico van elektrische schokken, brand enz.:
1. Verwijder geen schroeven, afdekkingen of andere onderdelen van de
2. Stel dit toestel niet bloot aan regen of vocht.
Let op - Aan/uit (POWER) schakelaar
Dit toestel is uitgerust met een aan/uit schakelaar bedoeld om het
stroomverbruik te verminderen en het toestel veilig te kunnen gebruiken. Dus,
1. Bij het opstellen van het toestel dient u eerst alle vereiste aansluitingen te
maken, vervolgens de stekker in het stopcontact te steken en dan pas de
aan/uit schakelaar op ON (aan) te zetten.
2. Zet de aan/uit schakelaar uit (OFF) wanneer u het toestel niet gebruikt.
3. Haal de stekker uit het stopcontact om de stroomvoorziening volledig af te
sluiten. De aan/uit schakelaar koppelt het toestel in geen enkele stand los
van het elektriciteitsnet.
Let op: Voldoende ventilatie
Om het risico van een elektrische schok of brand te vermijden en om schade te
voorkomen, dient u het toestel als volgt op te stellen:
Geen belemmeringen en open ruimte.
2. Zijkanten/bovenkant/achterkant:
Er mogen geen belemmeringen geplaatst worden binnen de hieronder
Zet het toestel op een horizontaal oppervlak. Zorg voor vrije
luchtcirculatie en voldoende ventilatie door het toestel op een standaard
van tenminste 10 cm hoogte te zetten.
Avertissements, précautions et autres
Waarschuwingen en andere aandachtspunten
---

Varningar, försiktighetsåtgärder m.m.
Advarsler, forsigtighedsregler og andet
För att minska risken för elektriska stötar, eldsvåda etc.:
1. Lösgör inga skruvar, skydd eller höljet.
2. Utsätt inte högtalaren för regn eller fukt.
Försiktigt! - Strömbrytaren POWER
Högtalaren är försedd med en strömbrytare (POWER). Följ nedanstående råd
för att minimera strömförbrukningen och garantera säker användning.
1. Slutför först alla andra nödvändiga anslutningar, innan nätkabeln ansluts till
ett nätuttag och strömbrytaren POWER ställs i tillslaget läge (ON). Påbörja
därefter de grundläggande inställningarna.
2. Ställ strömbrytaren POWER i frånslaget läge (OFF), när högtalaren inte ska
3. Koppla loss nätkabeln från nätuttaget för att stoppa strömtillförseln helt.
Strömtillförseln fortsätter oberoende av i vilket läge strömbrytaren POWER
Försiktigt! - Tillbörlig ventilation
Placera högtalaren enligt följande anvisningar för att undvika risken för
elektriska stötar eller eldsvåda och för att förebygga skador.
Se till att inga hinder förekommer och att ett öppet utrymme lämnas.
2. Ovanför, bakom och på sidorna om högtalaren:
Inga hinder får förekomma inom de avstånd som anges på illustrationen
Placera högtalaren på ett plant underlag. Sörj för tillräckligt god
ventilationsmöjlighet genom att placera högtalaren på ett minst 10
For at reducere risikoen for elektrisk stød, brand, osv:
1. Fjern ikke skruer, afskærmninger eller kabinettet.
2. Udsæt ikke dette apparat for regn eller fugt.
Forsigtig! POWER afbryder
Dette apparat er forsynet med en POWER afbryder for at gøre det muligt at
minimere strømforbruget og give sikker anvendelse. Derfor skal følgende
1. Når den indledende opstilling skal foretages, skal alle tilslutninger først
udføres, før netledningen sættes i en vægstikkontakt, hvorefter POWER
afbryderen sættes til ON.
2. Når apparatet ikke er i anvendelse, sættes POWER afbryderen til OFF.
3. Tag netledningen ud af stikkontakten for at slukke helt for strømmen.
Ligegyldigt hvad position POWER afbryderen er i, så afbryder den ikke
forbindelsen til lysnettet.
Forsigtig: Korrekt ventilation
For at undgå risikoen for elektrisk stød og brand, og forebygge beskadigelse, skal
apparatet placeres som følger:
Ingen forhindringer og frit rum til stede.
Der må ikke være nogen forhindringer placeret i de områder, der er
defineret af nedenstående dimensioner.
Anbring på en plan overflade. Sørg for at der er tilstrækkelig luftpassage
til ventilationsformål, idet apparatet anbringes på et underlag, der er 10
Para reducir el riesgo de incendios, descargas eléctricas, etc.:
1. No retire los tornillos, las cubiertas o la caja.
2. No exponga este aparato a la lluvia o la humedad.
Precaución ­ Conmutador POWER
Este aparato está provisto de un conmutador POWER capaz de reducir el
consumo de energía al mínimo para un uso seguro. Por consiguiente,
1. Cuando realice los ajustes iniciales, efectúe todas las conexiones requeridas,
conecte el enchufe de la red en el tomacorriente de pared, y ajuste el
2. Cuando no esté en uso, ajuste el conmutador POWER a OFF.
3. Extraiga el enchufe del tomacorriente para desconectar la alimentación por
completo. La línea de la red no se desconecta en ninguna de las posiciones
Precaución: Ventilación apropiada
Para evitar riesgos de incendios o de descargas eléctricas u otros daños, coloque
el aparato de la siguiente manera:
Sin obstrucciones y con espacio abierto.
2. Laterales/parte superior/parte trasera:
No debe haber ninguna obstrucción dentro de las áreas indicadas por las
Debe instalarse sobre una superficie nivelada. Para una ventilación
adecuada, colóquelo sobre un soporte de 10 cm o más de altura para
permitir el paso de aire.
Per ridurre il rischio di scosse elettriche, incendio, ecc.
1. Non rimuovere viti, coperchi o il mobiletto esterno.
2. Non esporre quest'apparecchio agli effetti deleteri di elementi quali pioggia
Attenzione - Interruttore POWER
Quest'apparecchio è dotato di un interruttore POWER che serve a ridurre il
consumo di energia elettrica e per sicurezza. Si raccomanda quindi di
1. Per l'impostazione iniziale, completare tutti i collegamenti necessari,
inserire la spina del cavo di alimentazione nella presa a muro della rete
elettrica e mettere l'interruttore POWER in posizione ON (accensione).
2. Se l'apparecchio non deve essere usato, mettere l'interruttore POWER in
posizione OFF (spegnimento).
3. Per togliere completamente l'alimentazione di corrente, disinserire la spina
del cavo di alimentazione dalla presa a muro della rete elettrica. Altrimenti
l'alimentazione di corrente elettrica permane a prescindere
dall'impostazione dell'interruttore POWER.
Attenzione: Ventilazione Appropriata
Per evitare i rischi di scosse elettriche e incendio, e prevenire eventuali
danneggiamenti, collocare l'apparecchio osservando quanto sotto.
Spazio libero e nessun ostacolo.
Nessun ostacolo entro i limiti indicati in figura.
Collocare su superficie a livello. Mantenere le condizioni idonee a un
buon flusso d'aria di ventilazione collocando l'apparecchio su una base
di appoggio di altezza non inferiore a 10 cm.
Advertencias, precauciones y notas
Avvertenze, Precauzioni e Altro
---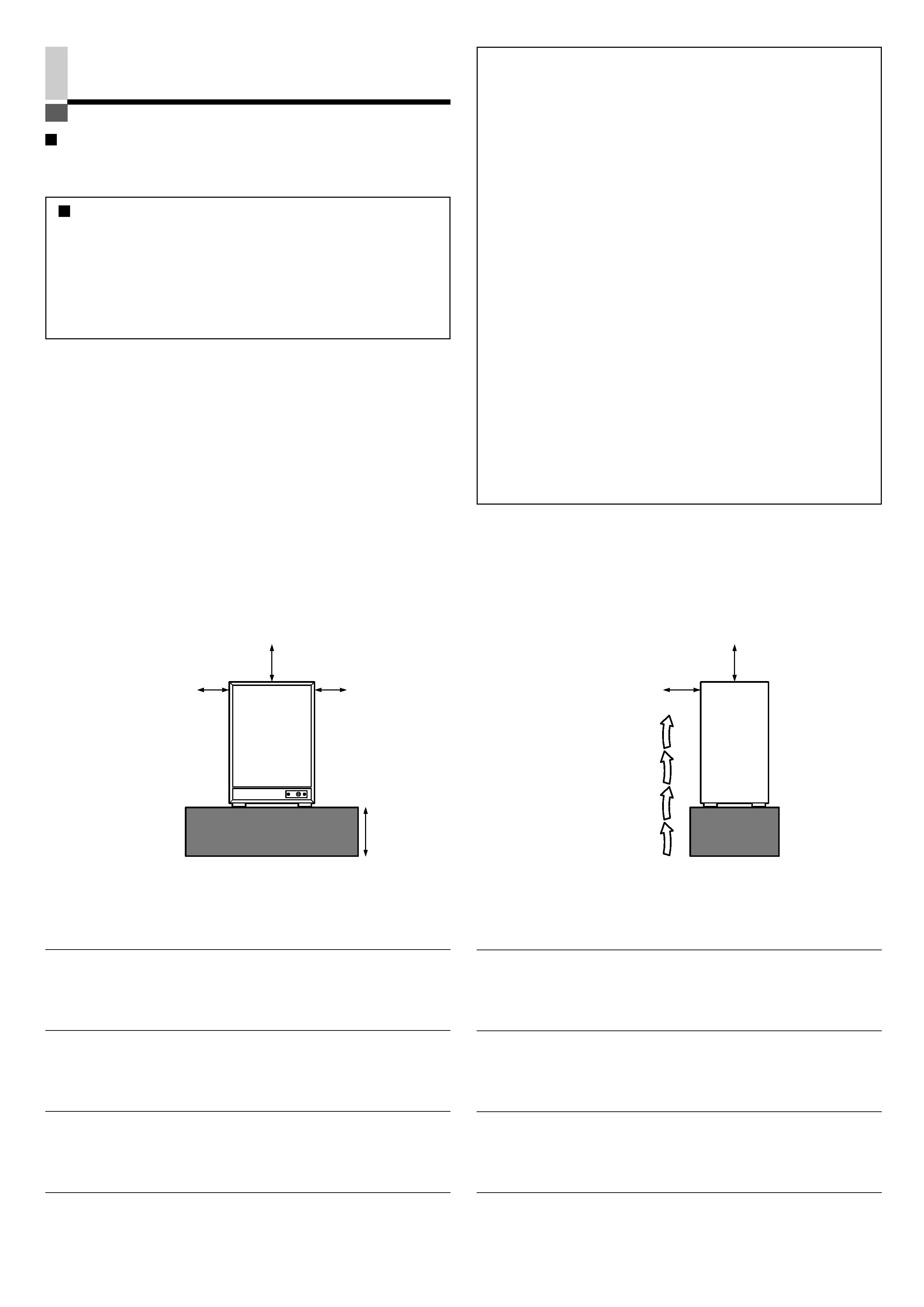 Varoituksia, huomautuksia ym.
Sähköiskujen, tulipalon ym. vaaran välttämiseksi:
1. Älä irrota ruuveja, kansia tai koteloa.
2. Älä saata tätä laitetta alttiiksi sateelle tai kosteudelle.
Huomautus - Virtapainike (POWER)
Tässä laitteessa on virtapainike, jotta virrankulutus saadaan vähennettyä
1. Kun teet alkusäätöjä, tee kaikki tarvittavat liitännät, liitä verkkopistoke
verkkoulosottoon ja aseta virtapainike (POWER) kytkettyyn asentoon ON.
2. Kun laitetta ei käytetä, aseta virtapainike (POWER) katkaistuun asentoon
3. Virta katkaistaan kokonaan irrottamalla verkkopistoke. Virtapainike
(POWER) ei katkaise missään asennossa verkkolinjaa kokonaan.
Huomautus: Kunnollinen ilmanvaihto
Sähköiskujen ja tulipalon syttymisvaaran välttämiseksi ja vaurioiden estämiseksi
laite on sijoitettava seuraavalla tavalla:
2. Sivuillapäällä/takana:
Mitään esteitä ei saa asettaa alla näkyvien mittojen osoittamaan tilaan.
Aseta tasaiselle pinnalle. Jotta ilma pääsee vaihtumaan riittävästi, aseta
10 cm tai korkeamman tuen päälle.
DO NOT cut off the mains plug from this equipment. If the plug fitted is
not suitable for the power points in your home or the cable is too short
to reach a power point, then obtain an appropriate safety approved
extension lead or consult your dealer.
BE SURE to replace the fuse only with an identical approved type, as
If nontheless the mains plug is cut off ensure to remove the fuse and
dispose of the plug immediately, to avoid a possible shock hazard by
inadvertent connection to the mains supply.
If this product is not supplied fitted with a mains plug then follow the
instructions given below:
DO NOT make any connection to the terminal which is marked with the
letter E or by the safety earth symbol or coloured green or green-and-
The wires in the mains lead on this product are coloured in accordance
As these colours may not correspond with the coloured markings
identifying the terminals in your plug proceed as follows:
The wire which is coloured blue must be connected to the terminal
which is marked with the letter N or coloured black.
The wire which is coloured brown must be connected to the terminal
which is marked with the letter L or coloured red.
IF IN DOUBT - CONSULT A COMPETENT ELECTRICIAN.
Thank you for purchasing JVC speakers.
Before you begin using them, please read the instructions carefully to be
sure you get the best possible performance. If you have any questions,
Vielen Dank für den Kauf dieser JVC-Lautsprecher.
Lesen Sie bitte diese Bedienungsanleitung vor Ingebrauchnahme sorgfältig
durch, um stets optimale Ergebnisse zu erzielen. Wenden Sie sich bei
etwaigen Fragen bitte an Ihren JVC Händler.
Nous vous remercions pour l'achat de ces enceintes JVC.
Avant de les utiliser, lire ces instructions avec attention pour en obtenir les
meilleures performances possibles. En cas de questions, consulter votre
Dank u voor de aanschaf van deze luidsprekers.
Lees alvorens over te gaan tot aansluiten, deze gebruiksaanwijzing door
zodat u de best mogelijke prestaties zult verkrijgen. Neem contact op met
de JVC dealer indien u vragen heeft.
Le estamos muy agradecidos por haber adquirido estos altavoces de JVC.
Antes de utilizarlos, sirvase leer las instrucciones detenidamente a fin de
obtener el mejor rendimiento posible. Si tienenaluna pregunta, acuda a su
Grazie per aver acquistato questi altoparlanti della JVC.
Prima di cominciare l'uso degli altoparlanti, leggete attentamente le istruzioni
per assicurare le migliori prestazioni. Qualora sorgessero dei dubbi,
rivolgetevi al vostro rivenditore JVC.
Tack för ditt val av dessa JVC-högtalare.
Innan du kopplar in högtalarna i din ljudanläggning bör du för att få maximala
prestanda från högtalarna läsa igenom bruksanvisningen noggrant. Kontakta
din JVC-återförsäljare om du har frågor eller känner dig osäker.
Tak for købet af denne JVC-højttaler.
Gennemlæs venligst vejledningen omhyggeligt før højttaleren tages i brug,
så De kan opnå den bedst mulige ydelse. Forhør hos Deres JVC forhandler
hvis De har nogen spørgsmål.
Kiitos siitä että päädyit valinnassasi JVC-kaiuttimiin.
Ennen kuin alat käyttää niitä, lue käyttöohje huolellisesti, jotta ne toimisivat
parhaalla mahdollisella tavalla. Jos Sinulla on kysyttävää ota yhteys JVC-
---

This equipment has been designed and manufactured to meet
international safety standards but, like any electrical equipment, care
must be taken if you are to obtain the best results and safety is to be
Do read the operating instructions before you attempt to use the
Do ensure that all electrical connections (including the mains plug,
extension leads and interconnections between pieces of equipment)
are properly made and in accordance with the manufacturer's
instructions. Switch off and withdraw the mains plug when making or
Do consult your dealer if you are ever in doubt about the installation,
operation or safety of your equipment.
Do be careful with glass panels or doors on equipment.
DON'T continue to operate the equipment if you are in any doubt
about it working normally, or if it is damaged in any way -- switch off,
withdraw the mains plug and consult your dealer.
DON'T remove any fixed cover as this may expose dangerous
DON'T leave equipment switched on when it is unattended unless it is
specifically stated that it is designed for unattended operation or has a
Switch off using the switch on the equipment and make sure that your
family know how to do this.
Special arrangements may need to be made for infirm of handicapped
DON'T use equipment such as personal stereos or radios so that you
are distracted from the requirements of traffic safety. It is illegal to
watch television whilst driving.
DON'T listen to headphones at high volume as such use can
permanently damage your hearing.
DON'T obstruct the ventilation of the equipment, for example with
curtains or soft furnishing.
Overheating will cause damage and shorten the life of the equipment.
DON'T use makeshift stands and NEVER fix legs with wood screws --
to ensure complete safety always fit the manufacturer's approved
stand or legs with the fixings provided according to the instructions.
DON'T allow electrical equipment to be exposed to rain or moisture.
­ NEVER let anyone, especially children, push anything into holes,
slots or any other opening in the case.
­ this could result in a fatal electrical shock;
­ NEVER guess or take chances with electrical equipment of any
­ it is better to be safe than sorry!
-- SAFETY INSTRUCTIONS --
"SOME DOS AND DON'TS ON THE SAFE USE OF EQUIPMENT"
Confirming Supplied Accessories ............................................................ 1
Precautions for Use .................................................................................. 1
Precautions for Installation ....................................................................... 1
Names of Parts and Functions ................................................................ 2
Connections ............................................................................................. 3
Operation ................................................................................................. 5
Troubleshooting ........................................................................................ 6
Specifications ........................................................................................... 6
Überprüfen des mitgelieferten Zubehörs ................................................. 1
Vorsichtsmaßnahmen für den Gebrauch ................................................. 1
Vorsichtsmaßnahmen für die Installation ................................................. 1
Namen von Teilen und Funktionen .......................................................... 2
Verbindungen ........................................................................................... 3
Bedienung ................................................................................................ 5
Störungsbehebung ................................................................................... 6
Spezifizierungen ...................................................................................... 6
Confirmation des accessoires fournis ..................................................... 7
Précautions pour l'emploi ......................................................................... 7
Précautions pour l'installation .................................................................. 7
Nomenclature des différents éléments et fonctions ................................. 8
Connexions .............................................................................................. 9
Fonctionnement ..................................................................................... 11
Dépannage ............................................................................................ 12
Spécifications ......................................................................................... 12
Controleren toebehoren ........................................................................... 7
Voorzorgen voor het gebruik .................................................................... 7
Voorzorgen voor de installatie .................................................................. 7
Namen van onderdelen en functies ......................................................... 8
Aansluitingen ........................................................................................... 9
Bediening ............................................................................................... 11
Oplossen van problemen ....................................................................... 12
Technische gegevens ............................................................................. 12
Confirmación de los accesorios suministrados ...................................... 13
Precauciones sobre el uso ..................................................................... 13
Precauciones sobre la instalación ......................................................... 13
Nombres de las partes y funciones ........................................................ 14
Conexiones ............................................................................................ 15
Funcionamiento ..................................................................................... 17
Solución de problemas ........................................................................... 18
Especificaciones .................................................................................... 18
Verifica degli accessori in dotazione ...................................................... 13
Precauzioni per l'uso .............................................................................. 13
Precauzioni per l'installazione ................................................................ 13
Nome delle parti e funzioni ................................................................... 14
Collegamenti .......................................................................................... 15
Funzionamento ...................................................................................... 17
Guida e rimedi in caso di problemi di funzionamento ............................ 18
Dati caratteristici .................................................................................... 18
Kontroll av medföljande tillbehör ........................................................... 19
Säkerhetsföreskrifter för användning .................................................... 19
Säkerhetsföreskrifter för installation ....................................................... 19
Namn på delar och funktioner ................................................................ 20
Anslutningar ........................................................................................... 21
Drift ....................................................................................................... 23
Felsökning .............................................................................................. 24
Tekniska data ......................................................................................... 24
Tjek af medfølgende tilbehør .................................................................. 19
Sikkerhedsregler for brug ....................................................................... 19
Sikkerhedsregler for installation ............................................................. 19
Delenes navne og funktioner ................................................................. 20
Tilslutninger ............................................................................................ 21
Betjening ................................................................................................ 23
Fejlfinding ............................................................................................... 24
Specifikationer ....................................................................................... 24
Vakiovarusteiden tarkastaminen ............................................................ 25
Huomautuksia käytöstä .......................................................................... 25
Huomautuksia asennuksesta ................................................................. 25
Osien nimet ja toiminnot ........................................................................ 26
Liitännät ................................................................................................. 27
Käyttö ..................................................................................................... 29
Vianmääritys .......................................................................................... 30
Tekniset tiedot ........................................................................................ 30
---