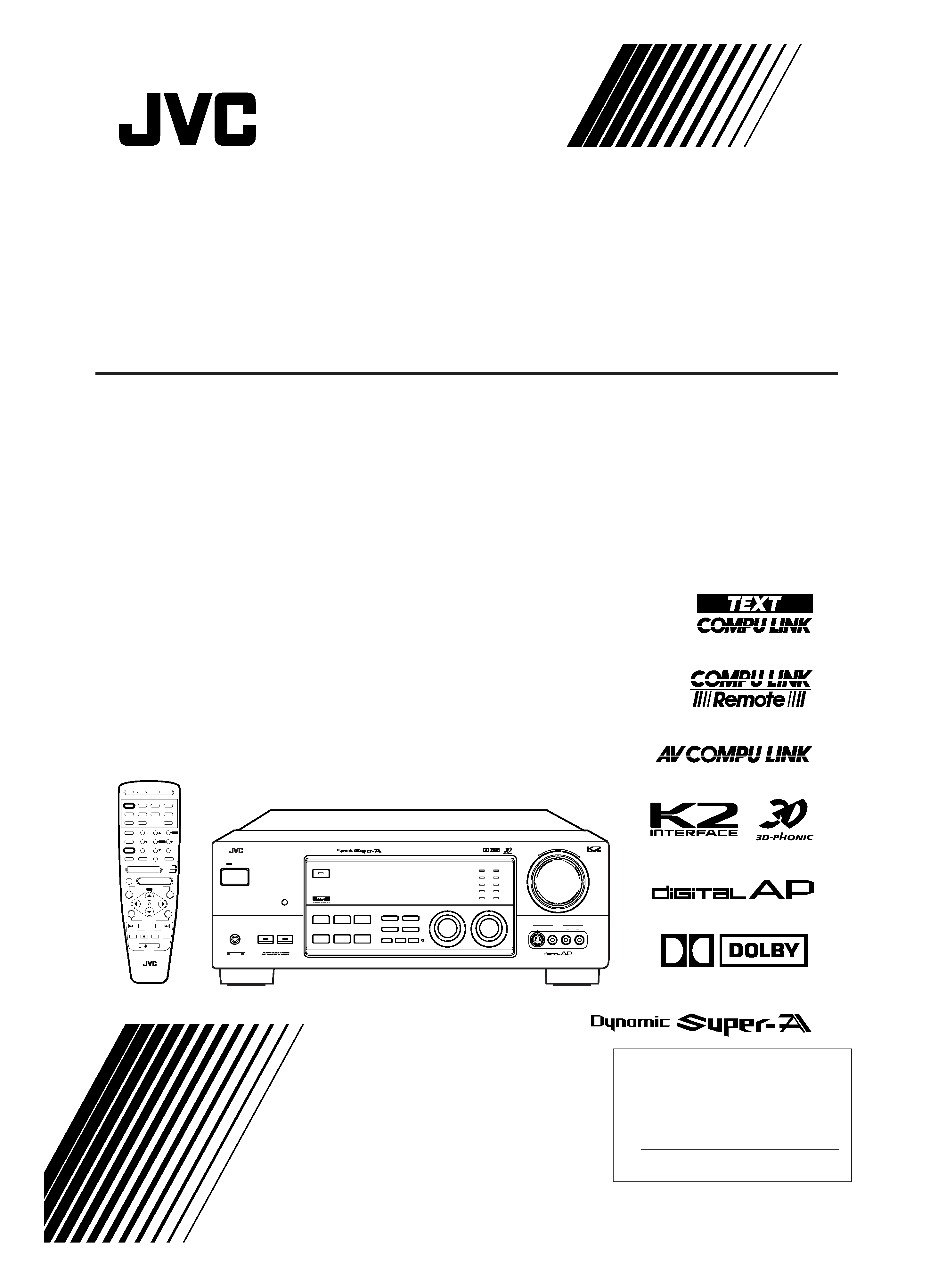 Enter below the Model No. and Serial
No. which are located either on the rear,
bottom or side of the cabinet. Retain this
information for future reference.
AUDIO/ VIDEO CONTROL RECEIVER
RX-1024V AUDIO/VIDEO CONTROL RECEIVER
RM-SR1024U REMOTE CONTROL
---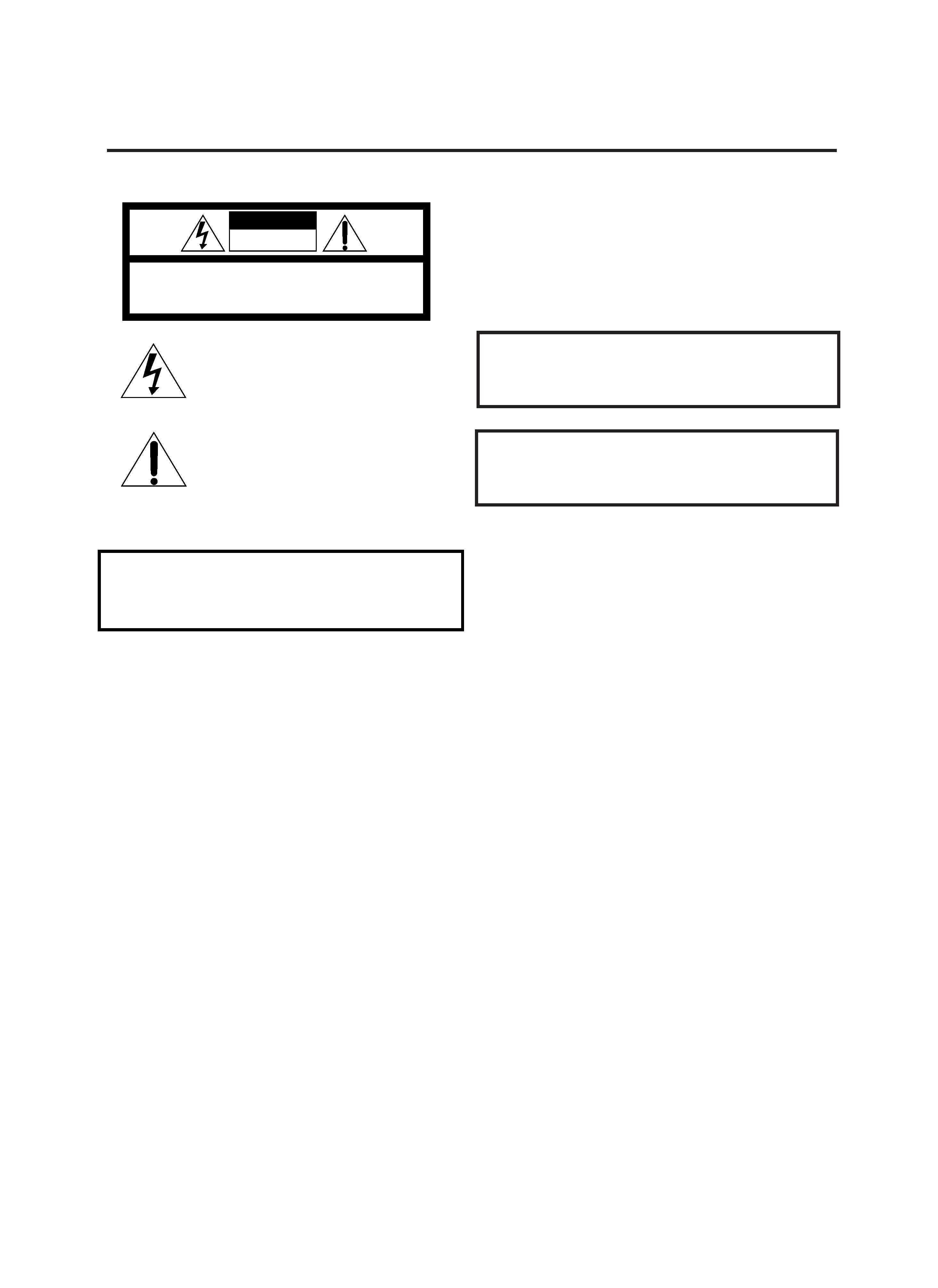 Warnings, Cautions and Others
Disconnect the mains plug to shut the power off completely. The
POWER switch in any position does not disconnect the mains line.
The power can be remote controlled.
TO REDUCE THE RISK OF ELECTRIC SHOCK.
DO NOT REMOVE COVER (OR BACK)
NO USER SERVICEABLE PARTS INSIDE.
REFER SERVICING TO QUALIFIED SERVICE PERSONNEL.
The lightning flash with arrowhead symbol,
within an equilateral triangle is intended to
alert the user to the presence of uninsulated
"dangerous voltage" within the product's
magnitude to constitute a risk of electric
The exclamation point within an equilateral
triangle is intended to alert the user to the
maintenance (servicing) instructions in the
literature accompanying the appliance.
WARNING: TO REDUCE THE RISK OF FIRE
OR ELECTRIC SHOCK, DO NOT EXPOSE
THIS APPLIANCE TO RAIN OR MOISTURE.
To reduce the risk of electrical shocks, fire, etc.:
1. Do not remove screws, covers or cabinet.
2. Do not expose this appliance to rain or moisture.
Caution ­­ SPEAKER LOAD SELECTOR switch!
Match the position of SPEAKER LOAD SELECTOR switch on the
back panel to the impedance of the speaker connected, to protect
Warranty.RX-1024V[J]/1.PM5
---

To get the best DSP (Digital Signal Processor) effect in your listening room, note the speaker
settings you have set on the table below for future reference (even though the receiver
memorizes the settings until you change them).
For actual setting procedures, see pages 19 to 21.
msec] (Select from 0 to 5 msec)
msec] (Select from 0 to 15 msec)
Dynamic Range Compression
If the power cord is unplugged
or a power failure occurs, all
preset settings will be erased in
Warranty.RX-1024V[J]/1.PM5
---

Parts Identification ...................................................................................... 3
Getting Started........................................................................................... 4
Before Installation ................................................................................................................................................................... 4
Checking the Supplied Accessories ........................................................................................................................................ 4
Connecting the FM and AM Antennas ................................................................................................................................... 5
Connecting the Speakers ......................................................................................................................................................... 6
Connecting Audio/Video Components ................................................................................................................................... 8
Connecting the Power Cord .................................................................................................................................................. 12
Putting Batteries in the Remote Control ............................................................................................................................... 12
Basic Operations ....................................................................................... 13
Turning the Power On and Off .............................................................................................................................................. 13
Selecting the Source to Play ................................................................................................................................................. 13
Adjusting the Volume ............................................................................................................................................................ 14
Selecting the Front Speakers ................................................................................................................................................. 15
Muting the Sound .................................................................................................................................................................. 15
Using the Sleep Timer ........................................................................................................................................................... 15
Attenuating the Input Signal ................................................................................................................................................. 16
Adjusting the Subwoofer Output Level ................................................................................................................................ 16
Recording a Source ............................................................................................................................................................... 16
Basic Settings........................................................................................... 17
Changing the Source Name .................................................................................................................................................. 17
Selecting the Input Mode ...................................................................................................................................................... 17
Adjusting the Front Speaker Output Balance ....................................................................................................................... 18
Setting the Subwoofer Information ....................................................................................................................................... 18
Listening at Low Volume (Loudness) ................................................................................................................................... 18
Digital Input (DIGITAL IN) Terminal Setting ...................................................................................................................... 19
Setting the Speakers for the DSP Modes .............................................................................................................................. 19
One Touch Operation .................................................................................. 22
About the One Touch Operation ........................................................................................................................................... 22
Using the One Touch Operation ............................................................................................................................................ 22
Receiving Radio Broadcasts ........................................................................ 23
Tuning in Stations Manually ................................................................................................................................................. 23
Using Preset Tuning .............................................................................................................................................................. 23
Selecting the FM Reception Mode ....................................................................................................................................... 24
Assigning Names to Preset Stations ..................................................................................................................................... 25
Using the SEA Modes ................................................................................ 26
Selecting Your Favorite SEA Mode ...................................................................................................................................... 26
Creating Your Own SEA Mode ............................................................................................................................................. 27
EN01-12.RX-1024V[J]/1.PM5
---

Using the DSP Modes ................................................................................ 28
Using the 3D-PHONIC Modes ............................................................................................................................................. 29
Using the DAP Modes .......................................................................................................................................................... 32
Using the Dolby Digital and Dolby Pro Logic Modes ......................................................................................................... 34
Using the Theater Surround Mode ........................................................................................................................................ 37
Using the On-Screen Menus........................................................................ 41
Selecting the Source to Play ............................................................................................................................................ 41
Selecting the Different Sources for Picture and Sound ................................................................................................... 41
Using the DSP Modes ..................................................................................................................................................... 41
Adjusting the Front Speaker Output Balance .................................................................................................................. 42
Listening at Low Volume (Loudness) ............................................................................................................................. 42
Attenuating the Input Signal ........................................................................................................................................... 42
Adjusting the Subwoofer Output Level ........................................................................................................................... 43
Adjusting the DSP Modes ............................................................................................................................................... 43
Selecting Your Favorite SEA Mode ................................................................................................................................ 44
Creating Your Own SEA Mode ....................................................................................................................................... 45
Basic Settings .................................................................................................................................................................. 45
Operating the Tuner ......................................................................................................................................................... 46
Storing the Preset Stations .............................................................................................................................................. 46
Assigning Names to the Preset Stations .......................................................................................................................... 47
COMPU LINK Remote Control System ......................................................... 48
TEXT COMPU LINK Remote Control System................................................. 49
Showing the Disc Information on the TV Screen ........................................................................................................... 50
Searching a Disc (Only for the CD Player) ..................................................................................................................... 51
Using the User File (Only for the CD Player with the User File Function) .................................................................... 53
Entering the Disc Information ......................................................................................................................................... 54
AV COMPU LINK Remote Control System .................................................... 56
Operating JVC's Audio/Video Components ................................................... 58
Operating Other Manufactures' Components ............................................... 62
Troubleshooting ......................................................................................... 68
Specifications............................................................................................ 69
EN01-12.RX-1024V[J]/1.PM5
---