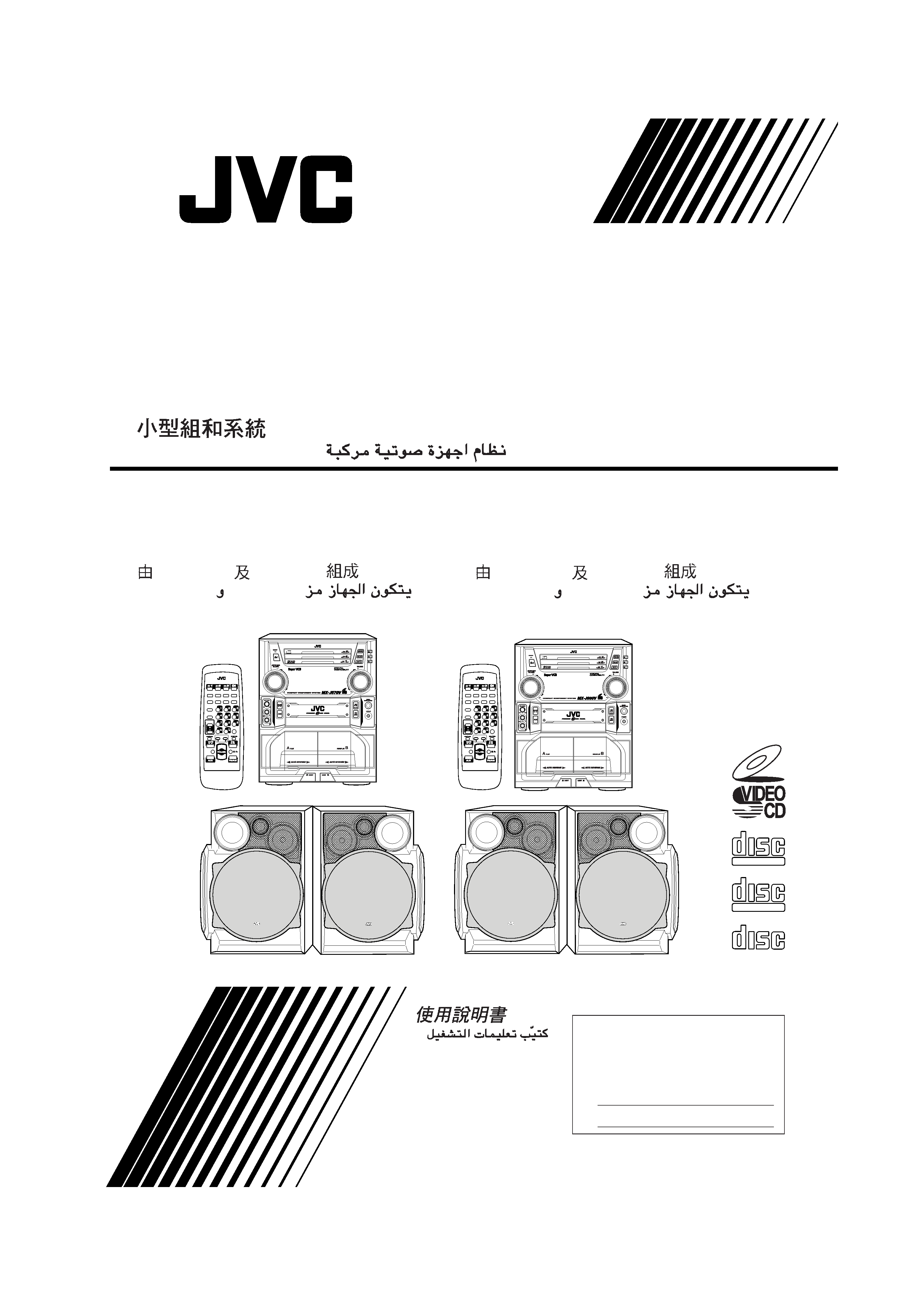 Enter below the Model No. and Serial
No. which are located either on the rear,
bottom or side of the cabinet. Retain this
information for future reference.
RM--SMXJ570V REMOTE CONTROL
RM--SMXJ570V REMOTE CONTROL
Consists of CA-MXJ570V and SP-MXJ570V.
Consists of CA-MXJ680V and SP-MXJ680V.
---
Disconnect the mains plug to shut the power off completely. The
switch in any position does not disconnect the mains line.
The power can be remote controlled.
Precaución ­­ Interruptor
Desconectar el cable de alimentación para desactivar la
alimentación totalmente. Cualquier que sea la posición de ajuste
, la alimentación no es cortada completamente.
La alimentación puede ser controlada remotamente.
Desconectar o cabo de alimentação para desligar a alimentação
por completo. Qualquer que seja a posição de ajuste do interruptor
, a alimentação não é completamente cortada. A alimentação
pode ser controlada remotamente.
Warnings, Cautions and Others
Avisos, precauciones y otras notas
Advertências, precauções e outras notas
---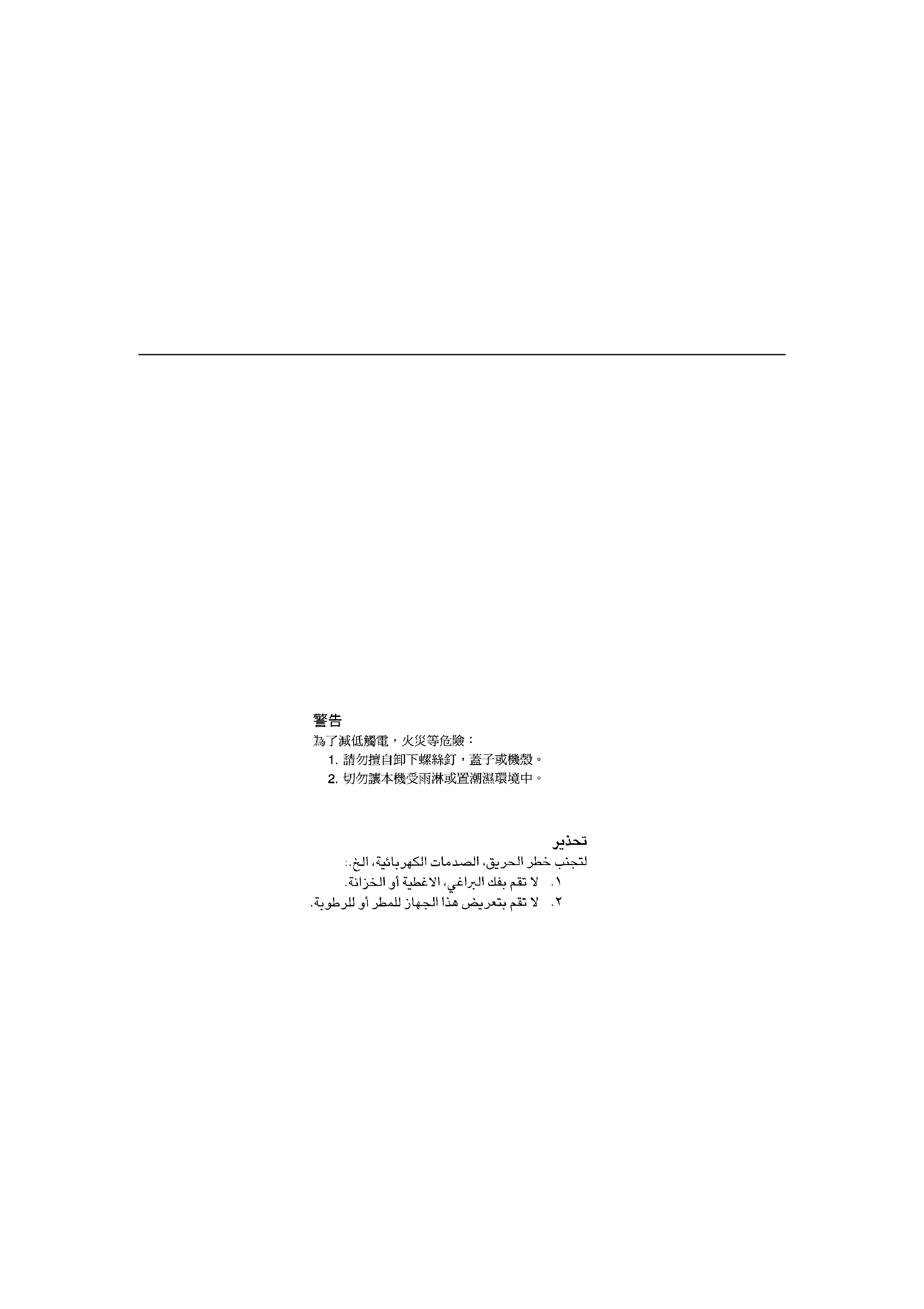 To reduce the risk of electrical shocks, fire, etc.:
1. Do not remove screws, covers or cabinet.
2. Do not expose this appliance to rain or moisture.
Para reducir riesgos de choques eléctricos, incendio, etc.:
1. No extraiga los tornillos, los cubiertas ni la caja.
2. No exponga este aparato a la lluvia o a la humedad.
Para reduzir riscos de choques elétricos, incêndio, etc.:
1. Não remova parafusos e tampas ou desmonte a
2. Não exponha este aparelho à chuva nem à
---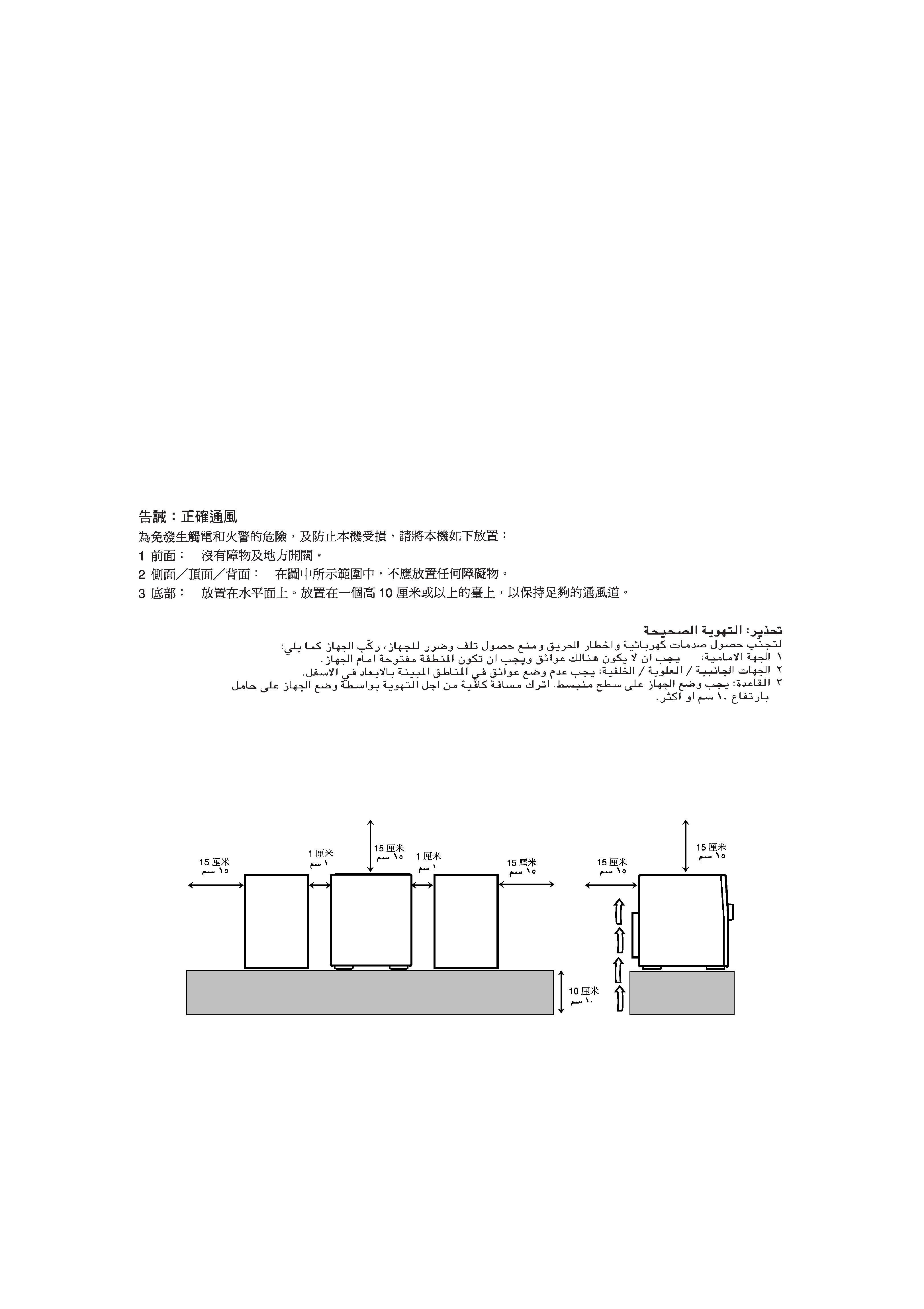 Caution: Proper Ventilation
To avoid risk of electric shock and fire, and to prevent damage, locate the apparatus as follows:
No obstructions and open spacing.
2 Sides/ Top/ Back: No obstructions should be placed in the areas shown by the dimensions below.
Place on a level surface. Maintain an adequate air path for ventilation by placing on a stand with a height of 10
Precaución: el aparato debe estar bien ventilado
Para evitar posibles riesgos de descargas eléctricas e incendios y prevenir cualquier posible daño, coloque el aparato del modo
No ponga nada delante, deje el espacio libre.
2 Laterales/ parte superior/ parte trasera: No se debería colocar nada en las áreas y las distancias que se detallan a
Coloque el aparato sobre una superficie recta. Debe haber buena circulación de aire; para ello, coloque el
aparato sobre una base a una altura mínima de 10 cm.
Precaução: Ventilação adequada
Para evitar riscos de choques elétricos e incêndios, e prevenir avarias, instale o aparelho como segue:
Sem obstruções e espaços abertos.
2 Partes laterais/Tampa/Posterior: Nenhuma obstrução deverá ser colocada entre as áreas cujas dimensões são indicadas
Instale-o sobre uma superfície plana. Deverá ser mantido espaço suficiente para a ventilação se este for
instalado numa posição que tenha uma altura de 10 cm ou mais.
---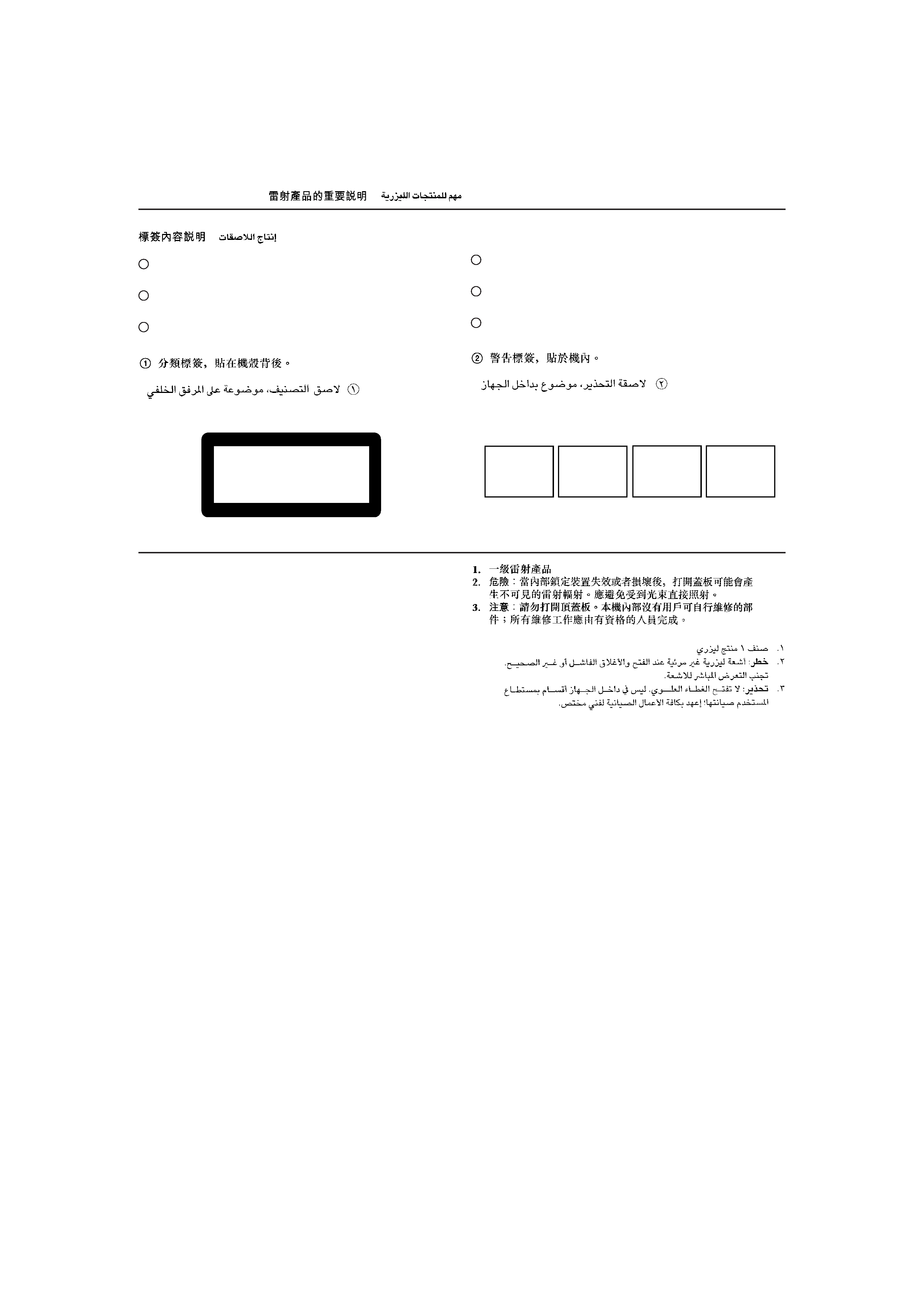 IMPORTANT FOR LASER PRODUCTS / IMPORTANTE PARA PRODUCTOS LÁSER / IMPOTANTE PARA
REPRODUCTION OF LABELS / REPRODUCCIÓN DE ETIQUETAS / REPRODUÇÃO DE ETIQUETAS /
CLASSIFICATION LABEL, PLACED ON REAR
ETIQUETA DE CLASIFICACIÓN, PEGADA EN LA PARTE POSTE-
ETIQUETA DE CLASSIFICAÇÃO LOCALIZADA NA PARTE POS-
TERIOR DA CAIXA DO APARELHO.
WARNING LABEL, PLACED INSIDE THE UNIT
ETIQUETA DE ADVERTENCIA, PEGADA EN EL
ETIQUETA DE ADVERTÊNCIA LOCALIZADA NA PARTE
2. DANGER: Invisible laser radiation when open and
interlock failed or defeated. Avoid direct exposure to beam.
3. CAUTION: Do not open the top cover. There are no user
serviceable parts inside the Unit; leave all servicing to quali-
1. PRODUCTO LÁSER CLASE 1
2. PELIGRO: En el interior hay radiación láser invisible. Evite el
contacto directo con el haz.
3. PRECAUCIÓN: No abra la tapa superior. En el interior de la
unidad no existen piezas reparables por el usuario; deje todo
servicio técnico en manos de personal calificado.
1. PRODUTO LASER CLASSE 1
2. PERIGO: O laser emite uma rediação invisível que é perigosa,
caso o aparelho esteja aberto e a trava inoperante ou
danificada. Evite exposição direta ao feixe dos raios.
3. CUIDADO: Não abra a caixa do aparelho. Não existem
peças reparáveis pelo usuário na parte interna da unidade.
Solicite assistência técnica somente a pessoal técnico
interlock failed or defeated.
sikkerhedsafbrydere er ude
af funktion. Undgå udsæt-
strålning när denna del är
jalukitus ohitettaessa olet
lasersäteilylle. Älä katso
---