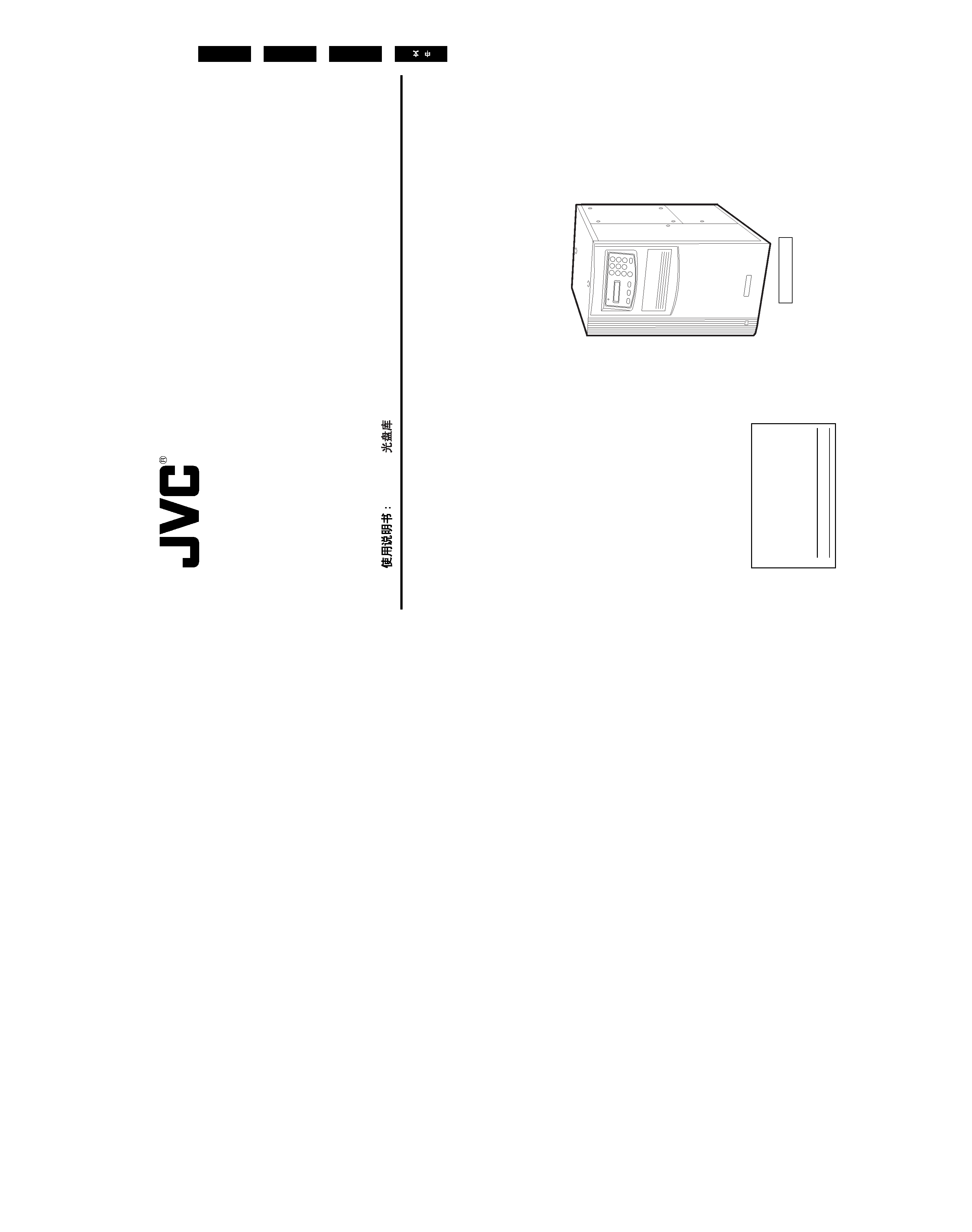 BEDIENUGSANLEITUNG : CD/DVD-BIBLIOTHEK
MANUEL D'INSTRUCTIONS : BIBLIOTHEQUE CD/DVD
VICTOR COMPANY OF JAPAN, LIMITED
© 2003 VICTOR COMPANY OF JAPAN, LIMITED
is a registered Trademark owned by VICTOR COMPANY OF JAPAN, LTD.
is a registered Trademark in Japan, the U.S.A., the U.K. and many other countries.
This instruction book is made from 100% recycled paper.
Enter below the Model No. and Serial
No. which is located on the side of the
cabinet. Retain this information for
---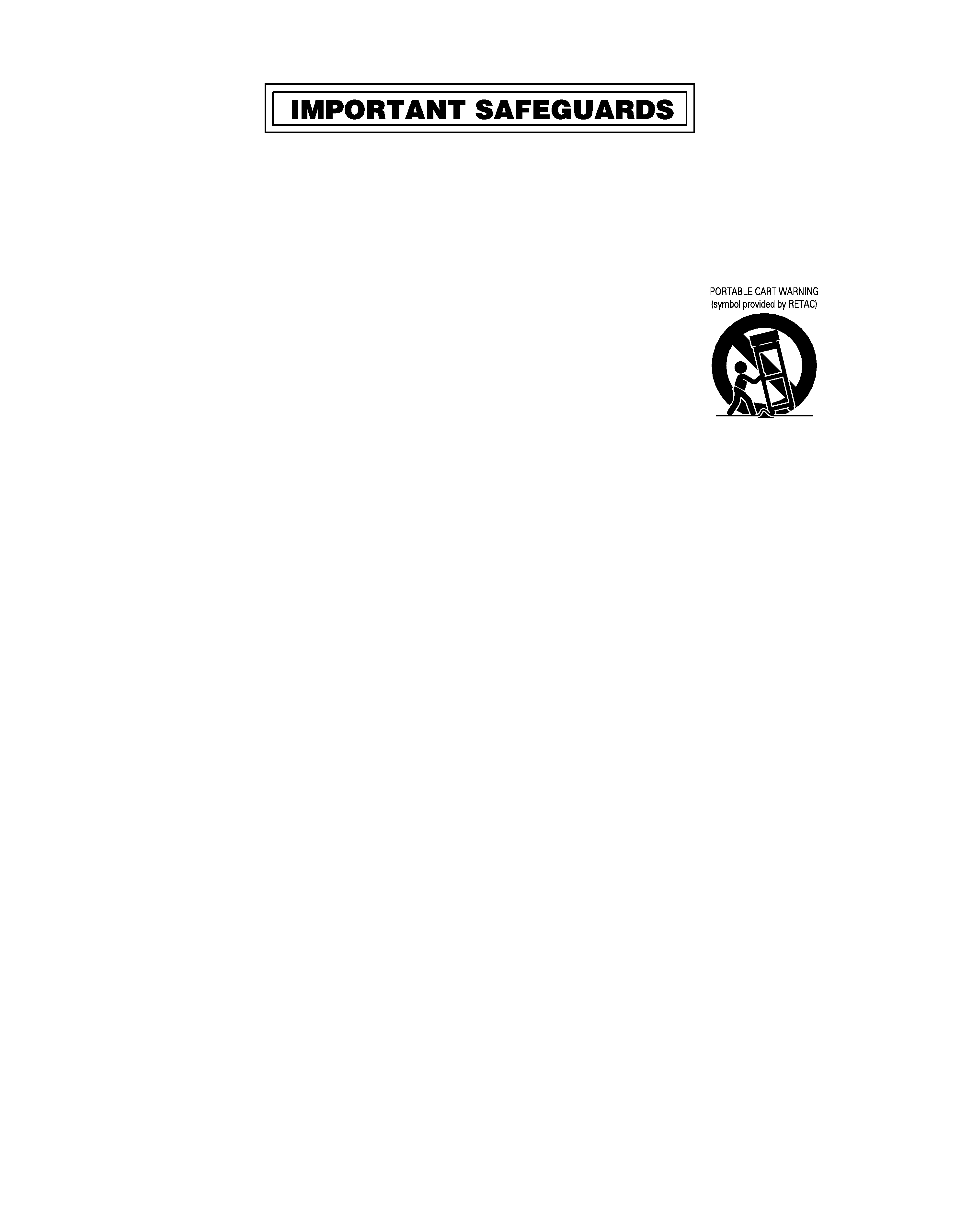 1. Read all of these instructions.
2. Save these instructions for later use.
3. All warnings on the product and in the operating instructions should be adhered to.
4. Unplug this appliance system from the wall outlet before cleaning. Do not use liquid cleaners or aerosol
cleaners. Use a damp cloth for cleaning.
5. Do not use attachments not recommended by the appliance manufacturer as they may cause hazards.
6. Do not use this appliance near water - f or example, near a bathtub, washbowl, kitchen sink, or laundry
tub, in a wet basement, or near a swimming pool, etc.
7. Do not place this appliance on an unstable cart, stand, or table. The appliance
may fall, causing serious injury to a child or adult, and serious damage to the
Use only with a cart or stand recommended by the manufacturer, or sold with the
Wall or shelf mounting should follow the manufacturer's instructions, and should
use a mounting kit approved by the manufacturer.
An appliance and cart combination should be moved with care. Quick stops,
excessive force, and uneven surfaces may cause the appliance and cart
8. Slots and openings in the cabinet and the back or bottom are provided for
ventilation, and to insure reliable operation of the appliance and to protect it from overheating, these
openings must not be blocked or covered.The openings should never be blocked by placing the appliance
on a bed, sofa, rug, or other similar surface. This appliance should never be placed near or over a
radiator or heat register. This appliance should not be placed in a built-in installation such as a bookcase
unless proper ventilation is provided.
9. This appliance should be operated only from the type of power source indicated on the marking label.
If you are not sure of the type of power supplied to your home, consult your dealer or local power
company. For appliance designed to operate from battery power, refer to the operating instructions.
10. This appliance system is equipped with a 3-wire grounding type plug (a plug having a third (grounding)
pin). This plug will only fit into a grounding-type power outlet. This is a safety feature. If you are unable
to insert the plug into the outlet, contact your electrician to replace your obsolete outlet. Do not defeat
the safety purpose of the grounding plug.
11. For added protection for this product during a lightning storm, or when it is left unattended and unused
for long periods of time, unplug it from the wall outlet and disconnect the antenna or cable system. This
will prevent damage to the product due to lightning and power-line surges.
12. Do not allow anything to rest on the power cord. Do not locate this appliance where the cord will be
abused by persons walking on it.
13. Follow all warnings and instructions marked on the appliance.
14. Do not overload wall outlets and extension cords as this can result in fire or electric shock.
15. Never push objects of any kind into this appliance through cabinet slots as they may touch dangerous
voltage points or short out parts that could result in a fire or electric shock. Never spill liquid of any kind
16. Do not attempt to service this appliance yourself as opening or removing covers may expose you to
dangerous voltage or other hazards. Refer all servicing to qualified service personnel.
17. Unplug this appliance from the wall outlet and refer servicing to qualified service personnel under the
When the power cord or plug is damaged or frayed.
If liquid has been spilled into the appliance.
If the appliance has been exposed to rain or water.
If the appliance does not operate normally by following the operating instructions. Adjust only
those controls that are covered by the operating instructions as improper adjustment of other controls
may result in damage and will often require extensive work by a qualified technician to restore the
appliance to normal operation.
If the appliance has been dropped or the cabinet has been damaged.
When the appliance exhibits a distinct change in performance ­ this indicates a need for service.
18. When replacement parts are required, be sure the service technician has used replacement parts
specified by the manufacturer that have the same characteristics as the original part. Unauthorized
substitutions may result in fire, electric shock, or other hazards.
19. Upon completion of any service or repairs to this appliance, ask the service technician to perform
routine safety checks to determine that the appliance is in safe operating condition.
---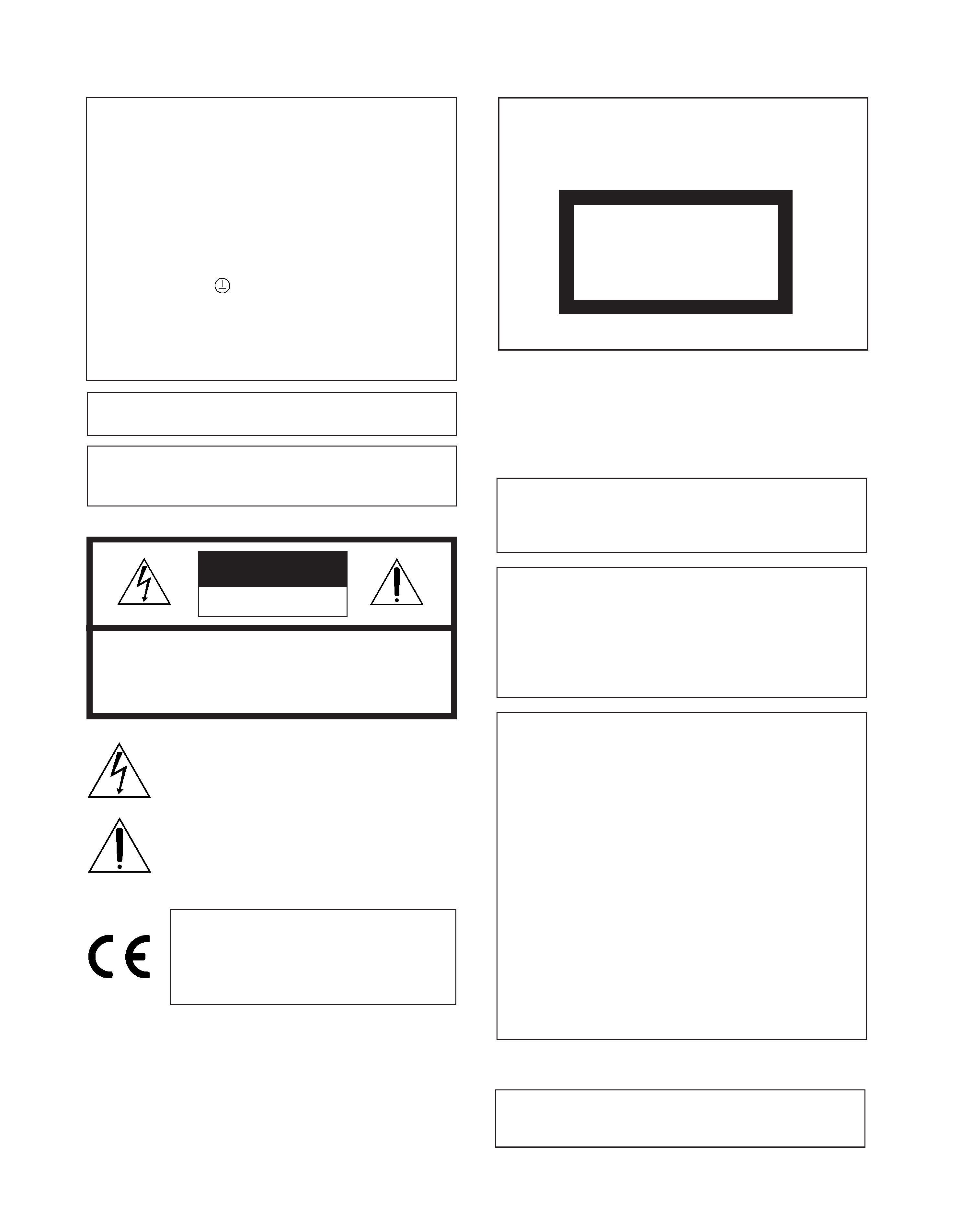 The wires in this mains lead are coloured in accordance with
As the colours of the wires in the mains lead of this apparatus
may not correspond with the coloured markings identifying
the terminals in your plug. proceed as follows. The wire which
is coloured GREEN-AND-YELLOW must be connected to the
terminal in the plug which is marked with the letter E or the
or coloured GREEN or GREEN-AND
YELLOW.The wire which is coloured BLUE must be connected
to the terminal which is marked with the letter N or which is
coloured BLACK. The wire which is coloured BROWN must
be connected to the terminal which is marked with the letter L
IMPORTANT FOR LASER PRODUCT
2. DANGER :Invisible laser radiation when open and interlock
failed or defeated. Avoid direct exposure to beam.
3. CAUTION : Do not open the top cover. There are no user serv-
iceable parts inside the unit: leave all servicing to qualified
Use of controls or adjustments or performance of proce-
dures other than those specified herein may result in
hazardous radiation exposure.
Place a cover on the terminal when not in use.
Static may cause a malfunction or failure of the unit.
TO PREVENT FIRE OR SHOCK HAZARD, DO NOT
EXPOSE THIS APPLIANCE TO RAIN OR MOISTURE.
CLASSIFICATION LABEL, PLACED ON
Note : Classaification Label is placed on rear panel.
NOTE: This equipment has been tested and found to comply
with the limits for a Class A digital device,pursuant to
Part 15 of the FCC Rules.
These limits are designed to provide reasonable pro-
tection against harmful interference when the equip-
ment is operated in a commercial environment.
This equipment generates,uses,and can radiate radio
frequency energy and,if not installed and used in ac-
cordance with the instruction manual,may cause harmful
interference to radio communications.Operation of this
equipment in a residential area is likely to cause harm-
ful interference in which case the user will be required
to correct the interference at his own expense.
Modifications not expressly approved by the manu-
facturer could void the user's authority to operated the
equipment under FCC rules.
This Class [A] digital apparatus complies with Canadian
Informations pour le Canada
Cet appareil numérique de la classe [A] est conforme á la
This is a Class A product. In a domestic en-
vironment this product may cause radio in-
terference in which case the user may be
required to take adequate measures.
CAUTION: TO REDUCE THE RISK OF ELECTRIC SHOCK,
DO NOT REMOVE COVER (OR BACK).
NO USER-SERVICEABLE PARTS INSIDE.
REFER SERVICING TO QUALIFIED SERVICE PERSONNEL
The lightning flash with arrowhead symbol, within an
equilateral triangle, is intended to alert the user to the
presence of uninsulated "dangerous voltage" within the
product's enclosure that may be of sufficient magnitude
to constitute a risk of electric shock to persons.
The exclamation point within an equilateral triangle is
intended to alert the user to the presence of important
operating and maintenance (servicing) instructions in
the literature accompanying the appliance.
---

Thank you for purchasing the JVC MC-8100LU CD/DVD Library
Up to 100 optical discs*
1
(12 cm discs) can be accom-
· Double-sided disc compatibility
Double-sided discs may also be accommodated, by
adding an optional carrier*
3
.
*1
Media compatible with the library varies depending on the installed drive types. For details, refer to the instruction
manuals of the relevant drives.
*2
For the compatible optional drives, see Specifications on page E32.
*3
MC-CF10U: Optional Carrier.
*4
The data transfer rate is dependent on the installed drives. For details, refer to the instruction manual for the
The MC-8100LU CD/DVD Library is a highly reliable and durable disc changer equipped with large capacity and high
access speed to cope with the ever-changing needs of the rapidly developing information network age. This model is
suitable for business as well as home use.
The magazines and trays used with the MC-1000U/2000U series CD-ROM Library (MC-M15U) and MC-7000U series
DVD-RAM (MC-M25U) are not compatible with those used with the MC-8000U/8000LU series CD/DVD Library. Do
not interchange the magazines and trays between these models, as this will damage the equipment.
Four drive bay slots are provided so up to 4 drives*
2
The LVD SCSI interface is adopted to enable a maxi-
mum external cable length of 10 meters as well as to
increase the data transfer rate.*
4
The following table shows the items provided in the package. Always check thoroughly that all the items are present when
This equipment is supplied with an internal mechanism lock and protective materials. The lock should be opened
and the protective materials removed before use.
Be sure to perform the unlocking and removal operations in accordance with the corresponding information in
this manual. (APage E10, E11, E12)
Door opening/closing keys
Main unit power cord (2.5 m)
Instructions (this manual)
This product does not include drives. Optional drives should be purchased and installed before using the prod-
uct. After installing, adding or replacing drives, be sure to execute the automatic drive detection mode as de-
scribed on page E23. Malfunctions may occur if this procedure is not performed.
If a media that is not compatible with any of the installed drives is used in the library, malfunctions will result. To
prevent this happening, be sure to check the instruction manuals of the optional drives in order to confirm that
the media to be accommodated is compatible with the drive.
When using 4 of the MC-R434U units together, be sure that the room temperature is between 5 °C and 30 °C.
---

1. PRECAUTIONS ..................................................................................................................................................... 5
Installation and handling precautions ................................................................................................................. 5
Disc handling precautions .................................................................................................................................. 5
2. NAMES AND FUNCTIONS OF PARTS ................................................................................................................. 6
2-1. Front panel, right side panel, rear panel ........................................................................................................ 6
2-2. Interior ............................................................................................................................................................ 7
2-3. Magazine numbers, tray numbers, disc numbers .......................................................................................... 8
2-4. Internal SCSI cable ........................................................................................................................................ 8
3. SETUP ................................................................................................................................................................... 9
3-1. Opening the transport lock ........................................................................................................................... 10
3-2. Removing the transport protective materials ............................................................................................... 11
3-3. Removing the optional carrier transport lock screw ..................................................................................... 12
3-4. Installing drives and settings SCSI-ID No., etc. ........................................................................................... 12
3-5. Connecting the power cord and cables ........................................................................................................ 13
4. CONTROL PANEL OPERATIONS AND LCD DISPLAY ..................................................................................... 14
4-1. Normal display ............................................................................................................................................. 14
4-2. Menu display ................................................................................................................................................ 14
4-3. Event display ................................................................................................................................................ 15
4-4. Display and operation sequence ................................................................................................................. 16
5. DOOR OPENING/CLOSING ................................................................................................................................ 17
6. MAIL SLOT .......................................................................................................................................................... 18
6-1. Disc loading ................................................................................................................................................. 18
6-2. Import/export operation ............................................................................................................................... 19
7. DRIVE UNITS ....................................................................................................................................................... 21
7-1. Removing the panels ................................................................................................................................... 21
7-2. Installing the drive units ............................................................................................................................... 21
7-3. Setting the SCSI-ID numbers, etc. ............................................................................................................... 22
7-4. Connecting the cables ................................................................................................................................. 22
7-5. Installing the panels ..................................................................................................................................... 23
7-6. Automatic drive detection mode .................................................................................................................. 23
7-7. Drive type display ......................................................................................................................................... 23
8. SETUP OF SCSI ID NUMBER OF THE MAIN UNIT ........................................................................................... 24
8-1. Display for checking the SCSI ID numbers .................................................................................................. 24
9. MAGAZINES ........................................................................................................................................................ 25
9-1. Ejecting/loading the magazines ................................................................................................................... 25
9-2. Loading/replacing the discs ......................................................................................................................... 26
9-3. Automatic disc checking function ................................................................................................................. 27
10. ERROR CODES ................................................................................................................................................... 28
10-1. Error code explanation ................................................................................................................................. 28
10-2. Error code list ............................................................................................................................................... 29
10-3. How to cancel the Error "64" ........................................................................................................................ 29
10-4. Error history display ..................................................................................................................................... 30
10-5. Troubleshooting ........................................................................................................................................... 30
11. ACCESS COUNTS .............................................................................................................................................. 31
SPECIFICATIONS ..................................................................................................................................................... 32
---