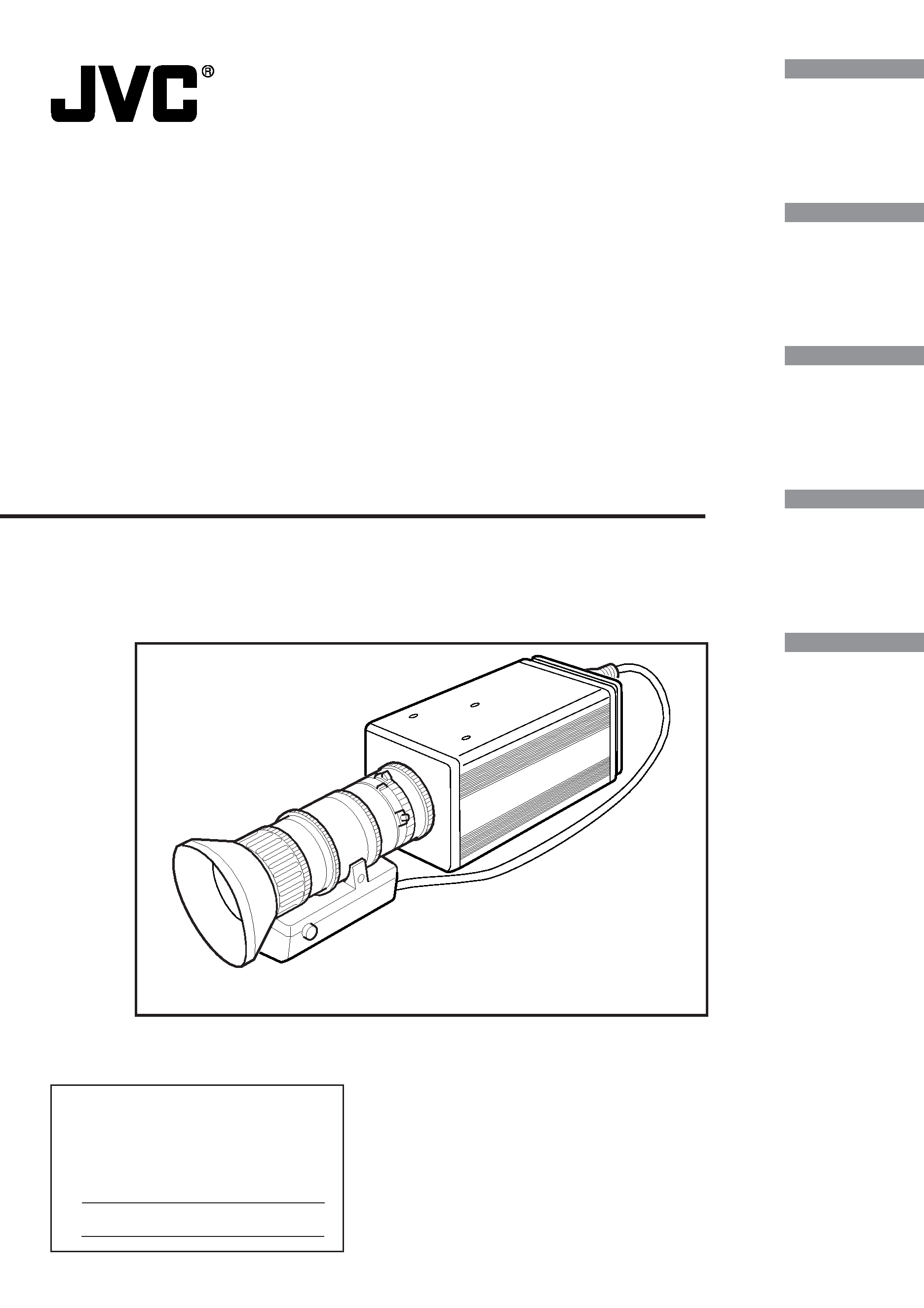 Illustration with optional lens attachment.
This instruction book is made from 100%
Enter below the Serial No. which is
located on the unit. Retain this
information for future reference.
--- 1. Read all of these instructions.
2. Save these instructions for later use.
3. All warnings on the product and in the operating instructions should be adhered to.
4. Unplug this appliance system from the wall outlet before cleaning. Do not use liquid
cleaners or aerosol cleaners. Use a damp cloth for cleaning.
5. Do not use attachments not recommended by the appliance manufacturer as they may
6. Do not use this appliance near water - for example, near a bathtub, washbowl, kitchen
sink, or laundry tub, in a wet basement, or near a swimming pool, etc.
7. Do not place this appliance on an unstable cart, stand, or table. The
appliance may fall, causing serious injury to a child or adult, and
serious damage to the appliance.
Use only with a cart or stand recommended by the manufacturer, or
sold with the appliance. Wall or shelf mounting should follow the
manufacturer's instructions, and should use a mounting kit approved
by the manufacturer. An appliance and cart combination should be
Quick stops, excessive force, and uneven surfaces may cause the
appliance and cart combination to overturn.
8. Slots and openings in the cabinet and the back or bottom are provided for ventilation,
and to insure reliable operation of the appliance and to protect it from overheating,
these openings must not be blocked or covered. The openings should never be blocked
by placing the appliance on a bed, sofa, rug, or other similar surface.
This appliance should never be placed near or over a radiator or heat register. This
appliance should not be placed in a built-in installation such as a bookcase unless
proper ventilation is provided.
9. This appliance should be operated only from the type of power source indicated on the
marking label. If you are not sure of the type of power supplied to your home, consult
your dealer or local power company. For appliance designed to operate from battery
power, refer to the operating instructions.
10. This appliance system is equipped with a 3-wire grounding type plug (a plug having a
third (grounding) pin). This plug will only fit into a grounding-type power outlet. This is a
safety feature. If you are unable to insert the plug into the outlet, contact your electrician
to replace your obsolete outlet. Do not defeat the safety purpose of the grounding plug.
11. For added protection for this product during a lightning storm, or when it is left unattended
and unused for long periods of time, unplug it from the wall outlet and disconnect the
antenna or cable system. This will prevent damage to the product due to lightning and
12. Do not allow anything to rest on the power cord. Do not locate this appliance where the
cord will be abused by persons walking on it.
(symbol provided by RETAC)
---

13. Follow all warnings and instructions marked on the appliance.
14. Do not overload wall outlets and extension cords as this can result in fire or electric
15. Never push objects of any kind into his appliance through cabinet slots as they mat
touch dangerous voltage points or short out parts that could result in a fire or electric
shock. Never spill liquid of any kind on the appliance.
16. Do not attempt to service this appliance yourself as opening or removing covers may
expose you to dangerous voltage or other hazards. Refer all servicing to qualified service
17. Unplug his appliance from the wall outlet and refer servicing to qualified service personnel
under following conditions:
a. When the power cord or plug is damaged or frayed.
b. If liquid has been spilled into the appliance.
c. If the appliance has been exposed to rain or water.
d. If the appliance does not operate normally by following the operating instructions.
Adjust only those controls that are covered by the operating instructions as improper
adjustment of other controls may result in damage and will often require extensive
work by a qualified technician to restore the appliance to normal operation.
e. If the appliance has been dropped or the cabinet has been damaged.
f. When the appliance exhibits a distinct change in performance - this indicates a
18. When replacement parts are required, be sure the service technician has used
replacement parts specified by the manufacturer that have the same characteristics as
the original part. Unauthorized substitutions may result in fire, electric shock, or other
19. Upon completion of any service or repairs to this appliance, ask the service technician
to perform routine safety checks to determine that the appliance is in safe operating
Note for Accessory options.
AA-P700MDU AC Adaptor is designed to use in Hospital or other
AA-P700U AC Adaptor is designed to use for non Medical usage.
Please use for appropriate AC Adaptor for your system.
---

1. JVC PROFESSIONAL PRODUCTS (U.K.)
ULLSWATER HOUSE, KENDAL AVENUE
LONDON, W3 0XA, UNITED KINGDOM
2. JVC PROFESSIONAL PRODUCTS GMBH
GRÜENER WEG 10, 61169 FRIEDBERG /
3. JVC PROFESSIONAL PRODUCTS
VIA MARIO PANNUNZIO 4, 20156
1, AVENUE EIFFEL 78422 CARRIERES-
CTRA GRACIA MANRESA,KM 14 750
08190 SANT CUGAT DEL VALLES
RUE DE LA PETITE LLE 3, KLEIN-
BRUXELLES 1070 BRUSSEL, BELGIUM
JVC PLEIN DE HEYDERWEG 2, 2314 XZ
VEDDESTAVAGEN 15, S-175 62
JARFALLA-STOCKHOLM, SWEDEN
P.O.BOX 2012, POSTTERMINALEN 3103,
HELGESHOJ ALLE 30 DK-2630,
11. SPITZER ELECTRONIC AG
MUHLEMATTSTRASSE 13, 4104
LAUTTASAARENTIE 50, FIN-00200
13. ELECTROINDUSTRIAL HELLAS S.A.
62, PIRAEUS AVE, 183 46 MOSCHATO,
CAMPO STA. CLARA 160-A, 1100 LISBOA
FAXAFEN 12, P.O.BOX 442, 108 108
JVC PROFESSIONAL PRODUCTS COMPANY
1700 VALLEY ROAD, WAYNE, NJ 07470, U.S.A.
21 FINCHDENE SQUARE, SCARBOROUGH,
---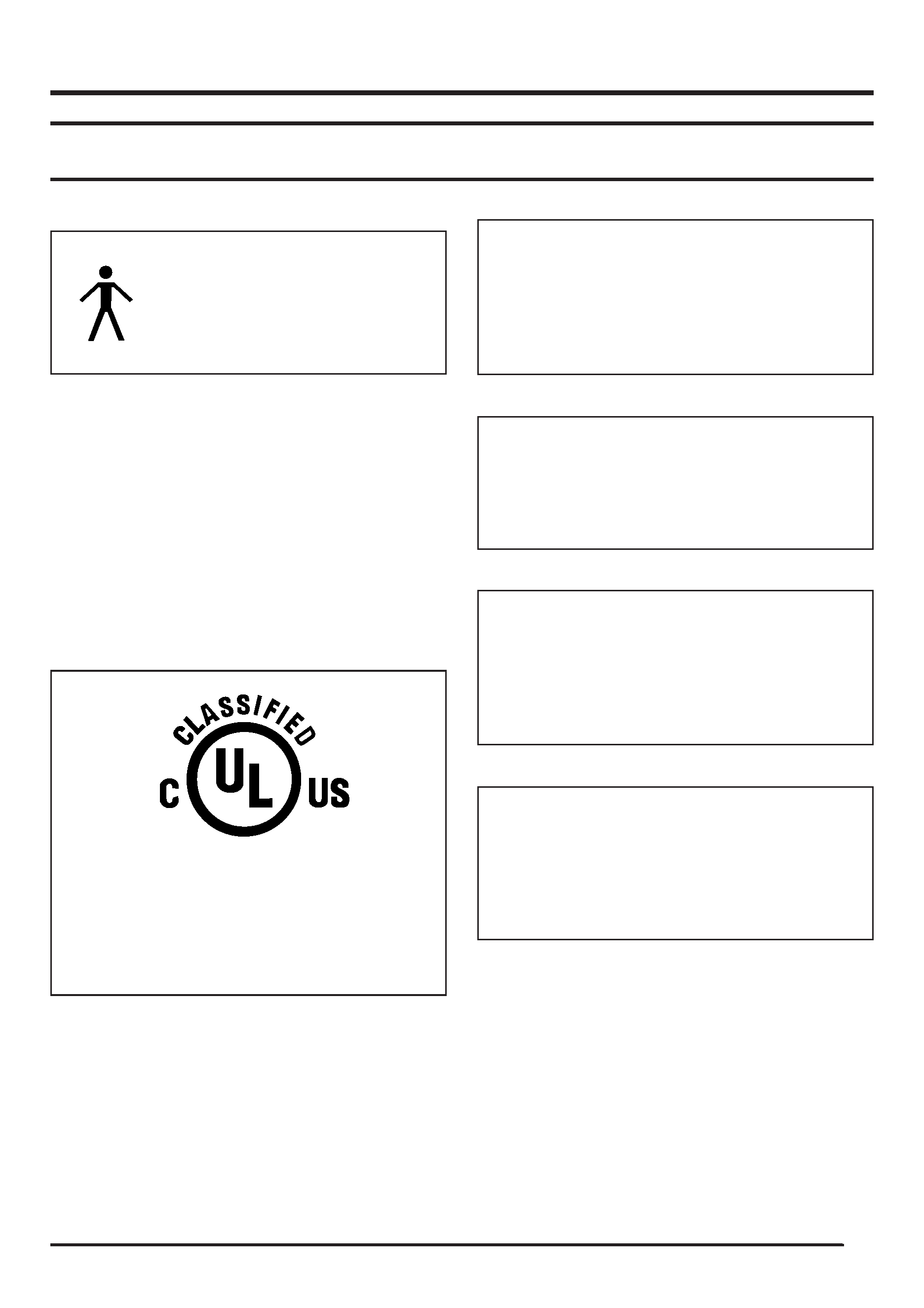 Explosionsfara vid felaktigt batteribyte.
Använd samma batterityp eller en ekvivalent typ
som rekommenderas av apparattillverkaren.
Kassera använt batteri enligt fabrikantens
Lithiumbatteri ­ Eksplosjonsfare.
Ved utskifting benyttes kun batteri som anbefalt
Brukt batteri returneres apparatieverandøren.
Lithiumbatteri ­ Eksplosionsfare ved fejlagtig
Udskiftning må kun ske med batteri af samme
Lever det brugte batteri tilbage til leverandøren.
Paristo voi räjähtää, jos se on virheellisesti
Vaihda paristo ainoastaan laltevalmistajan
suoaittelemaan tyyppiin. Hävitä käytetty paristo
valmistajan ohjeiden mukaisesti.
This symbol indicates type B
equipment classified in accor-
dance with IEC Publication.
601-1 Safety of medical elec-
MEDICAL ELECTRICAL EQUIPMENT
WITH RESPECT TO ELECTRICAL SHOCK, FIRE,
MECHANICAL AND OTHER SPECIFIED HAZARDS
UL.2601-1, CAN/CSA C22.2 NO.601.1
AA-P700MD AC Adaptor is designed to use in Hos-
pital or other Medical usage.
AA-P700 AC Adaptor is designed to use for non
Please use for appropriate AC Adaptor for your sys-
The use of ACCESSORY equipment not complying
with the equivalent safety requirements of this equip-
ment may lead to a reduced level of safety of the
resulting system. Consideration relating to the choice
- use of the accessory in the PATIENT VICINITY
- evidence that the safety certification of the AC-
CESSORY has been performed in accordance
to the appropriate IEC 601-1 and/or IEC 601-1-1
harmonized national standard.
---