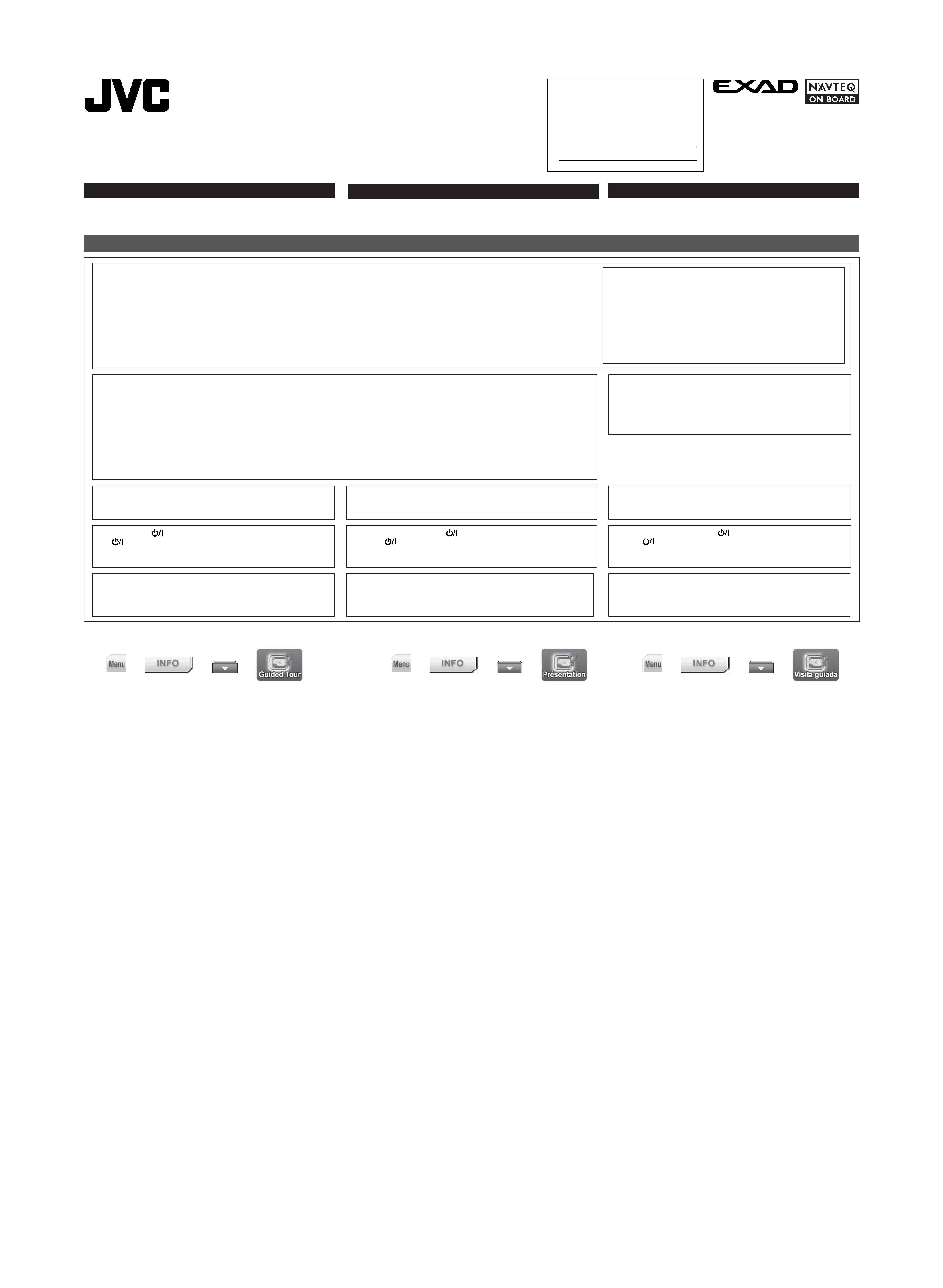 KV-PX9S/KV-PX9B/KV-PX9SN/KV-PX9BN
Portable HDD Navigation: Quick Guide
Système de navigation portable à disque dur: Guide rapide
Navegación HDD portátil: Guía rápida
© 2006 Victor Company of Japan, Limited
Cautions and Others / Précautions et autres / Precauciones y otras notas
Thank you for purchasing a JVC product. Please read all instructions carefully
before operation, to ensure your complete understanding and to obtain the best
possible performance from the unit.
Merci d'avoir acheté un produit JVC. Veuillez lire attentivement toutes les
instructions avant d'utiliser l'appareil afin de bien comprendre son
fonctionnement et d'obtenir les meilleures performances possibles.
Muchas gracias por la compra de un producto JVC. Como primer paso, por
favor lea detenidamente este manual para comprender a fondo todas las
instrucciones y obtener un máximo disfrute de esta unidad.
To reduce the risk of electrical shock, fire, etc.:
· Do not remove screws, covers or cabinet.
· Do not expose this appliance to rain or moisture.
(standby/on) button in any position does not disconnect built-in
· See "About the standby/on lamp" on page 2.
For cancelling the display demonstration (Study the basic
To deactivate the Auto Play Mode, tap the item to uncheck it.
·Traffic signs should be observed carefully while driving using the
Navigation System. Navigation System is only an aid. Driver must always
decide whether or not to heed the information provided. JVC does not
accept liability for erroneous data provided by the Navigation System.
·Traffic guidance is restricted to passenger vehicles only. Special driving
recommendations and regulations for other vehicles (e.g. commercial
vehicles) are not included.
· Do not operate the unit while driving.
It is strongly recommended to activate Safe Mode (SETUP
Safe Mode) to prevent drivers from operating the unit while driving.
·Take the following precautions to keep the unit in proper working order:
­The built-in battery may eventually need to be replaced. If the battery
power is consumed too quickly after fully being charged, it is
recommended to replace the battery. To replace the battery, consult your
dealer or JVC Service Center.
­ Operate the unit in level position, between 32 °F (0 °C) and 104 °F (40 °C).
Do not use the unit when the temperature is higher or lower than the operative
temperature written above.
­ Operating altitude is between 984 feet (300 m) below sea level and
9840 feet (3000 m) above sea level.
­The unit is not water-resistant. Do not hold the unit by wet hand, or use it
in any moist place such as bath room, shower room, etc.
· Do not hit, scratch or apply any strong impact to the screen.
· If the temperature changes suddenly, the display may not function properly
due to moisture condensation. To correct this, leave the unit turned on for a
few hours until moisture evaporates.
·The liquid crystal display is a precision device. Be sure to use fingers when
tapping it. Do not tap the screen with a ball-point pen, nails, or something
· Do not use any commercial display protection films. Otherwise the display
may not function properly.
·When cleaning the display, wipe gently with dry soft cloth (lens cleaning
cloth is recommended). Never use any liquids to clean any part of the unit.
· Do not expose the unit to sunlight when not using it to protect the liquid
crystal display from deterioration.
·The display indication may become unsmooth or the audio/visual file
playback may be interrupted because of shocks during driving.
·Never try to analyse or retrieve the data stored in the Hard Disk Drive
(HDD). Otherwise, you may have your warranty invalid, and be penalized by
law. The manufacturer assumes no liability for any damage resulting from
such conduct as mentioned above.
· Do not initialize (format) the internal HDD.
The initialization deletes all the data and the firmware in the HDD and will
cause the unit not to function at all.
Afin d'éviter tout risque d'électrocution, d'incendie, etc.:
· Ne pas enlever les vis ni les panneaux et ne pas ouvrir le coffret de l'appareil.
· Ne pas exposer l'appareil à la pluie ni à l'humidité.
Para reducir riesgos de choques eléctricos, incendio, etc.:
· No extraiga los tornillos, los cubiertas ni la caja.
· No exponga este aparato a la lluvia o a la humedad.
Pour annuler la démonstration des affichage (Étude des
Pour mettre hors service le mode de lecture automatique, touchez le
réglage pour le décocher.
Instructions de sécurité:
· Respectez scrupuleusement les panneaux de la circulation lorsque vous
conduisez en utilisant le système de navigation. Le système de navigation est
seulement une aide. Le conducteur doit jours décider s'il doit tenir compte ou
non des informations fournies. JVC ne peut être tenu responsable pour
toute donnée erronée fournie par le système de navigation.
· Le guidage sur la route est réservé aux véhicules particuliers uniquement.
Cela n'inclut pas les véhicules nécessitant un permis ou des règles de
conduites spéciales (par exemple, les véhicules commerciaux).
· Ne manipulez pas l'appareil quand vous conduisez.
Il est fortement recommandé de mettre en service le Mode Sécurité (SETUP
\ Système \ Mode Sécurité) pour empêcher le conducteur de manipuler
l'appareil en conduisant.
·Prenez les précautions suivantes pour conserver l'appareil dans un état
correct de fonctionnement:
­ Il se peut que vous ayez besoin de changer la pile intégrée. Si la pile se
décharge trop rapidement après avoir été complètement chargée, c'est
qu'il est temps de la changer. Pour changer la pile, consulter votre
revendeur ou un centre de service JVC.
­ Utilisez l'appareil dans une position plate et à une température comprise
entre 32 °F (0 °C) et 104 °F (40 °C ).
N'utiliser pas l'appareil quand la température est supérieure ou inférieure à
la température de fonctionnement donnée ci-dessus.
­L'altitude de fonctionnement est située entre 984 pied (300 m) au-dessous
du niveau de la mer et 9840 pied (3000 m) au-dessus du niveau de la mer.
­L'appareil n'est pas résistant à l'eau. Ne tenez pas l'appareil avec des
mains mouillées, ni ne l'utilisez dans un endroit humide tel que dans une
salle de bains, une douche, etc.
· Ne frappez pas ni ne rayez l'écran et protégez-le de tout impact important.
· Si la température change brusquement, l'affichage peut ne pas fonctionner
correctement à cause de condensation d'humidité. Pour corriger ce
problème, laissez l'appareil sous tension pendant quelques heures jusqu'à ce
que l'humidité s'évapore.
·L'affichage à cristaux liquide est un dispositif de précision. Assurez-vous
d'utiliser vos doigts pour le toucher. Ne touchez pas l'écran avec un stylo
bille, vos ongles ou quelque chose de dur ou de pointu.
· N'utilisez aucun film protecteur d'écran en vente dans le commerce. Sinon,
l'affichage risque de ne pas fonctionner correctement.
·Pour nettoyer l'affichage, essuyez doucement avec un chiffon sec et doux (un
chiffon spécialisé pour le nettoyage des objectifs est recommandé). N'utilisez
jamais de liquide pour nettoyer quelque partie que ce soit de l'appareil.
· N'exposez pas l'appareil à la lumière du soleil quand vous ne l'utilisez pas
afin de protéger l'affichage à cristaux liquides de la détérioration.
· Les indications sur l'affichage risque de devenir moins lisses ou le fichier
audiovisuel peut être interrompu à cause de chocs pendant la conduite.
· N'essayez jamais d'analyser ou d'extraire les données stockées sur le disque
dur (HDD). Sinon, votre garantie pourrait être invalidée et vous pouvez être
pénalisé par la loi. Le fabricant ne peut être tenu responsable pour tout
dommage résultant d'une telle conduite.
· N'initialisez (formatez) pas le disque dur interne.
L'initialisation efface toutes les données et le micrologiciel contenu dans le
disque dur et l'appareil ne fonctionne plus du tout.
Para cancelar la demostración en pantalla (Estudiar las
Para desactivar el modo de reproducción automático, toque el ítem
Indicaciones de seguridad:
·Deberá observar atentamente las señales de tránsito mientras conduce con el
Sistema de Navegación encendido. Tenga en cuenta que este sistema es sólo
una ayuda. En todo momento, el conductor debe decidir si se va a aceptar o no
la información suministrada. JVC no acepta ninguna responsabilidad por
la inexactitud de los datos proporcionados por el Sistema de Navegación.
· La guía de tráfico está limitada sólo a los vehículos de pasajeros. Los
reglamentos y recomendaciones especiales de conducción para otros
vehículos (ej. vehículos comerciales) no están incluidos.
· No opere la unidad mientras conduce.
Se recomienda en especial activar el Modo Seguro (SETUP
Modo seguro) para evitar que los conductores accionen la unidad mientras
·Tenga en cuenta las siguientes precauciones para mantener la unidad en
buenas condiciones de funcionamiento:
­Eventualmente, puede suceder que deba reemplazar la batería
incorporada. Si la batería se descarga rápidamente después de una carga
completa, se recomienda proceder a su sustitución. Para ello, consulte con
su concesionario o con el centro de servicio JVC.
­ Opere la unidad en posición nivelada, y entre 32 °F (0 °C) y 104 °F (40 °C ).
No utilice la unidad a temperaturas que estén por encima o por debajo de la
gama de temperaturas indicada más arriba.
­ Opere la unidad en altitudes comprendidas entre 984 pie (300 m) por
debajo y 9840 pie (3000 m) por encima del nivel del mar.
­ La unidad no es resistente al agua. No manipule la unidad con las manos
mojadas, ni la utilice en lugares húmedos como en el cuarto de baño o de
· Evite golpear, arañar o aplicar un golpe a la pantalla.
· Los cambios bruscos de temperatura podrían alterar el funcionamiento de la
pantalla debido a la condensación de humedad. En tal caso, deje encendida
la unidad durante algunas horas hasta que se evapore la humedad.
· La pantalla de cristal líquido es un dispositivo de precisión. Asegúrese de
utilizar siempre los dedos para tocar ("tap") la pantalla. No utilice jamás un
bolígrafo, clavos ni otros objetos duros o puntiagudos.
· No utilice jamas una película de protección de pantallas disponible en el
comercio. La pantalla no podrá funcionar correctamente.
·Para limpiar la pantalla, utilice un lienzo suave y seco (se recomienda usar
un lienzo para limpiar gafas). No utilice ningún tipo de líquido para limpiar
la pantalla u otras partes de la unidad.
· No exponga la unidad a la luz del sol cuando no la utilice para evitar que se
deteriore la pantalla de cristal líquido.
· Debido a los baches, la visualización en pantalla podría ser inestable o se podrá
producir una interrupción en la reproducción de los archivos de audio/vídeo.
· No intente analizar o recuperar los datos almacenados en la unidad del disco
duro (HDD). Tal acto está prohibido por la ley e invalidará la garantía. El
fabricante no asume ninguna responsabilidad por daños de ningún tipo
resultantes de tales actos.
· No inicialice (formatee) la HDD interna.
La inicialización borrará todos los datos y el firmware de la HDD, y la
unidad quedará totalmente inoperante.
Enter below the Model No. and Serial No.
which are located either on the rear, bot-
tom or side of the cabinet. Retain this
information for future reference.
This equipment has been tested and found to comply with the limits for a Class B digital device, pursuant to Part 15 of the FCC Rules. These limits are
designed to provide reasonable protection against harmful interference in a residential installation. This equipment generates, uses, and can radiate radio
frequency energy and, if not installed and used in accordance with the instructions, may cause harmful interference to radio communications. However, there
is no guarantee that interference will not occur in a particular installation. If this equipment does cause harmful interference to radio or television reception,
which can be determined by turning the equipment off and on, the user is encouraged to try to correct the interference by one or more of the following
­ Reorient or relocate the receiving antenna.
­ Increase the separation between the equipment and receiver.
­ Connect the equipment into an outlet on a circuit different from that to which the receiver is connected.
­ Consult the dealer or an experienced radio/TV technician for help.
Declaration of Conformity
1700 Valley Road, Wayne New Jersey 07470
This device complies with Part 15 of FCC Rules. Operation is subject to
the following two conditions: (1) This device may not cause harmful
interference, and (2) this device must accept any interference received,
including interference that may cause undesired operation.
Este equipo se ha sometido a todo tipo de pruebas y cumple con las normas establecidas para dispositivos de Clase B, de conformidad con la Parte 15 de
las reglas de la FCC (Comisión Federal de Comunicaciones). Estas reglas están diseñadas para asegurar una protección razonable contra este tipo de
interferencias en las instalaciones residenciales. Este equipo genera y utiliza energía de radiofrecuencia. Si no se instala y utiliza debidamente, es decir,
conforme a las instrucciones, podrían producirse interferencias en radiocomunicaciones. Sin embargo, no se garantiza que estas interferencias no se
produzcan en una instalación determinada. Si este equipo ocasiona interferencias en la recepción de radio o televisión, lo cual puede comprobarse
mediante la conexión o desconexión del equipo, el problema podrá corregirse mediante una o una combinación de las siguientes medidas:
­ Reoriente la antena receptora o cámbiela de lugar.
­Aumente la separación entre el equipo y el aparato receptor.
­ Enchufe el equipo a una toma de corriente situada en un circuito distinto del aparato receptor.
­ Consulte a su distribuidor o a un técnico experto en radio/televisión.
This is Class B digital apparatus complies with Canadian ICES-003.
Cet appareil numerique de la classe B est conforme a la norme NMB-
Changes or modifications not approved by JVC could void the user's
authority to operate the equipment.
Tout changement ou modification non approuvés par JVC peut annuler
l'autorité de l'utilisateur d'utiliser l'appareil.
Los cambios o modificaciones no aprobados por JVC pueden invalidar
la autoridad del usuario para operar el equipo.
(attente/sous tension), dans n'importe quelle position, ne
permet pas de déconnecter la pile intégrée.
· Référez-vous à "À propos du témoin d'attente/sous tension" à la page 2.
(espera/encendido), cualquiera sea su posición, no
desconectará la batería incorporada.
· Véase "Acerca de la lámpara de espera/encendido" en la página 2.
---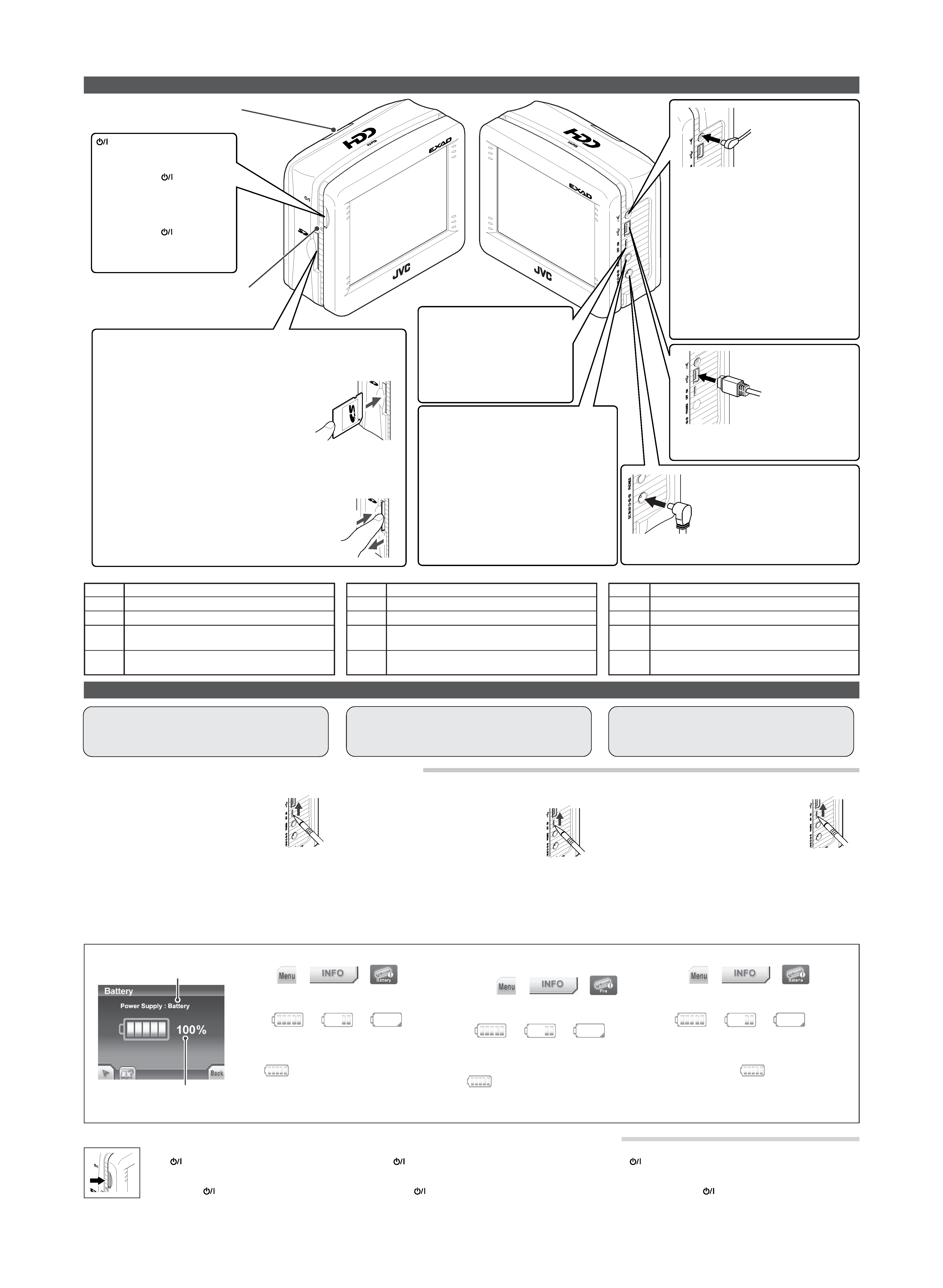 Description of parts / Description des parties / Descripción de las partes
Plug the cigarette lighter adapter or
Branchez l'adaptateur pour allume-
cigare ou l'adaptateur secteur.
Para conectar el adaptador del encendedor
de cigarrillos o el adaptador de CA.
SD card slot / Fente de carte SD / Ranura para tarjeta SD
You can play the files in the SD card.
·You cannot copy the SD contents into the built-in HDD.
· Remove the dummy SD card in the slot before use.
Vous pouvez reproduire les fichiers de la carte SD.
·Vous ne pouvez pas copier le contenu de la carte SD
dans le disque dur intégré.
· Retirez la carte SD factice de la fente avant son
Es posible reproducir archivos de una tarjeta SD.
· El contenido de la tarjeta SD no se puede copiar en la
· Antes del uso, extraiga la tarjeta SD ficticia insertada en
Insert / Insert /Insertar
Eject / Éjectez / Expulsar
· Push the SD card until you hear a clicking sound.
·Poussez la carte SD jusqu'à ce que vous entendiez un déclic.
· Introduzca la tarjeta SD hasta oír un chasquido.
See "About the standby/on
Référez-vous à "À propos du
témoin d'attente/sous tension"
Véase "Acerca de la lámpara de
espera/encendido" más abajo.
Bouton de réinitialisation
Interruptor de reinicialización
Normally set to ON. (Initial : OFF)
Réglez-le normalement sur ON.
Interruptor de la batería
Normalmente póngalo en ON.
PHONES jack (ø 3.5 mm) / Prise PHONES
(ø 3,5 mm) / Jack PHONES (auriculares)
CAUTION: Be sure to turn down the volume
before connecting or putting on the
ATTENTION: Assurez-vous de réduire le
volume avant de connecter un casque ou de
vous le mettre sur les oreilles.
PRECAUCIÓN: Asegúrese de bajar el volumen
antes de conectar o de ponerse los auriculares.
Preparations / Préparations / Preparativos
Charging the battery / Change de la pile / Cargando la batería
How to check the remaining battery level
The battery indicator changes according to the
While using the battery, the battery indicator
) is displayed on the Map/AV screens.
·When the cigarette lighter adapter or AC adapter
is connected, the power is supplied through it.
Type of the power supply (Battery/External)
Type d'alimentation (Pile/Extérieur)
Tipo de alimentación (Batería/Exterior)
Turning on and off the unit / Mise sous et hors tension de l'appareil / Encendido y apagado de la unidad
For the first time, charge the battery in the following steps:
1
Slide the Battery switch to ON.
2
Connect the cigarette lighter adapter or AC adapter to
Battery starts being charged. The opening screens appear.
·The unit turns off automatically about 10 seconds after
disconnecting the Cigarette lighter adapter or AC adapter (Auto
power off function). Tap the screen to continue operations.
Pour la première fois, chargez la pile en suivant les étapes
1
Faites glisser le commutateur de pile sur
2
Connectez l'adaptateur pour allume-cigare ou
l'adaptateur secteur à la prise DC IN 5V.
La pile commence à se charger. L'écran d'ouverture apparaît.
·L'appareil se met hors tension automatiquement environ 10
secondes après la déconnexion de l'adaptateur pour allume-cigare
ou de l'adaptateur secteur (fonction de mise hors tension
automatique). Touchez l'écran pour continuer d'utiliser l'appareil.
La primera vez, cargue la batería realizando los pasos siguientes:
1
Deslice el interruptor Battery a ON.
2
Conecte el adaptador del encendedor de cigarrillos o el
adaptador de CA al jack DC IN 5V.
La batería se empieza a cargar. Aparecen las pantallas de apertura.
· La unidad se apaga automáticamente unos 10 segundos después
de desconectar el adaptador del encendedor de cigarrillos o el
adaptador de CA (función de apagado automático). Toque la
pantalla para continuar con las operaciones.
Comment vérifiez le niveau restant de la
L'indicateur de pile change en fonction du niveau
Lors de l'utilisation de la pile, l'indicateur de pile
) apparaît sur l'écran de la carte/AV.
· Quand l'adaptateur pour allume-cigare ou
l'adaptateur secteur est connecté, l'alimentation
Cómo verificar el nivel restante de la batería
El indicador de batería cambia de acuerdo con el
nivel restante de batería:
Mientras se está usando la batería, aparecerá el
· Al conectar el adaptador del encendedor de
cigarrillos o el adaptador de CA, se suministra
alimentación a través de los mismos.
This unit is operated by tapping the maps, icons, and
buttons displayed on the screen.
· Unselectable icons or buttons are grayed.
Cet appareil est commandé en touchant la carte, les
icônes et les boutons affichés sur l'écran.
· Les icônes et les boutons qui ne peuvent pas être choisis
Esta unidad funciona tocando los mapas, iconos y
botones que aparecen en la pantalla.
· Los iconos que no se pueden seleccionar aparecen en gris.
The built-in battery is being charged with power
The built-in battery is being charged with power
About the standby/on lamp
Pour mettre l'appareil sous tension
Pour mettre l'appareil hors tension
L'appareil est sous tension.
L'appareil est hors tension.
La pile intégrée est en train d'être chargée avec
La pile intégrée est en train d'être chargée avec
À propos du témoin d'attente/sous tension
Se ha cargado la batería incorporada con la
Se ha cargado la batería incorporada con la
Acerca de la lámpara de espera/encendido
---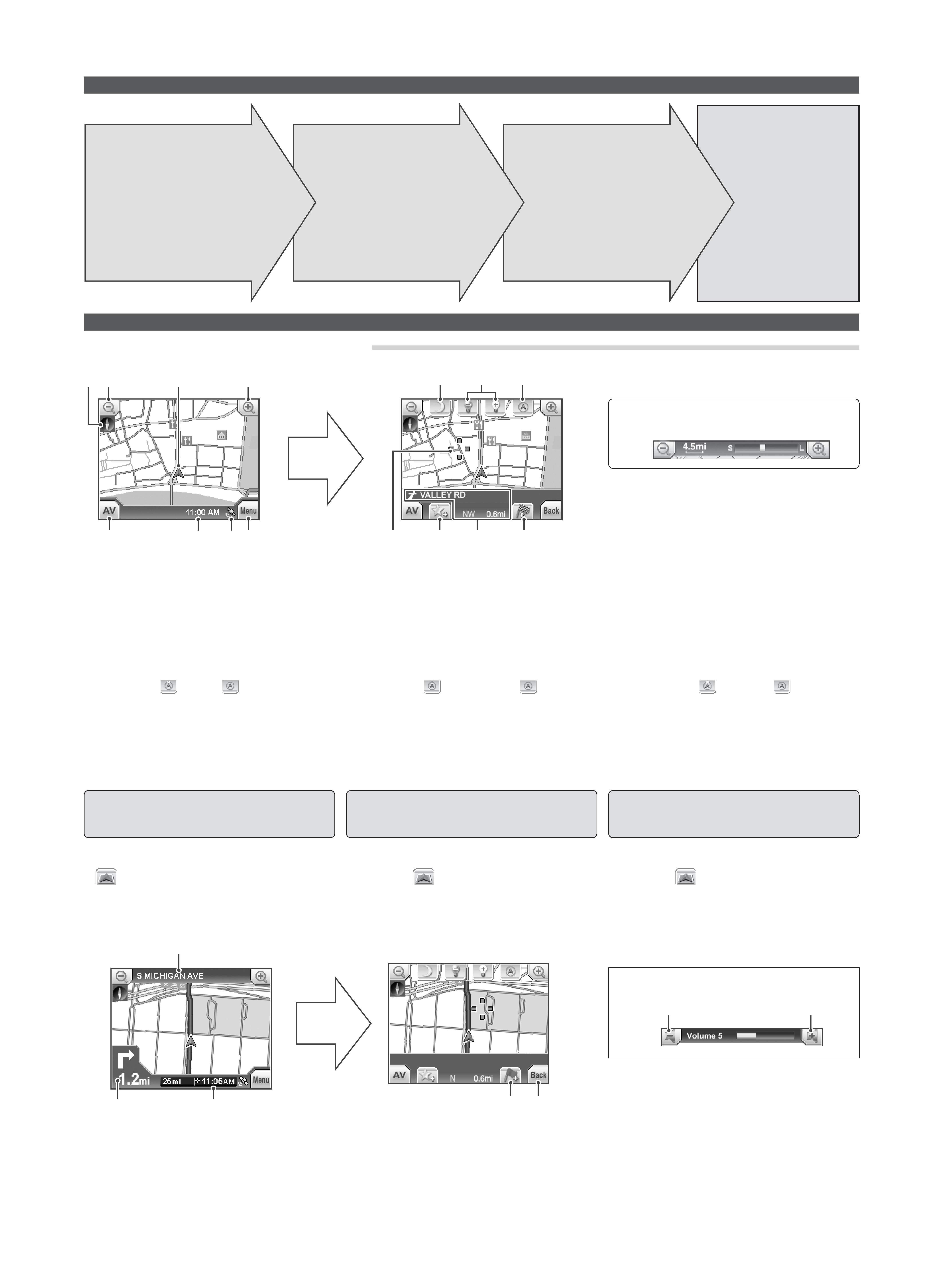 Initial Setting is finished.
The map screen is displayed.
L'écran de la carte est affiché.
La configuración inicial ha
Aparece la pantalla de mapa.
Study operations by watching the
Tap "YES" to proceed to the next steps.
·To watch it later, tap "No."
Étudiez le fonctionnement de l'appareil
en regardant la Présentation.
Touchez "OUI" pour passer aux étapes suivantes.
·Pour la regarder plus tard, touchez "NON"
Estudie las operaciones mediante la
Toque "SÍ" para ir a los pasos siguientes.
· Si desea dejarlo para más tarde, toque "NO."
Basic Operations / Fonctionnement de base / Operaciones básicas
The Map Screen / L'écran de la carte / Pantalla de mapa
7 Before using the guidance / Avant d'utiliser le guidage / Antes de usar la guía
Quand vous touchez 2/4...
¥ Current street name (displayed in gray)
Next street name (displayed in white)
ø Information of the next event
Tap this to repeat the voice guidance
Estimated time of arrival
[ Adds the via point (Up to 9 items)
" Back to previous screen
7 While using the guidance / Pendant l'utilisation du guidage / Mientras se está usando la guía
While repeating the voice guidance... (tap ø)
Pendant la répétition du guidage vocal... (touchez ø)
Mientras se repite la guía de voz... (toque ø)
¥ Nom de la rue actuelle (affiché en gris)
Nom de la rue suivante (affiché en blanc)
ø Informations sur l'évènement suivant
Touchez ici pour répéter le guidage vocal
[ Ajoute un arrêt (une étape) (9 maximum)
" Retour à l'écran précédent
¥ Nombre de la calle actual (visualizado en gris)
Nombre de la siguiente calle (visualizado en blanco)
ø Información sobre el siguiente evento
Tóquelo para repetir la guía de voz
[ Añade la etapa (hasta 9 ítems)
" Volver a la pantalla anterior
* These icons do not function while 3-dimentional map is show.
* Ces icônes ne fonctionnent pas quand la carte en 3 dimensions
* Estos iconos no funcionan mientras se está mostrando el mapa
2 Zoom out (Up to 300 miles/500 km)*
4 Zoom in (Up to 150 feet/50 m)*
Green: Reception is good.
Yellow: Reception is at its lowest level to activate the
e Adds Favorite places (Up to 300 items)
r Information of the location that the pointer (w) selected:
Distance, street name (coordinates), direction, etc.
· If you tap the POI or Favorite icons, their information is also
It is convenient to use (e) to store your new favorite places.
The Favorite place is stored in the "Other" category in the "Favorite"
You can select 3-dimentional map by selecting SETUP
3-dimentional map can be shown only during guidance.
· Only street names are displayed.
· Heading-up is only selected for map viewing.
2 Zoom arrière (jusqu'à 300 miles/500 km)*
3 Voiture (position actuelle)
4 Zoom avant (jusqu'à 150 pied/50 m)*
Jaune: La réception est a son plus faible niveau permettant
l'activation du système de navigation.
8 Affiche l'écran de menu
9 Couleur de la nuit/jour
e Ajoute un emplacement Favoris (300 maximum)
r Informations sur l'emplacement choisi par le pointeur (w):
Distance, nom de la rue (coordonnées), direction, etc.
· Si vous touchez l'icône POI ou Favoris, leurs informations
2 Alejar (hasta 300 millas/500 km)*
3 Coche (posición actual)
4 Acercar (hasta 150 pie/50 m)*
Amarillo: Nivel mínimo de recepción para activar el sistema
8 Mostrar la pantalla de menú
e Añadir lugares Favoritos (hasta 300 ítems)
r Información sobre la ubicación seleccionada por el
Distancia, nombre de la calle (coordenadas), dirección, etc.
· Si toca los iconos de POI o Favorito, también se
visualizará la información correspondiente.
Il est pratique d'utiliser (e) pour mémoriser vos emplacements favoris.
Les emplacements favoris sont mémorisés dans la catégorie "autres" de
À propos de la carte en 3 dimensions
Vous pouvez choisir la carte en 3 dimension en choisissant SETUP
La carte en 3 dimensions peut être affichée uniquement pendant le
· Seuls les noms de rue sont affichés.
· Seule la direction vers le haut peut être choisie pour la vue de la carte.
El botón (e) es útil para almacenar nuevos lugares favoritos.
El lugar favorito se almacena en la categoría "Otros" de "Favorito" (Menu
Acerca del mapa tridimensional
Puede seleccionar el mapa tridimensional seleccionando SETUP
Es posible visualizar el mapa tridimensional durante la guía.
· Se visualizan sólo los nombres de las calles.
· Solamente se selecciona rumbo arriba para vista del mapa.
Initial Setting / Réglage Initial / Configuración Inicial
Read carefully the caution, shown on
Tap the screen to proceed to the next step.
Lisez attentivement les précautions
apparaissant sur l'écran après la mise
Touchez l'écran pour passer à l'étape suivante.
Lea con cuidado la precaución que
aparece en la pantalla de encendido.
Toque la pantalla para ir al siguiente paso.
Turn on the unit, then select the display
language and the time zone.
Mettez l'appareil sous tension, puis choisissez
la langue d'affichage et le fuseau horaire.
Encienda la unidad y, a continuación,
seleccione el idioma de visualización y la zona
---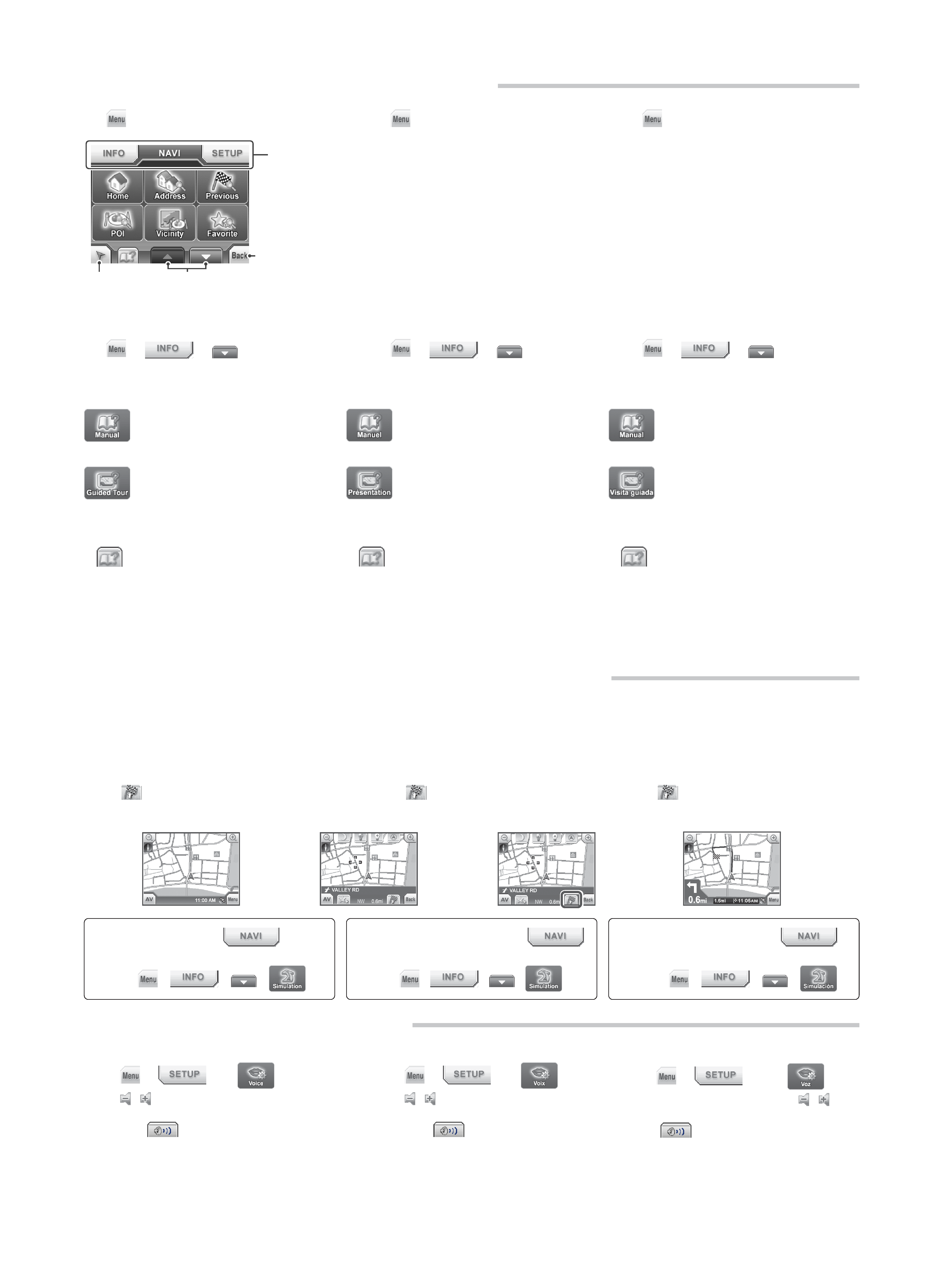 How to show the built-in Instruction Manuals / Comment afficher les manuels d'instructions intégrés / Cómo ver los manuales de instrucciones
To show the information of current
To use the navigation system.
SETUP: To change the setting.
1 Back to the previous screen
2 Switches the menu pages
Permet de choisir l'onglet de menus
Pour afficher les informations sur les
Pour utiliser le système de navigation.
SETUP: Pour changer les réglages.
1 Retour à l'écran précédent
2 Permet de choisir les pages de menus
3 Retour à l'écran de carte
Podrá cambiar las pestañas de los menús
Para ver la información sobre las
Para usar el sistema de navegación.
SETUP: Para cambiar la configuración.
1 Volver a la pantalla anterior
2 Cambiar las páginas del menú
3 Volver a la pantalla de mapa
Each of the three tabs, INFO, NAVI, and SETUP, has two pages of Menus.
Chacun des trois onglets, INFO, NAVI, et SETUP, contient deux pages de menus.
Las lengüetas INFO, NAVI, y SETUP, disponen cada una de dos páginas de menús.
Using the Menu mode / Utilisation du mode de menu / Usando el modo de Menú
1
Drag your finger on the map screen to display
your destination on the map screen.
· Set the map scale to "15 mi/25 km" or less.
2
Tap a location on the map screen.
The pointer and information of the location appear.
The navigation guidance starts and the route to the selected
·You can also set your destination using
· After setting the destination, you can view the guidance demonstration
Using the Navigation Guidance / Utilisation du guidage de navigation / Usando la Guía de Navegación
7 To set the destination / Pour régler la destination / Para definir su destino
1
Faites glisser votre doigt sur la carte pour
afficher votre destination sur l'écran de carte.
· Réglez l'échelle de la carte sur "15 mi/25 km" ou moins.
2
Touchez un emplacement sur l'écran de la carte.
Le pointeur et les informations sur l'emplacement apparaissent.
Le guidage de navigation et la route jusqu'à l'emplacement choisi
1
Arrastre su dedo sobre la pantalla de mapa
hasta visualizar su destino.
· Ajuste la escala del mapa a "15 mi/25 km" o menos.
2
Toque un lugar en la pantalla de mapa.
Aparecerán el puntero y la información sobre tal lugar.
La guía de navegación se inicia y aparece la ruta hasta el lugar
The following features are provided in the system.
You can use them while operating the unit.
Show the built-in manual.
The built-in manual has the following contents:
·NAVI: Advanced navigation operation
Study the basic operations.
The guided tour has the following contents (shown
automatically or manually):
· Entering destination address
· Basic Navigation Functions
Show the help screen of the current operation.
· Linked words on the help screen are colored blue.
The words become purple once you read the links.
·Tap the screen again when it is reversed after tapped.
For installation, troubleshooting, specifications, etc., refer to
Les rubriques suivantes peuvent être choisies dans le système.
Vous pouvez les utiliser pendant l'utilisation de l'appareil.
Affichage du manuel intégré.
Le manuel intégré contient les sections suivantes:
·NAVI: Opérations avancées de navigation
Étude des opérations de base.
La présentation comporte les sections suivantes
(affichées automatiquement ou manuellement):
· Entrer adresse de destin. (destination)
·Fonctions de navigation de base
Affiche l'écran d'aide pour l'opération actuelle.
· Les mots permettant l'accès à des liens sont colorés
en bleu. Les mots deviennent violets une fois que
vous avez accédé à ces liens.
·Touchez de nouveau l'écran si les mots sont inversés
Pour l'installation, le dépannage, les spécifications, etc.,
référez-vous au "Manuel d'installation".
El sistema cuenta con las siguientes funciones.
Podrá utilizarlas mientras opera la unidad.
Mostrar el manual incorporado.
El manual incorporado contiene lo siguiente:
·NAVI: Operaciones avanzadas de navegación
Operaciones en el modo AV
Estudiar las operaciones básicas.
La visita guiada contiene lo siguiente (muestra de
forma automática o manual):
· Introducir destino por dirección
· Funciones de navi básicas
· Funciones básicas de AV
Mostrar la pantalla de ayuda sobre la
· En la pantalla de ayuda, las palabras vinculadas
aparecen en color azul. Una vez que lea los vínculos,
·Vuelva a tocar la pantalla si aparece en vídeo inverso
Para la instalación, solución de problemas, especificaciones,
etc., consulte el "Manual de instalación".
Adjusting the sound / Ajustement du son / Ajustando el sonido
7 To adjust the guidance volume / Pour ajuster le volume de guidage / Para ajustar el volumen de la guía
to adjust the guidance volume
, the test sound comes out.
pour ajuster le volume du
, un son d'essai est sorti.
2
Ajuste el volumen de guía tocando
, podrá escuchar el sonido de prueba.
· Vous pouvez aussi régler votre destination en utilisant le menu
·Après avoir réglé la destination, vous pouvez afficher une démonstration du guidage
·También puede definir su destino usando el menú
·Tras ajustar el destino, podrá ver la demostración de la guía
---