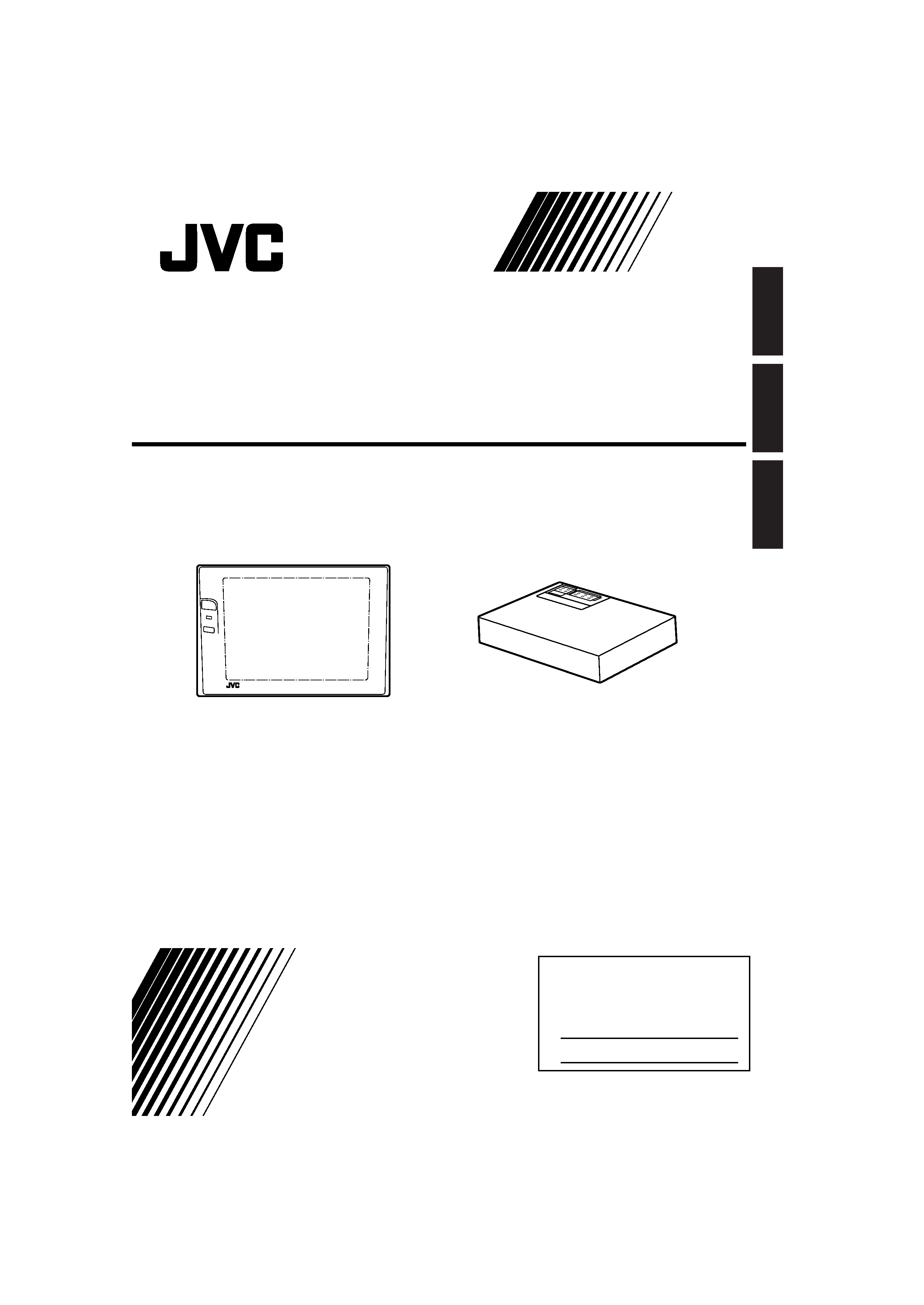 KV-M65
MOBHE COLOR SYSTEM
KV-M65
MOBILE COLOR MONITOR SYSTEM
For installation and connections, refer to the
Para realizar la instalación y las conexiones,
consulte el manual separado.
Pour l'installation et les raccordements, se
référer au manuel séparé.
Enter below the serial No. which is
located on the rear of cabinet. Retain
this information for future reference.
This system cannot receive television broadcasts and is primarily
designed for use with a VCR. Use the separately sold mobile TV tuner
system KV-C1 for optional television broadcast reception.
Este sistema no puede recibir emisiones de televisión, y ha sido
diseñado principalmente para ser utilizado con una videograbadora.
Utilice el sistema de sintonizador de TV móvil KV-C1 vendido por
separado para reciber emisiones de televisión opcionales.
Ce système ne peut recevoir les emissions de télévision, et il est
essentiellement conçu pour l'utilisation avec un magnétoscope.
Utilisez le tuner avec système de tuner TV mobile KV-C1 vendu
séparément pour la réception optionnelle des émissions de télévision.
MOBILE COLOR MONITOR SYSTEM
SISTEMA DE MONITOR EN COLOR MÓVIL
SYSTÈME DE MONITEUR MOBILE EN COULEUR
---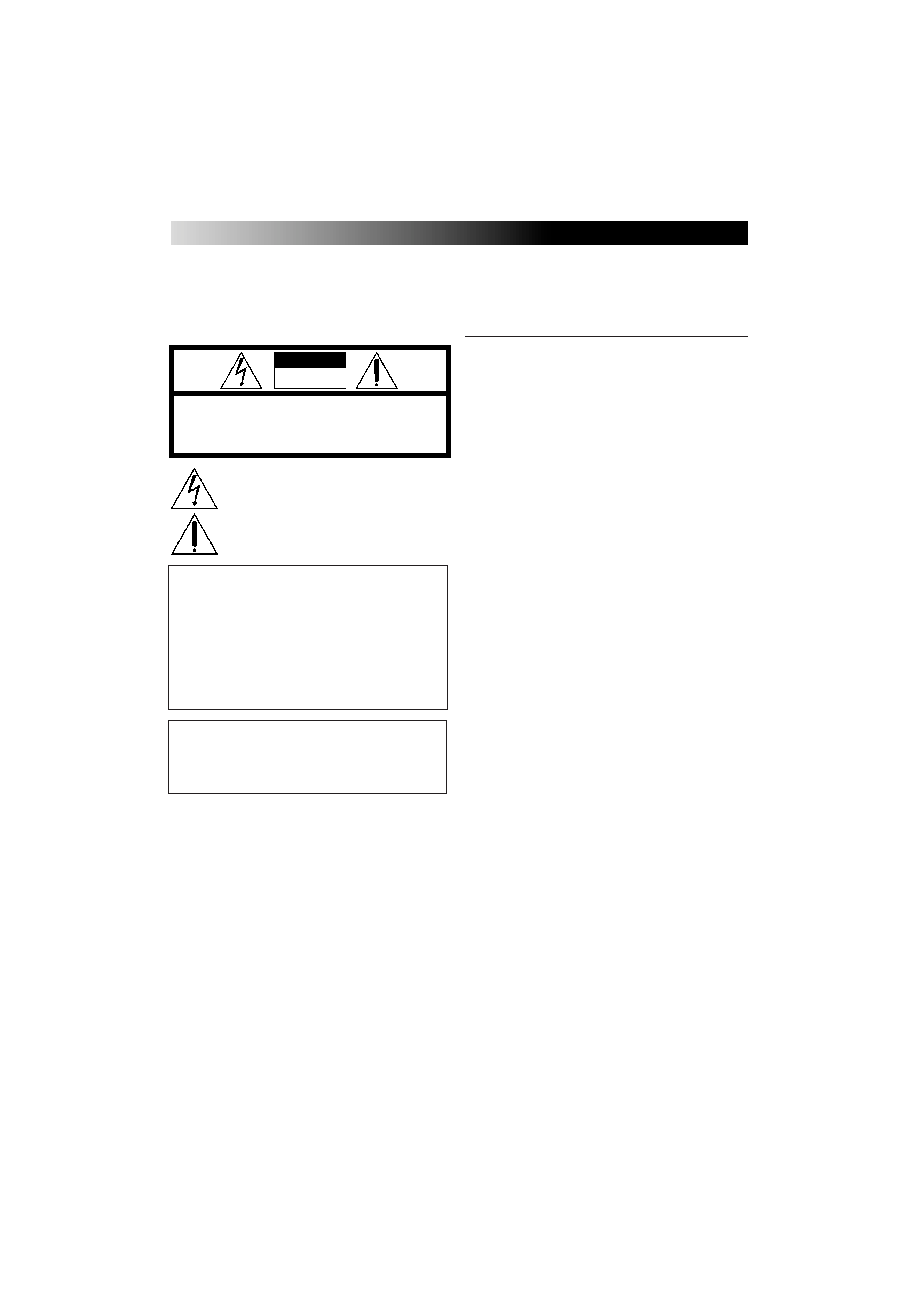 · DO NOT INSTALL THE MONITOR IN A LOCATION
WHICH OBSTRUCTS DRIVING, VISIBILITY OR
WHICH IS PROHIBITED BY APPLICABLE LAWS
· THERE MAY BE LEGAL REGULATIONS DEFIN-
ING THE PERMISSIBLE INSTALLATION LOCA-
TIONS FOR THE DISPLAY UNIT WHICH DIFFER
BY COUNTRY OR BY STATE, BE SURE TO
INSTALL THE DISPLAY UNIT IN A CORRECT
LOCATION ACCORDING TO SUCH LAWS.
· DO NOT INSTALL THE MONITOR SYSTEM IN A
LOCATION WHICH OBSTRUCTS THE OPERA-
· THE DRIVER MUST NOT OPERATE THE COLOR
MONITOR SYSTEM WHILE DRIVING.
OPERATING THE COLOR MONITOR SYSTEM
WHILE DRIVING MAY LEAD TO CARELESSNESS
* STOP YOUR VEHICLE IN A SAFE LOCATION WHEN
OPERATING THE TV TUNER SYSTEM.
· THE DRIVER MUST NOT WATCH THE TELEVI-
SION OR VIDEOS WHILE DRIVING.
IF THE DRIVER WATCHES THE TELEVISION OR
A VIDEO WHILE DRIVING, IT MAY LEAD TO
CARELESSNESS AND CAUSE AN ACCIDENT.
HAZARD, DO NOT EXPOSE THIS
UNIT TO RAIN OR MOISTURE.
This monitor system should be used with DC 12V only.
To prevent electric shocks and fire hazards, DO NOT use
This Class B digital apparatus meets all requirements of the
Canadian Interference­Causing Equipment Regulations.
"Cet appareil numérique de la classe B respecte toutes les
exigences du Règlement sur le matériel brouilleur du Canada."
TO REDUCE THE RISK OF ELECTRIC SHOCK.
DO NOT REMOVE COVER (OR BACK).
NO USER-SERVICEABLE PARTS INSIDE.
REFER SERVICING TO QUALIFIED SERVICE PERSONNEL.
The lightning flash with arrowhead symbol, within an equilateral
triangle, is intended to alert the user to the presence of
uninsulated "dangerous voltage" within the product's enclosure
that may be of sufficient magnitude to constitute a risk of electric
The exclamation point within an equilateral triangle is intended to
alert the user to the presence of important operating and
accompanying the appliance.
Safety points (Be sure to follow these points)
--- · WHEN LIGHTNING OCCURS, DO NOT TOUCH
THE ANTENNA WIRE OR THE TELEVISION.
TOUCHING THE ANTENNA WIRE OR THE TELEVI-
SION UNDER SUCH CONDITIONS MAY CAUSE
· KEEP THE MONITOR SYSTEM AT AN APPRO-
PRIATE SOUND LEVEL WHILE DRIVING.
DRIVING WITH THE SOUND AT A LEVEL THAT
PREVENTS YOU FROM HEARING SOUNDS
OUTSIDE OF AND AROUND THE VEHICLE MAY
· ASK A TRAINED TECHNICIAN TO INSTALL THE
INSTALLATION AND WIRING REQUIRE TRAINING
* TO BE SAFE, ASK THE SALES OUTLET WHERE
YOU PURCHASED THE MONITOR SYSTEM TO
PERFORM THE INSTALLATION.
· DO NOT LET THE MONITOR SYSTEM FALL OR
BE SURE TO NOT LET THE MONITOR SYSTEM
FALL OR BE STRONGLY IMPACTED SINCE THIS
MAY CAUSE A MALFUNCTION OR FIRE.
· DO NOT WATCH THE MONITOR WITH THE
WATCHING THE MONITOR WITH THE ENGINE OFF
WILL CONSUME BATTERY POWER AND MAY
PREVENT THE ENGINE FROM STARTING.
Change or modifications not approved by JVC could void
user's authority to operate the equipment. This equip-
ment has been tested and found to comply with the lim-
its for a Class B digital device, pursuant to Part 15 of the
FCC Rules. These limits are designed to provide rea-
sonable protection against harmful interference in a resi-
dential installation. This equipment generates, uses, and
can radiate radio frequency energy and, if not installed
and used in accordance with the instructions, may cause
harmful interference to radio communications.
However, there is no guarantee that interference will not
occur in a particular installation. If this equipment does
cause harmful interference to radio or television recep-
tion, which can be determined by turning the equipment
off and on, the user is encouraged to try to correct the
interference by one or more of the following measures:
Reorient or relocate the receiving antenna.
Increase the separation between the equipment and
Connect the equipment into an outlet on a circuit
different from that to which the receiver is connected.
Consult the dealer or an experienced radio/TV
---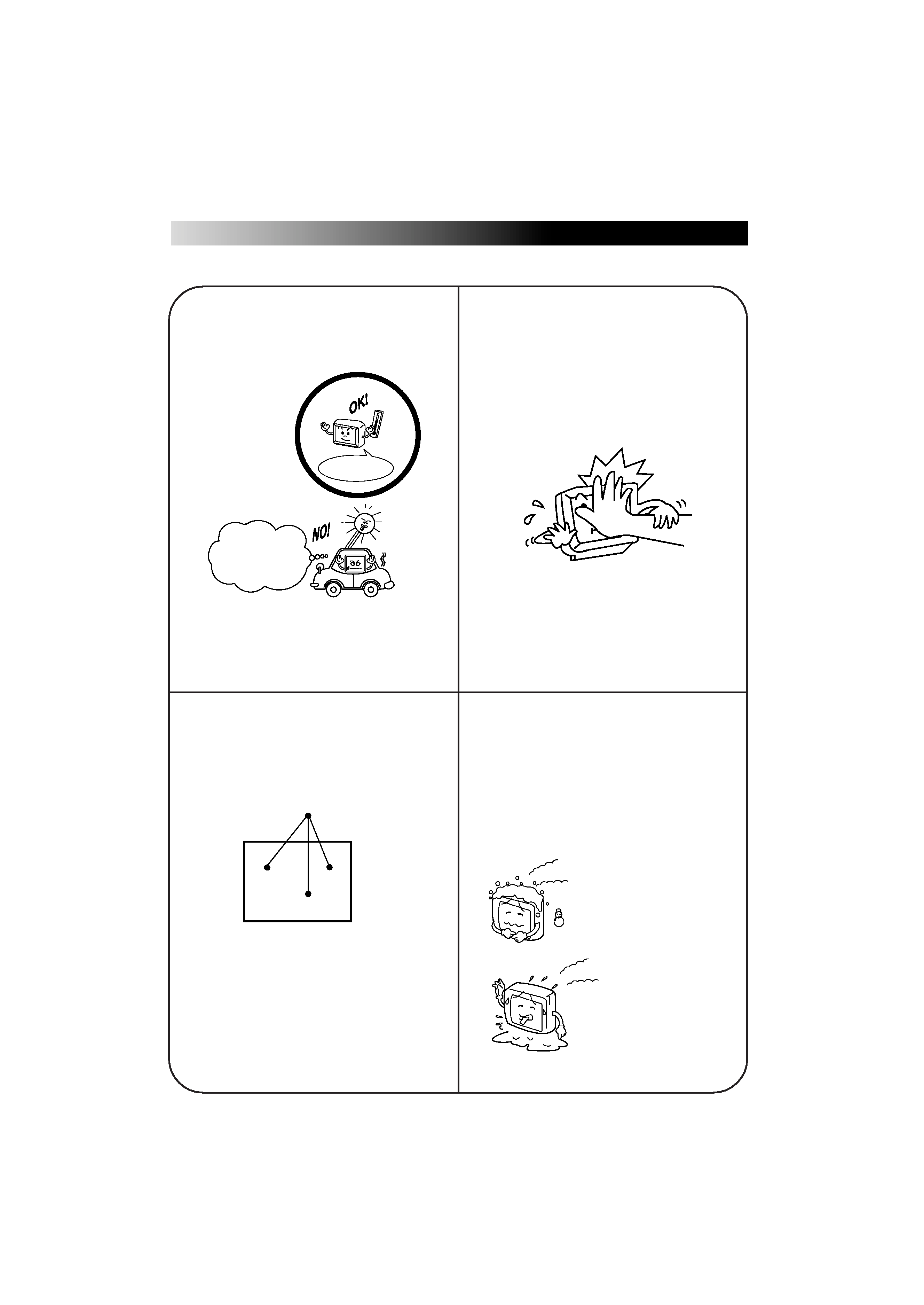 · Do not leave the liquid crystal panel surface
facing upwards on top of the dashboard.
(storage temperature range: ­20
Cautions for the liquid crystal panel
· Do not strongly impact the liquid crystal panel.
· There are red spots, blue spots and green
spots on the panel surface. This is a charac-
teristic of liquid crystal panels and is not a
The liquid crystal panel is built with very high
precision technology and has at least 99.99%
effective image pixels. Be aware that on
0.01% of the panel there may be missing
pixels or constantly light pixels.
· When the temperature is very cold or very hot,
the image may not appear clearly or may
Also, movement of the image may seem to be
out of sync or the image quality may decline in
such environments. Note that this is not a
(usage temperature range: 0
When the liquid crystal panel reaches high
temperatures or low temperatures, chemical
changes occur within the liquid crystal panel
which may cause malfunctions.
--- Thank you for purchasing a JVC product. Please read all instructions carefully before operation,
to ensure your complete understanding and to obtain the best possible performance from the
Introduction to the Roles of the System Components ................ 6
How to Use the Monitor System
Controlling the Sound ................................................................. 9
Adjusting Brightness ................................................................. 12
Adjusting the Sound .................................................................. 16
Adjusting the Image .................................................................. 18
Connecting to External Devices ................................................ 20
How to Best Use the Monitor System
Troubleshooting ........................................................................ 21
Maintenance ............................................................................. 22
Specifications ............................................................................ 23
---