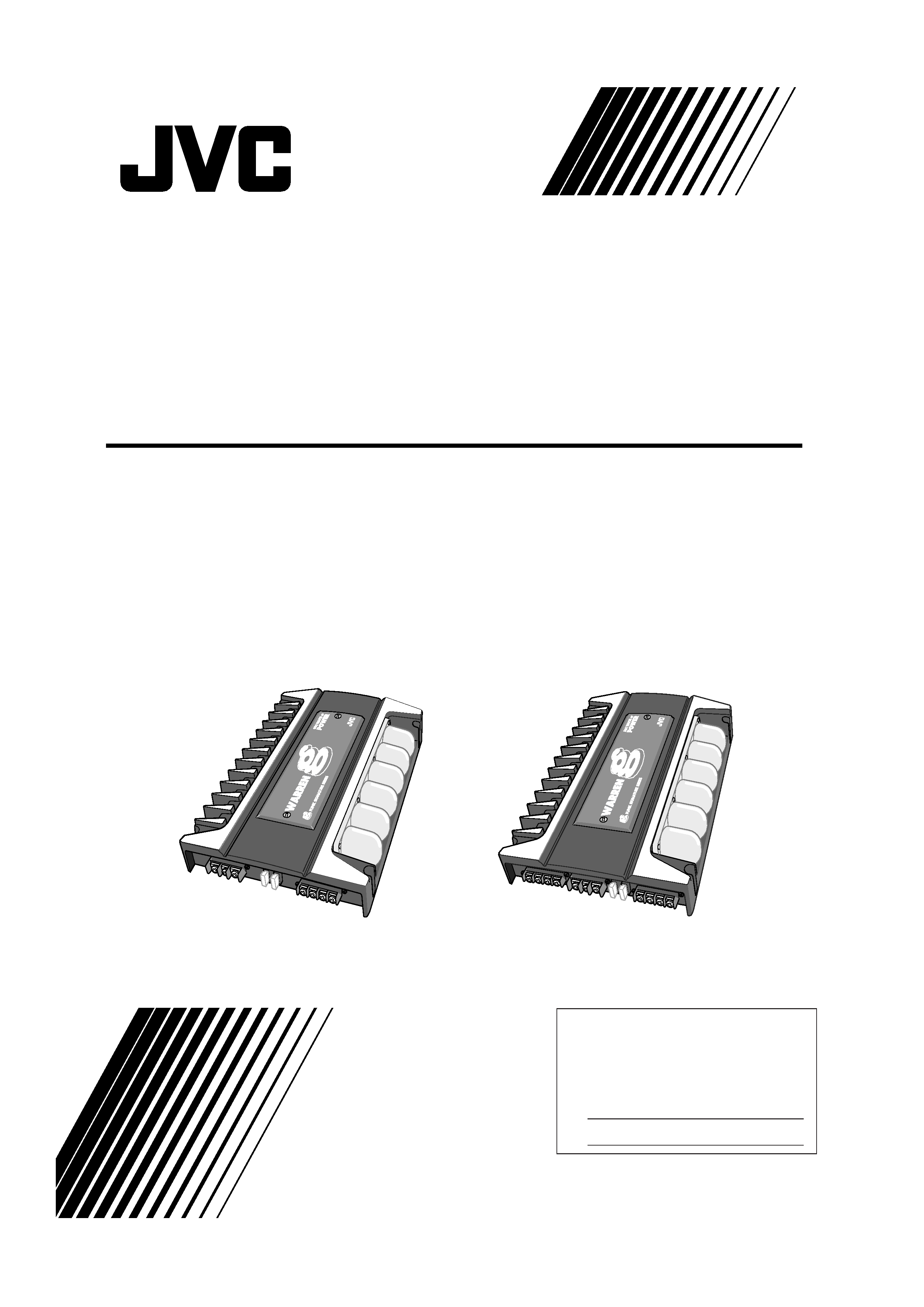 Enter below the Model No. and Serial
No. which are located either on the rear,
bottom or side of the cabinet. Retain this
information for future reference.
AMPLIFICATEUR DE PUISSANCE
---

Thank you for purchasing a JVC product.
Please read all instructions carefully before
operation, to ensure your complete
understanding and to obtain the best possible
performance from the unit.
This unit is designed to operate on 12
volts DC, NEGATIVE ground electrical
· This unit uses BTL (Balanced Trans-
formerless) amplifier circuitry, i.e.,
floating ground system, so please
comply with the following:
Be sure not to connect the "­"
terminals of the speakers to a common
Do not connect them to each other.
Do not connect them to the metal body
· Cover the unused terminals with
insulating tape to prevent them from
· When an extension lead is used, it
should be as thick and short as possible;
connect it firmly with insulating tape.
· Be sure to leave an appropriate space
between the antenna (aerial) and the
· When replacing the fuse, only use
a 25-ampere fuse for KS-AX7700 and
20-ampere fuse for KS-AX7300.
· Do not let pebbles, sand or metallic
objects get inside the unit.
· To keep the heat dissipation mechanism
running effectively, wipe the accumu-
lated dust off periodically.
· Listening to the tape, radio, CD or MD,
etc. with the volume on loud for a long
period of time will exhaust the battery,
while the engine is turned off or while
DO NOT disassemble the units since
there are no user serviceable parts
This product has a fluorescent lamp
that contains a small amount of
mercury. It also contains lead in some
components. Disposal of these materials
may be regulated in your community
due to environmental considerations.
For disposal or recycling information
please contact your local authorities, or
the Electronics Industries Alliance:
Wir danken Ihnen für den Kauf eines JVC
Produkts. Bitte lesen Sie die Anleitung
vollständig durch, bevor Sie das Gerät in
Betrieb nehmen, um sicherzustellen, daß Sie
alles vollständig verstehen und die
bestmögliche Leistung des Geräts erhalten.
Dieses Gerät ist nur für einen Betrieb in
elektrischen Anlagen mit 12 V Gleich-
strom und (­) Erdung ausgelegt.
· Der Verstärkerteil dieses Geräts arbeitet
mit einer BTL-Schaltung (symmetrische
Gegentakt-Ausgangsschaltung ohne
Anpaßtransformator). Daher unbedingt
auf die folgenden Punkte achten:
Die Minus-Lautsprecheranschlüsse
"­" niemals am gleichen Kontakt
Diese Kabel niemals miteinander
Diese Kabel niemals an Metallteile
(Karosserie, Chassis) anschließen.
· Die nicht verwendeten Anschlußklem-
men mit Isolierband überkleben, um
Kurzschlüsse zu verhindern.
· Wenn ein Verlängerungskabel benutzt
wird, eine dicke Ausführung und die
kürzestmögliche Länge verwenden. Die
Verbindung sorgfältig mit Isolierband
· Vergewissern Sie sich, daß ausreichen-
der Abstand zwischen der Antenne und
den Kabeln des Geräts vorhanden ist.
· Beim Austausch von Sicherungen für
KS-AX7700 nur 25 A Sicherungen und
für KS-AX7300 nur 20 A Sicherungen
· Darauf achten, daß keine Fremdkörper
wie Sand oder Metallgegenstände in
das Geräteinnere gelangen.
· Um das Wärmeableitungssystem in
einem guten Betriebszustand zu halten,
regelmäßig den Staub abwischen.
· IIst das Gerät bei ausgeschaltetem
Motor oder im Leerlauf über längere Zeit
bei hoher Lautstärke eingeschaltet, um
Cassette, Radio, CD oder MD wieder-
zugeben, entlädt sich die Autobatterie.
Die Anlage dar f NICHT geöffnet
werden, da sich keine Teile im
Anlageninnern befinden, die vom
Benutzer gewartet werden müßten.
Merci pour avoir acheté un produit JVC.
Veuillez lire attentivement toutes les
instructions avant d'utiliser l'appareil afin de
bien comprendre son fonctionnement et
d'obtenir les meilleures performances
Cet appareil est conçu pour fonctionner
sur des sources de courant continu de 12
· Cet appareil utilise un circuit
d'amplification BTL (symétrique sans
transformateur), c'est à dire un système
à masse flottante par conséquent
veuillez vous conformer à ce qui suit:
Ne pas raccorder les bornes "­" des
haut-parleur à un point commun.
Ne pas les raccorder l'un à l'autre.
Ne pas les raccorder au corps
métallique ou au châssis.
· Recouvrir les bornes inutilisées avec du
ruban isolant pour éviter de les court-
· Si vous utilisez un fil de prolongement,
celui-ci doit être aussi épais et aussi
cour t que possible. Connectez-le
solidement avec un ruban adhésif.
· Bien laisser un espace suffisant entre
I'antenne et les fils de cet appareil.
· Lors du remplacement du fusible,
utilisez uniquement un fusible de 25
ampères pour le KS-AX7700 et un
fusible de 20 ampères pour le KS-
· Ne pas laisser pénétrer de cailloux, de
sable ou d'objets métalliques dans
· Pour que le mécanisme de dissipation
de la chaleur fonctionne effectivement,
essuyer régulièrement la poussière qui
· Écouter une cassette, la radio, un CD
ou un MD, etc. avec un volume très fort,
pendant une longue période, quand le
moteur est coupé ou est au ralenti,
NE DEMONTEZ PAS l'appareil. Il n'y a
aucune pièce réparable par l'utilisateur
---

Hartelijk dank voor de aanschaf van dit JVC-
produkt! Wij verzoeken u de gebruiksaanwij-
zing goed door te lezen voordat u het
apparaat gaat gebruiken. Zo krijgt u een
volledig inzicht in de functies van het
apparaat en kunt u de mogelijkheden optimaal
Dit apparaat mag alleen worden gebruikt
bij elektrische systemen die werken op 12
volt gelijkstroom met negatieve aarding.
· Dit toestel heeft een BTL-versterker-
transformator), d.w.z. met een drijvend
aardsysteem. Let derhalve op de vol-
Zorg dat de "­" polen van de
luidsprekers niet op een gezamenlijk
Verbind ze niet met elkaar.
Sluit ze niet op een metalen onderdeel
· Bedek de ongebruikte klemmen met
isolatieband zodat er geen kortsluiting
· Als u verlengkabels gebruikt, dient deze
zo dik en kort mogelijk te zijn. Bevestig
deze verlengkabel met isolerende tape.
· Zorg dat er voldoende ruimte tussen de
antenne en de bedrading van dit toestel.
· Let er bij het vervangen van de zekering
op dat u voor de KS-AX7700 een
zekering van 25 ampère gebruikt en
voor de KS-AX7300 een zekering van
· Zorg dat er geen steentjes, zand of
metalen voorwerpen in het toestel
· Veeg stof regelmatig weg zodat de
ventilatie niet door stof kan worden
· Als de motor is uitgeschakeld of
stationair draait en u gedurende een
lange tijd met een hoog volume naar een
cassette, de radio, een CD, een MD of
een andere afspeelbron luistert, zal de
accu snel uitgeput raken.
Schroef de eenheid NOOIT openen. In
de eenheid bevinden zich geen
onderdelen die door de gebruiker
hoeven te worden onderhouden.
Muchas gracias por la compra de un producto
JVC. Como primer paso, por favor lea
detenidamente este manual para comprender
a fondo todas las instrucciones y obtener un
máximo disfrute de esta unidad.
Esta unidad está diseñada para funcionar
con 12 voltios de CC, con sistemas
eléctricos de masa NEGATIVA.
· Esta unidad emplea un circuito
amplificador BTL (sin transformador
equilibrado), es decir, un sistema de
masa flotante y por lo tanto debe cumplir
Cerciórese de no conectar a un punto
común los ter minales "­" de los
No los conecte a piezas metálicas ni
· Cubra los terminales que no están en
uso con cinta adhesiva, para evitar
· Si utiliza un cable prolongador, éste
debe ser lo más grueso y corto posible;
conéctelo firmemente con cinta aislante.
· Asegúrese de dejar un espacio
adecuado entre la antena y los cables
· Cuando cambie el fusible, sólo emplee
un fusible de 25 amperios para KS-
AX7700 y un fusible de 20 amperios
· Impida la entrada de objetos metálicos,
arena o piedrecillas dentro de la unidad.
· Para mantener en funcionamiento
efectivo el mecanismo de disipación de
calor, limpie periódicamente el polvo
· La batería se descargará si escucha una
cinta, radio, CD o MD, etc., con el
volumen muy alto y con el motor
apagado o en marcha al vacío.
NO desarme la unidad; en el interior
no hay piezas que pueda reparar el
Tack för att du köpt en JVC produkt. Var snäll
och läs noga alla instruktioner innan du
använder den, så att du vet hur den ska skötas
och kan få ut mesta möjliga av den.
Enheten får endast drivas av 12-volts
likströmsystem med NEGATIV jordning.
· Denna apparat använder en BTL
jordningssystem. Tänk därför på det
Anslut inte högtalarens minus-
kontakter "­" till en gemensam punkt.
Anslut dem inte till varandra.
Anslut dem inte till ett metallföremål
· Linda in oanvända ledningar med
isoleringsband för att skydda dem mot
· Om förlängningssladd används ska den
vara så tjock och kort som möjligt. Anslut
ordentligt och använd eltejp.
· Håll apparatens kablar på behörigt
· Säkring får endast bytas mot en med
värdet 25 ampere för KS-AX7700,
respektive värdet 20 ampere för KS-
· Se till att grus, sand eller metallföremål
inte tränger in i apparaten.
· Damma av ventilationshålen regel-
bundet så att värmen kan tränga ut.
· Bilbatteriet kan komma att bli urladdat
efter en längre tids användning av
kassettdäck, radio, CD-spelare eller
MD-spelare på hög volymnivå, om
motorn varit avstängd eller enbart gått
TA ALDRIG isär enheten eftersom den
inte innehåller några enheter som du
som användare själv kan utföra service
--- This amplifier provides two types of
speaker connections: Normal mode and
Bridge mode. You can choose either type
of connections depending on the
speakers configuration equipped on
When operating with the Bridge mode
connection, speaker output level becomes
twice as high as that of Normal mode.
Make sure to comply with the following
· If the ground wire is common to both
left/right and front/rear speaker wirings,
this unit cannot be used. Always use the
independent lead wires for the speakers
to be used. In this case, redo the wirings.
· As this amplifier's output levels are high,
use speakers whose power handling
capacity is greater than those listed
below (per channel), and whose
· When connecting speakers that do not
meet the above power ratings, Iower the
volume level, otherwise the speakers
· Continuous use of a system that
exceeds the maximum permissible input
levels may damage the speakers.
Cet amplificateur est muni de deux types
de connexion d'enceinte: un mode normal
et un mode en pont. Vous pouvez choisir
n'importe quel type de connexion en
fonction de la configuration des enceintes
qui équipent votre voiture.
Lors de l'utilisation d'une connexion en
mode en pont, le niveau de sortie des
enceintes est deux fois supérieur au
niveau en mode normal. Assurez-vous de
respecter les points suivants:
· Si le fil de masse est commun aux
câblages des enceintes gauche/droite
et avant/arrière, cet appareil ne peut pas
être utilisé. Utilisez toujours des fils de
masse indépendants pour chaque
enceinte utilisée. Refaites les câblages
· Comme le niveau de sortie de cet
amplificateur est élevé, utilisez des
enceintes dont la capacité de puissance
soutenue est supérieure à celle du
tableau ci-dessous (par canal) et dont
l'impédance est comprise entre 2
(4 et 8 pour le mode en pont).
· Si vous connectez des enceintes qui ne
satisfont pas aux puissances ci-dessus,
baissez le niveau de volume pour éviter
· Une utilisation continue d'un système
qui dépasse le niveau d'entrée autorisé
maximum peut endommager les
verschiedene Lautsprecheranschlüsse:
Normalbetrieb und Überbrückung. Sie
konfiguration Ihres Autos eine der beiden
Lautsprecherausgangspegel zweimal so
hoch wie der bei Nor malbetrieb.
Unbedingt auf die folgenden Punkte
· Wird das Massekabel gemeinsam von
der Lautsprecherverkabelung rechts
/links und vorne/hinten benutzt, kann
dieses Gerät nicht verwendet werden.
Immer die unabhängigen Kabel für die
benutzen. In diesem Fall, neue
· Da die Ausgangspegel hoch sind,
Nennbelastbarkeit größer ist als die der
unten angegebenen Modelle (pro Kanal)
und dessen Impedanz zwischen 2
· Beim Anschluß von Lautsprechern, die
die obigen Ausgangsleistungen nicht
erfüllen, Lautstärkepegel reduzieren,
andernfalls werden die Lautsprecher
· Werden die maximal zulässigen
Eingangspegel ständig überschritten,
können die Lautsprecher beschädigt
---

Este amplificador provee dos tipos de
conexiones para altavoces: modo normal
y modo en puente. Escoja uno u otro tipo
de conexiones, dependiendo de la
configuración de altavoces de su
Cuando opere con la conexión del modo
en puente, el nivel de salida de los
altavoces aumenta al doble del modo
normal. Asegúrese de tener en cuenta los
· Si hay un cable de conexión a masa
común para ambos conexionados de
delantero/trasero, esta unidad no debe
ser usada. Emplee siempre cables de
conexión independientes para los
altavoces en uso. En este caso, vuelva
a realizar los conexionados.
· Como los niveles de salida de este
amplificador son altos, utilice altavoces
cuya potencia admisible sea mayor que
la indicada en la tabla de abajo (por
canal), y cuya impedancia sea de 2
(4 a 8 para el modo en puente).
· Para evitar daños en los altavoces, baje
el nivel de volumen cuando conecte
altavoces cuya potencia no se ajuste a
los valores indicados arriba.
· El uso continuo de un sistema que
exceda los niveles de entrada máximos
admisibles puede producir daños en los
Deze versterker is uitgerust met twee
luidsprekers: Normale modus (Normal
Mode) en de brugmodus (Bridge Mode).
U kunt afhankelijk van de opstelling van
de luidsprekers een van beide aan-
Als u voor de brugmodus kiest, is het
uitgangsniveau van de luidsprekers twee
keer zo sterk als bij de normale modus.
Neem echter wel de volgende aanwijzin-
· Als de aardingskabel zowel voor de
luidsprekerkabels voor de linker/rechter
als de luidsprekers aan de voor-
/achterzijde wordt gebruikt, kan deze
eenheid niet worden gebruikt. U dient
altijd aparte kabels voor de luidsprekers
te gebruiken. In dit geval dient u de
kabels anders aan te sluiten.
· Aangezien het uitgangsniveau van deze
versterker hoog is, dient u luidsprekers
te gebruiken met een groter vermogen
(per kanaal) dan wat in de onderstaande
tabel staat vermeld en waarvan de
· Als u luidsprekers aansluit die niet aan
de bovenstaande criteria voldoen, dient
u het volumeniveau te verlagen omdat
luidsprekers te beschadigen.
· Als u een systeem gebruikt waarvan u
de maximaal toegestane ingangniveaus
voortdurend overschrijdt, loopt u het
gevaar de luidsprekers te beschadigen.
Förstärkaren medger två olika typer av
respektive bryggläge. Du kan välja endera
typen av anslutning, beroende på vilken
högtalarkonfiguration du har i din bil.
anslutningen så blir högtalarnas uteffekt
dubbelt så hög som i normalläget. Var
alltid noga med att beakta följande:
· Om jordledaren är gemensam för både
högtalarsladd så kan denna enhet inte
användas. Dra om sladdarna om så är
· Eftersom förstärkarens utsignalnivåer är
höga ska du använda högtalare med
högre effektkapacitet än de som anges
nedan (per kanal), och med en
· Vid anslutning av högtalare som inte har
ovanstående effektkapacitet ska
ljudnivån sänkas, eftersom högtalarna
· Kontinuerligt bruk av ett system som
ingångsnivåerna kan skada högtalarna.
---