IF-C422P1G
Video Input Unit
IF-C422P1G
videoeingangseinheit
IF-C422P1G
module d'entrée vidéo
IF-C422P1G
unità d'ingresso video
IF-C422P1G
unidad de entrada de video
VIDEO INPUT UNIT FOR A JVC PLASMA DISPLAY MONITOR
VIDEOEINGANGSEINHEIT FÜR EIN JVC PLASMAMONITOR
MODULE D'ENTRÉEVIDÉO POUR UN MONITEUR DE VISUALISATION PLASMA
UNITÀ D'INGRESSO VIDEO PERTANTO UN MONITOR DE AL PLASMA
UNIDAD DE ENTRADA DE VIDEO PARA UN MONITOR PLASMA DISPLAY
---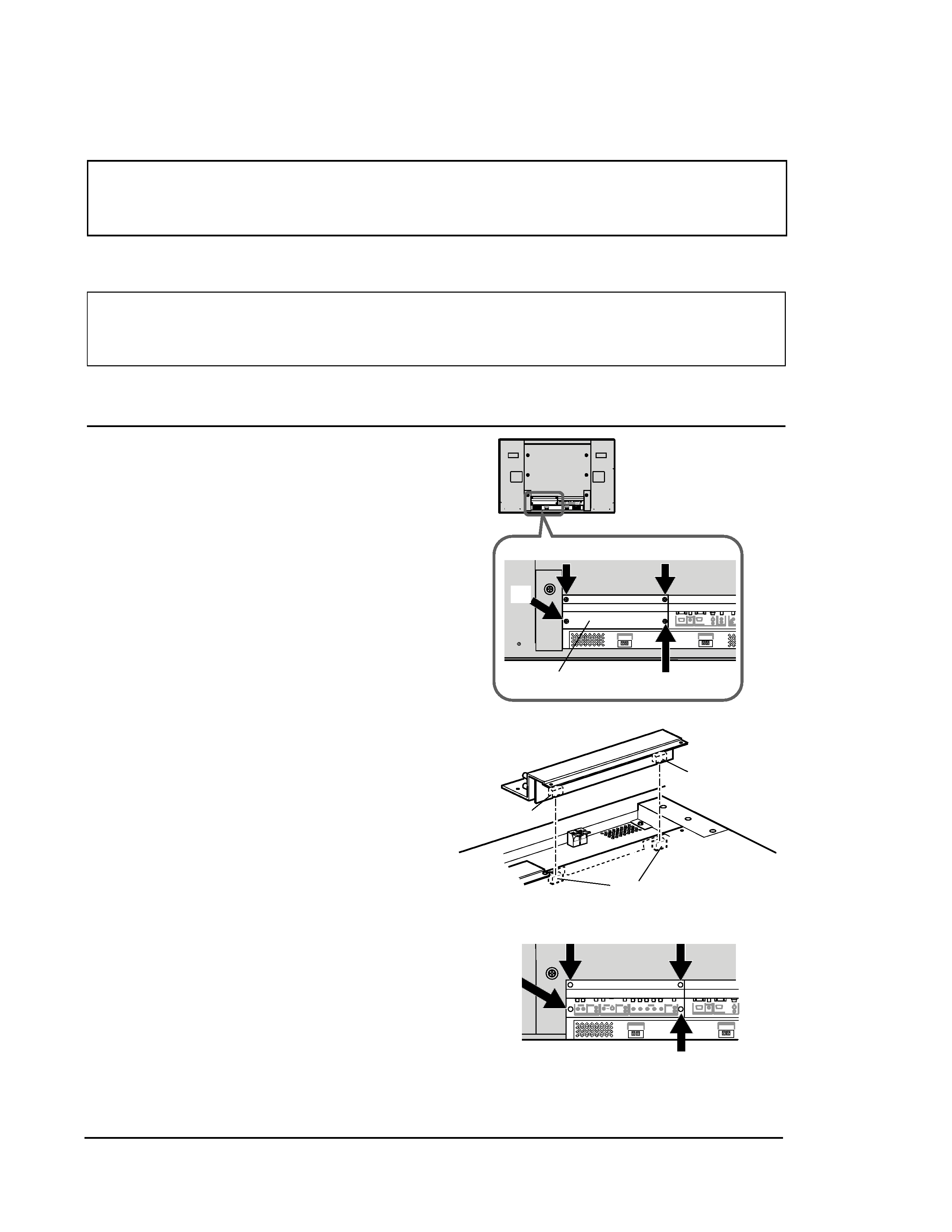 This Video Input unit allows the Plasma Display Monitor GM-P420PCE and GM-P421PCE to cope with video signals -- Video
(composite), S-video(Y/C), and Component/RGB -- and audio signals.
· This installation requires technical skills and electrical acknowledgment. It is very dangerous to install this kit by yourself.
For installation, consult JVC authorized dealer.
· Some of the parts, such as rear panel and blank panel, are very heavy and have keen edges. Be careful when handling them.
Work table:
Prepare a table with a flat surface 105 cm x 65 cm or wider, and place a suitable cushion or soft cloth on it.
1
Turn off the power of the Plasma Display
Monitor and then disconnet the power
2
Remove the blank panel of the Plasma
1) Place the Plasma Display Monitor upside down
(with the screen faced downward) on the work
Be careful not to get the screen glass scratched or
2) Unscrew the 4 screws (
illustration (Fig. 1) to detach the blank panel of
the Plasma Display Monitor.
This removed blank panel is not used when printed
board ass'y is installed. Retain all the screws for later
3
Install the Video Input Unit.
1) There are two connectors on the inner surface of
By aligning these two connectors with the
connectors inside the monitor, push the Video
Input Unit so that the connectors are fully
2) Fix the Video Input Unit with the 4 screws
4
Operate the Plasma Display Monitor.
After the Video Input Unit is installed, operate the
monitor and check that image and sound are
reproduced correctly through the following inputs:
VIDEO A, VIDEO B, and COMPONENT/RGB
---