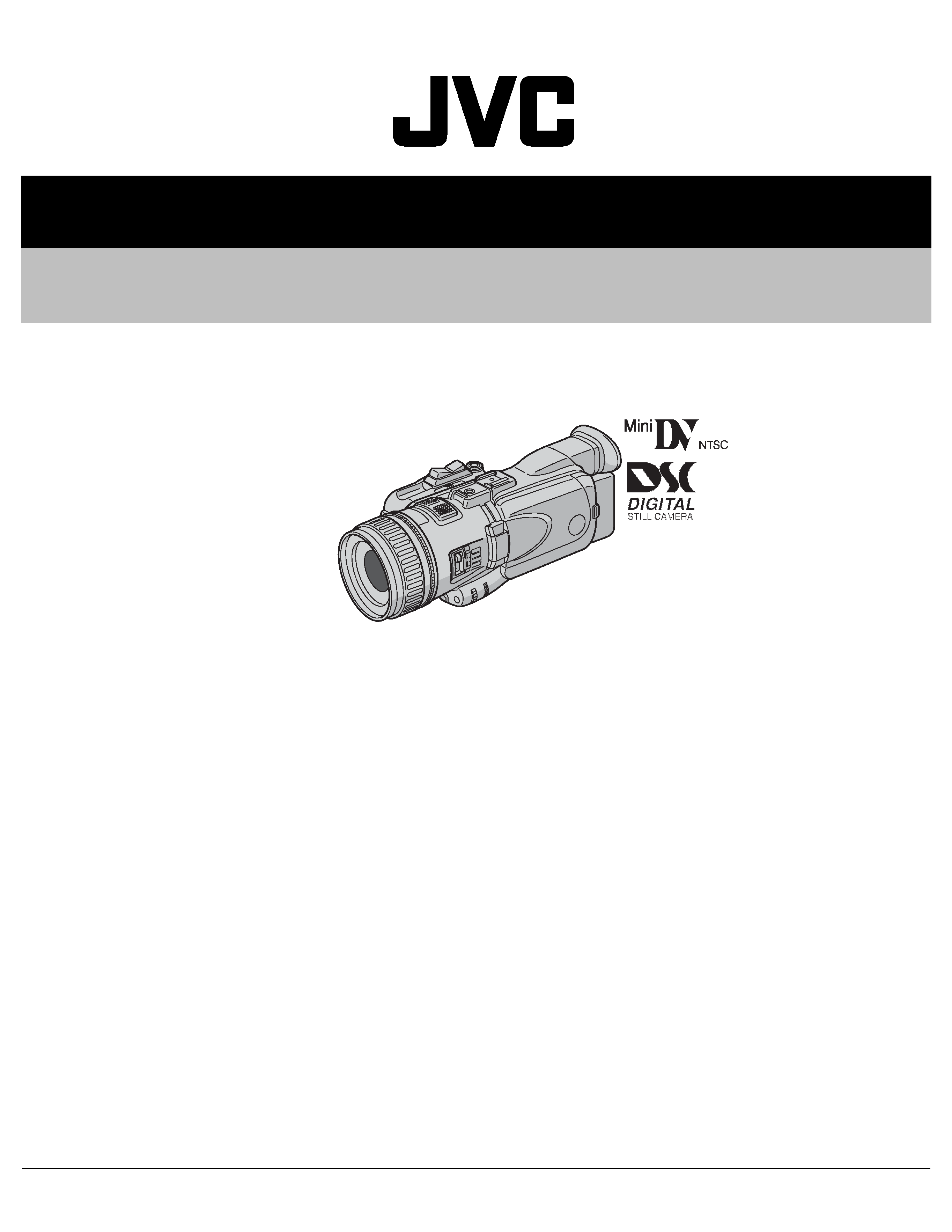 COPYRIGHT © 2003 VICTOR COMPANY OF JAPAN, LIMITED
For disassembling and assembling of MECHANISM ASSEMBLY, refer to the SERVICE MANUAL No.86700 (MECHANISM ASSEMBLY).
Regarding service information other than these sections, refer to the service manual No. 86772 (GR-HD1US).
Also, be sure to note important safety precautions provided in the service manual.
---

Specifications shown are for SP mode unless otherwise indicated. E & O.E. Design and specifications subject to change without
DC 6.3 V (Using AC Power Adapter/Charger)
DC 7.2 V (Using battery pack)
LCD monitor off, viewfinder on Approx. 6.8 W (DV)/8.0 W (HD, SD)
LCD monitor on, viewfinder off Approx. 8.5 W (DV)/9.7 W (HD, SD)
(with the LCD monitor closed and the viewfinder pushed
(without cassette, memory card and battery)
(incl. cassette, memory card and battery)
°C to 40°C (32°F to 104°F)
°C to 50°C (-4°F to 122°F)
F 1.8, f = 5.2 mm to 52 mm, 10:1 power zoom lens
3.5" diagonally measured, LCD panel/TFT active matrix
Electronic viewfinder with 0.44" color LCD
SD Memory Card/MultiMediaCard
× 960 pixels/640 × 480 pixels)
Y: 0.8 V to 1.2 V (p-p), 75
C: 0.2 V to 0.4 V (p-p), 75
Y: 0.8 V to 1.2 V (p-p), 75
4-pin, IEEE 1394 compliant
AC 110 V to 240 V, 50 Hz/60 Hz
---

AV & MULTIMEDIA COMPANY CAMCORDER CATEGORY 12, 3-chome, Moriya-cho, kanagawa-ku, Yokohama, kanagawa-prefecture, 221-8528, Japan
VICTOR COMPANY OF JAPAN, LIMITED
---