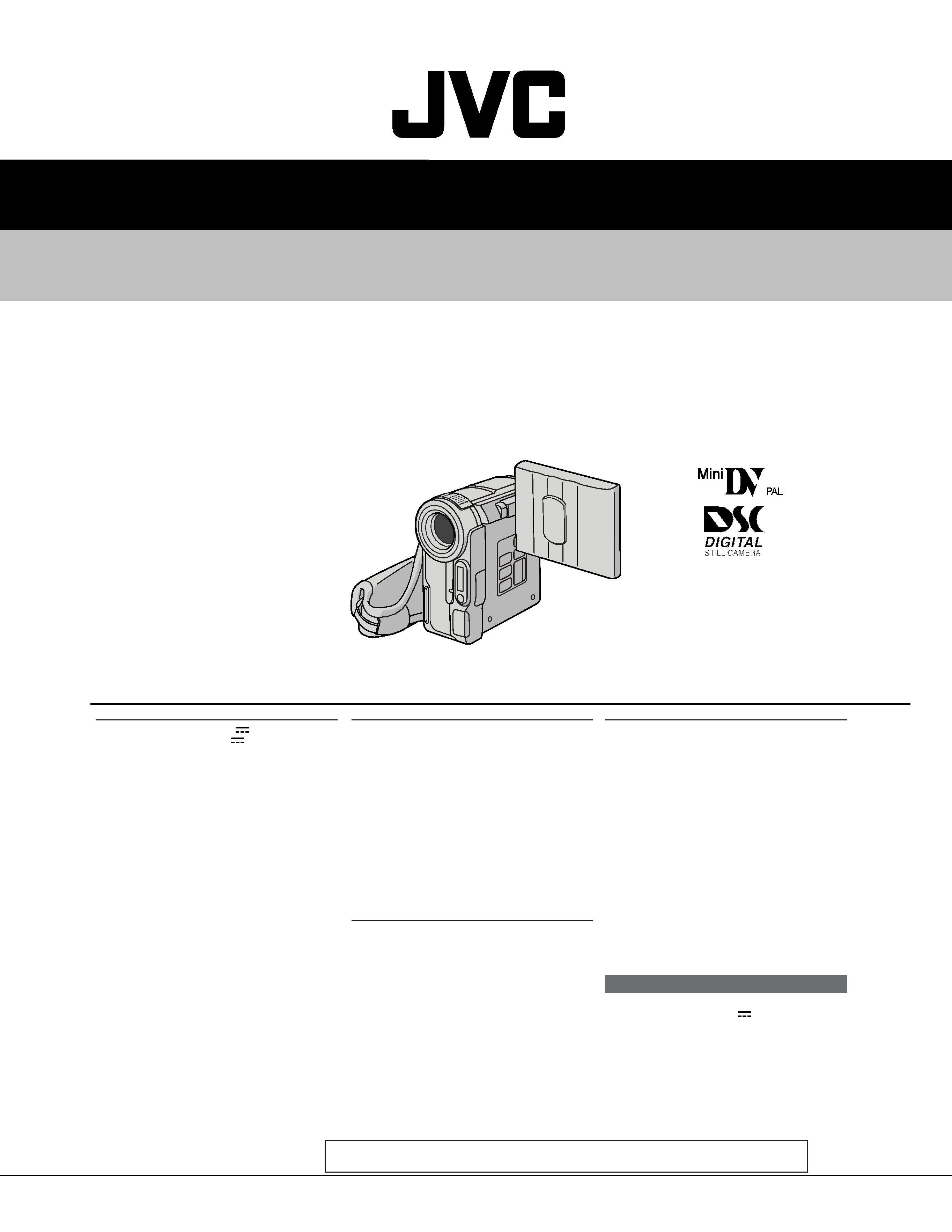 COPYRIGHT © 2003 VICTOR COMPANY OF JAPAN, LTD
For disassembling and assembling of MECHANISM ASSEMBLY, refer to the SERVICE MANUAL No.86700(MECHANISM ASSEMBLY).
viewfinder on : Approx. 3.4 W
viewfinder off : Approx. 4.6 W
(with the LCD monitor closed and
the viewfinder pushed back in)
: Approx. 440 g (GR-DX300/DX100)
: Approx. 450 g (GR-DX95/DX75)
: 1/4" CCD (GR-DX300/DX100)
: F 1.8, f = 3.8 mm to 38 mm,
F1.6, f =2.7 mm to 43.2 mm,
: 3" diagonally measured, LCD
panel/TFT active matrix system
2.5" diagonally measured, LCD
panel/TFT active matrix system
: Electronic viewfinder with 0.24"
Playback format : Video: Digital component
: Audio: PCM digital recording,
32 kHz 4-channel (12-bit),
48 kHz 2-channel (16-bit)
Digital Still Camera Function
: SD Memory Card/MultiMediaCard
: 4 modes (1600 x 1200 pixels*,
: 2 modes (FINE/STANDARD)
: Y : 0.8 V (p-p) ­ 1.2 V (p-p), 75
C : 0.2 V (p-p) ­ 0.4 V (p-p), 75
: 0.8 V (p-p) ­ 1.2 V (p-p), 75
: 4-pin, IEEE 1394 compliant
: 4-pin, IEEE 1394 compliant
Power requirement : AC 110 V to 240 V`, 50 Hz/60 Hz
Specifications shown are for SP mode unless otherwise indicated. E & O.E. Design and specifications subject
to change without notice.
GR-DX75E
X
, GR-DX75E
Y
, GR-DX75E
Z
, GR-DX75EK,
GR-DX95E
X
, GR-DX95E
Y
, GR-DX95E
Z
, GR-DX95EK
SPECIFICATIONS
(The specifications shown pertain specifically to the model GR-DX75EX, GR-DX95EX, GR-DX100EX and GR-DX300EX.)
---

Important Safety Precautions
DISASSEMBLY ............................................................................................................................................................... 1-1
ADJUSTMENT ................................................................................................................................................................ 3-1
CHARTS AND DIAGRAMS ............................................................................................................................................ 4-1
PARTS LIST .................................................................................................................................................................... 5-1
The following table indicate main different points between models GR-DX75EK, GR-DX75EX, GR-DX75EY, GR-DX75EZ, GR-
DX95EK, GR-DX95EX, GR-DX95EY and GR-DX95EZ.
DIFFERENT TABLE OF FEATURE
GR-DX75EX GR-DX75EY GR-DX75EZ GR-DX95EK GR-DX95EX GR-DX95EY GR-DX95EZ
---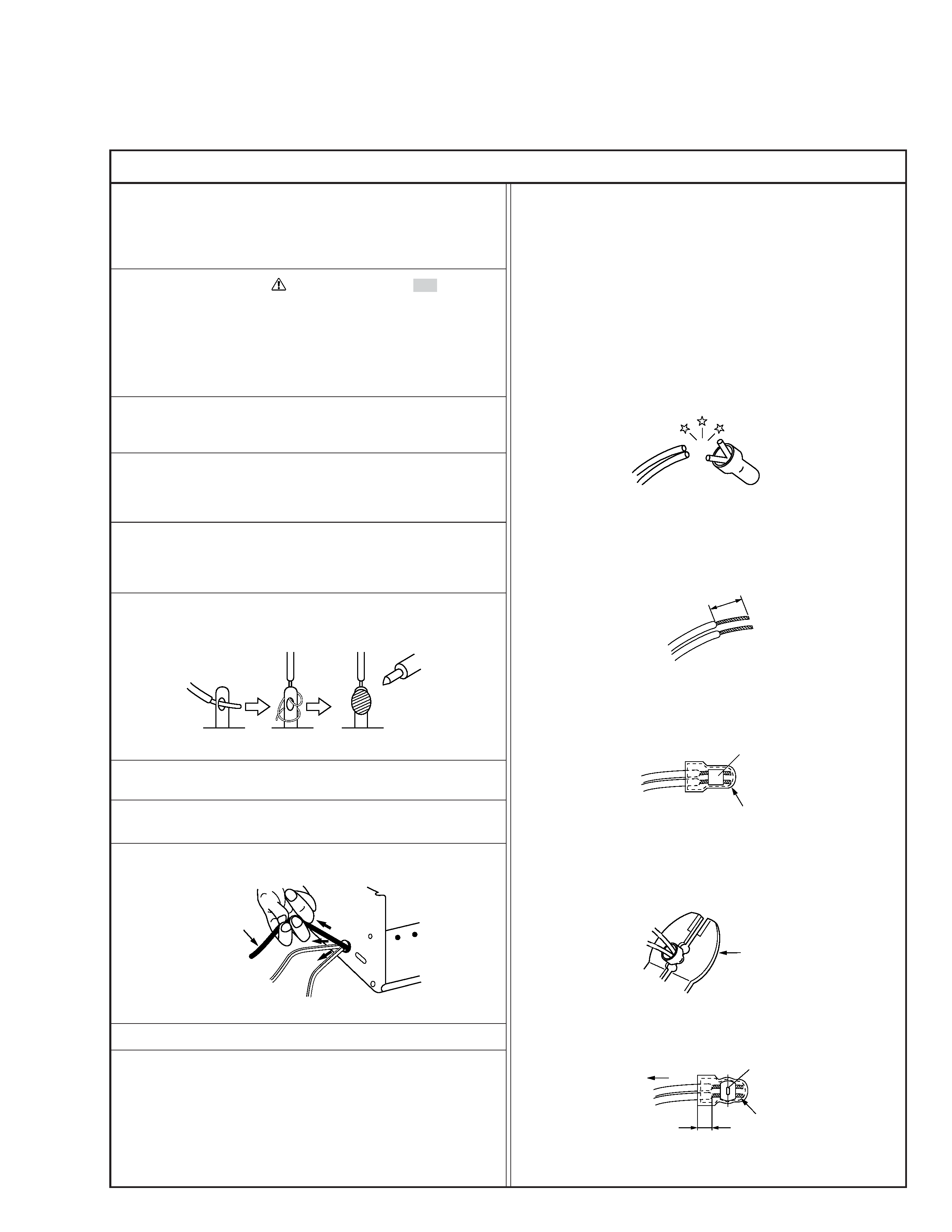 Important Safety Precautions
Prior to shipment from the factory, JVC products are strictly inspected to conform with the recognized product safety and electrical codes
of the countries in which they are to be sold. However, in order to maintain such compliance, it is equally important to implement the
following precautions when a set is being serviced.
1. Locations requiring special caution are denoted by labels and
inscriptions on the cabinet, chassis and certain parts of the
product. When performing service, be sure to read and com-
ply with these and other cautionary notices appearing in the
operation and service manuals.
2. Parts identified by the
Replace only with specified part numbers.
Note: Parts in this category also include those specified to com-
ply with X-ray emission standards for products using
cathode ray tubes and those specified for compliance
with various regulations regarding spurious radiation
3. Fuse replacement caution notice.
Caution for continued protection against fire hazard.
Replace only with same type and rated fuse(s) as specified.
4. Use specified internal wiring. Note especially:
1) Wires covered with PVC tubing
2) Double insulated wires
5. Use specified insulating materials for hazardous live parts.
4) Insulation sheets for transistors
6. When replacing AC primary side components (transformers,
power cords, noise blocking capacitors, etc.) wrap ends of
wires securely about the terminals before soldering.
10. Also check areas surrounding repaired locations.
11. Products using cathode ray tubes (CRTs)
In regard to such products, the cathode ray tubes themselves,
the high voltage circuits, and related circuits are specified for
compliance with recognized codes pertaining to X-ray emission.
Consequently, when servicing these products, replace the cath-
ode ray tubes and other parts with only the specified parts.
Under no circumstances attempt to modify these circuits.
Unauthorized modification can increase the high voltage value
and cause X-ray emission from the cathode ray tube.
12. Crimp type wire connector
In such cases as when replacing the power transformer in sets
where the connections between the power cord and power
transformer primary lead wires are performed using crimp type
connectors, if replacing the connectors is unavoidable, in or-
der to prevent safety hazards, perform carefully and precisely
according to the following steps.
1) Connector part number : E03830-001
2) Required tool : Connector crimping tool of the proper type
which will not damage insulated parts.
(1) Remove the old connector by cutting the wires at a point
Important : Do not reuse a connector (discard it).
(2) Strip about 15 mm of the insulation from the ends of
the wires. If the wires are stranded, twist the strands to
(3) Align the lengths of the wires to be connected. Insert
the wires fully into the connector.
(4) As shown in Fig.6, use the crimping tool to crimp the
metal sleeve at the center position. Be sure to crimp fully
to the complete closure of the tool.
Precautions during Servicing
7. Observe that wires do not contact heat producing parts
(heatsinks, oxide metal film resistors, fusible resistors, etc.)
8. Check that replaced wires do not contact sharp edged or
9. When a power cord has been replaced, check that 10-15 kg of
force in any direction will not loosen it.
(5) Check the four points noted in Fig.7.
Crimped at approx. center
---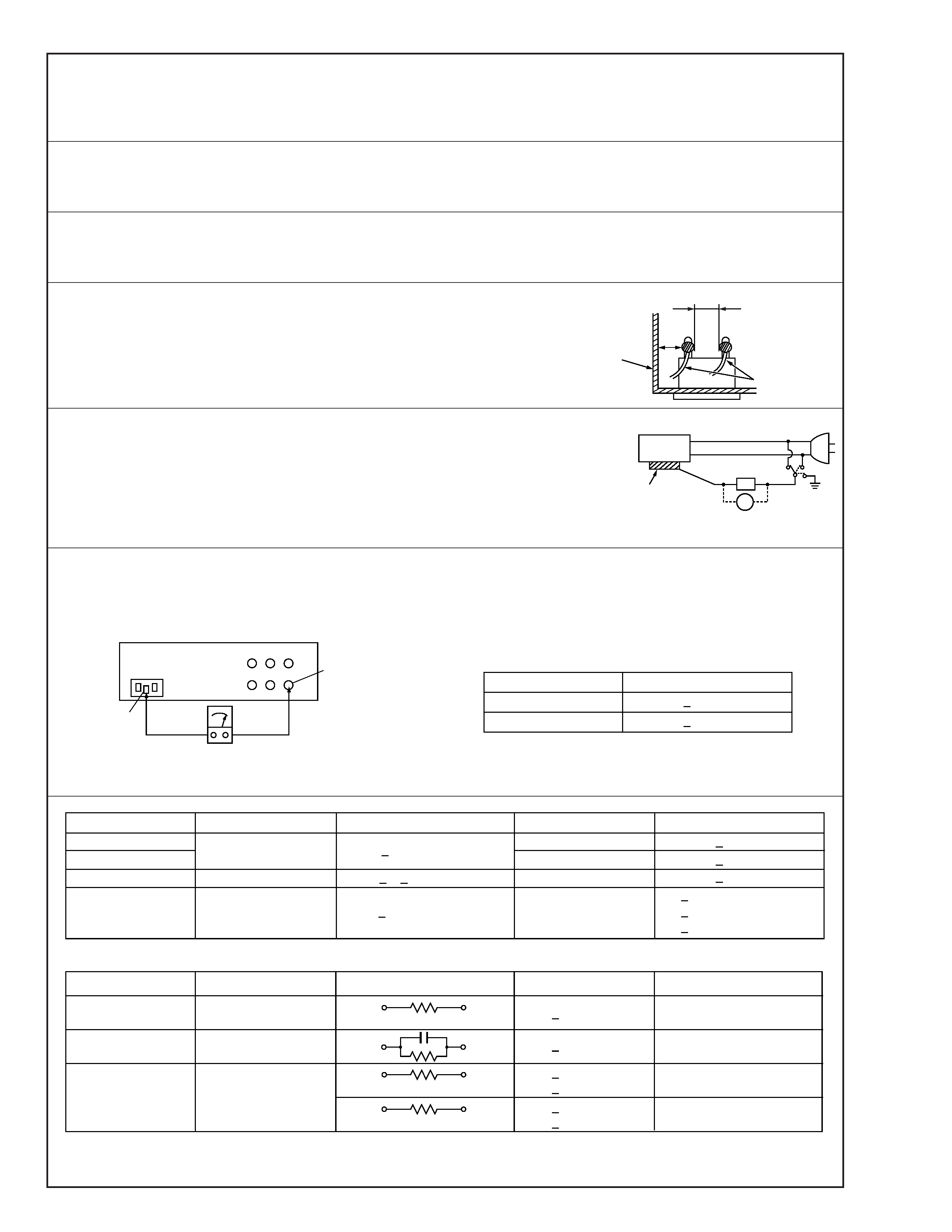 Safety Check after Servicing
Examine the area surrounding the repaired location for damage or deterioration. Observe that screws, parts and wires have been
returned to original positions, Afterwards, perform the following tests and confirm the specified values in order to verify compli-
ance with safety standards.
1. Insulation resistance test
Confirm the specified insulation resistance or greater between power cord plug prongs and
externally exposed parts of the set (RF terminals, antenna terminals, video and audio input
and output terminals, microphone jacks, earphone jacks, etc.). See table 1 below.
2. Dielectric strength test
Confirm specified dielectric strength or greater between power cord plug prongs and exposed
accessible parts of the set (RF terminals, antenna terminals, video and audio input and output
terminals, microphone jacks, earphone jacks, etc.). See table 1 below.
When replacing primary circuit components, confirm specified clearance distance (d), (d') be-
tween soldered terminals, and between terminals and surrounding metallic parts. See table 1
Confirm specified or lower leakage current between earth ground/power cord plug prongs
and externally exposed accessible parts (RF terminals, antenna terminals, video and audio
input and output terminals, microphone jacks, earphone jacks, etc.).
Measuring Method : (Power ON)
Insert load Z between earth ground/power cord plug prongs and externally exposed accessi-
ble parts. Use an AC voltmeter to measure across both terminals of load Z. See figure 9 and
5. Grounding (Class 1 model only)
Confirm specified or lower grounding impedance between earth pin in AC inlet and externally exposed accessible parts (Video in,
Video out, Audio in, Audio out or Fixing screw etc.).
Connect milli ohm meter between earth pin in AC inlet and exposed accessible parts. See figure 10 and grounding specifications.
Clearance Distance (d), (d')
Insulation Resistance (R)
Table 1 Specifications for each region
Table 2 Leakage current specifications for each region
Note: These tables are unofficial and for reference only. Be sure to confirm the precise values for your particular country and locality.
---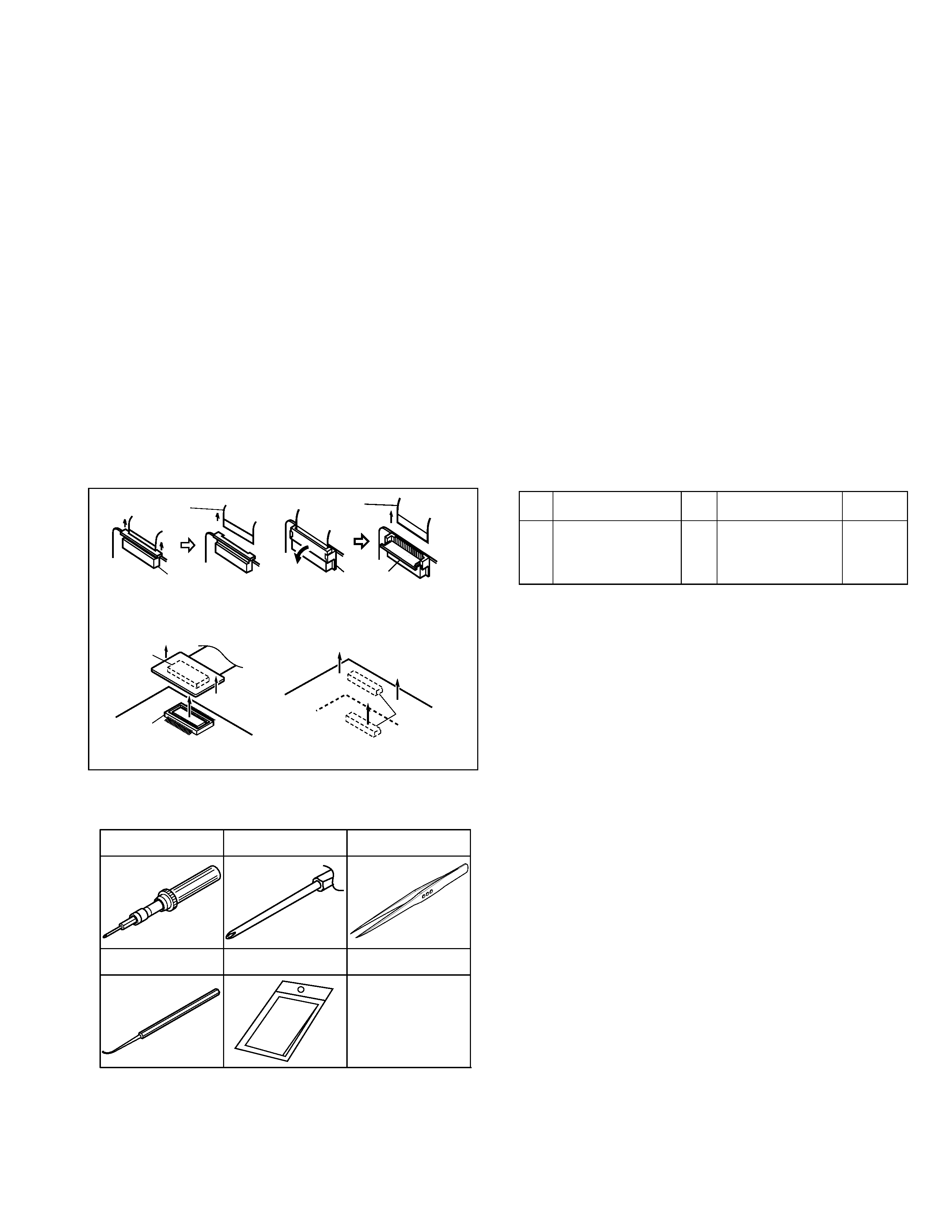 Be sure to disconnect the power supply unit prior to mount-
ing and soldering of parts.
Prior to removing a component part that needs to discon-
nect its connector(s) and its screw(s), first disconnect the
wire(s) from the connector(s), and then remove the screw(s).
Be careful not to damage the connector and wire etc. dur-
ing connection and disconnection.
When connecting the flat wire to the connector, be careful
with the flat wire direction.
Be careful in removing or handling the part to which some
spacer or shield is attached for reinforcement or insulation.
When replacing chip parts (especially IC parts), first remove
the solder completely to prevent peeling of the pattern.
Tighten screws properly during the procedures. Unless
specified otherwise, tighten screws at a torque of 0.078Nom
The bracketed ( ) WR of the connector symbol are assigned
nos. in priority order and do not correspond to those on the
1.1.2 Disconnection of connectors (wires)
Be sure to use to fastening the mechanism and exterior parts
because those parts must strictly be controlled for tighten-
This bit is slightly longer than those set in conventional torque
To be used for removing and installing parts and wires.
· Chip IC replacement jig
To be used for replacement of IC.
Recommended the Cleaning cloth to wipe down the video
heads, mechanism (tape transport system), optical lens sur-
· Extend the locks in the direction of the arrow for
unlocking and then pull out the wire. After re-
moving the wire, immediately restore the locks
to their original positions because the locks are
apt to come off the connector.
· Pull both ends of the connector in the arrow
direction, remove the lock and disconnect
· Pull the board by both the sides in the direction of
the arrow for disconnecting the B-B connector.
Required disassembling tools
1.2 Removing the major parts
1.2.1 How to read the procedure table
This table shows the steps for disassembly of the major parts.
Reverse these steps when re-assembling them.
(*1) Order of steps in Procedure
When reassembling, perform the step(s) in the reverse or-
(*2) Part name to be removed or installed.
(*3) Fig. No. showing procedure or part location.
(*4) Identification of part to be removed, unhooked, unlocked,
released, unplugged, unclamped or unsoldered.
P= Spring, W= Washer, S= Screw, L= Locking tab, SD=
Solder, CN**(WR**)= Remove the wire (WR**) from the con-
(*5) Adjustment information for installation
1-3a 4(S1a),(S1b),3(L1a),
--------------------------
---