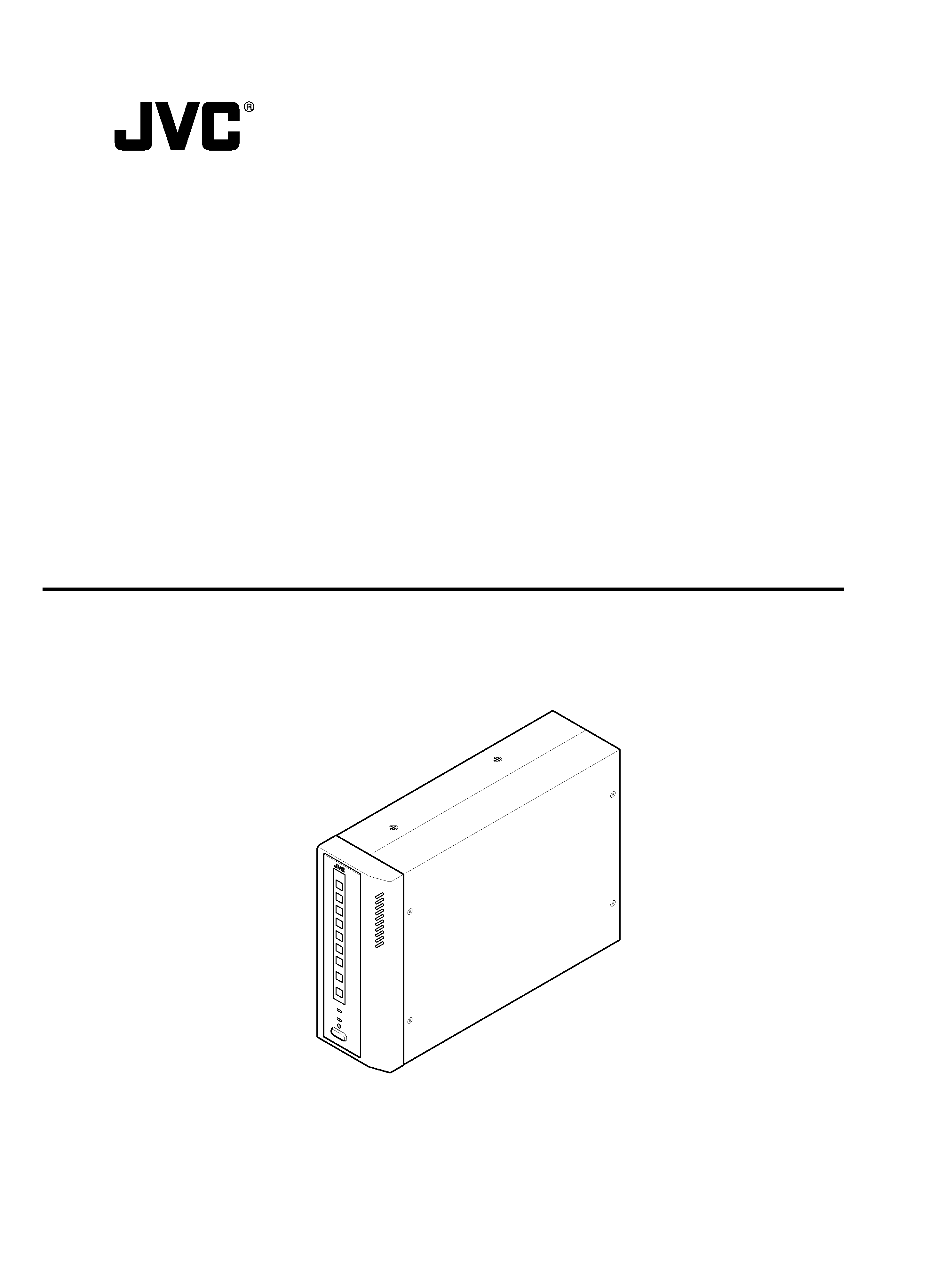 This instruction book is made from 100% recycled paper.
---

Please avoid storing or using this unit in the following
Extremely hot or cold places beyond the allowable tem-
perature for operation (0°C-40°C).
Humid or dry places beyond the allowable humidity
range for operation (30%-80% RH).
Places exposed to oil, smoke or steam, such as the
Intensely vibrating or unstable places.
Places prone to condensation.
Places that generate strong magnetic fields, e.g., trans-
Places near devices that generate electric waves, e.g.,
transceiver or mobile phone.
Places that generate radiation, X-rays or corrosive
Please do not place heavy objects on the unit, like a
Please keep the mobile rack into the compartment. As
injury may result from fingers getting clamped.
Please do not block the ventilation openings.
Avoid violent shocks to the unit. Do not drop the unit.
Maintaining the unit (Please turn off
the power before performing mainte-
Please wipe the unit with a soft cloth. Do not wipe it
with thinner or benzene lest the surface melts or be-
comes dull. For stubborn stains, wipe first with a water-
diluted neutral detergent and then wipe dry.
Please use the supplied power cord.
Using a different type or damaged
cord may cause tire or electric shock.
To save energy, be sure to turn off the
---

SAFETY PRECAUTIONS (FOR EUROPE)
To prevent electric shock, do not open the cabinet.
No user serviceable parts inside. Refer servicing
to qualified service personnel.
IMPORTANT (In the United Kingdom)
WARNING - THIS APPARATUS MUST
The wires in this mains lead are coloured in ac-
cordance with the following code;
As the colours of the wires in the mains lead of this
apparatus may not correspond with the coloured
markings identifying the terminals in your plug, pro-
The wire which is coloured GREEN-AND-YELLOW
must be connected to the terminal in the plug which
is marked with the letter E or by the safety earth sym-
bol or coloured GREEN or GREEN-AND-YELLOW.
The wire which is coloured BLUE must be connected
to the terminal which is marked with the letter N or
which is coloured BLACK. The wire which is coloured
BROWN must be connected to the terminal which is
marked with the letter L or coloured RED.
Connection to the mains supply
This unit operates on voltage of 220 V to 240 V AC,
TO REDUCE THE RISK OF FIRE OR
ELECTRIC SHOCK, DO NOT EX-
POSE THIS APPLIANCE TO RAIN OR
THE UNIT CONTAINS A BUILT IN LITHIUM BATTERY FOR
MEMORY BACKUP THAT MUST ONLY BE REPLACED BY
SUITABLY QUALIFIED SERVICE PERSONNEL.
FOR BATTERY REPLACEMENT, TAKE THE UNIT TO YOUR
DEALER OR A JVC SERVICE STATION.
---

Lagern und betreiben Sie das Gerät nicht in
extrem hohe oder niedrige Temperaturen (unter 5°C
oder über 35°C) herrschen,
extrem hohe oder niedrige Luftfeuchtigkeit (unter 30%
große Mengen Schmutz oder Staub vorhanden sind,
das Gerät Öl, Dampf oder Rauch ausgesetzt ist (z. B.
in der Umgebung einer Küche),
Erschütterungen auftreten können und eine
ausreichende Stabilität nicht gewährleistet ist,
sich Kondenswasser bilden kann,
starke Magnetfelder auftreten können (verursacht z. B.
durch einen Transformator oder einen Motor),
elektromagnetische Wellen auftreten können
(verursacht z. B. durch einen Transceiver oder ein
Strahlung (z. B. Röntgenstrahlen) oder Schadgase
Stellen Sie auf dem Gerät keine schweren
Gegenstände (wie Monitore oder TV-Geräte) ab.
Gehen Sie bei Festinstallation des Geräts mit Umsicht
vor, um Verletzungen zu vermeiden.
Decken Sie niemals die Lüftungsöffnungen ab.
Setzen Sie das Gerät keinerlei Erschütterungen und
Schlägen aus und lassen Sie es nicht fallen.
Trennen Sie den Netzadapter vom Netz, wenn Sie das
Gerät nicht benutzen. Sie sparen auf diese Weise
Reinigung (Schalten Sie das Gerät
unbedingt ab, bevor Sie die Reinigung
Wischen Sie das Gerät mit einem weichen Tuch ab.
Verwenden Sie keine aggressiven Reinigungsmittel wie
Verdünner oder Reinigungsbenzin, da diese die
Geräteoberfläche angreifen oder beschädigen können.
Hartnäckige Verschmutzungen entfernen Sie mit einem
weichen Tuch, welches Sie zuvor mit einer Lösung aus
Wasser und einem Neutralreiniger angefeuchtet haben.
Wischen Sie das Gerät danach mit einem weichen Tuch
Bitte verwenden Sie ausschließlich
das beiliegende Netzkabel. Die
Verwendung eines Kabels anderen
Typs oder eines schadhaften Kabels
kann die Geräteleistung beein-
trächtigen. Es besteht die Gefahr
Schalten Sie das Gerät ab, wenn Sie
es nicht benutzen. Sie sparen auf
---

WICHTIG (bei Betrieb in Großbritannien)
Öffnen Sie niemals das Gehäuse des Geräts. Es
besteht Stromschlaggefahr! Im Innern befinden sich
keine vom Benutzer zu wartenden Teile. Wenden
Sie sich bei Wartungsfragen an einen qualifizierten
ACHTUNG: DIESES GERÄT IST ZU
Die Leiter des Netzkabels sind wie folgt farblich
Da die Farbkodierungen des Netzkabels, welches
diesem Gerät beiliegt, nicht mit den Farbcodes der
Kontakte des Steckverbinders übereinstimmen
müssen, gehen Sie wie folgt vor:
Der GRÜN-GELB markierte Leiter muss an den
Kontakt des Steckverbinders angeschlossen
werden, der entweder mit dem Buchstaben E oder
dem Schutzerdesymbol markiert oder GRÜN bzw.
GRÜN-GELB farbkodiert ist. Der BLAU markierte
Leiter muss an den Kontakt des Steckverbinders
angeschlossen werden, der entweder mit dem
Buchstaben N markiert oder SCHWARZ farbkodiert
ist. Der BRAUN markierte Leiter muss an den
Kontakt des Steckverbinders angeschlossen
werden, der entweder mit dem Buchstaben L
markiert oder ROT farbkodiert ist.
Anschluss an das Stromnetz
Das Gerät wird mit einer Netzspannung von 220 V
bis 240 V AC, 50 Hz/60 Hz betrieben.
SETZEN SIE DIESES GERÄT NIEMALS
REGEN ODER FEUCHTIGKEIT AUS.
ES BESTEHT DIE GEFAHR VON
DAMIT DER SPEICHERINHALT NACH DEM AUSSCHALTEN
ERHALTEN BLEIBT, ENTHÄLT DIESES GERÄT EINE
LITHIUMBATTERIE. DIESE BATTERIE DARF NUR DURCH
EINENAUSREICHEND QUALIFIZIERTEN SERVICETECHNIKER
WENDEN SIE SICH ZUM AUSTAUSCH DER BATTERIE AN
IHREN FACHHÄNDLER ODER EINEN JVC-STÜTZPUNKT.
---