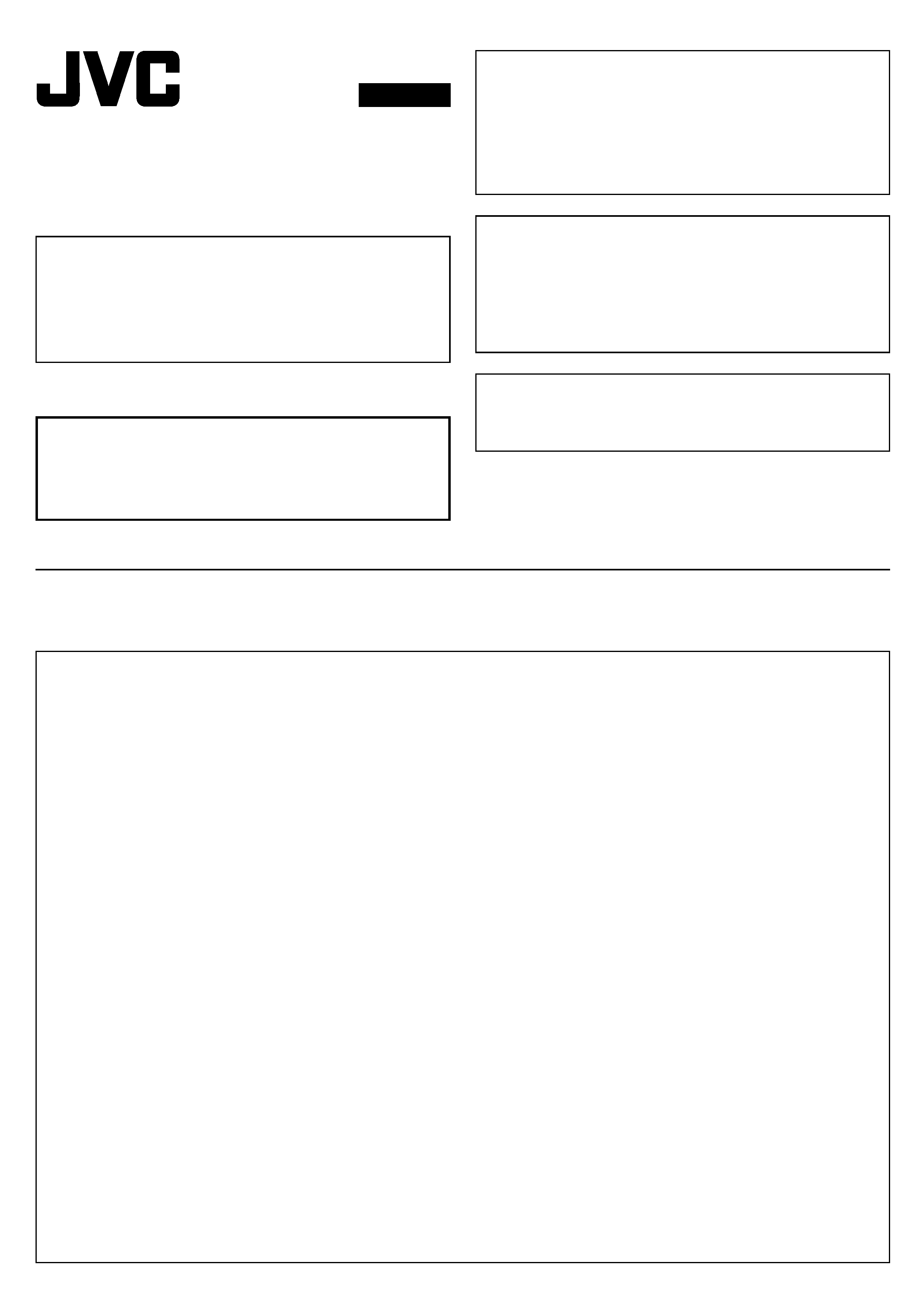 To prevent shock, do not open the cabinet. No user
serviceable parts inside. Refer servicing to qualified
When you are not using the AC Power Adapter for a long
period of time, it is recommended that you disconnect the
power cord from AC outlet.
PRECAUTIONS WHEN USING OR STORING CCD
Keep your camera free from oil vapour or steam.
Never put your camera at a place exposed to oil vapour or
This may cause trouble in your camera.
Keep your camera away from a heater or direct sunlight.
Leaving your camera in the direct sunlight or near a heater
may damage the cabinet and the parts of your camera.
Keep your camera free from water and moisture.
Do not use this product near water for example, near a bath
tub, wash bowl, kitchen sink, or laundry tub; in a wet
basement; or near swimming pool; and the like.
Never use your camera outdoors.
You can use this camera only indoors.
Be sure to use the appropriate power adapter (see back) at
Using a wrong power adapter or wrong voltage may cause fire
or serious damage that cannot be restored.
Do not overload wall outlet, extension cords, or integral
convenience receptacles as this can result in a risk of fire or
Never use your camera under high temperatures.
Be sure to use your camera in ambient temperatures of
Using your camera under high temperatures may deform the
cabinet as well as cause other troubles.
Never direct the lens of your camera to the sun.
Irrespective of using or not using your camera, never allow the
light of the sun to directly come into the lens of your camera.
Keep your camera free from moisture and dust.
Never leave your camera in such a place as is too moist and
This may cause trouble in your camera.
IMPORTANT SAFETY INSTRUCTIONS
When using the color CCD camera, basic precautions should always be followed including following.
WARNING/ To reduce the risk of fire, electric shock, or injury, read all instructions carefully before using this color CCD camera.
Thank you for purchasing the JVC color CCD camera. Before
use, please read the safety information and precautions to
ensure safe use of your new color CCD camera.
This unit is for consumer use only and cannot be used as a
TO PREVENT FIRE OR SHOCK HAZARD, DO
NOT EXPOSE THIS UNIT TO RAIN OR
This color CCD camera is designed to be used with
NTSC-type color television signals. It cannot be used with a
television of a different standard. Use the optional multi-
voltage AC Power Adapter as described on the other side of
this sheet. (An appropriate conversion adapter may be
necessary to accommodate different designs of AC outlets in
The rating plate (serial number plate) is located near the pivot
joint of the lens barrel of the unit.
Handle your camera carefully.
Be careful not to drop your camera or give it strong shock or
Enough care should be taken when carrying it too.
Shock and vibration may cause damage to your camera.
A product and cart combination should be moved with care.
Quick stops, excessive force, and uneven surfaces may cause
the product and cart combination to overturn.
Keep lighting equipment away from your camera.
If you have lighting equipment near your camera, the heat
emitted from the lighting equipment may cause deformation or
Be sure to use any lighting equipment away from your camera.
Dirt on the cabinet should be wiped out lightly with a soft
If these parts become badly dirty, wipe out the dirt with a cloth
wrung out well after being submerged in a water-thinned
detergent and finish with a dry cloth.
Most surface of the cabinet is made of plastics.
Wiping it with benzine and thinner may cause the painted film
to deteriorate or come off.
Never use disinfectant of other volatile components near your
Or, never leave rubber or vinyl products in contact with your
This may deteriorate the surface of the cabinet.
---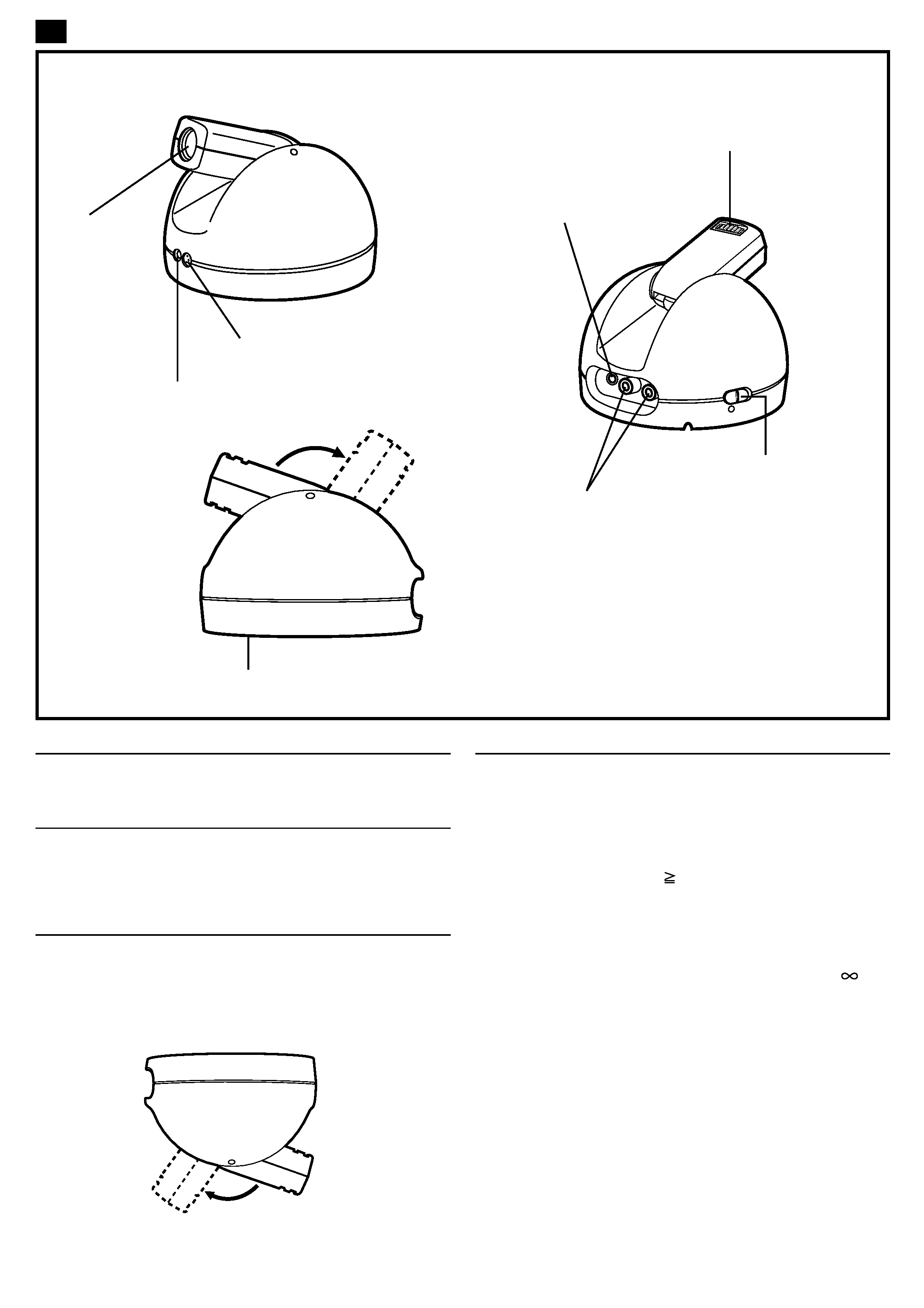 Use the provided AC Adapter.
Use the provided 1.5 m AV cable.
For longer distance connections, use the optional AV extension
cable (JVC No. VC-V3731J/20 m) as well.
ATTACHING THE CAMERA TO THE
Use the optional ceiling mount kit (JVC No. CU-V602J).
Be sure to refer to its instruction manual during installation.
©
1997 VICTOR COMPANY OF JAPAN, LTD.
: Manual adjustment 5 cm --
: Non-directional electret condenser
: 100 (W) x 61 (H) x 100 (D) mm
AC Adapter, AV Cable (1.5 m)
E. & O. E. Design and specifications subject to change without notice.
Video and audio output terminal
Connect to video and audio input
terminal of your TV set or system.
Adjust the focus by turning the
ring left/right (5 cm ­ infinity)
AC adapter connecting terminal
---