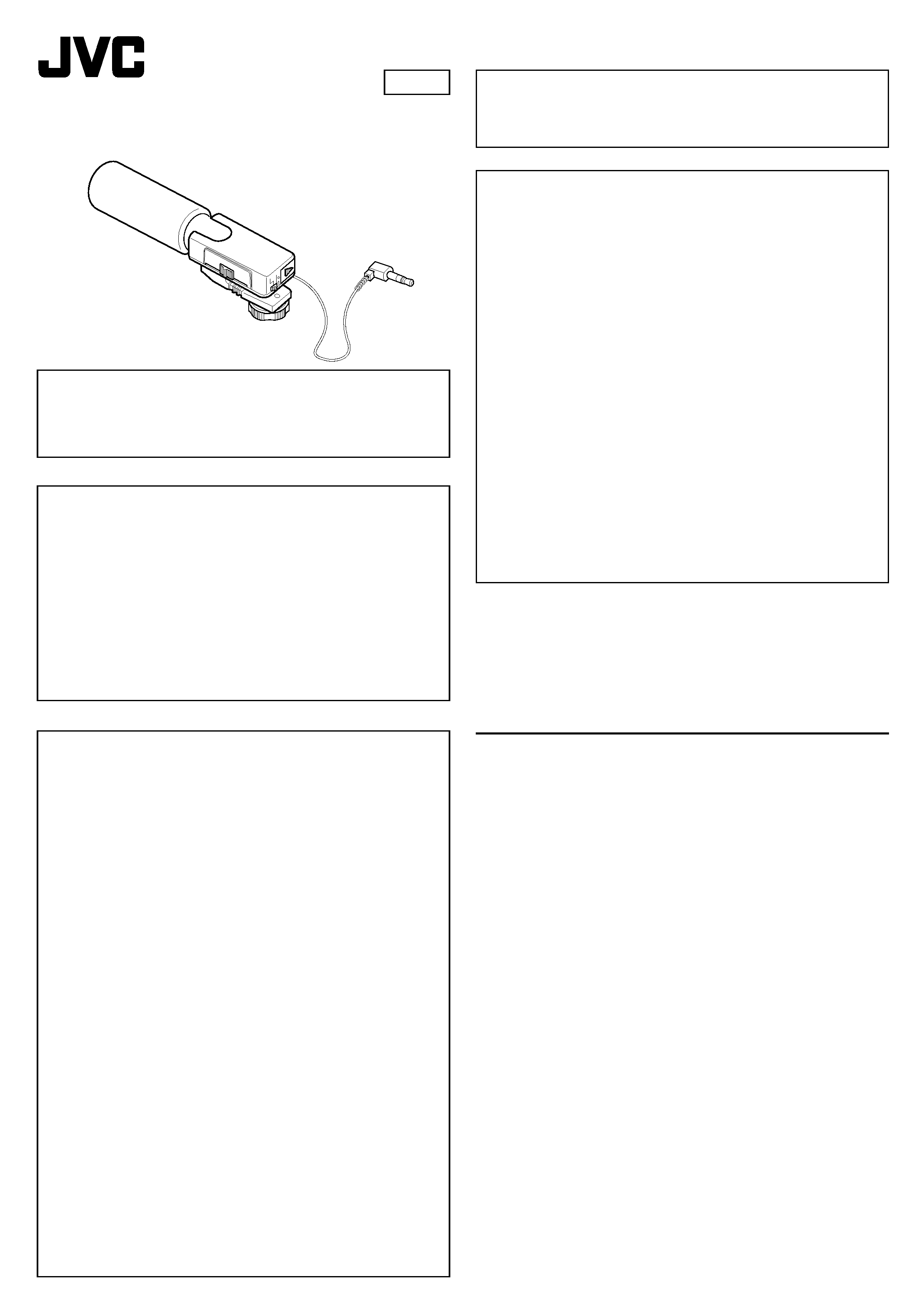 Please note that the switch noise will be recorded if you
change the stereo angle while recording.
The characteristics of the microphone will change if it is
dropped or subjected to shock or excessive force from
During operation tests, please do not blow on the
microphone or hit it. Just talk normally into the
Precise parts are carefully arranged inside the microphone
for optimum use, but these characteristics can not be
retained if it is opened and disassembled. Please consult
your nearest JVC dealer or contact a service center for
Please do not leave it near a heat source such as a stove,
direct sunlight, or in a car with all windows closed where
the temperature gets extremely hot. Direct exposure to a
camera light will damage the microphone, causing its
color to change and its body to deform.
Avoid using the microphone in places where it is
extremely humid, such as in a bathroom, or in areas
subject to oily smoke and vapor, such as near a range, as
this will cause it to malfunction.
: Electret condenser type
: MS stereo with angle variation from
0° ­ 120° (with a 90° click-stop)
: ­ 45 dB (0 dB=1 V/Pa, at 1 kHz)
: DC 1.5 V ("AAA"/UM-4 battery)
: Less than 1 mA (when a UM-4 is
: Approx. 300 hours of continuous
use (UM-4 at room temperature)
: 20 cm with a gold-plated stereo
: 3.6 (W) x 4.7 (H) x 12.9 (L) cm
: 75 g (not including the battery)
: "AAA" battery (UM-4 for function
tests) ............................................. 1
E. & O. E. Design and specifications subject to change without notice.
Thank you for purchasing this stereo microphone. Before
use, please read this instruction manual carefully to ensure
proper use of this product, and keep this manual handy for
GENERAL BATTERY CAUTIONS:
When the battery is misused, there is a danger that it may
Please read the following cautions regarding proper use.
1. Insert the battery with its positive + and negative ­ poles
positioned correctly as indicated.
2. Do not heat, disassemble, or throw it into a fire or short-
Please carefully read the instructions printed on the
This device complies with Part 15 of FCC Rules. Operation is
subject to the following two conditions:
(1) This device may not cause harmful interference, and
(2) this device must accept any interference received,
including interference that may cause undesired operation.
Change or modifications not approved by the party
responsible for compliance could void the user's authority to
operate the equipment. This equipment has been tested and
found to comply with the limits for a Class B digital device,
pursuant to Part 15 of the FCC Rules. These limits are
designed to provide reasonable protection against harmful
interference in a residential installation. This equipment
generates, uses, and can radiate radio frequency energy and,
if not installed and used in accordance with the instructions,
may cause harmful interference to radio communications.
However, there is no guarantee that interference will not
occur in a particular installation. If this equipment does
cause harmful interference to radio or television reception,
which can be determined by turning the equipment off and
on, the user is encouraged to try to correct the interference
by one or more of the following measures:
Reorient or relocate the receiving antenna.
Increase the separation between the equipment and receiver.
Connect the equipment into an outlet on a circuit different
from that to which the receiver is connected.
Consult the dealer or an experienced radio/TV technician
---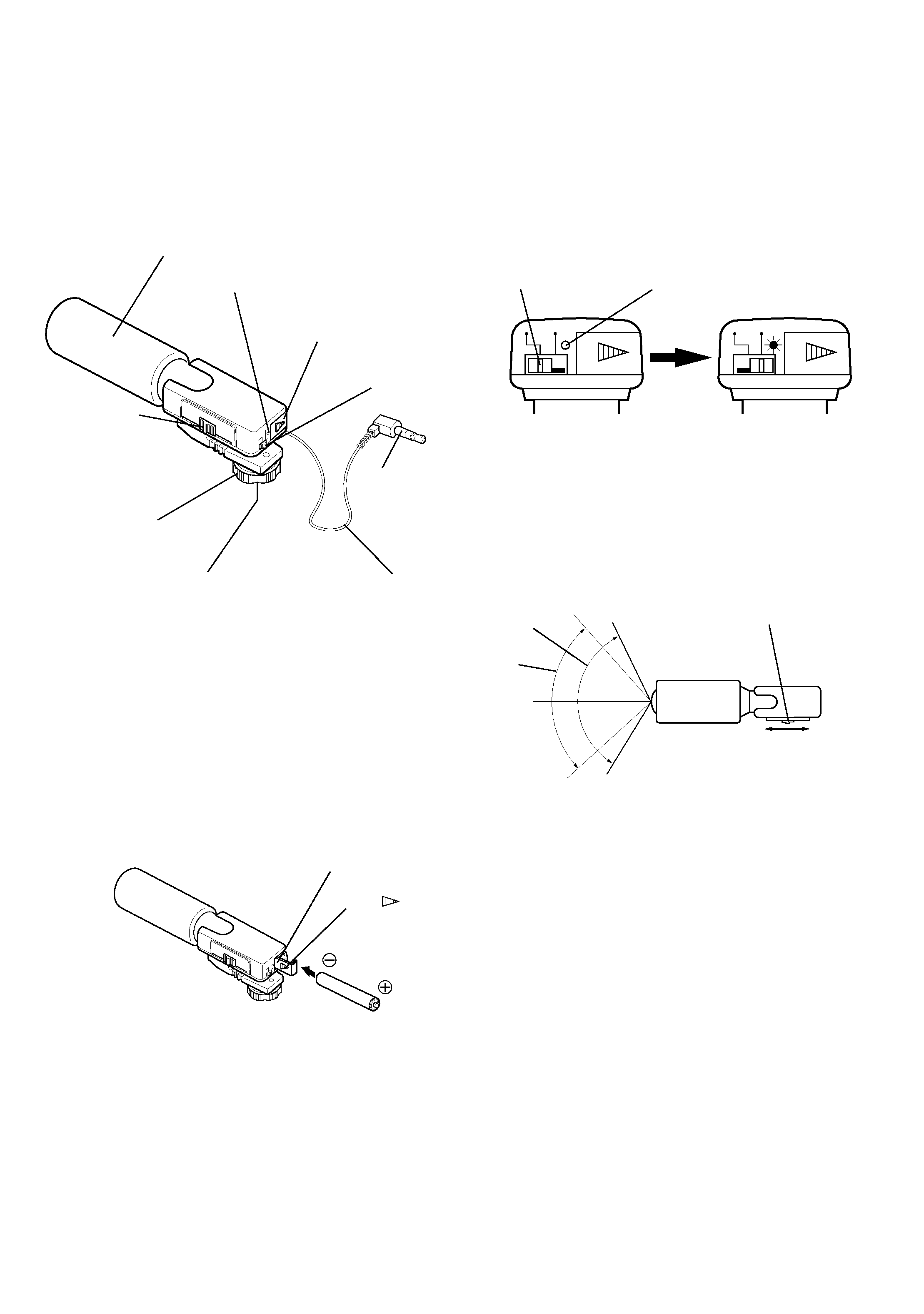 1. Highly sensitive MS (Mid-Side) stereo microphone
2. Serial angle variation from 0° to 120° (with a 90°
3. Special anti-vibration structure to reduce noise
1
Slide the battery cover in the direction indicated by the
2
Insert the "AAA" battery (UM-4) as shown in the illustration,
positioning it so that the negative ­ side is inserted first.
3
Close the battery cover.
* The provided battery is for your trial use. Please replace it
with a new one at your earliest convenience.
TURNING THE POWER ON/CHECKING
1
Set the power switch to ON.
2
The Power/Battery remaining lamp blinks momentarily, then
(It remains off after blinking when the power is turned on in
order to reduce battery consumption.)
3
Replace it with a new one when the power is turned on but
4
Do not forget to turn the power switch OFF when the
microphone is not in use.
Adjust the stereo angle according to the examples shown below.
When widely-surrounding sound is recorded ................. 120°
(the sound of train, airplanes, fireworks, etc.)
When less-surrounding sound is recorded ........................ 90°
(the sound of birds singing, musical instruments, etc.)
When a specific sound is recorded ..................................... 0°
Power <ON> .... the lamp blinks
Stereo angle change switch
Power/Battery remaining lamp
©
1997 VICTOR COMPANY OF JAPAN, LTD.
Power/Battery remaining lamp
To attach the camcorder, use
the optional Shoe Adapter
---