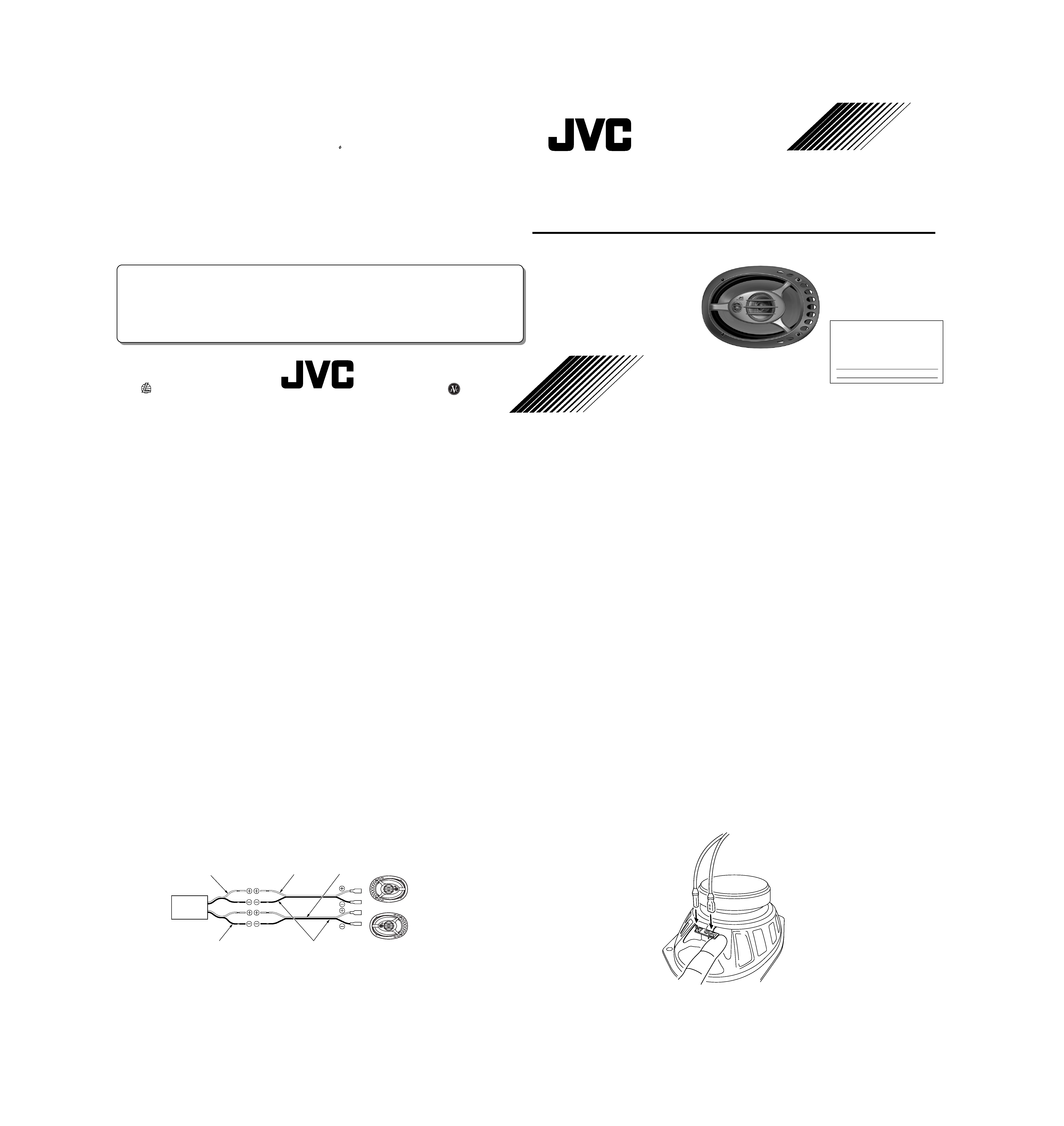 Connect the provided speaker cord to the speaker
terminal while holding the lower portion of the
speaker terminal. (Fig. 7)
: 15 cm x 23 cm (6" x 9") 3-Way Coaxial Speaker,
: 240 watts (MAX. MUSIC POWER)
(Design and specifications are subject to change without notice.)
Grille-------------------------------------------------------------------------------------------- x 2
Screw (M4 x 75 mm) --------------------------------------------------------------------- x 8
Screw ( 4 x 25 mm) ------------------------------------------------------------------- x 8
Nut (M4) -------------------------------------------------------------------------------------- x 8
Speed Nut ------------------------------------------------------------------------------------ x 8
Speaker Cord (5 m) ------------------------------------------------------------------- x 2
If a kit is necessary for your car, consult your
telephone directory for the nearest car audio
speciality shop ("IN-CAR ENTERTAINMENT"
Als extra gereedschap nodig is voor inbouwen
in uw auto, raadpleeg dan de telefoongids voor
de dichtstbijzijnde in auto audio gespeciali-
Falls für lhren Wagen ein Einbausatz erfor-
derlich ist, wenden Sie sich bitte an lhren
nächsten Auto-Stereo-Fachhändler.
Si fuera necesario un juego de instalación
para su automóvil, consulte la guía telefónica
para ubicar la tienda especialista en audio para
Si un kit est nécessaire pour votre voiture,
consulter votre annuaire téléphonique pour
chercher le revendeur d'accessoires audio pour
automobile le plus proche.
Behövs monteringsats för din bil, se i telefon-
katalogen för närmaste bilradioaffär.
Thank you for purchasing the JVC Car Stereo
Speakers. These speakers can be mounted in
the rear tray, rear pillar or rear seat side panel
of your vehicle. For the secure installation and
perfect operation of your speakers, please read
Vielen Dank für den Kauf der JVC Stereo-Auto-
Iautsprecher. Diese Lautsprecher sind für die
Installation in der Heckfenster-Ablage, den hinter-
en Dachstreben bzw. der hinteren lnnenraumver-
kleidung lhres Wagens vorgesehen. Um korrekten
Einbau und einwandfreie Funktion der Laut-
sprecher zu gewährleisten, ist es empfehlenswert,
die folgenden Anleitungen sorgfältig durchzulesen.
Nous vous remercions pour I'achat des haut-
parleurs auto stéréo de JVC. lls peuvent être
installés sur la plage arrière, la colonne arrière ou
le panneau latéral du siège arrière de votre
véhicule. Pour réaliser un montage correct et
obtenir un fonctionnement parfait de ces haut-
parleurs, il est conseillé de lire soigneusement ce
Dank u voor uw aankoop van de JVC Auto Stereo
Luidsprekers. U kunt deze luidsprekers in de
hoedeplank, achter de kussens op of in het zijpaneel
van de achterbank van de auto monteren. Lees de
onderstaande aanwijzingen aandachtig door voor een
juiste plaatsing en een perfekte werking van uw
Tack för valet av JVC bilstereohögtalare. Dessa
högtalare kan monteras på bakhyllan, bakre stolpe
eller i sidopanelen vid baksätet i fordonet. För
säker montering och tillfredsställande funktion bör
du noga läsa följande anvisningar.
For Proper Installation and Use
1. Be sure to install the speakers according to the
directions so as to prevent them from slipping
accidentally out of position due to the tossing
and bumping of the vehicle.
2. Set the wiring firmly on the floor of the vehicle,
taking the utmost care not to break wires while
3. Before connecting the speakers to the ampli-
fier, confirm that the power has been turned off.
The click noise generated by the connection if
the power is on may damage the speakers.
4. The amplifier and speakers should be connected
between corresponding terminals, i.e. "left" to
"left", and "right" to "right", as well as "+" to "+",
and "­" to "­". Connection with reversed polarity
will degrade the quality of stereo reproduction.
5. Do not subject the speakers to excessive input. The
power handling capacity of the CS-XV6930 is 240
watts (MAX. MUSIC POWER). Any excessive input
6. The CS-XV6930 has an impedance of 4 ohms.
Make sure that the output impedance of the
amplifier's speaker terminal is rated at 4 ohms.
7. When cleaning the speakers, use a soft cloth and
wipe the surface gently. Do not apply thinner or
Juiste plaatsing en gebruik
1. Volg de aanwijzingen voor het bevestigen van
de luidsprekers nauwkeurig op om te voor-
komen dat de luidsprekers door het trillen en
schudden van het voertuig los zouden kunnen
2. Bevestig de bedrading stevig op de vloer van
het voertuig en let goed op dat hierbij geen van
de draden breekt of wordt doorgesneden.
3. Voor het aansluiten van de luidsprekers op de
versterker dient u zich ervan te overtuigen dat
veroorzaakt door het tot stand brengen van
luidspreker tot gevolg hebben.
4. Let op dat bij het aansluiten van de luidsprekers
op de versterker de in- en uitgangen alle ove-
reenkomen. Verwissel dus niet de linker- en
rechterkanalen en zorg dat alle "+" -polen op
"+" worden aangesloten en alle "­" op "­".
Verwisseling van de polariteit van de aansluit-
snoeren leidt tot kwaliteitsvermindering van de
5. Stel de luidsprekers niet bloot aan een te groot
vermogen. Het opgenomen vermogen van de CS-
XV6930 is 240 Watt (max. muziekvermogen). Een
groter ingangsvermogen heeft beschadiging van de
6. Het CS-XV6930 luidsprekersysteem heeft een im-
pedantie van 4 ohm. Overtuig u ervan dat de luid-
sprekeruitgangen van de versterker een uitgang-
simpedantie van 4 Ohm hebben.
7. Reinig de luidsprekers door ze voorzichtig schoon
te vegen met een zachte doek. Gebruik nooit
Instalación y U so Correctos
1. Cerciórese de instalar los altavoces de acuerdo
con las instrucciones, para evitar que se desco-
loquen accidentalmente debido a las sacudidas
y traquetreos del vehículo.
2. Instale los cables firmemente en el piso del
vehículo, teniendo mucho cuidado de no rom-
perlos durante su instalación.
3. Antes de conectar los altavoces con el amplifi-