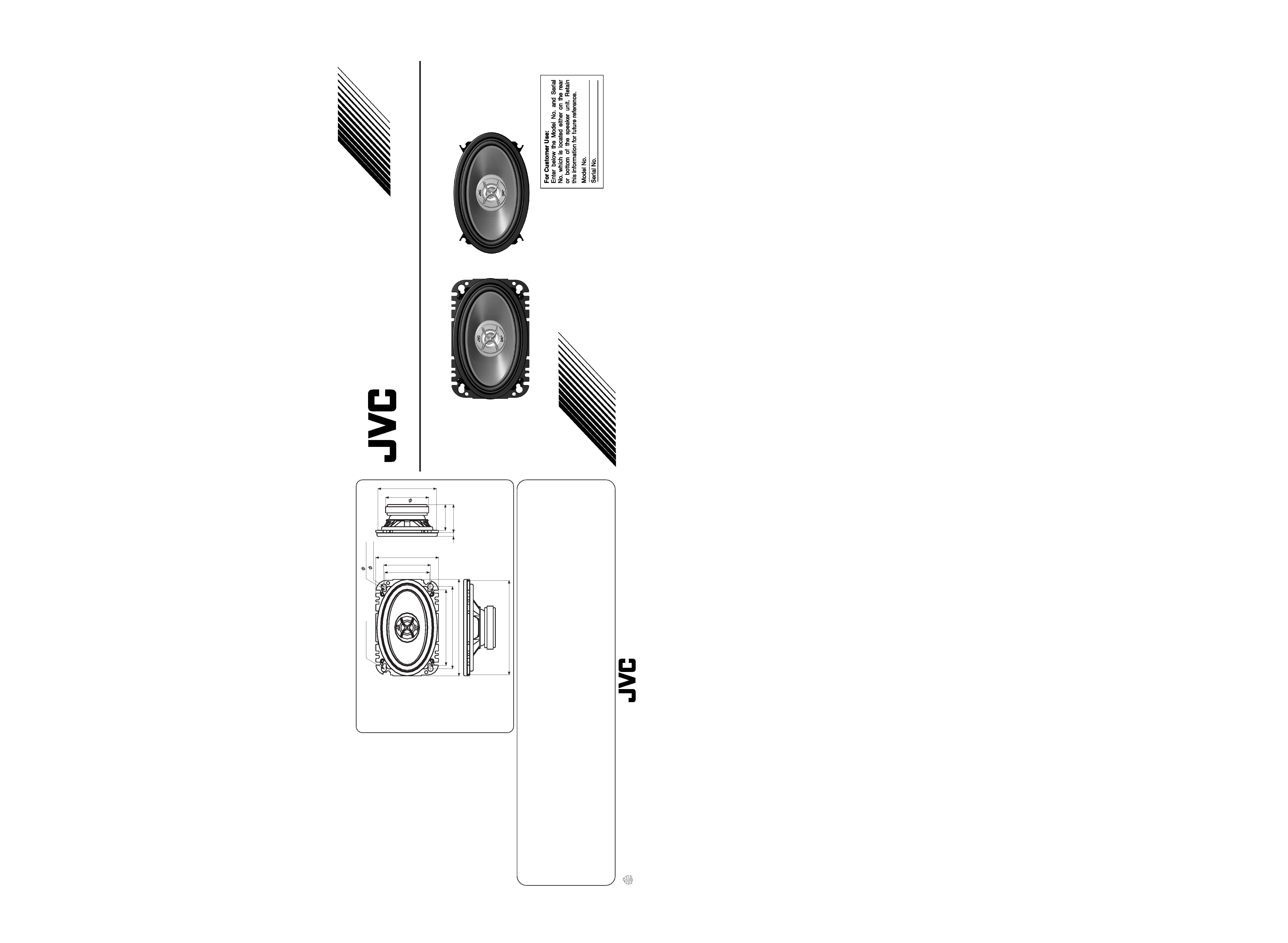 HAUT-PARLEURS AUTO STEREO
ALTAVOCES ESTEREOFONICOS PARA AUTOMOVIL
Hinweise für die korrekte Inbetriebnahme
1. Wenn die Lautsprecher am Verstärker
angeschlossen werden, muß dieser
ausgeschaltet sein! Ist der Verstärker
eingeschaltet, kann der beim Anschluß
auftretende Ton die Lautsprecher
2. Bei Anbringung der Kabel muss die
Kennzeichnung der Kabelschuhe und -
stecker von Verstärker und Lautsprechern
übereinstimmen, d.h. "Links" an "Links"
und "Rechts" an "Rechts" bzw. "+" an "+"
und "­" an "­" gelegt werden. Ein
umgekehrter (Überkreuz-) Anschluss
vermindert die Qualität der
3. Die Lautsprecher nicht an einen Verstärker
mit zu hoher Ausgangsleistung
anschließen! Die CS-V4624 sind für 130 W
(MAX. MUSIKLEISTUNG) ausgelegt. Jede
diese Werte überschreitende
Verstärkerleistung beschädigt die
4. Die CS-V4624 besitzen eine Impedanz von
. Dementsprechend muß die
Ausgangsimpedanz des Verstärkers
5. Zum Reinigen der Lautsprecher ein
weiches Tuch verwenden und dabei
vorsichtig über die Oberfläche wischen.
Kein Reinigungsmittel (Verdünner oder
Montage et utilisation corrects
1. Vérifier que l'alimentation est coupée
avant de raccorder les haut-parleurs à
l'amplificateur. Les craquements produits
par le raccordement lorsque
l'alimentation est fournie peuvent
endommager les haut-parleurs.
2. Raccorder les bornes correspondantes
de l'amplificateur et les haut-parleurs,
c'est-à-dire, gauche à gauche, droite à
droite, de même que "+" à "+" et "­" à "­".
Un raccordement effectué en inversant
les polarités réduira la qualité de la
reproduction sonore stéréo-phonique.
3. Ne pas appliquer un niveau d'entrée
excessif aux haut-parleurs. La puissance
d'entrée admissible pour les haut-
parleurs CS-V4624 est de 130 W
(PUISSANCE MUSICALE MAX.). Tout
signal d'entrée excessif risque de les
4. Les haut-parleurs CS-V4624 ont une
s'assurer que l'impédance de sortie aux
bornes de haut-parleur de l'amplificateur
5. Nettoyer le haut-parleur en le frottant
légèrement à l'aide d'un chiffon doux. Ne
jamais utiliser de solvants ni de
Instalación y uso correctos
1. Antes de conectar los altavoces al
amplificador, confirme que la
alimentación esté desconectada. El
ruido de interferencia generado por la
conexión, si la alimentación.
2. Deben conectarse los terminales
correspondientes del amplificador y de
los altavoces, es decir izquierdo a
izquierdo y derecho a derecho, así
como "+" a "+" y "­" a "­". Si las
polaridades se conectan inversamente,
la reproducción estereofónica se
3. No someta los altavoces a una entrada
excesiva. La capacidad máxima de los
CS-V4624 es de 130 W (POTENCIA
MUSICAL MAX). Una entrada excesiva
impedancia. Asegúrese de que la
impedancia de salida de los terminales
para altavoces de amplificador sea de
5. Cuando limpie los altavoces, utilice un
paño suave y frote la superficie con
cuidado. No aplique solventes ni
Korrekt montering och användning
1Kontrollera att strömmen till förstärkaren
har frånkopplats före högtalaranslutning.
Det klickljud som uppstår vid anslutning
av högtalarna med strömmen tillkopplad,
2. Förstärkaren och högtalarna ska anslutas
till motsvarande klämmor, d v s vänster till
vänster och höger till höger liksom även
"+" till "+" och "­" till "­". Anslutning med
omvänd polaritet försämrar återgivningen
3. Utsätt inte högtalarna för höga ineffekter.
Märkeffekten för CS-V4624 är 130 W
(max. musikeffekt). För höga ineffekter kan
4. CS-V4624 har en impedans på
. Se efter att förstärkarens
utgångsimpedans vid högtalarklämmorna
5. Rengör högtalarnas ytterhölje med en
mjuk trasa. Torka av ytan försiktigt.
Använd inte thinner eller något annat
lösningsmedel vid rengöring.
Nous vous remercions pour l'achat des haut-
parleurs auto stéréo de JVC. Pour un
montage sûr et un fonctionnement parfait de
ce haut-parleur, il est conseillé de lire
attentivement ce qui suit.
Le agradecemos la adquisición de los
altavoces estereofónicos JVC para el
automóvil. Para efectuar una instalación
segura y para que el altavoz funcione
correctamente, lea detenidamente las
siguientes instrucciones.
Tack för valet av JVC bilstereohögtalare. För
säker montering och tillfredsställande funktion
bör du noga läsa följande anvisningar.
Dank u voor uw aankoop van de JVC Auto
Stereo Deze Luidspreker kunt u in de portieren
of hoedeplank van uw auto inst alleren. Lees de
onderstaande aanwijzingen aandachtig door
voor een juiste plaatsing en een perfeckte
werking van uw luidspreker.
Thank you for purchasing the JVC Car
Stereo Speakers. For the secure installation
and perfect operation of your speakers,
please read the following carefully.
Vielen Dank für den Kauf der JVC Stereo-
Auto-lautsprecher. Um korrekten Einbau und
einwandfreie Funktion des Lautsprecher zu
gewährleisten, ist es empfehlenswert, die
folgenden Anleitungen sorg-fältig
For Proper Installation and Use
1. Before connecting the speakers to the
amplifier, confirm that the power has been
turned off. The click noise generated by
the connection if the power is on may
2. The amplifier and speakers should be
connected between corresponding
terminals, i.e. left to left, and right to right,
as well as "+" to "+," and "­" to "­."
Connection with reversed polarity will
degrade the quality of stereo
3. Do not subject the speakers to excessive
input. The power handling capacity of the
CS-V4624 is 130 W (MAX. MUSIC
POWER). Any excessive input may
4. The CS-V4624 has an impedance of 4
Make sure that the output impedance of
the amplifier's speaker terminal is rated at
5. When cleaning the speakers, use a soft
cloth and wipe the surface gently. Do not
apply thinner or solvent.
Juiste plaatsing en gebruik
1. Kontroleer dat de spanning is
uitgeschakeld alvorens de luidsprekers
met de versterker te verbinden. De ruis
die door de aan sluiting wordt opgewekt
zou met de spanning nog ingeschakeld
de luidsprekers kunnen beschadigen.
2. Let op dat bij het aansluiten van de
luidsprekers op de versterker de in- en
uitgangen alle overeenkomen. Verwissel
dus niet de linker- en rechterkanalen en
zorg dat alle "+" polen op "+" worden
aangesloten en alle "­" polen op "­".
Verwisseling van de polariteit van de
aansluit-snoeren leidt tot
kwaliteitsvermindering van de stereo-
3. Stel de luidsprekers niet aan een te hoog
vermogen bloot. De capacteit voor de
MUZIEKVERMOGEN). Een hoger
ingangsvermogen heeft beschadiging
van de luidsprekers tot gevolg.
4. Het CS-V4624 luidsprekersysteem heeft
dat de luidsprekeruitgangen van de
versterker een uitgangsimpedantie van
5. Reinig de luidsprekers door ze
voorzichtig schoon te vegen met een
zachte doek. Gebruik nooit chemische
: 10 x 15 cm (4 x 6") 2-way coaxial
: 130 W (MAX. MUSIC POWER)
Magnet Mass : 153 g (5.4 oz)
If a kit is necessary for your car, consult
your telephone directory for the nearest
car audio speciality shop ("IN-CAR
Falls für lhren Wagen ein Einbausatz
erforderlich ist, wenden Sie sich bitte an
lhren Auto-Stereo-Fachhändler.
Si un kit est nécessaire pour votre
voiture, consulter votre annuaire
téléphonique pour chercher le
revendeur d'accessoires audio pour
automobile le plus proche.
Raadpleeg uw auto-audiohandelaar
handelaar) of een andere zaak indien u
een kit voor de installatie in uw au to
Si es necesario un juego de instalación
para su automóvil, vea la guía telefónica
para encontrar la tienda especializada en
audio para automóvil más cercana
entretenimiento dentro del automóvil).
Slå upp i telefonkatalogen (gula
sidorna) var närmaste specialaffär för
bilstereotillbehör finns, om en speciell
monteringssats krävs för högtalarnas
© 2005 Victor Company of Japan, Limited
---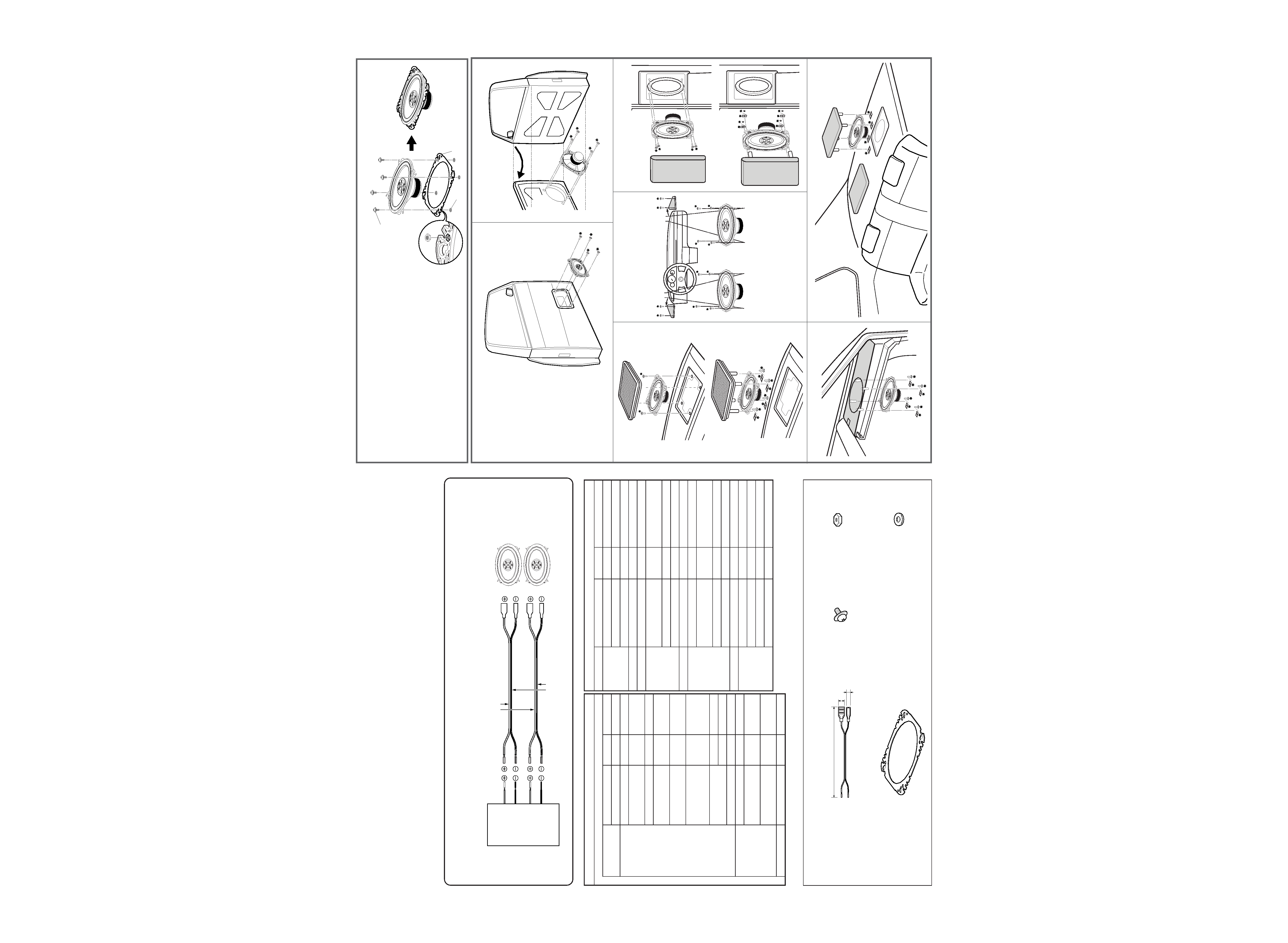 CK Pickup Extended Cab 1997-1999 Dashboard Ç
How to install the speakers
Determine where to install the speakers in
your car by refering the table below.
Bestimmen anhand der untenstehenden
Tabelle, wo die Lautsprecher in Ihrem
Fahrzeug eingebaut werden.
Comment installer les enceintes
Choisissez l'emplacement d'installation des
haut-parleurs dans votre voiture en vous
référant au tableau ci-dessous.
Installeren van de luidsprekers
Bepaal de plaats voor de luidsprekers in uw
auto aan de hand van de onderstaande
Cómo instalar los altavoces
Determine dónde va a instalar los altavoces
en su automóvil refiriéndose a la tabla de
Hur högtalarna installeras
Bestäm var du vill installera högtalarna i
bilen genom att hänvisa till tabellen nedan.
Connection / Anschluss / Connexion / Aansluiten / Conexión / Anslutning
1986-1996 Dashboard/Rear side Ç/Ï
Sunny L/LX/SLX/Wagon LX 1991-1995 Front door
Ibiza GL/Junior 3/5 door 1989-1993 Rear side
(VOLKSWAGEN) Passat Variant
Parts / Teile / Pièces / Onderdelen / Piezas / Delar
4 Washer (use it if necessary)
Unterlegscheibe (bei Bedarf verwenden)
Rondelle (Utilisez-la si nécessaire)
Sluitring (gebruik indien nodig)
Arandela (úsela, si es necesario)
Bricka (används vid behov)
Attaching mounting bracket
-- required when installing in a GM (GENERAL MOTORS) car
Anbringen des Montagebügel
-- erforderlich bei Einbau in einem Fahrzeug von GM (GENERAL MOTORS)
-- nécessaire lors de l'installation dans une voiture GM (GENERAL MOTORS)
Plaatsen van de bevestigingsbeugel
-- vereist voor het installeren in een GM (GENERAL MOTORS) auto
Fijación del soporte de montaje
-- requerido al instalar en un coche GM (GENERAL MOTORS)
-- krävs vid installation i en bild från GM (GENERAL MOTORS)
Links / Izquierdo / Vänster
Lautsprecherkabel (im Lieferumfang enthalten)
Cordon de haut-parleur (fournie)
Luidsprekersnoer (bijgeleverd)
Cordón de altavoz (suministrada)
Högtalarkabel (medföljer)
Black lined / Schwarz gestreift /
Ligne noire / Zwart gestreept /
Con línea negra / Svart rand
Nicht im Lieferumfang enthalten
---