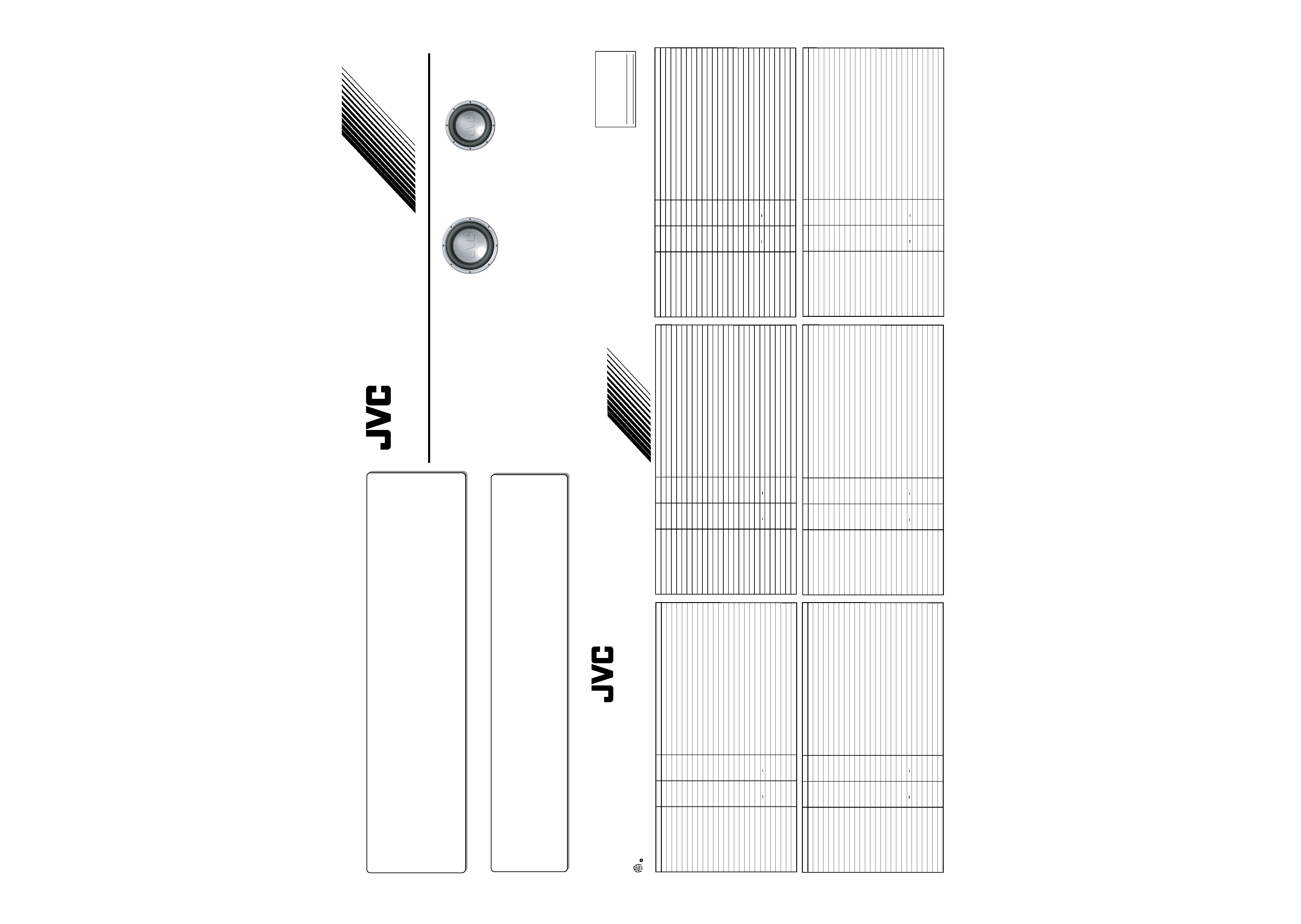 2
005 Victor Company of Japan, Limited
Opening uitsnijding diameter (mm)
Opening uitsnijding diameter (inch)
Bevestigingsdiepte (inch)
Re : Gelijljkstroom voice coil weerstand
BL : Produckt van Flux dichtheid en effectkieve lengte voice coildraad
Vas : Luchtvolume gelijk aan buigzaamheid bestuurder
D : Effecktieve diameter cone
Fs : Bestuurder vrijeruije lucht resonantie
Qms : Q van bestuurder bij Fs met uitsluitend niet-elektrische weertstand in beschouwing genomen
Qes : Q van bestuurder bij Fs met uitsluitend elektrische weertstand in beschouwing genomen
Qts : Totaal van Q van bestuurder bij Fs
Pe[max.] : Maximaal doorlopend ingangsvermogen
Xmax. : Maximale effecktieve voice coil loop zonder vervorming
Hag : Hoogte Tussenruimte
Diámetro del orificio cortado (mm)
Diámetro del orificio cortado (pulgada)
Profundidad de montaje (mm)
Profundidad de montaje (pulgada)
Diám.de la bobina móvil (mm)
Diám.de la bobina móvil (pulgada)
SPL : Nivel de presión de sonido
Re : Resistencia de la bobina móvil de CC
BL : Producto de densidad de flujo y longitud efectiva del cable de la bobina móvil
Vas: Volumen de aire equivalente en conformidad con el excitador
D : Diámetro efectivo del cono
Fs : Resonancia del aire sin excitador
Qms : Q del excitador a Fs considerando sólo la resistencia no eléctrica
Qes : Q del excitador a Fs considerando sólo la resistencia eléctrica
Qts : Total Q dei excitador a Fs
Pe[max.] : Potencia máxima de entrada contínua
Xmax. : Máximo desplazamiento efectivo de la bobina móvil sin distorsón
Hvc : Altura de bobina móvil
Hag : Altura de entrehierro
Utskuten håldiameter (mm)
Utskuten håldiameter (tum)
Re : Ljudspolemotstånd för likström
BL : Produkt av magnetisk flödesäthet och effekiv längd på trådpoleoedning
Vas : Luftvolym likvärdigt med driveftergift
Fs : Driftfri luftresonans
Qms : Q av drivare vid Fs med hänsyn till enbart icke-elektriskt motstånd
Qes : Q av drivare vid Fs med hänsyn till enbart elektriskt motstånd
Qts : Total Q av drivare vid Fs
Pe[max.] : Maximal koninuerlig ineffekt
Xmax. : Maximal effektiv ljudspolebana utan förvrängning
Durchmesser der Einbauöffnung (mm)
Durchmesser der Einbauöffnung (Zoll)
Schwingspule Durchm. (mm)
Schwingspule Durchm. (Zoll)
Re : Widerstand der Gleichspannungs-Schwingspule
BL : Produkt aus Flußdichte und effektiver Wickellänge der Schwingspule
Vas : Luftvolumen gleich Treiber-Auslenkwert
D : Effektive Konusdurchmesser
Fs : Treiberfreie Luftresonanz
Qms : Treiber-Q bei Fs, ausschließlich für nicht-elektrischen Widerstand
Qes : Treiber-Q bei Fs, ausschließlich für elektrischen Widerstand
Qts : Gesamt-Tieiber-Q bei Fs
Pe[max.] : Maximale kontinuierliche Belastung
Xmax. : Maximale effektive Schwingspulenauslenkung ohne Verzerrung
Diamètre du trou de découpe (mm)
Diamètre du tuou de découpe (pouces)
Profondeur de montage (mm)
Profondeur de montage (pouces)
Réponse en fréquence (Hz)
Masse de l'aimant, (once)
Diamètre de la bobine mobile (mm)
Diamètre de la bobine mobile (pouces)
SPL : Niveau de pression sonore
Re : Résistance de la bobine mobile en CC
BL : Produit de la densité de flux et de la longueur efficace de fil de la bobine mobile
Vas : Volume d'air égal à la conformité de l'excitateur
D : Diamètre effectif du cône
Fs : Résonance à l'air libre de l'excitateur
Qms : Q de l'excitateur à Fs considérant uniquement la résistance non-électrique
Qes : Q de l'excitateur à Fs considérant uniquement la résistance électrique
Qts : Q total de l'excitateur à Fs
Pe[max.] : Puissance d'entrée continue maximum
Xmax. : Déplacement effectif maximum de la bobine mobile sans distorsion
Hvc : Hauteur de la bobine mobile
Hag : Hauteur de l'entrefer
Hole Cutout Diameter (mm)
Hole Cutout Diameter (inch)
Voice Coil(Aluminum)Dia. (mm)
Voice Coil(Aluminum)Dia. (inch)
SPL : Sound pressure level
Re : DC voice coil resistance
BL : Product of Flux density and Effective Voicecoil-wire length
Vas : Volume of air equal to the driver compliance
D : Effective cone diameter
Fs : Driver free air resonance
Qms : Q of driver at Fs considering only non-electrical resistance
Qes : Q of driver at Fs considering only electrical resistance
Qts : Total Q of driver at Fs
Pe[max.] : Maximum continuous input power
Xmax. : Maximum effective voicecoil travel without distortion
Thank you for purchasing the JVC Car Stereo
Speaker. For the secure installation and perfect
operation of your speaker, please read the
Enter below the Model No. and Serial
No. which is located either on the rear
or bottom of the speaker unit. Retain
this information for future reference.
If a kit is necessary for your car, consult
your telephone directory for the nearest car
audio speciality shop ("IN-CAR
Als extra gereedschap nodig is voor
inbouwen in uw auto, raadpleeg dan de
telefoongids voor de dichtstbijzijnde in auto
audio gespeciali-seerde winkel.
Vielen Dank für den Kauf dieses JVC Stereo-Auto-
Iautsprechers. Um korrekten Einbau und
einwandfreie Funktion des Lautsprecher zu
gewährleisten, ist es empfehlenswert, die
folgenden Anleitungen sorg-fältig durchzulesen.
Nous vous remercions pour I'achat d'un haut-
parleur auto stéréo de JVC dans le coffre de votre
véhicule. Pour un montage sûr et un
fonctionnement parfait de ce haut-parleur, il est
conseillé de lire attentivement ce qui suit.
Dank u voor uw aankoop van de JVC Auto Stereo
Luidspreker. Lees de onderstaande aanwijzingen
aandachtig door voor een juiste plaatsing en een
perfeckte werking van uw luidspreker.
Le agradecemos la adquisición del Altavoz
Estereofónico para Automóvil de JVC. Para
efectuar una instalación segura y para que el
altavoz funcione correctamente, lea
detenidamente las siguientes instrucciones.
Tack för valet av JVC bilstereohögtalare. För säker
montering och tillfredsställande funktion bör du
noga läsa följande anvisningar.
HAUT-PARLEURS AUTO STEREO
ALTAVOCES ESTEREOFONICOS PARA AUTOMOVIL
: 750 W (MAX. MUSIC POWER)
(Design and specifications are subject to change without notice.)
Falls für lhren Wagen ein Einbausatz erfor-
derlich ist, wenden Sie sich bitte an lhren
nächsten Auto-Stereo-Fachhändler.
Si fuera necesario un juego de instalación
para su automóvil, consulte la guía
telefónica para ubicar la tienda especialista
en audio para automóviles más cercana.
Si un kit est nécessaire pour votre voiture,
consulter votre annuaire téléphonique pour
chercher le revendeur d'accessoires audio
pour automobile le plus proche.
Behövs monteringsats för din bil, se i
telefonkatalogen för närmaste bilradioaffär.
: 600 W (MAX. MUSIC POWER)
---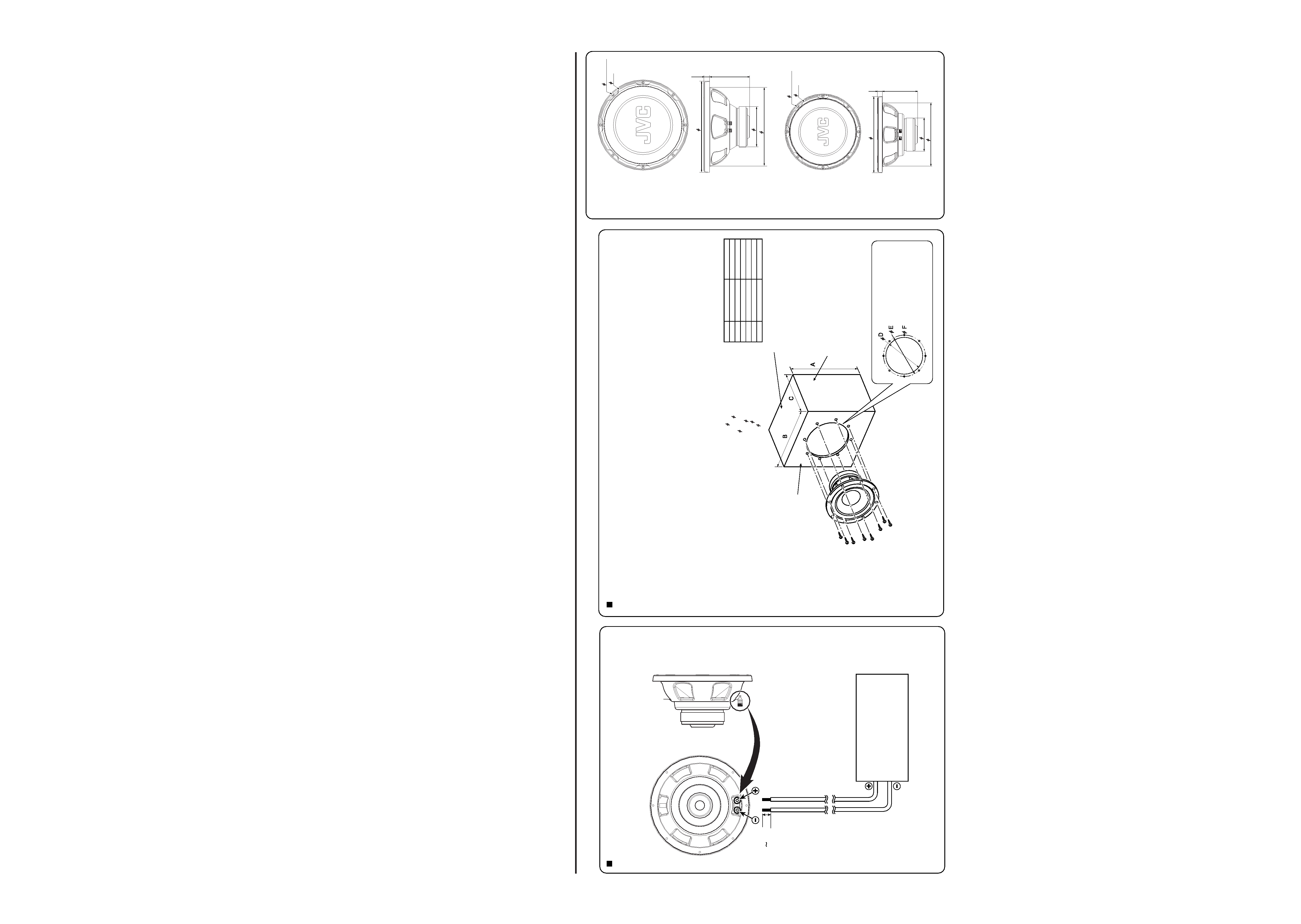 For proper installation and use
1.Before connecting the speakers to the ampli-
fier, confirm that the power has been turned off.
The click noise generated by the connection if
the power is on may damage the speakers.
2.The amplifier and speakers should be
connected between corresponding terminals
with the correct polarity "+" to "+", and "­" to "­".
Connection with reversed polarity will degrade
the quality of sound reproduction.
3.Do not subject the speakers to excessive input.
The power handling capacity of the
CS-GD4300/CS-GD4250 is 750 W/600 W
(MAX. MUSIC POWER). Any excessive input
4.The CS-GD4300/CS-GD4250 has an
. Make sure that the output
impedance of the amplifier's speaker terminal is
5.When cleaning the speakers, use a soft cloth
and wipe the surface gently. Do not apply
Korrekt montering och användning
1.Kontrollera att strömmen till förstärkaren har frå-
nkopplats före högtalaranslutning. Det klickljud
som uppstår vid anslutning av högtalarna med
strömmen tillkopplad, kan skada dem.
2.Förstärkaren och högtalarna ska anslutas mel-
lan motsvarande uttag med rätt polaritet, "+" till
"+", och "­" till "­". Anslutning med omvänd po-
laritet försämrar ljudåtergivingens kvalitet.
3.Ustätt inte högtalarna för höga ingångseffekter.
Märkeffekten för CS-GD4300/CS-GD4250 är
750 W/600 W (max. musikeffekt). För hög in-
slgnal kan skade högtalarna.
4.CS-GD4300/CS-GD4250 har en impedans på
. Se efter att förstärkarens utgångsimpedans
vid högtalarklämmorna är 4
5.Rengör högtalarnas ytterhölje med en mjuk tra-
sa och torka av ytan försiktigt. Använd inte thin-
ner eller något annat lösningsmedel.
Instalación y uso correctos
1.Antes de conectar los altavoces con el amplifi-
cador, confirme que esté cortada la alimenta-
ción eléctrica. El ruido producido al realizar la
conexión con la alimentación conectada puede
causar daños en los altavoces.
2.Se deberán conectar los terminales correspon-
dientes del amplificador y de los altavoces,
asegurándose de que las polaridades sean co-
rrectas, "+" a "+" y "­" a "­". Si conecta con las
polaridades invertidas, se deteriorará la calidad
de la reproducción del sonido.
3.No someta los altavoces a una entrada excesi-
va. La capacidad máxima de los
CS-GD4300/CS-GD4250 es de 750 W/600 W
(POTENCIA MUSICAL MAX). Una entrada ex-
cesiva dañará los altavoces.
4.Los CS-GD4300/CS-GD4250 tienen 4
pedancia. Asegúrese de que la impedancia de
salida del terminal para altavoces de amplifica-
5.Cuando limpie los altavoces, utilice un paño
suave y frote la superficie con cuidado. No apli-
que solventes ni diluyentes.
Juiste plaatsing en gebruik
1.Voor het aansluiten van de luidsprekers op de
versterker dient u zich ervan te overtuigen dat
de laatste uitgeschakeld is. De ruis, veroor-
zaakt door het tot stand brengen van aansluitin-
gen kan beschadiging van de luidspreker tot
2.De versterker en de luidsprekers moeten met
de aansluitingen en polariteit juist worden aan-
gesloten; "+" met "+" en "­" met "­".
De kwaliteit van het geluid zal slechter zijn in-
dien de polen verkeerd zijn verbonden.
3.Stel de luidsprekers niet bloot aan een te hoog
vermogen. Het opgenomen vermogen van de
CS-GD4300/CS-GD4250 luidsprekers is
750 W/600 W (max. muziekvermogen). Een ho-
ger ingangsvermogen heeft beschadiging van
de luidsprekers tot gevolg.
4.Het CS-GD4300/CS-GD4250 luidsprekersys-
teem heeft een impedantie van
. Overtuig u ervan dat de luidsprekeruitgan-
gen van de versterker een uit-gangsimpedantie
5.Reinig de luidsprekers door ze voorzichtig
schoon te vegen met een zachte doek. Gebruik
nooit chemische oplosmiddelen.
Montage et utilisation corrects
1.Vérifier que l'alimentation est coupée avant de
raccorder les haut-parleurs à l'amplificateur.Les
craquements produits par le raccordement lors-
que l'alimentation est fournie peuvent endom-
2.Raccorder les bornes correspondantes de
l'amplificateur et des haut-parleurs, en respec-
tant les polarités, "+" à "+" et "­" à "­". Un rac-
cordement effectué en inversant les polarités
réduira la qualité de la reproduction sonore.
3.Ne pas appliquer un niveau d'entrée excessif
aux haut-parleurs. La puissance d'entrée ad-
missible pour les haut-parleurs
CS-GD4300/CS-GD4250 est de 750 W/600 W
(puissance musicale max.). Tout signal d'entrée
excessif risque de les endommager.
4.Les haut-parleurs CS-GD4300/CS-GD4250 ont
s'assurer que l'impédance de sortie aux bornes
de haut-parleur de l'amplificateur soit aussi
5.Nettoyer le haut-parleur en le frottant légère-
ment à l'aide d'un chiffon doux. Ne jamais utili-
ser de solvants ni de détergents.
Hinweise für die korrekte
Inbetriebnahme und Gebrauch
1.Wenn die Lautsprecher am Verstärker ange-
schlossen werden, muß dieser ausgeschaltet
sein! st der Verstärker eingeschaltet, kann der
beim Anschluß auftretende Ton die Lautspre-
2.Verstärker und Lautsprecher müssen zwischen
den entsprechenden Klemmen und mit der kor-
rekten Polarität (,,+" an ,,+" und ,,­" an ,,­") ange-
schlossen werden. Der Anschluss in umge-
kehrter Reihenfolge beeinträchtigt die Klang-
3.Die Lautsprecher nicht an einen Verstärker mit
zu hoher Ausgangsleistung anschließen! Die
CS-GD4300/CS-GD4250 sind für 750 W/600 W
(MAX. MUSIKLEISTUNG) ausgelegt. Eine zu
hohe Verstärker-Ausgangsleistung kann die
Lautsprecher beschädigen.
4.Die CS-GD4300/CS-GD4250 besitzen eine
. Dementsprechend muß die
Ausgangsimpedanz des Verstärkers gleichfalls
5.Zum Reinigen der Lautsprecher ein weiches
Tuch verwenden und dabei vorsichtig über die
Oberfläche wischen. Kein Reinigungsmittel
(Verdünner oder Lösemittel) verwenden!
Front & Rear Baffle Boards (x 2)
Vordere und hintere Resonanzplatten (x 2)
Écrans acoustiques avant et arrière (x 2)
Voor- en achterschotten (x2)
Pantallas acústicas delantera y trasera (x 2)
Front- och bakre baffel (x2)
Linke und rechte Seiten (x 2)
Faces gauche et droite (x 2)
Linker- en rechterkanten (x 2)
Lados izquierdo y derecho (x 2)
Höger- och vänster-sidpaneler (x 2)
Dimension du trou de montage
Afmeting gat voor bevestiging
Dimensión del orificio de montaje
To connect the speaker wires / Lautsprecherkabel anschließen /
Pour connecter les fils d'enceinte / Aansluiten van de
luidsprekerdraden / Para conectar los cables de los altavoces /
Hur högtalarsladdarna ansluts
To install the sealed enclosure / Installationsanweisungen für das dichte Gehäuse
Pour installer l'enceinte hermétique / Monteren van een ombouw
Para instalar la caja sellada / Så här ansluts det förseglade skyddet
Speaker wire (not supplied)
Lautsprecherdraht (nicht mitgeliefert)
Fil d'enceinte (non fourni)
Luidsprekerdraad (niet
bijgeleverd
)
Cable de altavoz (no
suministrado)
)
Ledningstråd för högtalare (medföljer ej)
How to install / Installationsanweisungen / Installation / Installeren / Cómo Instalarlos / Så här utförs installationen
Obere und untere Schallwandseiten (x 2)
Faces supérieure et inférieure (x 2)
Boven- en onderkanten (x 2)
Lados superior e inferior (x 2)
Övre och nedre sidpaneler (x 2)
* Screw: 4 x 50mm (x 8) (supplied)
* Schraube: 4 x 50mm (x 8) (mitgeliefert)
* Vis: 4 x 50mm (x 8) (fournis)
* Schroef: 4 x 50mm (x 8) (bijgeleverd)
* Tcrnillo: 4 x 50mm (x 8) (suministrado)
* Skruv: 4 x 50mm (x 8) (medföljer)
When the speaker cannot be attached in the car, make the sealed enclosure as recommended in the table below--20 mm (3/4 inch) MDF is
also recommended for the enclosure materials.
Wenn ein direkter Einbau in einem Fahrzeug unmöglich ist, ein empfohlenes dichtes Gehäuse entsprechend den untenstehenden
Spezifikationen bauen--20 mm (3/4 in.) außerdem sollte eine mitteldichte Faserplatte zum Gehäusebau verwendet werden.
Si le haut-parleur ne peut pas être fixé directement dans cette voiture, fabriquez une enceinte hermétique de façon recommandée à l'aide
des spécifications données dans le tableau ci-dessous; le MDF--20 mm (3/4 pouce) est recommandé pour le matériau de l'enceinte.
Indien de luidspreker niet direct in de auto kan worden gemonteerd, moet u een ombouw maken op de in de volgende tabel getoonde
manier--20 mm (3/4 inch) MDF wordt als materiaal voor de ombouw aanbevolen.
Cuando el altavoz no se pueda instalar en el automóvil, construya la caja sellada recomendada en la tabla de abajo--Asimismo, se
recomienda usar MDF--20 mm (3/4 pulg.) como material para la caja.
När högtalaren inte kan fästas fast i bilen, konstruera det förseglage skyddet enligt rekommendationerna i tabellen nedan--20 mm (3/4 inch)
MDF rekommenderas även för skyddets material.
---