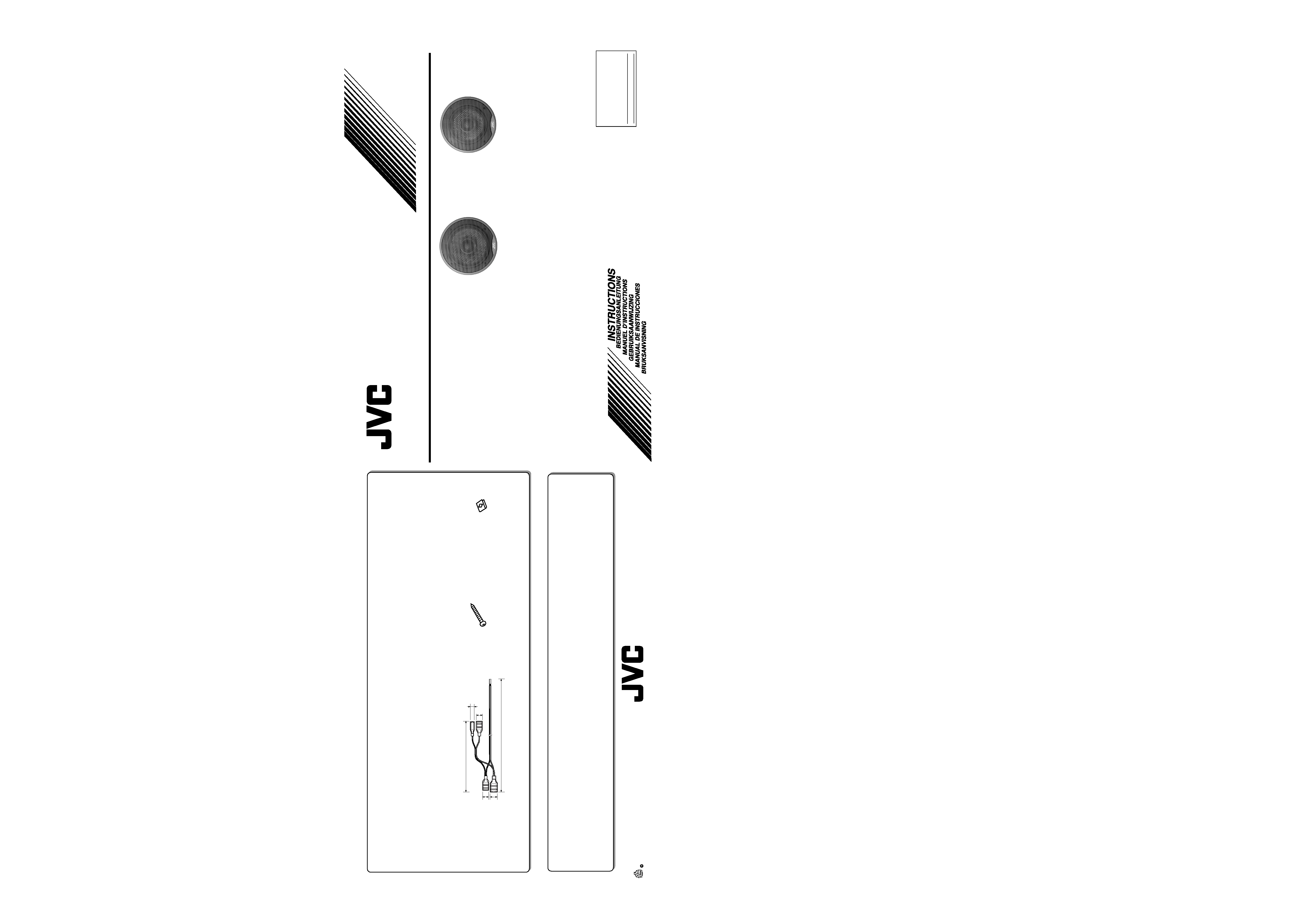 2
005 Victor Company of Japan, Limited
Enter below the Model No. and Serial
No. which is located either on the rear
or bottom of the speaker unit. Retain
this information for future reference.
If a kit is necessary for your car, consult
your telephone directory for the nearest car
audio speciality shop ("IN-CAR
Als extra gereedschap nodig is voor
inbouwen in uw auto, raadpleeg dan de
telefoongids voor de dichtstbijzijnde in auto
audio gespeciali-seerde winkel.
HAUT-PARLEURS AUTO STEREO
ALTAVOCES ESTEREOFONICOS PARA AUTOMOVIL
: 16 cm (6-1/2") 2-Way Coaxial Speaker
: 240 W (MAX. MUSIC POWER)
(Design and specifications are subject to change without notice.)
Falls für lhren Wagen ein Einbausatz erfor-
derlich ist, wenden Sie sich bitte an lhren
nächsten Auto-Stereo-Fachhändler.
Si fuera necesario un juego de instalación
para su automóvil, consulte la guía
telefónica para ubicar la tienda especialista
en audio para automóviles más cercana.
Si un kit est nécessaire pour votre voiture,
consulter votre annuaire téléphonique pour
chercher le revendeur d'accessoires audio
pour automobile le plus proche.
Behövs monteringsats för din bil, se i
telefon-katalogen för närmaste bilradioaffär.
: 13 cm (5-1/4") 2-Way Coaxial Speaker
: 180 W (MAX. MUSIC POWER)
For Proper Installation and Use
1. Be sure to install the speakers according to the
directions so as to prevent them from slipping
accidentally out of position due to the repeated impact of
opening and closing doors or the tossing and bumping
2. Set the wiring firmly on the floor of the vehicle, taking the
utmost care not to break wires while installing. When
installing the speakers in the doors, extra attention must
be paid to allowing reasonable play to the wires. The
wiring, if given too much clip or clamp, will get pinched in
between the door and body of the vehicle when opening
3. Since the speaker installed in the door is positioned at
the foot level, be careful not to damage the speaker by
giving it an inadvertent kick. Check the water outlet at
the bottom of the door occasionally to ensure that it
drains well, leaving no rainwater inside the door.
4. Before connecting the speakers to the amplifier, confirm
that the power has been turned off. The click noise
generated by the connection if the power is on may
5. The amplifier and speakers should be connected
between corresponding terminals, i.e. left to left, and
right to right, as well as "+" to "+", and "­" to "­".
Connection with reversed polarity will degrade the
quality of stereo reproduction.
6. Do not subject the speakers to excessive input. The
power handling capacity of the CS-FX602/CS-FX502 is
240 W/180 W (MAX. MUSIC POWER). Any excessive
input may damage the speakers.
7. The CS-FX602/CS-FX502 has an impedance of 4
Make sure that the output impedance of the amplifier's
speaker terminal is rated at 4
8. When cleaning the speakers, use a soft cloth and wipe
the surface gently. Do not apply thinner or solvent.
Juiste plaatsing en gebruik
1. Volg de aanwijzingen voor het installeren van de
luidsprekers nauwkeurig op om te voorkomen dat de
luidsprekers door het herhaaldelijk openen en dichtslaan
van de portieren, of door het trillen en schudden van het
voertuig los zouden kunnen raken.
2. Bevestig de bedrading stevig op de vloer van het voertuig
en let goed op dat hierbij geen van de draden breekt of
wordt doorgesneden. Als u de luidsprekers in de portieren
monteert dient u in het bijzonder aandacht te besteden
aan de juiste speling van de bedrading. Zowel te los
hangende als te strak staande draden kunnen klem raken
tussen het portier en de deurstijl bij het openen en sluiten
3. Aangezien de luidsprekers in de portieren op voethoogte
gemonteerd worden, dient u voorzichtig te zijn de
luidsprekers niet door een ongelukkige voetbeweging te
beschadigen. Controleer regelmatig de waterafvoer aan
de onderzijde van het portier om te zorgen dat
binnenkomend regenwater direct afgevoerd wordt en niet
in het portier blijft staan.
4. Voor het aansluiten van de luidsprekers op de versterker
dient u zich ervan te overtuigen dat de laatste
uitgeschakeld is. De ruis, veroorzaakt door het tot stand
brengen van aansluitingen kan beschadiging van de
luidspreker tot gevolg hebben.
5. Let op dat bij het aansluiten van de luidsprekers op de
versterker de in- en uitgangen alle overeenkomen.
Verwissel dus niet de linker- en rechterkanalen en zorg
dat alle "+" polen op "+" worden aangesloten en alle "­"
polen op "­". Verwisseling van de polariteit van de
aansluitsnoeren leidt tot kwaliteitsvermindering van de
6. Stel de luidsprekers niet onderhevig aan een te hoog
vermogen. Het opgenomen vermogen van d
e
CS-FX602/CS-FX502 luidsprekers is 240 W/180 W (max.
muziekvermogen).
Een hoger ingangsvermogen heeft
beschadiging van de luidsprekers tot gevolg.
7. Het CS-FX602/CS-FX502 luidsprekersysteem heeft een
. Overtuig u ervan dat de
luidsprekeruitgangen van de versterker een
8. Reinig de luidsprekers door ze voorzichtig schoon te
vegen met een zachte doek. Gebruik nooit chemische
Instalación y Uso Correctos
1. Cerciórese de instalar los altavoces de acuerdo con las
instrucciones, para evitar que se descoloquen
accidentalmente debido a los repetidos impactos
causados por la apertura y cierre de la puerta o por las
sacudidas y traquetreos del vehículo.
2. Instale los cables firmemente en el piso del vehículo,
teniendo mucho cuidado de no romperlos durante su
instalación. Cuando instale los altavoces en las puertas,
debe prestar atención especial para que el cable tenga
una longitud razonable. El cable se pillará entre la puerta
y la carrocería del vehículo al abrir y cerrar la puerta si es
3. Como el altavoz instalado en la puerta queda a la altura
de los pies, tenga cuidado de no dañarlo al golpearlo
accidentalmente con el pie. Verifique ocasionalmente la
salida de agua en el fondo de la puerta para asegurarse
de que drena perfectamente, no quedando agua residual
en el interior de la puerta.
4. Antes de conectar los altavoces con el amplificador,
confirme que esté cortada la alimentación eléctrica. El
ruido producido al enchufar los terminales de conexión
mientras se alimenta energía puede causar daños en los
5. Deben conectarse los terminales correspondien-tes del
amplificador y de los altavoces, es decir izquierdo a
izquierdo y derecho a derecho, así como "+" a "+" y "­" a
"­". Si las polaridades se conectan inversamente, la
reproducción estereofónica se deteriorará.
6. No someta los altavoces a una entrada excesiva. La
capacidad máxima de lo
s CS-FX602/CS-FX502 es de
240 W/180 W (POTENCIA MUSICAL MAX). Una
entrada
excesiva dañará los altavoces.
7. Los CS-FX602/CS-FX502 tienen 4
Asegúrese de que la impedancia de salida de los
terminales para altavoces de amplificador sea de 4
8. Cuando limpie los altavoces, utilice un paño suave y frote
la superficie con cuidado. No aplique solventes ni
Korrekt montering och användning
1. Se till att montera högtalarna enligt anvisningarna
så att de inte faller ur eller försätts ur läge genom
de stötar som uppstår när dörrarna stängs flera
gånger eller genom körning på ojämnt underlag.
2. Fäst högtalarledningarna ordentligt vid fordonets
golv och var ytterst noga med att de inte går av
under installeringen. Vid dörrmontering av
högtalarna måste man se till att ledningarna får ett
rimligt spel. För mycket ledning kan orsaka att de
blir klämda mellan fordonets dörr och kaross under
3. Var försiktig så att högtalarna inte skadas av
oavsiktliga sparkar, då de är monterad mycket lågt i
dörrarna. Kontrollera regelbundet att vatten rinner
ut vid dörrarna så regnvatten inte ansamlas där.
4. Kontrollera att strömmen till förstärkaren har
frånkopplats före högtalaranslutning. Det klickljud
som uppstår vid anslutning av högtalarna med
strömmen tillkopplad, kan skada dem.
5. Förstärkaren och högtalarna ska anslutas till
motsvarande klämmor, d v s vänster till vänster och
höger till höger liksom även "+" till "+" och "­" till
"­". Anslutning med omvänd polaritet försämrar
återgivningen av stereoljud.
6. Utsätt inte högtalarna för höga innångseffekter.
Märkeffkten för CS-FX602/CS-FX502 är
240 W/180 W (max. musikeffekt). För hög insignal
7. CS-FX602/CS-FX502 har en impedans på 4
efter att förstärkarens utgångsimpedans vid
8. Rengör högtalarnas ytterhölje med en mjuk trasa
och torka av ytan försiktigt. Använd inte thinner
eller något annat lösningsmedel.
Parts/Teile/Pièces/Onderdelen/Piezas/Delar
Thank you for purchasing the JVC Car Stereo
Speaker. For the secure installation and perfect
operation of your speaker, please read the
Vielen Dank für den Kauf dieses JVC Stereo-Auto-
Iautsprechers. Um korrekten Einbau und
einwandfreie Funktion des Lautsprecher zu
gewährleisten, ist es empfehlenswert, die
folgenden Anleitungen sorg-fältig durchzulesen.
Nous vous remercions pour I'achat d'un haut-
parleur auto stéréo de JVC dans le coffre de votre
véhicule. Pour un montage sûr et un
fonctionnement parfait de ce haut-parleur, il est
conseillé de lire attentivement ce qui suit.
Dank u voor uw aankoop van de JVC Auto Stereo
Luidspreker. Lees de onderstaande aanwijzingen
aandachtig door voor een juiste plaatsing en een
perfeckte werking van uw luidspreker.
Le agradecemos la adquisición del Altavoz
Estereofónico para Automóvil de JVC. Para
efectuar una instalación segura y para que el
altavoz funcione correctamente, lea
detenidamente las siguientes instrucciones.
Tack för valet av JVC bilstereohögtalare. För säker
montering och tillfredsställande funktion bör du
noga läsa följande anvisningar.
Hinweise für die korrekte Inbetriebnahme
1. Die Lautsprecher vorschriftsgemäß anbringen, damit
diese nicht durch Schläge (Öffnen und Schließen der
Türen), Vibrationen und sonstige Erschütterungen aus
ihren Halterungen gelöst werden.
2. Die Kabel rutschfest am Wagenboden verlegen und
unbedingt darauf achten, hierbei kein Kabel zu knicken
oder zu beschädigen. Werden die Lautsprecher in den
Türen installiert, ist auf ein ausreichendes Spiel des
Kabels zu achten. Falls das Kabel jedoch durchhängt
bzw. in Schleifen gelegt ist, wird es bei Schließen der
Autotür zwischen Türkante und -rahmen eingeklemmt.
3. Da sich die in den Türen installierten Lartsprecher
normalerweise nahe über dem Wagenboden befinden,
darauf achten, nicht mit den Füßen an die Lautsprecher
zu stoßen. Von Zeit zu Zeit die Abflussöffnungen in den
Türen auf Durchlässigkeit überprüfen, damit sich in den
Türen keine Feuchtigkeit sammelt.
4. Wenn die Lautsprecher am Verstärker angeschlossen
werden, muss dieser ausgeschaltet sein! lst der
Verstärker eingeschaltet, kann der beim Anschluss
auftretende Ton die Lautsprecher beschädigen.
5. Bei Anbringung der Kabel muss die Kennzeichnung der
Kabelschuhe und -stecker von Verstärker und
Lautsprechern übereinstimmen, d.h. "Links" an "Links"
und "Rechts" an "Rechts" bzw. "+" an "+" und "­" an "­"
gelegt werden. Ein umgekehrter (Überkreuz-) Anschluss
vermindert die Qualität der Stereowiedergabe.
6.
Die Lautsprecher nicht an einen Verstärker mit zu hoher
Ausgangsleistung anschließen! Die CS-FX602/CS-FX502
sind für 240 W/180 W (MAX. MUSIKLEISTUNG)
ausgelegt. Jede diese
Werte überschreitende
Verstärkerleistung beschädigt die Lautsprecher.
7. Die CS-FX602/CS-FX502 besitzen eine lmpedanz von
. Dementsprechend muss die Ausgangsimpedanz
des Verstärkers gleichfalls 4
8. Zum Reinigen der Lautsprecher ein weiches Tuch
verwenden und dabei vorsichtig über die Oberfläche
wischen. Kein Reinigungsmittel (Verdünner oder
Montage et utilisation corrects
1. Prendre soin de monter les haut-parleurs conformément
aux instructions, afin d'éviter qu'ils ne se délogent
accidentellement de leur emplacement d'installation sous
l'effet des chocs répétés d'ouverture et de fermeture des
portes et des vibrations du véhicule.
2. Fixer fermement le câblage sur le sol du véhicule. Les fils
ne doivent pas être sectionnés lors du montage. Lors du
montage des haut-parleurs dans les portes, il est
important de prévoir un jeu adéquat des fils. Si le câblage
est trop lâche, il peut être coincé entre la porte et le
châssis du véhicule lors de l'ouverture et de la fermeture
3. La haut-parleur monté dans la porte étant disposé au
niveau des pieds du passager, celui-ci doit prendre soin
de ne pas l'endommager en le heurtant du pied. Vérifier
de temps en temps l'écoulement de l'eau situé au bas de
la porte, pour s'assurer qu'il ne reste pas de pluie dans la
4. Vérifier que l'alimentation est coupée avant de raccorder
les haut-parleurs à l'amplificateur. Les craquements
produits par le raccordement lorsque l'alimentation est
fournie peuvent endommager les haut-parleurs.
5. Raccorder les bornes correspondantes de l'amplificateur
et les haut-parleurs, c'est-à-dire, gauche à gauche, droite
à droite, de même que "+" à "+" et "­" à "­". Un
raccordement effectué en inversant les polarités réduira la
qualité de la reproduction sonore stéréophonique.
6. Ne pas appliquer un niveau d'entrée excessif aux haut-
parleurs. La puissance d'entrée admissible pour les haut-
parleurs CS-FX602/CS-FX502 est de 240 W/180 W
(puissance musicale max.). Tout signal d'entrée excessif
risque de les endommager.
7. Les haut-parleurs CS-FX602/CS-FX502 ont une
. ll faut par conséquent s'assurer que
l'impédance de sortie aux bornes de haut-parleur de
l'amplificateur soit aussi de 4
8. Nettoyer le haut-parleur en le frottant légèrement à l'aide
d'un chiffon doux. Ne jamais utiliser de solvants ni de
---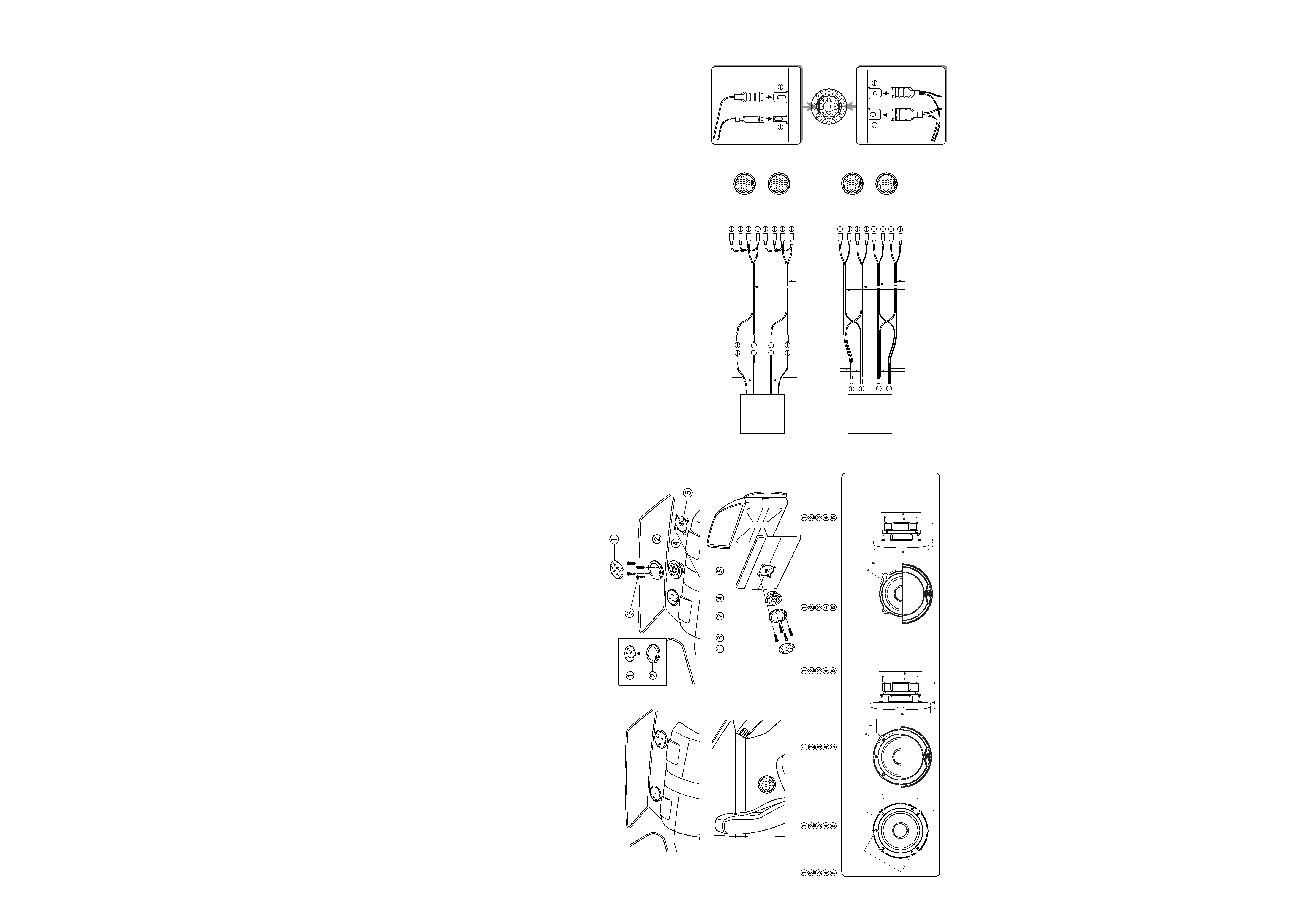 1. To install the speaker in the rear tray, first determine
the appropriate area in which to place it. The speakers
must be installed in a place where there are spaces of
at least 32 mm over the tray, and at least 64 mm for
CS-FX602 and 62 mm for CS-FX502 under the tray.
ln determining the location, make sure that the bottom
part of each speaker fits into the large hole in the steel
plate on which the rear tray is fixed. (Fig. 1)
3. The paper pattern printed on the bottom of the packing
box shows the exact shape of the area on the rear tray
through which the speaker will be installed. Apply the
paper pattern onto the area determined in 1. above,
and trace out the shape of the area on the tray.
4. Then, cut out the marked area.
5. The next step is to wire the speakers. Consult the
diagram carefully. (Fig. 5)
6. Use the provided tapping screws and speed nuts to fix
the speaker and grille to the rear tray. First, remove the
metal net from the grille. Align the 4 screw holes of the
speaker frame and grille with those in the rear tray,
insert the 4 screws and secure them with the nuts.
Finally, attach the metal net to the grille (Fig. 2).
7. The process for installing the speakers in the door is
much the same as for installing the speakers in the rear
tray. ln this case, however, extra care must be taken to
install the speaker out of the way of the door handle.
1. Afin d'installer les haut-parleurs sur la plage arrière,
s'assurer d'abord de trouver les positions appropriées
pour les fixer. Les enceintes doivent être installées
dans un endroit situé à au moins 32 mm au-dessus de
la plage arrière, et à au moins 64 mm pour le
CS-FX602 et 62 mm pour le CS-FX502 au-dessous de
la plage arrière. Au moment de déterminer l'endroit de
la fixation, faire attention que le dessous de chaque
haut-parleur soit bien introduit dans le grand trou de la
plaque en acier sur laquelle la plage est fixée. (Fig. 1)
2. Retirer la plage arrière.
3. Le papier modèle imprimé sur le dessous de
l'emballage indique la forme précise de l'endroit où les
haut-parleurs seront placés. Placer le papier modèle à
l'endroit mentionné au 1. ci-dessus afin d'y inscrire la
4. Découper l'endroit marqué.
5. Ensuite, fixer le câblage des haut-parleurs. Suivre
soigneusement le schéma. (Fig. 5)
6. Utiliser les vis et les écrous rapides fournis pour fixer le
haut-parleur et la grille sur la plage arrière. D'abord,
retirer le filet métallique de la grille, puis aligner les 4
trous de vis du cadre de haut-parleur et de la grille avec
ceux dans la plage arrière, introduire les 4 vis et les
serrer avec les écrous. Pour finir, fixer le filet métallique
7. La méthode pour fixer les haut-parleurs sur la porte est
semblable à celle du montage sur la plage arrière.
Prendre bien soin de fixer les haut-parleurs à l'écart des
poignées des poutes. (Fig. 3 et 4)
Installeren van de luidsprekers
1. Voor het monteren van de luidsprekers in de
hoedeplank van uw auto dient u eerst bij benadering de
plaats en opstelling te bepalen. De luidsprekers dienen
zodanig te worden geïnstalleerd dat er tenminste 32
mm ruimte boven de houder of hoedeplank is, en
teminste voor de CS-FX602 64 mm en voor de
CS-FX502 62 mm ruimte onder de houder of
hoedeplank is. Bij het kiezen van de plaats dient u er
bovendien rekening mee te houden dat het onderste
gedeelte van elke luidspreker in de grote opening van
de onder de hoedeplank liggende staalplaat, moet
2. Verwijder de hoedeplank.
3. De tekening op de onderzijde van de karton-nendoos
geeft de precieze vorm en afmetingen aan van de
uitsnede van de hoedeplank waar-binnen de
luidspreker past. Leg de tekening op het in 1. gekozen
gebied van de hoedeplank en trek de lijn hierop na om
de precieze plaats voor het bevestigen van de
4. Snijd of zaag het gemarkeerde gedeelte uit de
5. De volgende stap is het verbinden. van de bedrading
aan de luidspreker. Volg hierbij nauwkeurig het schema.
6. Gebruik de bijgeleverde zelftappende schroeven en
clipmoeren om de luidspreker en het rooster op de
hoedeplank vast te zetten. Verwijder eerst het metalen
gaas van het rooster en breng vervolgens de 4
schroefgaten van de luidsprekeromlijsting en het
rooster in lijn met de gaten in de hoedeplank. Plaats de
4 schroeven en zet vast met de moeren. Bevestig
tenslotte het metalen gaas aan het rooster. (Afb. 2)
7. Het monteren van de luidsprekers in de portieren
verloopt grotendeels volgens dezelfde stappen als in
het geval van de hoedeplank. Hierbij dient u echter
bovendien op te letten de luidspreker niet te dicht bij de
portierkruk te plaatsen. (Afb. 3 & 4)
1. Para instalar el altavoz en la repisa trasera, determine
primero el área adecuada en la que lo colocará. Los
altavoces deben instalarse en un lugar donde haya un
espacio de 32 mm sobre la repisa, y de 64 mm para
CS-FX602 y 62 mm para CS-FX502 debajo de la
misma, como mínimo. Al determinar la ubicación,
asegúrese de que la parte inferior de cada altavoz
encaje en el orificio grande de la plancha de acero en la
cual está fijada la repisa trasera. (Fig. 1)
2. Quite la repisa trasera.
3. El patrón de papel impreso en el fondo de la caja de
cartón muestra la forma exacta del área en la que se
instalará el altavoz en la repisa trasera. Coloque el
patrón de papel sobre el área determinada en el paso 1
anterior, y dibuje la forma sobre la repisa.
4. Corte el área marcada.
5. El paso siguiente es conectar el altavoz. Consulte
detenidamente el esquema. (Fig. 5)
6. Utilice los tornillos autorroscantes y las tuercas de
apriete rápido para fijar el altavoz y la rejilla a la repisa
trasera. En primer lugar, quite la red metálica de la
rejilla y, seguidamente, alinee los 4 orificios para
tornillos del armazón del altavoz y la rejilla con los de la
repisa trasera, inserte los 4 tornillos y asegúrelos con
las tuercas. Finalmente, fije la red metálica a la rejilla
7. El método de instalación de los altavoces en las
puertas es muy parecido al indicado para instalarlos en
la repisa trasera. No obstante, en este caso debe tener
mucho cuidado de instalar el altavoz fuera del alcance
de la manija de la puerta. (Fig. 3 y 4)
1. Vid montering av högtalarna på bakhyllan ska man
först bestämma stället för deras montering. Högtalarna
måste installeras på en plats där det finns minst 32 mm
utrymme ovanför skivfacket och minst 64 mm för
CS-FX602, och 62 mm för CS-FX502 under skivfacket.
Se också till vid lägesvalet att båda högtalarnas
underdel passar in i det stora hål som finns i stålskivan
på vilken bakhyllan är fästad. (Fig. 1)
3. Pappersschablonen som finns tryckt på kartongens
undersida visar exakt formen för det område genom
vilket högtalaren monteras. Placera
pappersschablonen på det ställe, som bestämdes i
steg 1 ovan, på bakhyllan och rita av området.
4. Skär därefter ut det markerade området.
5. Nästa åtgärd är att ansluta högtalarna. Följ diagrammet
6. Använd de medföljande självgängande skruvarna och
snabbmuttrarna för att fästa högtalaren och grillen på
bakhyllan. Avlägsna först metallnätet från grillen. Passa
sedan in de 4 skruvhålen på högtalarramen och grillen i
hålen på bakhyllan, sätt i de fyra skruvarna och fäst
dem med muttrarna. Sätt till sist tillbaka metallnätet på
7. Tillvägagångssättet för högtalarnas montering i dörrar
liknar i mycket det för montering på bakhyllan. l detta
fall måste man dock se till att högtaiarna monteras på
gott avstånd från dörrhantagen. (Fig. 3 & 4)
1. Sollen die Lautsprecher in die Heckfenster-Ablage
eingebaut werden, muss zunächst die Einbauposition
bestimmt werden. Die Lautsprecher müssen an einem
Ort eingebaut werden, wo mindestens 32 mm Platz
über der Ablage ist und mindestens 64 mm für
CS-FX602 sowie 62 mm für CS-FX502 unter der
Ablage. Wenn die Einbauposition bestimmt wird,
darauf achten, dass die Unterseite der Lautsprecher
nicht auf Stahlflächen oder -streben under der Ablage
3. Die auf der Unterseite der Schachtel abgedruckte
Papierschablone zeigt die benötigte Einbaufläche der
Lautsprecher an. Die Schablone auf die in 1. bestimmte
Position in der Ablage auflegen, und die
Flächenumrisse durchpausen.
4. Dann die markierten Flächen ausschneiden.
5. Als nächster Schritt erfolgt die Verkabelung. Sorgfältig
die Angaben des Kabeldiagramms beachten! (Abb. 5)
6. Zur Anbringung von Lautsprecher und Lautsprecher-
Blendenrahmen an der Heckablage die mitgelieferten
Schneidschrauben und
Schnellmontagemutter
n
verwenden. Zunächst die Gitterblende vom Grillr
abnehmen. Dann die 4 am Lautsprecherrahmen und
Grill befindlichen Schraubenöffnungen auf die
Schraubenöffnungen an der Heckablage ausrichten
und die Schrauben und Muttern festziehen.
Anschließend die Gitterblende am Grill anbringen
7. Die Vorgehensweise für den Einbau der Lautsprecher
in den Türen ist weitgehend mit der eben
beschriebenen identisch. Hier jedoch ist besonders
darauf zu achten, die Lautsprecher in ausreichender
Entfernung von den Türgriffen einzubauen! (Abb. 3 & 4)
. . Tuerca de apriete rápido
Links / Izquierdo / Vänster
Speaker wire (not supplied)/
Lautsprecherdraht (nicht mitgeliefert)/
File d'enceinte (non fourni)/
Luidsprekerdraad (niet bijgeleverd)/
Cable de altavoz (no suministrado)/
Högtalarkabel (medföljer ej)
Dimensions/Abmessungen/Dimensions/Afmetingen/Dimensiones/Mått
Links / Izquierdo / Vänster
Links / Izquierdo / Vänster
Links / Izquierdo / Vänster
Black lined / Schwarz gestreift /
Ligne noire / Zwart gestreept /
Con línea negra / Svart rand
Connection/Anschluss/Connexion/Aansluiten/Conexión/Anslutning
Bi-Wiring/Doppelverdrahtung/Double-câblage/Dubbele bedrading/Bicableado/Bi-Wiring
How to Complete the Wiring
Consult the diagram below. Be sure to connect
corresponding terminals, i.e. "left" to "left", "­" to
Das unten gezeigte Diagramm beachten!
Anschlüsse gleicher Art miteinander verbinden:
"Links" an "Links", "­" an "­" etc.! (Abb. 5)
Aansluiten van de bedrading
Raadpleeg het onderstaande schema. Let
vooral op de verschillende in- en uitgangen niet
te verwisselen, en zorg dus dat u de
linkerluidsprerker op het linkerkanaal aansluit,
de "­" draad op de "­" pool, enzovoort. (Afb. 5)
Cómo Completar las Conexiones Eléctricas
Consulte el esquema siguiente. Asegúrese de
conectar los terminales correspondientes, es
decir izquierdo a izquierdo, "­" a "­", etc. (Fig. 5)
Se diagrammet nedan. Se till att ansluta till rätt
högtalarklämma, dvs vänster till vänster, ''­'' till
Suivre soigneusement le schéma ci-dessous.
Prendre soin de raccorder les bornes
correspondantes, c'est-à-dire, gauche à gauche,
---