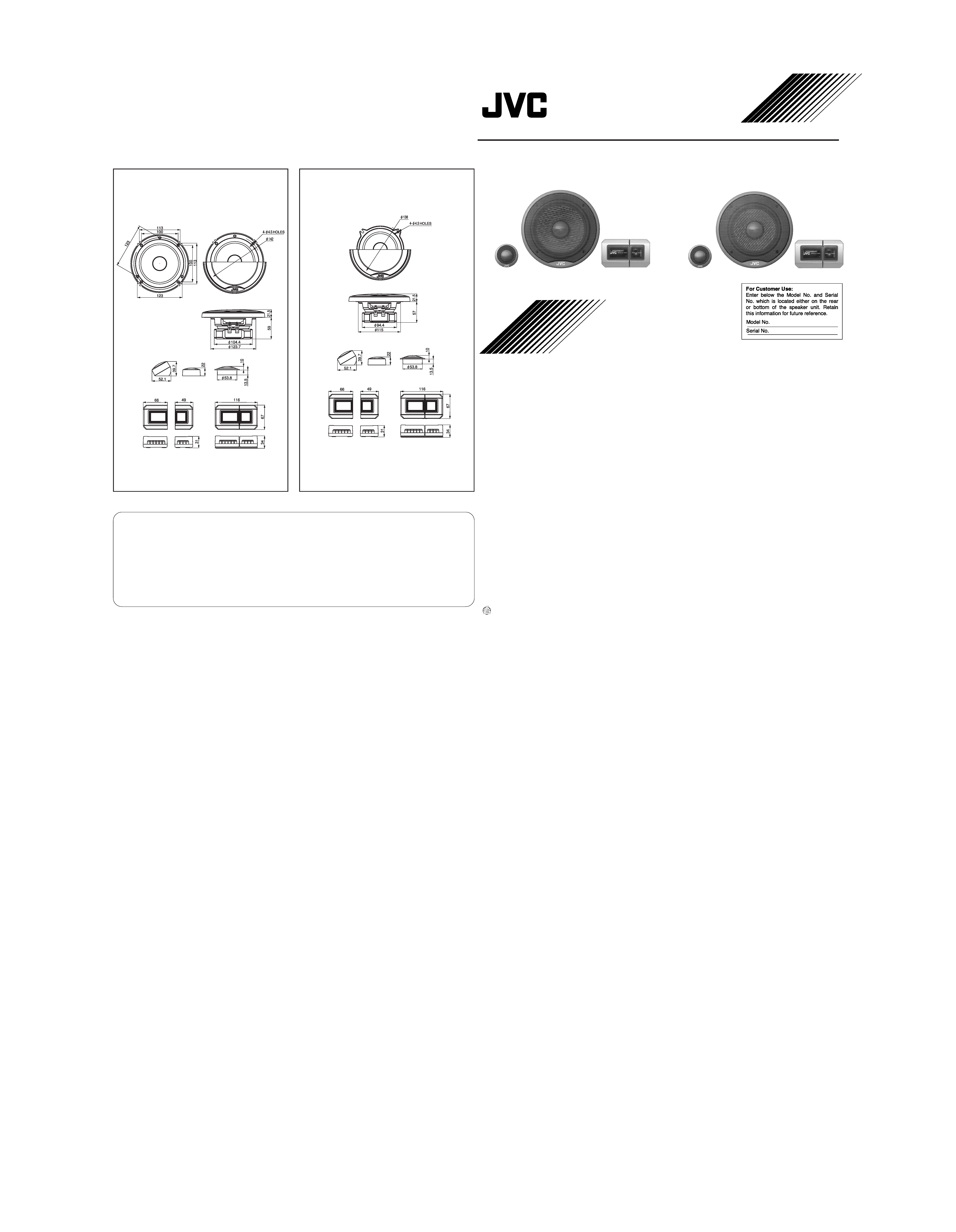 Le agradecemos la adquisición de los
altavoces estereofónicos JVC para el
automóvil. Para efectuar una instalación
segura y para que el altavoz funcione
correctamente, lea detenidamente las
siguientes instrucciones.
Dank u voor uw aankoop van de JVC
stereoluidspreker voor de auto.
Lees de onderstaande aanwijzingen
aandachtig door voor een juiste plaatsing en
een perfeckte werking van uw luidspreker.
Thank you for purchasing the JVC Car Stereo
Speakers. For the secure installation and
perfect operation of your speakers, please
read the following carefully.
Vielen Dank für den Kauf der JVC Stereo-
Autolautsprecher. Um korrekten Einbau und
einwandfreie Funktion des Lautsprecher zu
gewährleisten, ist es empfehlenswert, die
folgenden Anleitungen sorgfältig
HAUT-PARLEURS AUTO STEREO
ALTAVOCES ESTEREOFONICOS PARA AUTOMOVIL
If a kit is necessary for your car, consult
your telephone directory for the nearest
car audio speciality shop ("IN-CAR
Falls für lhren Wagen ein Einbausatz
erforderlich ist, wenden Sie sich bitte an
lhren Auto-Stereo-Fachhändler.
Si un kit est nécessaire pour votre
voiture, consulter votre annuaire
téléphonique pour chercher le
revendeur d'accessoires audio pour
automobile le plus proche.
Raadpleeg uw auto-audiohandelaar of
een andere zaak indien u een kit voor
de installatie in uw au to nodig heeft.
Si es necesario un juego de instalación
para su automóvil, vea la guía telefónica
para encontrar la tienda especializada en
audio para automóvil más cercana.
Vänd dig till närmaste bilstereobutik om
du behöver en speciell monteringssats
för att kunna montera högtalarna.
: 16 cm (6-1/2") 2-way component speaker system
: 300W (MAX. MUSIC POWER)
Magnet Mass : 445 g (15.7 oz)
: Woofer 1.35 kg (3.1 lbs)
Tweeter 0.07 kg (0.16 lbs) without the adapter
: 13 cm (5-1/4") 2-way component speaker system
: 240 W (MAX. MUSIC POWER)
Magnet Mass : 332 g (11.7 oz)
: Woofer 1.15 kg (2.7 lbs)
Tweeter 0.07 kg (0.16 lbs) without the adapter
(Design and specifications are subject to change without notice.)
Nous vous remercions pour l'achat des haut-
parleurs auto stéréo de JVC. Pour un
montage sûr et un fonctionnement parfait de
ce haut-parleur, il est conseillé de lire
attentivement ce qui suit.
Tack för att du köpte en JVC
bilstereohögtalare. Läs följande instruktioner
noggrant för information om säker montering
© 2005 Victor Company of Japan, Limited
For Proper Installation and Use
· Before connecting the speakers to the
amplifier, confirm that the power has been
turned off. The click noise generated by the
connection if the power is on may damage
· The amplifier and speakers should be
connected between corresponding
terminals, i.e. left to left, and right to right,
as well as "+" to "+," and "­" to "­."
Connection with reversed polarity will
degrade the quality of stereo reproduction.
· Do not subject the speakers to excessive
input. The power handling capacity of the
CS-FS6/CS-FS5 is 300 W/240 W (MAX.
MUSIC POWER). Any excessive input may
· The CS-FS6/CS-FS5 has an impedance of
. Make sure that the output impedance
of the amplifier's speaker terminal is rated
· When cleaning the speakers, use a soft
cloth and wipe the surface gently. Do not
apply thinner or solvent.
Hinweise für die korrekte Inbetriebnahme
· Wenn die Lautsprecher am Verstärker
angeschlossen werden, muss dieser
ausgeschaltet sein! Ist der Verstärker
eingeschaltet, kann der beim Anschluss
auftretende Ton die Lautsprecher
· Bei Anbringung der Kabel muss die
Kennzeichnung der Kabelschuhe und -
stecker von Verstärker und Lautsprechern
übereinstimmen, d.h. "Links" an "Links" und
"Rechts" an "Rechts" bzw. "+" an "+" und
"­" an "­" gelegt werden. Ein umgekehrter
(Überkreuz-) Anschluss vermindert die
Qualität der Stereowiedergabe.
· Die Lautsprecher nicht an einen Verstärker
mit zu hoher Ausgangsleistung
anschließen! Die CS-FS6/CS-FS5 sind für
300 W/240 W (MAX. MUSIKLEISTUNG)
ausgelegt. Jede diese Werte
überschreitende Verstärkerleistung
beschädigt die Lautsprecher.
· Die CS-FS6/CS-FS5 besitzen eine
die Ausgangsimpedanz des Verstärkers
· Zum Reinigen der Lautsprecher ein
weiches Tuch verwenden und dabei
vorsichtig über die Oberfläche wischen.
Kein Reinigungsmittel (Verdünner oder
Montage et utilisation corrects
· Vérifier que l'alimentation est coupée avant
de raccorder les haut-parleurs à
l'amplificateur. Les craquements produits
par le raccordement lorsque l'alimentation
est fournie peuvent endommager les haut-
· Raccorder les bornes correspondantes de
l'amplificateur et les haut-parleurs, c'est-à-
dire, gauche à gauche, droite à droite, de
même que "+" à "+" et "­" à "­". Un
raccordement effectué en inversant les
polarités réduira la qualité de la
reproduction sonore stéréo-phonique.
· Ne pas appliquer un niveau d'entrée
excessif aux haut-parleurs. La puissance
d'entrée admissible pour les haut-parleurs
CS-FS6/CS-FS5 est de 300 W/240 W
(PUISSANCE MUSICALE MAX.). Tout
signal d'entrée excessif risque de les
· Les haut-parleurs CS-FS6/CS-FS5 ont une
s'assurer que l'impédance de sortie aux
bornes de haut-parleur de l'amplificateur
· Nettoyer le haut-parleur en le frottant
légèrement à l'aide d'un chiffon doux. Ne
jamais utiliser de solvants ni de détergents.
Juiste plaatsing en gebruik
· Kontroleer dat de spanning is
uitgeschakeld alvorens de luidsprekers met
de versterker te verbinden. De ruis die door
de aan sluiting wordt opgewekt zou met de
spanning nog ingeschakeld de luidsprekers
· Let op dat bij het aansluiten van de
luidsprekers op de versterker de in- en
uitgangen alle overeenkomen. Verwissel
dus niet de linker- en rechterkanalen en
zorg dat alle "+" polen op "+" worden
aangesloten en alle "­" polen op "­".
Verwisseling van de polariteit van de
aansluit-snoeren leidt tot
kwaliteitsvermindering van de stereo-
· Stel de luidsprekers niet aan een te hoog
vermogen onderhevig. De capacteit voor
de CS-FS6/CS-FS5 is 300 W/240 W (MAX.
MUZIEKVERMOGEN). Een hoger
ingangsvermogen heeft beschadiging van
de luidsprekers tot gevolg.
· Het CS-FS6/CS-FS5 luidsprekersysteem
heeft een impedantie van 4
ervan dat de luidsprekeruitgangen van de
versterker een uitgangsimpedantie van
· Reinig de luidsprekers door ze voorzichtig
schoon te vegen met een zachte doek.
Gebruik nooit chemische oplosmiddelen.
Instalación y uso correctos
· Antes de conectar los altavoces al
amplificador, confirme que la alimentación
esté desconectada. El ruido de chasquido
generado por la conexión si la
alimentación está conectada, puede dañar
· Deben conectarse los terminales
correspondientes del amplificador y de los
altavoces, es decir izquierdo a izquierdo y
derecho a derecho, así como "+" a "+" y "­"
a "­". Si las polaridades se conectan
inversamente, la reproducción
estereofónica se deteriorará.
· No someta los altavoces a una entrada
excesiva. La capacidad máxima de los
CS-FS6/CS-FS5 es de 300 W/240 W
(POTENCIA MUSICAL MAX). Una entrada
excesiva dañará los altavoces.
· Los CS-FS6/CS-FS5 tienen 4
impedancia. Asegúrese de que la
impedancia de salida de los terminales
para altavoces de amplificador sea de
· Cuando limpie los altavoces, utilice un
paño suave y frote la superficie con
cuidado. No aplique solventes ni
Korrekt montering och användning
· Innan du ansluter högtalarna till
förstärkaren måste du se till att strömmen
är frånslagen. Högtalarna kan skadas av
det klickljud som genereras vid
anslutningen om strömmen är på.
· Förstärkaren och högtalarna ska anslutas
till motsvarande klämmor, d v s vänster till
vänster och höger till höger liksom även "+"
till "+" och "­" till "­". Anslutning med
omvänd polaritet försämrar återgivningen
· Utsätt inte högtalarna för höga ineffekter.
Märkeffekten för CS-FS6/CS-FS5 är
300 W/240 W (max. musikeffekt). För höga
ineffekter kan skada högtalarna.
· CS-FS6/CS-FS5 har en impedans på
. Se Kontrollera att förstärkarens
utgångsimpedans vid högtalarklämmorna
· Rengör högtalarnas ytterhölje med en mjuk
trasa. Torka av ytan försiktigt. Använd inte
thinner eller något annat lösningsmedel vid
---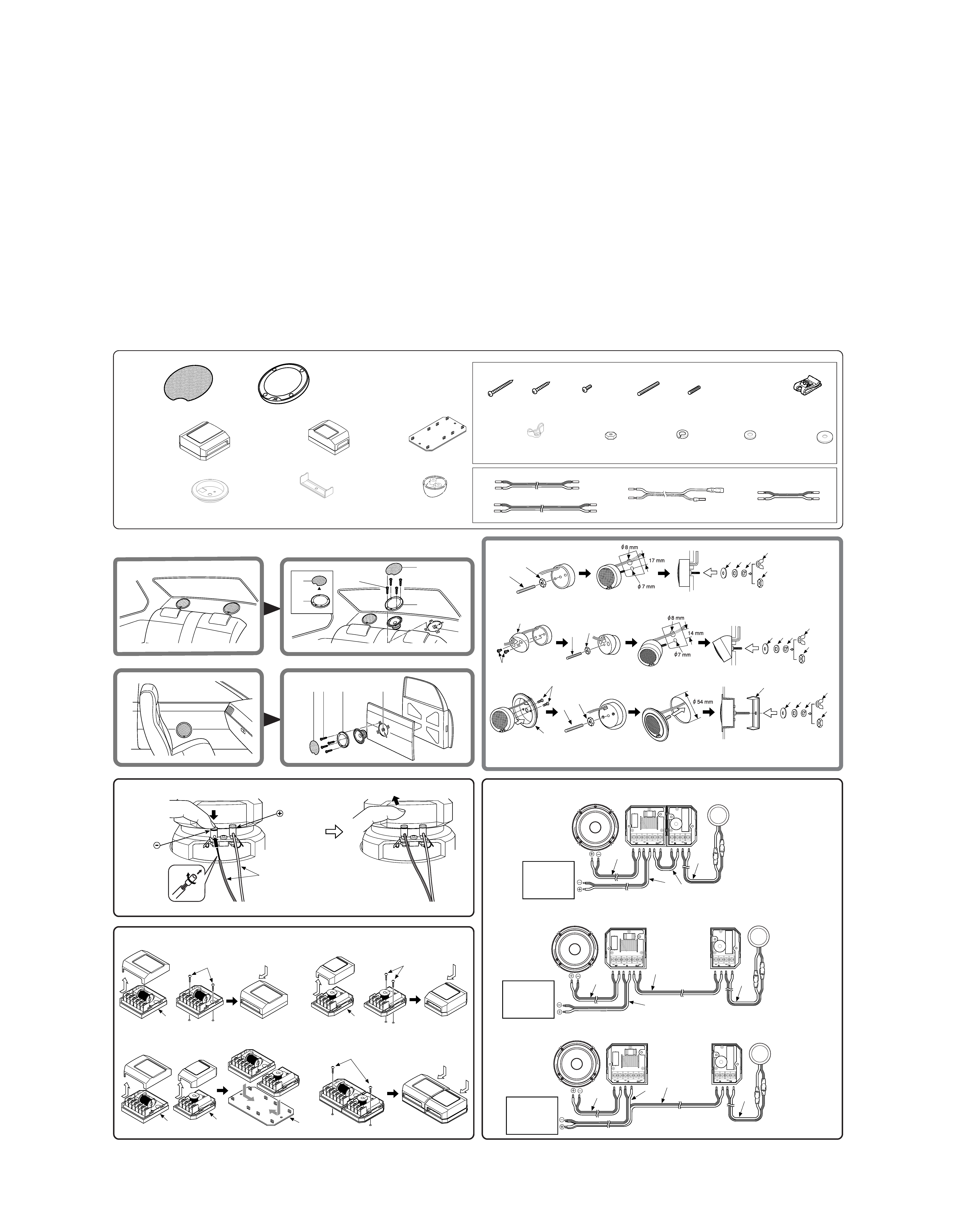 How to install the woofers
1. Determine where to install the speakers in
your car (rear tray--Fig. 1 or front door--
· The speakers must be installed in a
place where enough open spaces can
be maintained--at least 32 mm above
and 64 mm (for CS-FS6) and 62 mm
(for CS-FS5) below the place.
· In determining the installation location,
make sure that the bottom part of each
speaker can fit into the hole made on
the cover and be fixed firmly with the
2. Remove the cover(s) of the installation
3. Cut out the speaker installation areas on
· Before cutting the areas, mark them up
using the paper pattern printed on the
bottom of the packing box which gives
you the exact shape of the area you
How to install the tweeters
Determine where to install the speakers in your
car, then an appropriate installation method.
· Surface mounting--Fig. 4
· Angled mounting--Fig. 5
How to install the network units
1. Remove the covers from the network
units--Fig. 7 and Fig. 8, or Fig. 9.
2. Fix the network units and attach the
covers back--Fig. 7 and Fig. 8, or Fig. 9.
7
Normal close wiring / Normale nahe Verdrahtung / Câblage raproché normal /
Normale gesloten bedrading / Cableado cerrado normal / Kabeldragning vid intilliggande montering
7
Normal separate wiring / Normale separate Verdrahtung / Câblage séparé ordinaire /
Normale gescheiden bedrading / Cableado separado normal / Kabeldragning vid separerad montering
7
Biwiring / Doppelverdrahtung / Double-câblage / Dubbele-bedrading / Bicableado / Kabeldragning för enskild montering
* Select the better for your installation location. / Wählen Sie die am besten geeignete Einbauposition. / Choisissez le meilleur emplacement
d'installation possible. / Kies de voor u geschikte installatieplaats. / Seleccione el mejor lugar para la instalación. / Välj den bästa för
Examples / Beispiele / Exemples / Voorbeelden / Ejemplos / Exempel
1. Bestimmen Sie, wo die Lautsprecher in Ihrem
Fahrzeug eingebaut werden sollen
(Heckablage--Abb. 1 oder Vordertür--Abb. 2).
· Die Lautsprecher müssen so eingebaut
werden, dass ausreichend offener Platz
bewahrt wird--mindestens 32 mm über
und 64 mm (für CS-FS6) und 62 mm
(für CS-FS5) unter der Einbauposition.
· Bei der Bestimmung der Einbauposition
stellen Sie sicher, das der Unterteil
jedes Lautsprechers in das Loch an der
Abdeckung passt und fest mit dem Grill
2. Entfernen Sie die Abdeckung(en) an der
Lautsprechereinbaubereiche an den
· Vor dem Ausschneiden der Bereiche
markieren Sie diese mit der unten auf
dem Lieferkarton aufgedruckten
Papierschablone, die die genaue Form
des auszuschneidenden Bereichs zeigt.
Bestimmen Sie, wo die Lautsprecher in Ihrem
Fahrzeug eingebaut werden sollen, und
wählen Sie eine geeignete Einbaumethode.
· Oberflächenmontage--Abb. 4
· Winkelanbringung--Abb. 5
· Bündige Anbringung--Abb. 6
Einbauen der Netzwerkeinheiten
1. Entfernen Sie die Abdeckungen von den
Netzwerkeinheiten--Abb. 7 und Abb. 8
2. Befestigen Sie die Netzwerkeinheiten und
bringen Sie die Abdeckungen wieder an--
Abb. 7 und Abb. 8 oder Abb. 9.
Installation des haut-parleurs de graves
1. Déterminez l'emplacement d'installation
des haut-parleurs dans votre voiture (plage
arrière--Fig.1 ou porte avant--Fig. 2).
· Les haut-parleurs doivent être installés
suffisamment d'espace libre--au moins
32 mm au dessus et 64 mm (pour le
CS-FS6) et 62 mm (pour le CS-FS5) au-
dessous de l'emplacement.
· Lors de la recherche d'un emplacement
d'installation, assurez-vous que le
dessous de chaque haut-parleur puisse
être inséré dans le trou fait dans la
garniture et fixé solidement avec la grille.
2. Retirez les garnitures de l'emplacement
3. Coupez les zones d'installation des haut-
parleurs sur les garnitures.
· Avant de couper les zones d'installation,
marquez-les en utilisant le modèle en
papier imprimé au-dessus de la boîte
d'emballage qui vous donne la forme
Installation des haut-parleurs d'aigus
Déterminez l'emplacement d'installation des
haut-parleurs dans votre voiture, puis la
méthode d'installation appropriée.
· Montage en surface--Fig. 4
· Montage en angle--Fig. 5
· Montage encastré--Fig. 6
Installation des unités de réseau
1. Retirez les couvercles des unités de
réseau--Fig. 7 et Fig. 8, ou Fig. 9.
2. Fixez les unités de réseau et remettez en
place les couvercles--Fig. 7 et Fig. 8, ou
Installeren van de woofers
1. Bepaal de plaats voor het installeren van
de luidsprekers in uw auto (hoedeplank--
Afb. 1 of voorportier--Afb. 2).
· De luidsprekers moeten op een plaats
worden geïnstalleerd waar voldoende
vrije ruimte is--tenminste 32 mm boven
en 64 mm (voor de CS-FS6) en 62 mm
(voor de CS-FS5) onder de
· Controleer bij het bepalen van de
installatieplaats dat het onderste
gedeelte van de luidspreker in het gat
van het paneel past en goed met het
rooster kan worden bevestigd.
2. Verwijder het paneel (de panelen) van de
3. Snij de plaats voor het installeren van de
luidsprekers uit het paneel (de panelen).
· Markeer eerst de plaats met gebruik van
het papieren malletje dat op de
onderkant van de verpakking is gedrukt.
U krijgt zo een goed idee m.b.t. de juiste
vorm en afmetingen van de luidsprekers
Installeren van de tweeters
Bepaal de plaats voor het installeren van de
luidsprekers in uw auto en kies de geschikte
methode voor het installeren.
· Bevestiging op oppervlak--Afb. 4
· Schuine bevestiging--Afb. 5
· Verzonken bevestiging--Afb. 6
Installeren van de netwerk-units
1. Verwijder de afdekkingen van de netwerk-
units--Afb. 7 en Afb. 8 of Afb. 9.
2. Bevestig de netwerk-units en plaats de
panelen terug--Afb. 7 en Afb. 8 of Afb. 9.
Cómo instalar los altavoces de graves
1. Determine dónde desea instalar los
altavoces en su automóvil (estante trasero
--Fig. 1 o puerta delantera--Fig. 2).
· Los altavoces deben instalarse en un
lugar que cuente con un espacio libre
suficiente--32 mm sobre el lugar de
instalación y 64 mm (para CS-FS6) y
62 mm (para CS-FS5) debajo del mismo.
· Al determinar la ubicación, asegúrese
de que la parte inferior de cada altavoz
encaje en el orificio practicado en la
cubierta, y de que es posible fijarlo
firmemente con la rejilla.
2. Retire la(s) cubierta(s) del lugar de
3. Recorte, sobre la(s) cubierta(s), las áreas
en que se instalarán los altavoces.
· Antes de recortar las áreas, utilice el
patrón de papel impreso en el fondo de
la caja de embalaje para dibujar el
contorno y obtener la forma exacta del
Cómo instalar los altavoces de agudos
Determine dónde desea instalar los
altavoces en su automóvil, y seguidamente
escoja el método de instalación apropiado.
· Montaje superficial--Fig. 4
· Montaje en ángulo--Fig. 5
Cómo instalar las unidades de red
1. Retire las cubiertas de las unidades de
red--Figs. 7 y 8 , o Fig. 9.
2. Fije las unidades de red y vuelva a
colocar las cubiertas--Figs. 7 y 8, o Fig.9.
Hur bashögtalarna installeras
1. Bestäm var du ska installera högtalarna i
bilen (hatthyllan--Fig. 1 eller framdörren--
· Högtalarna måste installeras på en plats
där det finns tillräckligt mycket fritt
utrymme--minst 32 mm ovanför och 64
mm (för CS-FS6) och 62 mm (för
· När du ska bestämma platsen måste du
kontrollera att den undre delen på varje
högtalare passar i hålet som gjorts i
skyddet och kan fästas fast ordentligt
2. Ta bort skyddet(n) på installationsplatsen.
3. Skär ut hål där högtalarna ska installeras i
· Innan du skär ut hålen, märk ut dem
först med pappersmallen, som finns
tryckt i botten på förpackningen. Det ger
dig den exakta formen på hålen som du
Hur diskanthögtalarna installeras
Bestäm var du ska installera högtalarna i
bilen och välj sedan en lämplig
· Utanpåliggande montering--Fig. 4
· Vinklad montering--Fig. 5
· Nedsänkt montering--Fig. 6
Hur nätverksenheterna installeras
1. Ta bort skydden från nätverksenheterna--
Fig. 7 och Fig. 8, eller Fig. 9.
2. Montera nätverksenheterna och sätt
tillbaka skydden--Fig. 7 och Fig. 8, eller
Parts / Teile / Pièces / Onderdelen / Piezas / Delar
Bolts / Steckschrauben / Boulons / Bouten / Pernos / Snabbmutter
Screws / Schrauben / Vis / Schroeven / Tornillos / Skruvar
Adaptador de montaje al ras
Red para altavoz de agudos
Nätverk för diskanthögtalare
Speaker cables / Lautsprecherkabel / Câbles d'enceinte / Luidsprekersnoeren / Cables de los altavoces / Högtalarkablar
· Grille and metal net are combined when shipped.
· Grill und Gitterblende sind beim Versand kombiniert.
· Le filet métallique et la grille sont assemblés à l'expédition.
· Het rooster en metalen net zijn bij het verlaten van de fabriek
· La rejilla y la red metálica se combinan antes del embarque.
· Galler och metallnät sitter ihop vid leverans.
---