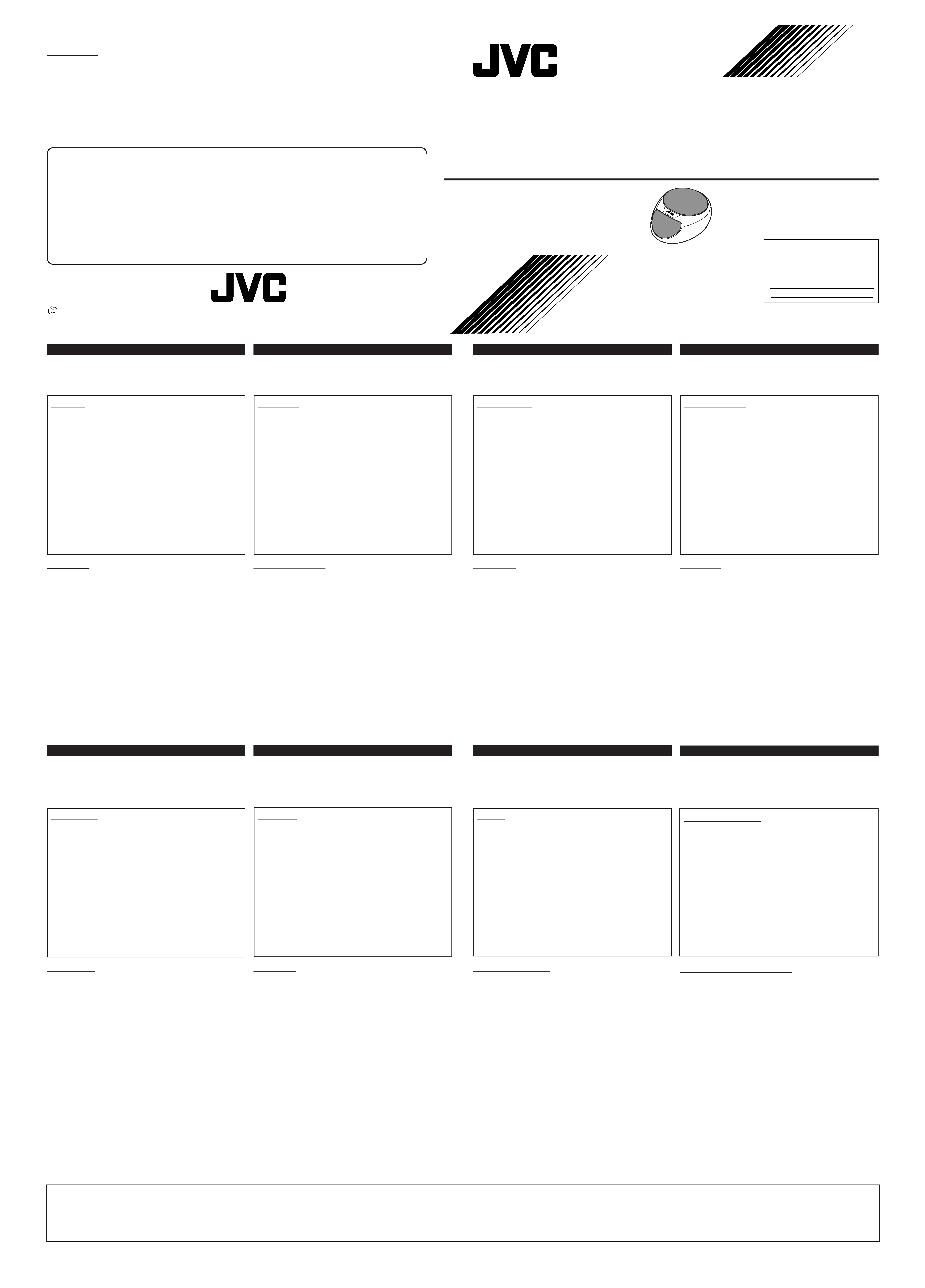 Enter below the Model No. and Serial
No. which is located either on the rear
or bottom of the speaker unit. Retain
this information for future reference.
EN, GE, FR, NL, SP, IT, SW, RU
© 2004 VICTOR COMPANY OF JAPAN, LIMITED
VICTOR COMPANY OF JAPAN, LIMITED
Closed, 2-way biaxial type
6.4 cm (2-
9
/
16
in.) cone (Cloth glass fiber
heat-resistant voice coil, neodymium
2.0 cm (
13
/
16
in.) dome (Silk soft dome,
If a kit is necessary for your car,
consult your telephone directory
for the nearest car audio
Si es necesario un juego de
instalación para su automóvil, vea
la guía telefónica para encontrar la
tienda especializada en audio para
automóvil más cercana (Agente
especializado en entretenimiento
Falls für lhren Wagen ein
Einbausatz erforderlich ist,
wenden Sie sich bitte an lhren
Se la vostra vettura richiedesse
un kit di montaggio, cercare il
negozio di articoli per automobile
più vicino (un rivenditore di
articoli per "l'intrattenimento in
automobile") con un elenco
Si un kit est nécessaire pour
votre voiture, consulter votre
annuaire téléphonique pour
automobile le plus proche.
Slå upp i telefonkatalogen (gula
specialaffär för bilstereotillbehör
högtalarnas montering i bilen.
Raadpleeg uw auto-audiohandelaar
handelaar) of een andere zaak indien
u een kit voor de installatie in uw au
Thank you for purchasing a JVC car speaker system.
Before you begin using the speaker, please read the instructions
carefully to be sure you get the best possible performance. If you
have any questions, consult your JVC dealer.
­ This speaker is designed to be mounted on the dashboard
of your vehicle. Do not mount on other places, especially
movable parts such as the sun visor and the airbag.
­ Install the speaker to the position where it does not
­ When mounting the speaker, fix the speaker firmly with
supplied screws by using both supplied spacer and
­ When you attach the speaker to the dashboard with
screws, make sure not to damage the electrical wiring
­ During daily use, check the speaker sometimes whether it
is fixed firmly. Loose attachment is very dangerous.
· Before connecting the speaker to the DVD/CD receiver or
amplifier, confirm that the DVD/CD receiver or amplifier has been
turned off. The click noise generated by the connection if the
DVD/CD receiver or amplifier is on may damage the speakers.
· When connecting the speaker cord, make sure to match the
ª and ·); otherwise, the quality of surround effect will
· Make sure the setting of the crossover frequency on the DVD/CD
receiver or amplifier is more than 150 Hz; otherwise the sound
may be distorted and the speaker may be damaged by internal
· Do not overload the speakers by excessive input. The power
handling capacity of the CS-CN100 is 60 W. Any excessive input
· The CS-CN100 has an impedance of 4
output impedance of the speaker terminal on the DVD/CD
receiver or amplifier is rated at 4
· When cleaning the speaker, use a soft cloth and wipe the surface
gently. Do not apply thinner or solvent.
Power Handling Capacity: 60 W
× H × D): 95 mm × 122 mm × 44.2 mm
× 4-
13
/
16
in. × 1-
3
/
4
in.)
Design and specifications are subject to change without notice.
Herzlichen Glückwunsch zum Kauf dieses JVC-Autolautsprechersystems.
Lesen Sie die Bedienungsanleitung vor der Verwendung dieser
Lautsprecher sorgfältig durch, um eine optimale Geräteleistung zu
erzielen. Wenden Sie sich bei etwaigen Fragen bitte an Ihren JVC-Händler.
­ Dieser Lautsprecher ist für die Montage auf dem
Armaturenbrett Ihres Fahrzeugs entworfen. Bringen Sie
ihn nicht an anderen Stellen an, insbesondere nicht an
beweglichen Teilen wie der Sonnenblende oder der
­ Montieren Sie den Lautsprecher in einer Position, wo er
nicht die Fahrsicherheit beeinträchtigt.
­ Bei der Montage des Lautsprechers befestigen Sie den
Lautsprecher fest mit den mitgelieferten Schrauben unter
Verwendung von sowohl Distanzstück als auch Bügeln.
­ Beim Anbringen des Lautsprechers am Armaturenbrett mit
Schrauben stellen Sie sicher, dass nicht die elektrische
Verkabelung im Inneren des Armaturenbretts beschädigt wird.
­ Bei der täglichen Verwendung prüfen Sie gelegentlich, ob
der Lautsprecher noch sicher befestigt ist. Eine lockere
Befestigung ist sehr gefährlich.
· Vor dem Anschließen des Lautsprechers am DVD/CD-Receiver
oder Verstärker bestätigen Sie, dass der DVD/CD-Receiver oder
Verstärker ausgeschaltet ist. Das vom Anschließen erzeugte
Klickgeräusch bei eingeschaltetem DVD/CD-Receiver oder
Verstärker kann die Lautsprecher beschädigen.
· Beim Anschließen des Lautsprecherkabels stellen Sie sicher,
ª und ·) richtig ist; andernfalls nimmt die
Qualität des Surroundeffekts ab.
· Stellen Sie sicher, dass die Übergangsfrequenz am DVD/CD-
Receiver oder Verstärker mehr als 150 Hz beträgt; andernfalls
kann der Klang verzerrt werden, und Lautsprecher können durch
internen Hitzestau beschädigt werden.
· Überlasten Sie nicht die Lautsprecher durch zu starken Eingang.
Die Belastbarkeit des CS-CN100 beträgt 60 W. Durch zu starken
Eingang können die Lautsprecher beschädigt werden.
· Der CS-CN100 hat eine Impedanz von 4
dass die Ausgangsimpedanz des Lautsprecherausgangs am
DVD/CD-Receiver oder Verstärker auf 4
· Beim Reinigen des Lautsprechers verwenden Sie einen weichen
Lappen und wischen die Oberfläche sanft ab. Ven Sie keine
Verdünnungs- oder Lösungsmittel.
Merci pour avoir acheté un système d'enceinte autoradio JVC.
Avant d'utiliser l'enceinte, veuillez lire attentivement ces instructions
afin d'obtenir les meilleures performances possibles. En cas de
questions, consulter votre revendeur JVC.
­ Cette enceinte est conçue pour être montée sur le tableau
de bord de votre véhicule. Ne l'installez pas dans un autre
endroit et en particulier sur des parties mobiles telles que
le pare-soleil ou le coussin de sécurité gonflable.
­ Installez l'enceinte dans une position où elle ne gène pas
­ Lors du montage de l'enceinte, fixez-la solidement avec
les vis fournies en utilisant, à la fois, l'entretoise et les
­ Lors de la fixation de l'enceinte sur le tableau de bord à
l'aide des vis, faites attention de ne pas endommager le
circuit électrique se trouvant à l'intérieur du tableau de
­ Lors de son utilisation quotidienne, vérifiez de temps en
temps si l'enceinte est fixée solidement. Si l'enceinte est
mal fixée, cela peut être très dangereux.
· Avant de connecter l'enceinte à l'autoradio DVD/CD ou à
l'amplificateur, vérifiez que l'autoradio DVD/CD ou l'amplificateur
est hors tension. Le bruit de craquement généré par la connexion
si l'autoradio ou l'amplificateur est laissé sous tension peut
endommager les enceintes.
· Lors de la connexion du cordon d'enceinte, assurez-vous de
respecter les polarités (
ª et ·); sinon, la qualité de l'effet
· Assurez-vous que le réglage de la fréquence de transition de
l'autoradio DVD/CD ou de l'amplificateur est supérieur à 150 Hz;
sinon le son peut être déformé et l'enceinte peut être
endommagée par un échauffement interne.
· Ne pas appliquer un niveau d'entrée excessif aux enceintes. La
capacité de puissance soutenue pour l'enceinte CS-CN100 est
de 60 W. Tout signal d'entrée excessif risque d'endommager les
· Le CS-CN100 a une impédance de 4
l'impédance de sortie des prises d'enceinte de l'autoradio DVD/
CD ou de l'amplificateur est aussi de 4
· Nettoyer l'enceinte en la frottant légèrement à l'aide d'un chiffon
doux. Ne jamais utiliser de solvants ni de détergents.
Dank u voor de aanschaf van een JVC luidsprekersysteem voor in de auto.
Lees voor een optimale werking de aanwijzingen goed door
alvorens de luidspreker in gebruik te nemen. Neem contact op met
de JVC dealer indien u vragen heeft.
­ Deze luidspreker is ontworpen voor het monteren op het
dashboard van uw auto. Monteer niet op andere plaatsen,
en vermijd vooral het monteren bij bewegende
onderdelen, bijvoorbeeld de zonneklep en de airbag.
­ Installeer de luidspreker op een plaats waar het de
veiligheid tijdens het autorijden beslist niet negatief kan
­ Gebruik voor het juist en stevig monteren van de
luidspreker de bijgeleverde schroeven en tevens het
bijgeleverde tussenstuk en de bijgeleverde beugels.
­ Indien u de luidspreker met schroeven op het dashboard
monteert, moet u beslist controleren dat elektrische
bedrading in het dashboard niet wordt beschadigd.
­ Controleer van tijd tot tijd of de luidspreker nog stevig is
bevestigd. Het is uitermate gevaarlijk indien de
· Controleer dat de DVD/CD-receiver of versterker is uitgeschakeld
alvorens de luidspreker met de DVD/CD-receiver of versterker te
verbinden. Harde klikkende ruis door het verbinden met de DVD/
CD-receiver of versterker nog ingeschakeld, kan de luidspreker
· Sluit de luidsprekersnoeren beslist met de juiste polariteit (
·) aan; het surroundeffect zal anders niet optimaal zijn.
· Controleer dat de drempelfrequentie van de DVD/CD-receiver of
versterker hoger dan 150 Hz is gesteld; het geluid wordt anders
mogelijk vervormd en de luidspreker wordt anders mogelijk door
interne hitte-ophoping beschadigd.
· Overbelast de luidspreker niet met te harde signalen. Het
vermogen van de CS-CN100 is 60 W. Overbelasting kan de
· De impedantie van de CS-CN100 is 4
uitgangsimpedantie van de luidsprekeraansluiting op de DVD/
CD-receiver of versterker tevens 4
· Gebruik een zachte doek en veeg de luidspreker voorzichtig
schoon indien nodig. Gebruik beslist geen thinner of
Gracias por la compra de este sistema de altavoces para automóvil JVC.
Para obtener un óptimo rendimiento, por favor lea atentamente las
instrucciones antes de empezar a usar estos altavoces. Si tiene
alguna pregunta, acuda a su agente de JVC.
­ Este altavoz ha sido diseñado para instalarse en el tablero
de instrumentos de su vehículo. Evite instalarlo en otros
lugares, y especialmente en partes móviles, como la
visera y la bolsa de aire.
­ Instale el altavoz en una posición que no constituya un
obstáculo para la seguridad de la conducción.
­ Al instalar el altavoz, fíjelo firmemente con los tornillos
suministrados, utilizando también los espaciadores y los
herrajes de fijación entregados.
­ Al apretar los tornillos para fijar el altavoz al tablero de
instrumentos, asegúrese de no dañar el conexionado
eléctrico interior del tablero de instrumentos.
­ Durante el uso diario, compruebe a intervalos regulares
que el altavoz se encuentre firmemente retenido. Una
instalación floja puede ser muy peligrosa.
· Antes de conectar el altavoz al receptor de DVD/CD o al
amplificador, confirme que el receptor de DVD/CD o el
amplificador esté apagado. El ruido de chasquido generado por
la conexión en caso de que esté conectado el receptor de DVD/
CD o el amplificador podrá dañar los altavoces.
· Cuando conecte el cordón de altavoz, asegúrese de hacer
coincidir las polaridades (
ª y ·); de lo contrario, se degradará
la calidad del efecto envolvente.
· Asegúrese de que el ajuste de la frecuencia de cruce del
receptor de DVD/CD o del amplificador sea mayor que 150 Hz;
de lo contrario, se podrá distorsionar el sonido y dañar el altavoz
debido al aumento de la temperatura interior.
· No sobrecargue los altavoces con una entrada excesiva. La
capacidad de manejo de potencia del CS-CN100 es de 60W.
Cualquier entrada excesiva podrá dañar los altavoces.
· El CS-CN100 tiene una impedancia de 4
impedancia de salida del terminal de altavoz del receptor de
DVD/CD o del amplificador esté estipulada en 4
· Al limpiar el altavoz, limpie levemente la superficie con un paño
suave. No aplique diluyente ni solvente.
La ringraziamo per l'acquisto di un diffusore per automobile JVC.
Per ottenere i migliori risultati, prima di utilizzare il diffusore,
leggerne attentamente le istruzioni. Qualora sorgessero dei dubbi,
rivolgersi al proprio rivenditore JVC.
­ Questo diffusore è progettato per l'installazione sul
cruscotto. Non installarlo in posizioni diverse, in
particolari su parti in movimento come i parasole e gli
­ Installare il diffusore in una posizione dove non
­ Installare il diffusore con le viti in dotazione utilizzando
sia il distanziatore che le staffe forniti.
­ Se si fissa il diffusore al cruscotto con delle viti,
controllare di non danneggiare i cavi elettrici all'interno
­ Controllare ogni tanto che il diffusore sia ben fissato alla
vettura. Se si staccasse, potrebbe causare infortuni.
· Prima di collegare il diffusore ad un ricevitore DVD/CD o
amplificatore, controllare che esso sia spento. Se il ricevitore
DVD/CD o amplificatore fosse acceso, il clic che genera potrebbe
· Nel collegare i cavi del diffusore, fare sempre corrispondere le
ª e ·), altrimenti la qualità dell'effetto di
· Controllare che la frequenza di crossover impostata con
ricevitore DVD/CD o amplificatore sia superiore a 150 Hz, o il
suono può risultare distorto ed il diffusore può venire
danneggiato dall'accumularsi di calore al suo interno.
· Non sovraccaricare i diffusori con un carico eccessivo. La
capacità di assorbimento dei CS-CN100 è di 60 W. Un vattaggio
eccessivo in ingresso può danneggiare seriamente i diffusori.
· Il CS-CN100 ha un'impedenza di 4
l'impedenza d'uscita del terminale del diffusore del ricevitore
DVD/CD o amplificatore sia di 4
· Pulire il diffusore solo passandolo leggermente con un panno
soffice. Non usare diluenti o solventi.
Tack för att du valt ett bilhögtalarsystem från JVC.
Läs instruktionerna noggrant innan du börjar använda högtalaren,
för att vara säker på att du får bästa möjliga prestanda. Kontakta din
JVC-återförsäljare om du har några frågor.
­ Denna högtalare är utformad för att monteras på ditt
fordons instrumentpanel. Montera den inte på andra
ställen, speciellt inte på rörliga delar såsom solskyddet
­ Montera högtalaren på den plats där den inte hindrar dig
­ När du monterar högtalaren ska du fästa den stadigt med
medföljande skruvar genom att använda både
medföljande distans och hållare.
­ När du fäster högtalaren till instrumentpanelen med
skruvar måste du se till att inte skada elledningarna inuti
­ Kontrollera ibland att högtalaren är ordentligt fastsatt. Det
är mycket farligt om den sitter löst.
· Innan du ansluter högtalaren till DVD/CD-mottagaren eller
-förstärkaren måste du se till att DVD/CD-mottagaren eller
-förstärkaren har stängts av. Klickljudet som skapas av
anslutningen, om DVD/CD-mottagaren eller -förstärkaren är på,
· När du ansluter högtalarkabeln måste du se till att polariteten är
ª och ·); annars blir kvaliteten på surroundljudet sämre.
· Se till att inställningen av delningsfrekvensen på DVD/CD-
mottagaren eller -förstärkaren är högre än 150 Hz; annars kan
ljudet förvrängas och högtalaren kan skadas av intern
· Överbelasta inte högtalarna genom för stor ingångseffekt.
CS-CN100:as effektkapacitet är 60 W. Ingångseffekt större än
detta kan skada högtalarna.
· CS-CN100 har en impedans på 4
. Se till att högtalarutgångens
utimpedans på DVD/CD-mottagaren eller -förstärkaren är avsedd
· När du rengör högtalaren ska du använda en mjuk trasa och
torka av ytan försiktigt. Använd inte thinner eller lösningsmedel.
2-WAY CENTER SPEAKER SYSTEM
2-WEGE CENTERLAUTSPRECHERSYSTEM
HAUT-PARLEURS POUR AUTOMOBILE
SYSTÈME DE HAUT-PARLEUR CENTRAL À 2 VOIES
2-WEG MIDDENLUIDSPREKERSYSTEEM
SISTEMA DE ALTAVOCES PARA AUTOMOVIL
SISTEMA DE ALTAVOCES CENTRALES DE 2 VÍAS
DIFFUSORE CENTRALE A DUE VIE
2-VÄGS MITTHÖGTALARSYSTEM
---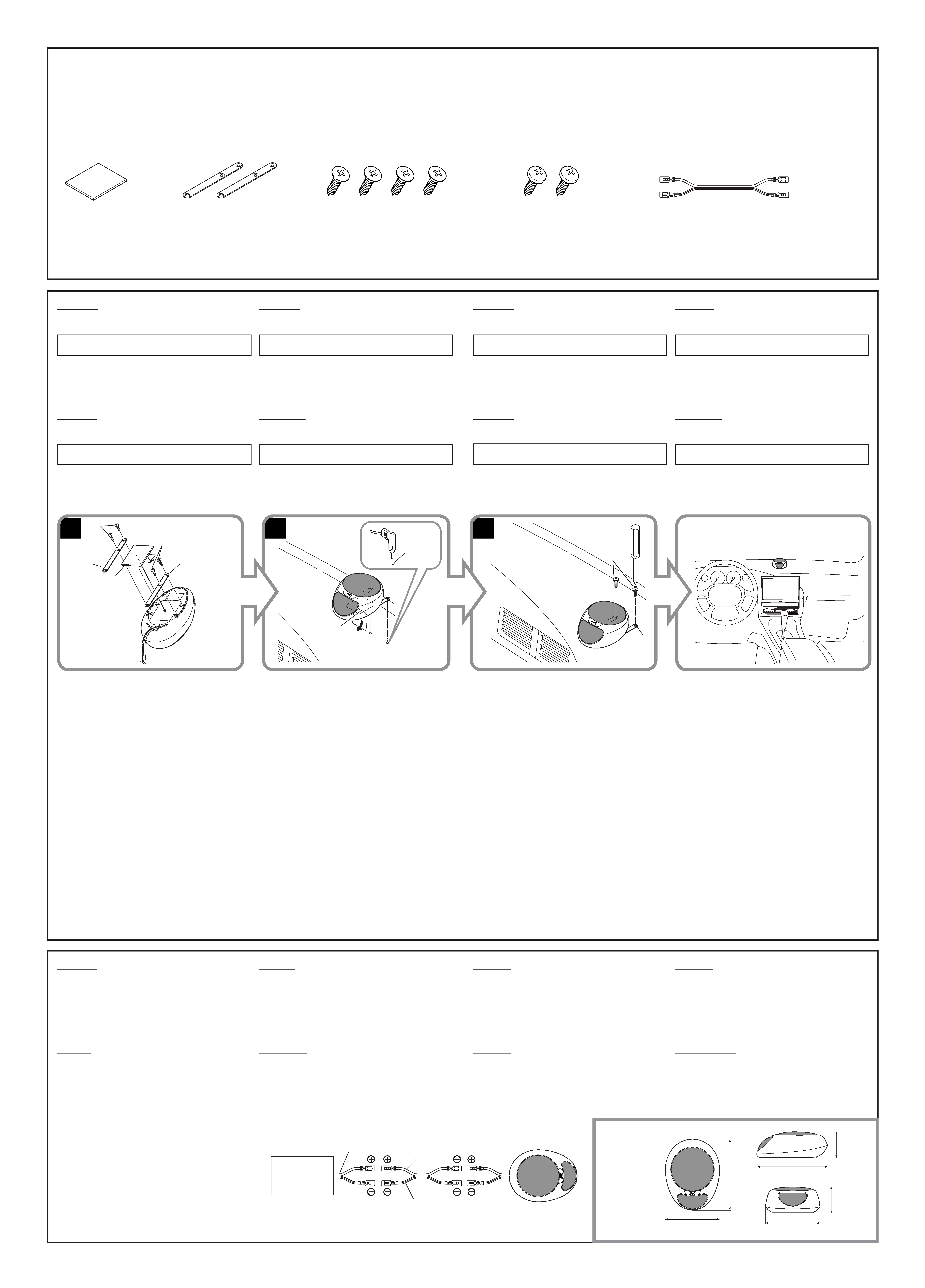 Check to be sure you have the following items.
If any of the items below are missing, contact your dealer
Comprobación de las piezas suministradas
Compruebe que dispone de todos los elementos siguientes.
Si hay algún elemento faltante, póngase inmediatamente en
contacto con su concesionario.
Flat countersunk screws (ø3
× 10 mm) (ø
1
/
8
×
7
/
16
in.)
Vis fraisée à tête plate (ø3
Schroeven met platte kop (ø3
Tornillos de cabeza avellanada plana (ø3
Skruvar med platta försänkta huvuden (ø3
× 10 mm) (ø
3
/
16
×
7
/
16
in.)
Speaker cord (2 m) (6.5 ft)
Install the speaker to the dashboard of your vehicle as illustrated
It is recommended to have the speaker system installed by a
Before installing the speaker to your vehicle:
· Prepare a screw driver.
· Clean the place to install, to remove humidity, dust and stains.
Instale el altavoz en el tablero de instrumentos de su vehículo,
como se observa en la ilustración de abajo.
Se recomienda encomendar el sistema de altavoz a un técnico
Antes de instalar el altavoz en su vehículo:
· Prepare un destornillador.
· Limpie el sitio de instalación y elimine la humedad, el polvo y la
Connect the center speaker to the center speaker terminals of the
DVD/CD receiver or amplifier (5.1 ch compatible).
Route the speaker cord so that it does not obstruct safety drive.
Conecte el altavoz central a los terminales para altavoz central
del receptor de DVD/CD o del amplificador (compatible con 5,1
Enrute el cable de altavoz de manera que no interfiera en la
seguridad de la conducción.
DVD/CD receiver or amplifier (5.1 ch compatible)
DVD/CD-Receiver oder Verstärker (5.1ch-kompatibel)
Autoradio DVD/CD ou amplificateur (compatible 5,1 canaux)
DVD/CD-receiver of versterker (geschikt voor 5.1-kanaal weergave)
Receptor de DVD/CD o amplificador (compatible con 5,1 canales)
Ricevitore DVD/CD o amplificatore (compatibile con 5.1 canali)
DVD/CD-mottagare eller förstärkare (kompatibelt med 5,1 ch)
Prüfen Sie, ob die folgenden Teile mitgeliefert wurden.
Wenn eines der unten aufgeführten Teile fehlt, wenden Sie sich
sofort an Ihren Fachhändler.
Verifica degli accessori in dotazione
Verificare che siano presenti i seguenti accessori in dotazione.
Se ne mancasse qualcuno, entrare immediatamente in contatto
con il proprio negoziante di fiducia.
Vérification des pièces fournies
Assurez-vous que vous possédez bien toutes les pièces suivantes.
Si quelque chose manquait, contactez immédiatement votre
Kontrollera medföljande delar
Kontrollera att du har följande delar.
Kontakta din återförsäljare omgående om någon av nedanstående
1. Join the supplied parts to the speaker as illustrated.
· Use flat countersunk screws to attach the brackets.
2. Detach the sheet from the spacer and place the speaker on
the center position of the dashboard where it does not
3. Fix the speaker with binding screws firmly.
If the speaker is installed improperly, it may come off from the
dashboard during driving, causing injury or accident.
1. Coloque las piezas suministradas en el altavoz, tal como
se indica en la ilustración.
· Fije los herrajes de fijación utilizando tornillos de cabeza
2. Retire la lámina del espaciador y coloque el altavoz en una
posición central del tablero de instrumentos, de manera
que no obstruya la visibilidad del conductor.
3. Fije firmemente el altavoz con los tornillos de fijación.
Si el altavoz está instalado incorrectamente, se podrá caer del
tablero de instrumentos durante la conducción, y ocasionar
Den Lautsprecher auf dem Armaturenbrett Ihres Fahrzeugs
installieren, wie in der Abbildung unten gezeigt.
Es wird empfohlen, das Lautsprechersystem von einem
qualifizierten Techniker installieren zu lassen.
Vor der Installation des Lautsprechers im Fahrzeug:
· Legen Sie einen Schraubenzieher bereit.
· Reiigen Sie den Montageort, wischen Sie Feuchtigkeit, Staub
Installare il diffusore sul cruscotto del veicolo nel modo illustrato di
Si raccomanda di affidare l'installazione a personale
Prima di installare il diffusore sulla vettura:
· Preparare un cacciavite.
· Pulire la posizione di installazione da umidità, polvere e sporco.
Installez l'enceinte sur le tableau de bord de votre véhicule
Il est recommandé de faire installer le système d'enceinte par
Avant d'installer l'enceinte dans votre véhicule:
· Nettoyez l'endroit où vous souhaitez installer l'enceinte pour
éliminer toute trace d'humidité, de poussière et de saleté.
Installera högtalaren på ditt fordons instrumentpanel såsom visas
Vi rekommenderar att högtalarsystemet monteras av en
Innan du monterar högtalaren i ditt fordon:
· Gör iordning en skruvmejsel.
· Rengör stället som du ska installera högtalaren på, för att ta
bort fukt, damm och fläckar.
Centerlautsprecherausgang
Sortie de l'enceinte centrale
1. Bringen Sie die mitgelieferten Tele am Lautsprecher an, wie
in der Abbildung gezeigt.
· Verwenden Sie die flachen Senkschrauben zum Anbringen
2. Nehmen Sie das Blatt vom Distanzstück ab, und setzen Sie
den Lautsprecher in die Mittenstellung auf dem
Armaturenbrett, wo er nicht die Sicht des Fahrers behindert.
3. Befestigen Sie den Lautsprecher fest mit Klemmschrauben.
Wenn der Lautsprecher falsch installiert ist, kann er sich beim
Fahren vom Armaturenbrett gelöst haben, was Verletzungen oder
Unfälle verursachen kann.
1. Installare le parti in dotazione sul diffusore nel modo
· Fissare le staffe con le viti a testa conica.
2. Staccare il foglio dal distanziale e mettere il diffusore al
centro del cruscotto in modo che non ostacoli la visuale
3. Fissare il diffusore fermamente con le viti di arresto.
Se il diffusore è installato in modo scorretto, potrebbe cadere
durante la guida, causando infortuni o incidenti.
1. Montez les pièces fournies sur l'enceinte comme montré
· Utilisez une vis fraisée à tête plate.
2. Détachez le film de l'entretoise et placez l'enceinte sur la
position centrale du tableau de bord, dans un endroit où il
ne gêne pas la vision du conducteur.
3. Fixez l'enceinte solidement avec les vis de pression.
Si l'enceinte est installée incorrectement, elle peut se détacher du
tableau de bord pendant la conduite et entraîner des blessures ou
1. Sätt samman de medföljande delarna till högtalaren såsom
· Använd skruvar med platta försänkta huvuden för att fästa
2. Ta bort bladet från distansen och sätt högtalaren i mittläget
på instrumentpanelen där den inte skymmer sikten för
3. Fäst fast högtalaren ordentligt med fästskruvar.
Om högtalaren monteras felaktigt kan den lossna från
instrumentpanelen medan du kör och orsaka skada eller olycka.
Schließen Sie den Centerlautsprecher an den
Centerlautsprecherbuchsen des DVD/CD-Receivers oder
Verstärkers (5.1ch-kompatibel) an.
Verlegen Sie das Lautsprecherkabel so, dass es nicht die
Fahrsicherheit beeinträchtigt.
Collegare il diffusore centrale ai terminali del diffusore centrale di
un ricevitore DVD/CD o amplificatore (compatibile con 5.1 canali).
Stendere il cavo dei diffusori in modo che non ostacoli la guida.
Connectez l'enceinte centrale aux prises d'enceinte centrale de
l'autoradio DVD/CD ou de l'amplificateur (compatible 5,1 canaux).
Acheminez le cordon d'enceinte de façon qu'il ne vous empêche
pas de conduire en toute sécurité.
Anslut mitthögtalaren till dess utgångar för DVD/CD-mottagare
eller förstärkare (kompatibelt med 5,1 ch).
Lägg högtalarkabeln så att den inte hindrar dig från att köra
Controleer de bijgeleverde onderdelen
Controleer dat u de volgende onderdelen heeft.
Raadpleeg direct de plaats van aankoop indien er iets ontbreekt.
Installeer de luidspreker zoals hieronder aangegeven op het
Laat het luidsprekersysteem bij voorkeur door een erkend
Alvorens de luidspreker in uw auto te monteren:
· Zorg dat u een schroevendraaier heeft.
· Reinig het oppervlak voor het installeren zodat het niet vochtig,
1. Monteer de bijgeleverde onderdelen zoals afgebeeld op de
· Gebruik de schroeven met platte kop voor het bevestigen van
2. Verwijder de beschermstrook van het tussenstuk en plaats
de luidspreker midden op het dashboard waar deze het
zicht van de bestuurder beslist niet belemmert.
3. Bevestig de luidspreker stevig met de bindschroeven.
Indien de luidspreker niet goed is gemonteerd, zou deze tijdens
het rijden van het dashboard kunnen vallen waardoor letsel of
ongelukken zouden kunnen worden veroorzaakt.
Verbind de middenluidspreker met de
middenluidsprekeraansluitingen van de DVD/CD-receiver of
versterker (die geschikt is voor 5.1-kanaal weergave).
Leid het luidsprekersnoer zodanig dat het geen negatieve invloed
op de veiligheid tijdens het rijden kan hebben.
Salida del altavoz central
Uscita diffusore centrale
---