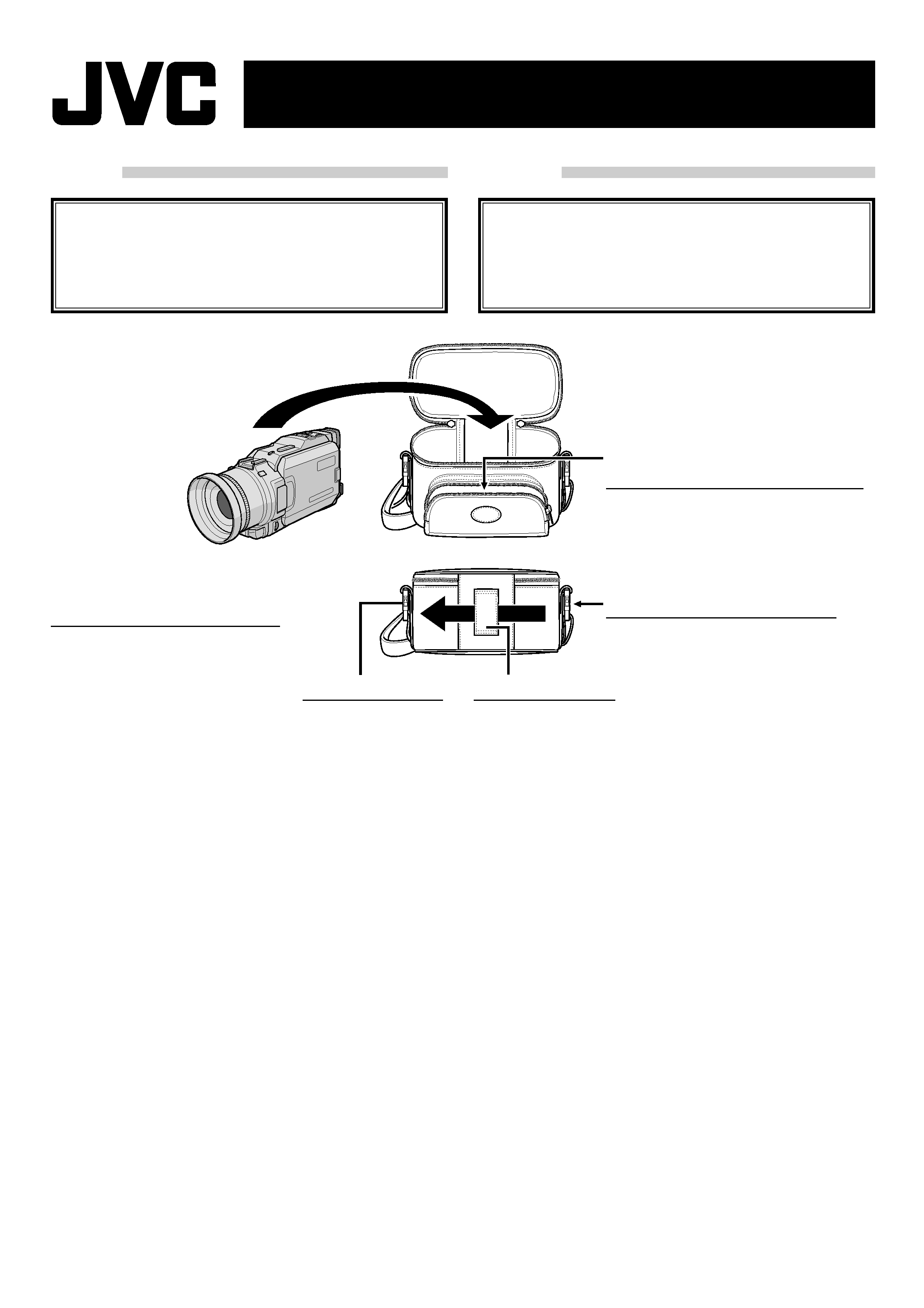 ©2000 VICTOR COMPANY OF JAPAN, LTD.
Thank you for purchasing the JVC CB-V77U
Carrying Bag designed to protect your JVC
Camcorder from dirt or being scratched during
This Carrying Bag is not designed to be
Do not install or remove the bag on or from
the Camcorder in grit, rain or snow.
Please note that JVC cannot assume liability
for any damage or malfunction to your
Camcorder due to rain or grit.
When attaching the shoulder strap, insert it
into the strap attachment until it clicks. Check
that it is secure by pulling on the strap.
: 230 mm x 120 mm x 120 mm
The appearance and specifications of this product are
subject to change without prior notice.
Nous vous remercions pour l'achat de ce sac
de transport CB-V77U JVC, conçu pour
protéger votre camescope JVC de la poussière
ou d'être rayé en cours de transport.
Précautions d'utilisation
Ce sac de transport n'est pas étanche à l'eau.
Ne pas monter ni retirer le sac dans des
endroits où des matières étrangères, la pluie
ou la neige pourraient pénétrer.
Veuillez noter que JVC ne peut assumer de
responsabilité pour tout dommage ou mauvais
fonctionnement du camescope dû à la pluie
ou à des matières étrangères.
Pour attacher la bandoulière, l'introduire dans
le passant de courroie jusqu'à ce qu'elle
s'enclenche. Vérifier qu'elle est bien attachée
Caractéristiques principales
: 230 mm x 120 mm x 120 mm
La présentation et les caractéristiques de cet appareil
sont modifiables sans préavis.
Storage space for small articles such
Espace de rangement pour de petits
articles, tels que des cassettes.
Shoulder strap can be removed.
La bandoulière peut être retirée.
Can be used as a waist pouch by
threading a belt through the
Peut être utilisé comme une
trousse à la ceinture en passant
une ceinture dans le support de
---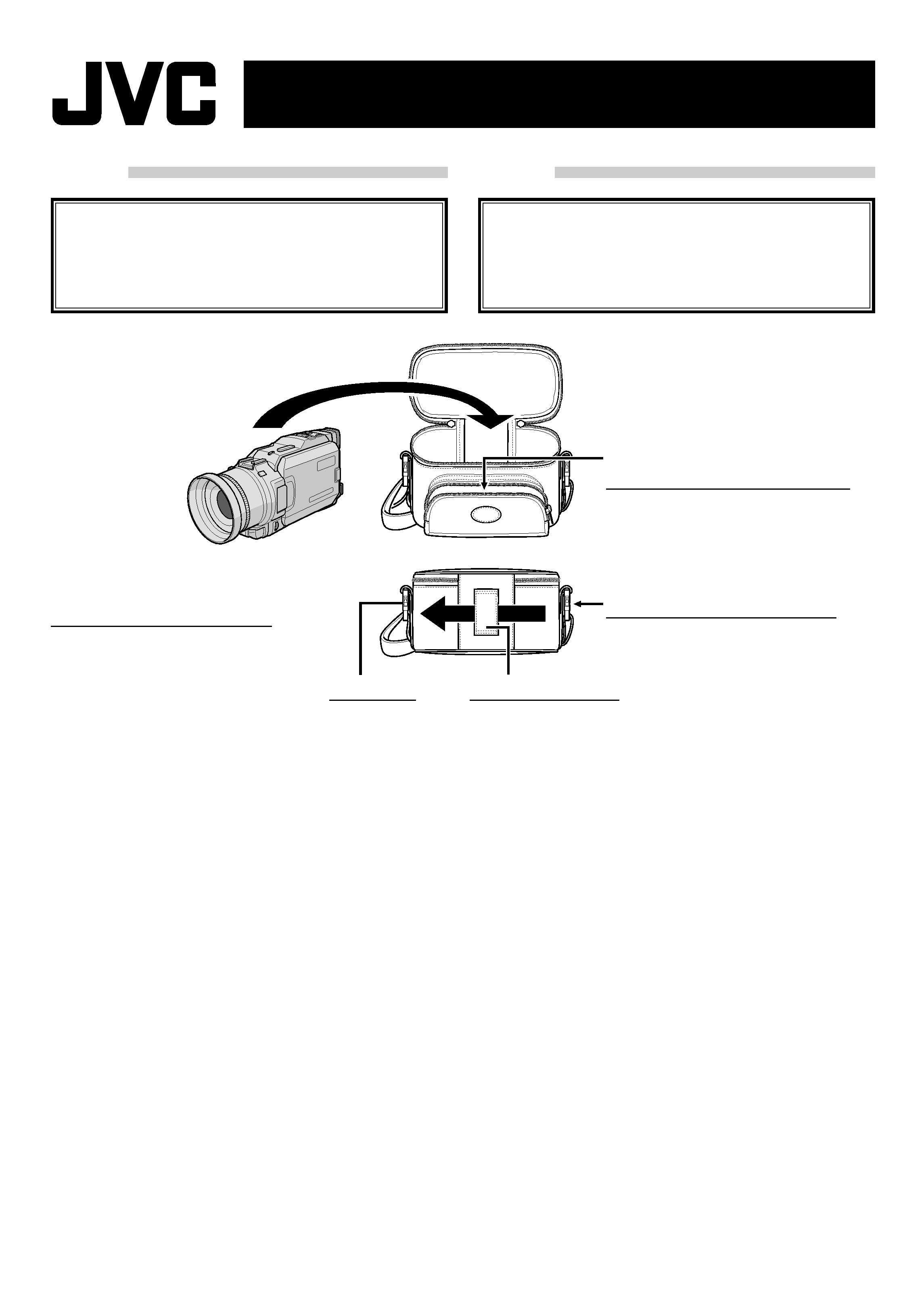 Le agradecemos la adquisición del estuche de
transporte CB-V77U de JVC diseñado para
proteger su cámara digital JVC de la suciedad o
rasguños durante el transporte.
Este estuche no es impermeable.
No coloque ni extraiga la cámara digital en el/
del estuche cuando haya arena, nieve o lluvia.
Note que JVC no asume ninguna
responsabilidad por cualquier daño o fallo en
su cámara digital, producido por la lluvia o la
Cuando coloque la bandolera, insértela en el
anclaje hasta que haga un clic. Confirme que
esté seguro tirando de la bandolera.
Especificaciones principales
: 230 mm x 120 mm x 120 mm
El aspecto y las especificaciones de esta unidad están
sujetos a cambio sin aviso previo.
Vielen Dank für den Kauf der JVC Tragetasche
CB-V77U, die lhre JVC Digital-Kamera beim
Transportieren vor Verschmutzung und
Vorsichtsmaßregeln für den Gebrauch
Diese Tragetasche ist nicht wasserdicht.
Die Tragetasche bei Schneeregen, Schnee
sowie Regen nicht an der Digital-Kamera
anbringen oder von ihr entfernen.
Es sollte beachtet werden, daß JVC keine
Verantwortung für jegliche Schäden oder
Störungen bei lhrer Digital-Kamera
übernimmt, die durch Schnee oder Regen
Wenn der Schultergurt angebracht wird, muss
dieser bis zum Einrasten in das Gurtschloss
eingeschoben werden. Hierauf am Schultergurt
ziehen, um sicherzustellen, dass dieser
einwandfrei im Gurtschloss eingeklinkt ist.
: 230 mm x 120 mm x 120 mm
Änderungen der Konstruktion und der technische Daten
jederzeit ohne Vorankündigung vorbehalten.
Espacio de almacenamiento para
artículos pequeños, como casetes.
Seitentasche für Zubehör wie
La bandolera puede ser retirada.
Abnehmbarer Schultergurt.
Puede ser utilizada como una
riñonera pasando el cinturón a
Kann auch als Gürteltasche
muss ein Gürtel durch die
Gürtelschlaufe der Tragetasche
---