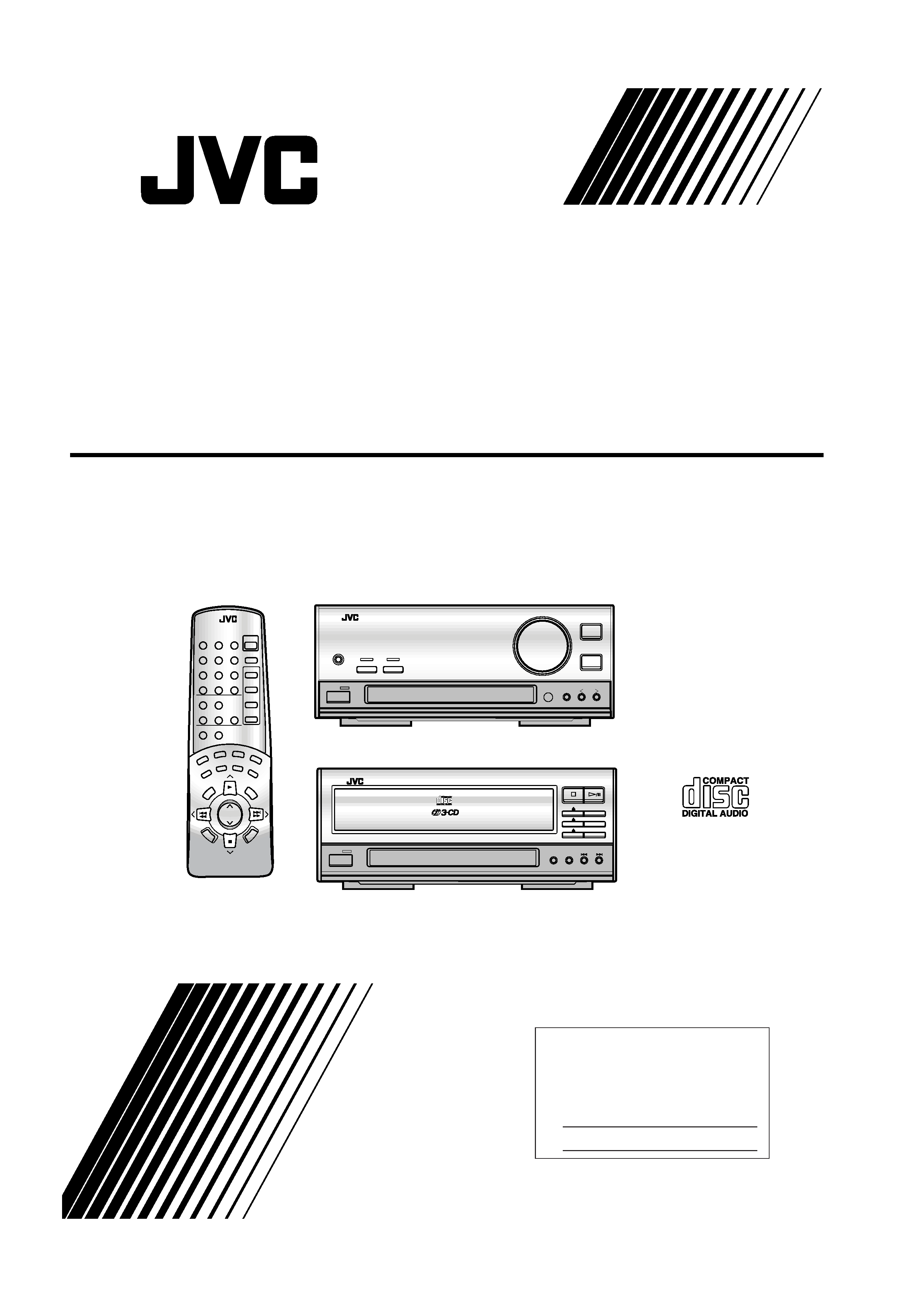 Enter below the Model No. and Serial
No. which are located either on the rear,
bottom or side of the cabinet. Retain this
information for future reference.
INTEGRATED AMPLIFIER/TUNER RX-EX70
COMPACT DISC PLAYER XL-EX70
RM­SEEX90U REMOTE CONTROL
INTEGRATED AMPLIFIER / TUNER
Consists of RX-EX70 and XL-EX70.
EN01-22.CA-EX70[J]/1-5/21
---

EN01-22.CA-EX70[J]/1-5/21
---

We would like to thank you for purchasing one of our JVC products. Before connecting this unit to
the wall outlet, please read the instructions carefully to ensure that you obtain the best possible
performance. If you have any questions, please consult your JVC dealer.
Select a place which is level, dry and neither too hot nor too cold (Between 41°F-95°F or 5°C and
Leave sufficient distance between the Unit and a TV.
Be sure to place the Unit in a location with good ventilation.
Do not use the Unit in a place subject to vibrations.
Do not place the Unit on a carpet.
Do not place the Unit on top of another heat-generating piece of equipment.
Do not handle the power cord with wet hands!
When unplugging the Unit from the wall outlet, always pull the plug, not the power cord.
There are no user serviceable parts inside. If anything goes wrong, turn off the power
immediately. If the same problem reoccurs when the power is turned on once more, turn off the
power again, unplug the power cord and consult your dealer.
Do not insert any metallic object into the Unit.
For safe use, observe the following
Avoid moisture, water and dust
Do not set your machine in moist or dusty places.
Do not expose your machine to direct sunlight or set near a heating device.
Poor-ventilation may damage your machine. So do not block the vents or put the unit in a poorly
When away on travel or otherwise for an extended period of time, turn off the power and pull the
plug from the electrical socket.
Do not insert foreign matter into the machine
Do not insert wires, hairpins, coins, etc. into your machine.
When cleaning your machine, use a soft cloth and follow the relevant instructions on the use of
chemically-coated cloths. Avoid applying benzene, thinner or other organic solvents and
disinfectants. This may cause deformation or discoloring.
If water gets inside the machine
Turn off the power and pull the plug from the electrical socket, then call the store where you made
your purchase. Using the machine in this state may cause a fire or electrical shock.
EN01-22.CA-EX70[J]/1-5/21
---

Welcome ! .......................................................... 3
Important cautions .............................................. 3
For safe use, observe the following ................... 3
Parts Index ......................................................... 5
Front Panels ........................................................ 5
Displays ............................................................... 7
Rear Panels ......................................................... 9
Remote control ................................................. 11
Setting up the System .................................... 13
Supplied Accesories ......................................... 13
Placement ......................................................... 13
Connections ...................................................... 14
Connecting the Power ...................................... 16
Remote control batteries .................................. 17
Setting the Clock .............................................. 18
Amplifier Operations ...................................... 19
Turning on the Power ....................................... 19
Adjusting the Volume ....................................... 19
Adjusting the Sound ......................................... 20
Adjusting the Balance ....................................... 21
Direct Playback ................................................. 21
Selecting a Source ............................................ 22
Tuner Operations ............................................. 23
Manual and Automatic Tuning .......................... 23
Presetting Stations ........................................... 25
Listening to Preset Stations ............................. 26
CD Operations .................................................. 27
Loading CDs ..................................................... 27
Basic Operations .............................................. 28
Program Play Mode .......................................... 30
Random Play Mode .......................................... 32
Repeat Play Mode ............................................ 33
Tray Lock ........................................................... 33
Timer Operations ............................................. 34
Introduction ....................................................... 34
Daily Timer ........................................................ 35
Recording Timer ................................................ 37
Sleep Timer ....................................................... 39
Timer Priority ..................................................... 39
COMPU LINK .................................................... 40
Linked Operation of the Other Optional
Components (Compu Link) ............................... 40
(From the RX-EX70 Amplifier/tuner) ................. 41
(From a Source Component) ............................ 42
Remote Control of the Other Components ..... 43
Synchronized Recording ................................... 45
Additional Information ................................... 47
Troubleshooting ................................................ 47
Specifications .................................................... 49
EN01-22.CA-EX70[J]/1-5/21
---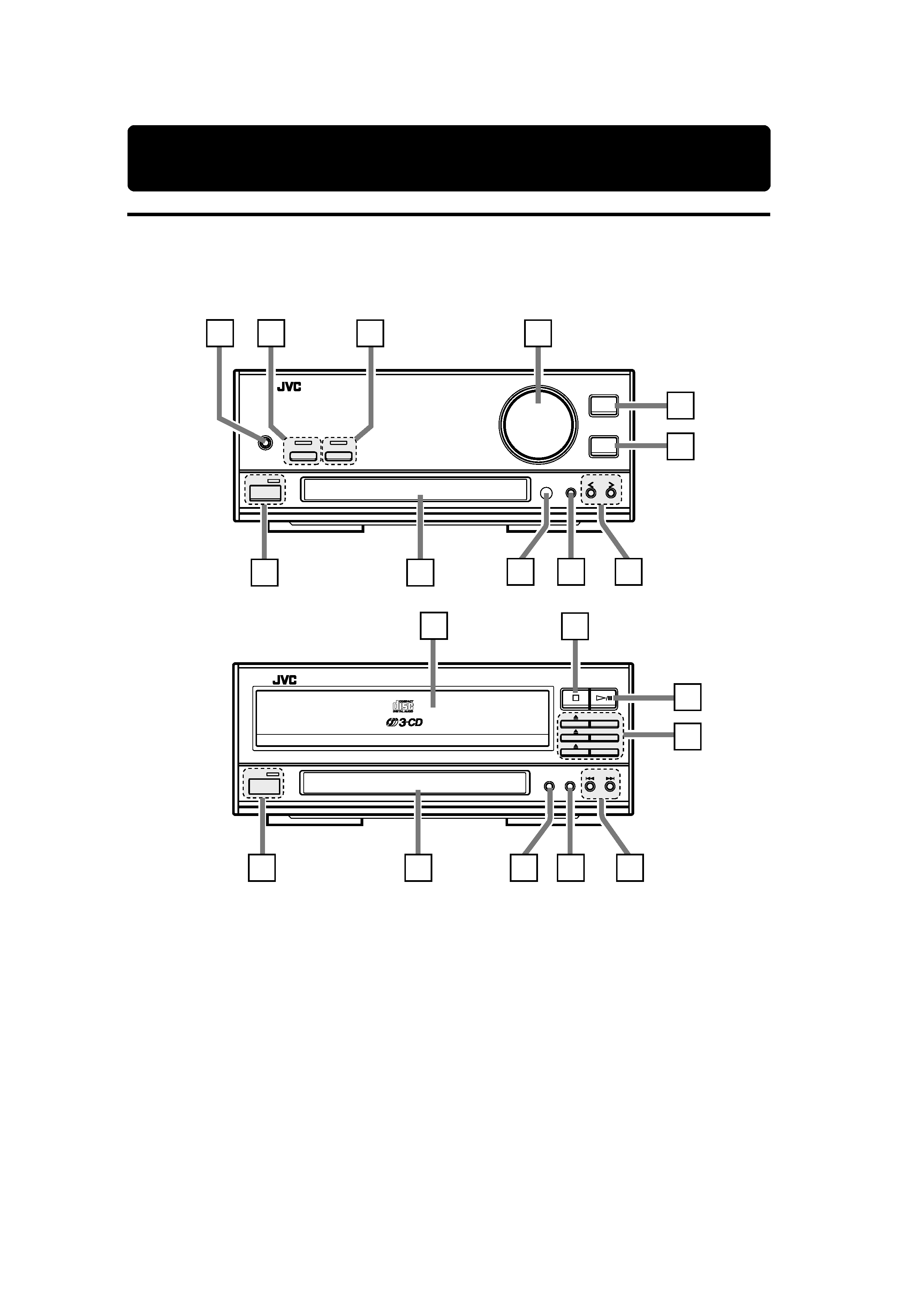 INTEGRATED AMPLIFIER / TUNER
EN01-22.CA-EX70[J]/1-5/21
---