COPYRIGHT © 2001 VICTOR COMPANY OF JAPAN, LTD.
The following item for the AV-14A4EE
/SK
model was changed from AV-14A4EE model.
Therefore, this service manual consists of Parts list only.
For details other than those described in this manual, please refer to the AV-14A4EE Service
Manual (No. 56089 Sep.2000) and AV-14AT Service Manual (No.56085 Oct.2000).
This model is assembled locally in the factory in Ukraine and sold domestically.
Accordingly, some parts including PICTURE TUBE and MAIN PW BOARD have been changed.
Identify that the model name "AV-14A4EE/SK" is printed on the margin of the rating label affixed
---

MAIN DIFFERENT PARTS LIST
( Between AV-14A4EE and AV-14A4EE/SK )
---

The parts identified by the ! symbol are important for the safety. Whenever replacing these parts, be sure to use specified
ones to secure the safety.
The parts not indicated in this Parts List and those which are filled with linesin the Parts No. columns will not be supplied.
P.W.Board Ass'y will not be supplied, but those which are filled with the Parts No. in the Parts No. columns will be supplied.
ABBREVIATIONS OF RESISTORS, CAPACITORS AND TOLERANCES
Metalized Mylar Capacitor
Metalized Polystyrol Capacitor
Metal Oxide Film Resistor
Coating Metal Film Resistor
Mrtalized Polypropylene Capacitor
Chip Metal Glazed Resistor
Bi-Polar Electrolytic Capacitor
Chip Aluminum Electrolytic Capacitor
Chip Aluminum Bi-Polar Capacitor
Chip Tantalum Electrolytic Capacitor
Chip Tantalum Bi-Polar Electrolytic Capacitor
---

EXPLODED VIEW PARTS LIST 4
PRINTED WIRING BOARD PARTS LIST
PACKING PARTS LISTBack cover
REMOTE CONTROL UNIT PARTS LISTBack cover
---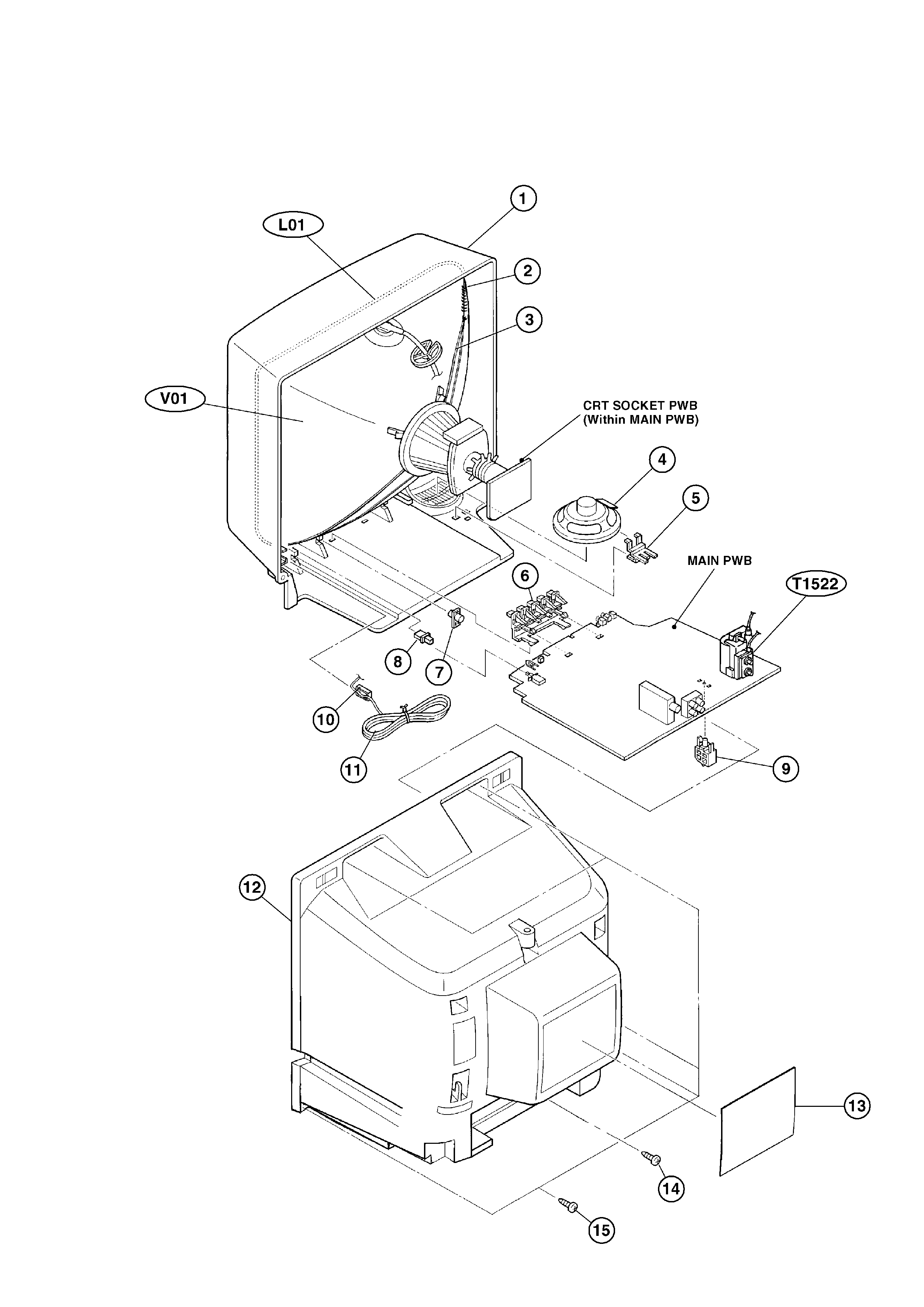 ---