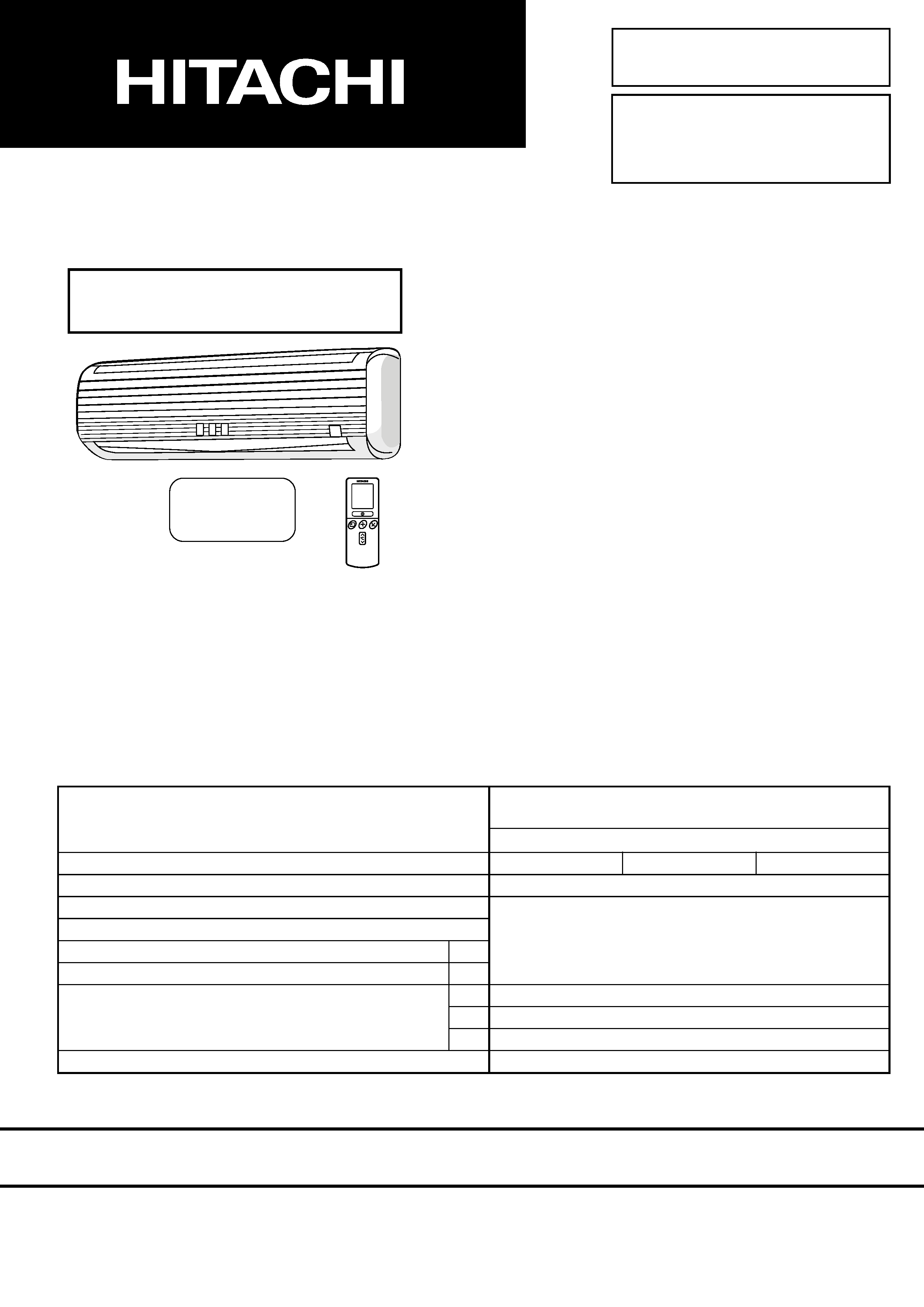 REFER TO THE FOUNDATION MANUAL AND
SERVICE MANUAL TC NO.0757EF.
RÉFÉREZ-VOUS AU COMITÉ TECHNIQUE NO.0757EF
DE MANUEL DE BASE ET DE MANUEL D'ENTRETIEN
SPECIFICATIONS AND PARTS ARE SUBJECT TO CHANGE FOR IMPROVEMENT
LES SPECIFICATIONS ET PIECES DETACHEES PEUVENT CHANGER POUR ETRE AMELIOREES.
FOR SERVICE PERSONNEL ONLY
CARACTERISTIQUES GENERALES
This manual describes only points that differ from RAF25, 50NH4,
RAD25, 40QH4 and RAM70, 80QH4 (TC No. 0757EF) for items
not described in this manual.
Le présent manuel décrit uniquement les points qui diffèrent avec les
descriptions pour les modèles RAF25, 50NH4, RAD25, 40QH4 et
RAM70, 80QH4 (TC No.0757EF) à propos des rubriques qui ne sont
pas traitées dans ce manuel.
CARACTERISTIQUES GENERALES
CONSTRUCTION AND DIMENSIONAL DIAGRAM
WIRING DIAGRAM OF THE PRINTED WIRING BOARD
SCHÉMA ÉLECTRIQUE DU CIRCUIT IMPRIMÉ
REFRIGERATING CYCLE DIAGRAM
SCHÉMA DU CYCLE DE RÉFRIGÉRATION
FONCTION BALAYAGE AUTOMATIQUE
DESCRIPTION OF MAIN CIRCUIT OPERATION
DESCRIPTION DES PRINCIPAUX CIRCUITS ÉLECTRIQUES
MODE OPERATOIRE DE DEPANNAGE
LISTE DES PIÉCES DE RECHANGE ET DIAGRAMME
PUISSANCE ABSORBEE TOTALE
DC INVERTER SYSTEM MULTI (WALL TYPE)
SYSTÈME D'INVERSEUR DE C.C. MULTI (TYPE DE MUR)
REFER TO THE SPECIFICATIONS PAGE ( 9 )
REPORTEZ-VOUS AUX SPECIFICATIONS DE LA PAGE ( 11 )
Hitachi Home & Life Solutions, Inc.
---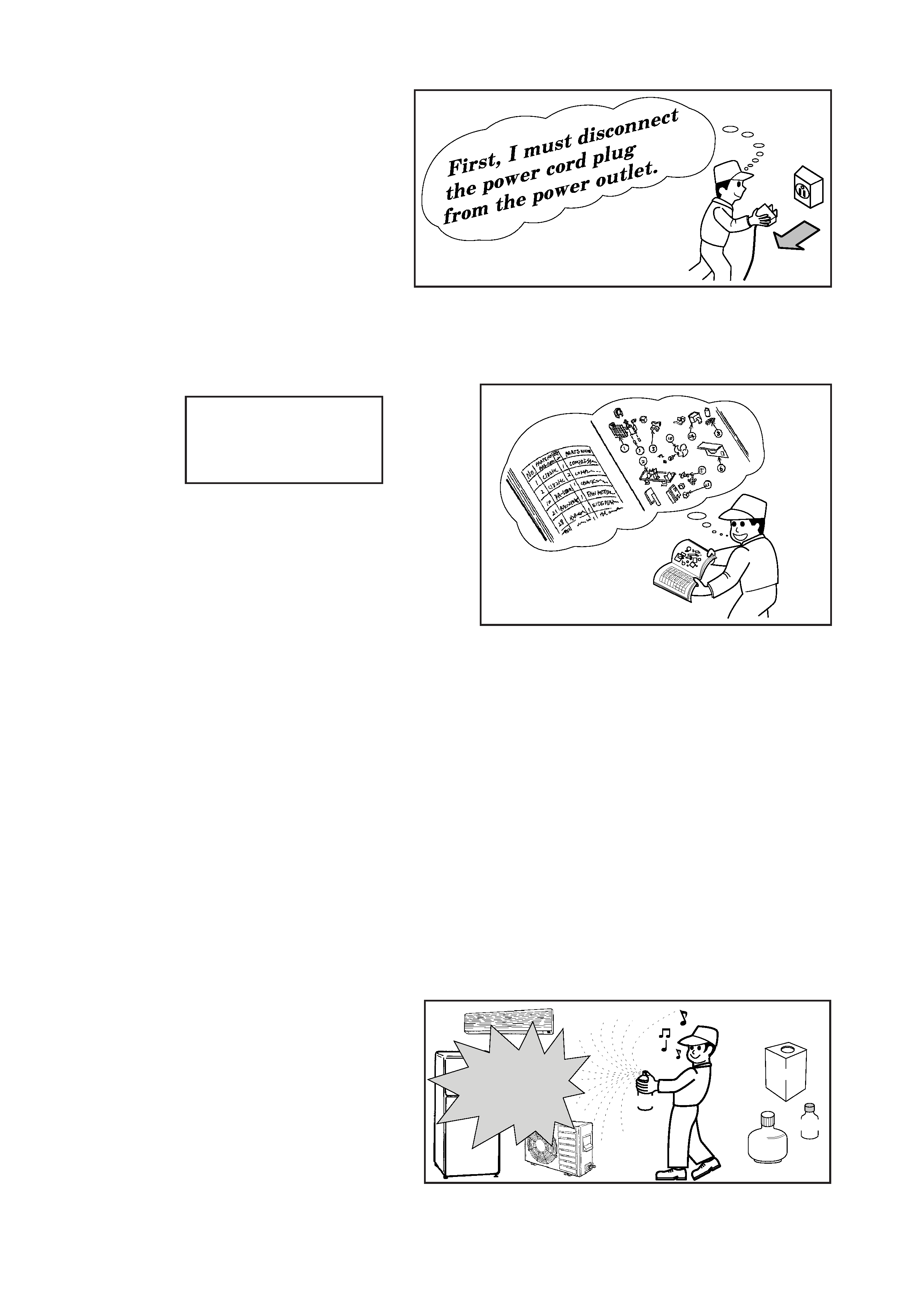 1. In order to disassemble and repair the
unit in question, be sure to disconnect the
power cord plug from the power outlet
before starting the work.
2. If it is necessary to replace any parts, they should be replaced with respective genuine parts for the unit,
and the replacement must be effected in correct manner according to the instructions in the Service
3. After completion of repairs, the initial state should be
4. Lead wires should be connected and laid as in the
5. Modification of the unit by the user himself should
absolutely be prohibited.
6. Tools and measuring instruments for use in repairs or inspection should be accurately calibrated in
7. In installing the unit having been repaired, be careful to prevent the occurrence of any accident such as
electrical shock, leak of current, or bodily injury due to the drop of any part.
8. To check the insulation of the unit, measure the insulation resistance between the power cord plug and
grounding terminal of the unit.
The insulation resistance should be 1M
9 or more as measured by a 500V DC megger.
9. The initial location of installation such as window, floor or the other should be checked for being safe
enough to support the repaired unit again.
If it is found not so strong and safe, the unit should be installed at the initial location after reinforced or
10. Any inflammable object must not be placed
about the location of installation.
11. Check the grounding to see whether it is
proper or not, and if it is found improper,
connect the grounding terminal to the earth.
SAFETY DURING REPAIR WORK
If the contacts of electrical
parts are defective, replace
the electrical parts without
---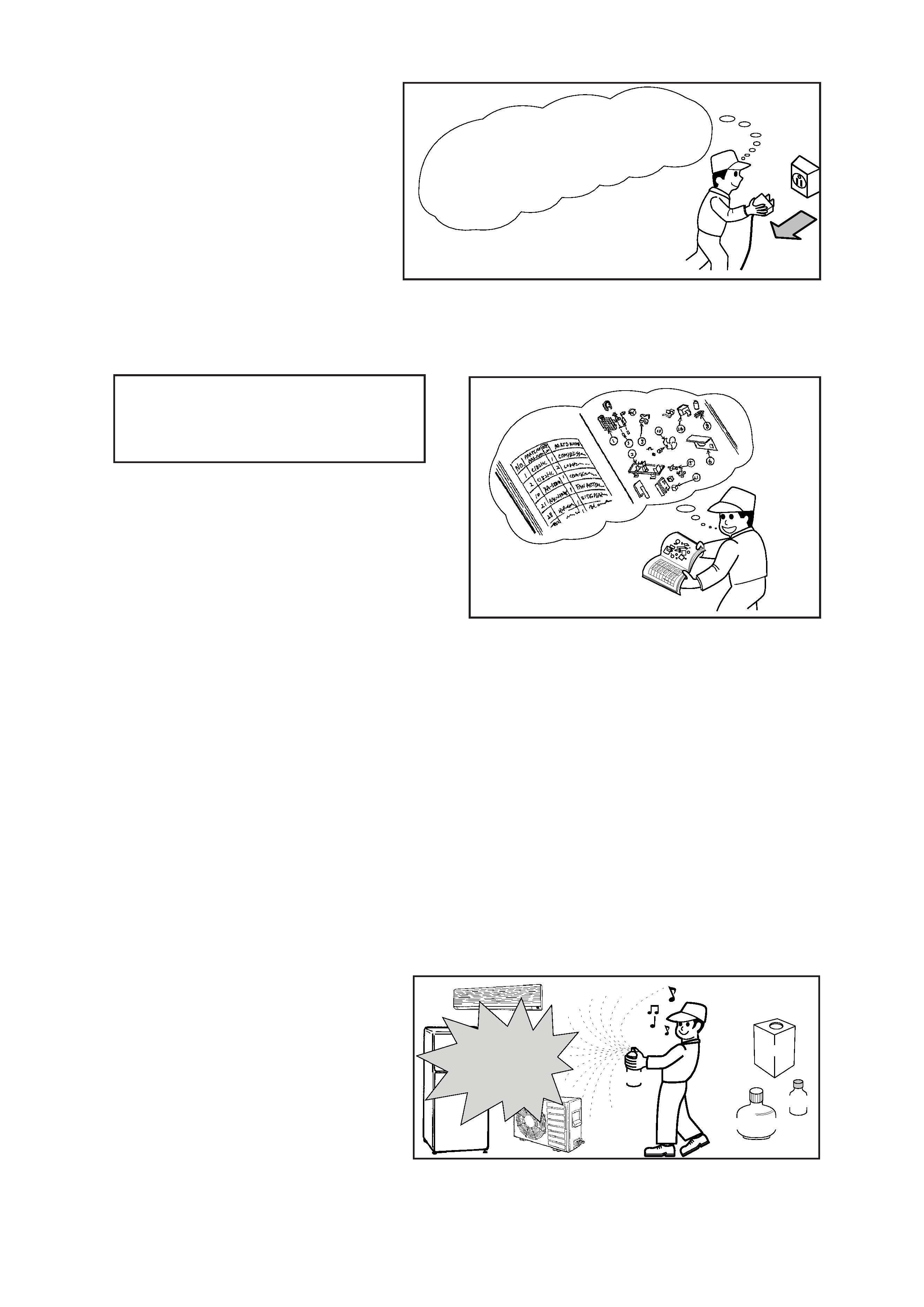 Avant de procéder à une réparation, veillez
à couper l'alimentation électrique.
Les pièces de rechange doivent être des pièces d'origine et le remplacement des pièces doit être réalisé
conformément aux instructions figurant dans le manuel d'entretien.
3. Après achèvement des réparations, les conditions
initiales doivent être rétablies.
4. Après toute intervention, le raccordement et le
cheminement des câbles électriques doivent être
rétablis comme à l'origine.
5. Toute modification au niveau de l'installation ne peut être effectuée que par une personne compétente.
Toute intervention ou modification par l'utilisateur lui-même est par conséquent à proscrire.
6. Les outils et les appareils de mesure qui doivent être employés pour effectuer l'entretien auront été
préalablement réglés ou étalonnés comme il convient.
7. Lors de l'installation d'une unité ayant subi une réparation, veillez à éviter tout accident dû à une décharge
électrique ou la chute d'un objet.
8. Pour vérifier l'isolement de l'appareillage, mesurer la résistance entre le cordon d'alimentation et la borne
de masse. Cette résistance doit au moins être égale à 1M
9 lorsque la mesure est effectuée avec un
9. Avant la fixation de l'unité réparée, vérifiez que les fixations d'origine peuvent supporter l'appareil. Si ces
fixations vous paraissent défectueuses, renforcez-les si possible et dans le cas contraire, l'unité doit être
fixée à un autre endroit.
10. L'emplacement de l'installation doit être
éloignée de toute matière inflammable.
11. La mise à la masse doit être soigneusement
contrôlée; en cas de défaut, la borne de
masse doit être mise à la terre.
PRECAUTIONS RELATIVES A LA SECURITE PENDANT LES REPARATIONS
Si vous constatez que les contacts d'un
composant électrique sont défectueux,
remplacez le composant et ne tentez pas
---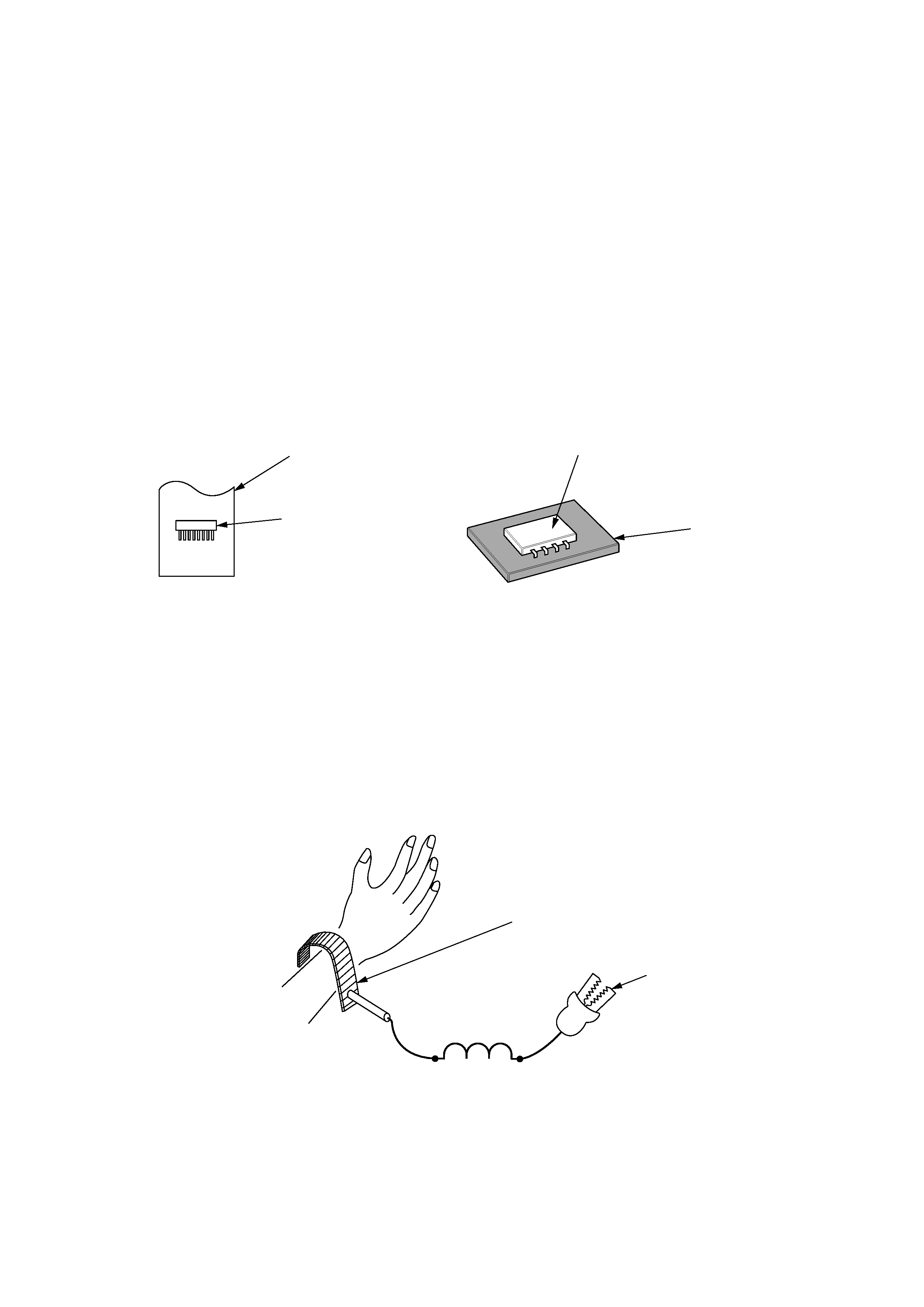 WORKING STANDARDS FOR PREVENTING BREAKAGE OF SEMICONDUCTORS
The standards provide for items to be generally observed in carrying and handling semiconductors in
relative manufactures during maintenance and handling thereof. (They apply the same to handling of
abnormal goods such as rejected goods being returned.)
(2) Integrated circuits (I.C.)
(3) Field effective transistor (F.E.T.)
(4) P.C. boards or the like to which the parts mentioned in (1) and (2) of this paragraph are equipped.
3. Items to be observed in handling
(1) Use a conductive container for carrying and storing of parts. (Even rejected goods should be handled in
(2) When any part is handled uncovered (in counting, packing and the like), the handling person must
always use himself as a body earth. (Make yourself a body earth by passing one M ohm earth
resistance through a ring or bracelet.)
(3) Be careful not to touch the parts with your clothing when you hold a part even if a body earth is
(4) Be sure to place a part on a metal plate with grounding.
(5) Be careful not to fail to turn off power when you repair the printed circuit board.
try to repair the printed circuit board on a grounded metal plate.
Fig. 1 Conductive container
A conductive polyvinyl bag
Body earth (Elimik conductive band)
---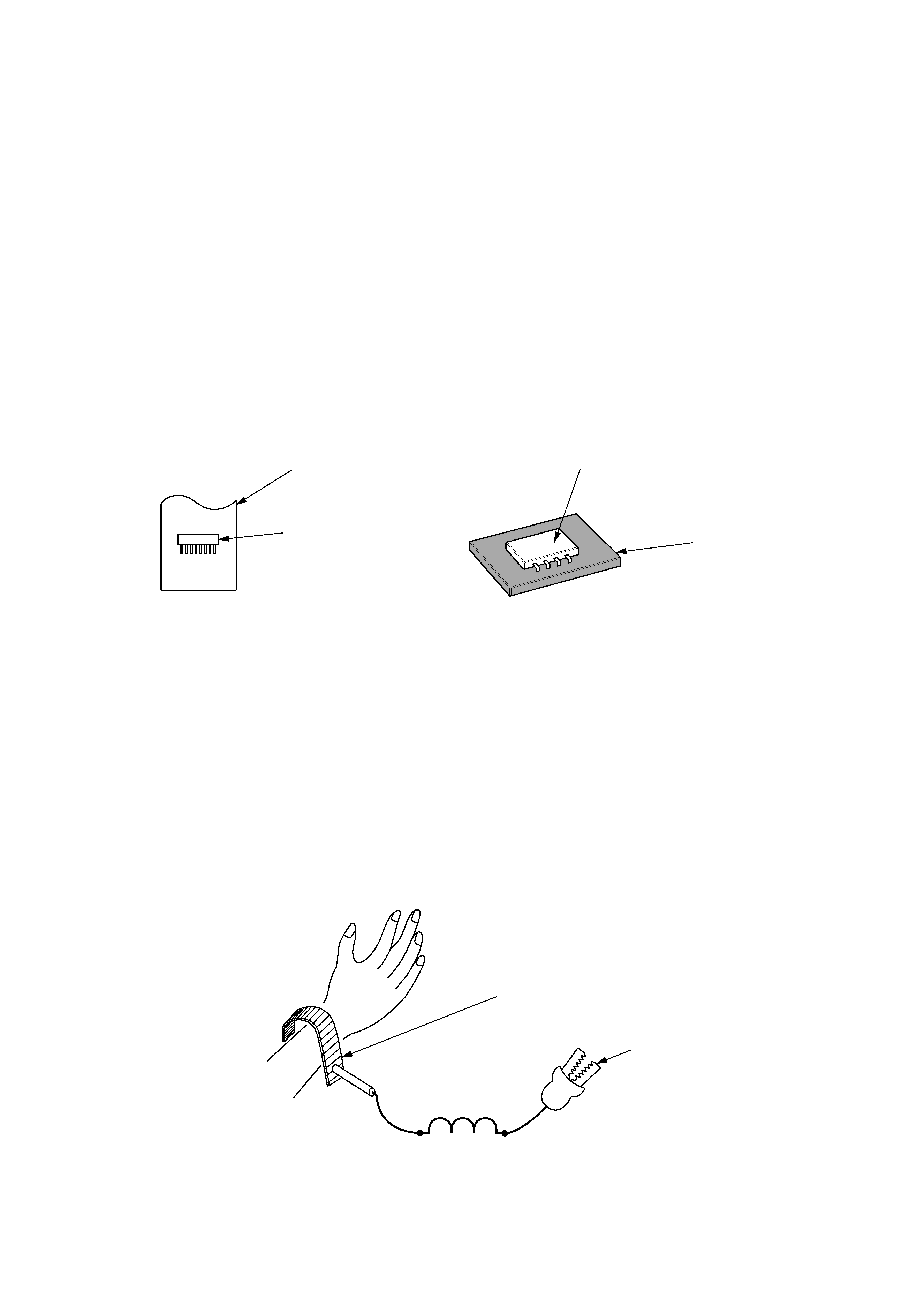 PREVENTION DES DOMMAGES AUX SEMI-CONDUCTEURS
Pour éviter d'endommager les semi-conducteurs utilisés dans les unités, lors de chaque intervention
d'entretien ou de réparation, vous devez observer des précautions spéciales. Les mêmes précautions
doivent être prises lors de la manipulation d'organes défectueux qui doivent être retournés en usine.
2. Pièces détachées de l'appareillage.
(2) Circuits intégrés (C.I.)
(3) Transistor à effet de champ (T.E.C)
(4) Circuits imprimés sur lesquels se trouvent implantés les composants (1) et (2).
3. Précautions de manipulation
(1) Pour transporter ou stocker un semi-conducteur, placez-le dans un emballage conducteur. Procéder de
même avec un composant défectueux.
(2) Lorsque vous maniqulez des composants qui ne sont pas protégés (par exemple pour les compter ou
les emballer), vous devez veiller à ce que votre corps soit électriquement relié à la terre. Pour cela,
portez un bracelet conducteur. Reliez le bracelet à une résistance de 1M
9 et celle-ci à la terre par
l'intermédiaire d'un conducteur.
(3) Veillez en outre à ce que vos vêtements ne viennent jamais en contact avec le composant même si
votre corps est relié à la terre.
(4) Déposez le composant sur une surface métallique correctement mise à la terre.
(5) Sous aucun prétexte, n'omettez de couper l'alimentation avant de procéder à une réparation sur un
Par ailleurs, l'intervention sur le circuit imprimé doit se faire alors que celui-ci repose
sur une surface métallique mise à la masse.
Fig. 1 Emballage conducteur
Fig. 2 Mise à la terre du corps
Bracelet de mise à la terre du corps
(Bande conductrice Elimik)
---