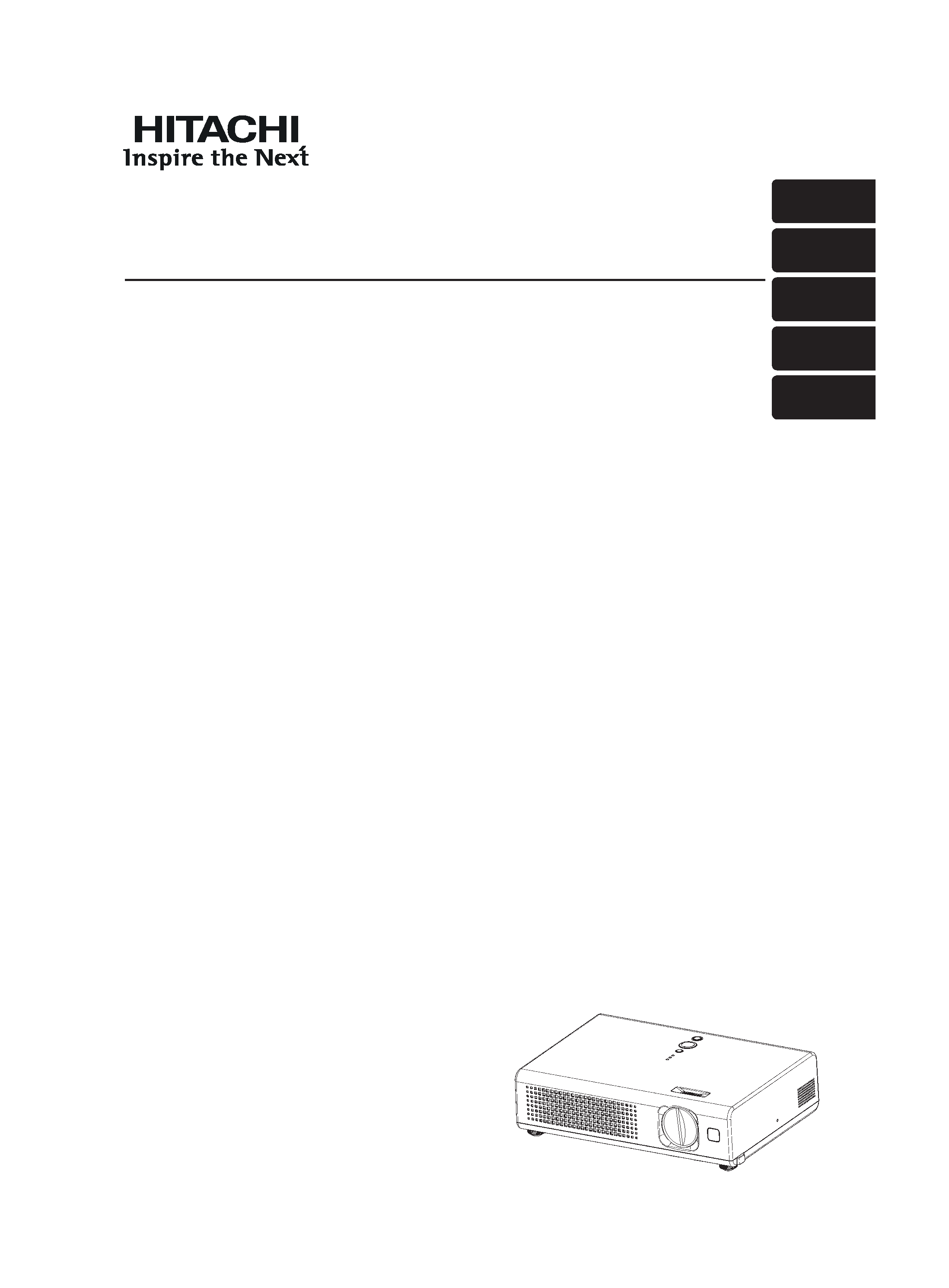 User's Manual - Operating Guide
Thank you for purchasing this projector.
Please read this user's manual thoroughly to ensure the proper use of this product.
Manuel d'utilisation - Guide d'utilisation
Merci d'avoir acheté ce projecteur.
Veuillez lire ce manuel d'utilisation entièrement, pour vous assurer que vous utiliserez
Bedienungsanleitung - Benutzerhandbuch
Herzlichen Glückwunsch zum Kauf dieses Projektors.
Bitte lesen Sie sich diese Bedienungsanleitung sorgfältig durch, um richtige und sichere
Verwendung dieses Produkts sicherzustellen.
Manual de usuario - Guía de funcionamiento
Muchas gracias por la adquisición de este proyector.
Lea detenidamente el manual del usuario para asegurarse de usar apropiadamente este
Manuale d'istruzioni - Guida operativa
Vi ringraziamo per avere acquistato questo proiettore.
Per garantirne l'impiego corretto vi raccomandiamo di leggerne a fondo il manuale d'istruzioni.
---

User's Manual - additional
The display image from some video consoles may be unstable when initially
connected. In the event of this, wait for the image from the video console to
change and then press the AUTO button on the projector remote control to
Manuel d'utilisation - Supplémentaire
L'image affichée à partir de certaines consoles de jeux peut paraître instable
au moment du branchement. Si c'est le cas, veuillez attendre que l'image de
la console change et appuyez sur le bouton AUTO de la télécommande pour
Bedienungsanleitung - Zusätzlicher
Bei manchen Video-Zuspielgeräten kann es vorkommen, dass nach dem ersten
Anschließen dieser Geräte an den Projektor das dargestellte Bild nicht stabil wirkt.
In diesem Fall gehen Sie bitte wie folgt vor:
- Warten Sie, bis das Bild umschaltet.
- Betätigen Sie auf der Fernbedienung des Projektors die Taste AUTO, um die
automatische Bildeinstellung zu starten und somit das Bild zu stabilisieren.
Manual de usuario - Adicional
Las imagenes procedentes de algunas video consolas pueden ser inestables al
principio de la coneción. Si esto ocurriera, espere algunos insatantes y pulse la
tecla AUTO del control remoto del proyector para estabilizar la imagen.
---

User's Manual ­ Operating Guide
Thank you for purchasing this projector.
· VGA and XGA are registered trademarks of International Business Machines
· Apple and Mac are registered trademarks of Apple Computer, Inc.
· VESA and SVGA are trademarks of Video Electronics Standard Association.
· Windows is a registered trademark of Microsoft Corporation.
All other trademarks are the properties of their respective owners.
Before using this product, please read the "User's Manual -
Safety Guide" and related manuals to ensure the proper use of this product.
After reading them, store them in a safe place for future reference.
· The information in this manual is subject to change without notice.
· The manufacturer assumes no responsibility for any errors that may appear in
· The reproduction, transfer or copy of all or any part of this document is not
permitted without express written consent.
---

Before use.....................................................................4
Projector features....................................................................................4
About this manual ...................................................................................4
About contents of package .....................................................................5
Part names..............................................................................................6
Projector .........................................................................................................6
Control buttons ...............................................................................................7
Remote control ...............................................................................................7
Preparations .................................................................8
Fastening the lens cover.........................................................................8
About the filter cover for bottom-up use..................................................9
Arrangement .........................................................................................10
Adjusting the projector's elevator..........................................................12
Connecting your devices.......................................................................13
Example of connection with a VCR/DVD player........................................... 13
Example of connection with a computer....................................................... 14
Example of computer signal ......................................................................... 15
Connecting power supply......................................................................16
Loading batteries into the remote control..............................................17
Using the remote control.......................................................................18
Power on/off ................................................................19
Turning on the power ............................................................................19
Turning off the power ............................................................................20
Operating ....................................................................21
Adjusting the volume.............................................................................21
Temporarily muting the sound...............................................................21
Selecting an input signal.......................................................................22
Searching an input signal......................................................................22
Selecting an aspect ratio.......................................................................23
Adjusting the zoom (magnifying power)................................................24
Adjusting the focus................................................................................24
Using the automatic adjustment feature ...............................................24
Adjusting the position............................................................................25
Correcting the keystone distortions.......................................................25
Using the partial magnify feature ..........................................................26
Freezing the screen ..............................................................................26
Temporarily blanking the screen ...........................................................27
---

Multifunctional settings .............................................28
Using the menu function .......................................................................28
EASY MENU.........................................................................................31
Aspect / Zoom / Keystone / Mode / Bright / Contrast / Color / Tint............... 31
Sharpness / Whisper / Mirror / Reset / Filter time ........................................ 32
Language / Go to advanced menu............................................................... 32
PICTURE menu ....................................................................................33
Bright / Contrast / Gamma............................................................................ 33
Color temp / Color / Tint / Sharpness ........................................................... 34
Progressive / My memory............................................................................. 35
IMAGE menu ........................................................................................36
Aspect ..........................................................................................................36
Over scan / V. position / H. position / H. phase / H. size .............................. 37
Auto adjust execute......................................................................................38
INPUT menu .........................................................................................39
Color space / Video format / Frame lock / Information ................................. 39
SETUP menu ........................................................................................40
Zoom / Keystone / Whisper / Mirror / Volume............................................... 40
SCREEN menu.....................................................................................41
Language / Menu position / OSD bright / Blank ........................................... 41
Start up / MyScreen......................................................................................42
MyScreen lock / Message ............................................................................ 43
OPTION menu ......................................................................................44
Auto search / Auto off / Lamp time ............................................................... 44
Filter time / Service....................................................................................... 45
Maintenance ...............................................................47
Lamp.....................................................................................................47
Air filter..................................................................................................50
Inside of the projector ...........................................................................52
Caring for the lens.................................................................................52
Caring for the cabinet and remote control.............................................52
Troubleshooting..........................................................53
Related messages ................................................................................53
Regarding the indicator lamps ..............................................................54
Phenomena that may easily be taken as machine defects...................56
Warranty and after-service ........................................58
Specifications .............................................................58
Dimension diagram...............................................................................59
---