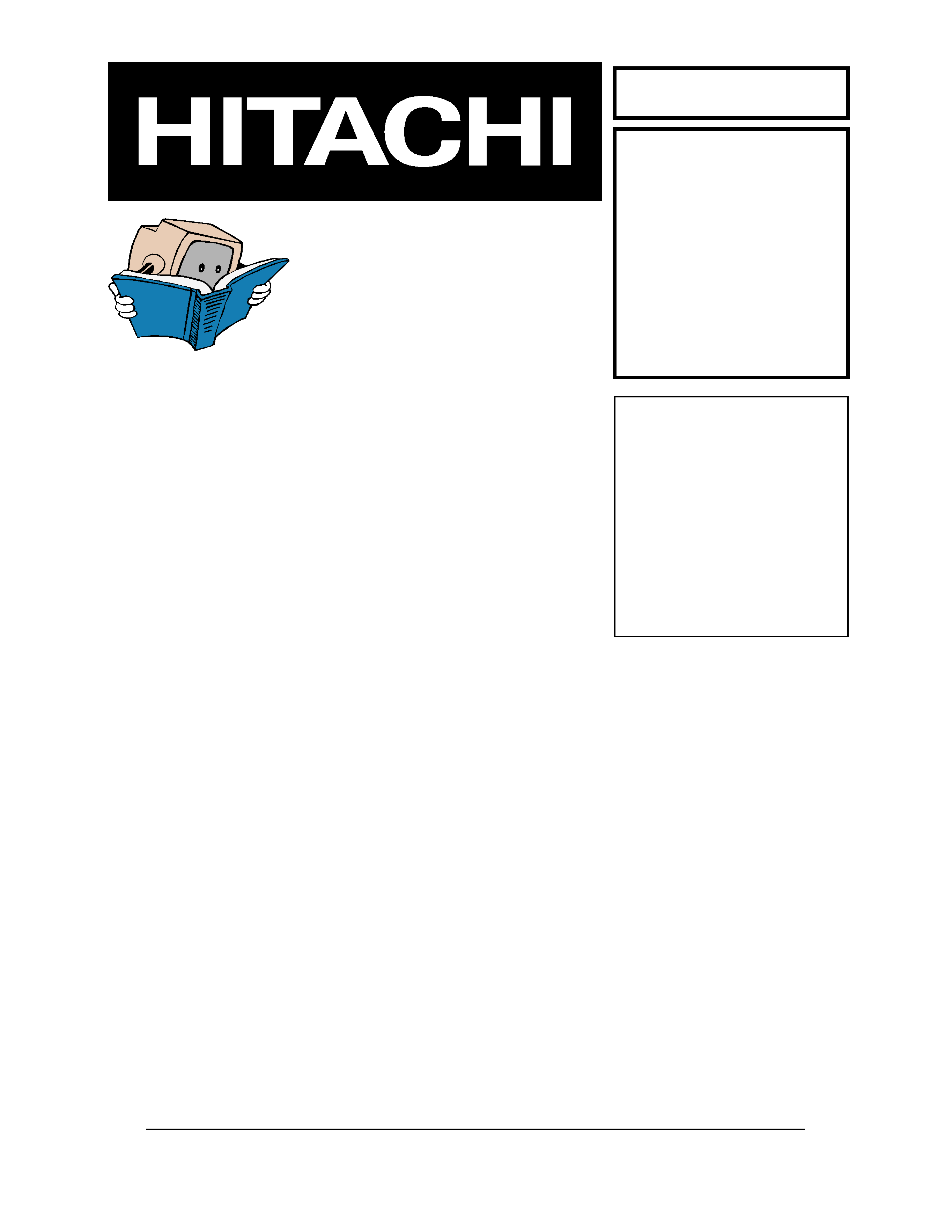 Before servicing this chassis, it is important that the service technician read the "Safety
Precautions" and "Product Safety Notices" in this service manual.
Avant d'effectuer l'entretien du châassis, le technicien doit lire les «Précautions de sécurité»
et les «Notices de sécurité du produit» présentés dans le présent manuel.
Vor Öffnen des Gehäuses hat der Service-Ingenieur die ,,Sicherheitshinweise" und ,,Hinweise
zur Produktsicherheit" in diesem Wartungshandbuch zu lesen.
manual is subject to alteration for
Les données fournies dans le présent
manuel d'entretien peuvent faire l'objet
de modifications en vue de perfectionner
enthaltenen Spezifikationen können sich
zwecks Verbesserungen ändern.
SPECIFICATIONS AND PARTS ARE SUBJECT TO CHANGE FOR IMPROVEMENT
DVD DIGITAL THEATRE SYSTEM
---

The ES6008/ES6018 Vibratto DVD processor is a single-chip MPEG video decoding chip
that integrates audio/video stream data processing, TV encoder, four video DACs with
Macrovision. copy protection, DVD system navigation, system control and housekeeping
The Vibratto DVD processor is built on the ESS proprietary dual CPU Programmable
Multimedia Processor (PMP) core consists of 32-bit RISC and 64-bit DSP processors and offers
the best DVD feature set.
These features can be listed as follows:
Single-chip DVD processor based on ESS proprietary dual CPU PMP core.
Integrated NTSC/PAL encoder.
Four integrated 10-bit video DACs.
DVD-Video, VCD 1.1, 2.0, and SVCD
Interface for ATAPI devices and A/V DVD loaders.
Interface for Compact Flash, Memory Stick and SmartMedia cards.
Direct interface of 8- or 16-bit SDRAM up to 128-Mb capacity.
Direct interface for up to four banks of 8-/16-bit EPROM or Flash EPROM for up to 16-MB
Macrovision 7.1 for NTSC/PAL interlaced video.
Simultaneous composite video and S-video outputs, or composite and YUV outputs, or
composite and RGB outputs.
8-bit CCIR 601 YUV 4:2:2 output.
On-Screen Display (OSD) controller with 3-bit blending provides display with 256 colors in 8
Subpicture Unit (SPU) decoder supports karaoke lyric, subtitles, and EIA-608 compliant Line
Dolby Digital (AC-3) and Dolby Pro Logic.
---

High-Definition Compatible Digital. (HDCD) decoding.
Dolby Digital Class A and HDCD certified.
The system SRAM interface controls access to optional external SRAM, which can be
used for RISC code, stack, and data. The SRAM bus supports four independent address spaces,
each having programmable bus width and wait states. The interface can support not only SRAM,
ROM/EPROM and memory-mapped I/O ports for standalone applications are also supported.
The Vibratto provides a glueless 16-bit interface to DRAM memory devices used as video
memory for a DVD player. The maximum amount of memory supported is 16 MB of Synchronous
DRAM (SDRAM). The memory interface is configurable in depth to support 128-Mb addressing.
The memory interface controls access to both external SDRAM or EDO memories, which can be
the sole unified external read/write memory acting as program and data memory as well as
various decoding and display buffers.
The Vibratto supports the AT Attachment Packet Interface (ATAPI), Integrated Drive
Electronics (IDE), and other parallel and serial port interfaces used by many types of DVD
loaders. These interfaces meet the specifications of many DVD loader manufacturers. An ATAPI
drive is connected via the standard 34 pin dual row PC style IDE header
The front panel is based around an Futaba VFD and a common NEC front panel
controller chip, (uPD16311). The ES6008/ES6018 controls the uPD16311 using several control
signals, (clock, data, chip select). The infrared remote control signal is passed directly to the
ES60X8 and 8051 for decoding.
Outputs and Inputs at the AV1000 rear panel:
Left, Right and Subwoofer (active) audio outputs.
Left, Right and CVBS input.
Composite, S-Video, and SCART outputs.
5x15W 8ohms (L,R,SL,SR,C) + 1x25W 4ohms Subwoofer outputs.
AM / FM Tuner Antenna input
220-240 V 50Hz AC Power input
The six-video signals used to provide CVBS, S-Video, and RGB are generated by the ES60X8's
internal video DAC. The video signals are buffered by external circuitry.
Six channel audio output by the ES6018 in the form of three I
2
S (or similar) data streams. The
S/PDIF serial stream is also generated by the ES60X8 output by the rear panel. A six channel
audio DAC (AK4356) are used for six channel audio output with ES6018, and similarly one
AK4362A Audio DAC is used for two channel audio output with ES6008 or ES6018.
---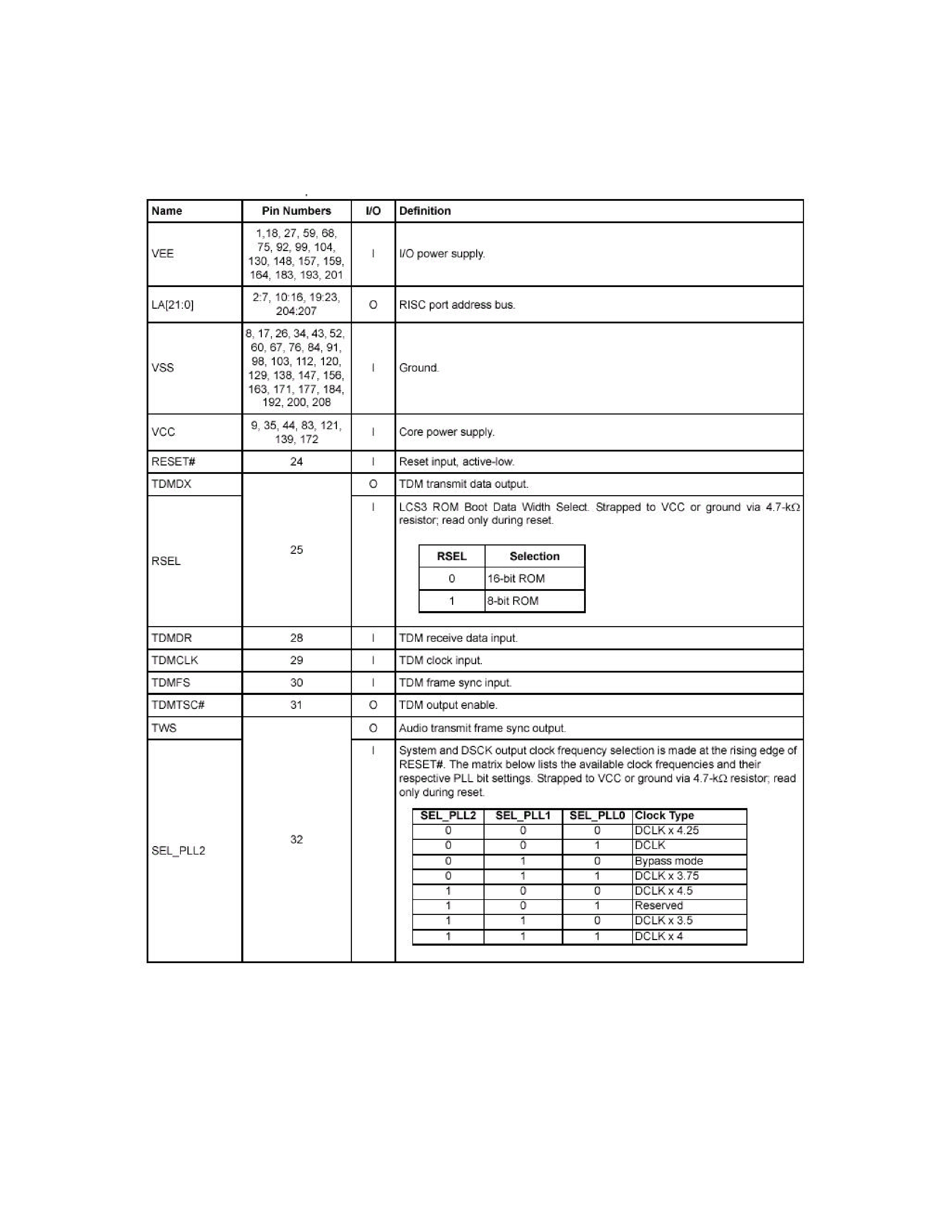 2. S
YSTEM
B
LOCK
D
IAGRAM and
ES6008/18 P
IN
D
ESCRIPTION
2.1 ES6008/18 PIN DESCRIPTION
---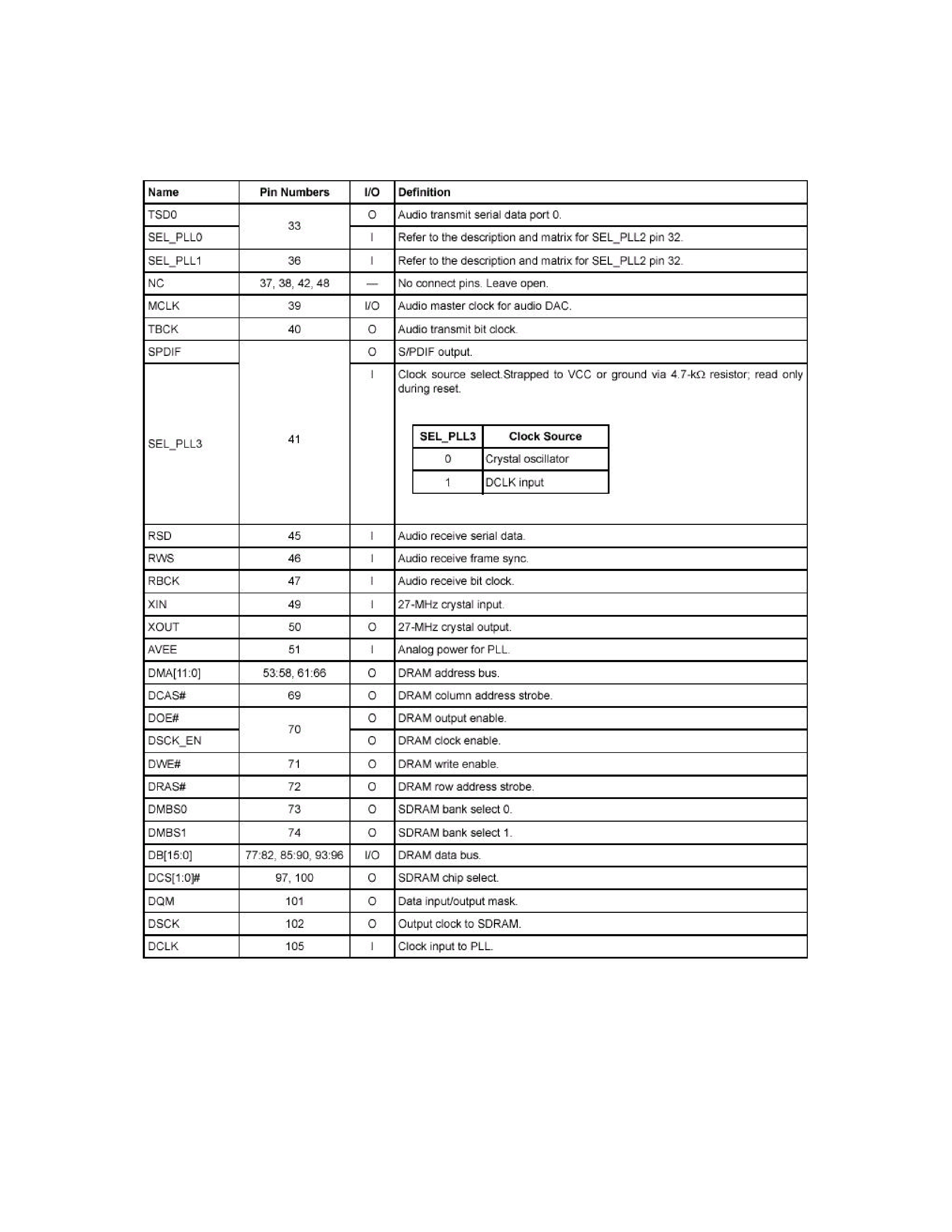 ---