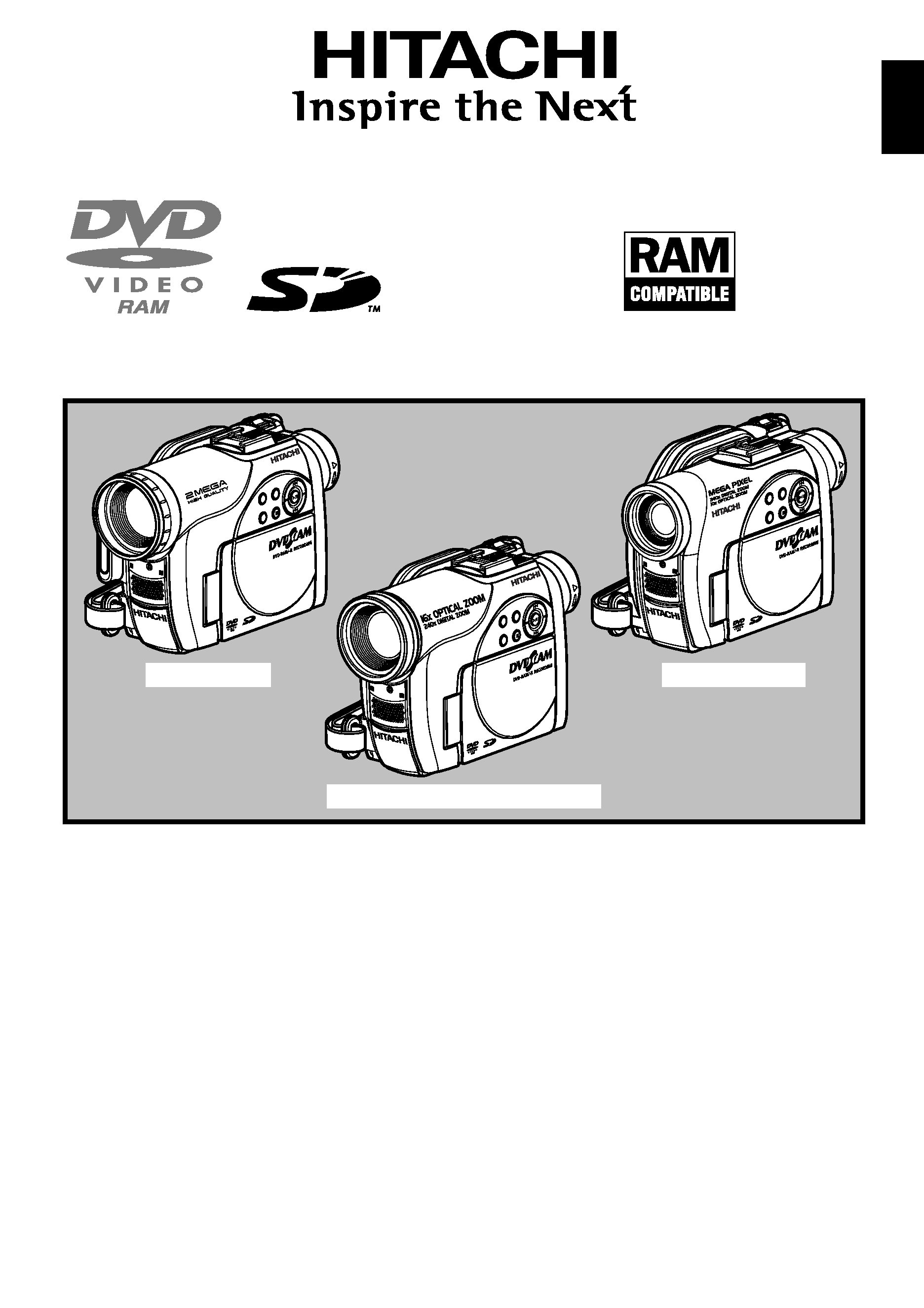 DZ-GX20E (UK)/DZ-MV780E (UK)
DZ-MV750E (UK)/DZ-MV730E (UK)
To obtain the best performance and ensure years of
trouble-free use, please read this instruction
Des performances optimales et un fonctionnement
à long terme seront assurés en appliquant les
présentes instructions après avoir entièrement lu
Bitte lesen Sie diese Bedienungsanleitung
aufmerksam durch, um durch richtige Bedienung
jahrelangen und störungsfreien Betrieb zu
DVDCAM PC Software Support Centre
URL http://dvdcam-pc.support.hitachi.ca/
---

The power switch turns the DVD video camera/recorder on and off, leaving the date/time feature unaffected. If the
camera/recorder is to be left unattended for a long period of time, turn it off.
The DVD video camera/recorder and AC
adapter/charger have the following caution
CAUTION: TO REDUCE THE RISK OF
ELECTRIC SHOCK, DO NOT OPEN.
NO USER-SERVICEABLE PARTS INSIDE.
REFER SERVICING TO QUALIFIED
Identifications of caution marks
Many television programmes and
films are copyrighted. In certain circumstances,
copy-right law may apply to private in-home
videotaping of copyrighted materials.
To prevent risk of injury or damage
to your DVD video camera/recorder and the AC
adapter/charger, use only the DZ-BP14S/DZ-
BP7S/DZ-BP14SW/DZ-BP7SW battery and DZ-
ACS2 (E) AC adapter/charger.
TO PREVENT FIRE OR SHOCK HAZARD, DO NOT
EXPOSE THIS UNIT TO RAIN OR MOISTURE.
TO PREVENT FIRE OR SHOCK HAZARD, USE THE
RECOMMENDED ACCESSORIES ONLY.
This symbol warns the user that
uninsulated voltage within the unit
may have sufficient magnitude to cause
electric shock. Therefore, it is dangerous
to make any kind of contact with any
inside part of this unit.
This symbol alerts the user that
important literature concerning the
operation and maintenance of this unit
has been included. Therefore, it should
be read carefully to avoid any
The liquid crystal display (LCD) panel is
made by highly precise technology. More than
99.99% of its picture elements (pixels) are
effective, but some (less than 0.01%) may
appear as coloured bright dots. This does not
indicate a fault as the LCD panel stretches the
limits of current technology.
This product contains a laser diode of higher
class than 1. To ensure continued safety, do
not remove any covers or attempt to gain
access to the inside of the product. Refer all
servicing to qualified personnel.
---

Important for United Kingdom
(for DZ-GX20E (UK)/DZ-MV780E (UK)/DZ-MV750E (UK)/DZ-MV730E (UK))
The mains lead on this equipment is supplied with a moulded plug incorporating a fuse, the value
of which is indicated on the pin face of the plug.
Should the fuse need to be replaced, an ASTA or BSI approved BS 1362 fuse must be used of the
same rating. If the fuse cover is detachable never use the plug with the cover omitted. If a
replacement fuse cover is required, ensure it is of the same colour as that visible on the pin face of
the plug. Fuse covers are available from your dealer.
DO NOT cut off the mains plug from this equipment. If the plug fitted is not suitable for the power
points in your home or the cable is too short to reach a power point, then obtain an appropriate
safety approved extension lead or consult your dealer.
If there is no alternative to cutting off the mains plug, ensure that you dispose of it immediately,
having first removed the fuse, to avoid a possible shock hazard by inadvertent connection to the
The wires in the mains lead are coloured in accordance with the following code:
Blue= Neutral, Brown= Live
As these colours may not correspond with the coloured markings identifying the terminals in your
plug, proceed as follows:
The wire coloured BLUE must be connected to the terminal marked with the letter N or coloured
The wire coloured BROWN must be connected to the terminal marked with the letter L or coloured
BROWN or RED. On no account connect either of these wires to the terminal marked E or by the
or coloured green or green and yellow.
--- IMPORTANT SAFETY INSTRUCTIONS
In addition to the careful attention devoted to quality standards in the manufacture of your video product, safety is a
major factor in the design of every instrument. But, safety is your responsibility too.
This page lists important information that will help to assure your enjoyment and proper use of DVD video camera/
recorder and accessory equipment.
1
Read these instructions.
2
Keep these instructions.
4
Follow all instructions.
5
Do not use this apparatus near water.
6
Clean only with dry cloth.
7
Do not block any ventilation openings. Install in
accordance with the manufacturer's instructions.
8
Do not install near any heat sources such as
radiators, heat registers, stoves, or other apparatus
(including amplifiers) that produce heat.
9
Protect the mains lead from being walked on or
pinched particularly at plugs, convenience
receptacles, and the point where they exit from the
10
Only use attachments/accessories specified by the
11
Use only with the cart, stand,
tripod, bracket, or table specified
by the manufacturer, or sold with
the apparatus. When a cart is
used, use caution when moving
the cart/apparatus combination to
avoid injury from tip-over.
12
Unplug this apparatus during lightning storms or
when unused for long periods of time.
13
Refer all servicing to qualified service personnel.
Servicing is required when the apparatus has been
damaged in any way, such as mains lead or plug is
damaged, liquid has been spilled or objects have
fallen into the apparatus, the apparatus has been
exposed to rain or moisture, does not operate
normally, or has been dropped.
14
The apparatus shall not be exposed to dripping or
splashing and that no objects filled with liquids,
such as vases, shall be placed on the apparatus.
---

Handle the liquid crystal display (LCD) with care:
The LCD is a very delicate display device: Do not press its surface with force, hit it or prick it with
If you push the LCD surface, unevenness in display may occur. If unevenness does not disappear
soon, turn the DVD video camera/recorder off, wait for a few moments, and then turn it on again.
Do not place the DVD video camera/recorder with the open LCD screen down.
Close the LCD monitor when not using the DVD video camera/recorder.
Liquid crystal display (LCD) and viewfinder:
The LCD screen and viewfinder are the products of highly precise technology. Among the total
number of pixels (approx. 120,000 pixels for LCD monitor and equivalent to approx. 200,000 pixels
for viewfinder), 0.01% or less pixels may be missing (black dots) or may remain lit as coloured dots
(red, blue, green). This shows the limitations of the current technology, and does not indicate a
fault that will interfere with recording.
The LCD screen and viewfinder will be slightly dimmer than usual when the DVD video camera/
recorder is at low temperature, as in cold areas, or immediately after power is turned on. Normal
brightness will be restored when the temperature inside the DVD video camera/recorder rises.
Hold the DVD video camera/recorder correctly:
Do not hold the viewfinder or LCD monitor when lifting the DVD video camera/recorder: The
viewfinder or LCD monitor could detach and the DVD video camera/recorder may fall.
Do not subject the DVD video camera/recorder to impact:
This DVD video camera/recorder is a precision machine. Take great care that you do not strike it
against a hard object or let it fall.
When using a tripod, firmly secure the DVD video camera/recorder on it. Do not use the DVD
video camera/recorder with a tripod in a place where it is subject to severe vibrations or impact.
Fine sand or dust entering the DVD video camera/recorder or AC adapter/charger could cause
Water or oil entering the DVD video camera/recorder or AC adapter/charger could cause electric
shock, malfunctions or defects.
---