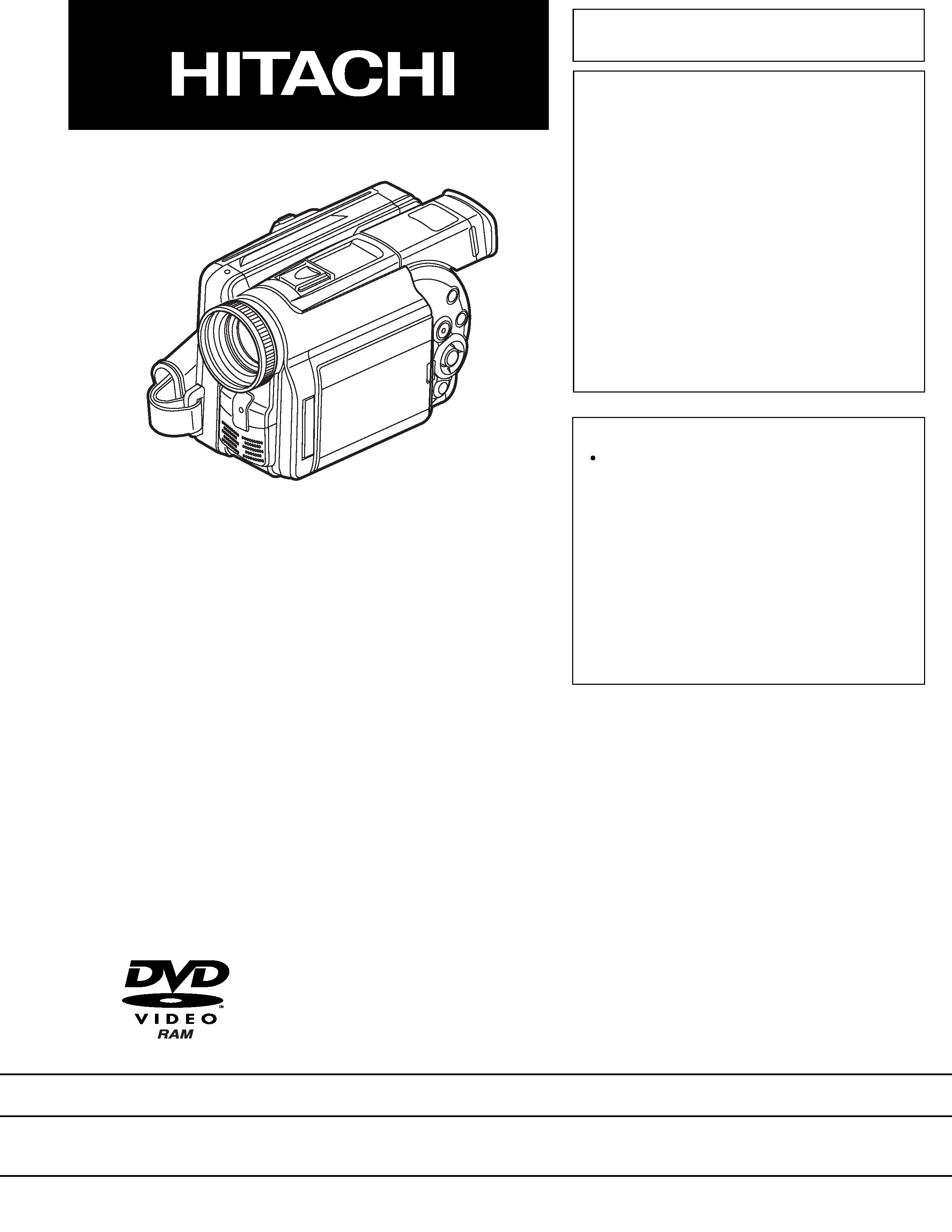 SPECIFICATIONS AND PARTS ARE SUBJECT TO CHANGE FOR IMPROVEMENT
DVD VIDEO CAMERA/RECORDER
This service manual does not include
information on drive mechanism unit and
When servicing, replace the entire drive
mechanism unit or the entire MAN circuit
For fault judgement, see Chapter 6 simplified
circuit board diagrams that show the voltage
values of major ICs on circuit boards (DRC
and HDM) mounted on drive mechanism unit
---

Microsoft, MS, MS-DOS, Windows and Windows NT are registered trademarks of Microsoft Corporation.
Pentium and Celeron are registered trademarks of Intel Corporation.
Dolby and AC3 are trademarks of Dolby Laboratories Corporations.
IBM is registered trademarks of International Business Machines Corporations.
Other company names and product names listed are trademarks or brand names belonging to each company.
LCD display; the liquid crystal display (LCD) panel is mode by highly precise technology.
More than 99.99% of its picture elements (pixels) are effective, but some (less than 0.01%) may appear as colored
bright dots. This mode not indicate a fault as the LCD panel stretches the limits of current technology.
This product contains a laser diode of
higher class than 1. To ensure contin-
ued safety, do not remove any covers
or attempt to gain access to the in-
side of the product. Refer all servicing
Many electrical and mechanical parts have special safety-related characteristics. These are often not evident from visual
inspection nor can the protection afforded by them necessarily be obtained by using replacement components rated for a
higher voltage, wattage, etc. Replacement parts which have these special safety characteristics are identified in this
Service Manual. Electrical components having such features are identified by marking with a
the parts list in this Service Manual. The use of a substitute replacement component which does not have the same safety
characteristics as the HITACHI recommended replacement one, shown in the parts list in this Service Manual, may create
shock, fire, or other hazards. Product safety is continuously under review and new instructions are issued from time to time.
For the latest information, always consult the current HITACHI Service Manual. A subscription to, or additional copies for,
HITACHI Service Manual may be obtained at a nominal charge from HITACHI SALES CORPORATION.
Lithium battery; danger of explosion if battery is incorrectly replaced. Replace only with the same or equivalent type
recommended by the equipment manufacturer. Discard used batteries according to manufacuturer's instructions.
When replacing the lithium battery it is important to use the same type and connect it correctly.
Lithium batteries contain dangerous chemicals.
Handle and dispose of with great care.
For disposal place in a plastic bag and put in waste bin.
How to discriminate the "TYPE" identifications in the manual
The parts and circuits are identified by "TYPE" in this manual to discriminate the differences between models. The
TYPE numbers are the same as the model numbers. The table below shows how to read the type identifications.
LASER RADIATION WHEN OPEN.
---

To conserve global environment, lead-free solder is used in this product.
Be sure to read the following before soldering.
Be sure to wear protective goggles so that no solder smoke or scattered solder enters the eye.
Lead-free solder may scatter at high temperatures (600°C).
Indication of lead-free solder used
"F"
is printed on either surface of circuit boards for which
lead-free solder is used.
Characteristics of lead-free solder
The following shows the characteristics of lead-free solder
Composition of alloy (wt%):
It is recommended that you use lead-free solder
whose characteristics are the same as that used
It is also possible to service using lead solder. However,
if lead solder is used for servicing, some cautions are
necessary. (Neglecting these cautions could decrease
strength, causing malfunctions.)
Cautions when using lead solder
When replacing components, remove the lead-free
solder previously used for soldered points as far as
For additional soldering, melt lead-free solder
completely and mix well with lead solder.
[Do not perform repair using the bare soldering iron
tip (without adding solder)].
Soldering iron for servicing
It is recommended that you use a soldering iron
whose temperature at its tip can be set (with
thermal control function).
Lead-free solder melts at a temperature 30° C - 40° C
higher than lead solder. Therefore, workability will
decrease unless you use a soldering iron whose
temperature is high, whose temperature at its tip does not
change greatly (heat capacity is large), and that can be set
to match the work points.
Recommended soldering iron
With thermal control function (temperature setting
Recommended tip temperatures for
---

Notes When Using Service Manual
The following shows the contents to be noted when using service manual:
1. Value units used in parts list
This table shows locations of each part on circuit board
diagrams. The locations are indicated using the guide
scales on the external lines of diagrams.
1) One diagram indicated for each board
The values, dielectric strength (power capacitance) and
tolerances of the resistors (excluding variable resistors)
and capacitors are indicated in the schematic diagrams
Certain symbols are indicated below for value units of
resistors, capacitors and coils in parts list. When you read
them note the following regular indications:
KOHM ........................................... k
UF ................................................ µF
PF ................................................ pF
UH ................................................ µH
MH ............................................... mH
2) Two diagrams indicated for each board
2. Values in schematic diagrams
No indication ...................................
K ................................................... k
M .................................................. M
No indication ............................. ±5%
(All tolerances other than ±5% are
indicated in schematic diagrams)
No indication ............................ 1/8W
(1/16W for leadless resistors without
All capacitances other than the above
are indicated in schematic diagrams.
No indication ................................. µF
P ................................................... pF
No indication .............................. 50V
(All dielectric strengths other than 50V
are indicated in schematic diagrams)
µ .................................................... µH
m .................................................. mH
3. Identifications of sides A/B in
1) Board having a pattern on one side and parts on both
Side A: Shows discrete parts, viewed from the pattern
Side B: Shows leadless parts, viewed from the
2) Board having patterns on both sides and parts on
Side A: Shows parts and patterns which can be seen
Side B: Shows parts and the pattern on the back of
4. Table for indexing locations of parts
Zone "A" on board diagram
Zone "2" on board diagram
---

1. Specifications .......................................................... 1-1
2. Comparison of Specifications/
Functions with Previous Model ............................... 1-3
3. Formats Concerning DVD
(DVD-RAM/DVD-R Discs) ....................................... 1-6
Formats for DVD-RAM/DVD-R Discs ............... 1-6
DVD file format ................................................. 1-7
DVD video recording format ............................. 1-7
4. Initializing and Finalizing
DVD-RAM/DVD-R Discs ......................................... 1-9
How to initialize DVD-RAM disc ....................... 1-9
How to initialize DVD-R disc ............................ 1-9
How to finalize DVD-R disc ............................ 1-10
5. Displaying Remaining Disc Capacity .................... 1-11
6. Removing Disc from Cartridge or Caddy .............. 1-12
Disc packed in cartridge ................................. 1-12
Disc packed in caddy ..................................... 1-13
7. Battery Pack .......................................................... 1-14
Checking charged status ............................... 1-14
Reference for charging time and
continuous movie recordable time
at normal temperature .................................... 1-14
Life ................................................................. 1-14
8. Demo (Demonstration) Mode ................................ 1-15
How to set demo mode .................................. 1-15
How to exit demo mode ................................. 1-15
Details of operation ........................................ 1-16
9. Resetting various settings ..................................... 1-16
System reset .................................................. 1-16
Resetting camera functions ........................... 1-17
10. Explanation of Trouble Messages ........................ 1-18
11. Trouble Diagnosis ................................................. 1-22
11.1 Before starting trouble diagnosis ................... 1-22
11.2 Check (diagnosis) position ............................. 1-22
11.3 Trouble diagnosis table .................................. 1-24
11.4 Test land (TL) location diagram ..................... 1-27
12. Name of parts ....................................................... 1-30
1. Names and Locations of Major Components .......... 2-1
General View .................................................... 2-1
L Block ............................................................. 2-1
R Block [1/2] ..................................................... 2-2
R Block [2/2] ..................................................... 2-2
Rear Block ........................................................ 2-3
LCD Block ........................................................ 2-3
Camera Block ................................................... 2-4
EVF Block ........................................................ 2-4
2. Before Starting Disassembly .................................. 2-5
3. Troubleshooting during Disassembly ..................... 2-6
Removing DVD-RAM/DVD-R disc ................... 2-6
4. Disassembly Procedure .......................................... 2-8
Top cover, R block, L block, and
Front block ....................................................... 2-9
Disc cover ...................................................... 2-10
LCD case U, MR circuit board,
LCD block, AUD circuit board,
Adjustment cap, and L case ........................... 2-11
Rear block, REF circuit board, Camera block,
MAN circuit board, Circuit board frame,
DRF circuit board, and Hot shoe .................... 2-12
Link bracket, Drive block,
Lock unit, and R case .................................... 2-13
Loader and Drive mechanism unit ................. 2-14
Microphone cover, Microphone,
Lens hood, and Front case ............................ 2-14
EVF block, Jack holder, Jack cover S,
AVJ circuit board, DCJ circuit board,
Jack cover R, Battery terminal, and
Rear cover ...................................................... 2-15
SE circuit board, CCD image sensor, and
Lens ............................................................... 2-16
4.10 LCD circuit board, LCD frame, Monitor
backlight, Monitor LCD, and LCD case B ...... 2-17
4.11 Eye cup, EVF fulcrum, EVF case U,
EVF case B, EBLB circuit board,
EVF LCD, and EVF backlight ......................... 2-18
Subsidiary Functions for Servicing
1. Information on Firmware ......................................... 3-1
Checking firmware versions ............................. 3-1
Updating firmware ............................................ 3-2
2. Deleting Files on DVD-RAM Disc ........................... 3-3
Deleting disc control data (RX) file ................... 3-3
Forced disc formatting ...................................... 3-4
3. Displaying Various Types of Information ................ 3-5
Playback file detailed information display ........ 3-5
Error code display ............................................ 3-5
Electric Circuit Adjustment
1. Test Equipment/Jigs Necessary for Adjustment ..... 3-9
List of jigs and tools ......................................... 3-9
List of charts for adjustment ............................. 3-9
Test equipment, etc. ......................................... 3-9
---