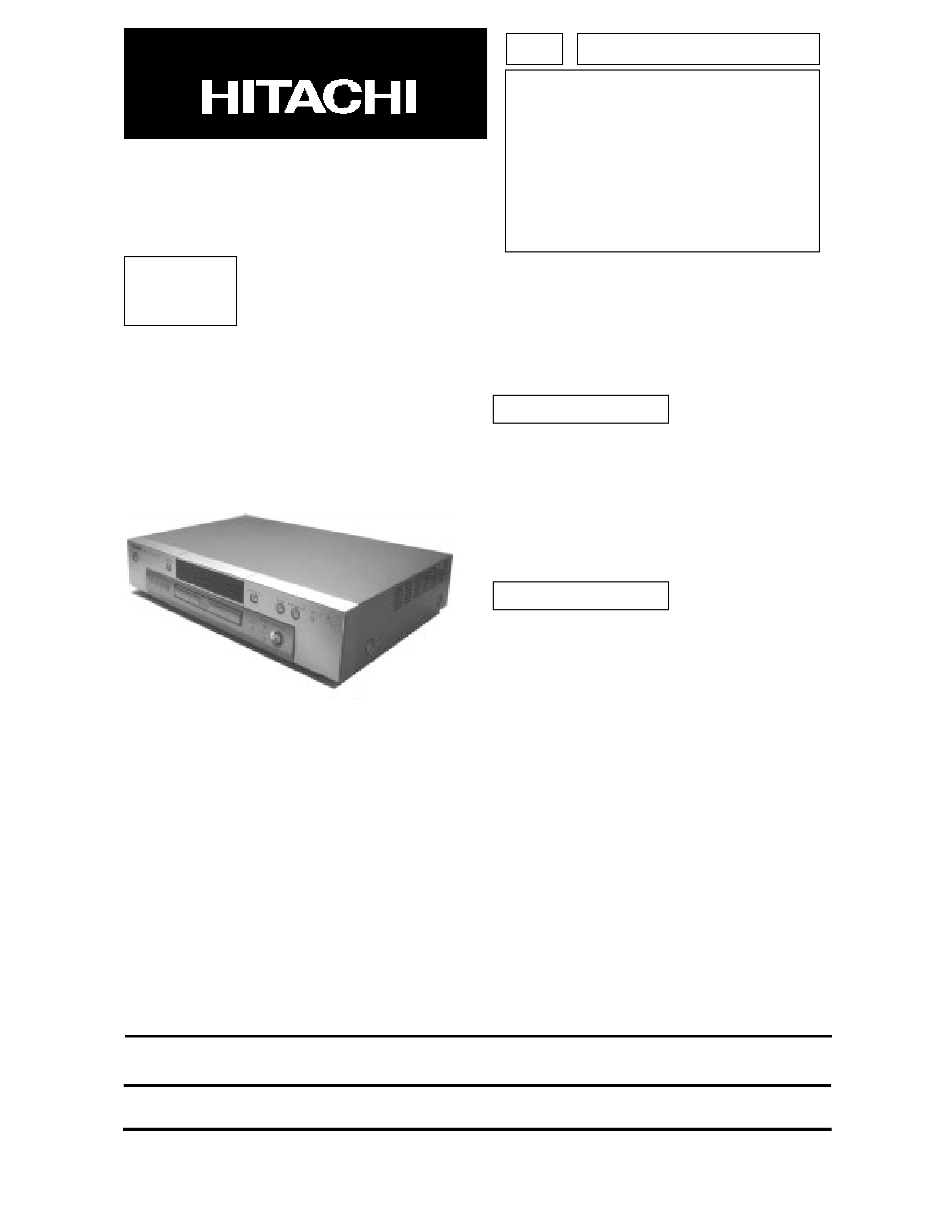 This is a device for DVD playback.
This device is to be used by connecting it to the
video input terminal of a TV set.
Disc navigation system facilitates program
Speedy operation by 2x speed drive.
Please carefully read this guide before using the device. The Hitachi DVD Player has been designed to
prevent fire, electrical shock, injury, or harmful radiation. It has been legally fabricated in accordance with
the Electrical Appliances Act. Therefore, when using the device, please follow advice in this service
guide to keep it safe to use.
SPECIFICATIONS AND PARTS ARE SUBJECT TO CHANGE FOR IMPROVEMENT.
Digital Media Products Division, Tokai
---

---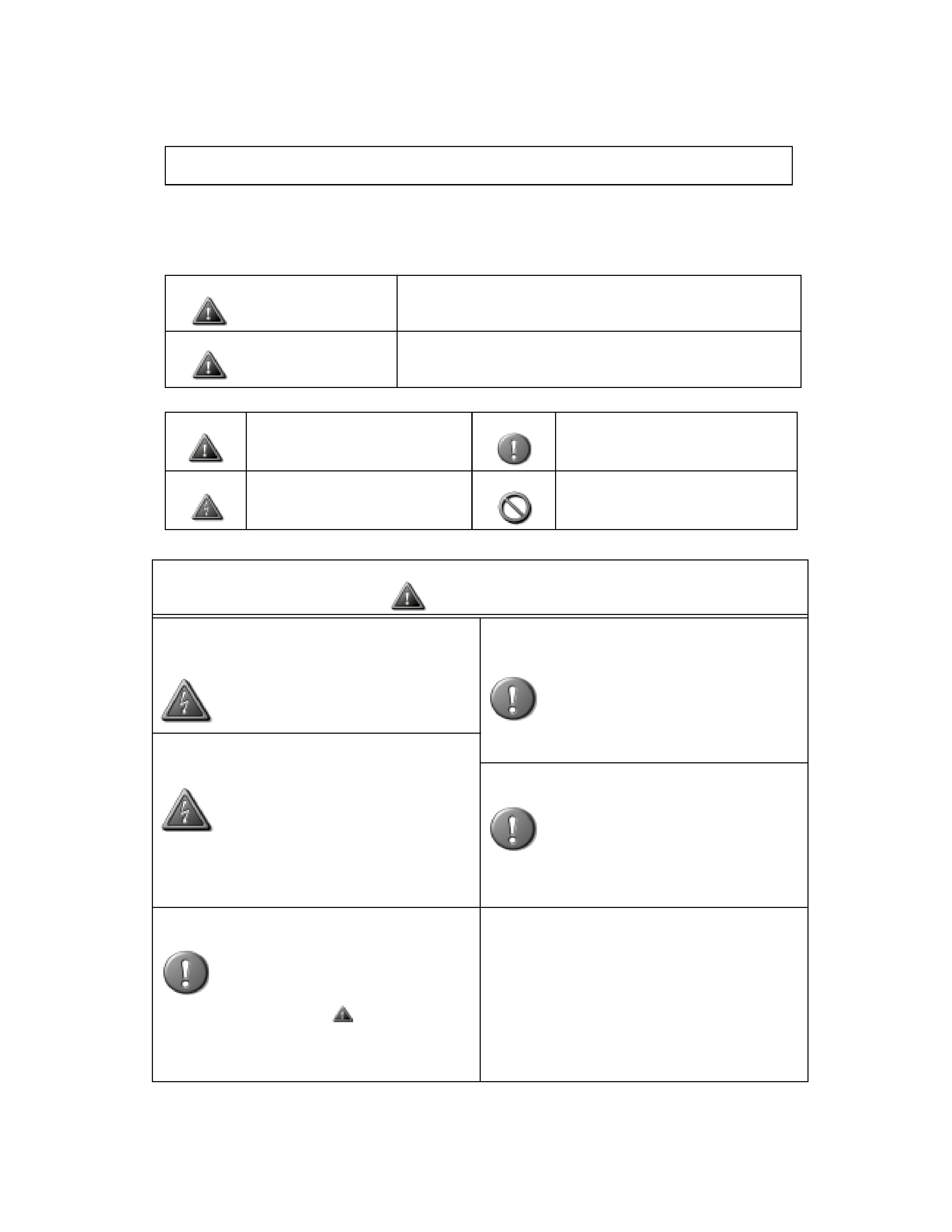 Before undertaking repair work, please read through this [Precautions for safety].
The following points should be observed in order to prevent accidents from happening and to ensure the
Degrees of danger or damage that can be caused by faulty operation are indicated by the following marks:
The following marks identify actions to be taken:
PRECAUTIONS FOR SAFETY
(Please follow.)
Under this mark, there is "Possible death or serious injury".
Under this mark, there is "Possible injury or material damage".
This mark indicates items to which `You
This mark indicates items `You have to
This mark indicates: `You should be cau-
tious of electric shock'.
This mark indicates `Forbidden items'.
You should pay attention.
The original part installation and wiring route
Where a special attention is required, it is
indicated by a label or stamp. For example, on
the cabinet, chassis, or parts.
Please respect the indicated items and the
`Precautions for use' of the manual.
For safety, some parts are insulated by a tube
or a tape, or installed without contact with
substrate. The internal wiring is kept a
distance from hot or high voltage parts by
clamps or routing. Please restore them as
initially done to prevent electric shock or fire
You should be cautious against electric shock.
Please be careful during operations because
there are high voltage and recharging parts
inside. An electric shock or death may happen
When disassembling, assembling, or replacing
a part, the power plug has to be pulled off.
Touching by error a powered part may cause
an electric shock, death, or injury.
Please check safety after servicing.
Please check if dismounted screws, parts, and
wires are reinstalled as before and if the area
surrounding the repair is damaged.
Please also measure insulation resistance with
a ohmmeter and to confirm that it is more than
There is risk of electric shock or fire if the
insulation resistance is less than 20M
Please use designated parts.
Parts are characterized by uninflammability
and voltage resistance. Therefore, parts
having these same characteristics must be
Especially for parts important in insuring
parts list, a part with the identical part number
If a part with a different part number is used,
an electric shock or a fire may occur.
---

---

System Specification . . . . . . . . . . . . . . . . . . . . . . . . . . . . . . . . . . . . . . . . . . . . . . . . . . .1
Hitachi DV-P505U/U(PX) . . . . . . . . . . . . . . . . . . . . . . . . . . . . . . . . . . . . . . . . . . .1
Hitachi DV-P505E/(UK) . . . . . . . . . . . . . . . . . . . . . . . . . . . . . . . . . . . . . . . . . . . . .2
System Outlook . . . . . . . . . . . . . . . . . . . . . . . . . . . . . . . . . . . . . . . . . . . . . . . . . . . . . . .3
Front Panel . . . . . . . . . . . . . . . . . . . . . . . . . . . . . . . . . . . . . . . . . . . . . . . . . . . . . .3
Display Window . . . . . . . . . . . . . . . . . . . . . . . . . . . . . . . . . . . . . . . . . . . . . . . . . . .3
Rear Panel . . . . . . . . . . . . . . . . . . . . . . . . . . . . . . . . . . . . . . . . . . . . . . . . . . . . . . .4
Description of adopted new technology . . . . . . . . . . . . . . . . . . . . . . . . . . . . . . . . . . . . .5
Digital signal circuit . . . . . . . . . . . . . . . . . . . . . . . . . . . . . . . . . . . . . . . . . . . . . . . .5
Video circuit (DEC substrate). . . . . . . . . . . . . . . . . . . . . . . . . . . . . . . . . . . . . . . . .6
Video Output Circuit (VDO substrate) . . . . . . . . . . . . . . . . . . . . . . . . . . . . . . . . . .9
Audio Circuit. . . . . . . . . . . . . . . . . . . . . . . . . . . . . . . . . . . . . . . . . . . . . . . . . . . . .11
FRONT (FSW) SUBSTRATE CIRCUIT . . . . . . . . . . . . . . . . . . . . . . . . . . . . . . . .12
POWER SUPPLY CIRCUIT. . . . . . . . . . . . . . . . . . . . . . . . . . . . . . . . . . . . . . . . .12
CLOCK CIRCUITS. . . . . . . . . . . . . . . . . . . . . . . . . . . . . . . . . . . . . . . . . . . . . . . .13
Troubleshooting . . . . . . . . . . . . . . . . . . . . . . . . . . . . . . . . . . . . . . . . . . . . . . . . . . . . . .16
VIDEO CIRCUIT . . . . . . . . . . . . . . . . . . . . . . . . . . . . . . . . . . . . . . . . . . . . . . . . .16
AUDIO CIRCUIT . . . . . . . . . . . . . . . . . . . . . . . . . . . . . . . . . . . . . . . . . . . . . . . . .17
About System Reset Function . . . . . . . . . . . . . . . . . . . . . . . . . . . . . . . . . . . . . . .20
System Utility . . . . . . . . . . . . . . . . . . . . . . . . . . . . . . . . . . . . . . . . . . . . . . . . . . . .20
General Information . . . . . . . . . . . . . . . . . . . . . . . . . . . . . . . . . . . . . . . . . . . . . . . . . . .22
Before You Begin . . . . . . . . . . . . . . . . . . . . . . . . . . . . . . . . . . . . . . . . . . . . . . . . .22
Disassembly Procedure Flowchart . . . . . . . . . . . . . . . . . . . . . . . . . . . . . . . . . . . . . . .23
Disassembly Procedure . . . . . . . . . . . . . . . . . . . . . . . . . . . . . . . . . . . . . . . . . . . . . . . .24
Removing the Top Cover . . . . . . . . . . . . . . . . . . . . . . . . . . . . . . . . . . . . . . . . . . .24
Removing the Foot Stand . . . . . . . . . . . . . . . . . . . . . . . . . . . . . . . . . . . . . . . . . .24
Removing the Front Panel . . . . . . . . . . . . . . . . . . . . . . . . . . . . . . . . . . . . . . . . . .25
Removing the MPEG Control Board . . . . . . . . . . . . . . . . . . . . . . . . . . . . . . . . . .26
Removing the Power Supply Board . . . . . . . . . . . . . . . . . . . . . . . . . . . . . . . . . . .27
Removing the DVD-ROM Drive . . . . . . . . . . . . . . . . . . . . . . . . . . . . . . . . . . . . . .27
Removing the Outlet Board . . . . . . . . . . . . . . . . . . . . . . . . . . . . . . . . . . . . . . . . .28
Removing the Front Panel Control Boards . . . . . . . . . . . . . . . . . . . . . . . . . . . . .29
Connector Location . . . . . . . . . . . . . . . . . . . . . . . . . . . . . . . . . . . . . . . . . . . . . . .30
---