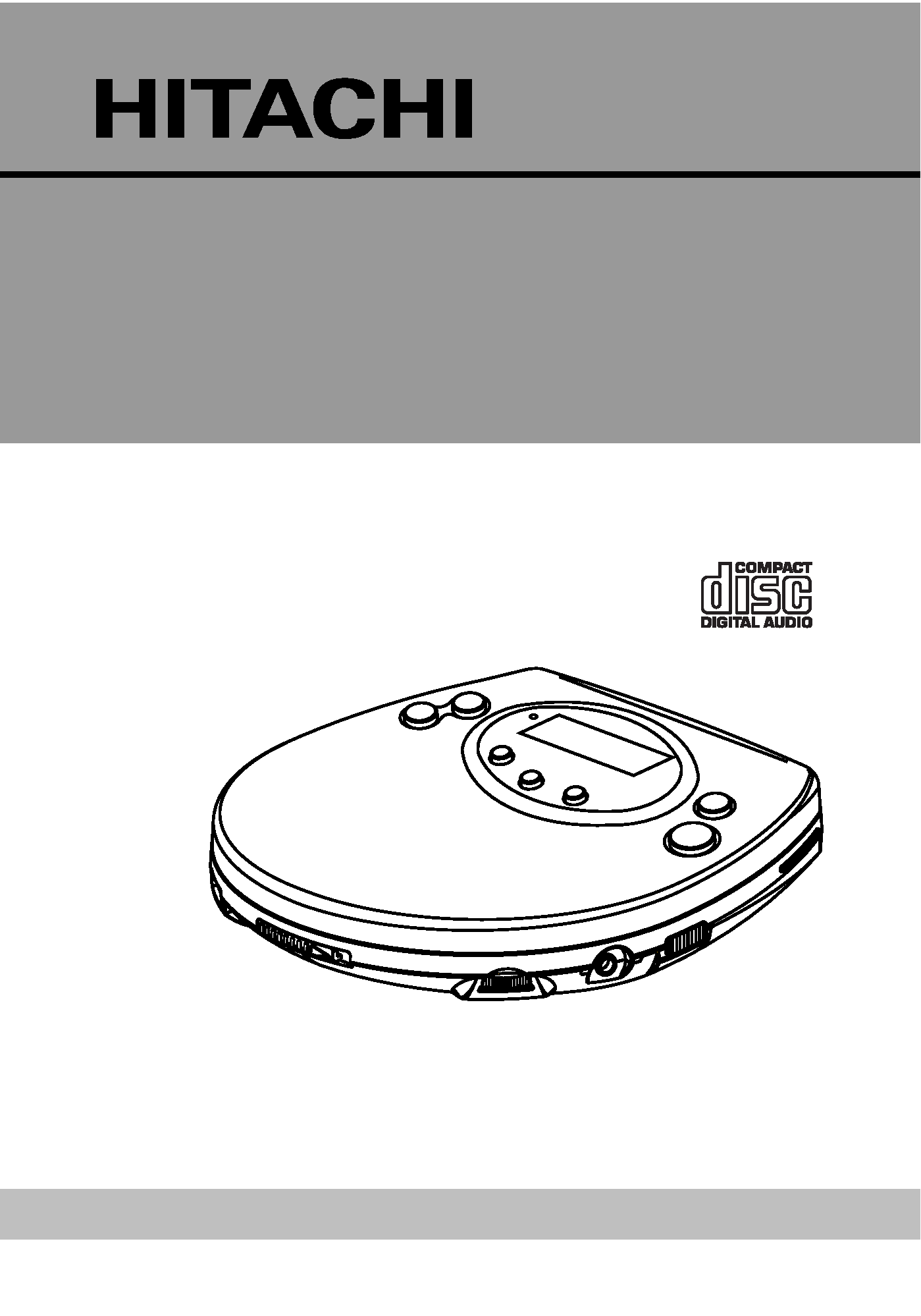 Portable Compact Disc Player
45 second Anti-Shock Memory
Before operating, please read all these instructions thoroughly.
---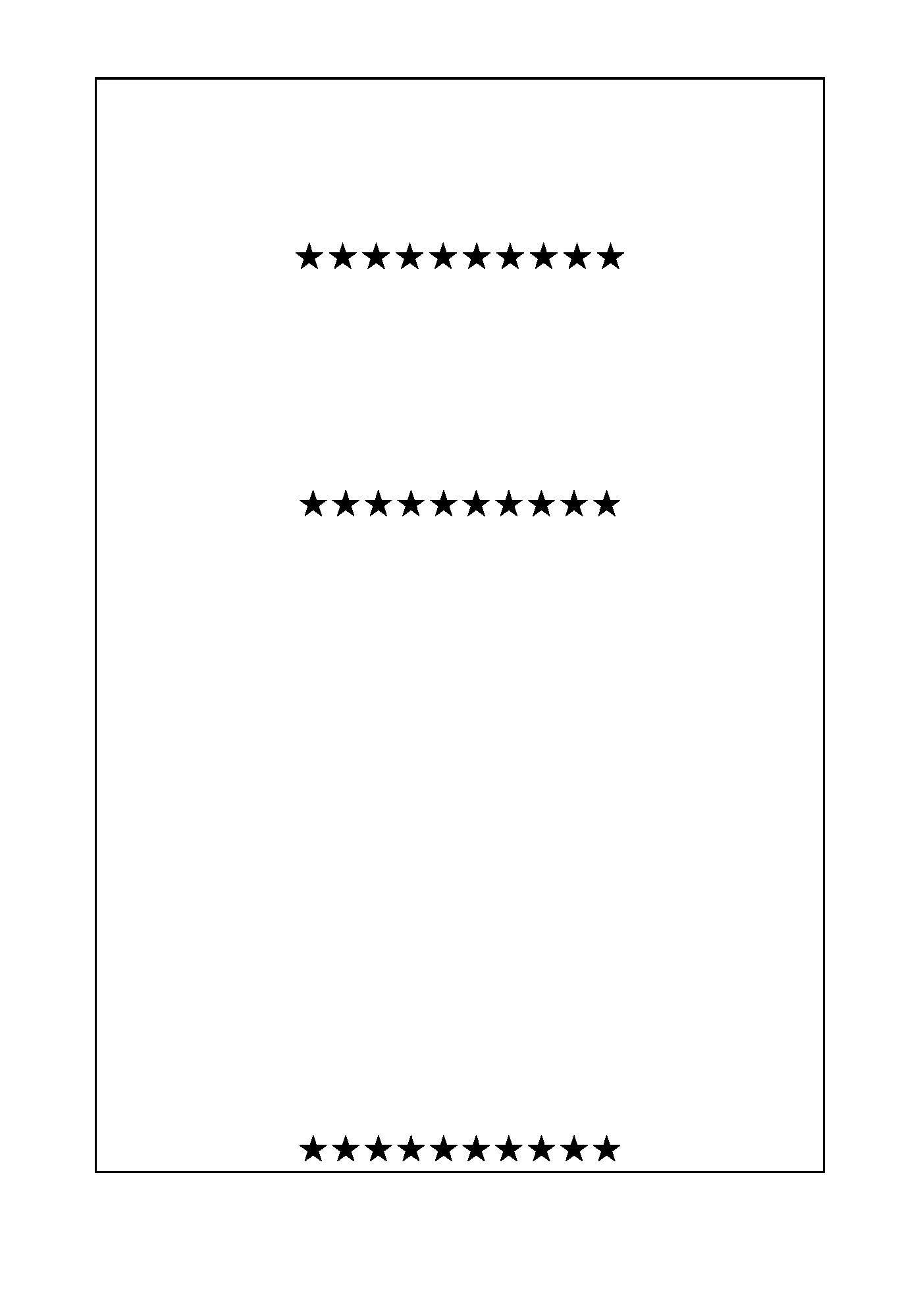 SOME DO'S AND DON'TS ON THE
This equipment has been designed and manufactured to meet international safety
standards but, like any electrical equipment, care must be taken if you are to
obtain the best results and safety is to be assured.
DO read the operating instructions before you attempt to use the equipment.
DO ensure that all electrical connections (including the mains plug, extension
leads and interconnections between pieces of equipment) are properly made
and in accordance with the manufacturer's instructions. Switch off and withdraw
the mains plug when making or changing connections.
DO consult your dealer if you are ever in doubt about the installation, operation
or safety of your equipment.
DO be careful with glass panels or doors on equipment.
DON'T continue to operate the equipment if you are in doubt about it working
normally, or if it is damaged in any way ­ switch off, withdraw the mains plug and
DON'T remove any fixed cover as this may expose dangerous voltages.
DON'T leave equipment switched on when it is unattended unless it is specifi-
cally stated that it is designed for unattended operation or has a standby mode.
Switch off using the switch on the equipment and make sure that your family
know how to do this. Special arrangements may need to be made for infirm or
DON'T use equipment such as personal stereos or radios so that you are dis-
tracted from the requirements of traffic safety. It is illegal to watch television
whilst driving a vehicle.
DON'T obstruct the ventilation of the equipment, for example with curtains or
soft furnishings. Overheating will cause damage and shorten the life of the
DON'T use the makeshift stands and NEVER fix legs with wood screws ­ to
ensure complete safety always fit the manufacturer's approved stand or legs
with the fixings provided according to the instructions.
DON'T allow electrical equipment to be exposed to rain or moisture.
- NEVER let anyone especially children push anything into holes, slots or any
other opening in the case ­ this could result in a fatal electrical shock;
- NEVER guess or take chances with electrical equipment of any kind. It is
better to be safe than sorry!
---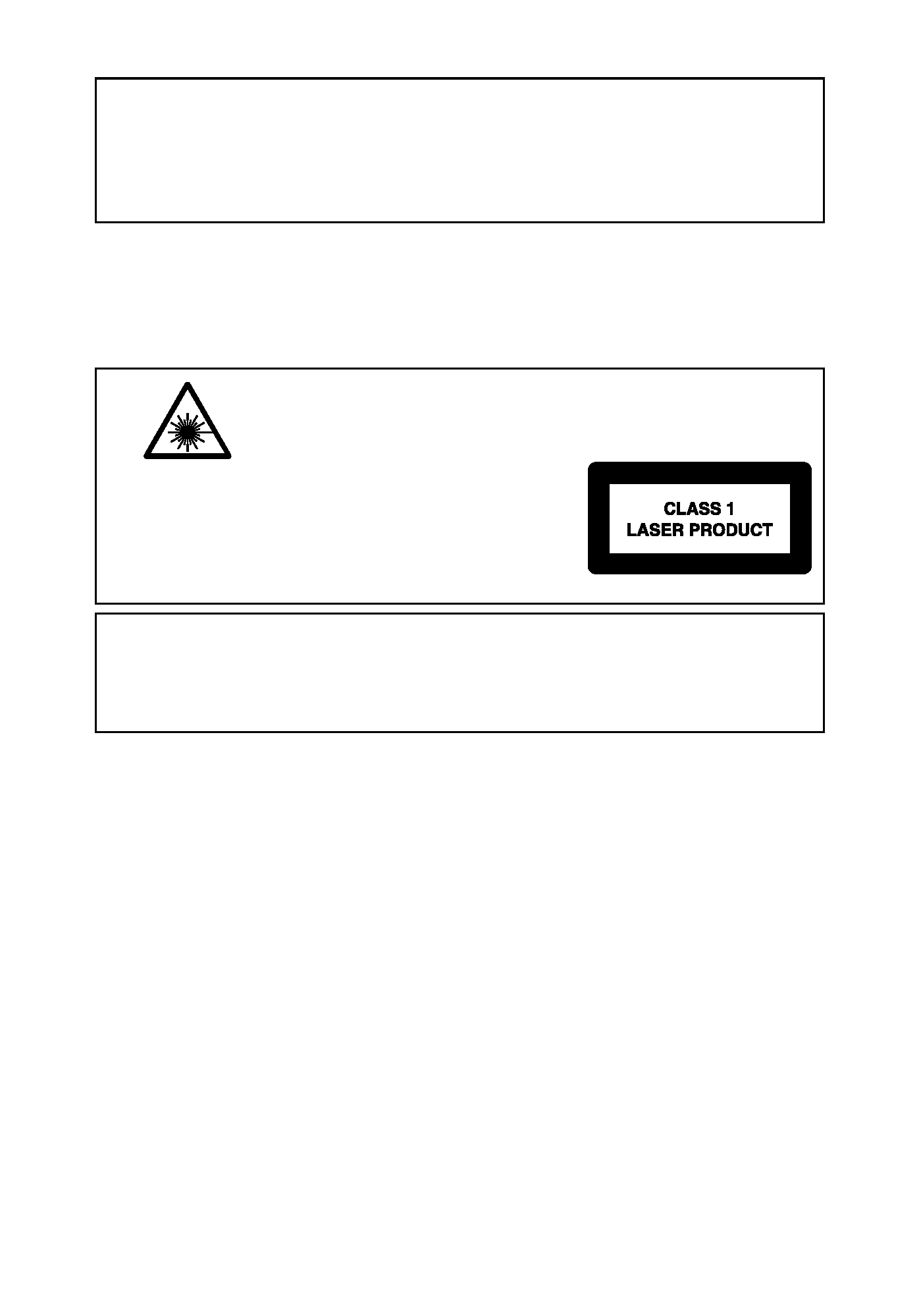 To prevent fire or shock hazard, do not expose this appliance to dripping, splashing,
This unit employs an optical laser beam system in the CD mechanism, de-
signed with built -in safeguards. Do not attempt to disassemble, refer to quali-
fied service personnel. Exposure to this invisible laser light beam may be
harmful to the human eye.
THIS IS A CLASS-1 LASER PRODUCT.
USE OF CONTROLS, OR ADJUSTMENTS
OR PROCEDURES OTHER THAN THOSE
SPECIFIED HEREIN, MAY RESULT IN
HAZARDOUS LASER LIGHT BEAM
Electrical energy can perform many useful functions. This unit has been engineered and
manufactured to assure your personal safety. Improper use can result in potential electrical
shock or fire hazards. In order not to defeat the safeguards, observe the following instructions
for its installation, use and servicing.
1. Never open the covers or touch the inside or insert a metal object. Any of these
operations could cause an electric shock or a fault.
2. Do not expose to vibration or shock, dust, moisture,direct sunlight or excessive
heat such as inside the confined vechicles, etc. for a long period.
3. Use ONLY the AC adaptor provided, others may damage your unit. Disconnect
from the wall AC supply outlet when the set is not to be used for an extended
4. When cleaning your unit, use a soft dry cloth to wipe off surface dirt. Do not use
solvents or commercially available cleaners as these may damage or discolour
5. Do not wear earphones while operating a motor vehicle, this could create a traffic
hazard and is illegal in many areas.
6. The earphones supplied with your unit provide super stereo listening while allow-
ing you to hear outside sounds when listening at normally low volume levels.
Listening at extremely high volume levels minimizes the intrusion of outside sounds
and may impair your hearing.
DECLARATION OF CONFORMITY
We declare under our sole responsibility that this product, to which this declara-
tion relates, is in conformity with the following standards:
EN60065, EN55013, EN55020, EN61000-3-2 and EN61000-3-3.
Following the provisions of 73/23/EEC, 89/336/EEC and 93/68/EEC Directives.
This is shown on the bottom of the unit.
---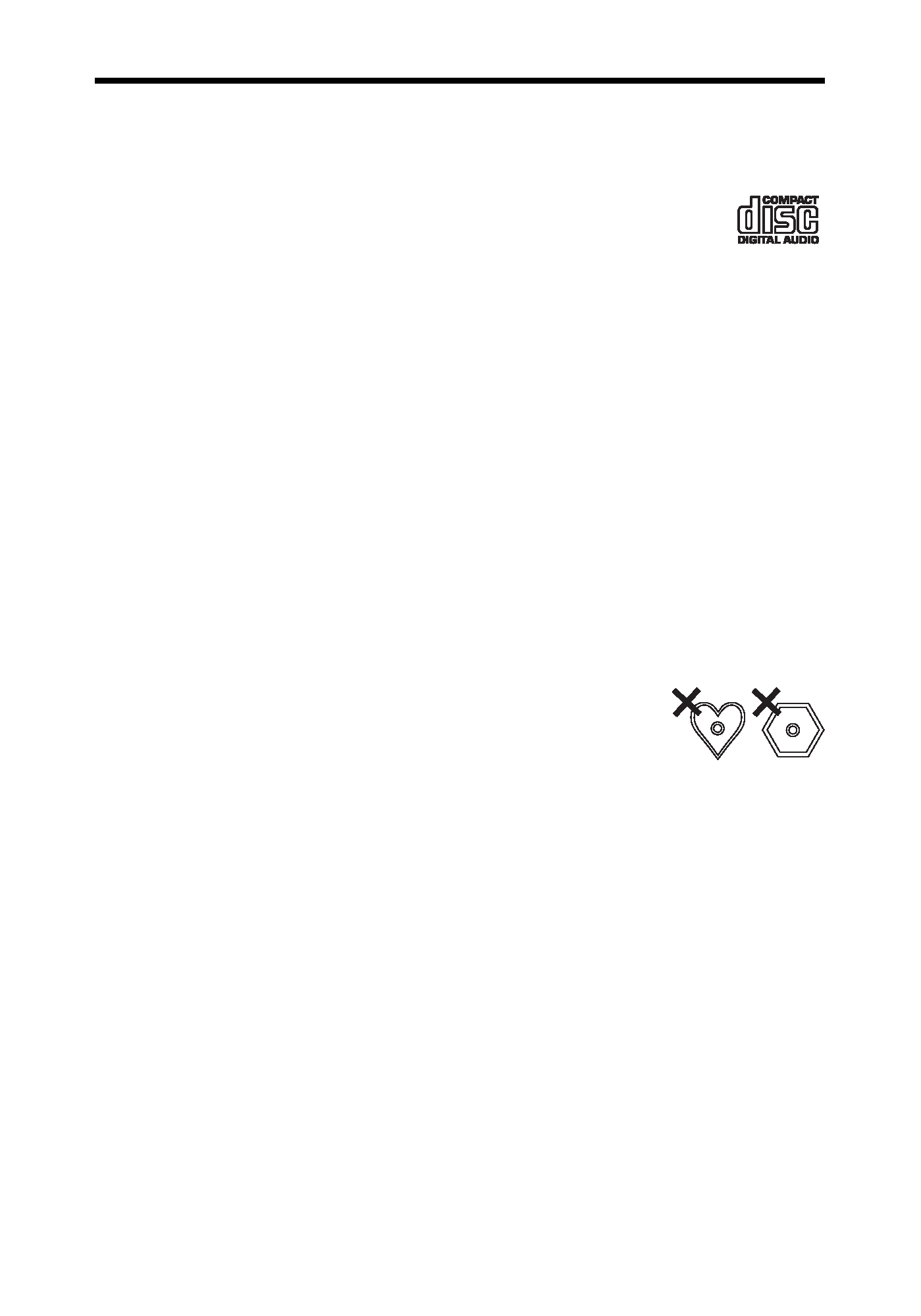 7. If you notice that the sound has become weak or distorted, this is an indication
that your batteries are low. Replace with new or recharged batteries (see "BAT-
8. When the set is not going to be used for a long time, remove the batteries.
9. Discs which can be played on this player, have the following mark on
them. MP3, CD-R, CD-RW, CD-ROM, etc. cannot be played.
10. Do not move the set suddenly from a very cold room into a warm
room. When a chilled CD player is moved suddenly to a warm location, conden-
sation may form on the pick-up lens, preventing proper operation. In this case,
wait 1 to 2 hours before resume play.
11. Do not place any objects in the disc compartment, it may cause damage to the
12. Do not store discs in high temperature, high-humidity locations. The discs may
develop warps and become unable to play. Also, discs with moisture on them
may be unplayable. Wipe any moisture off with a soft, dry cloth, and be sure
discs are fully dried before using.
13. Handle the discs carefully so that fingerprints and dust do not adhere to the
surfaces of the discs. To clean off, use a soft cloth. Do not use a hard cloth since
these will mark or scratch the disc.
14. Please do not use compact discs with cellophone tapes or with labels attached,
or those CD with peeled off stains, such as rental CD. If such discs were used on
a CD player, they may get trapped inside the unit and cause malfunction.
15. If a CD player is being operated while you are receiving a radio broadcast, you
may hear noise in the broadcast. If so, turn the operative switch of the CD player
16. Do not leave exhausted batteries in the compartment as they will leak and cause
17. CD with special shapes (heart-shaped, octagonal etc.) can-
not be played on this set. Attempting to do so may damage
the set. Do not use such CD:
18. Do not use CD-ROM and VCD disc. If these discs are played, noise will occur
19. Be careful not to damage the AC adapter cord. Be sure to hold the adapter when
disconnecting from AC supply outlet.
20. Allow heat dissipation from the unit, otherwise malfunction may occur.
21. During playback if the unit is subjected to shock or jolt, some noise may be
produced. This is not a malfunction.
22. The CD player has wide dynamic range. As a result, if you turn your volume up
too high during soft (low volume) passages of a program, your earphones may
be damaged when the dynamic range of a sudden loud passage is produced.
23. Do not leave a disc inside the unit when it is not used for a long period.
---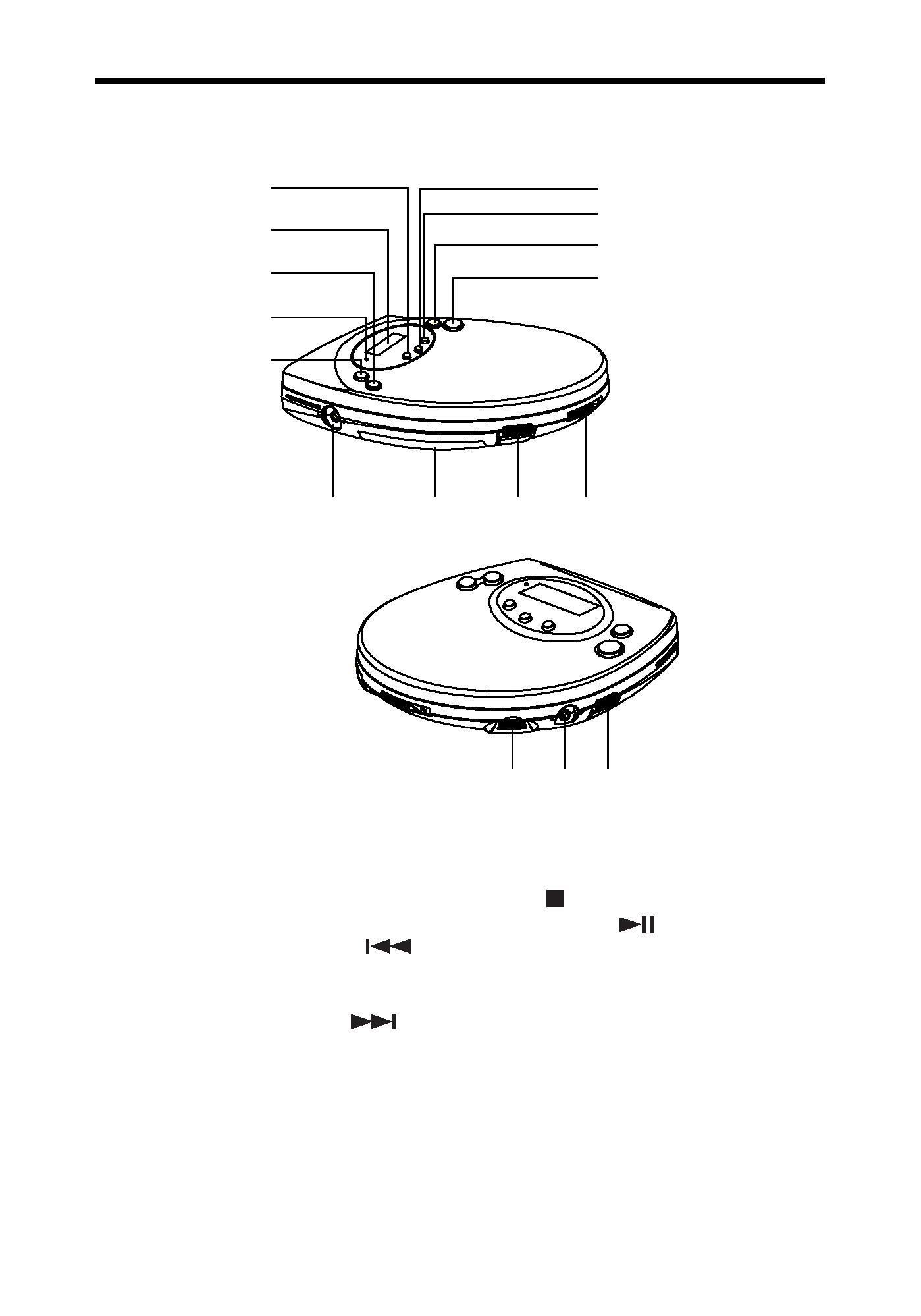 3. Backward Skip / Search (
5. Forward Skip / Search (
---