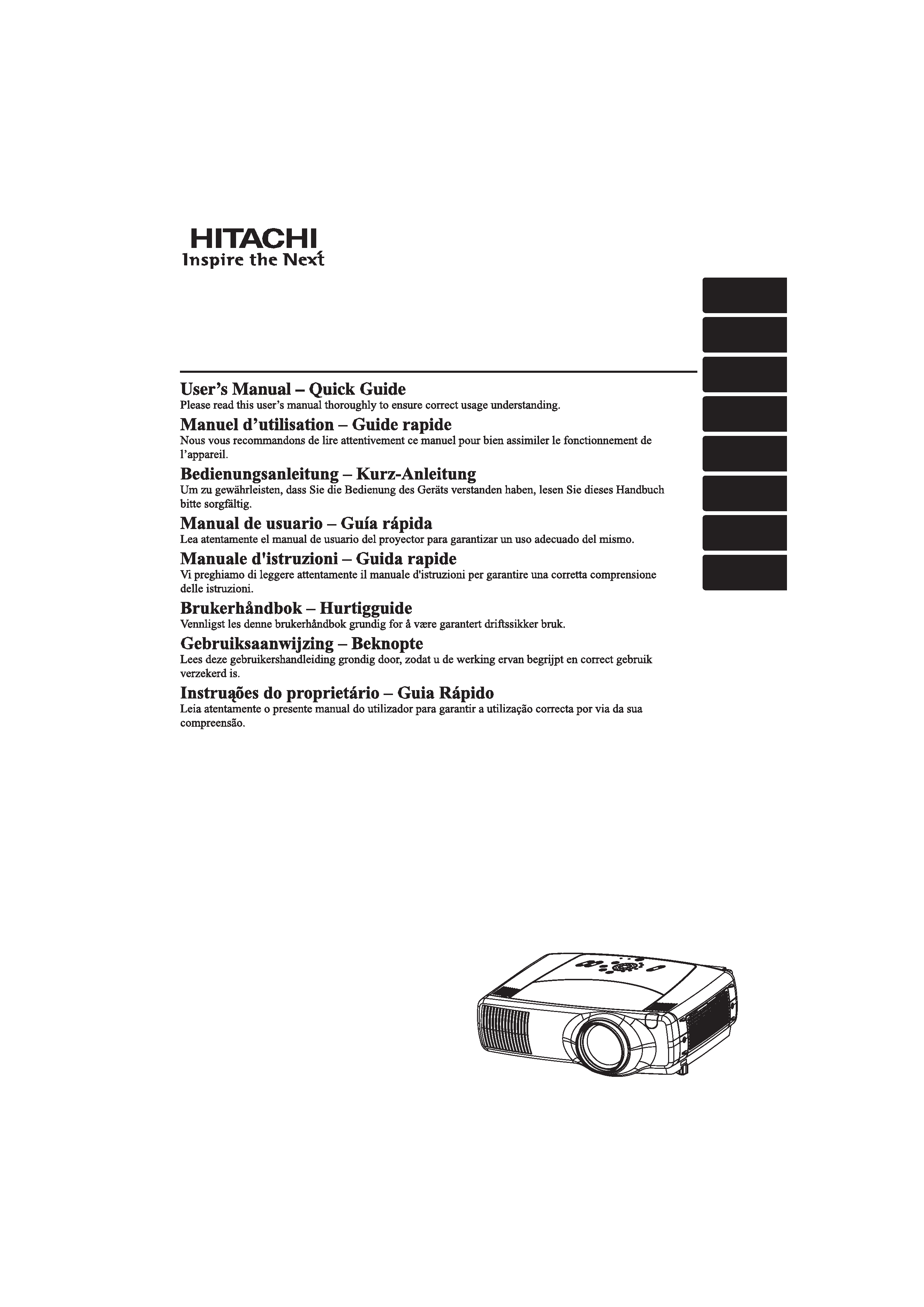 ---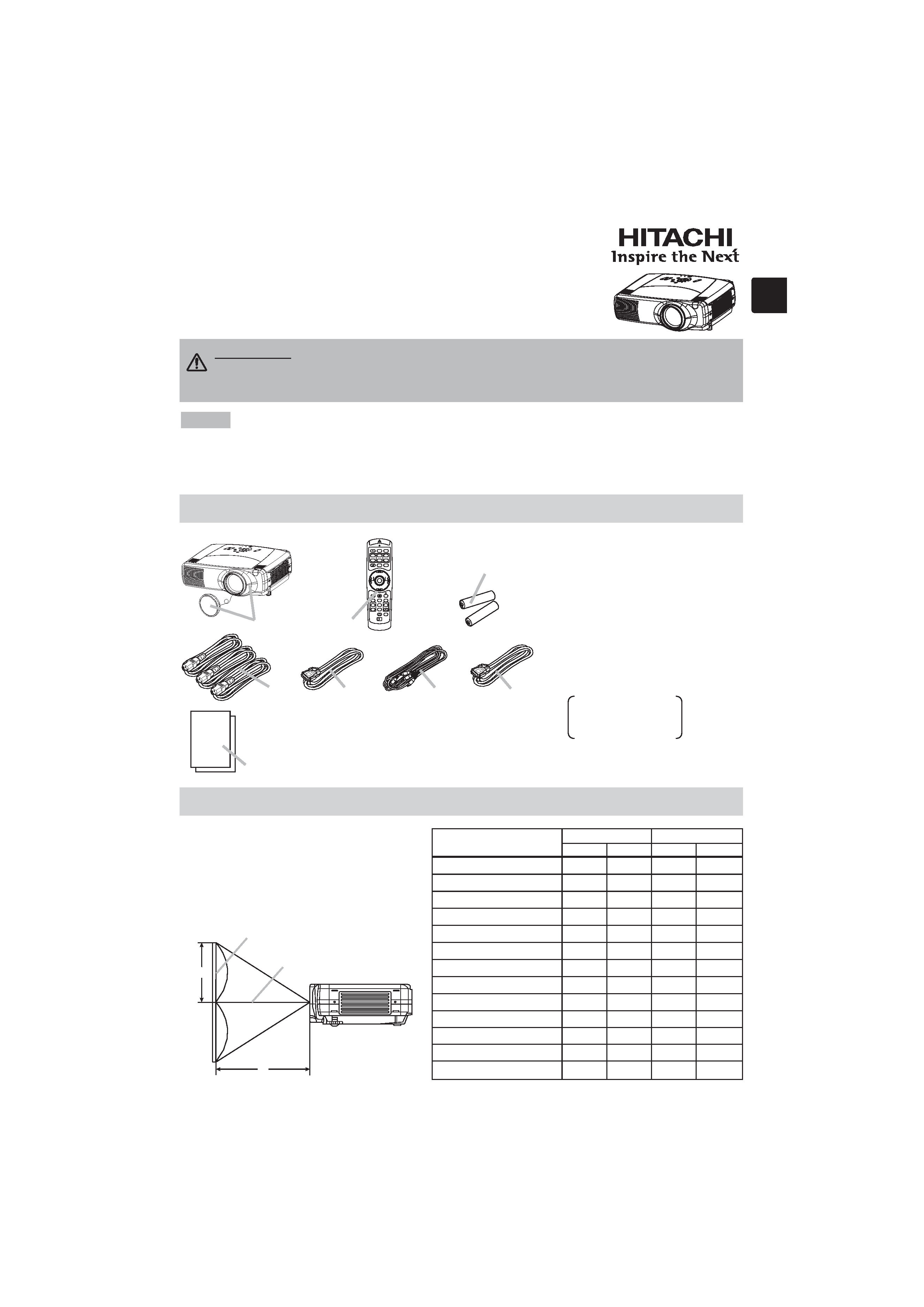 User
'
'
s Manual ­ Quick Guide
Thank you for purchasing this projector.
· The information in this manual is subject to change without notice.
· The manufacturer assumes no responsibility for any errors that may appear in this manual.
· The reproduction, transmission or use of this document or contents is not permitted without express
Before using, read the "User's Manual - Safety Guide" and
these manuals to ensure correct usage through understanding. After reading,
store them in a safe place for future reference.
Refer to this table, in case of 4:3 aspect
ratios. The values a and b shown in the
table are calculated for a full size screen.
2 Power cords (UK, US, Europe)
181(4.6) 272(6.9) 45(114) 90(229)
243(6.2) 364(9.2) 60(152) 120(305)
304(7.7) 455(11.6) 75(191) 150(381)
366(9.3) 547(13.9) 90(229) 180(457)
427(10.9) 638(16.2) 105(267) 210(533)
489(12.4) 730(18.5) 120(305) 240(610)
612(15.5) 913(23.2) 150(381) 300(762)
---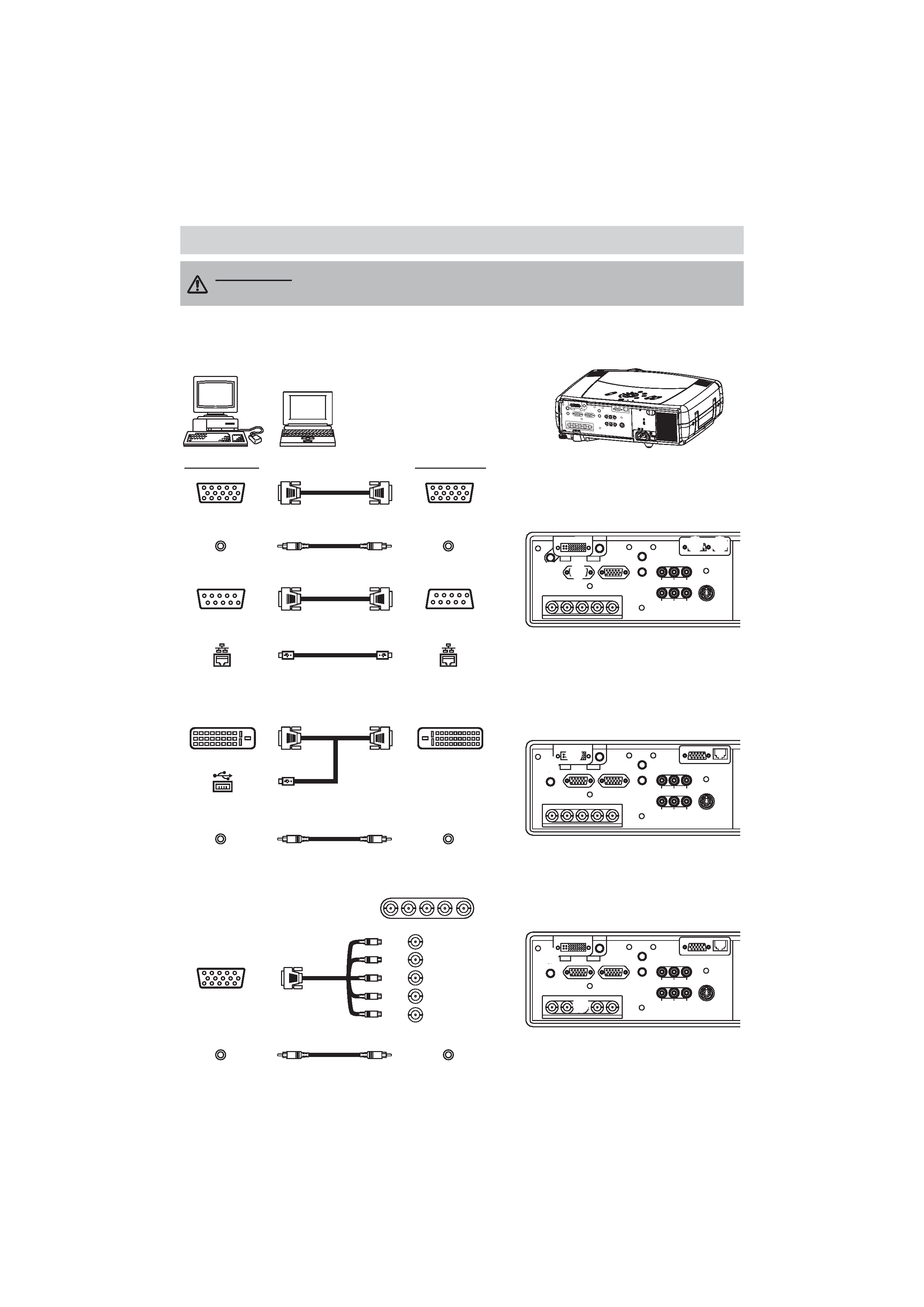 Please refer to the following for connecting your devices. See the rear of the projector. You can see
WARNING · Install the projector in a suitable environment according to
instructions of the "User's Manual ­ Safety Guide".
If using a M1-D input (to mouse control)
---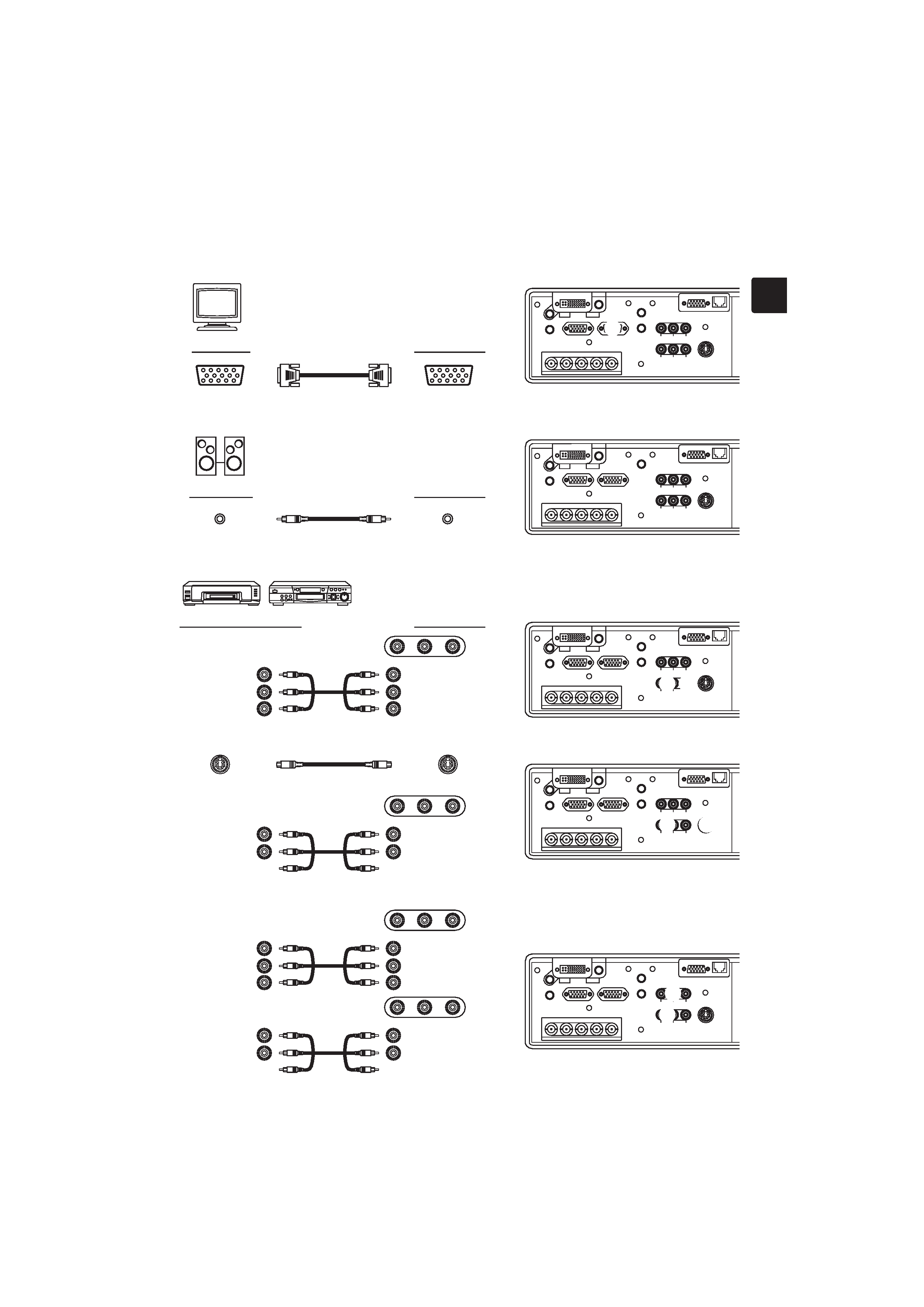 Connecting to a speaker (with amplifier)
Connecting to a VCR/DVD Player
If using a s-video signal
If using a component signal
---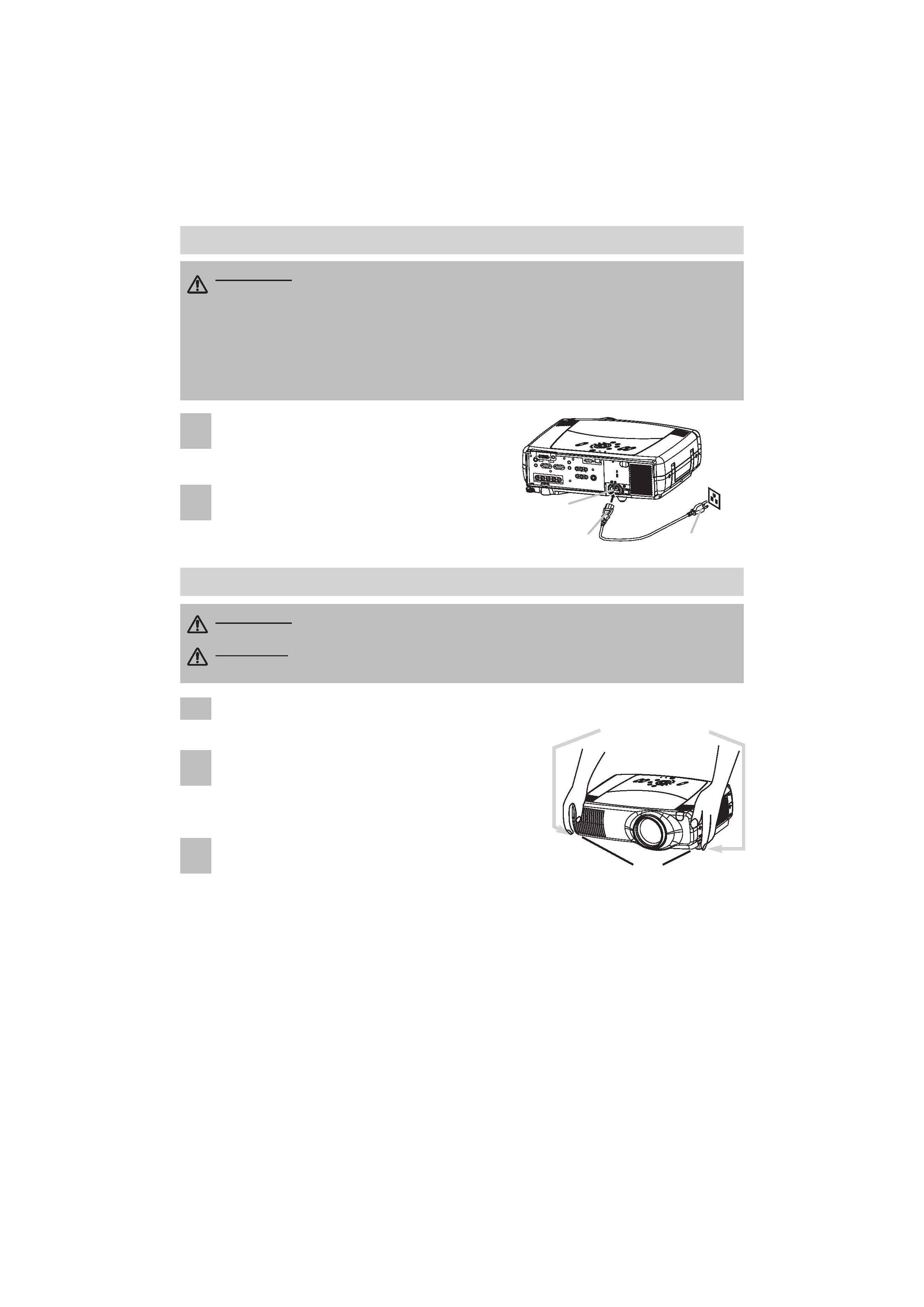 Connecting The Power Supply
Connecting The Power Supply
Adjusting The Projector's Elevator
Adjusting The Projector's Elevator
WARNING · Use extra caution when connecting the power cord as incorrect or faulty
connections may result in fire and/or electrical shock. Please adhere to the "User's manual ­
Safety Guide" and the following.
· Only plug the power cord into outlets rated for use with the power cord's specified voltage range.
· Only use the power cord that came with the projector. If it is damaged, contact your dealer to
· Never modify the power cord. Never attempt to defeat the ground connection of the three-pronged plug.
· Make sure that you firmly connect the power cord to the projector and wall outlet.
Connect the connector of the power cord to
the AC inlet of the projector.
Firmly plug the power cord's plug into the
WARNING · Do not touch about the lens and ventilation openings during use or
immediately after use to prevent a burn.
CAUTION · To prevent damaging the projector and injuring yourself, always
hold the projector whenever using the elevator buttons to adjust the elevator feet.
Press and hold in the elevator buttons.
Raise or lower the projector to the desired height and
then release the elevator buttons.
When you release the elevator buttons, the elevator
feet will lock into position.
As necessary, you can also finely adjust the height of
the projector by twisting the elevator feet by hand.
---