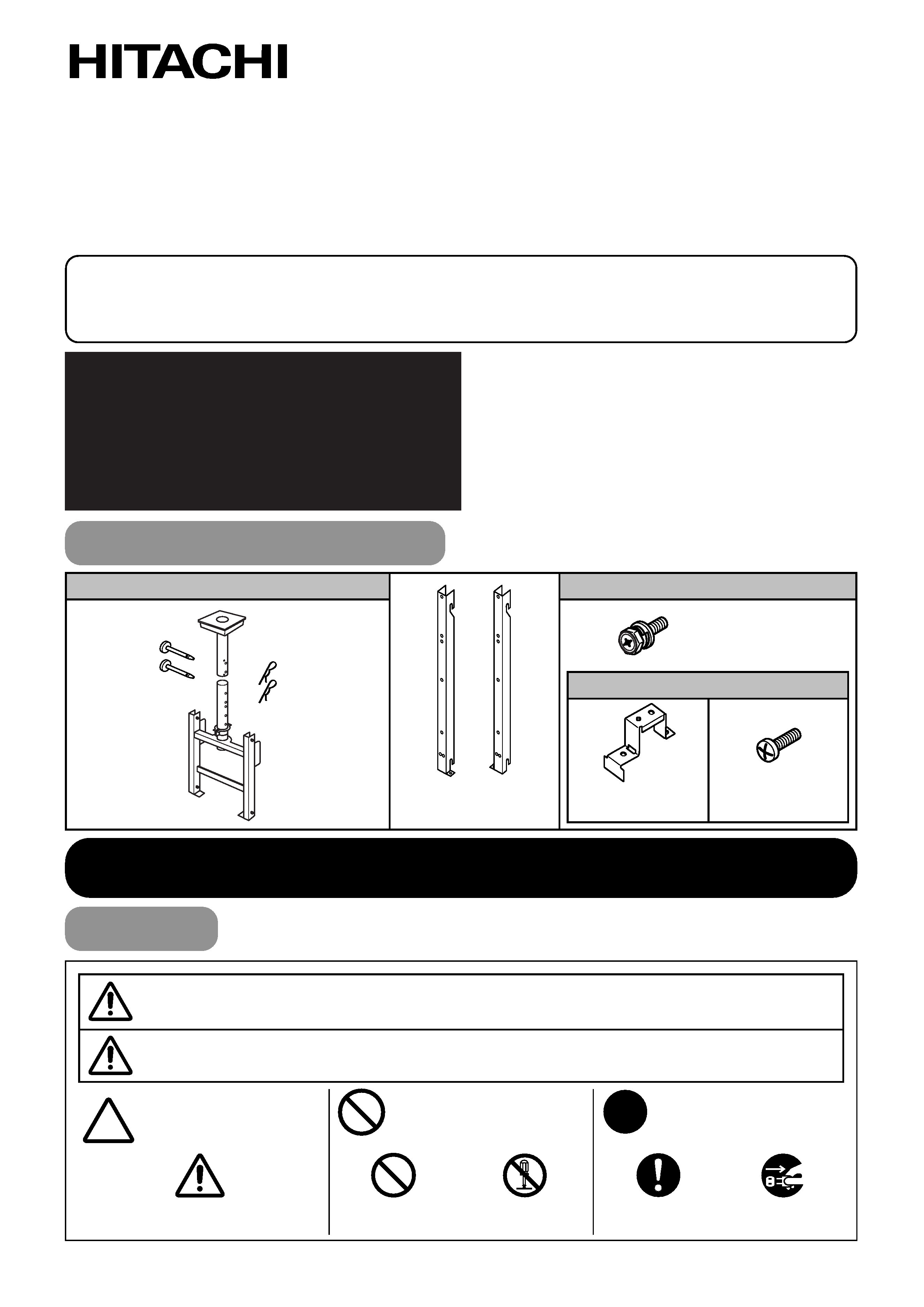 Packed in a temporarily assembled condition
Hitachi Plasma Display Ceiling Mount Unit
Installation Instructions
Thank you for purchasing the Hitachi Plasma Display Ceiling Mount Unit.
To ensure correct usage, please read this instruction manual thoroughly. After reading, please store this manual
in a safe place for future reference.
This plasma display ceiling mount unit is for use only with the following models : CMP401X, CMP402HD, CMP307X
Special techniques are necessary for installation of
Do not attempt to perform this work by yourself.
Request an installation specialist to install this unit.
This company assumes absolutely no responsibility
for injuries and damages that may occur due to
improper installation and handling.
· To ensure customer safety, be sure to design the
installation location so that the strength is sufficient
to withstand the weight of both the plasma display
and the Ceiling mount unit.
· Always use at least two persons for all
· Firmly install coupling pins, snap pins and screws
as specified in the installation instructions.
Parts Configuration Chart
Usage cautions to ensure correct usage
· The following symbols are used to ensure safe usage of the product, to prevent danger to
yourself and other parties and to prevent damage to property.
This symbol indicates that incorrect handling due to ignoring this symbol
can result in the possibility of personal injury or even death.
This symbol indicates that incorrect handling due to ignoring this symbol
can result in the possibility of personal injury and physical damage.
plug is to be disconnected
---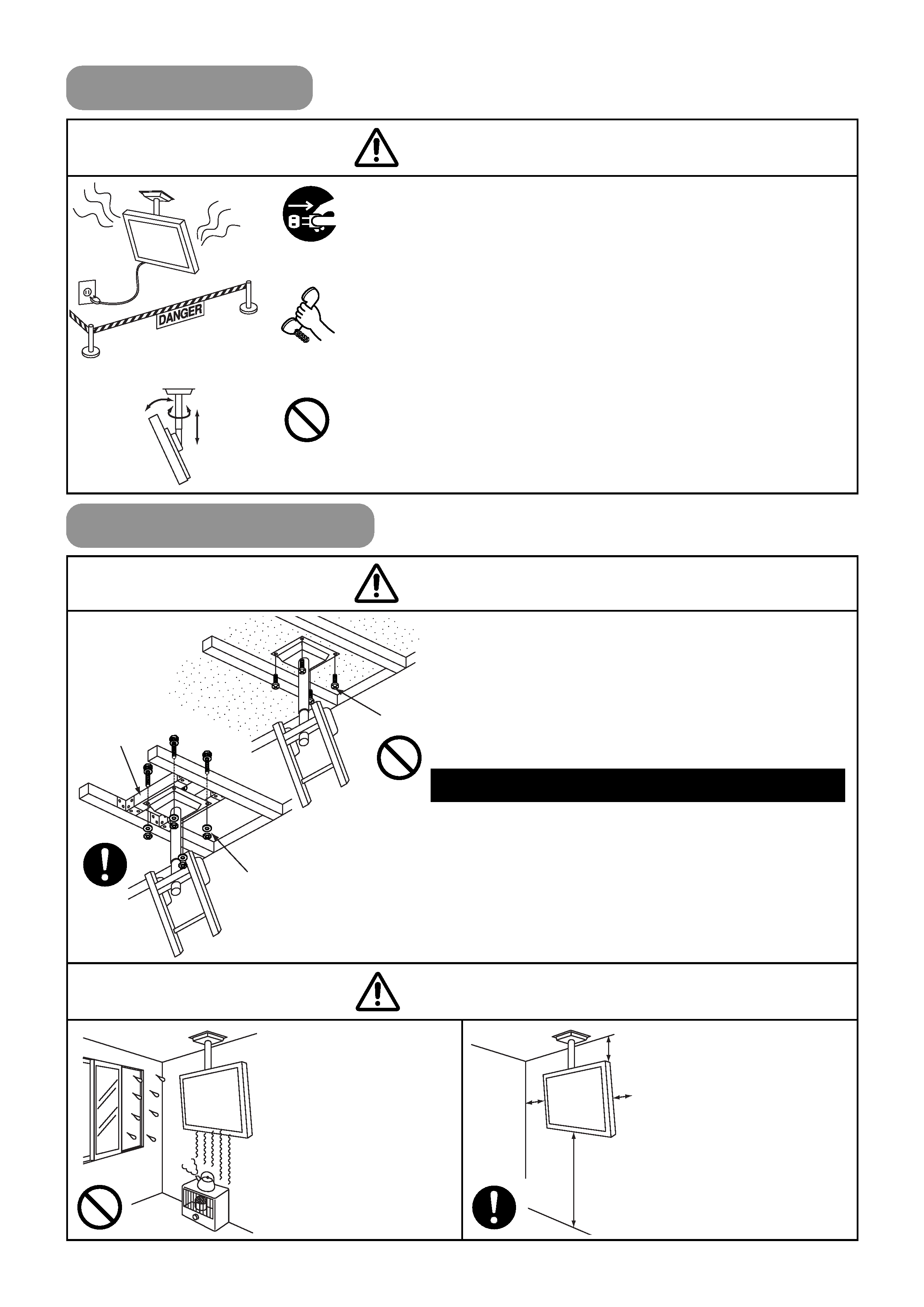 When a malfunction occurs, disconnect the power plug
from the power outlet and take measures to prevent
other people coming near the plasma display.
· The plasma display is loose and vibrates to an extreme degree,
· Mounting screws or parts are loose or missing,
failure to take appropriate actions can result in injury.
Perform the following actions immediately whenever a
1.Turn off the plasma display power switch.
2.Disconnect the power plug from the power outlet.
3.Surround the area with rope, etc., to prevent other people coming near.
4.Contact your local dealer.
Ask your dealer to install, move or adjust the angle
of the ceiling mount unit.
Incorrect installation or adjustment can cause the plasma display
The ceiling where the ceiling mount unit is to
be installed must fully support the weight of
the plasma display and the ceiling mount unit
for an extended period of time.
Take measures to fully withstand earthquake,
other vibration and external forces.
Incorrect installation can cause the plasma display to fall
Total load of the (plasma display + ceiling mount unit) = 51kg
· Always use bolts, washers and nuts to firmly install on a
rigid construction member such as ceiling beam, etc.
· Do not mount directly on a ceiling of insufficient strength or
use wood screws or anchor screws that do not have
sufficient strength to reliably resist pulling out.
· When installing the ceiling mount unit on ceiling
construction members, use commercially available 10mm
nominal diameter screws that are appropriate for the
---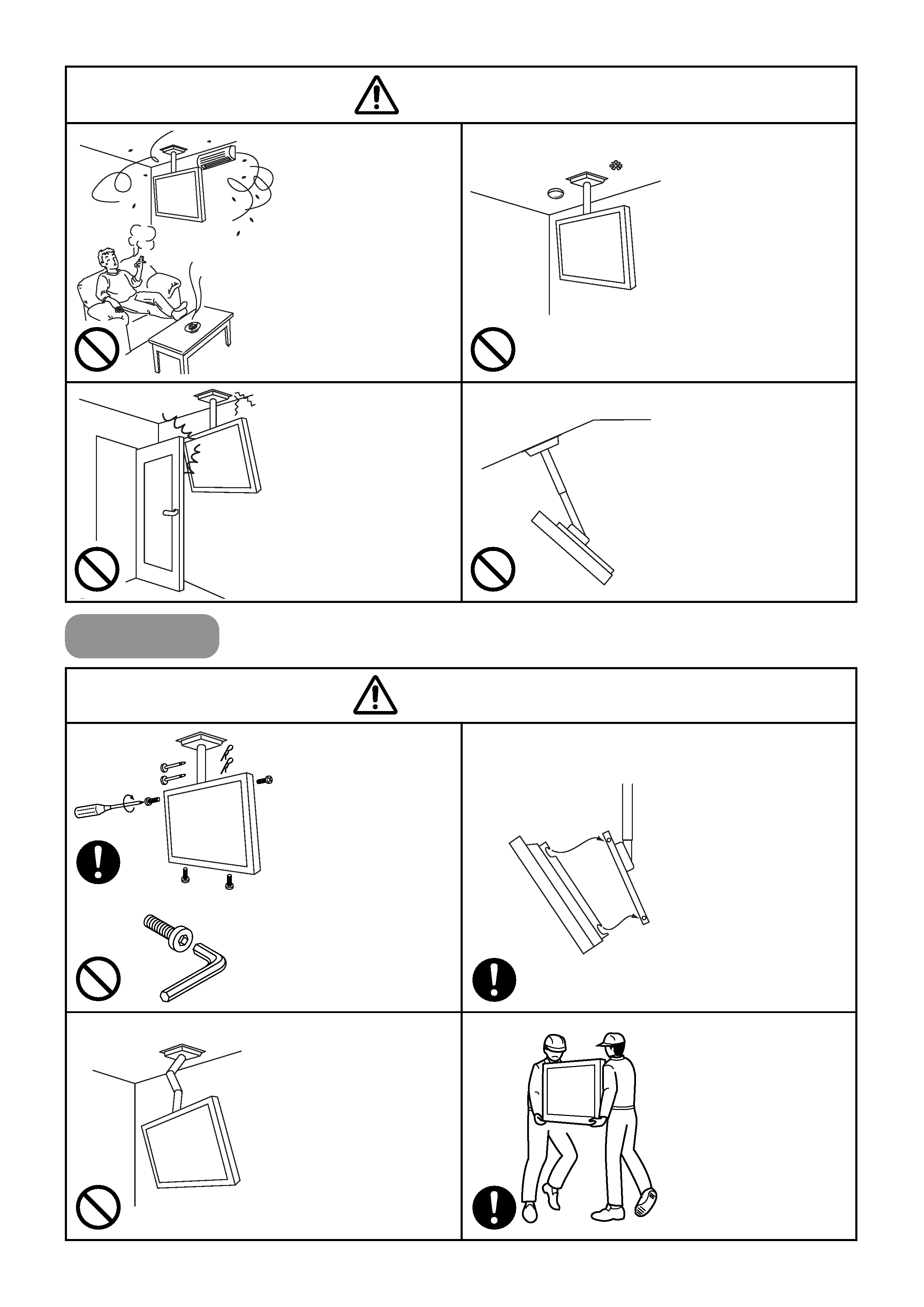 ,,,,,,,,,,,,
,,,,,,,,,,,,
,,,,,,,,,,,,
,,,,,,,,,,,,
,,,,,,,,,,,,
,,,,,,,,,,,,
also result from falling.
---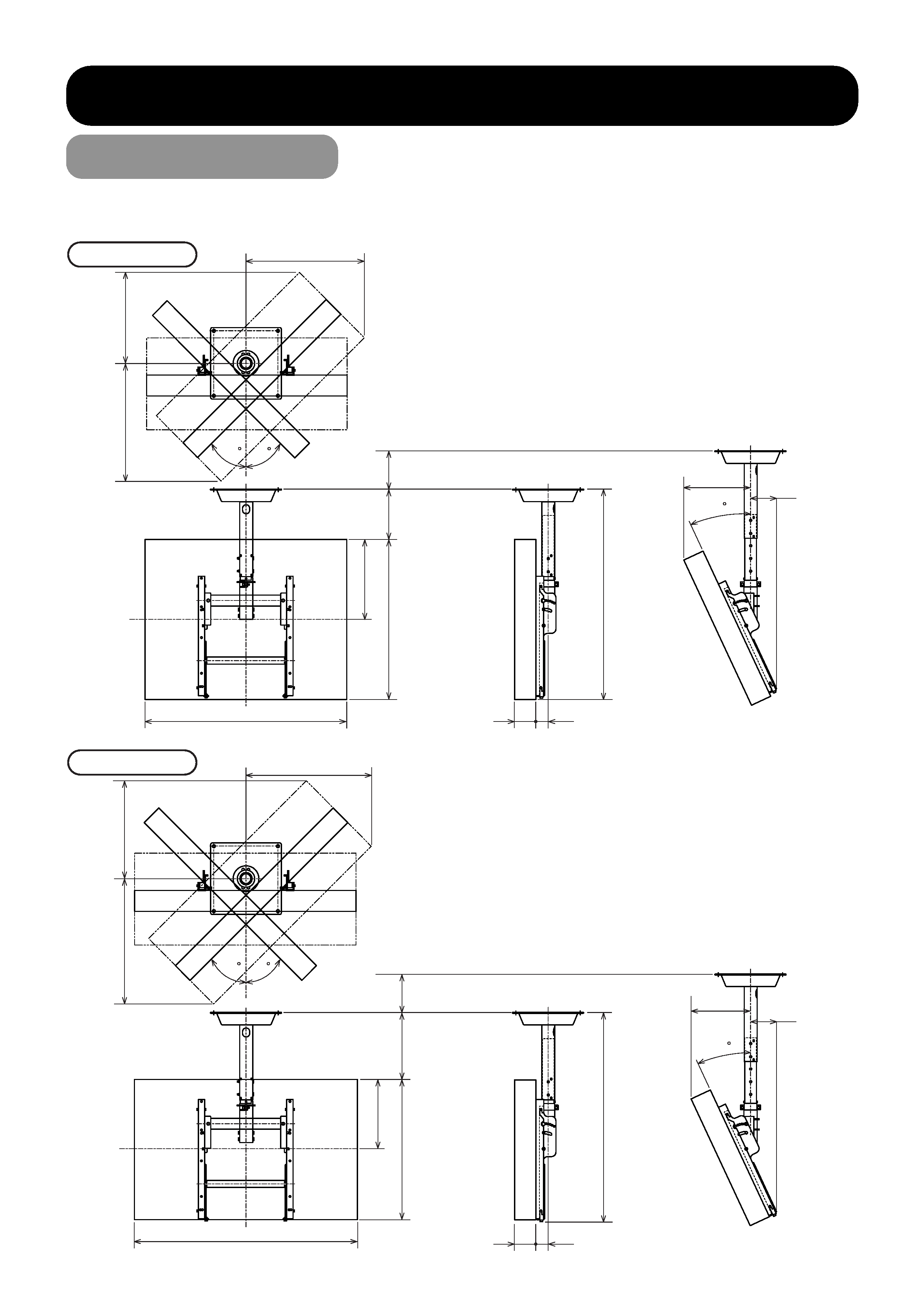 While referring to the dimensional drawing for the ceiling mount unit, decide an installation location where the
ceiling strength is sufficient. Also, set the height adjustment position, screen tilt angle and horizontal angle of the
ceiling mount unit beforehand.
---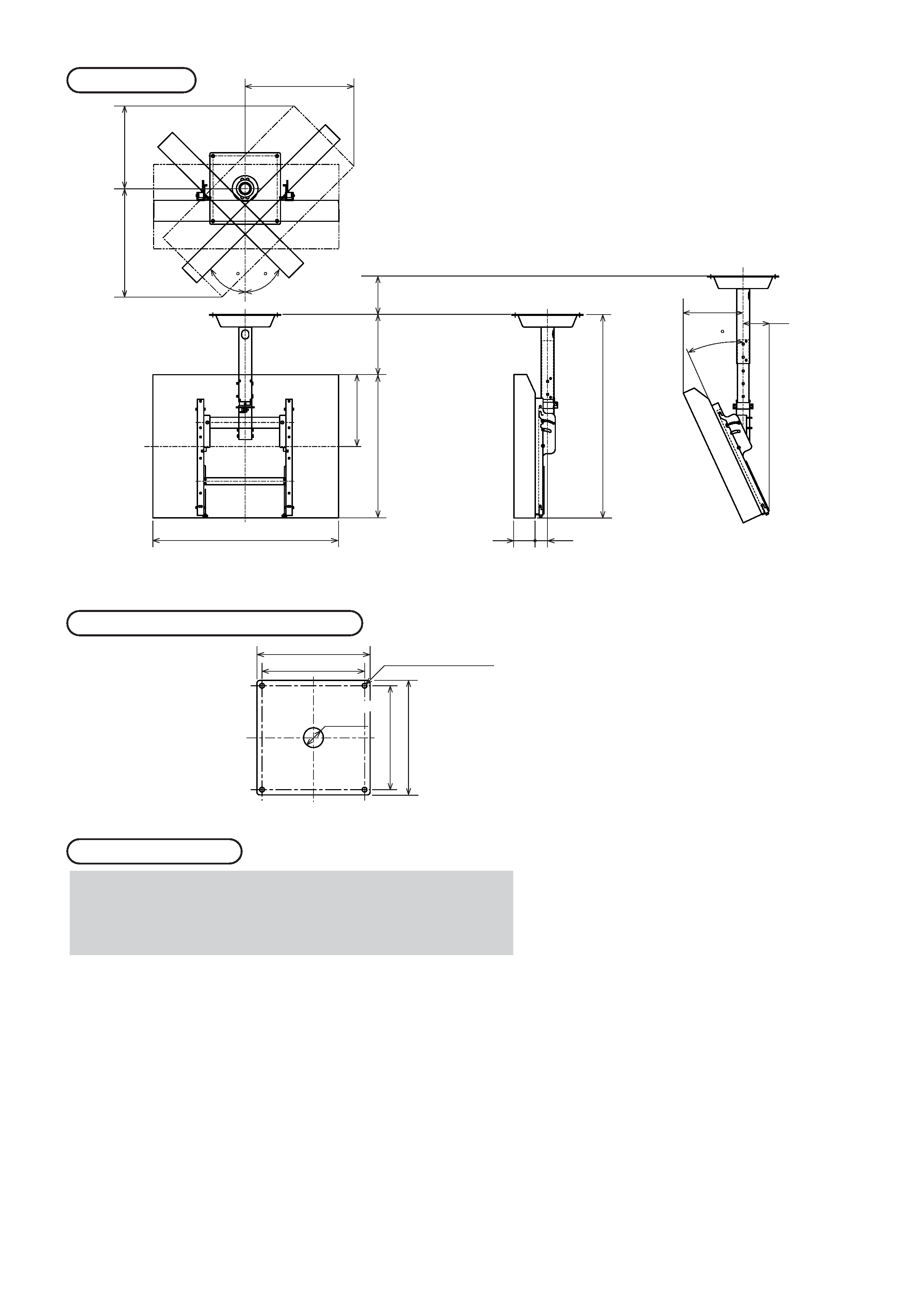 Ceiling mount unit dimensions
Height adjustment: 180mm (P60 x 3 steps)
Downward tilt angle adjustment: 0, 5, 10, 15, 20, 25 (6 steps)
Horizontal angle adjustment: 45 degrees left or right (continuous)
---