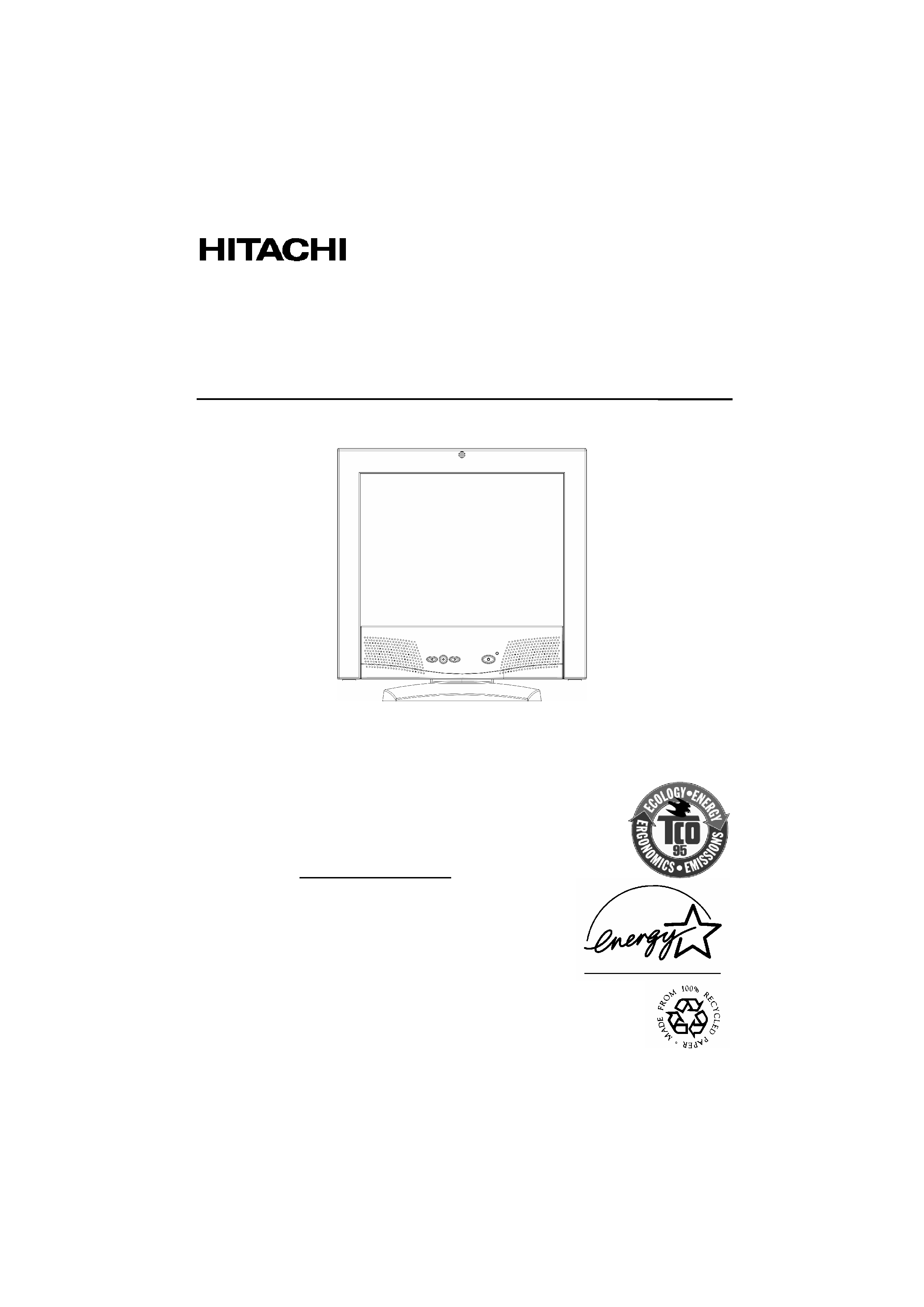 READ THE INSTRUCTIONS INSIDE CAREFULLY.
KEEP THIS USER MANUAL FOR FUTURE REFERENCE.
For future reference, record the serial number of your colour monitor.
The serial number is located on the rear of the monitor.
This monitor is E
NERGY
S
TAR
compliant when used with a
computer equipped with VESA DPMS.
®
emblem does not represent EPA endorsement
of any product or service.
As an E
NERGY
S
TAR
®
Partner, Hitachi, Ltd. has determined that this
product meets the E
NERGY
S
TAR
®
guidelines for energy efficiency.
---

CML155XW (5030032708B) · 2002/11/5·· 01:23
Limited Warranty for USA Customers Only
Hitachi America, Ltd. warrants our Hitachi CRT color monitor to be free from defects in
material and workmanship for 36 months from the date you purchased it if your
purchase was made prior to 1/31/01 or 60 months if your purchase was made after
1/31/01 from your authorized Hitachi America, Ltd. dealer.
If you purchase a Hitachi Liquid Crystal Display (LCD) color monitor, Hitachi provides a
warranty of 36 months for the panel and 12 months for the backlight if purchased before
1/31/01 or 36 months for both panel and backlight if purchased after 1/31/01. In the
event of a defect during this 12 month, 36 month or 60 month period, Hitachi America,
Ltd. will, at its option, repair or replace the monitor at no charge except as set forth
below. If proof of purchase cannot be provided by owner, the warranty period will start to
run from the date of manufacture.
Hitachi America, Ltd. may repair your monitor with new or reconditioned parts or replace
it with a new or reconditioned monitor of the same or similar kind, and any replaced
monitors or parts become Hitachi America, Ltd.'s property.
Exclusions from this warranty: It is normal for Cathode Ray Tube (CRT) monitors and
LCD display backlights to decrease in brightness as they age. This is a natural process
in CRTs & LCDs due to the degradation of the LCD backlight and the degradation of the
CRT phosphors that create the image and is not covered by this warranty. This warranty
excludes decreased image clarity or reduced brightness due to natural aging of the
monitor/display. In addition, this warranty does not cover phosphor burn. Phosphor burn
can occur when a monitor is left with one static image for extended periods of time
during which the image may become burned into the phosphors.
This limited warranty does not cover damage occurring in shipping or in storage after
you purchase the monitor or damage caused by abuse, accident, disaster, misuse,
mishandling, mispackaging or shipping, improper installation, unauthorized repair or
modification, or failure to follow the manufacturer's instruction with respect to the proper
handling, operation, installation, service and maintenance of the monitor.
To obtain warranty service, call 1-800-536-6721 to obtain a return authorization and the
location of your Hitachi service center or return the monitor to the dealer from whom you
bought it (subject to that dealers' return policy).
If you choose to ship the monitor
rather than delivering it in person, you must assume the risk of damage or loss in transit.
You must also use the original shipping container (or equivalent packaging), pay
shipping charges, and enclose a copy of the proof of purchase date with the monitor.
For additional information, please write to:
200 Lowder Brook Drive, Suite 2200, Westwood, MA
NEVER open the monitor cabinet.
If the monitor is not operating properly, contact
Hitachi America Ltd. service center (Call 1-800-536-6721).
Do not open the monitor housing under any circumstances. By opening the monitor
housing you will expose yourself to high voltage and possible severe electrical shocks
---

CML155XW (5030032708B) · 2002/11/5·· 01:23
ANY IMPLIED WARRANTY OF MERCHANTABILITY OR FITNESS FOR A
PARTICULAR PURPOSE ON THIS MONITOR IS LIMITED TO THE 12, 36 or 60
MONTH DURATION OF THIS WRITTEN WARRANTY, AS APPLICABLE.
WARRANTIES SET FORTH IN THIS WARRANTY ARE LIMITED TO 12, 36 OR 60
MONTHS FROM THE DATE OF PURCHASE.
WILL COVER THIS MONITOR BEYOND THE STATED 12, 36 OR 60 MONTHS.
HOWEVER, SOME STATES DO NOT ALLOW LIMITATIONS ON HOW LONG AN
IMPLIED WARRANTY LASTS, SO THE ABOVE LIMITATION MAY NOT APPLY TO
IF THIS MONITOR IS DEFECTIVE, YOUR ONLY REMEDY IS REPAIR OR
REPLACEMENT, AS DESCRIBED ABOVE.
UNDER NO CIRCUMSTANCES WILL
HITACHI AMERICA, LTD. BE LIABLE FOR INCIDENTAL OR CONSEQUENTIAL
DAMAGES, INCLUDING ANY LOST SAVINGS, LOST PROFITS, OR ANY OTHER
DAMAGES CAUSED BY THE USE OF THIS MONITOR OR INABILITY TO USE IT,
EVEN IF THE DEALER OR HITACHI AMERICA, LTD. HAS BEEN ADVISED OF SUCH
LIABILITY OR OTHER CLAIMS.
SOME STATES DO NOT ALLOW THE EXCLUSION OR LIMITATION OF INCIDENTAL
OR CONSEQUENTIAL DAMAGES SO THE ABOVE LIMITATION OR EXCLUSION
THIS WARRANTY GIVES YOU SPECIFIC LEGAL
RIGHTS, AND YOU MAY HAVE OTHER RIGHTS WHICH VARY STATE TO STATE.
THIS WARRANTY APPLIES TO NEW, CURRENT, PRODUCTS ONLY AND
DISCONTINUED OR REFURBISHED.
For Canadian Customers only Warranty Policy
Hitachi Industrial Products are guaranteed to be free from defects in workmanship and
material. If any failure, resulting from either workmanship or material defects should
occur under normal and proper usage within the period stated hereunder from the
original provable date of purchase, such failure should be repaired at no cost to the
buyer for labor and parts if the defective product is brought to an AUTHORIZED
HITACHI SERVICE CENTRE in Canada.
3 year parts and 3 year labour
Products received for repair without sales or delivery receipt showing date of
purchase by original customer.
Damages caused by incorrect use, carelessness, unauthorized alteration, improper
storage or unauthorized service or repairs.
Damages caused by fire, flood, lightning, vandalism, collision, acts of God, or other
events beyond the control of Hitachi.
---

CML155XW (5030032708B) · 2002/11/5·· 01:23
External parts such as cabinet.
Products purchased outside Canada.
Products used outside Canada.
In transit damage claims, improper handling by carrier or post offices.
Products or parts there of which have serial numbers removed, altered or defaced.
Damage defect or failure caused by, or resulting from, the operation of the unit by
10. The use of components that do not meet Hitachi specifications.
11. Products sold in Canada by another organization which is not authorized by
12. Picture tube damages resulting from extended exposure of the video characters.
IMPORTANT : This warranty is in lieu of all other warranties, guarantees or agreements
whether expressed or implied and no person, dealer, or Company is authorized to
change, modify, or extend its terms in any manner whatsoever.
Hitachi Canada Inc. shall not be responsible for any damages or loss of any kind
attributed to the product rendered defective during usage, or attributed to incompatibility
problems of any linked equipment including software.
NEVER open the monitor cabinet. If the monitor is not operating properly, contact Hitachi
Service Center. DO NOT open the monitor housing under any circumstances. by
opening the monitor housing you will expose yourself to high voltage and possible
severe electrical shocks, and void all warranties.
For service, please call your Dealer or your 1-800-HITACHI.
6740 Campobello Road, Mississauga, Ont. L5N 2L8
---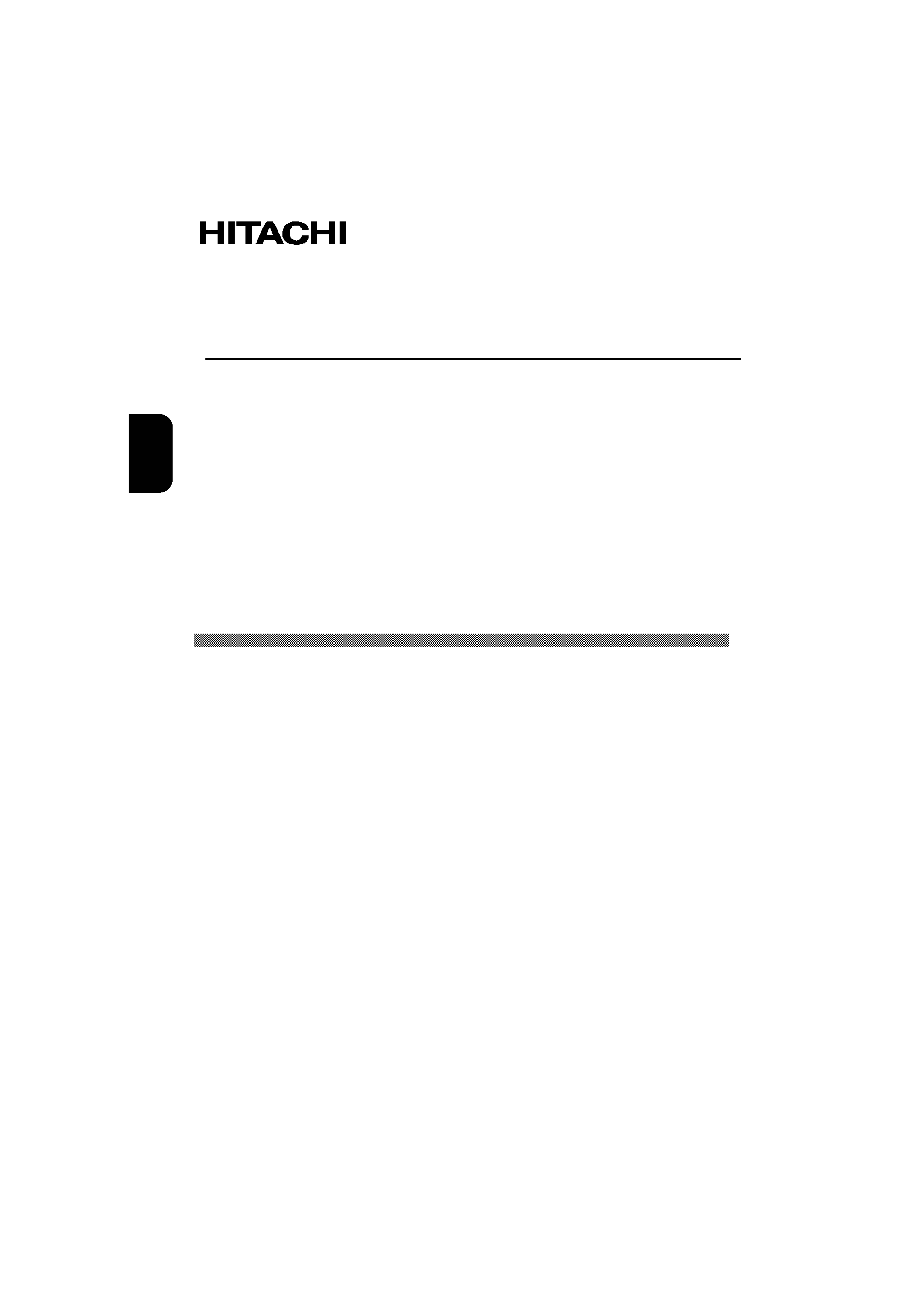 CML155XW (5030032708B) · 2002/11/5·· 01:23
Congratulations on your selection of the HITACHI Colour Monitor.
Read the instructions inside carefully, and keep this user manual for future reference.
* The information in this manual is subject to change without notice.
assumes no responsibility for any errors that may appear in this manual.
* The reproduction, transmission or use of this documents or contents is not permitted
without express written authority.
TRADEMARK ACKNOWLEDGEMENT:
VGA is a registered trademark of International Business Machines Corporation.
VESA is a trademark of a nonprofit organisation, Video Electronics Standard Association.
®
is a trademark of Environmental Protection Agency (EPA).
Introduction ............................................................................................. 6
Features ................................................................................................................... 6
Using This Display Safely ......................................................................................... 7
Warning................................................................................................................. 8
Caution.................................................................................................................. 11
FCC Statement Warning............................................................................................. 13
For the Customers in CANADA .................................................................................. 13
For the Customers in the UK ...................................................................................... 14
Installation .............................................................................................. 15
Unpacking the Display .............................................................................................. 15
Locations and Functions of Controls ........................................................................ 15
Making the Connections ........................................................................................... 16
Using Your Display ................................................................................. 18
Turning the Display On and Off .................................................................................. 18
Tilting the Display ..................................................................................................... 19
Setting the Video Mode ............................................................................................ 19
---