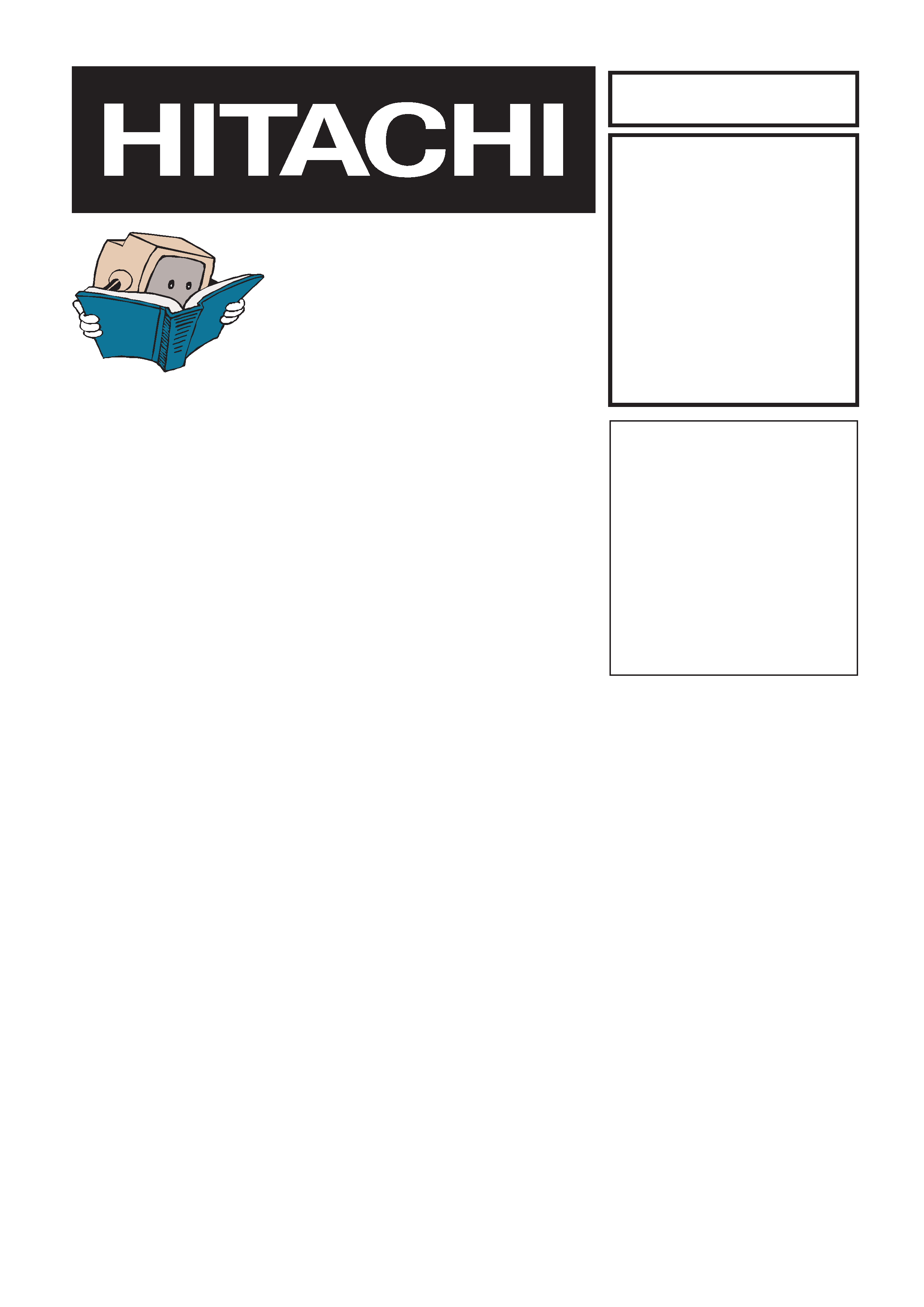 Before servicing this chassis, it is important that the service technician read the "Safety
Precautions" and "Product Safety Notices" in this service manual.
Avant d'effectuer l'entretien du châassis, le technicien doit lire les «Précautions de sécurité»
et les «Notices de sécurité du produit» présentés dans le présent manuel.
Vor Öffnen des Gehäuses hat der Service-Ingenieur die ,,Sicherheitshinweise" und ,,Hinweise
zur Produktsicherheit" in diesem Wartungshandbuch zu lesen.
manual is subject to alteration for
Les données fournies dans le présent
manuel d'entretien peuvent faire l'objet
de modifications en vue de perfectionner
enthaltenen Spezifikationen können sich
zwecks Verbesserungen ändern.
SPECIFICATIONS AND PARTS ARE SUBJECT TO CHANGE FOR IMPROVEMENT
---

1. Flat screen CRT with anti-glare, dynamic focus circuit,
dark glass, and INVAR shadow mask give the
sharpest focus and highest contrast.
2. Automatic scanning and automatic adjustment to
conform to a wide range of scanning frequencies and
3. Signal input allows D-Sub Mini 15-pin cable.
4. Power Save Mode automatically puts the monitor into
a standby mode (power consumption less than 15W)
when the H.sync. signal is not detected, and a power -
off mode (less than 5W) when the V.sync. signal is not
detected. Normal mode is restored immediately when
the H. sync. signal and the V.sync. signal are detected.
This feature prolongs monitor life and reduces energy
consumption by up to about 75 %.
NOTICE: Comply with all cautions and safety related
notes located on or inside the cabinet and on the chassis
The following precautions must be observed.
1. Do not install, remove, or handle the picture tube in
any manner unless shatterproof goggles are worn.
People not so equipped should be kept away while
picture tubes are handled.
2. When replacing a chassis in the monitor, all the
protective devices must be put back in place, such as,
barriers, non-metallic knobs, adjustment and compartment
shields, and isolation resistor-capacitor, etc.
3. When service is required, observe the original lead
dress. Extra precaution should be taken to assure
correct lead dress in the high voltage circuitry area.
4 Always use the manufacturer's replacement components.
Especially critical components as indicated on the
circuit diagram should not be replaced by other
manufacturer's one. Furthermore where a short circuit
has occurred, replace those components that
indicate evidence of overheating.
5. Before returning a serviced monitor to the customer,
the service personnel must thoroughly test unit to be
certain that it is completely safe to operate without
danger of electrical shock, and be sure that no
protective device built into the monitor by the
manufacturer has become defective, or inadvertently
defeated during servicing.
Therefore, the following checks should be performed
for continued protection of the customer and service
This monitor is provided with a high voltage hold down
circuit for clearly indicating that voltage has increased in
excess of a predetermined value.
Comply with notes described in this Service Manual
regarding this hold down circuit when servicing, so that
this hold down circuit may function correctly.
With minimum Brightness and Contrast the operating
high voltage in this display is lower than 30 kV.
If any component having influence on the high voltage is
replaced, confirm that the high voltage with minimum
Brightness and Contrast is lower than 30 kV.
(SENSITIVE RESEARCH Model:
Connect (-) to chassis earth and (+) to the CDT anode
button. (See the following connection diagram Fig. 1.)
NOTE: Turn power switch off without fail before making
the connection to the Anode button
Model: ESH or equivalent.
TUBE: The source of X-radiation in this monitor is the
picture tube. The tube utilized in this chassis is specially
constructed to limit X-radiation emissions.
For continued X-radiation protection, the replacement
tube must be the same type as the original, manufacturer
When troubleshooting and making test measurements in
a monitor with a problem of excessive high voltage, avoid
being unnecessarily close to the picture tube and the high
Do not operate the chassis longer than is necessary to
locate the cause of excessive voltage.
CHECK OF HIGH VOLTAGE HOLD DOWN
Checking of the high Voltage hold down circuit operation.
1. Turn the switch of the unit ON, and set the Brightness
and Contrast controls to max.
2. Turn the switch of the unit OFF.
3. Connect a DC Voltmeter and an adjustment jig as
4. Set the adjustment VR to fully counterclockwise.
5. Turn the switch of the unit ON and gradually rotate the
6. Check that a reading of DC voltage-meter is less-than
±0.1 V when picture disappears.
7. Turn the switch of the unit OFF immediately after
checking that the picture disappears.
8. Remove the adjusting jig and the DC voltmeter.
Reading of 0.6 V is approximately equivalent to
30 kV of CDT Anode High Voltage.
---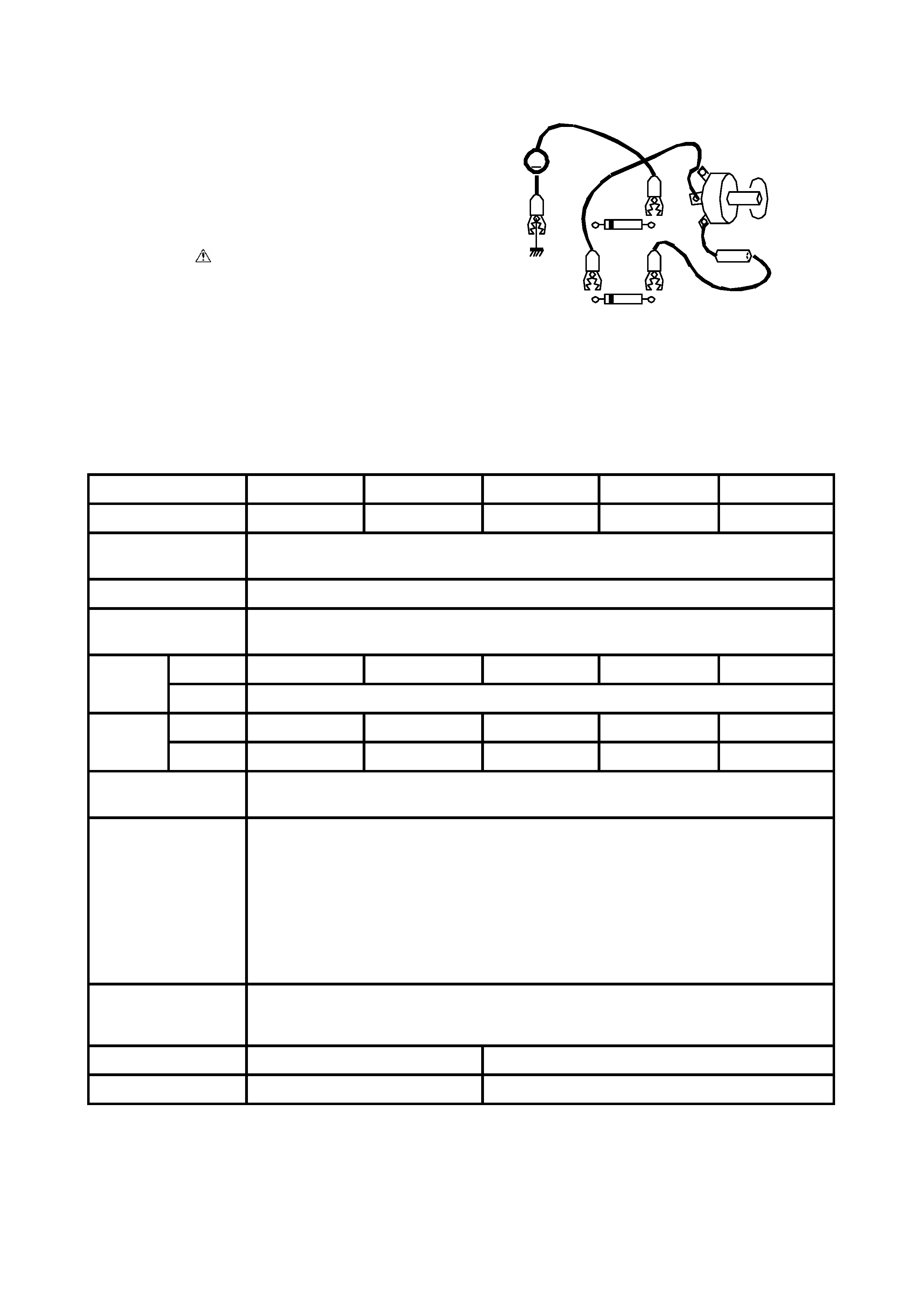 Many electrical mechanical parts in the color monitor
units have special safety related characteristics.
These are often not evident from visual inspection nor
can the protection afforded by them necessarily be
obtained by using replacement components rated for
higher voltage, wattage, etc. Replacement parts which
have these special safety characteristics are identified in
identified by marking with
the parts list in this Service Manual.
The use of a substitute replacement component which
does not have the same safety characteristics as the
manufacturer recommended replacement one, shown in
the parts list in this Service Manual, may create shock,
fire, X-radiation, or other hazards.
Productions are issued from time to time. For the latest
information, always consult this Service Manual.
FIG. 2 CHECKING CIRCUIT USING JIG
AC 100-120 / 200-240 V, Automatically select.
Provided with Power Circuit.
21 inches diagonal, 0.21 mm horizontal dot pitch,
Invar shadow mask, Black matrix, Anti-Reflection coat, Short persis tence phosphors.
Red, Green and Blue analog video
H/V separate, H/V composite or Sync. on Green sync (option).
488(W)
×
483 (H)
×
475 (D) mm *
488(W)
×
483 (H)
×
470 (D) mm *
* Including Tilt & Swivel base
---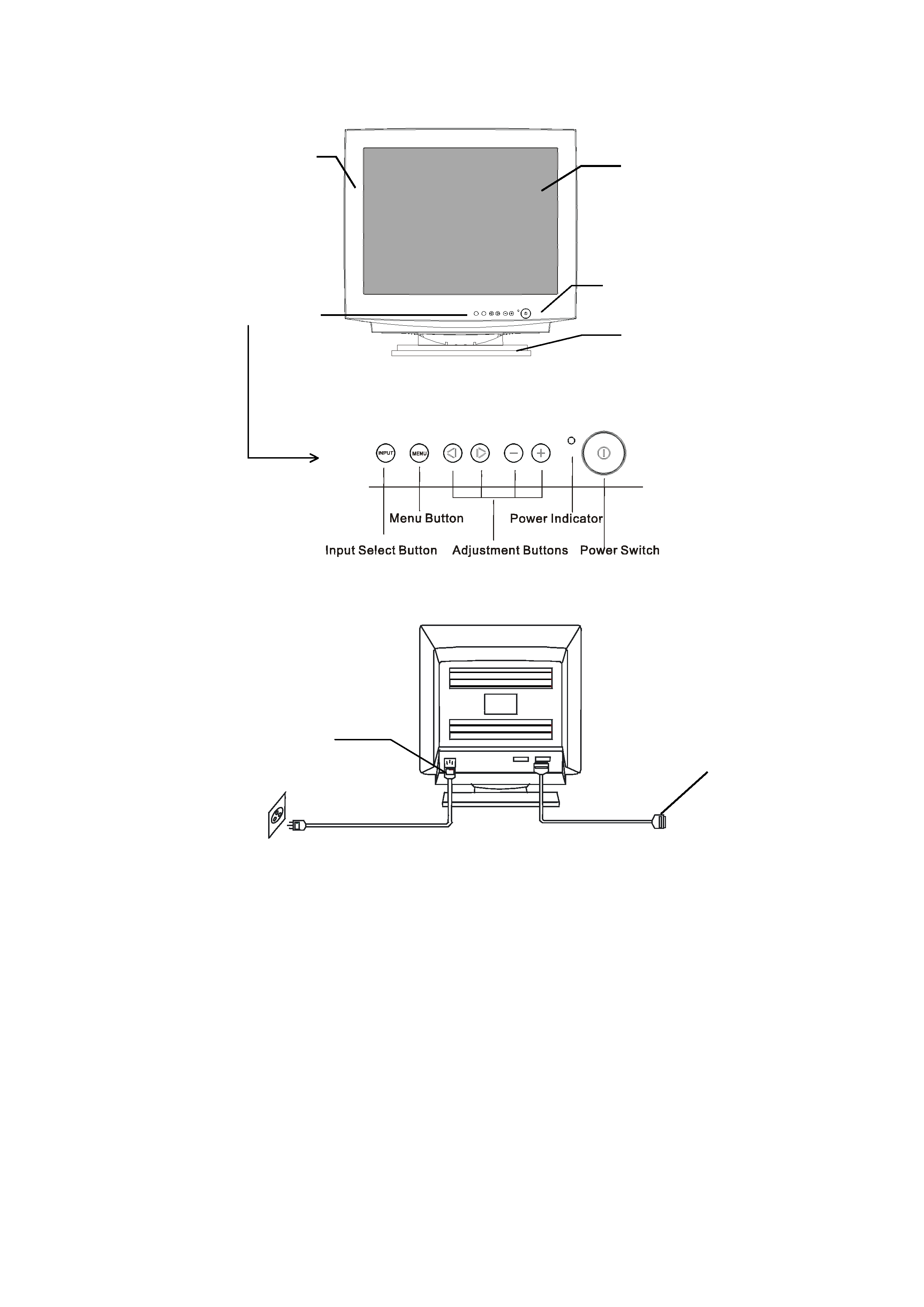 ---

* VGA is a registered trademark of International Business Machined Corporation.
* VESA is a trademark of a nonprofit organization, Video Electronics Standard Association.
---