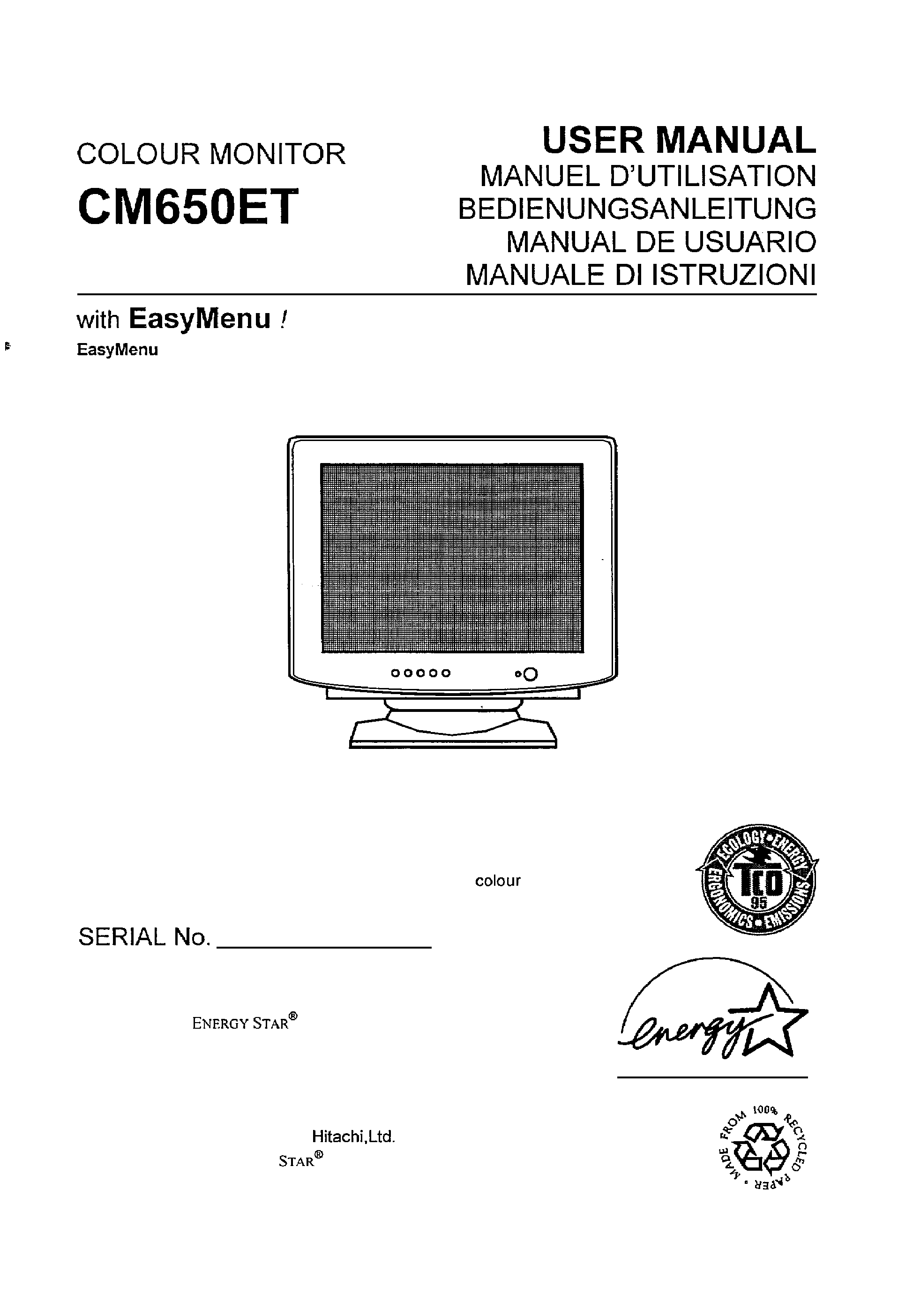 is HITACHI's On Screen Display function for easy operation.
READ THE INSTRUCTIONS INSIDE CAREFULLY.
KEEP THIS USER MANUAL FOR FUTURE REFERENCE.
For future reference, record the serial number of your
The serial number is located on the rear of the monitor.
compliant when used with a computer
The E
NERGY
S
TAR
@ emblem does not represent EPA endorsement
of any product or service.
As an E
NERGY
S
TAR
@ Partner,
guidelines for energy efficiency.
---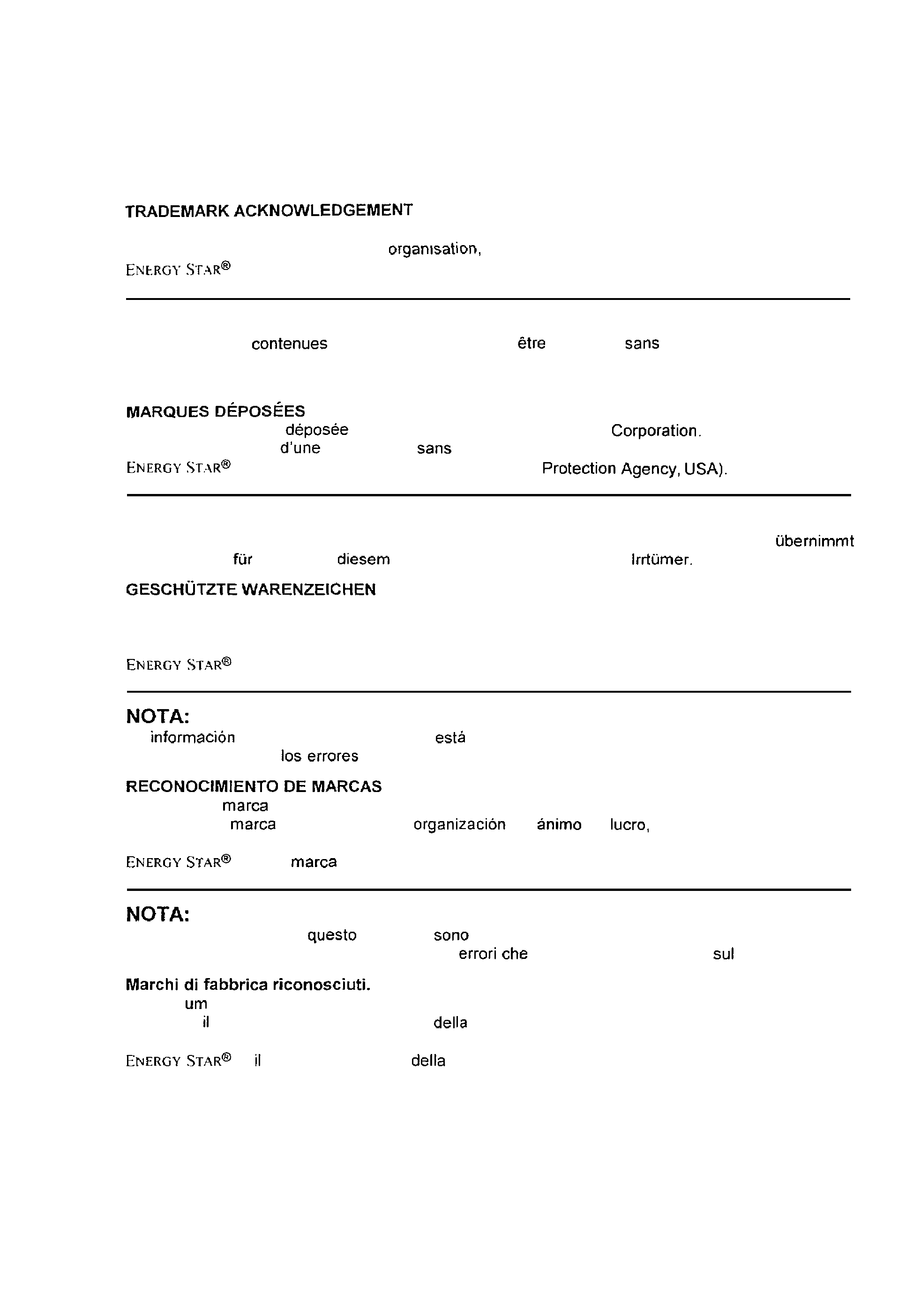 The information in this manual is subject to change without notice.
The manufacturer assumes no
responsibility for any errors that may appear in this manual.
VGA is a registered trademark of International Business Machines Corporation.
VESA is a trademark of a nonprofit
Video Electronics Standard Association
is a trademark of Environmental Protection Agency (EPA).
n'accepte aucune responsabilitb pour les erreurs qui peuvent eventuellement apparaitre dans ce
d' International Business Machines
but lucratif. la Video Electronics Standard Association.
est une marque de I' EPA (Environmental
Anderungen der Daten in dieser Bedienungsanleitung sind vorbehalten.
Handbuch eventuell enthaltenen
VGA ist ein eingetragenes Warenzeichen der International Business Machines Corporation.
VESA ist ein Warenzeichen der Video Electronics Standard Association, einer Organisation ohne
ist ein Warenzeichen der Environmental Protection Agency (EPA).
sujeta a cambios sin previo aviso.
que puedan aparecer en este manual.
registrada de International Business Machines Corporation.
Video Electronics Standard
de Environmental Protection Agency (EPA).
soggette ad essere modificate senza preavviso. II
costruttore non si assume responsabilita' per
marchio di fabbrica regisrato da International Business Machine Corporation.
marchio di riconoscimento
organizzazione a non-profitto, Video Electronics
Eviromental Protection Agency (EPA).
---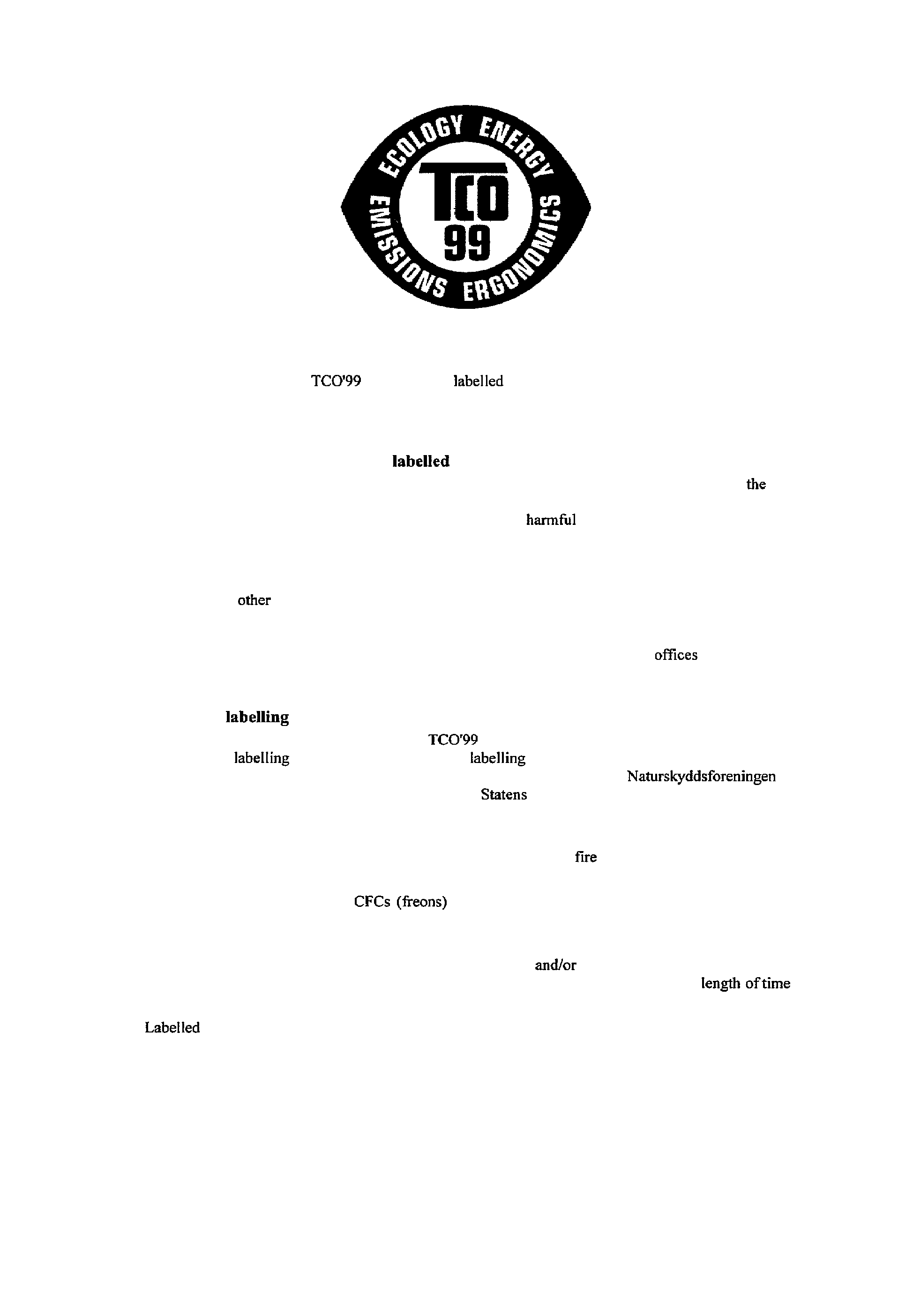 You have just purchased a
product! Your choice has provided you with a
product developed for professional use. Your purchase has also contributed to reducing the burden on
the environment and also to the further development of environmentally adapted electronics products.
Why do we have environmentally
In many countries, environmental labelling has become an established method for encouraging
adaptation of goods and services to the environment. The main problem, as far as computers and other
electronics equipment are concerned, is that environmentally
substances are used both in the
products and during their manufacture. Since it is not so far possible to satisfactorily recycle the
majority of electronics equipment, most of these potentially damaging substances sooner or later enter
characteristics of a computer, such as energy consumption levels, that are important
from the viewpoints of both the work (internal) and natural (external) environments. Since all methods
of electricity generation have a negative effect on the environment (e.g. acidic and climate-influencing
emissions, radioactive waste), it is vital to save energy. Electronics equipment in
running continuously and thereby consumes a lot of energy.
This product meets the requirements for the
scheme which provides for international and
of personal computers. The
scheme was developed as a joint effort by
the TCO (The Swedish Confederation of Professional Employees), Svenska
(The Swedish Society for Nature Conservation) and
Energimyndighet (The Swedish National
Approval requirements cover a wide range of issues: environment, ergonomics, usability, emission of
electric and magnetic fields, energy consumption and electrical and
The environmental demands impose restrictions on the presence and use of heavy metals, brominated
and chlorinated flame retardants,
and chlorinated solvents, among other things. The
product must be prepared for recycling and the manufacturer is obliged to have an environmental policy
which must be adhered to in each country where the company implements its operational policy.
The energy requirements include a demand that the computer
display, after a certain period of
inactivity, shall reduce its power consumption to a lower level in one or more stages. The
to reactivate the computer shall be reasonable for the user.
products must meet strict environmental demands, for example, in respect of the reduction of
electric and magnetic fields, physical and visual ergonomics and good usability.
---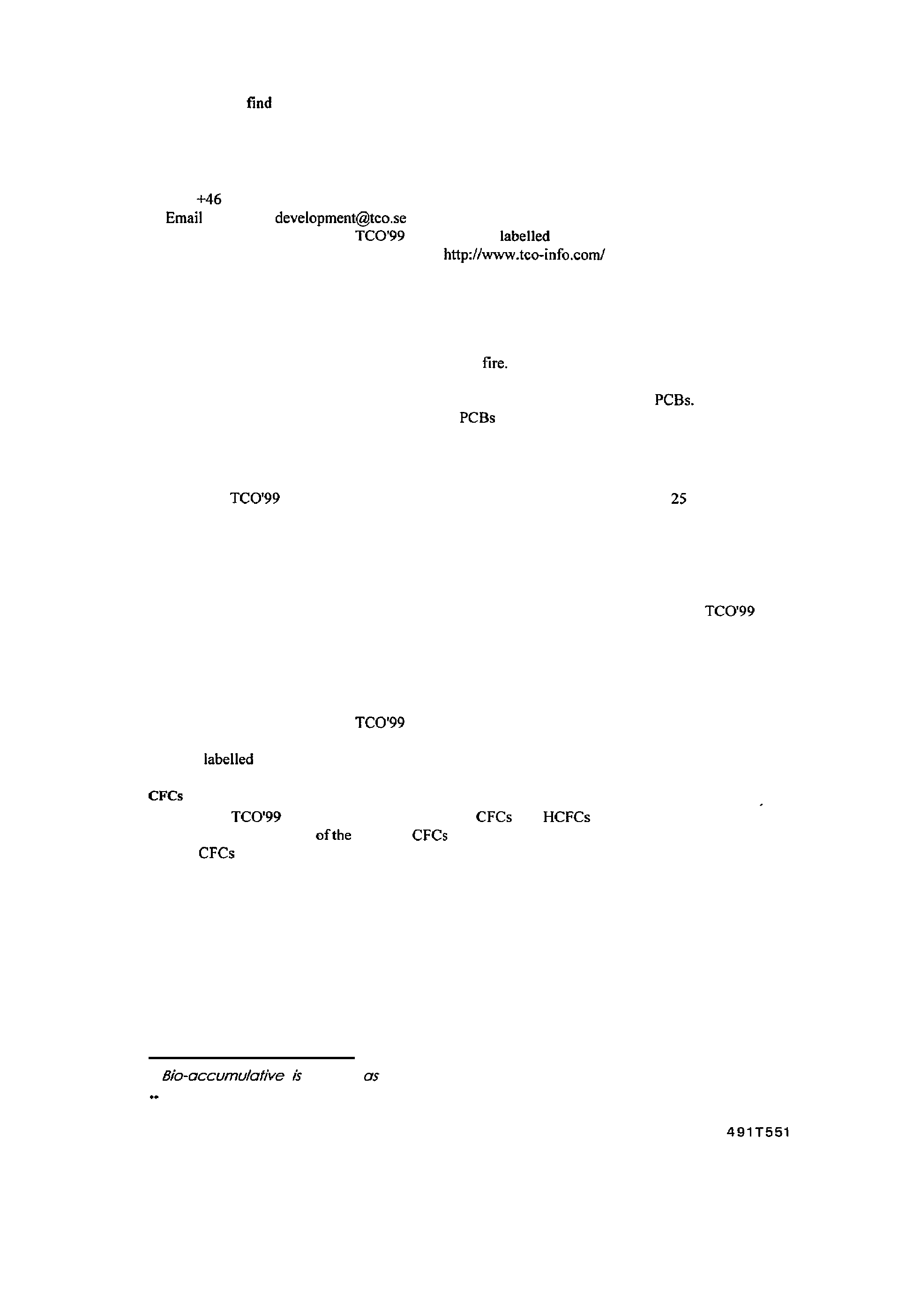 a brief summary of the environmental requirements met by this product. The
complete environmental criteria document may be ordered from:
SE- 114 94 Stockholm, Sweden
Current information regarding
obtained via the Internet, using the address:
Environmental requirements
Flame retardants are present in printed circuit boards, cables, wires, casings and housings. Their
purpose is to prevent, or at least to delay the spread of
Up to 30% of the plastic in a computer casing
can consist of flame retardant substances. Most flame retardants contain bromine or chloride, and those
flame retardants are chemically related to another group of environmental toxins,
retardants containing bromine or chloride and the
are suspected of giving rise to severe health
effects, including reproductive damage in fish-eating birds and mammals, due to the bio-accumulative*
processes. Flame retardants have been found in human blood and researchers fear that disturbances in
foetus development may occur.
demand requires that plastic components weighing more than
contain flame retardants with organically bound bromine or chlorine. Flame retardants are allowed in
the printed circuit boards since no substitutes are available.
Cadmium is present in rechargeable batteries and in the colour-generating layers of certain computer
displays. Cadmium damages the nervous system and is toxic in high doses. The relevant
requirement states that batteries, the colour-generating layers of display screens and the electrical or
electronics components must not contain any cadmium.
Mercury is sometimes found in batteries, relays and switches. It damages the nervous system and is
toxic in high doses. The relevant
requirement states that batteries may not contain any mercury.
It also demands that mercury is not present in any of the electrical or electronics components associated
requirement states that neither
(freons) are sometimes used for washing printed circuit
break down ozone and thereby damage the ozone layer in the stratosphere, causing
increased reception on earth of ultraviolet light with e.g. increased risks of skin cancer (malignant
melanoma) as a consequence.
Lead can be found in picture tubes, display screens, solders and capacitors. Lead damages the nervous
system and in higher doses, causes lead poisoning. The relevant TC0'99 requirement permits the
inclusion of lead since no replacement has yet been developed.
substances which accumulate within living organisms
Lead, Cadmium and Mercury are heavy metals which are Bio-accumulative
---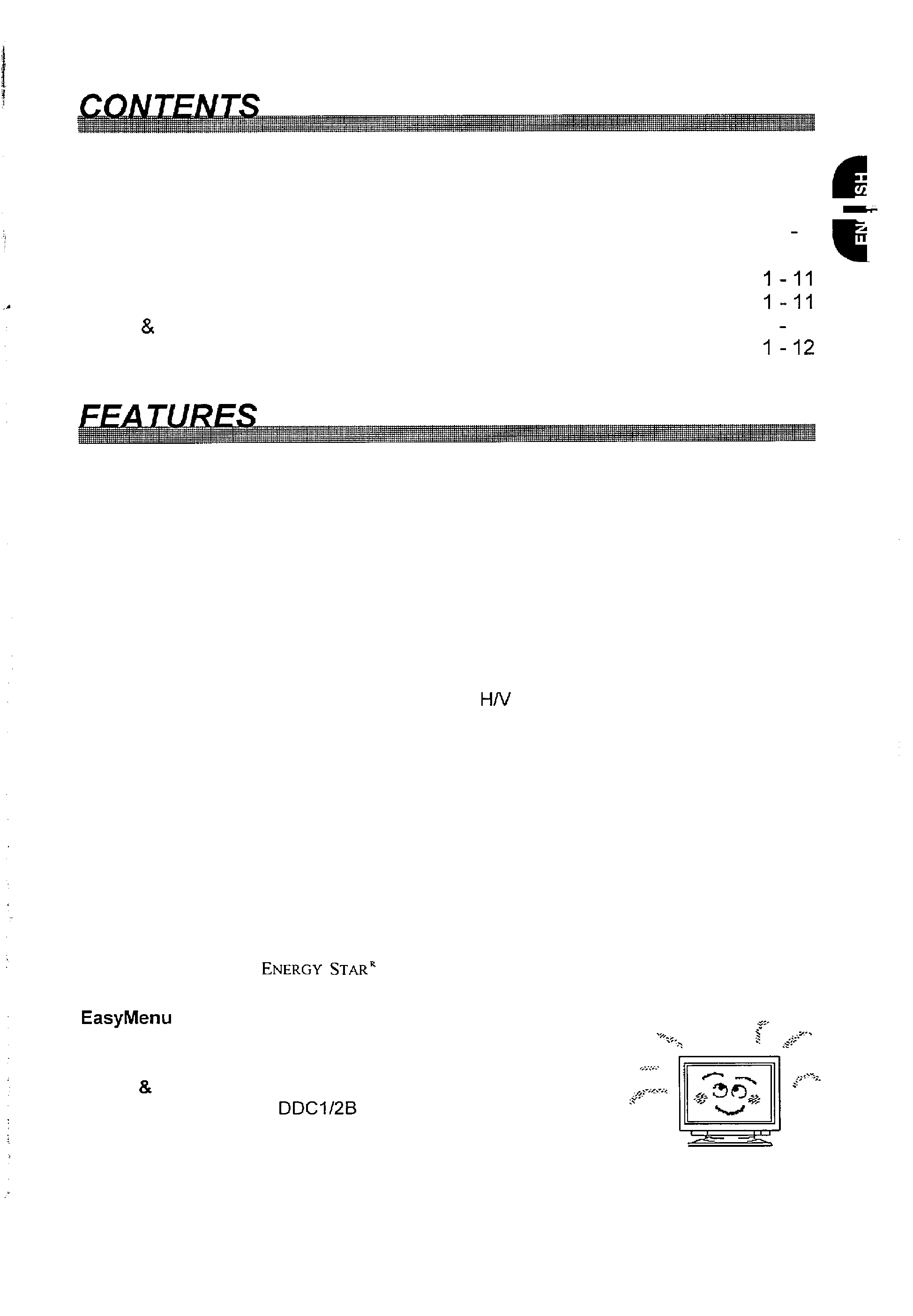 FEATURES ......................................................................................................
CAUTIONS .....................................................................................................
INSTALLATION ..............................................................................................
STANDARD SETTINGS.. ...............................................................................
OPERATION.. .................................................................................................
AUTOMATIC SIGNAL CHECK.. ...................................................................
POWER MANAGEMENT SYSTEM.. ............................................................
PLAY.. .............................................................................................
SPECIFICATIONS.. . . . ...................................................................................
The following features are provided by the Colour Monitor.
Sharpest Focus and Highest Contrast
Flat screen Enhanced Dot Pitch (EDP) CRT with FS double focus and AR-ASC coating
gives the sharpest focus and highest contrast to minimise eye fatigue.
Wide-range Multi-Scanning
Automatic scanning and automatic adjustment to conform with a wide range of scanning
frequencies and user requirements.
Digital Picture Control Function
Position, size, pincushion, trapezoid, parallelogram, pin balance and rotation are
adjustable by digital controls.
Geometry setting can be stored for different
frequencies. Microprocessor-based
preset functions can store 26 sets of geometry settings including the standard factory
Digital Colour Control Function
Red, green, and blue colour balance is adjustable by digital control.
An adjusted colour setting can be stored and recalled by the colour select button.
This monitor has horizontal and vertical moire reduction function.
The Environmental Protection Agency (EPA) has established a voluntary program by
which manufacturers enable computer products to go into low power states while not
being used. This monitor has a low power "sleep" mode, which is compliant with the EPA
program, and will assist you in conserving energy.
Please refer to the section of "POWER SAVING SYSTEM" for details.
An On Screen Display function that allows direct access to
adjust all operations from the front panel.
compliant when used with a
computer compliant with VESA DDC (Display Data Channel).
---