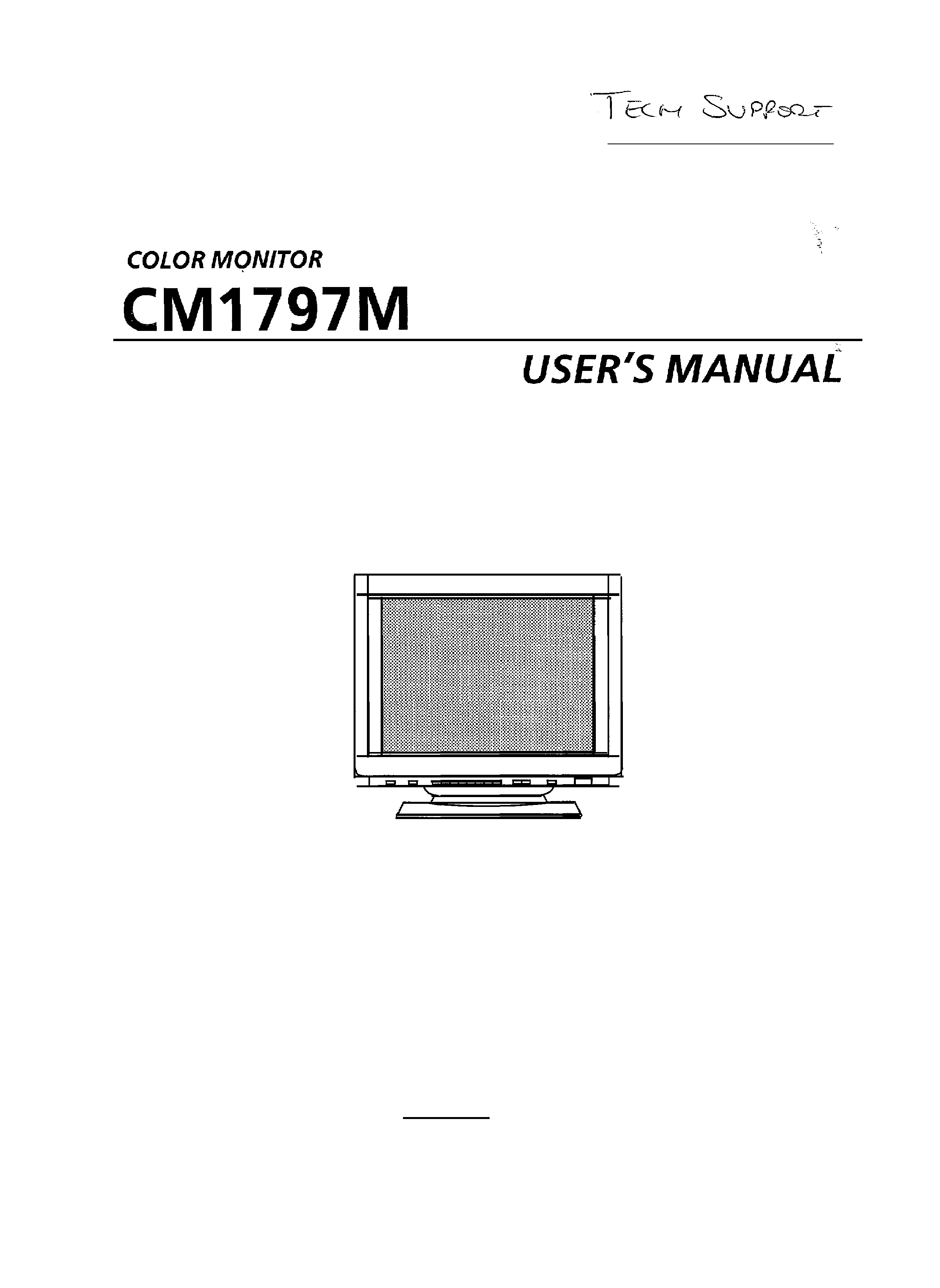 For future references, record the serial number of
The serial number is located on the rear of the monitor.
READ THE INSTRUCTION INSIDE CAREFULLY.
KEEP THIS USER'S MANUAL FOR FUTURE REFERENCES.
---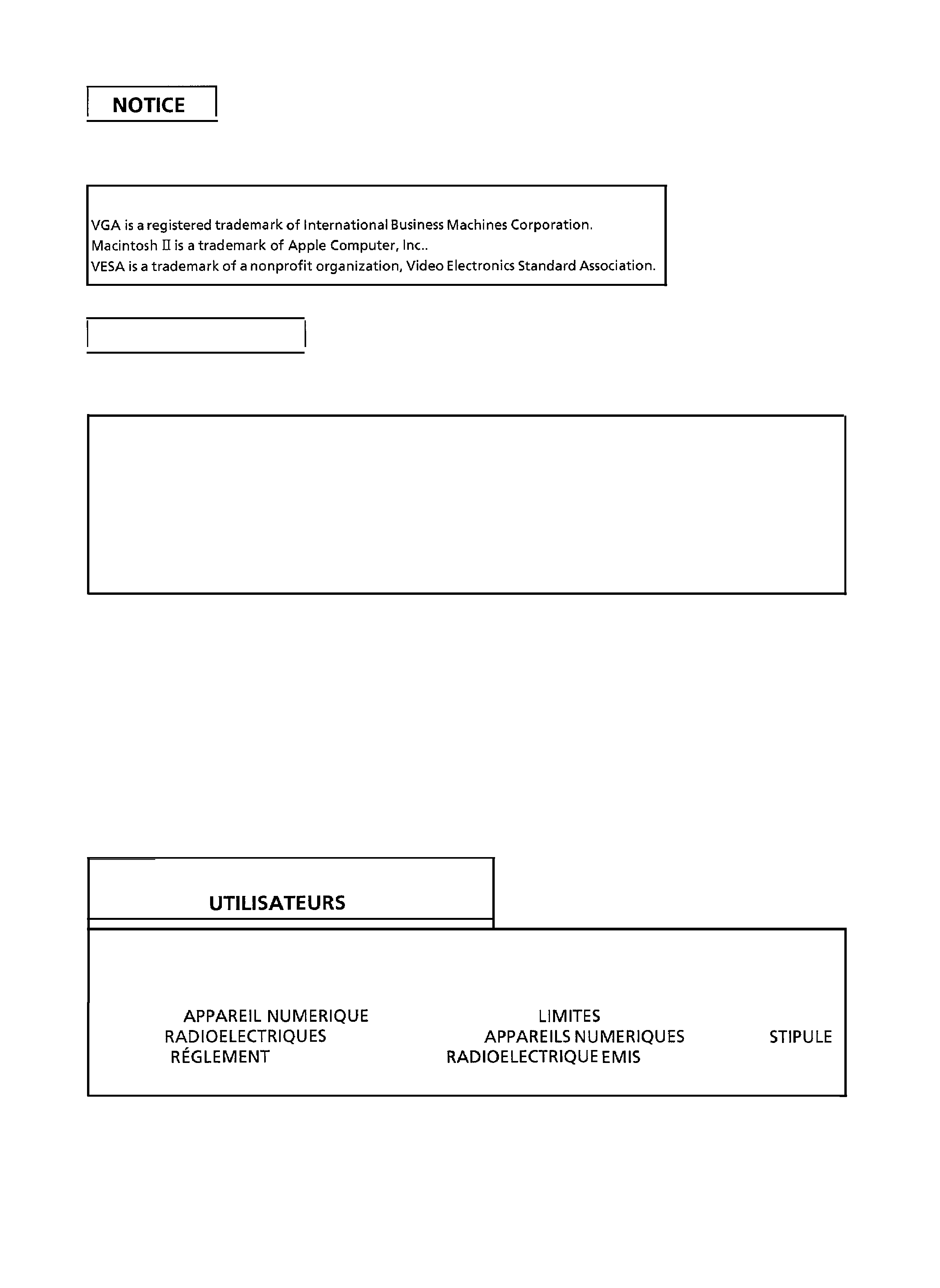 The information in this manual is subject to change without notice. Hitachi
responsibility for any errors that may appear in this manual.
The following statement applies to this Hitachi product.
Federal Communication Commission (FCC) Statement Warning:
WARNING: This equipment has been tested and found to comply with the limits for a Class
A digital device, pursuant to Part 15 of the FCC Rules. These limits are designed to provide
reasonable protection against harmful interference when the equipment is operated in a
commercial environment. This equipment generates, uses, and can radiate radio frequency
energy and, if not installed and used in accordance with the instruction manual, may cause
harmful interference to radio communications. Operation of this equipment in a residential
cause
harmful interference in which case the user will be required to correct
the interference at his own expense.
Instructions to the Customers:
This equipment complies with the requirements of FCC (Federal Communication
Commission) Class A equipments provided that following conditions are met.
Double shielded coaxial cables (so called FCC shield cable) must be used and the outer
shield must be connected to the ground. Or, if normal coaxial cables are used, the cables
must be enclosed in metal pipes or similar way to reduce the interference noise radiation.
The input signal amplitude must not exceed the specified level.
FOR THE CUSTOMERS IN CANADA
NOTICE: This digital apparatus does not exceed the class A limits for radio noise emission for
a digital apparatus as set out in the radio interference regulations of the Canadian
department of communications.
---

NEVER REMOVE THE BACK COVER !
The back cover MUST be removed only by authorized service personnel. This display monitor
contains high voltage components.
BE CAREFUL OF STATIC ELECTRICITY ON CRT SURFACE !
To prevent electrical shock by the static electricity on the CRT surface, disconnect the power
cord at least 30 SECONDS AFTER turning off the power.
BE CAREFUL OF GENERATED MAGNETISM !
After the power has been turned on or "DEGAUSS" button has been pressed, the CRT is
demagnetized for approximately 10 seconds. This generates a strong magnetic field around
the bezel which may affect the data stored on magnetic tape or disks near the bezel. Place
such magnetic recording equipment and tapes/disks apart from this unit.
AVOID FREQUENT POWER ON-OFF SWITCHING !
DO NOT repeat OFF and ON in a short period. It may cause blurred colors or distortion of the
REMOVE THE POWER CORD FOR COMPLETE SEPARATION !
For complete separation from the power source, remove the power cord from the monitor or
Avoid direct rays of the sun or room lighting onto the CRT screen in order to prevent eye
This monitor has a non-glare and anti-electrostatic treatment on the surface of the screen.
Use water or alcoholic solvent with soft cloth like gauze to clean the surface of the screen.
NEVER use abrasive, glass cleaner containing highly concentrated ammonia and strong base
chemicals since they damage the surface treatment.
Clean the cabinet and controls with a lightly moistened soft cloth.
DO NOT use aerosol sprays, solvents or abrasive cleaners.
---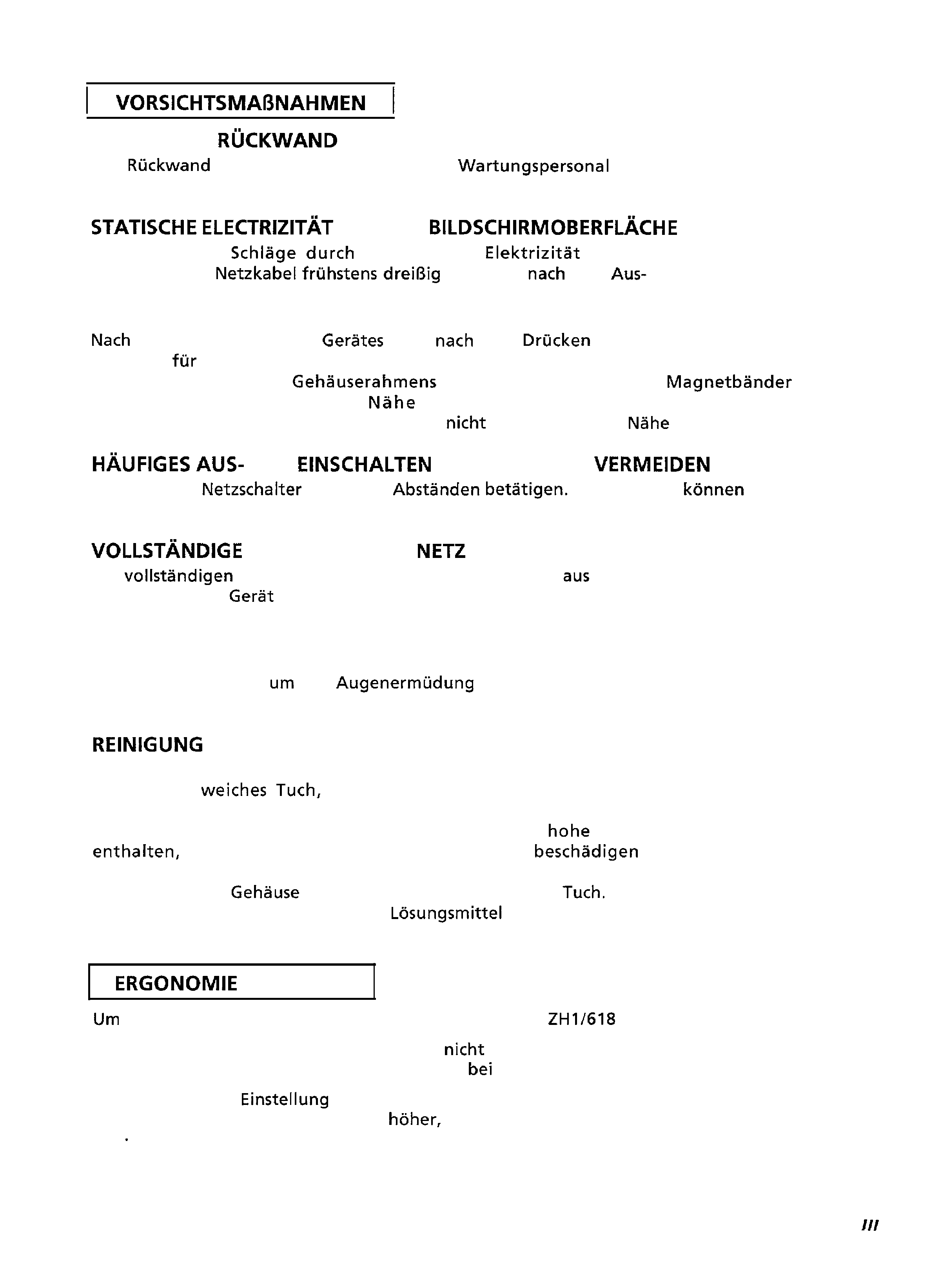 darf nur von autorisiertem
lnneren des Farbmonitors liegt Hochspannung an.
der Bildschirmoberflache zu
ACHTUNG VOR ERZEUGTEN MAGNETFELDERN !
der Degauss Taste wird die
ungefahr 10 Secunden entmagnetisiert. Dabei entsteht ein starkes Magnetfeld
Disketten in unmittelbarer
beeinflussen. Plazieren Sie magnetische
Aufzeichnungsgerate, Bander und Disketten
und Verzerrungen der angezeigten Bilder auftreten.
Trennung vom Netz ist der Netzstecker
Steckdose zu ziehen oder die
Vermeiden Sie die direkte Einstrahlung des Sonnenlichts oder der Raumbeleuchtung auf die
Der Monitor besitzt eine entspiegelnde, antistatische Beschichtung der Bildrohre. Benutzen
da8 Sie mit Wasser oder Alkohol befeuchten kdnnen, zur
Benutzen Sie niemals aggressive Glasreiniger, die
oder andere Chemikalien! Diese Mittel
nur mit einem weichen feuchten
Benutzen Sie niemals Aerosolsprays,
den Anforderungen der deutschen Ergonomie-Norm
1. wird empfohlen die Grundfarbe Blau
auf dunklem Hintergrund zu verwenden
(schlechte Erkennbarkeit, Augenbelastung
zu geringem Zeichenkontrast),
des Grafik-Kontrollers und Monitors empfohlen:
Vertikal Frequenz: 70 Hz oder
---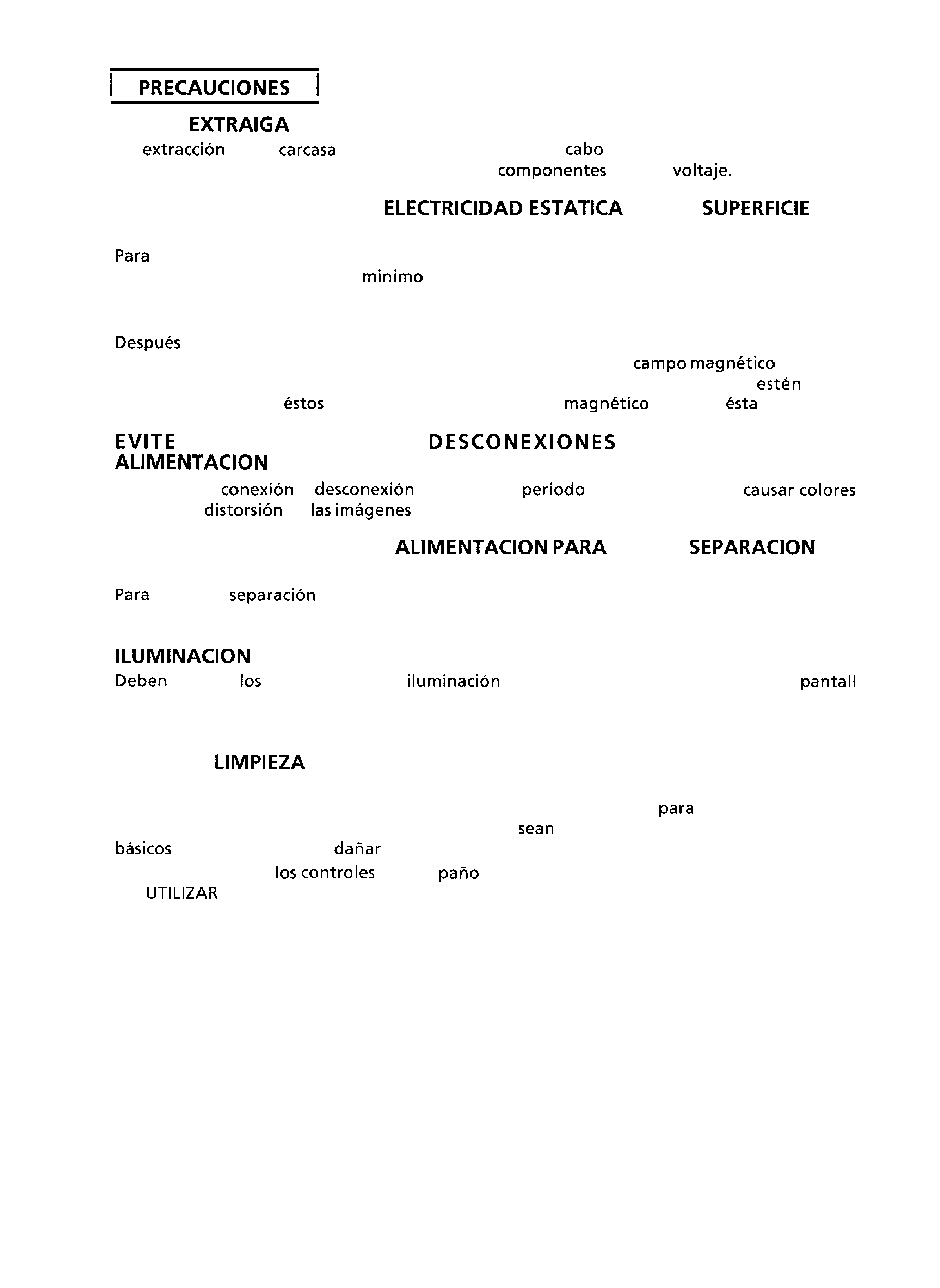 posterior DEBE Ilevarse a
solo por personal de servicio
autorizado. Este monitor contiene en su interior
evitar la descarga de la electricidad estdtica de la superficie del TRC, desconectar el cable
de alimentacion electrica come
30 SEGUNDOS DESPUES de apagar la alimentacion.
CUIDADO CON LOS CAMPOS MAGNETICOS GENERADOS !
de conectar la alimentacion o de pulsar la tecla "DEGAUSS", el TRC se desmagnetiza
durante aproximadamente 10 segundos. Esto genera un fuerte
que puede afectar datos almacenados en cintas o discos magneticos que
sistemas de almacenamiento
de la alimentacion electrica, extraer el cable de alimentacion de la
clavija de pared de conexion electrica.
ambiental incidan directamente en la
del TRC a fin de prevenir la fatiga visual.
Este monitor incorpora tratamientos antireflejos y antielectrostdticos en la superficie de la
pantalla. Utilizar agua o disolvente con alcohol y una gamuza suave
de la pantalla. No utilizar NUNCA limpiadores que
abrasivos, amoniacados y quimicante
el tratamiento de la superficie.
atomizadores en aerosol, disolventes o limpiadores abrasivos.
---