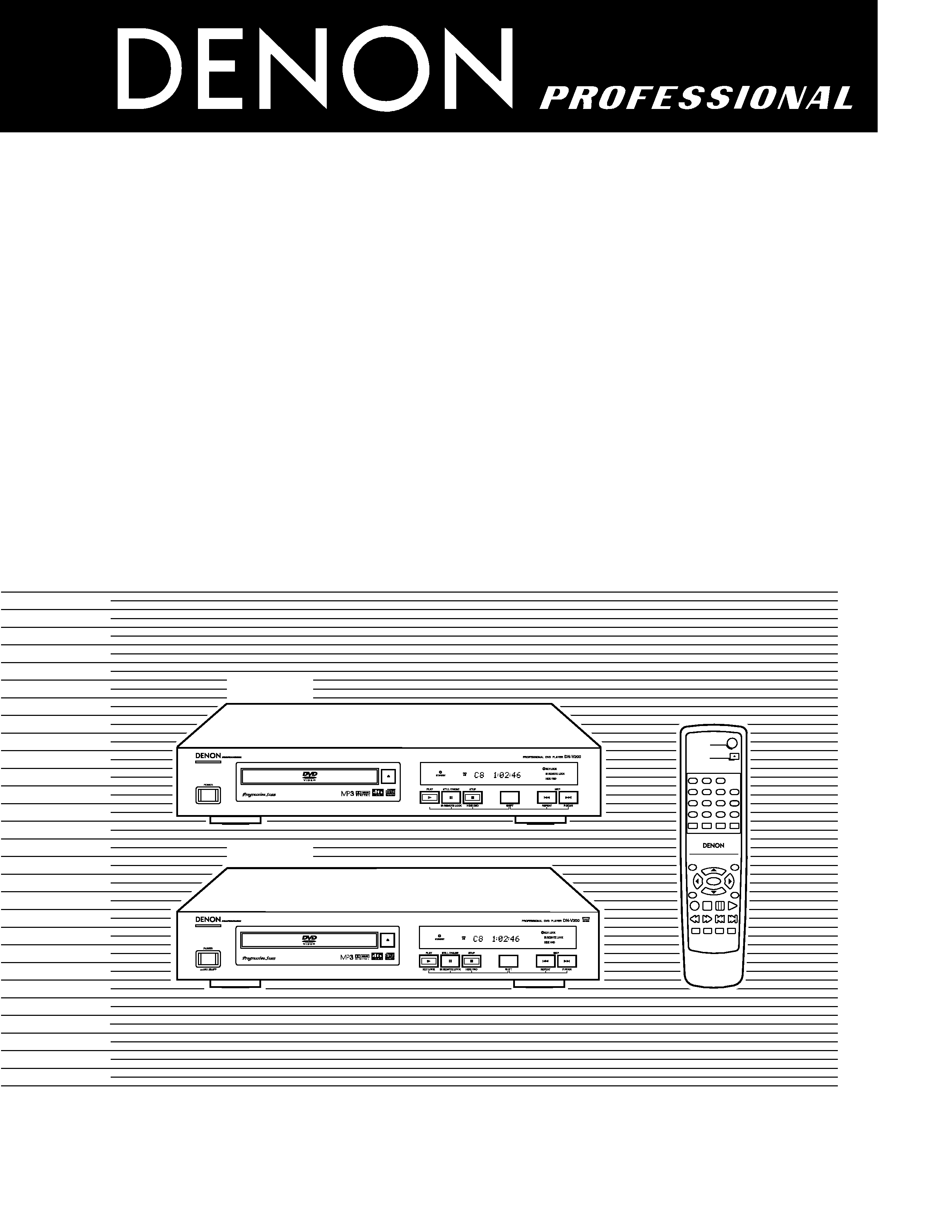 INSTRUCCIONES DE OPERACION
DISPLAY STOP STILL /PAUSE
SETUP NTSC/PAL ZOOM SLIDE SHOW
POUR LES LECTEURS FRANCAIS
---

TO PREVENT FIRE OR SHOCK HAZARD, DO NOT EXPOSE
THIS APPLIANCE TO RAIN OR MOISTURE.
1. Handle the power supply cord carefully
Do not damage or deform the power supply cord. If it is damaged or
deformed, it may cause electric shock or malfunction when used.
When removing from wall outlet, be sure to remove by holding the plug
attachment and not by pulling the cord.
2. Do not open the top cover
In order to prevent electric shock, do not open the top cover.
If problems occur, contact your DEALER.
3. Do not place anything inside
Do not place metal objects or spill liquid inside the DVD video player.
Electric shock or malfunction may result.
Please, record and retain the Model name and serial number of your set
shown on the rating label.
Model No. DN-V200/DN-V300
This DVD video player uses the semiconductor laser. To allow you to enjoy
music at a stable operation, it is recommended to use this in a room of 10
°C (50 °F) ~ 35 °C (95 °F).
USE OF CONTROLS OR ADJUSTMENTS OR REFORMANCE OF
PROCEDURES OTHER THAN THOSE SPECIFIED HEREIN MAY RESULT
IN HAZARDOUS RADIATION EXPOSURE.
THE COMPACT DISC PLAYER SHOULD NOT BE ADJUSTED OR
REPAIRED BY ANYONE EXCEPT PROPERLY QUALIFIED SERVICE
TO PREVENT ELECTRIC SHOCK, MATCH WIDE BLADE OF PLUG
TO WIDE SLOT, FULLY INSERT.
· POUR LES MODELE CANADIENS UNIQUEMENT
POUR ÉVITER LES CHOCS ÉLECTRIQUES, INTERODUIRE LA LAME
LA PLUS LARGE DE LA FICHE DANS LA BORNE CORRESPONDANTE
DE LA PRISE ET POUSSER JUSQU' AU FOND.
This product complies with Part 15 of the FCC Rules. Operation is
subject to the following two conditions: (1) this product may not cause
harmful interference, and (2) this product must accept any interference
received, including interference that may cause undesired operation.
2. IMPORTANT NOTICE: DO NOT MODIFY THIS PRODUCT
This product, when installed as indicated in the instructions contained
in this manual, meets FCC requirements. Modification not expressly
approved by DENON may void your authority, granted by the FCC, to
This product has been tested and found to comply with the limits for a
Class B digital device, pursuant to Part 15 of the FCC Rules. These
limits are designed to provide reasonable protection against harmful
interference in a residential installation.
This product generates, uses and can radiate radio frequency energy
and, if not installed and used in accordance with the instructions, may
cause harmful interference to radio communications. However, there is
no guarantee that interference will not occur in a particular installation.
If this product does cause harmful interference to radio or television
reception, which can be determined by turning the product OFF and
ON, the user is encouraged to try to correct the interference by one or
more of the following measures:
· Reorient or relocate the receiving antenna.
· Increase the separation between the equipment and receiver.
· Connect the product into an outlet on a circuit different from that to
which the receiver is connected.
· Consult the local retailer authorized to distribute this type of product
or an experienced radio/TV technician for help.
FCC INFORMATION (For US customers)
TO REDUCE THE RISK OF ELECTRIC SHOCK, DO NOT REMOVE
COVER (OR BACK). NO USER SERVICEABLE PARTS INSIDE.
REFER SERVICING TO QUALIFIED SERVICE PERSONNEL.
The lightning flash with arrowhead symbol, within an
equilateral triangle, is intended to alert the user to the
presence of uninsulated "dangerous voltage" within the
product's enclosure that may be of sufficient magnitude to
constitute a risk of electric shock to persons.
The exclamation point within an equilateral triangle is
intended to alert the user to the presence of important
operating and maintenance (servicing) instructions in the
literature accompanying the appliance.
---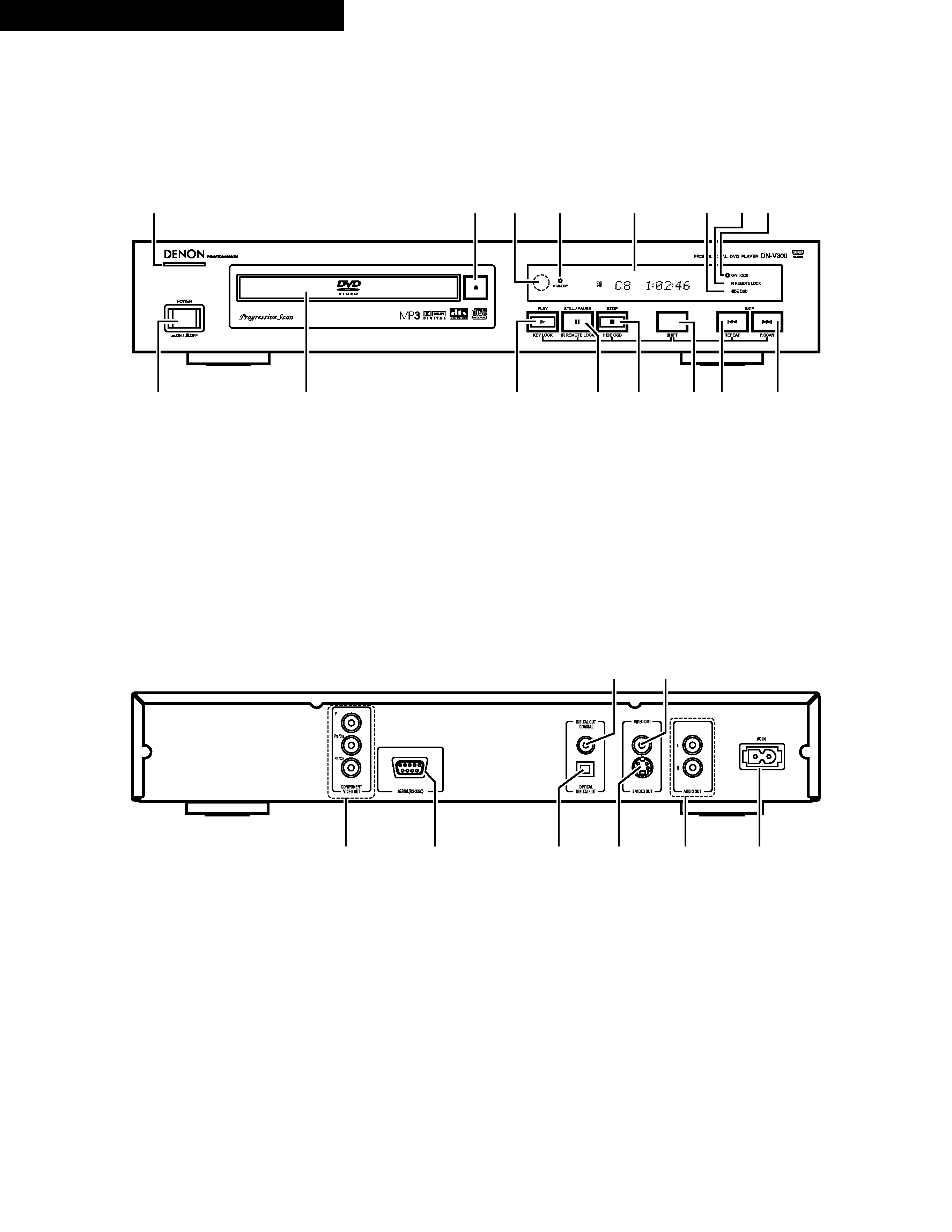 ---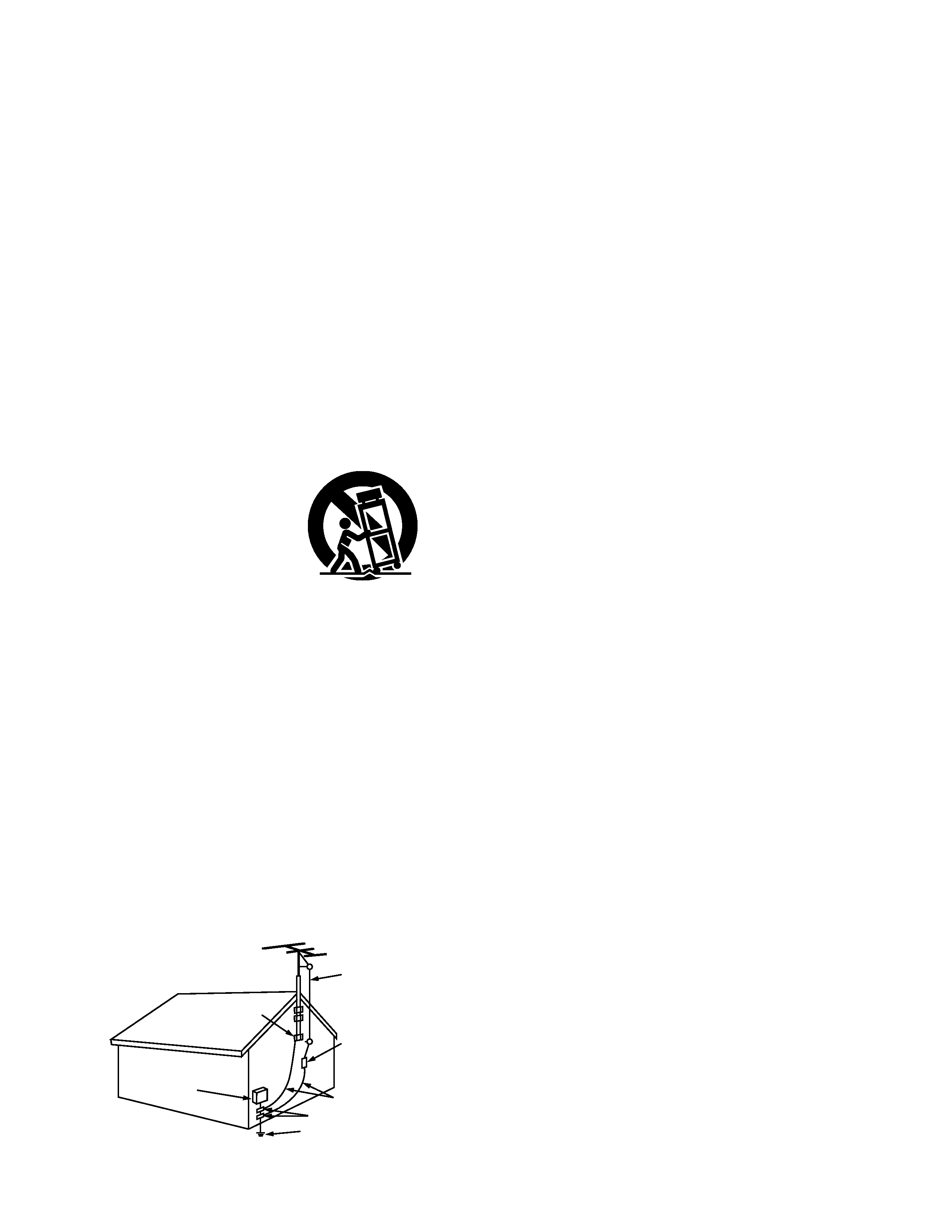 Read Instructions ­ All the safety and operating instructions
should be read before the product is operated.
Retain Instructions ­ The safety and operating instructions
should be retained for future reference.
Heed Warnings ­ All warnings on the product and in the
operating instructions should be adhered to.
Follow Instructions ­ All operating and use instructions should
Cleaning ­ Unplug this product from the wall outlet before
cleaning. Do not use liquid cleaners or aerosol cleaners.
Attachments ­ Do not use attachments not recommended by
the product manufacturer as they may cause hazards.
Water and Moisture ­ Do not use this product near water ­ for
example, near a bath tub, wash bowl, kitchen sink, or laundry
tub; in a wet basement; or near a swimming pool; and the like.
Accessories ­ Do not place this product on an unstable cart,
stand, tripod, bracket, or table. The product may fall, causing
serious injury to a child or adult, and serious damage to the
product. Use only with a cart, stand, tripod, bracket, or table
recommended by the manufacturer, or sold with the product.
Any mounting of the product should follow the manufacturer's
instructions, and should use a
cause the product and cart
Ventilation ­ Slots and openings in the cabinet are provided for
ventilation and to ensure reliable operation of the product and to
protect it from overheating, and these openings must not be
blocked or covered. The openings should never be blocked by
placing the product on a bed, sofa, rug, or other similar surface.
This product should not be placed in a built-in installation such
as a bookcase or rack unless proper ventilation is provided or
the manufacturer's instructions have been adhered to.
Power Sources ­ This product should be operated only from the
type of power source indicated on the marking label. If you are
not sure of the type of power supply to your home, consult your
product dealer or local power company. For products intended
to operate from battery power, or other sources, refer to the
Grounding or Polarization ­ This product may be equipped with
a polarized alternating-current line plug (a plug having one blade
wider than the other). This plug will fit into the power outlet only
one way. This is a safety feature. If you are unable to insert the
plug fully into the outlet, try reversing the plug. If the plug
should still fail to fit, contact your electrician to replace your
obsolete outlet. Do not defeat the safety purpose of the
Power-Cord Protection ­ Power-supply cords should be routed
so that they are not likely to be walked on or pinched by items
placed upon or against them, paying particular attention to
cords at plugs, convenience receptacles, and the point where
they exit from the product.
Outdoor Antenna Grounding ­ If an outside antenna or cable
system is connected to the product, be sure the antenna or
cable system is grounded so as to provide some protection
against voltage surges and built-up static charges. Article 810 of
the National Electrical Code, ANSI/NFPA 70, provides
information with regard to proper grounding of the mast and
supporting structure, grounding of the lead-in wire to an
antenna discharge unit, size of grounding conductors, location
of antenna-discharge unit, connection to grounding electrodes,
and requirements for the grounding electrode. See Figure A.
Lightning ­ For added protection for this product during a
lightning storm, or when it is left unattended and unused for
long periods of time, unplug it from the wall outlet and
disconnect the antenna or cable system. This will prevent
damage to the product due to lightning and power-line surges.
Power Lines ­ An outside antenna system should not be
located in the vicinity of overhead power lines or other electric
light or power circuits, or where it can fall into such power lines
or circuits. When installing an outside antenna system, extreme
care should be taken to keep from touching such power lines or
circuits as contact with them might be fatal.
Overloading ­ Do not overload wall outlets, extension cords, or
integral convenience receptacles as this can result in a risk of
Object and Liquid Entry ­ Never push objects of any kind into
this product through openings as they may touch dangerous
voltage points or short-out parts that could result in a fire or
electric shock. Never spill liquid of any kind on the product.
Servicing ­ Do not attempt to service this product yourself as
opening or removing covers may expose you to dangerous
voltage or other hazards. Refer all servicing to qualified
Damage Requiring Service ­ Unplug this product from the
wall outlet and refer servicing to qualified service personnel
under the following conditions:
a) When the power-supply cord or plug is damaged,
b) If liquid has been spilled, or objects have fallen into the
c) If the product has been exposed to rain or water,
d) If the product does not operate normally by following the
operating instructions. Adjust only those controls that are
covered by the operating instructions as an improper
adjustment of other controls may result in damage and will
often require extensive work by a qualified technician to
restore the product to its normal operation,
e) If the product has been dropped or damaged in any way, and
f) When the product exhibits a distinct change in performance
­ this indicates a need for service.
Replacement Parts ­ When replacement parts are required, be
sure the service technician has used replacement parts
specified by the manufacturer or have the same characteristics
as the original part. Unauthorized substitutions may result in
fire, electric shock, or other hazards.
Safety Check ­ Upon completion of any service or repairs to this
product, ask the service technician to perform safety checks to
determine that the product is in proper operating condition.
Wall or Ceiling Mounting ­ The product should be mounted to a
wall or ceiling only as recommended by the manufacturer.
Heat ­ The product should be situated away from heat sources
such as radiators, heat registers, stoves, or other products
(including amplifiers) that produce heat.
EXAMPLE OF ANTENNA GROUNDING
NEC - NATIONAL ELECTRICAL CODE
---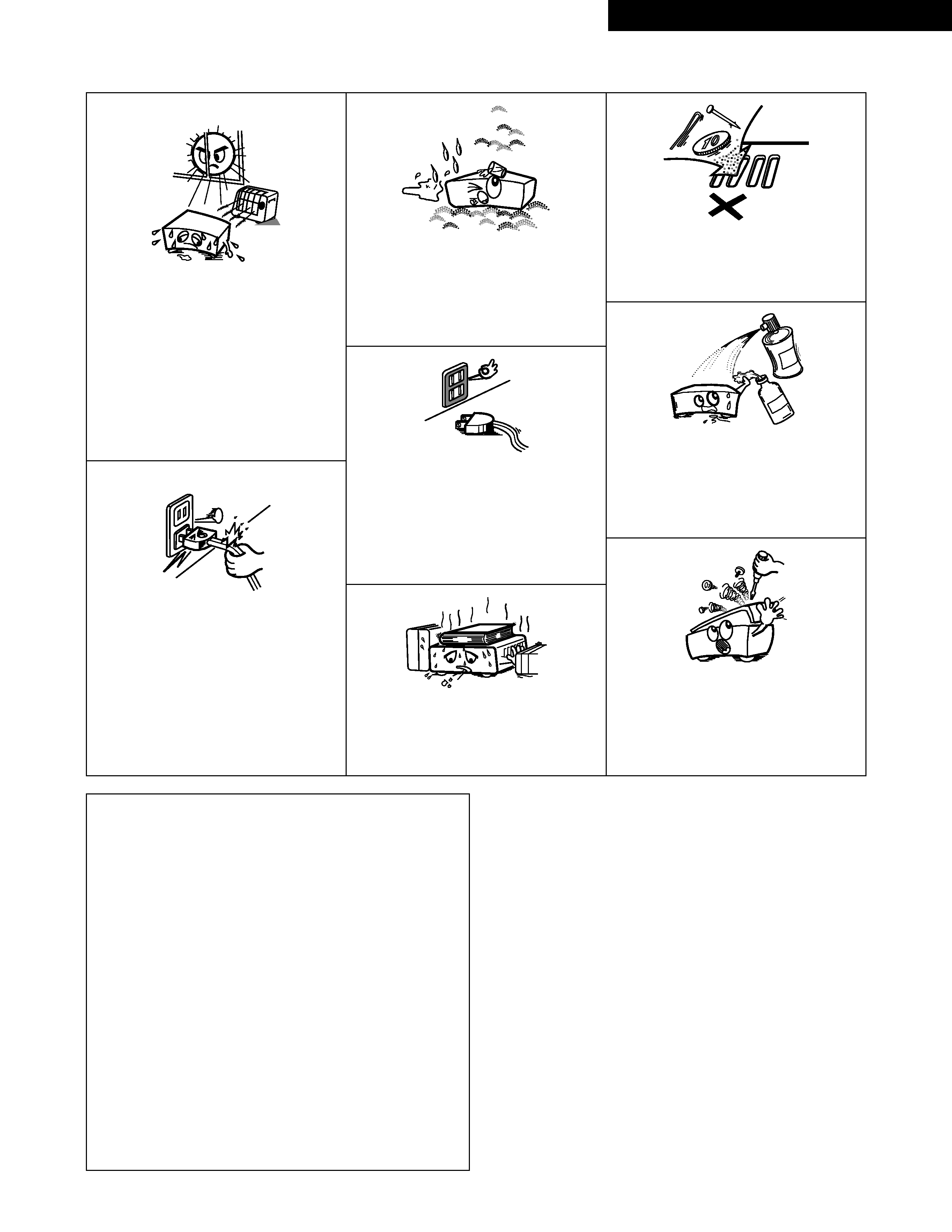 NOTE ON USE / OBSERVATIONS RELATIVES A L'UTILISATION / NOTAS SOBRE EL USO
· Avoid high temperatures.
Allow for sufficient heat dispersion when
· Eviter des températures élevées.
Tenir compte d'une dispersion de chaleur
suffisante lors de l'installation sur une
· Evite altas temperaturas.
Permite la suficiente dispersión del calor
cuando está instalado en la consola.
· Keep the set free from moisture, water,
· Protéger l'appareil contre l'humidité,
· Mantenga el equipo libre de humedad,
· Do not let foreign objects in the set.
· Ne pas laisser des objets étrangers dans
· No deje objetos extraños dentro del equipo.
· Do not let insecticides, benzene, and
thinner come in contact with the set.
· Ne pas mettre en contact des insecticides,
du benzène et un diluant avec l'appareil.
· No permita el contacto de insecticidas,
gasolina y diluyentes con el equipo.
· Unplug the power cord when not using
the set for long periods of time.
· Débrancher le cordon d'alimentation
pendant de longues périodes.
· Desconecte el cordón de energía cuando
no utilice el equipo por mucho tiempo.
· Do not obstruct the ventilation holes.
· Ne pas obstruer les trous d'aération.
· No obstruya los orificios de ventilación.
· Never disassemble or modify the set in
· Ne jamais démonter ou modifier l'appareil
d'une manière ou d'une autre.
· Nunca desarme o modifique el equipo de
(For sets with ventilation holes)
· Handle the power cord carefully.
Hold the plug when unplugging the cord.
· Manipuler le cordon d'alimentation avec
Tenir la prise lors du débranchement du
· Maneje el cordón de energía con cuidado.
Sostenga el enchufe cuando desconecte
· The ventilation should not be impeded by covering the ventilation
openings with items, such as newspapers, table-cloths, curtains, etc.
· No naked flame sources, such as lighted candles, should be placed on the
· Please be care the environmental aspects of battery disposal.
· The apparatus shall not be exposed to dripping or splashing for use.
· No objects filled with liquids, such as vases, shall be placed on the
· La ventilation ne doit pas être gênée en recouvrant les ouvertures de la
ventilation avec des objets tels que journaux, rideaux, tissus, etc.
· Aucune flamme nue, par exemple une bougie, ne doit être placée sur
· Veillez à respecter l'environnement lorsque vous jetez les piles usagées.
· L'appareil ne doit pas être exposé à l'eau ou à l'humidité.
· Aucun objet contenant du liquide, par exemple un vase, ne doit être placé
· La ventilación no debe quedar obstruida por hacerse cubierto las
aperturas con objetos como periódicos, manteles, cortinas, etc.
· No debe colocarse sobre el aparato ninguna fuente inflamable sin
protección, como velas encendidas.
· A la hora de deshacerse de las pilas, respete la normativa para el cuidado
· No se expondrá el aparato al goteo o salpicaduras cuando se utilice.
· No se colocarán sobre el aparato objetos llenos de líquido, como jarros.
It is prohibited by law to reproduce, broadcast, rent or play discs in
public without the consent of the copyright holder.
La reproduction, la diffusion, la location, le prêt ou la lecture
publique de ces disques sont interdits sans le consentement du
détenteur des droits d'auteur.
De acuerdo con las leyes está prohibido reproducir, emitir, alquilar
o interpretar discos en público sin la autorización del propietario de
---