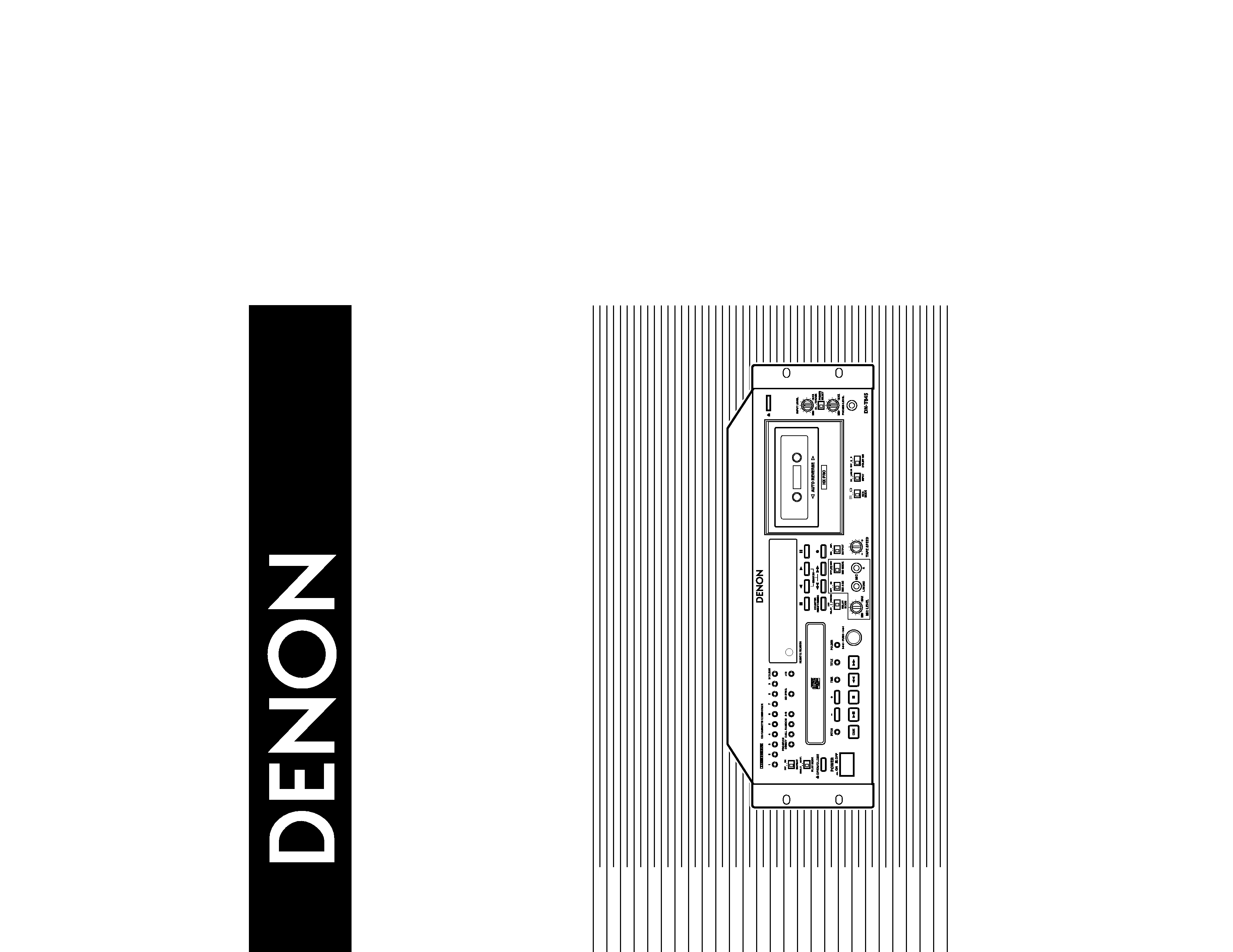 INSTRUCCIONES DE OPERACION
PAGINA 3, 4, 21~ PAGINA 37
· The left illustration shows the DN-T645 model.
· La ilustración de la derecha muestra el modelo DN-T645.
---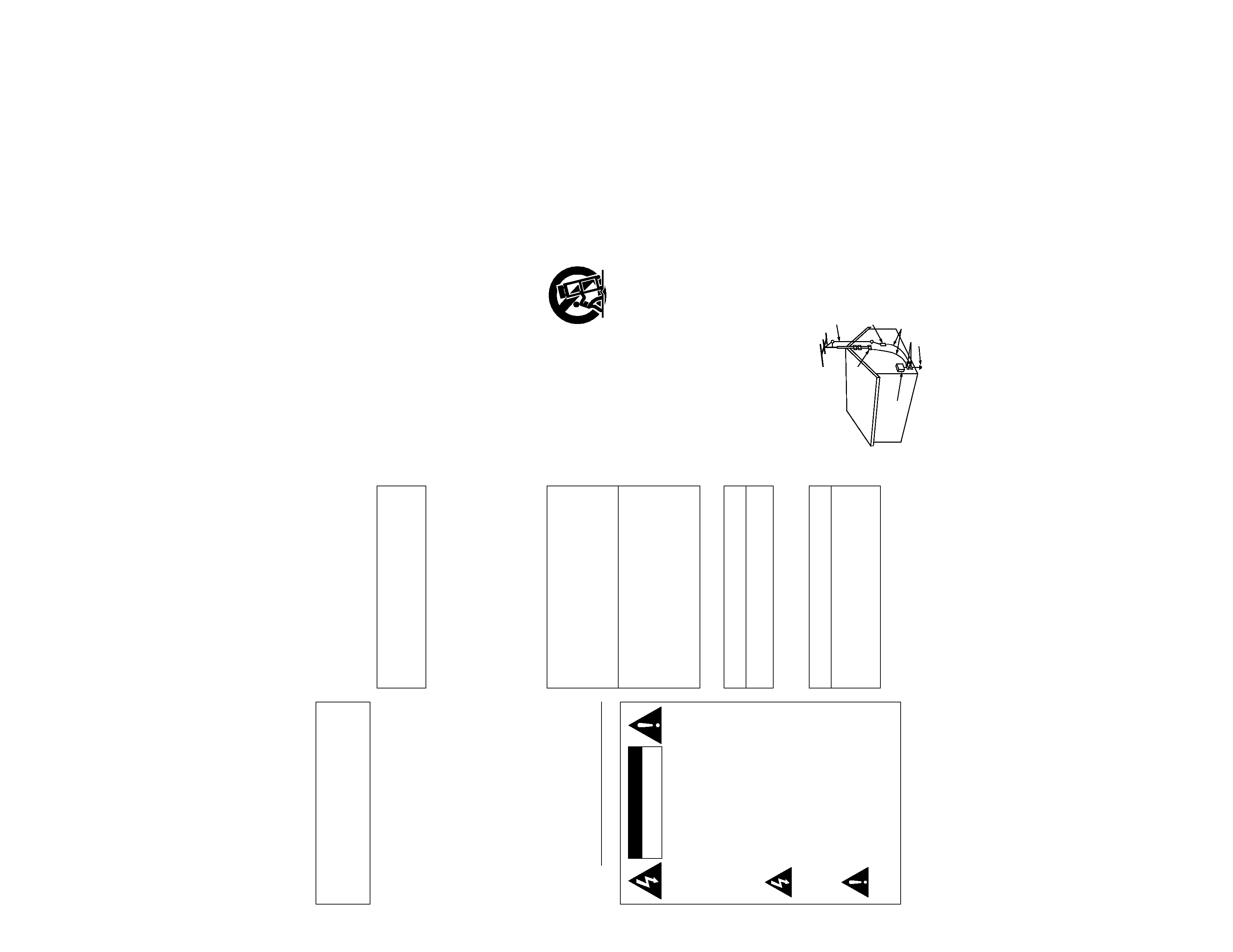 Read Instructions ­ All the safety and operating
instructions should be read before the product is operated.
Retain Instructions ­ The safety and operating instructions
should be retained for future reference.
Heed Warnings ­ All warnings on the product and in the
operating instructions should be adhered to.
Follow Instructions ­ All operating and use instructions
Cleaning ­ Unplug this product from the wall outlet before
cleaning. Do not use liquid cleaners or aerosol cleaners.
Attachments ­ Do not use attachments not recommended
by the product manufacturer as they may cause hazards.
Water and Moisture ­ Do not use this product near water
­ for example, near a bath tub, wash bowl, kitchen sink, or
laundry tub; in a wet basement; or near a swimming pool;
Accessories ­ Do not place this product on an unstable
cart, stand, tripod, bracket, or table. The product may fall,
causing serious injury to a child or adult, and serious
damage to the product. Use only with a cart, stand, tripod,
bracket, or table recommended by the manufacturer, or
sold with the product. Any mounting of the product should
follow the manufacturer's instructions, and should use a
cause the product and cart
10. Ventilation ­ Slots and openings in the cabinet are provided
for ventilation and to ensure reliable operation of the
product and to protect it from overheating, and these
openings must not be blocked or covered. The openings
should never be blocked by placing the product on a bed,
sofa, rug, or other similar surface. This product should not
be placed in a built-in installation such as a bookcase or
rack unless proper ventilation is provided or the
manufacturer's instructions have been adhered to.
11. Power Sources ­ This product should be operated only
from the type of power source indicated on the marking
label. If you are not sure of the type of power supply to
your home, consult your product dealer or local power
company. For products intended to operate from battery
12. Grounding or Polarization ­ This product may be equipped
with a polarized alternating-current line plug (a plug having
one blade wider than the other). This plug will fit into the
power outlet only one way. This is a safety feature. If you
are unable to insert the plug fully into the outlet, try
reversing the plug. If the plug should still fail to fit, contact
your electrician to replace your obsolete outlet. Do not
defeat the safety purpose of the polarized plug.
EXAMPLE OF ANTENNA GROUNDING
NEC - NATIONAL ELECTRICAL CODE
13. Power-Cord Protection ­ Power-supply cords should be
routed so that they are not likely to be walked on or
pinched by items placed upon or against them, paying
particular attention to cords at plugs, convenience
receptacles, and the point where they exit from the
15. Outdoor Antenna Grounding ­ If an outside antenna or
cable system is connected to the product, be sure the
antenna or cable system is grounded so as to provide
some protection against voltage surges and built-up static
Article 810 of the National Electrical Code,
ANSI/NFPA 70, provides information with regard to proper
grounding of the mast and supporting structure, grounding
of the lead-in wire to an antenna discharge unit, size of
grounding conductors, location of antenna-discharge unit,
connection to grounding electrodes, and requirements for
the grounding electrode. See Figure A.
16. Lightning ­ For added protection for this product during a
lightning storm, or when it is left unattended and unused
for long periods of time, unplug it from the wall outlet and
disconnect the antenna or cable system. This will prevent
damage to the product due to lightning and power-line
17. Power Lines ­ An outside antenna system should not be
located in the vicinity of overhead power lines or other
electric light or power circuits, or where it can fall into such
power lines or circuits. When installing an outside antenna
system, extreme care should be taken to keep from
touching such power lines or circuits as contact with them
18. Overloading ­ Do not overload wall outlets, extension
cords, or integral convenience receptacles as this can
result in a risk of fire or electric shock.
19. Object and Liquid Entry ­ Never push objects of any kind
into this product through openings as they may touch
dangerous voltage points or short-out parts that could
result in a fire or electric shock. Never spill liquid of any
20. Servicing ­ Do not attempt to service this product yourself
as opening or removing covers may expose you to
dangerous voltage or other hazards. Refer all servicing to
qualified service personnel.
21. Damage Requiring Service ­ Unplug this product from the
wall outlet and refer servicing to qualified service
personnel under the following conditions:
a) When the power-supply cord or plug is damaged,
b) If liquid has been spilled, or objects have fallen into the
c) If the product has been exposed to rain or water,
d) If the product does not operate normally by following
the operating instructions. Adjust only those controls
that are covered by the operating instructions as an
improper adjustment of other controls may result in
damage and will often require extensive work by a
qualified technician to restore the product to its normal
e) If the product has been dropped or damaged in any
f) When the product exhibits a distinct change in
performance ­ this indicates a need for service.
22. Replacement Parts ­ When replacement parts are
required, be sure the service technician has used
replacement parts specified by the manufacturer or have
the same characteristics as the original part. Unauthorized
substitutions may result in fire, electric shock, or other
23. Safety Check ­ Upon completion of any service or repairs
to this product, ask the service technician to perform
safety checks to determine that the product is in proper
24. Wall or Ceiling Mounting ­ The product should be mounted
to a wall or ceiling only as recommended by the
25. Heat ­ The product should be situated away from heat
sources such as radiators, heat registers, stoves, or other
products (including amplifiers) that produce heat.
TO REDUCE THE RISK OF ELECTRIC SHOCK,
DO NOT REMOVE COVER (OR BACK). NO
USER-SERVICEABLE PARTS INSIDE. REFER
SERVICING TO QUALIFIED SERVICE
The lightning flash with arrowhead
symbol, within an equilateral triangle,
is intended to alert the user to the
presence of uninsulated "dangerous
voltage" within the product's
enclosure that may be of sufficient
magnitude to constitute a risk of
electric shock to persons.
TO PREVENT FIRE OR SHOCK HAZARD, DO
NOT EXPOSE THIS APPLIANCE TO RAIN OR
1. Handle the power supply cord carefully
Do not damage or deform the power supply cord.
If it is damaged or deformed, it may cause electric
shock or malfunction when used. When removing
from wall outlet, be sure to remove by holding the
plug attachment and not by pulling the cord.
2. Do not open the rear cover
In order to prevent electric shock, do not open the
If problems occur, contact your DENON DEALER.
3. Do not place anything inside
Do not place metal objects or spill liquid inside the
Electric shock or malfunction may result.
Please, record and retain the Model name and serial
number of your set shown on the rating label.
The exclamation point within an
equilateral triangle is intended to alert
the user to the presence of important
operating and maintenance (servicing)
instructions in the literature
accompanying the appliance.
semiconductor laser. To allow you to enjoy music at a
stable operation, it is recommended to use this in a
room of 5°C (41°F) ~ 35°C (95°F).
LABELS (for U.S.A. model only)
THIS PRODUCT COMPLIES WITH DHHS RULES
21 CFR SUBCHAPTER J APPLICABLE AT DATE OF
USE OF CONTROLS OR ADJUSTMENTS OR
REFOR-MANCE OF PROCEDURES OTHER THAN
THOSE SPECIFIED HEREIN MAY RESULT IN
HAZARDOUS RADIATION EXPOSURE.
THE COMPACT DISC PLAYER SHOULD NOT BE
ADJUSTED OR REPAIRED BY ANYONE EXCEPT
PROPERLY QUALIFIED SERVICE PERSONNEL.
This device complies with Part 15 of the FCC
Rules. Operation is subject to the following two
conditions: (1) This device may not cause harmful
interference, and (2) this device must accept any
interference received, including interference that
may cause undesired operation.
This Class B digital apparatus meets all
requirements of the Canadian Interference-Causing
Cet appareil numérique de la classe B respecte
toutes les exigences du Règlement sur le matériel
TO PREVENT ELECTRIC SHOCK, MATCH WIDE
BLADE OF PLUG TO WIDE SLOT, FULLY INSERT.
POUR ÉVITER LES CHOCS ÉLECTRIQUES,
INTERODUIRE LA LAME LA PLUS LARGE DE LA
FICHE DANS LA BORNE CORRESPONDANTE DE
LA PRISE ET POUSSER JUSQU' AU FOND.
· POUR LES MODELE CANADIENS
---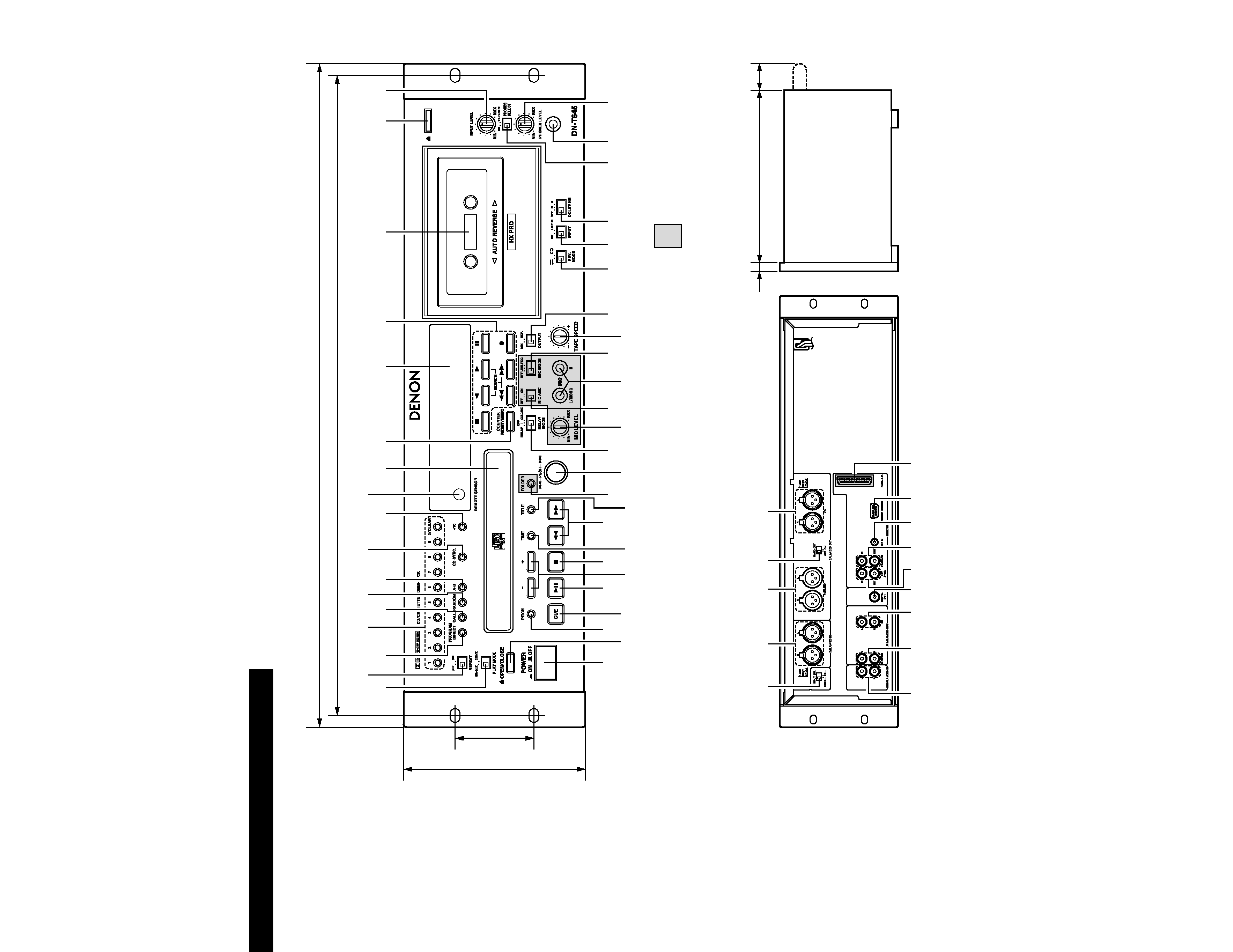 (with connectors in place) Approx. 50
(avec les connecteurs) Environ 50
(con los conectores instalados) Aprox. 50
---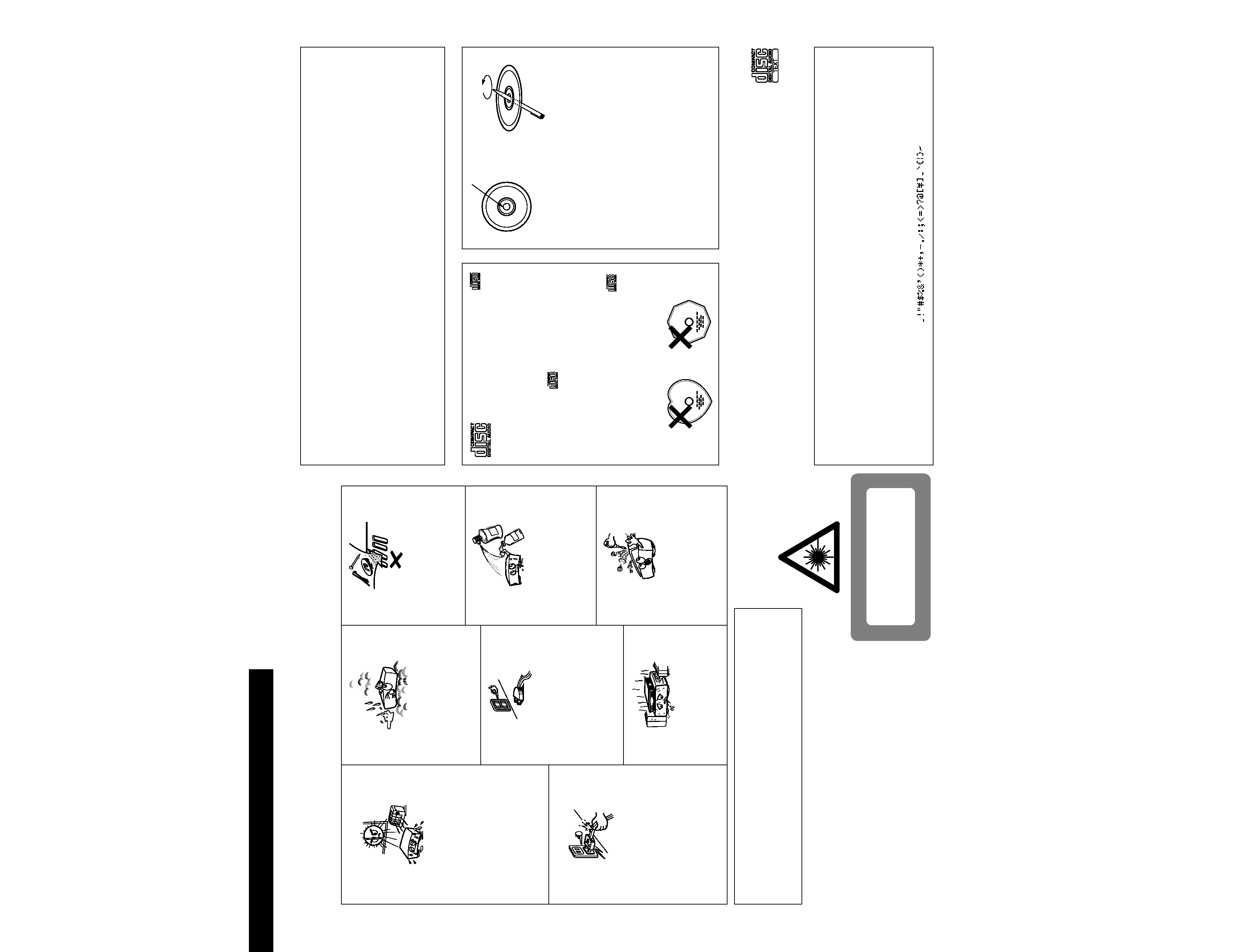 OBSERVATIONS RELATIVES A L'UTILISATION
· The ventilation should not be impeded by covering the ventilation openings with
items, such as newspapers, table-cloths, curtains, etc.
· No naked flame sources, such as lighted candles, should be placed on the apparatus.
· Please be care the environmental aspects of battery disposal.
· The apparatus shall not be exposed to dripping or splashing for use.
· No objects filled with liquids, such as vases, shall be placed on the apparatus.
· Avoid high temperatures.
Allow for sufficient heat dispersion
when installed on a rack.
· Eviter des températures élevées.
Tenir compte d'une dispersion de chaleur
suffisante lors de l'installation sur une
· Evite altas temperaturas. Permite la
suficiente dispersión del calor cuando
está instalado en la consola.
· Keep the set free from moisture, water,
· Protéger l'appareil contre l'humidité, l'eau
· Mantenga el equipo libre de humedad,
· Do not let foreign objects in the set.
· Ne pas laisser des objets étrangers dans
· No deje objetos extraños dentro del
· Handle the power supply cord carefully.
Hold the plug when unplugging the cord.
· Manipuler le cordon d'alimentation avec
Tenir la prise lors du débranchement du
· Maneje el cordón de energía con cuidado.
Sostenga el enchufe cuando desconecte
· Unplug the power supply cord when
not using the set for long periods of
· Débrancher le cordon d'alimentation
lorsque l'appareil n'est pas utilisé pendant
· Desconecte el cordón de energía cuando
no utilice el equipo por mucho tiempo.
· Do not let insecticides, benzene, and
thinner come in contact with the set.
· Ne pas mettre en contact des insecticides,
du benzène et un diluant avec l'appareil.
· No permita el contacto de insecticidas,
gasolina y diluyentes con el equipo.
· Never disassemble or modify the set in
· Ne jamais démonter ou modifier l'appareil
d'une manière ou d'une autre.
· Nunca desarme o modifique el equipo de
· Do not obstruct the ventilation holes.
· Ne pas obstruer les trous d'aération.
· No obstruya los orificios de ventilación.
* (For sets with ventilation holes)
· DECLARATION OF CONFORMITY
We declare under our sole responsibility that this product, to which this declaration relates, is in conformity with the following
EN60065, EN55013, EN55020, EN61000-3-2 and EN61000-3-3.
Following the provisions of 73/23/EEC, 89/336/EEC and 93/68/EEC Directive.
· DECLARATION DE CONFORMITE
Nous déclarons sous notre seule responsabilité que l'appareil, auquel se réfère cette déclaration, est conforme aux standards
EN60065, EN55013, EN55020, EN61000-3-2 et EN61000-3-3.
D'après les dispositions de la Directive 73/23/EEC, 89/336/EEC et 93/68/EEC.
· DECLARACIÓN DE CONFORMIDAD
Declaramos bajo nuestra exclusiva responsabilidad que este producto al que hace referencia esta declaración, está conforme
con los siguientes estándares:
EN60065, EN55013, EN55020, EN61000-3-2 y EN61000-3-3.
Siguiendo las provisiones de las Directivas 73/23/EEC, 89/336/EEC y 93/68/EEC.
· Use compact discs that include the
CD's with special shapes (heart-shaped
CD's, octagonal CD's etc.) cannot be played
Attempting to do so may damage the set.
· Utiliser des disques compacts portant le
Des CD avec des formes spéciales (CD en
forme de coeur, des CD octogonaux, etc.)
ne peuvent pas être lus sur cet appareil.
Le fait de l'essayer, risque d'endommager
le lecteur. Ne pas utiliser de tels CD.
· Use discos compactos con la marca
En este equipo no es posible reproducir
CDs con formas especiales (CDs con forma
de corazón, CDs octagonales, etc.).
Si intenta hacerlo, el equipo podrá resultar
dañado. No use este tipo de CDs.
USYNLIG LASERSTRÅLING VED ÅBNING, NÅR
SIKKERHEDSAFBRYDERE ER UDE AF FUNKTION.
UNDGÅ UDSAETTELSE FOR STRÅLING.
LAITTEEN KÄYTTÄMINEN MUULLA KUIN TÄSSÄ
KÄYTTÖOHJEESSA MAINITULLA TAVALLA SAATTAA
ALTISTAA KÄYTTÄJÄN TURVALLISUUSLUOKAN 1
YLITTÄVÄLLE NÄKYMÄMTTÖMÄLLE LASERSÄTEILYLLE.
OM APPARATEN ANVÄNDS PÅ ANNAT SÄTT ÄN I DENNA
BRUKSANVISNING SPECIFICERATS, KAN ANVÄNDAREN
UTSÄTTAS FÖR OSYNLIG LASERSTRÅLNING SOM
ÖVERSKRIDER GRÄNSEN FÖR LASERKLASS 1.
· The disc may not play normally if there is residue
along the edges of the center hole.
· When using new discs in particular, use a pen, etc.,
· Le disque peut ne pas être lu normalements s'il y a
un résidu le long des bord du trou central.
· Lors de l'utilisation de nouveaux disques en
particulier, utiliser un stylo à bille, etc., pour enlever
· El disco no puede ser reproducido normalmente
debido a la terminación deficiente de los bordes del
· Para quitar estos residuos de material,
especialmente cuando vaya a re-producir discos
nuevos, utilice un bolígrafo, o algo similar.
CD Text Discs / CD avec texte / Discos CD de Texto
This unit can display text information on the display when playing CD text discs which contain text information in
English category. The CD text disc includes the mark shown at the right.
Cet appareil peut afficher les textes d'information lors de la lecture de CD qui comportent ces textes, dans la
catégorie anglaise. Les CD avec texte se repèrent à la marque indiquée à droite.
Esta unidad puede mostrar información de texto en la pantalla cuando se reproducen discos CD de Texto que contengan información
de texto en la categoría de Inglés. Los discos CD de Texto incluyen la marca indicada a la derecha.
This unit can provide a text display of the following types of characters. Other types of characters will result in "SPACE"
Cet appareil permet l'affichage de textes composés avec les types de caractère suivants. Tous les autres types de caractère
seront affichés ainsi "SPACE".
Esta unidad puede mostrar visualizaciones de texto de los siguientes tipos de caracteres.Otros tipos de caracteres harán
que se visualice "SPACE".
[Alphabet / Alphabétiques / Alfabeto] : ABCDEFGHIJKLMNOPQRSTUVWXYZabcdefghijklmnopqrstuvwxyz
[Numbers / Chiffres / Números] :
[Symbols / Symboles / Símbolos] :
---

z
Features..............................................................5
x
Part names and functions ............................5 ~ 8
c
Connections....................................................8, 9
v
Opening and closing the disc holder
and loading a disc ...............................................9
b
Normal CD playback .........................................10
n
Advanced CD playback...............................10, 11
m
Playing MP3 files (DN-T645 only) ............11 ~ 13
,
The compact disc .............................................13
.
Cassette tapes..................................................13
/0
Playback............................................................14
/1
Recording ...................................................14, 15
/2
Memory stop....................................................15
/3
Power on playback ...........................................15
/4
Relay playback between CD and tape..............15
/5
Copying from CD to tape .................................15
/6
Expanded function............................................16
/7
Dolby B and C noise reduction system............17
/8
Dolby HX-PRO headroom extension system
(DN-T645 only)..................................................17
/9
Before switching off the power .......................17
¤0
Maintenance.....................................................17
¤1
Preset functions and operations ................18, 19
¤2
Troubleshooting ................................................20
¤3
Specifications ...................................................20
Check that the following parts are included in
addition to the main unit:
q Operating instructions ......................................1
w Connection Cords ............................................3
2 99-track programming and random play
2 ±12 % Variable pitch playback
2 Back cue function, single/continuous playback
2 MP3 playback (DN-T645 only)
2 Dolby B/C noise reduction system
2 Dolby HX-Pro headroom extension system
2 Speed control of approximately ±12 % for tape
2 Serial control port (9P D-sub)
2 Copy from CD to tape or use independently
2 Headphones jack with volume control
2 TRS MIC jacks on front panel (DN-T645 only)
2 Parallel remote control (DN-T645 only)
Thank you very much for purchasing the DENON
component CD / Cassette combi-deck.
DENON proudly presents this advanced combi-deck to
audiophiles and music lovers as a further proof of
DENON's non-compromising pursuit of the ultimate in
sound quality. The high quality performance and easy
operation are certain to provide you with many hours
of outstanding listening pleasure.
· Whenever the power operation switch is in the
OFF state, the apparatus is still connected on AC
· Please be sure to unplug the cord when you
leave home for, say, a vacation.
· The DN-T645/625 will work normally when the
player unit is mounted with the front panel within
10 degrees of the vertical plane. If the unit is
tilted excessively, discs may not load or unload
PART NAMES AND FUNCTIONS
(Refer to page 3.)
q
Power operation switch (POWER)
· The power turns on when the button is
switched from the off position (
£
) to the on
· The power turns off when the button is
switched from the on position (
¢
) to the off
w
Disc holder open/close button
· Press to load or eject the disc. Each press will
open or close the disc holder
· When this button is pressed, the pitch function
is turned on, and the CD is played at the pitch
(speed) set with the CD pitch control button
· When the button is pressed again, the pitch
function is turned off and the CD is played at
the standard playing pitch.
· When pressed during playback, the pickup
returns to the position at which playback last
started and the pause mode is set.
· When pressed during manual search, the
pause mode is set at that position.
· When pressed while the disc holder is open,
the disc holder closes and the pause mode is
· Each press of the play/pause button causes the
operation to change from play to pause or from
y
CD pitch control button (­, +)
· Press these button to set the playing pitch
within a range of ±12 % to ­12 %.
· The set playing pitch is shown on the display.
playback is performed the set pitch.
· Press this button to stop playback.
· The time display switches each time this
· Normally "ELAPSED" appears on the time
display and the current elapsed time is
· When this button is pressed once, "REMAIN"
appears on the time display and the remaining
time for the current track is displayed.
When pressed again, the remaining time to the
end of the disc is displayed.
· These buttons are used to accurately change
the positions where playback will start.
information (disc title, track title, disc artist or
track artist) is displayed.
· When the button is pressed while in the
standby mode with a disc containing an MP3
ID3-Tag loaded, the file name is displayed.
When pressed during playback, the display
switches as shown below. (DN-T645 only)
!1
FOLDER button (DN-T645 only)
· When disc containing MP3 format files is
loaded, in the stop mode press this button then
the folder select mode is possible.
· Turn the knob clockwise by one click to move
one track forward, counterclockwise by one
click to move one track backward.
· When the knob turned while pressing it in, one
click corresponds to 10 tracks.
· In the preset mode, use this knob to set and
· For normal operation, set this to "OFF".
· The relay mode can be set to RELAY (relay
playback between CD and cassette deck),
CASCADE (continuous playback on multiple
!4
Microphone input level control
(MIC LEVEL) (DN-T645 only)
· Adjust the level of the Microphone inputs.
File name of currently playing track
Elapsed time of currently playing track
· When the power is turned on, the cassette
deck mechanism is sometimes initialized.
---