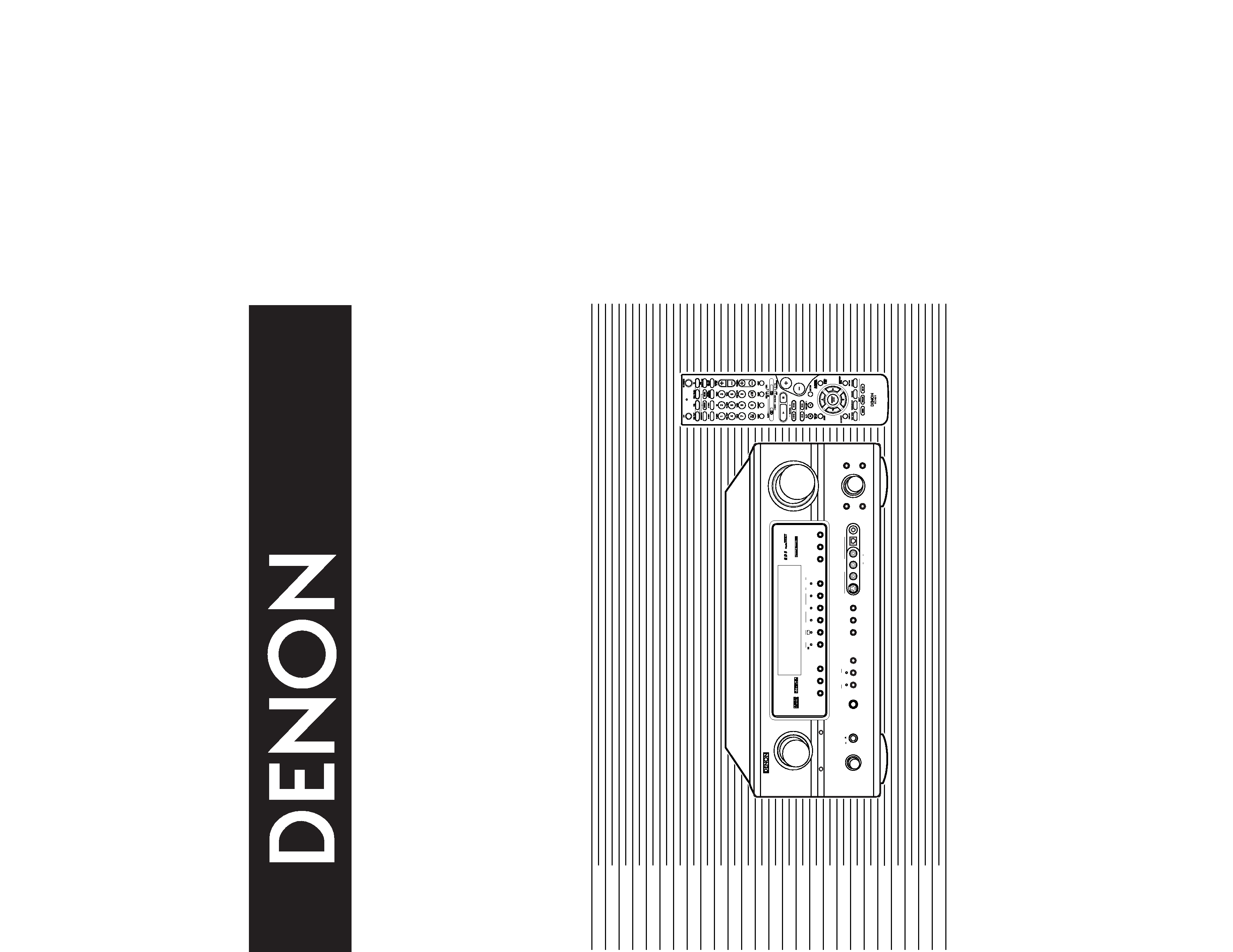 INSTRUCCIONES DE OPERACION
POUR LES LECTEURS FRANCAIS
VOOR NEDERLANDSTALIGE LEZERS
---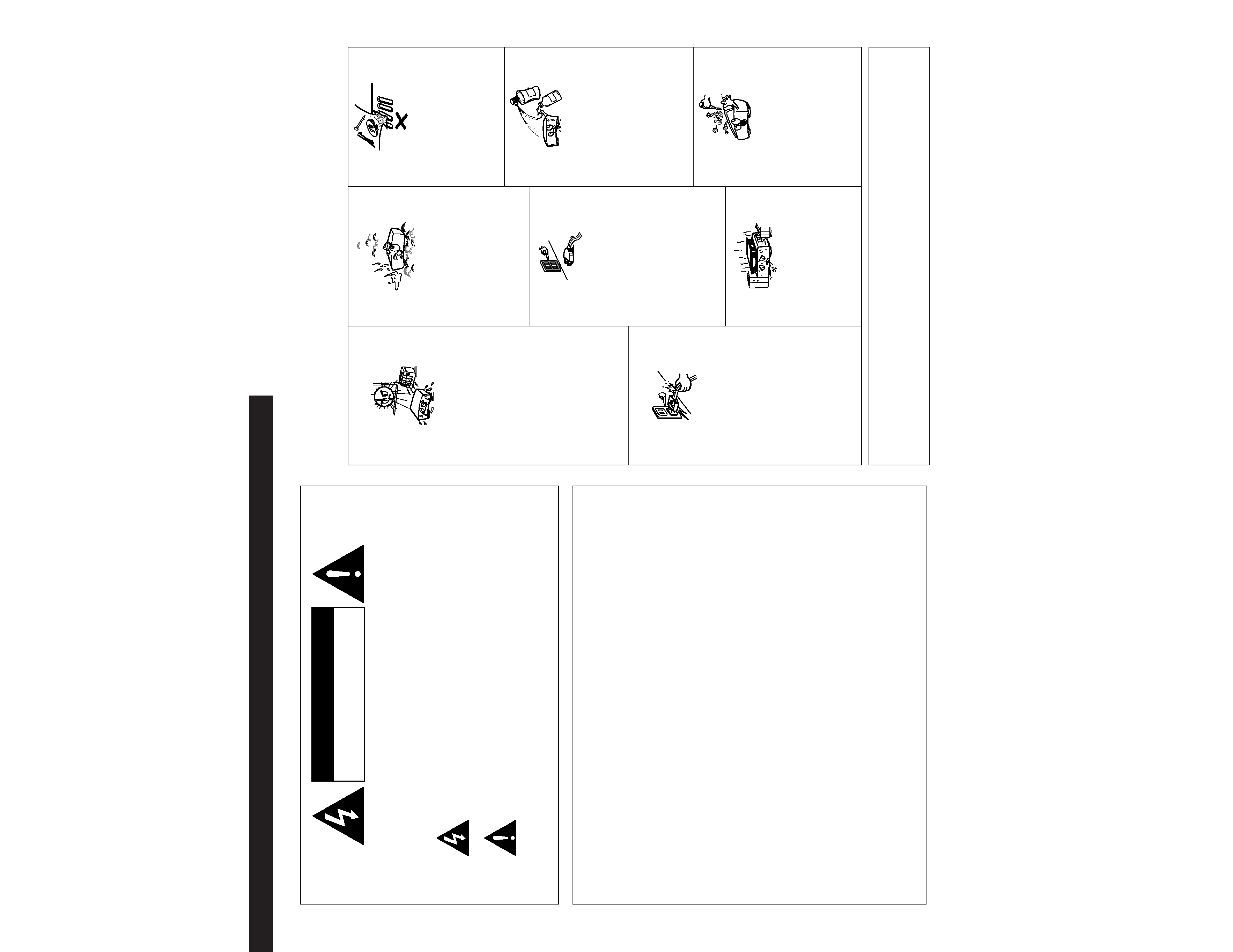 CAUTION:
TO REDUCE THE RISK OF ELECTRIC SHOCK, DO
NOT REMOVE COVER (OR BACK). NO USER
SERVICEABLE PARTS INSIDE. REFER SERVICING
TO QUALIFIED SERVICE PERSONNEL.
The lightning flash with arrowhead symbol, within an equilateral triangle,
is intended to alert the user to the presence of uninsulated "dangerous
voltage" within the product's enclosure that may be of sufficient
magnitude to constitute a risk of electric shock to persons.
The exclamation point within an equilateral triangle is intended to alert the
user to the presence of important operating and maintenance (servicing)
instructions in the literature accompanying the appliance.
WARNING:
TO REDUCE THE RISK OF FIRE OR ELECTRIC SHOCK, DO
NOT EXPOSE THIS APPLIANCE TO RAIN OR MOISTURE.
· DECLARATION OF CONFORMITY
We declare under our sole responsibility that this product,
to which this declaration relates, is in conformity with the
EN60065, EN55013, EN55020, EN61000-3-2 and EN61000-
Following the provisions of 73/23/EEC, 89/336/EEC and
· ÜBEREINSTIMMUNGSERKLÄRUNG
Wir erklären unter unserer Verantwortung, daß dieses
Produkt, auf das sich diese Erklärung bezieht, den
folgenden Standards entspricht:
EN60065, EN55013, EN55020, EN61000-3-2 und EN61000-
Entspricht den Verordnungen der Direktive 73/23/EEC,
89/336/EEC und 93/68/EEC.
· DECLARATION DE CONFORMITE
Nous déclarons sous notre seule responsabilité que
l'appareil, auquel se réfère cette déclaration, est conforme
EN60065, EN55013, EN55020, EN61000-3-2 et EN61000-
D'après les dispositions de la Directive 73/23/EEC,
· DICHIARAZIONE DI CONFORMITÀ
Dichiariamo con piena responsabilità che questo prodotto,
al quale la nostra dichiarazione si riferisce, è conforme
EN60065, EN55013, EN55020, EN61000-3-2 e EN61000-
In conformità con le condizioni delle direttive 73/23/EEC,
QUESTO PRODOTTO E' CONFORME
· DECLARACIÓN DE CONFORMIDAD
Declaramos bajo nuestra exclusiva responsabilidad que
este producto al que hace referencia esta declaración,
está conforme con los siguientes estándares:
EN60065, EN55013, EN55020, EN61000-3-2 y EN61000-
Siguiendo las provisiones de las Directivas 73/23/EEC,
· EENVORMIGHEIDSVERKLARING
Wij verklaren uitsluitend op onze verantwoordelijkheid
dat dit produkt, waarop deze verklaring betrekking heeft,
in overeenstemming is met de volgende normen:
EN60065, EN55013, EN55020, EN61000-3-2 en EN61000-
Volgens de bepalingen van de Richtlijnen 73/23/EEC,
Härmed intygas helt på eget ansvar att denna produkt,
vilken detta intyg avser, uppfyller följande standarder:
EN60065, EN55013, EN55020, EN61000-3-2 och EN61000-
Enligt stadgarna i direktiv 73/23/EEC, 89/336/EEC och
NOTE ON USE / HINWEISE ZUM GEBRAUCH /
OBSERVATIONS RELATIVES A L'UTILISATION / NOTE SULL'USO
NOTAS SOBRE EL USO / ALVORENS TE GEBRUIKEN / OBSERVERA
·Avoid high temperatures.
Allow for sufficient heat dispersion when
·Vermeiden Sie hohe Temperaturen.
Luftzirkulation gewährleistet wird, wenn das
Gerät auf ein Regal gestellt wird.
· Eviter des températures élevées
Tenir compte d'une dispersion de chaleur
suffisante lors de l'installation sur une étagère.
· Evitate di esporre l'unità a temperature alte.
Assicuratevi che ci sia un'adeguata dispersione
del calore quando installate l'unità in un
mobile per componenti audio.
· Evite altas temperaturas
Permite la suficiente dispersión del calor
cuando está instalado en la consola.
·Vermijd hoge temperaturen.
Zorg voor een degelijk hitteafvoer indien het
apparaat op een rek wordt geplaatst.
· Undvik höga temperaturer.
Se till att det finns möjlighet till god
värmeavledning vid montering i ett rack.
· Keep the set free from moisture, water, and
· Halten Sie das Gerät von Feuchtigkeit,
· Protéger l'appareil contre l'humidité, l'eau et
·Tenete l'unità lontana dall'umidità, dall'acqua
·Mantenga el equipo libre de humedad, agua
· Laat geen vochtigheid, water of stof in het
·Utsätt inte apparaten för fukt, vatten och
· Do not let foreign objects in the set.
· Keine fremden Gegenstände in das Gerät
·Ne pas laisser des objets étrangers dans
·E' importante che nessun oggetto è inserito
· No deje objetos extraños dentro del equipo.
· Laat geen vreemde voorwerpen in dit
·Se till att främmande föremål inte tränger in i
· Handle the power cord carefully.
Hold the plug when unplugging the cord.
· Gehen Sie vorsichtig mit dem Netzkabel um.
Halten Sie das Kabel am Stecker, wenn Sie
den Stecker herausziehen.
· Manipuler le cordon d'alimentation avec
Tenir la prise lors du débranchement du cordon.
· Manneggiate il filo di alimentazione con cura.
Agite per la spina quando scollegate il cavo
·Maneje el cordón de energía con cuidado.
Sostenga el enchufe cuando desconecte el
·Hanteer het netsnoer voorzichtig.
Houd het snoer bij de stekker vast wanneer
deze moet worden aan- of losgekoppeld.
· Hantera nätkabeln varsamt.
Håll i kabeln när den kopplas från el-uttaget.
· Unplug the power cord when not using the
set for long periods of time.
·Wenn das Gerät eine längere Zeit nicht
verwendet werden soll, trennen Sie das
Netzkabel vom Netzstecker.
·Débrancher le cordon d'alimentation lorsque
l'appareil n'est pas utilisé pendant de
· Disinnestate il filo di alimentazione quando
avete l'intenzione di non usare il filo di
alimentazione per un lungo periodo di tempo.
· Desconecte el cordón de energía cuando no
utilice el equipo por mucho tiempo.
· Neem altijd het netsnoer uit het stopkontakt
wanneer het apparaat gedurende een lange
periode niet wordt gebruikt.
· Koppla ur nätkabeln om apparaten inte
kommer att användas i lång tid.
· Do not let insecticides, benzene, and thinner
come in contact with the set.
· Lassen Sie das Gerät nicht mit Insektiziden,
Benzin oder Verdünnungsmitteln in Berührung
· Ne pas mettre en contact des insecticides,
du benzène et un diluant avec l'appareil.
· Assicuratevvi che l'unità non venga in contatto
con insetticidi, benzolo o solventi.
· No permita el contacto de insecticidas, gasolina
y diluyentes con el equipo.
·Laat geen insektenverdelgende middelen,
benzine of verfverdunner met dit apparaat in
· Se till att inte insektsmedel på spraybruk,
bensen och thinner kommer i kontakt med
· Never disassemble or modify the set in any
·Versuchen Sie niemals das Gerät auseinander
zu nehmen oder auf jegliche Art zu verändern.
· Ne jamais démonter ou modifier l'appareil
d'une manière ou d'une autre.
· Non smontate mai, nè modificate l'unità in
· Nunca desarme o modifique el equipo de
· Nooit dit apparaat demonteren of op andere
·Ta inte isär apparaten och försök inte bygga
· Do not obstruct the ventilation holes.
·Die Belüftungsöffnungen dürfen nicht verdeckt
·Ne pas obstruer les trous d'aération.
· Non coprite i fori di ventilazione.
· No obstruya los orificios de ventilación.
· De ventilatieopeningen mogen niet worden
· Täpp inte till ventilationsöppningarna.
* (For sets with ventilation holes)
· The ventilation should not be impeded by covering the
ventilation openings with items, such as newspapers,
table-cloths, curtains, etc.
· No naked flame sources, such as lighted candles, should
be placed on the apparatus.
· Please be care the environmental aspects of battery
· The apparatus shall not be exposed to dripping or
· No objects filled with liquids, such as vases, shall be
---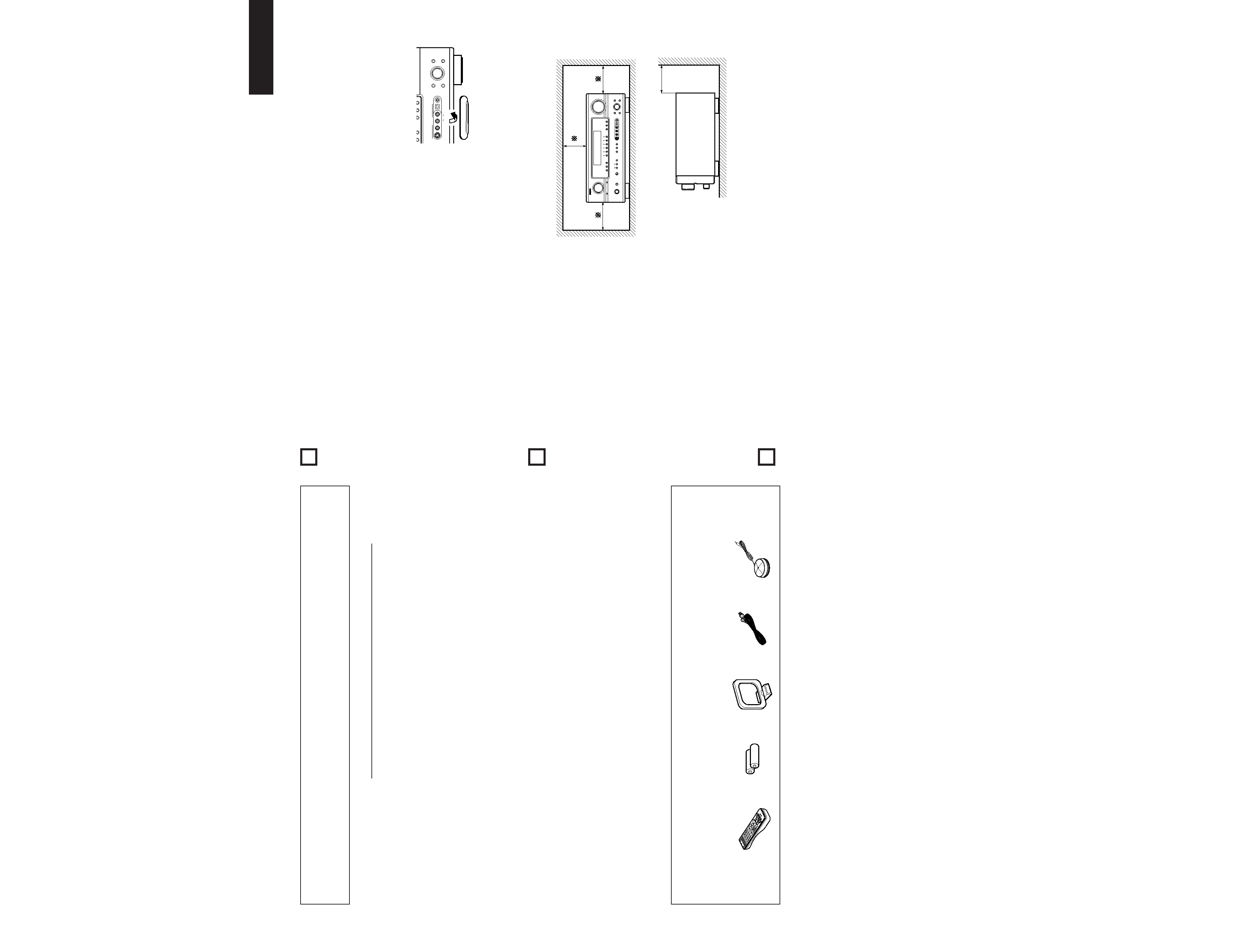 We greatly appreciate your purchase of the AVR-2105.
To be sure you take maximum advantage of all the features the AVR-2105 has to offer, read these
instructions carefully and use the set properly. Be sure to keep this manual for future reference,
should any questions or problems arise.
PLEASE RECORD UNIT SERIAL NUMBER ATTACHED TO THE REAR OF THE
CABINET FOR FUTURE REFERENCE"
Thank you for choosing the DENON AVR-2105 Digital A / V Surround Receiver. This remarkable component has
been engineered to provide superb surround sound listening with home theater sources such as DVD, as well as
providing outstanding high fidelity reproduction of your favorite music sources.
As this product is provided with an immense array of features, we recommend that before you begin hookup and
operation that you review the contents of this manual before proceeding.
z
Before Using........................................................3
x
Cautions on Installation........................................3
c
Cautions on Handling...........................................3
v
Features...............................................................4
b
Connections ..................................................5 ~ 9
n
Part Names and Functions ............................9, 10
m
Using the Remote Control Unit .........................10
,
Setting up the System ..............................11 ~ 18
.
Remote Control Unit .................................19 ~ 21
/0
Operation...................................................21 ~ 25
/1
Surround....................................................25 ~ 30
/2
DSP Surround Simulation..........................30 ~ 32
/3
Listening to the Radio ...............................33 ~ 37
/4
Last Function Memory.......................................37
/5
Initialization of the Microprocessor....................37
/6
Additional Information ...............................37 ~ 41
/7
Troubleshooting .................................................42
/8
Specifications.....................................................43
List of Preset Codes ....................................290 ~ 292
Check that the following parts are included in addition to the main unit:
q Operating instructions........................................1
w Service station list..............................................1
e Remote control unit (RC-981) ............................1
r R6P/AA batteries................................................2
t AM loop antenna................................................1
y FM indoor antenna.............................................1
u Omnidirectional microphone..............................1
Pay attention to the following before using this unit:
To prevent short circuits or damaged wires in the
connection cords, always unplug the power cord
and disconnect the connection cords between all
other audio components when moving the set.
· Before turning the power switch on
Check once again that all connections are proper
and that there are not problems with the connection
cords. Always set the power switch to the standby
position before connecting and disconnecting
· Store this instructions in a safe place
After reading, store this instructions along with the
warranty in a safe place.
· Note that the illustrations in this instructions
may differ from the actual set for explanation
Noise or disturbance of the picture may be generated
if this unit or any other electronic equipment using
microprocessors is used near a tuner or TV.
If this happens, take the following steps:
· Install this unit as far as possible from the tuner or
· Set the antenna wires from the tuner or TV away
from this unit's power cord and input/output
· Noise or disturbance tends to occur particularly
when using indoor antennas or 300 /ohms feeder
wires. We recommend using outdoor antennas
and 75 /ohms coaxial cables.
For heat dispersal, leave at least 10 cm of space
between the top, back and sides of this unit and
the wall or other components.
· Switching the input function when input jacks
A clicking noise may be produced if the input
function is switched when nothing is connected to
the input jacks. If this happens, either turn down the
MASTER VOLUME control or connect components
· Muting of PRE OUT jacks, HEADPHONE jack and
The PRE OUT jacks, HEADPHONE jack and SPEAKER
terminals include a muting circuit.
Because of this, the output signals are greatly
reduced for several seconds after the power switch
is turned on or input function, surround mode or any
other-set-up is changed. If the volume is turned up
during this time, the output will be very high after the
muting circuit stops functioning. Always wait until
the muting circuit turns off before adjusting the
· Whenever the unit is in the STANDBY state, the
apparatus is still connected on AC line voltage.
Please be sure to turn the power off (
£
off) when
you leave home for, say, a vacation.
---

Using advanced digital processing algorithms,
Dolby Digital provides up to 5.1 channels of wide-
range, high fidelity surround sound. Dolby Digital is
the default digital audio delivery system for DVD
II
x furthers the matrix decording
technology of Dolby Pro Logic
signals recorded on two channels into up to 7.1
playback channels, including the surround back
channel sources to be played in up to 7.1 channels.
The mode can be selected according to the source.
The Music mode is best suited for playing
music,the Cinema mode for playing movies, and
the Game mode for playing games. The Game
mode can only be used with 2-channel audio
II
Game mode compatibility
In addition to the previously offered Music and
Cinema modes, the AVR-2105 also offers a Game
4. DTS (Digital Theater Systems)
DTS provides up to 5.1 channels of wide-range,
high fidelity surround sound, from sources such as
laser disc, DVD and specially-encoded music discs.
5. DTS-ES Extended Surround and DTS Neo:6
The AVR-2105 can be decoded with DTS-ES
developed by Digital Theater Systems Inc.
The AVR-2105 can be also decoded with DTS
Neo:6, a surround mode allowing 6.1 channels
playback of regular stereo sources.
6. DTS 96/24 compatibility
The AVR-2105 can be decoded with sources recorded
in DTS 96/24, a multi-channel digital signal format
developed by Digital Theater Systems Inc.
DTS 96/24 sources can be played in the multi-
channel mode on the AVR-2105 with high sound
quality of 96 kHz/24 bits or 88.2 kHz/24 bits.
Use of the microphone for setup applications
measures the presence of speakers, the distance
to the speakers, and other information, and
permits automatic setup. The characteristics of
each speaker can also be corrected.
8. Future Sound Format Upgrade Capability via
For future multi-channel audio format(s), the AVR-
2105 is provided with 5.1 channel (five main
channels, plus one low frequency effects channel)
inputs, along with a full set of 7.1 channel pre-amp
outputs, controlled by the 8 channel master
volume control. This assures future upgrade
possibilities for any future multi-channel sound
The unit is equipped with a Front Input connector
for the convenient connection of a video camera
10. Video Conversion Function
The AVR-2105 is equipped with a function for
converting the signals input to the video input
connector and S-Video input connector. With this
function, the AVR-2105's monitor out connector
and the monitor (TV) can be connected with video
pin-plug cords or an S-Video connection cord.
11. Component Video Switching
In addition to composite video and "S" video
switching, the AVR-2105 provides 3 sets of
component video (Y, P
B
/C
B
, P
R
/C
R
) inputs, and one
set of component video outputs to the television,
for superior picture quality.
This function stores the surround mode last used
for an input signal in the memory and automatically
sets that surround mode the next time that signal
56-Station AM/FM Random Preset Memory tuning.
Troublesome operations such as adjusting the
delay time and other parameters according to the
listening environment are greatly simplified. The
various parameters can be set simply by selecting
the graphic displayed on the monitor screen
---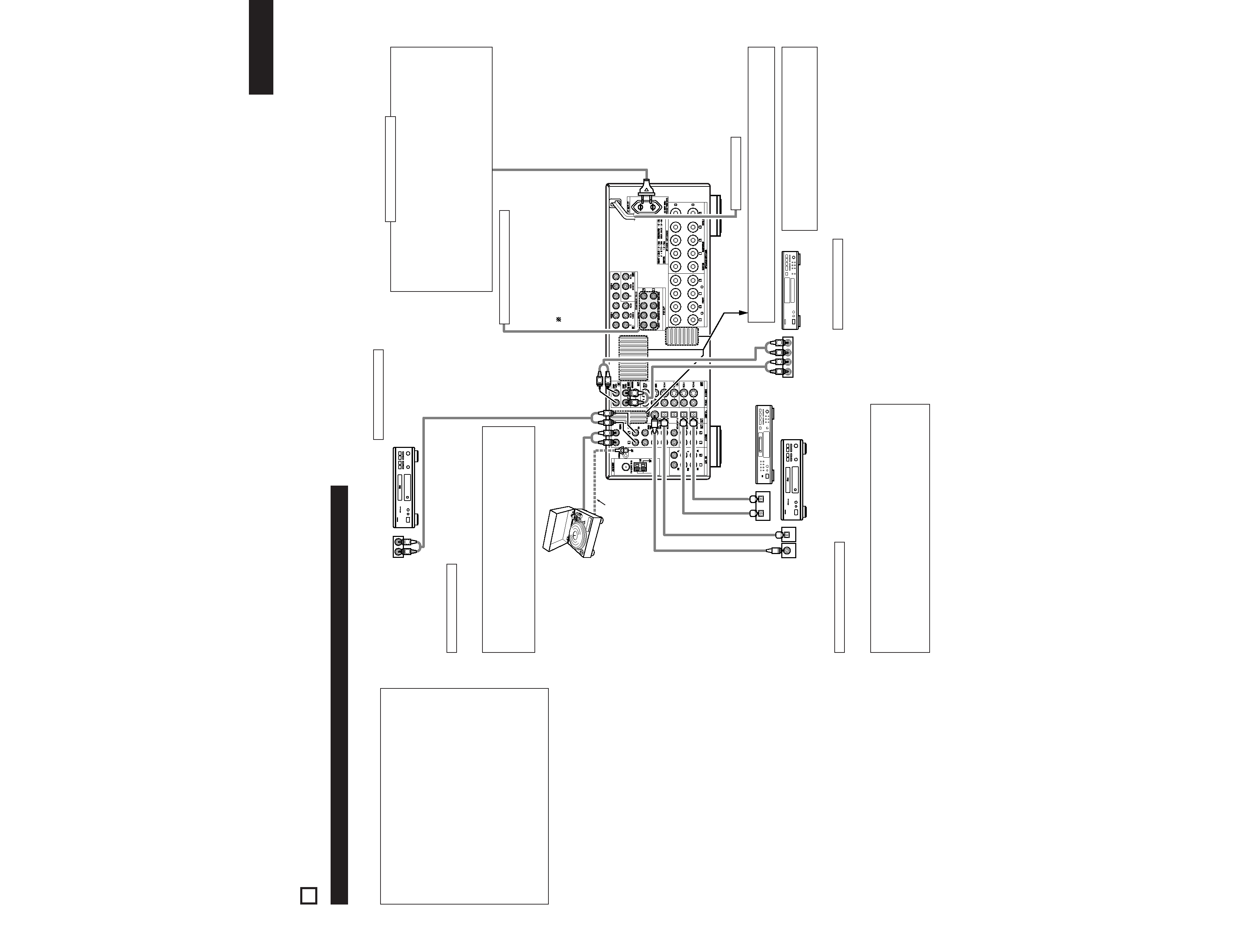 · Do not plug in the AC cord until all connections have
· Be sure to connect the left and right channels
properly (left with left, right with right).
· Insert the plugs securely. Incomplete connections
will result in the generation of noise.
· Use the AC OUTLET for audio equipment only.
Do not use them for hair driers, etc.
· Note that binding pin plug cords together with AC
cords or placing them near a power transformer will
result in generating hum or other noise.
· Noise or humming may be generated if a connected
audio equipment is used independently without
turning the power of this unit on. If this happens,
turn on the power of the this unit.
Connecting the audio components
· When making connections, also refer to the operating instructions of the other components.
Connect the CD player's analog output
jacks (ANALOG OUTPUT) to this unit's
CD jacks using pin plug cords.
Connections for recording:
Connect the tape deck's recording input jacks (LINE IN or REC) to this unit's tape
recording (CDR/TAPE OUT) jacks using pin plug cords.
Connections for playback:
Connect the tape deck's playback output jacks (LINE OUT or PB) to this unit's tape
playback (CDR/TAPE IN) jacks using pin plug cords.
·SWITCHED (total capacity ­ 100 W)
The power to these outlets is turned on and off in conjunction with
the POWER operation switch on the main unit, and when the power
is switched between on and standby from the remote control unit.
No power is supplied from these outlets when this unit's power is at
standby. Never connect equipment whose total capacity is above 100
Only use the AC OUTLET for audio equipment. Never use them for
hair driers, TVs or other electrical appliances.
MD recorder, CD recorder or
other component equipped with
digital input/output jack
Connecting the PRE OUT jacks
Use these jacks if you wish to connect
external power amplifier(s) to increase the
power of the front, center and surround sound
channels, or for connection to powered
To use Surround back with one speaker,
connect the speaker to SURR. BACK L CH.
Connect the turntable's output cord to the AVR-2105's PHONO jacks,
the L (left) plug to the L jack, the R (right) plug to the right jack.
· This unit cannot be used with MC cartridges directly. Use a
separate head amplifier or step-up transformer.
· If humming or other noise is generated when the ground wire is
connected, disconnect the ground wire.
CD player or other component
equipped with digital output jacks
Route the connection cords, etc., in such a way that they do not obstruct the
Connecting the DIGITAL jacks
Use these for connections to audio (video) equipment with digital output.
Refer to page 17 for instructions on setting this terminal.
· Use 75 /ohms cable pin cords for coaxial connections.
· Use optical cables for optical connections, removing the cap before
· The main unit's power must be turned on when recording via the AVR-
If humming noise is generated by a tape deck, etc.,
---