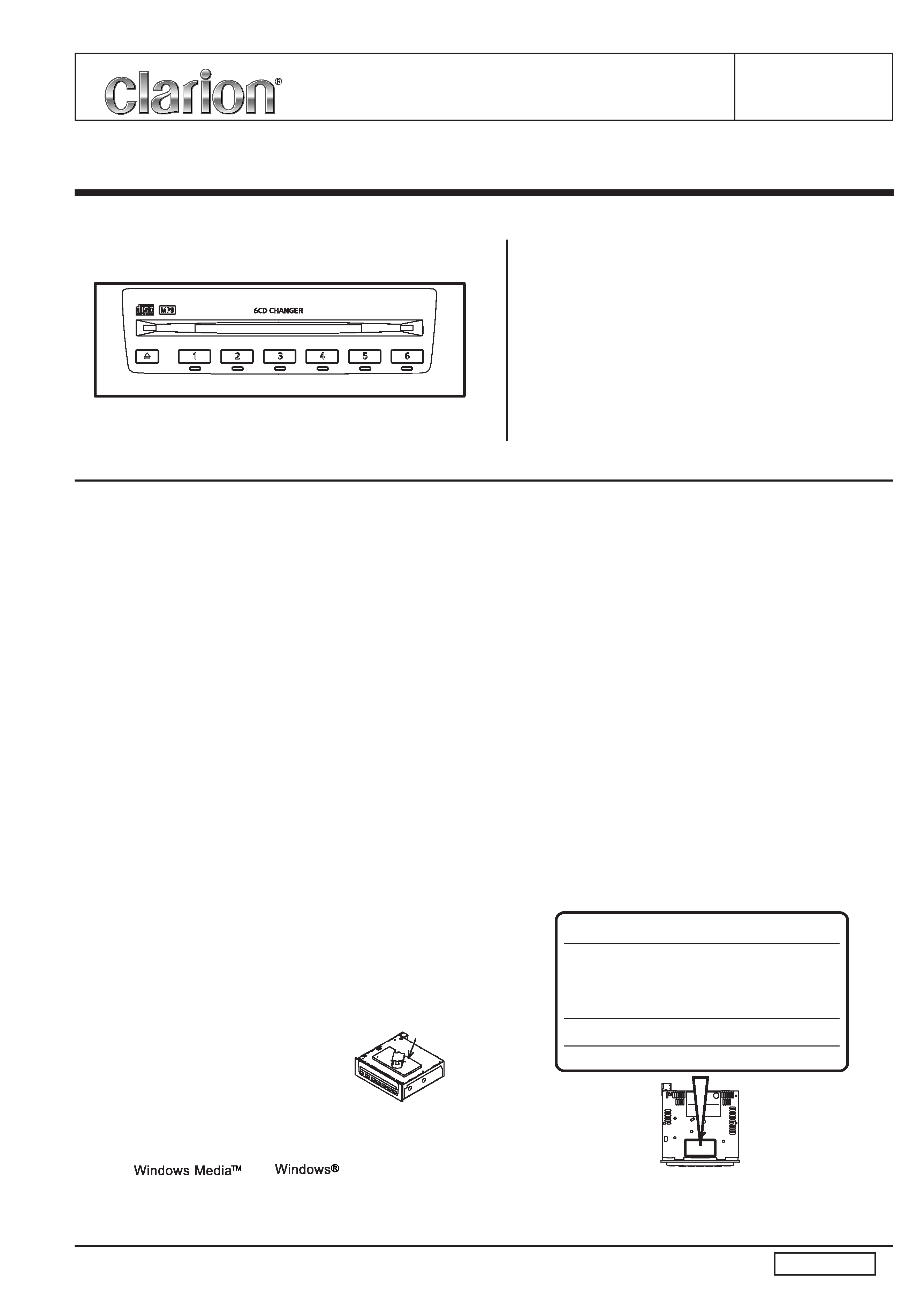 Published by Service Dept.
50 Kamitoda, Toda-shi, Saitama 335-8511 Japan
Service Dept.: 5-66 Azuma , Kitamoto-shi, Saitama 364-0007 Japan
Tel: +81-48-541-2335 / 2432 FAX: +81-48-541-2703
NISSAN Automobile Genuine
In-dash 6 Disc CD Changer
(Genuine Number 28184 JA00A)
About compact disc with MP3 or WMA:
Supported file systems; ISO9660 LEVEL1,
Sampling freq.; 8kHz - 48kHz
Sampling freq.; 32kHz - 48kHz
B/U current consumption: Less than 0.5mA
In case that main unit is transported
for repair, the lock pin(966-0653-
21) must be set to fix the mecha-
This product includes technology owned by Microsoft Corporation and
cannot be used or distributed without a license from MSLGP.
or registered trademarks of Microsoft Corporation in the
United States and/or other countries.
This product includes technology owned by Microsoft
Corporation and cannot be used or distributed without a
We cannot supply PWB with component parts in prin-
ciple. When a circuit on PWB has failure , please repair
it by component parts base. Parts which are not men-
tioned in service manual are not supplied.
Specifications and design are subject to change without
notice for further improvement.
Use of controls,adjustment,or performance of procedures
other than those specified herein,may result in hazardous
The compact disc player should not be adjusted or repaired
by anyone except properly qualified service personnel.
---

To engineers in charge of repair or
inspection of our products.
Before repair or inspection, make sure to follow the
instructions so that customers and Engineers in charge
of repair or inspection can avoid suffering any risk or
The system uses parts with special safety features against fire
and voltage. Use only parts with equivalent characteristics
The use of unspecified parts shall be regarded as remodeling
for which we shall not be liable. The onus of product liability
(PL) shall not be our responsibility in cases where an accident
or failure is as a result of unspecified parts being used.
2. Place the parts and wiring back in their original positions after
replacement or re-wiring.
For proper circuit construction, use of insulation tubes, bond-
ing, gaps to PWB, etc, is involved. The wiring connection and
routing to the PWB are specially planned using clamps to keep
away from heated and high voltage parts. Ensure that they are
placed back in their original positions after repair or inspec-
If extended damage is caused due to negligence during re-
pair, the legal responsibility shall be with the repairing com-
3. Check for safety after repair.
Check that the screws, parts and wires are put back securely
in their original position after repair. Ensure for safety reasons
there is no possibility of secondary ploblems around the re-
If extended damage is caused due to negligence of repair, the
legal responsibility shall be with the repairing company.
4. Caution in removal and making wiring connection to the parts
Disconnect the battery terminal after turning the ignition key
off. If wrong wiring connections are made with the battery con-
nected, a short circuit and/or fire may occur. If extensive dam-
age is caused due to negligence of repair, the legal responsi-
bility shall be with the repairing company.
Please do not spread liquid flux in soldering.
Please do not wash the soldering point after soldering.
6. Cautions in soldering for chip capacitors
Please solder the chip capacitors after pre-heating for replace-
ment because they are very weak to heat.
Please do not heat the chip capacitors with a soldering iron
7. Cautions in handling for chip parts.
Do not reuse removed chips even when no abnormality is ob-
served in their appearance. Always replace them with new
ones. (The chip parts include resistors, capacitors, diodes, tran-
Please make an operation test after replacement.
8. Cautions in handling flexible PWB
Before working with a soldering iron, make sure that the iron
tip temperature is around 270
. Take care not to apply the
iron tip repeatedly(more than three times)to the same patterns.
Also take care not to apply the tip with force.
9. Turn the unit OFF during disassembly and parts replacement.
Recheck all work before you apply power to the unit.
10. Cautions in checking that the optical pickup lights up.
The laser is focused on the disc reflection surface through the
lens of the optical pickup. When checking that the laser opti-
cal diode lights up, keep your eyes more than 30cms away
from the lens. Prolonged viewing of the laser within 30cms
may damage your eyesight.
11. Cautions in handling the optical pickup
The laser diode of the optical pickup can be damaged by elec-
trostatic charge caused by your clothes and body. Make sure
to avoid electrostatic charges on your clothes or body, or dis-
charge static electricity before handling the optical pickup.
The laser diode terminals are shorted for transportation in or-
der to prevent electrostatic damage. After replacement, open
the shorted circuit. When removing the pickup from the mecha-
nism, short the terminals by soldering them to prevent this
The actuator has a powerful magnetic circuit. If a magnetic
material is put close to it. Its characteristics will change. En-
sure that no foreign substances enter through the ventilation
Dust on the optical lens affects performance.
To clean the lens, apply a small amount of isopropyl alcohol to
lens paper and wipe the lens gently.
---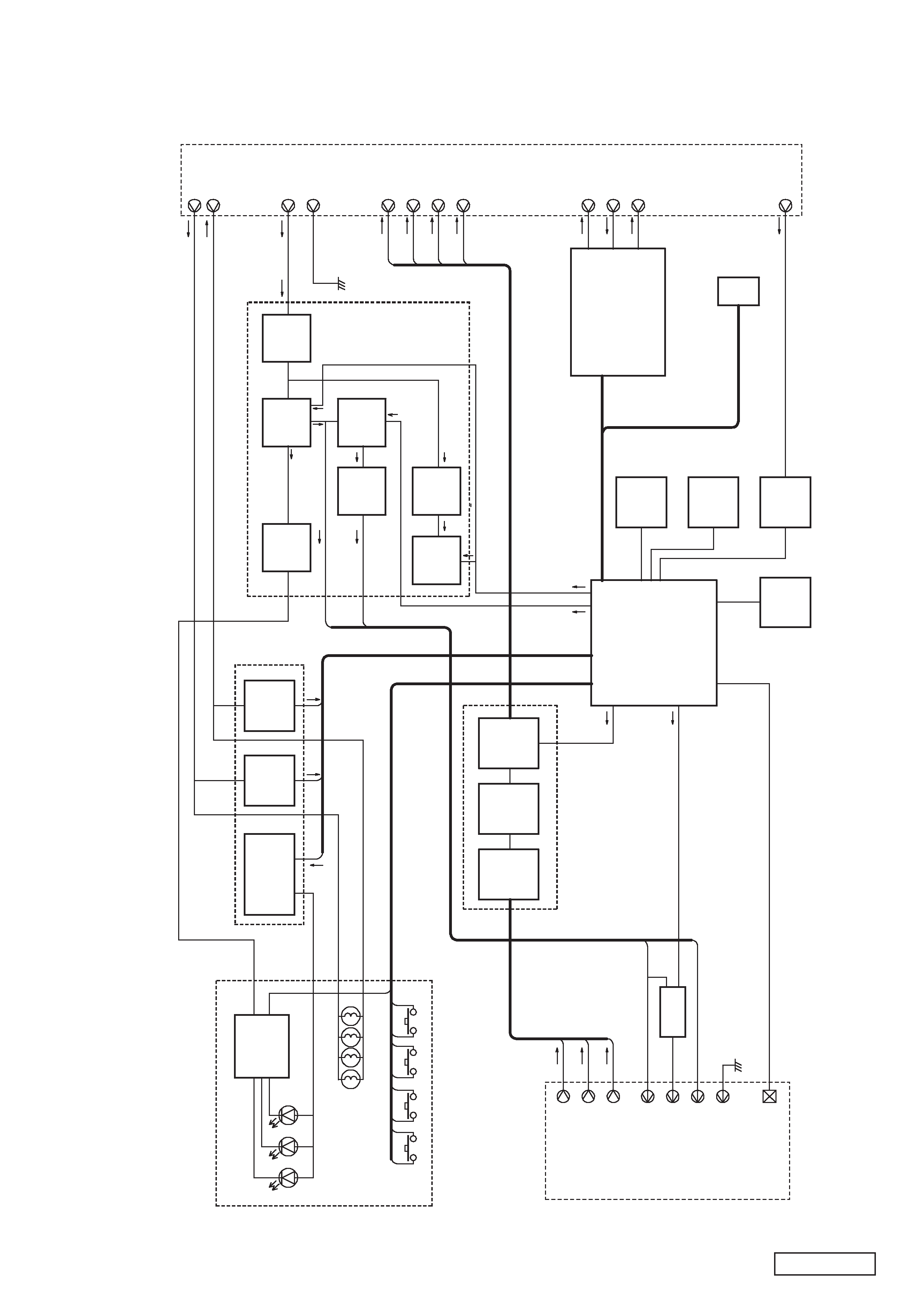 ---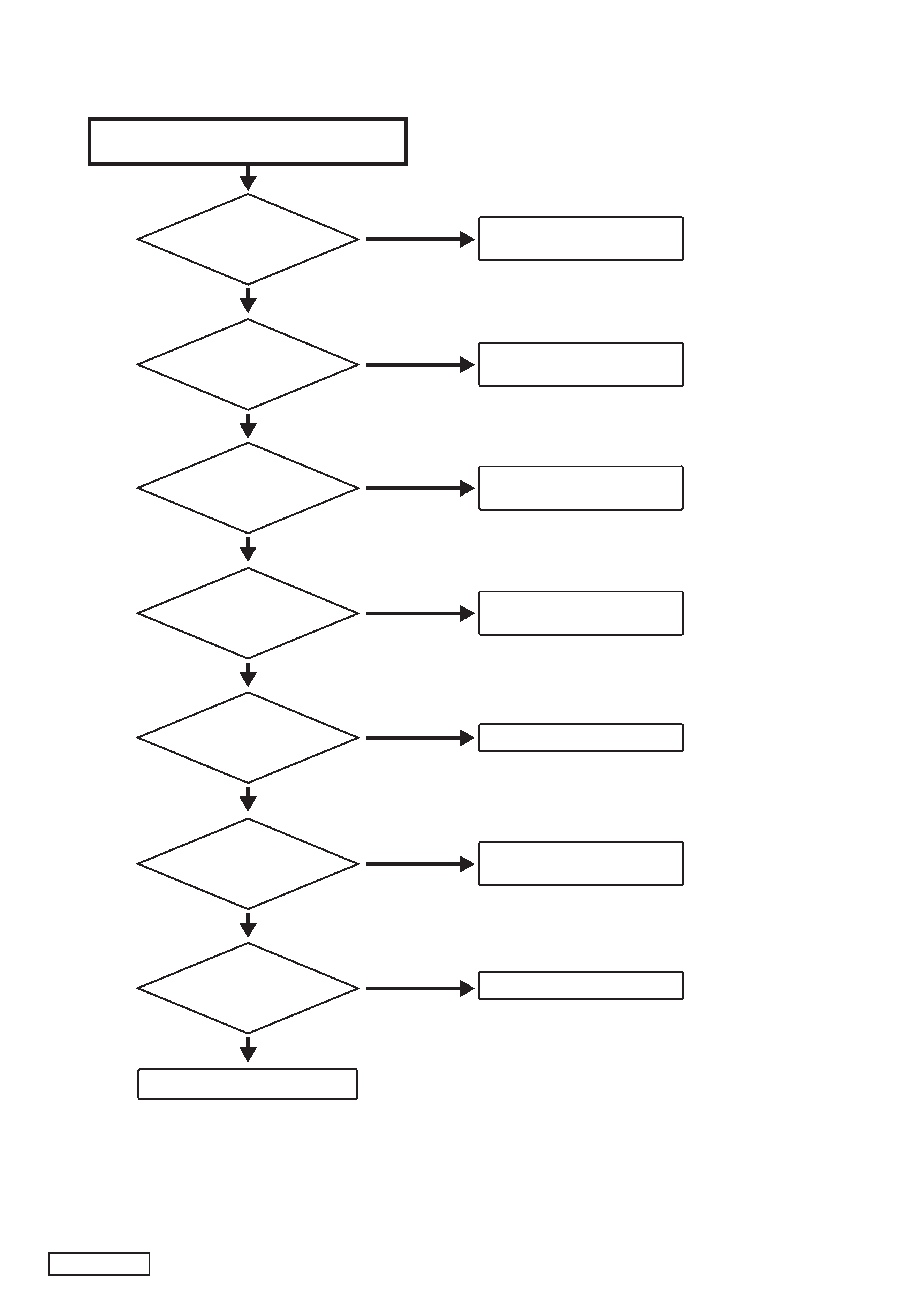 (When the disk is not checked)
CHECKPOINT :
Choke coil T101
CHECKPOINT : Connector J103
CHECKPOINT : Terminal of IC101
CHECKPOINT : Around IC101
CHECKPOINT : Terminal of Q104
CHECKPOINT : Terminal of Q102
CHECKPOINT : Terminal of IC601
CHECKPOINT : Around IC601
CHECKPOINT : Flexible PWB
---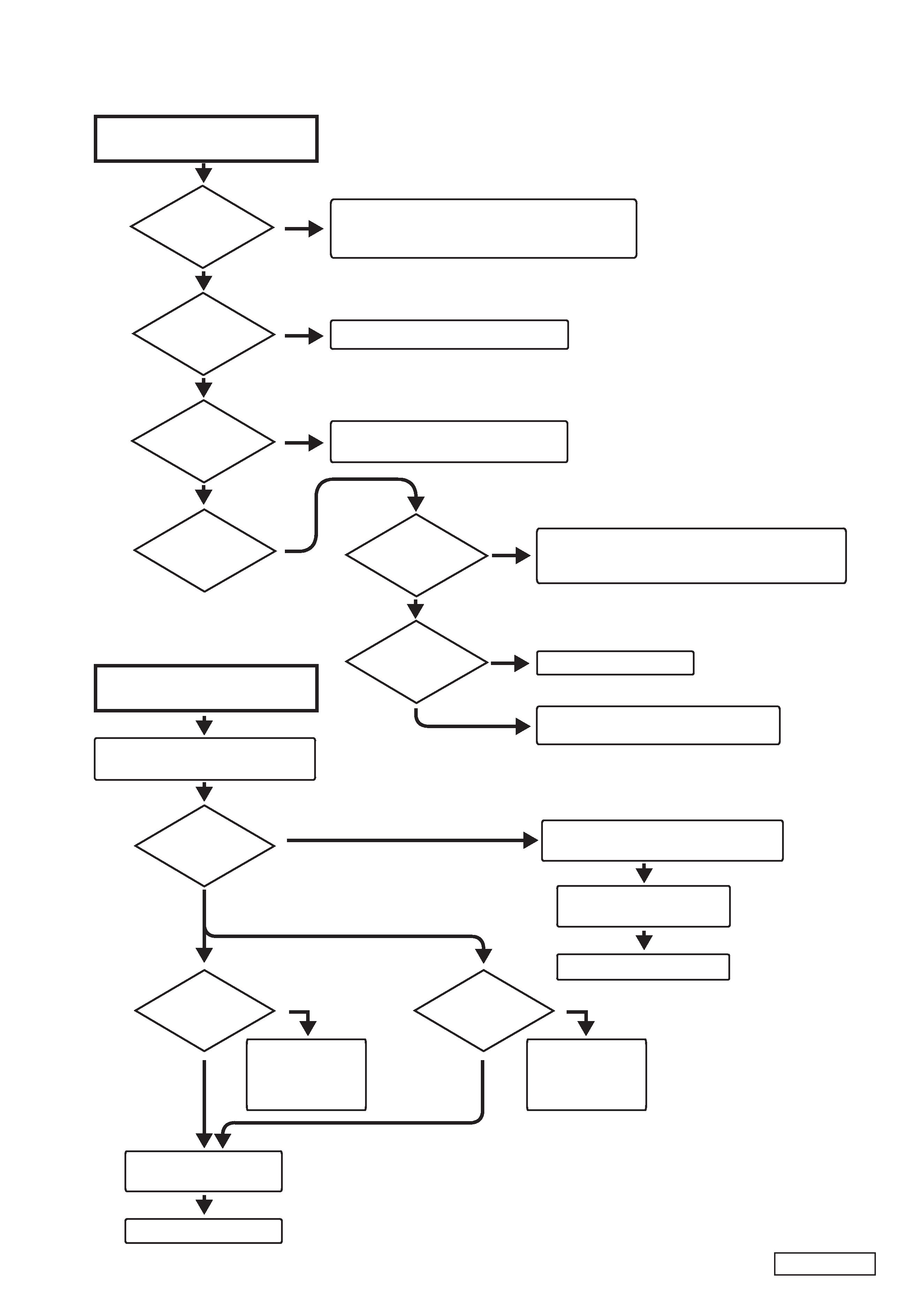 CHECKPOINT : Connection of flat wire of escutcheon
CHECKPOINT : Pin 68 to pin 73 of IC505
CHECKPOINT : CCT502, CCT503
CHECKPOINT : Pin 43 to pin 48 of IC505
CHECKPOINT : PT1 to PT6 of IC505
CHECKPOINT : TP CD3.3V(TP145)
CHECKPOINT : TP P-ON2(TP147)
CHECKPOINT : Connection of flat wire of mechanism
CHECKPOINT : IC201, IC202
CHECKPOINT : Around IC201 and IC202
Illumination doesn't turn on
Connection of flat wire of escutcheon
CHECKPOINT : TP ILL - (TP114,180)
Pin 63 to pin 66 of IC505
---