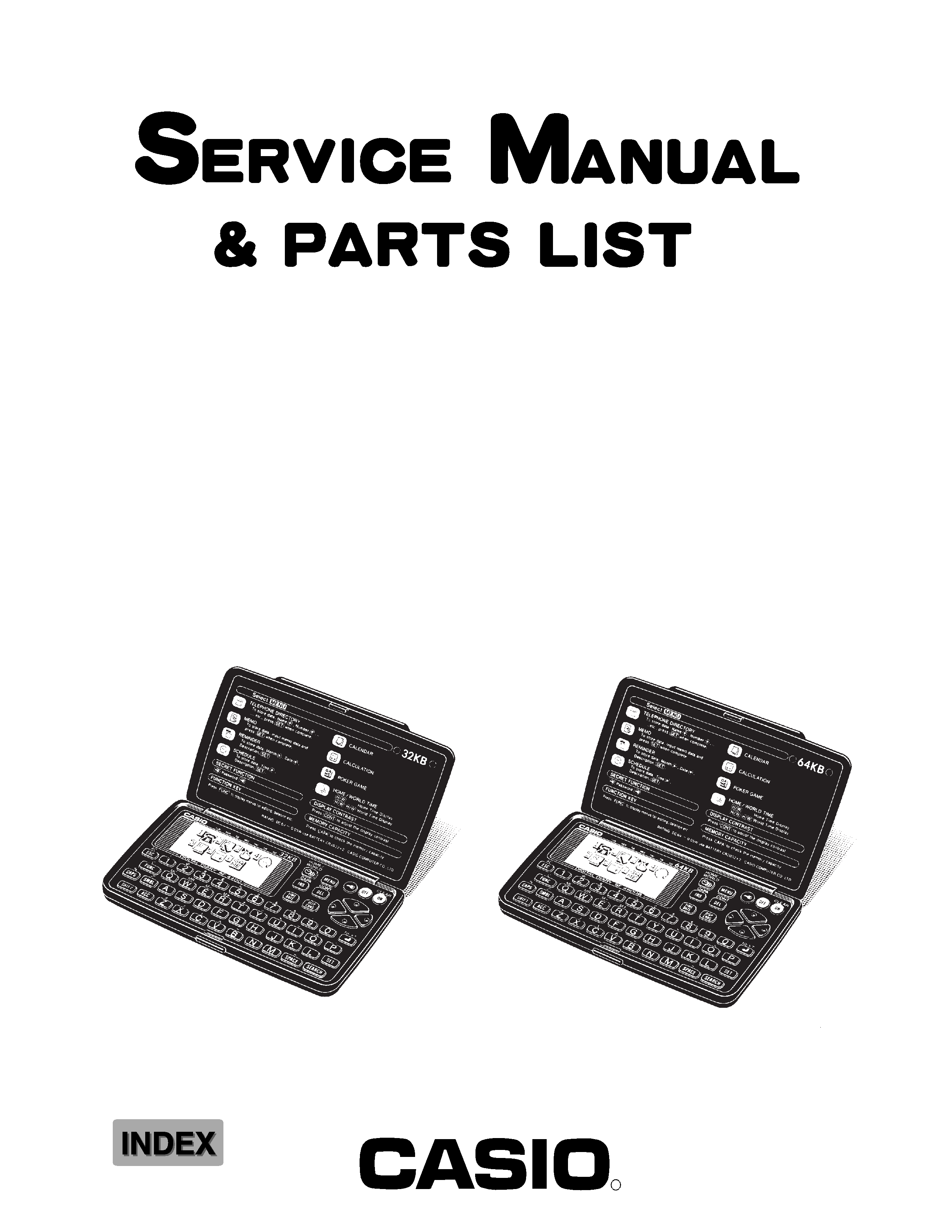 ---
SCHEMATIC DIAGRAM .................................................................................................... 1
1-1. MAIN PCB .................................................................................................................. 1
1-2. KEY MATRIX ............................................................................................................. 2
SPECIFICATIONS ............................................................................................................. 3
TO REPLACE THE BATTERIES ....................................................................................... 5
DATA TRANSFER ............................................................................................................. 6
OPERATION REFERENCE ............................................................................................. 10
5-1. RESET OPERATION ............................................................................................... 10
5-2. TO ADJUST THE DISPLAY CONTRAST ............................................................... 11
5-3. TO CHECK THE MEMORY STATUS ...................................................................... 11
5-4. THE SOUND MENU ................................................................................................. 11
LSI, IC (Pin function) ...................................................................................................... 12
6-1. CPU .......................................................................................................................... 12
µ
PD43256G-101215LL (LSI2,LSI3) ............................................................... 13
6-3. VOLTAGE REGULATOR:S-81253SGUP (REG1) .................................................. 14
6-4. VOLTAGE DETECTOR:S-80752AN (DET1) ........................................................... 14
TROUBLESHOOTING ..................................................................................................... 15
HARD CHECK ................................................................................................................. 18
ASSEMBLY VIEW ........................................................................................................... 23
10. PARTS LIST .................................................................................................................... 25
---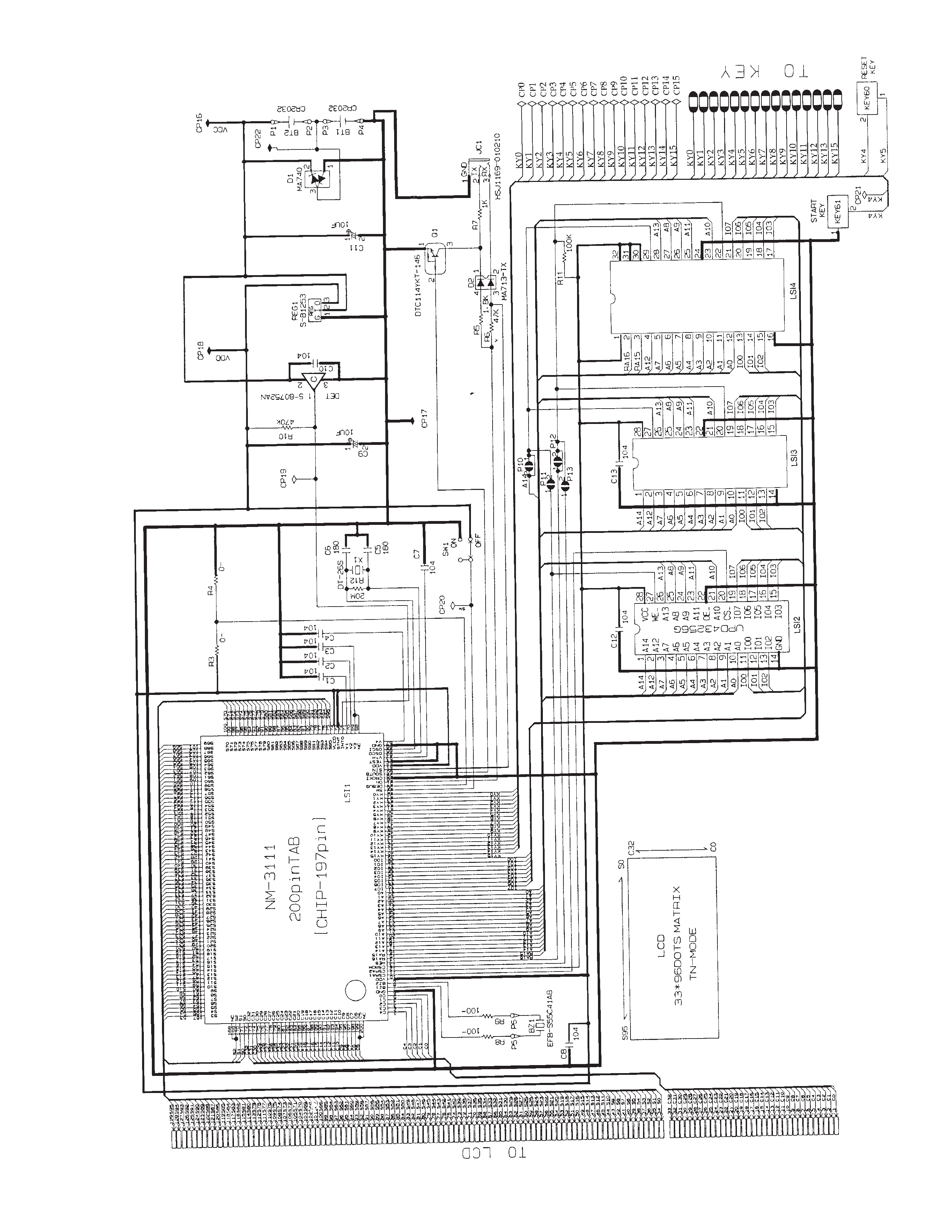 NOTE: 1. LSI4, R3, R11 are not mounted.
---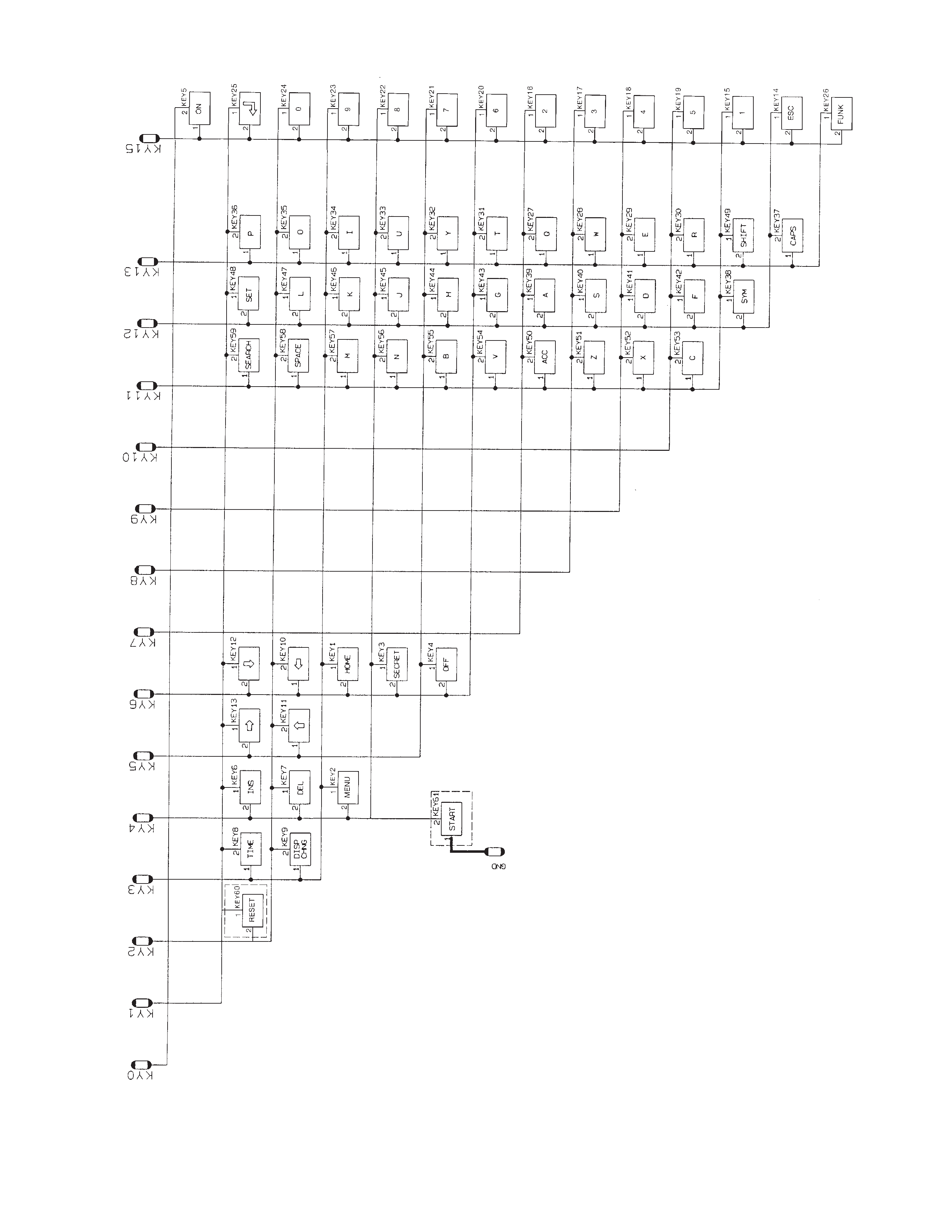 ---

Storage and recall of telephone, memo, schedule, reminder data; calendar display; secret area; editing;
World time; reminder alarm; schedule alarm; daily alarm; accuracy under normal temperatures:
10-digit arithmetic calculations; arithmetic constants (+, ­, x,
÷); independent memory; percentages;
square roots; 20-digit approximations; date calculations; other mixed calculations.
SF-4600B: 64 KB (61347 bytes)
2 lithium batteries (CR2032)
Approximately 450 hours continuous operation in Telephone Directory
Approximately 380 hours repeating one minute of input and 10 minutes of display in Telephone
Approximately 12 months for memory backup
Approximately 6 minutes after last key operation
10.6H x 141W x 159.5Dmm (
3
/
8
"H x 5
1
/
2
"W x 6
1
/
4
"D)
12.4H x 141W x 82Dmm (
1
/
2
"H x 5
1
/
2
"W x 3
1
/
4
"D)
The 64K bytes memory capacity (32K bytes for SF-4400) includes a 61347 bytes user area (28579
bytes for SF-4400). The following shows examples of what this means for the storage of data in
Approximately 2920 (1360 for SF-4400), under the following conditions:
10-character telephone number
---