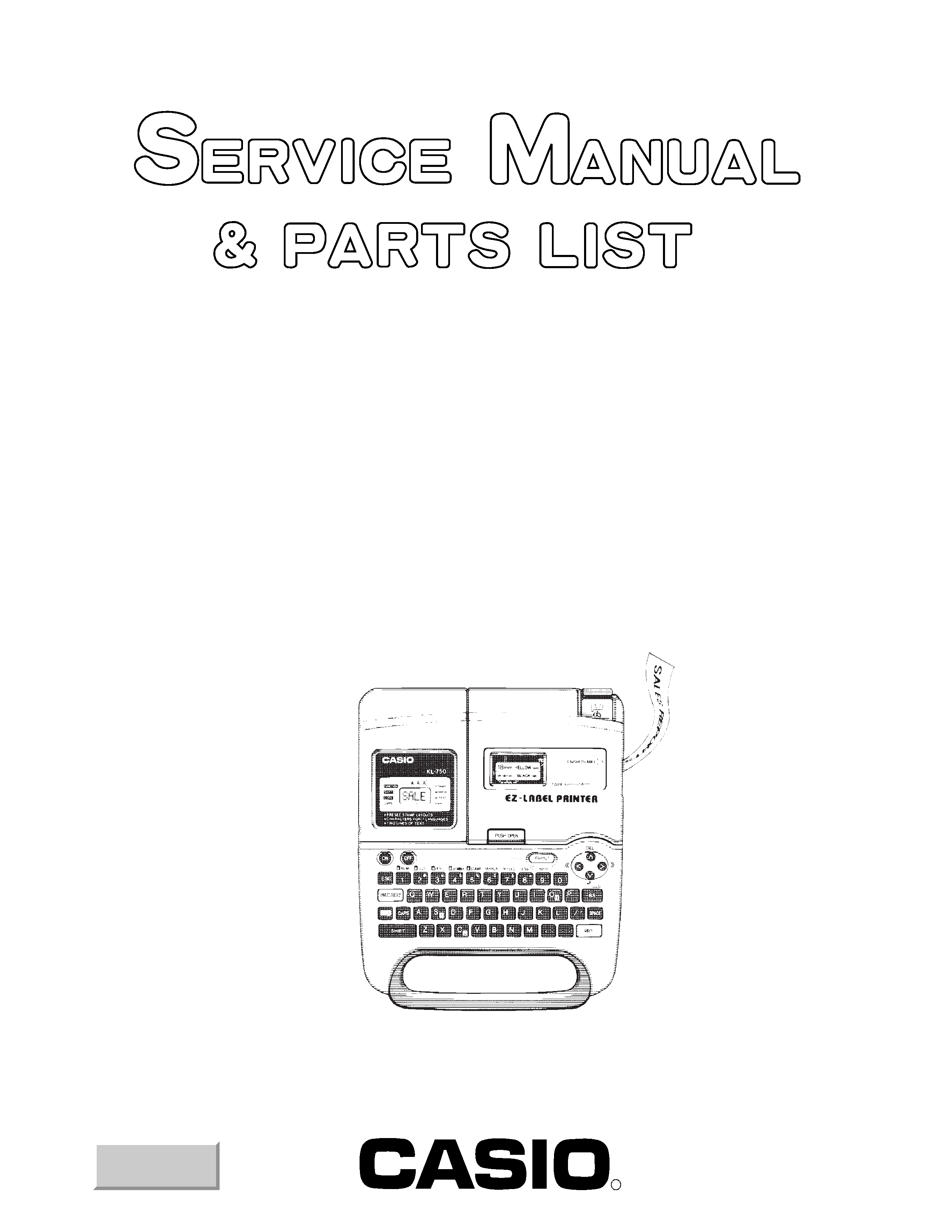 ---

1. SPECIFICATIONS -------------------------------------------------------------------------------- 1
2. CLEANING THE PRINTER HEAD AND ROLLER --------------------------------------- 2
3. RESET OPERATION ----------------------------------------------------------------------------- 2
4. PRECAUTIONS ------------------------------------------------------------------------------------ 3
5. MEASUREMENT ---------------------------------------------------------------------------------- 3
6. LSI PIN FUNCTION ------------------------------------------------------------------------------- 4
7. BLOCK DIAGRAM (LSI1) ---------------------------------------------------------------------- 5
8. DIAGNOSTIC PROGRAM ---------------------------------------------------------------------- 6
9. MESSAGES -------------------------------------------------------------------------------------- 10
10. DISASSEMBLY PROCEDURE -------------------------------------------------------------- 11
11. SCHEMATIC DIAGRAMS -------------------------------------------------------------------- 12
PARTS LIST (COMPONENTS) -------------------------------------------------- 14
PARTS LIST (CHASSIS ASS'Y) ------------------------------------------------ 18
13-1-1. EXPLODED VIEW (COMPONENTS) ------------------------------------------ 16
13-1-2. DISASSEMBLY VIEW (Z554-1 ASS'Y) --------------------------------------- 17
13-2-1. DISASSEMBLY VIEW (CHASSIS ASS'Y-1) --------------------------------- 19
13-2-2. DISASSEMBLY VIEW (CHASSIS ASS'Y-2) --------------------------------- 20
---

Alpha (English and other languages):
Approximately 6.67 mm/second
4 mm (6 mm tape) or 8 mm (other tape)
× 1, 1 × 2, 1 × 3, 2 × 1, 2 × 2, 2 × 3
1 (6 mm tape); 1 or 2 (other tapes)
Up to approximately 126 characters (total storage for
Eight AA-size batteries or optional AD-A95100 AC adap-
Approximately 1 tape cartridge (continuous printing)
Approximately six minutes after last key operation.
°C ~ 35 °C (50 °F ~ 95 °F)
Threshold of voltage detection
Note: Vbat+ is the voltage of BT+ pad in the Z554-1 ass'y. Refer to 3 page in this manual.
---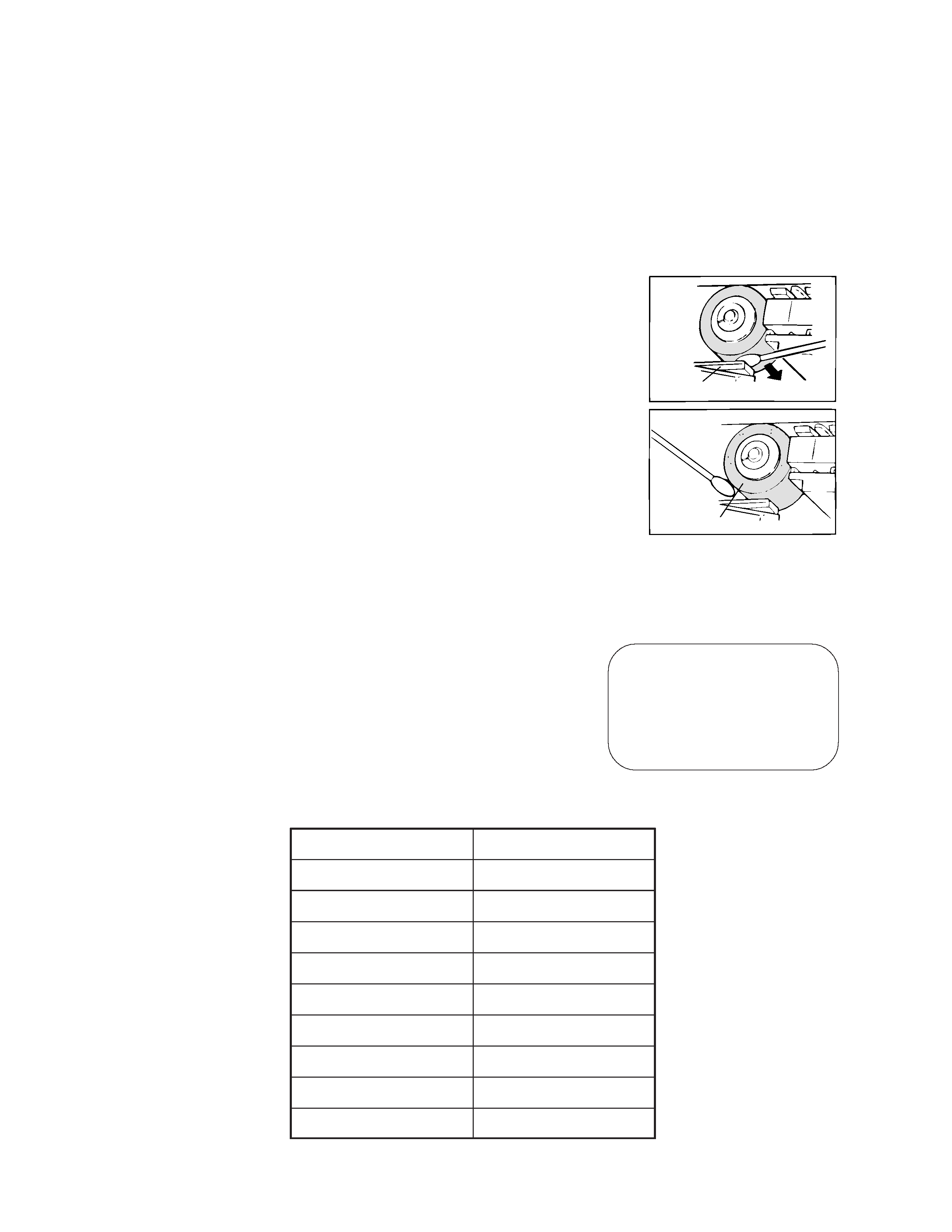 2. CLEANING THE PRINTER HEAD AND ROLLER
A dirty printer head and roller can result in poor printing quality. If you have problems with print quality,
use the following procedure to clean the printer head and roller.
To clean the printer head and roller
1. Make sure the Label Printer is turned off.
2. Press the tape cartridge compartment cover release and open the compartment cover.
3. Remove the tape cartridge.
4. Use a cotton swab dipped in alcohol to clean the printer head and
roller as shown in the illustration (Figure-1).
5. Replace the tape cartridge and close the compartment cover.
2. While holding down the PRINT and ESC keys, press ON to
3. Keeping PRINT and ESC held down, release the ON key only.
This prompt confirms whether or not you want to initialize the
4. Press SET to initialize the Label Printer or ESC to abort the
The following table shows the initial settings.
---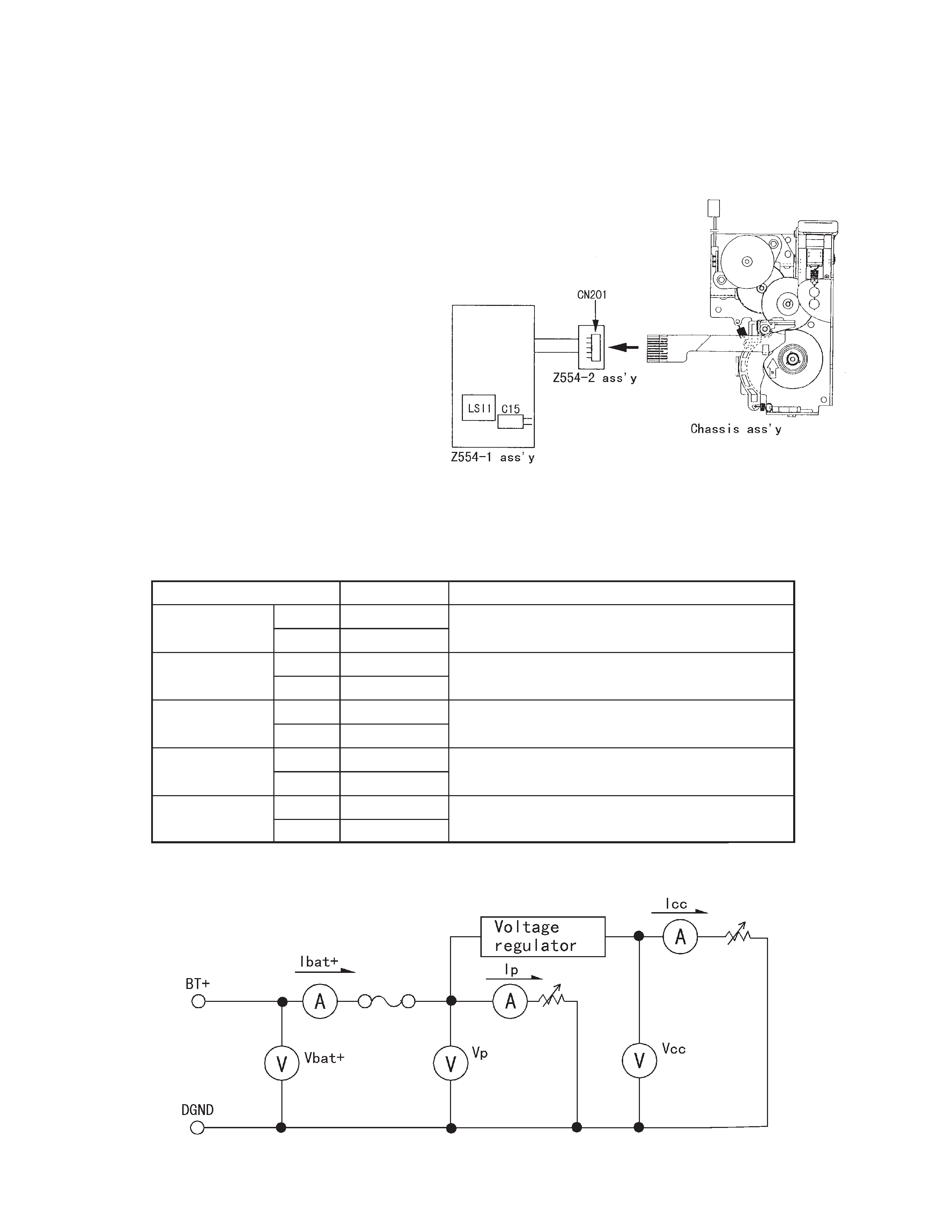 To prevent damage of the thermal head caused by static electricity when assembling the chassis
ass'y into the unit, the following steps must be followed;
1. Turn the power switch off.
2. Discharge the capacitor C15 (2200
3. Connect the FPC of chassis ass'y into a connector CN201 of the Z554-2
4. Assemble the chassis ass'y.
5. Turn the power switch on.
(Refer to the Disassembly view
(Z554-1 ass'y) of 17 page.))
Measure each value according to the following table and figure, if necessary.
When printing at diagnostic program PRINT
Turning power switch off.
Note: Ibat+ = Power source (Batteries)
---