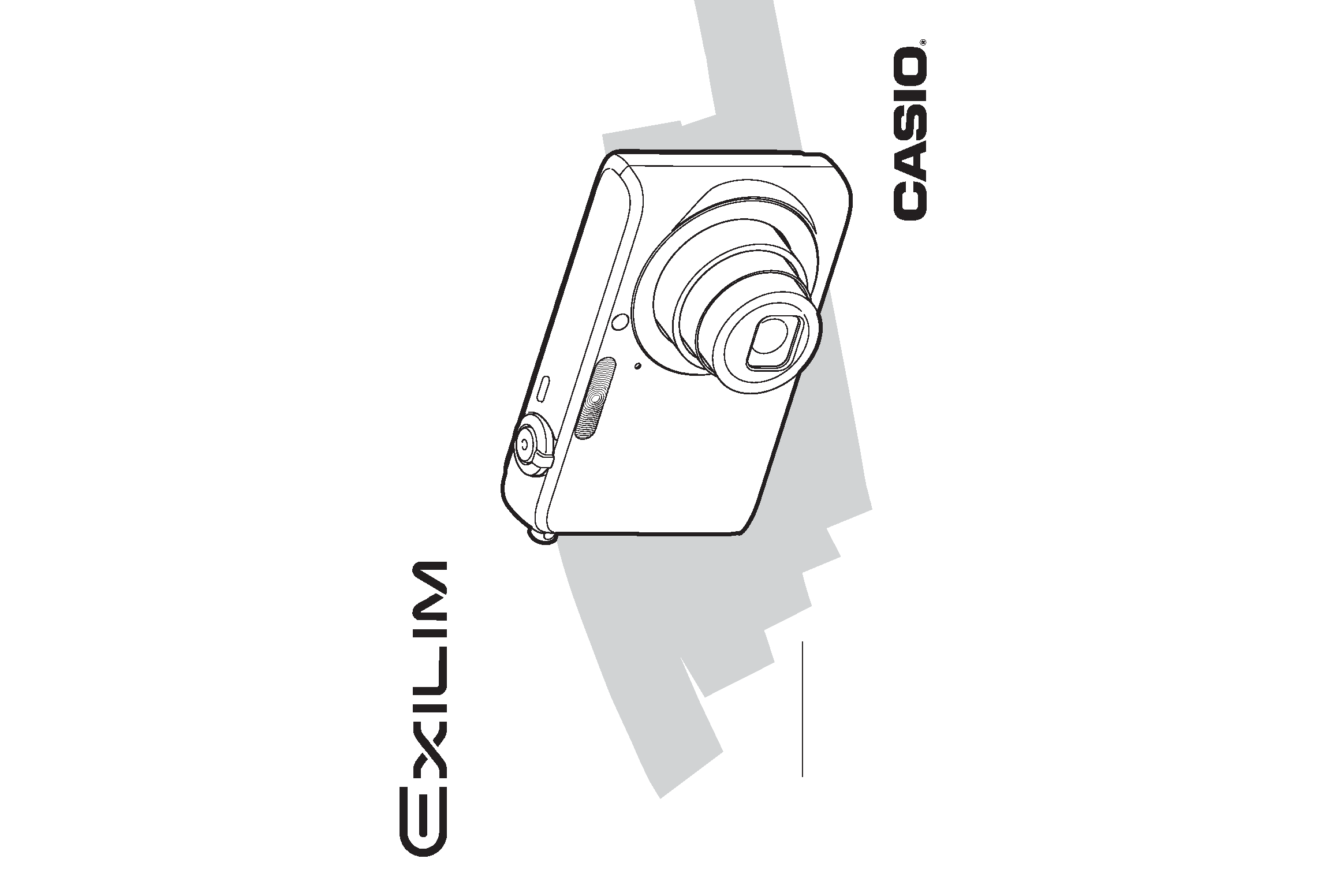 Thank you for purchasing this CASIO product.
· Before using it, be sure to read the precautions
contained in this User's Guide.
· Keep the User's Guide in a safe place for future
· For the most up-to-date information about this
product, visit the official EXILIM
Website at http://www.exilim.com/.
---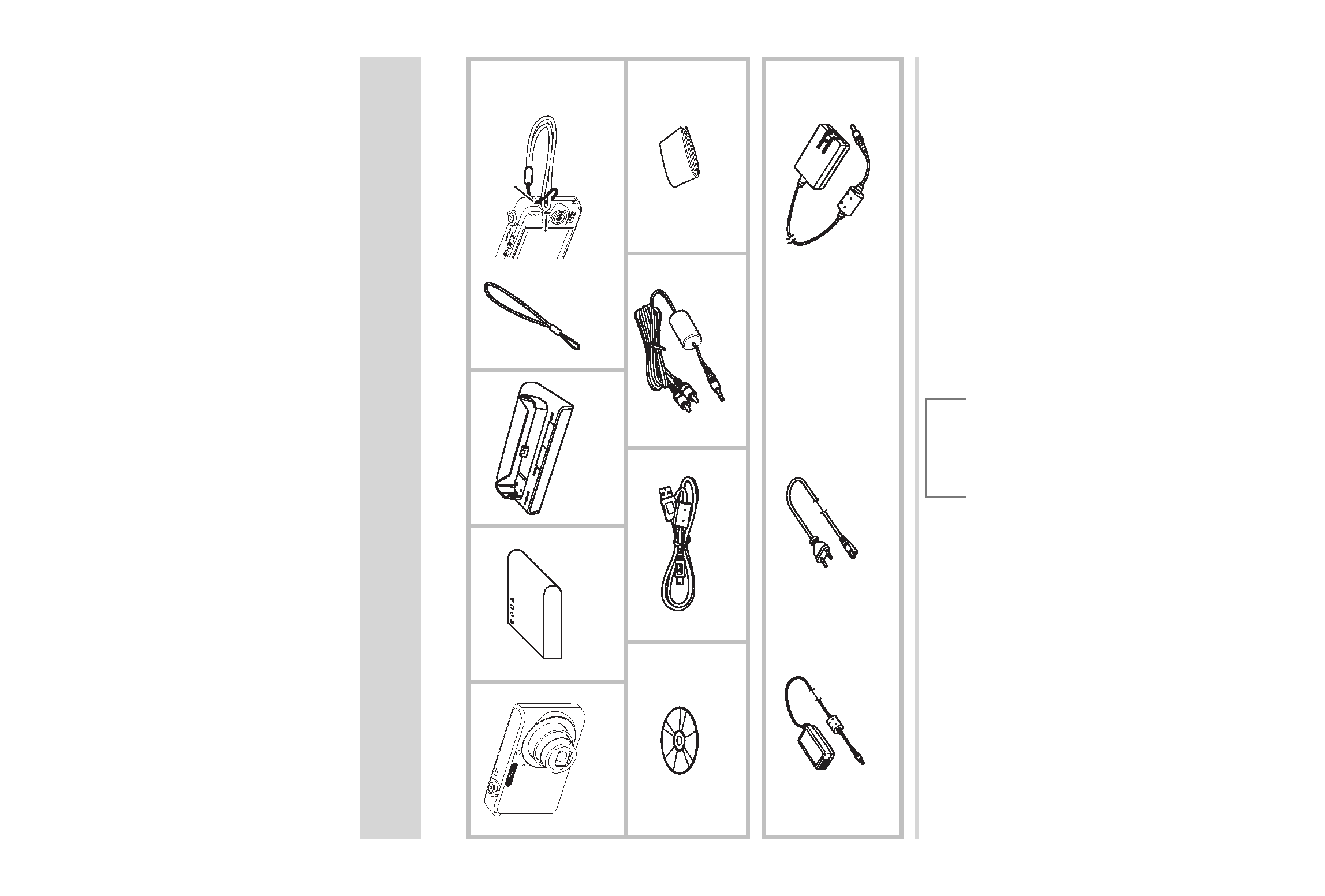 As you unpack your camera, check to make sure that all items shown below are included. If anything is missing, contact your original
· Note that the shape of the AC adaptor depends on the area where you purchased the camera.
To attach the strap to the camera
Special AC Adaptor (Inlet Type)
Special AC Adaptor (Plug-in Type)
The shape of the AC power
cord plug varies according to
country or geographic area.
---

First, charge the battery . . . . . . . . . . . . . . . . . . . . . 10
Configuring Display Language, Date,
and Time Settings . . . . . . . . . . . . . . . . . . . . . . . . . . 12
Using a Memory Card . . . . . . . . . . . . . . . . . . . . . . . 14
Shooting a Snapshot . . . . . . . . . . . . . . . . . . . . . . . . 16
Viewing Snapshots . . . . . . . . . . . . . . . . . . . . . . . . . 18
Shooting a Movie . . . . . . . . . . . . . . . . . . . . . . . . . . . 19
Viewing a Movie . . . . . . . . . . . . . . . . . . . . . . . . . . . . 20
Deleting a File . . . . . . . . . . . . . . . . . . . . . . . . . . . . . 21
Features . . . . . . . . . . . . . . . . . . . . . . . . . . . . . . . . . . 22
Read this first! . . . . . . . . . . . . . . . . . . . . . . . . . . . . . 24
Precautions during Use . . . . . . . . . . . . . . . . . . . . . 26
Charging the Battery . . . . . . . . . . . . . . . . . . . . . . . . 36
Turning Power On and Off . . . . . . . . . . . . . . . . . . . 42
Using a Memory Card . . . . . . . . . . . . . . . . . . . . . . . 45
Loading a Memory Card into the Camera
Replacing the Memory Card
Using On-screen Menus . . . . . . . . . . . . . . . . . . . . . 51
Configuring Monitor Screen Settings
Selecting a Screen Layout (Layout)
Turning Display Information On and Off (Info.)
Adjusting Monitor Screen Brightness (Brightness) 58
Adjusting Monitor Screen Image Quality (Type)
If you lose your way... . . . . . . . . . . . . . . . . . . . . . . . 60
Using the Camera on a Trip . . . . . . . . . . . . . . . . . . 61
Using the Camera in another Country
---

Holding the Camera Correctly . . . . . . . . . . . . . . . . 62
Shooting a Snapshot . . . . . . . . . . . . . . . . . . . . . . . . 63
Turning Off the AF Assist Lamp
Snapshot Shooting Precautions
Shooting with Zoom . . . . . . . . . . . . . . . . . . . . . . . . 72
Using Instant Zoom . . . . . . . . . . . . . . . . . . . . . . . . . 75
Using Flash . . . . . . . . . . . . . . . . . . . . . . . . . . . . . . . 76
Using the Self-Timer . . . . . . . . . . . . . . . . . . . . . . . . 81
Using Continuous Shutter . . . . . . . . . . . . . . . . . . . 83
Selecting the Continuous Shutter Mode
Recording with Normal-speed Continuous
Shutter, High-speed Continuous Shutter,
and Flash Continuous Shutter
Recording with Zoom Continuous Shutter
Continuous Shutter Precautions
Adding Audio to a Snapshot . . . . . . . . . . . . . . . . . 87
Movie Image Quality . . . . . . . . . . . . . . . . . . . . . . . . 89
Shooting a Movie . . . . . . . . . . . . . . . . . . . . . . . . . . . 90
Movie Recording Precautions
Reducing the Effects of Hand and Subject
Movement . . . . . . . . . . . . . . . . . . . . . . . . . . . . . . . . . 98
Taking Bright Images without Flash . . . . . . . . . . 100
Shooting Images of Business Cards
and Documents (Business Shot) . . . . . . . . . . . . . 101
Shooting ID Photographs . . . . . . . . . . . . . . . . . . . 103
Restoring an Old Photograph. . . . . . . . . . . . . . . . 106
---

Changing the Focus Mode . . . . . . . . . . . . . . . . . . 109
Using Fixed Focus (Pan Focus)
Correcting Image Brightness (EV Shift) . . . . . . . 118
Controlling White Balance . . . . . . . . . . . . . . . . . . 120
Specifying ISO Sensitivity . . . . . . . . . . . . . . . . . . 123
Specifying the Metering Mode . . . . . . . . . . . . . . . 124
Using the Camera's Filter Effects . . . . . . . . . . . . 126
Controlling Image Sharpness . . . . . . . . . . . . . . . . 126
Controlling Color Saturation . . . . . . . . . . . . . . . . 127
Adjusting Image Contrast . . . . . . . . . . . . . . . . . . . 127
Date Stamping Snapshots . . . . . . . . . . . . . . . . . . 128
Using the On-screen Histogram to
Check Exposure. . . . . . . . . . . . . . . . . . . . . . . . . . . 129
Other Useful Recording Functions . . . . . . . . . . . 132
Using Key Customize to Assign Functions
Displaying an On-screen Grid
Displaying the Image You Just Recorded
Configure Power On Default Settings
Its Initial Factory Defaults
VIEWING SNAPSHOTS AND MOVIES139
Viewing a Snapshot . . . . . . . . . . . . . . . . . . . . . . . . 139
Listening to the Audio of an Audio Snapshot
Viewing a Movie . . . . . . . . . . . . . . . . . . . . . . . . . . . 141
Playing a Slideshow on the Camera . . . . . . . . . . 143
Viewing Camera Images on a TV . . . . . . . . . . . . . 147
Zooming the Displayed Image . . . . . . . . . . . . . . . 150
Using the 12-image Screen . . . . . . . . . . . . . . . . . . 151
Using the Calendar Screen . . . . . . . . . . . . . . . . . . 151
---