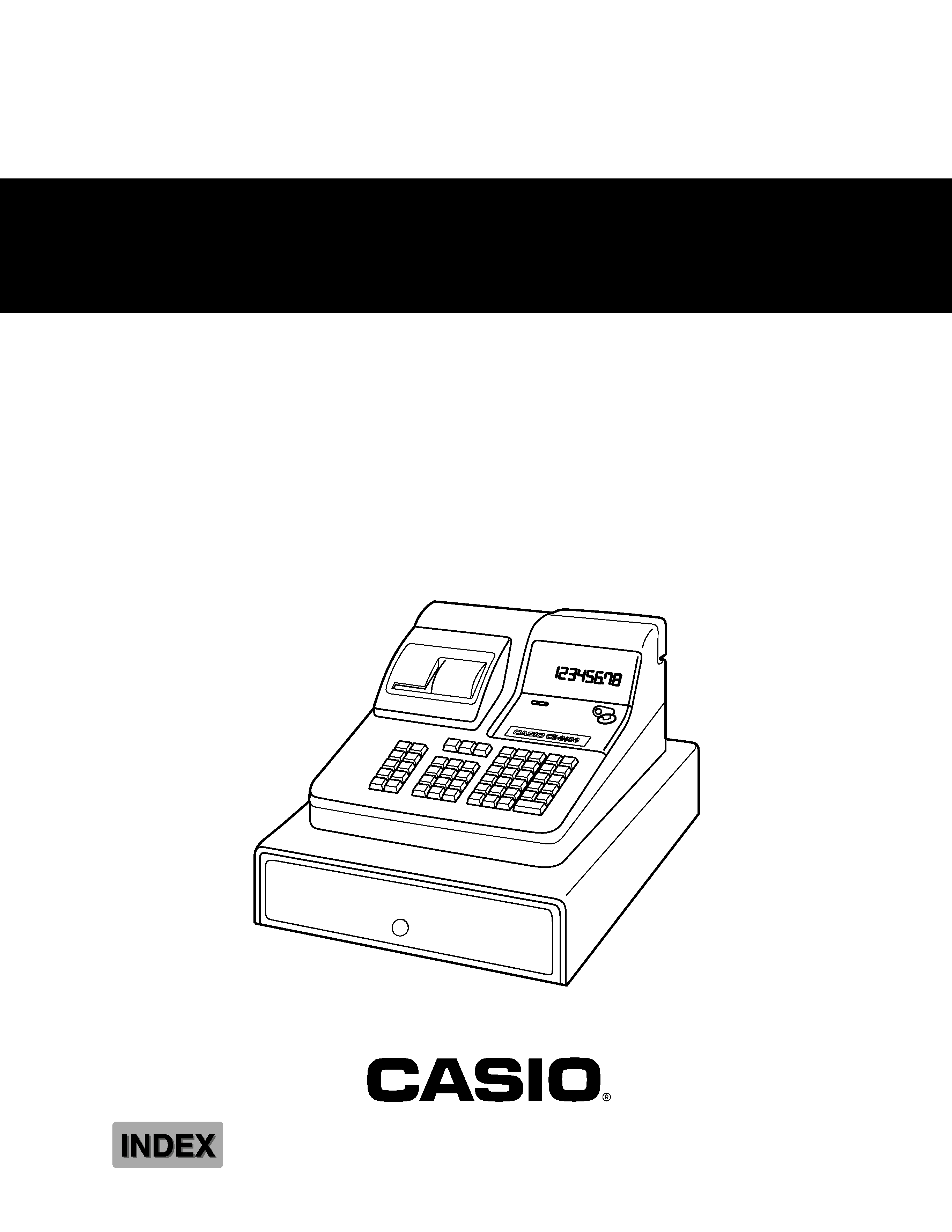 ---

1. FEATURES ................................................................................................... 1
2. SPECIFICATIONS ........................................................................................ 1
3. MAC (Memory All Clear) OPERATION ....................................................... 2
4. DIAGNOSTIC OPERATION ......................................................................... 3
4-1. How to Start ................................................................................................................. 3
4-2. Mode switch and PAD status display check ............................................................. 4
4-3. Hard key code check .................................................................................................. 4
4-4. Hard check function .................................................................................................... 5
4-4-1. Display, RAM, drawer and printer check ........................................................ 5
4-4-2. RAM read only check ....................................................................................... 6
4-4-3. Voltage check of memory back-up battery ..................................................... 6
4-4-4. All characters print check ................................................................................ 7
4-4-5. Display the time ................................................................................................ 7
4-4-6. How to release the diagnostic mode ............................................................... 7
5. OPTION CIRCUIT ......................................................................................... 8
6. CIRCUIT EXPLANATION ............................................................................. 9
6-1. Power supply circuit ................................................................................................... 9
µ
PD75517GF-400-3B9) .................................................................................... 11
6-3. Motor error detection circuit .................................................................................... 12
6-4. Mode key switch status read ................................................................................... 13
6-5. RAM address/head drive signal switching circuit .................................................. 13
6-6. Initialize IC (Reset IC) ................................................................................................ 14
6-7. Printer error condition of CPU ................................................................................. 14
6-8. Error code .................................................................................................................. 14
7. TO OPEN THE UPEER CASE ................................................................... 15
8. PCB LAYOUT............................................................................................. 16
9. CIRCUIT DIAGRAM ................................................................................... 17
10. PARTS LIST ............................................................................................... 28
---

1.5 G (The machine must be in the carton box)
Replace the battery every year.
±120 sec. per month (25 °C)
Effective until 2099 A.D.
The difference between CE-2350 and CE-2400 is as follows.
2-1. Electrical specifications
2-2. Environmental specifications
2-3. Principal components
---

Rubber-type inner-hummer printing system
2 receipt (Receipt & Journal)
(Numeric: 10 digits, Symbol: 2 digits)
DL-2416 (D-15TC-A55SP-1*) M type drawer
· Power protection battery (B-6)
Approx. 3 hours with the following conditions
Registered amounts: 3 digits/item
Number of customer: 25 persons/hour
3. MAC (Memory All Clear) OPERATION
(1) Plug the power cord into an outlet.
(2) Pressing the JOURNAL FEED button and turn the mode switch to Z position.
(3) Release the JOURNAL FEED button. After few seconds, MAC operation will be executed.
(4) The following receipt will be issued, if completed.
---

1. After initialize operation, the clock counts from 00 : 00 A.M. and also the calendar is started from
2. If the memory of RAM is broken, the machine will be initialized after power on.
(1) Plug the power cord into an outlet.
(2) Execute the MAC operation.
(3) Turn the mode switch to "Z" position.
(4) Input 99999999 and press the sub total button.
(5) Start the diagnostic program and issued following receipt.
Note: If you have done the registration after MAC operation, the Diagnostic program can not start.
Start printing for diagnostic program
---